Shop by Category
Atlantic Trampolines Latest Twitter Updates
RT @LeadOnWales: Andrew Jardine of @atlantictramps also confirmed speaker for Lead On 2015 @HiltonCardiff July 1st. Tickets from http://t.cā€¦

RT @ItsKyleStewart: Trampolines are fun šŸ˜†

ā€œ@elenaadeluca: I asked Alex what he wants to buy when we are adults with real money and he said he wanted a trampoline !!!!ā€ Sensible chap!

RT @AliceGJ_: If I ever have kids (god forbid) the first thing I buy will be a trampoline. Every child deserves a trampoline.
8ft Trampoline Ultimate Deal
Save over £65
£262.98 FREE UK MAINLAND DELIVERY
Sorry Sold Out
These 7 piece, 8ft Trampolines with Enclosures Packages have been put together to create our Ultimate Trampolining Deals! If you buy one of our 8ft Trampoline Ultimate Deal packages, not only will you have everything you need to start trampolining quickly and safely, but you will also save over £65.98 compared to buying all the parts separately!
Our 8ft Trampolines with Enclosures Packages include:
8ft Trampoline - 26" in height
Trampoline Tent
Trampoline Access Ladder
Trampoline Safety Enclosure
Trampoline Weather Cover
Trampoline Anchor Kit
Trampoline Shoe Bag
Plus!
8' mesh safety-net enclosure
5 year warranty on frame from failure due to rust
12 month guarantee on springs, padding & jumping mat
Tubes 25mm x 1,5mm galvanized.
We offer FREE next day delivery in the UK and an installation service is available for customers within 20 miles of our Pembroke Dock warehouse.
8ft Trampoline Skirt

£30.98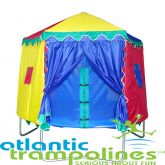 8ft circustent

£84.98
8ftrooftent

£47.98
8' mesh safety-net enclosure
Tubes 25mm x 1.5mm galvanized
Designed to retain the maximum jumping area
Pole sleeves are green in colour
Huge 8' diameter 'Fun' trampoline (26" in height)
High weight loading, can take adults of up to 100kg (approx 16 stone)
Jumping mat made of A grade Permatron Polypropylene from the United States. UV resistant, sewn with heavy duty UV resistant thread and using galvanized v-rings
48 super strength 165mm zinc plated galvanized springs
Frame tubes - 38.1mm x 1.5mm (galvanized both inside and out)
Connecting tubes - 38.1mm x 1.5mm (galvanized both inside and out)
Leg tube
s - 38.1mm x 1.5mm (galvanized both inside and out), 3 leg sets
12mm thick 260mm wide double thick weather resistant pvc padding (Top layer Polyester, bottom layer PE) blue in colour
Closed cell foam that does not absorb water or mildew or lose shape
Black jumping mesh
Assembly instruction manual complete with spring assembly tool
This 8ft Trampoline Offer is exclusive to Atlantic Trampolines. If you are new to Trampolining, it is the perfect package to choose, and contains everything you will need to get started. The 8ft Trampolines with Enclosures Packages are ideal for the whole family, and are suitable for use in medium to large gardens.
The 8ft Trampoline is also available in the following sets:
This high weight loading Trampoline is suitable for adults and children alike, and is a great form of exercise (and of course lots of fun!) for the whole family. And remember, if you buy a Trampoline from Atlantic Trampolines, you can be confident that you are buying a Trampoline and
Trampoline Accessories
of the highest possible safety and quality standards.
If you are not sure that our 8ft Trampolines with Enclosures package is quite big enough, we offer a whole range of sizes right the way up to a huge
15ft Trampoline,
which is also available as part of a
15ft Trampoline Ultimate Deal.
EN-71 approved (British Safety)
RWTUV/GS approved (European Safety Certificate)
Cadmium testing passed

At Atlantic Trampolines, we believe that Trampolining should be fun but that safety should always come first. So you can feel confident that you are buying a 8ft Trampoline of the highest quality and safety standards when you buy from Atlantic Trampolines.

Not only that, but if you buy any Atlantic Trampolines Trampolines with Enclosures Packages, we will deliver to any address within mainland UK for FREE! And if you live within 20 miles of our Pembroke Dock Warehouse, we also offer a service to pop round and install the trampoline!
George Nissen - The Inventor of the Trampoline
George Nissen became the official inventor of the
Trampoline
in the 1930s, after he witnessed trapeze artists using safety netting to launch themselves back into the air to do somersaults. Returning home, he transformed his garage into a workshop where he developed his invention. He then practiced flips and rolls, and then took his show on the road.
Famously, he publicised the Trampoline by doing tricks on it himself during city tours. During the 1950s, he even 'hired' a trained kangaroo to take part in his displays, and there is a famous photo of him jumping with the kangaroo on the Trampoline. It is reported that Nissen held the kangaroo's paws so that it would not kick him.
When the Olympic Games officially accepted trampolining as a sporting event in 2000, Nissen bought tickets to all the trampolining displays and watched them with his daughter Dian. Unsurprisingly, Nissen holds over 40 patents in the world of trampolining, sport and fitness.
Atlantic Trampolines stock
8ft trampolines with enclosures
- Buy Now.
We offer FREE next working day delivery on all orders recieved by midday to the mainland UK and an paid trampoline installation service is available for customers within 20 miles of our Pembroke Dock warehouse. We are unable to give a designated time of delivery and deliveries can be anytime between 8am and 6pm.

Reviews for 8ft Trampoline Ultimate Deal
5 out of 5 , . Brought this deal absolutely great for the money. Delivery was quick. The items was so quick and easy to put together. My daughter loves the trampoline with the tent on.
 How would you like the chance to win a family voucher to spend a day at a Go Ape! high-wire forest adventure?
 Every month we are giving away a family voucher for two adults and two children to use at any Go Ape! Adventure throughout the UK. All you need to do is return the feedback form that comes with your trampoline, FREE of charge. We will be picking out a card at random at the end of every month. For more information on Go Ape! and your nearest centre, please visit www.goape.co.uk