Shop by Category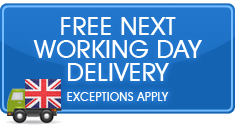 Atlantic Trampolines Latest Twitter Updates
28 July 2020 @ 13:55 The problem that impacted our phone lines and internet communication earlier today is now reso… https://t.co/V5qzy9AWIW

We regret we are currently unable to receive phone & internet messages as our phone lines and internet are not oper… https://t.co/JbqMcD77Ua

TRAMPOLINES - We have restricted stock & delivery availability. Please do not order without checking availability f… https://t.co/8XaFMmFaC9

RT @TheSun: EXCLUSIVE: Cop filmed clowning around on a trampoline while out on a drug bust https://t.co/rtkaX2YnsS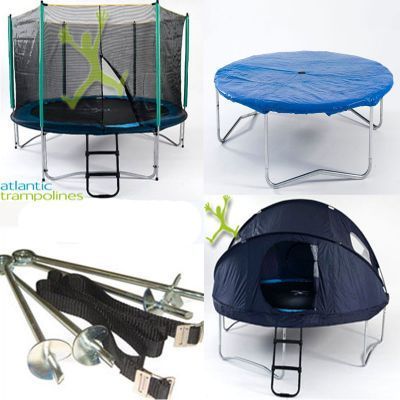 12ft Trampoline Ultimate Deal
The 12ft Trampoline has been put together with a
Trampoline Enclosure
and a range of
Trampoline Accessories
to create this Ultimate Trampolining Package! Not only can you save over £75.98 compared to buying the items separately, but we will also deliver it all to you for FREE!
As well as being a lot of fun, Trampolining is a great form of exercise!
Included in the 12ft Trampolines with Enclosures Packages are the following products:
12ft Trampoline
Trampoline Tent
12ft Trampoline Safety Enclosure
12ft Trampoline Weather Cover
Trampoline Access Ladder
Trampoline Anchor Kit
Trampoline Shoe Bag
Plus!
We offer FREE next day delivery in the UK and an installation service is available for customers within 20 miles of our Pembroke Dock warehouse.
This 12ft Trampolines with Enclosures Package is the perfect way to get started with Trampolining, and is exclusive to Atlantic Trampolines. The 12ft Trampoline Deal is ideal for the whole family, and should ideally be used in large gardens.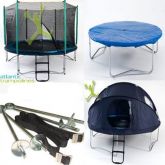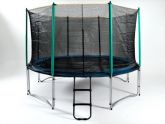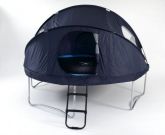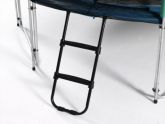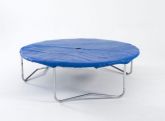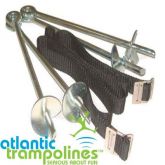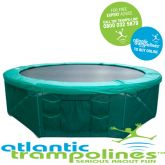 12ft Trampoline Skirt

£35.98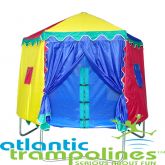 12ft circustent

£102.98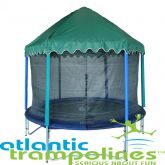 12ftrooftent

£56.98
Huge 12' diameter 'Fun' trampoline (35" in height)
High weight loading, can take adults of up to 100kg (approx 16 stone)
Jumping mat made of A grade Permatron Polypropylene from the United States. UV resistant, sewn with heavy duty UV resistant thread and using galvanized v-rings
72 super strength 165mm zinc plated galvanized springs
Frame tubes - 42mm x 1.5mm (galvanized both inside and out)
Connecting tubes - 42mm x 1.5mm (galvanized both inside and out)
Leg tubes - 38.1mm x 1.5mm (galvanized both inside and out), 4 leg sets
21mm thick 260mm wide double thick weather resistant vinyl padding blue in colour
Closed cell foam that does not absorb water or mildew or lose shape
Black jumping mesh
Assembly instruction manual complete with spring assembly tool
Also Includes
12' mesh safety-net enclosure
Tubes 25mm x 1.5mm galvanized
Designed to retain the maximum jumping area
Pole sleeves are green in colour
The 12ft Trampoline is also available in the following Trampolines with Enclosures sets:
If you still need some help deciding which Trampoline is right for you, give our team of experts a call
0800 032 5879 for some FREE advice!
EN-71 approved (British Safety)
RWTUV/GS approved (European Safety Certificate)
Atlantic Trampolines believe that safety should come first, so you can feel confident that you are getting Trampolines and Accessories of the highest quality and safety standards when you buy from us.

Trampoline Sales Facts
Since trampolining was introduced as an event at 2000 Sydney Olympic Games, the sale of Trampolines has soared, especially due to the health advantages that they offer. When the sport first debuted at the Olympic Games, it was reported that sales of
Trampolines
increased by 357%!
Since then,
Trampoline
clubs have been formed all over the world, even being modified to become an extreme sport. In that instance, jumpers have a bungee cord tied to them, allowing them jump even higher without fear of falling off.
They have also been modified for use on water and since George Nissen commercialised the device, have been used in military Air Force training.
Last year, in the UK Trampoline sales went up by 55% with everything from a national exercise incentive to a dance troupe on Britain's Got Talent being credited for their popularity. One thing is clear however, the sales of Trampolines are only going up...
We offer FREE next working day delivery(Mon-Fri) on orders recieved by midday to the mainland UK for most of our products and a paid trampoline installation service is available for customers within 20 miles of our Pembroke Dock warehouse. We are unable to give a designated time of delivery and deliveries can be anytime between 8am and 6pm.
Reviews for 12ft Trampoline Ultimate Deal
 How would you like the chance to win a family voucher to spend a day at a Go Ape! high-wire forest adventure?
 Every month we are giving away a family voucher for two adults and two children to use at any Go Ape! Adventure throughout the UK. All you need to do is return the feedback form that comes with your trampoline, FREE of charge. We will be picking out a card at random at the end of every month. For more information on Go Ape! and your nearest centre, please visit www.goape.co.uk