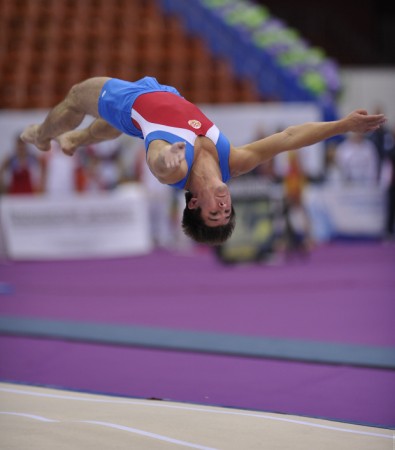 The 2010 World Trampoline Championships, the 27th to take place, begin this week in Metz, France.
The Trampoline gymnastics begin on the 11th and end on the 13th, whilst the 20th Trampoline World Age Group Competitions begin on November 16th-19th.
A total of 261 gymnasts from 34 different countries will be taking part in individual competitions, tumbling and double-mini trampoline events as well as synchronised trampoline events. There aren't any team competitions this year.
Great Britain have 20 competitors making the journey over, the second largest representation behind Russia.
The men's individual trampoline competition is the main event, with 90 entries all vying for the win. China are the favourites for the event, with Japan behind and the German team also looking like they could compete.
This is obviously a very high level of trampolining and one that will need lots of hard work and practice to become good enough, no better place to start than on one of our trampolines!
The synchronised events also generate a huge level of interest as 29 pairs from 21 different federations have registered to take part for the men's competition. The favourites are Sebastian Martiny and Gregoire Pennes, hailing from France. They won the silver medal in 2009 and finished second at this years World Cup event and European Championships.
The team defending their medal are Tetsuya Sotomura and Yasuhiro Ueyama from Japan, who go forward as the favourites for the gold.
The women's World Champions and winners of the 2010 World Cup series are China's Li Dan and Zhong Xingping, who are favourites to walk away with the title again.
Men's and Women's tumbling will also be a high source of interest, 34 male competitors will be taking part with defending champion Tagir Murtazaev, Mikhail Kostyanov and Timofey Podust all in line for the gold. The women's favourites are the Russian entrants with Anna Korobeynikova expected to take the title and Elena Krasnokutskaya expected to be close behind.
When the World Championships finish the World Age championships will take place which sees boys and girls aged in age groups of 11-12, 13-14, 15-16 and 17-18 take part and compete in Individual and Synchronised Trampoline, Tumbling and Double Mini-Trampoline.
We will let you know of the winners and best of luck to the British team