Ordering a Replacement Jump Mat
We know that certain parts of the trampoline need replacing and people are under the impression that all trampolines have the same design, this is not true and the designs do differ between manufacture so we thought that a quick guide to show what measurements need to be checked before ordering a replacement jump mat from us that is not going on an atlantictrampoline.
To order a mat for an round trampoline frame, you will need to take three measurements.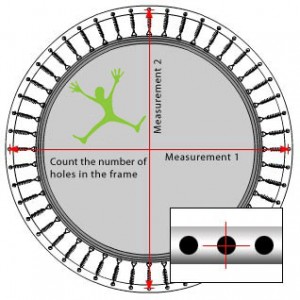 1. Count the number of holes in the frame. This is the number of triangles your new mat will have.
2. Measure directly across the frame from end to end in 2 directions, This measurement is the frame and not the jump mat you are replacing.
3. Measure one spring from end of hook to end of hook.


Please measure carefully and double check your counting as our jump mats are designed for our trampolines but may be suitable for other makes if the specifications are the same.
6ft to 14ft trampoline spring length: 165mm
15ft trampoline spring length: 180mm
Number Of Springs On Trampoline:
6ft= 42
8ft= 48
10ft= 54
12ft= 72
13ft= 80
14ft= 88
15ft= 100