Shop by Category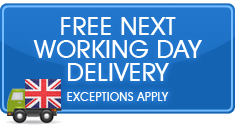 Atlantic Trampolines Latest Twitter Updates
28 July 2020 @ 13:55 The problem that impacted our phone lines and internet communication earlier today is now reso… https://t.co/V5qzy9AWIW

We regret we are currently unable to receive phone & internet messages as our phone lines and internet are not oper… https://t.co/JbqMcD77Ua

TRAMPOLINES - We have restricted stock & delivery availability. Please do not order without checking availability f… https://t.co/8XaFMmFaC9

RT @TheSun: EXCLUSIVE: Cop filmed clowning around on a trampoline while out on a drug bust https://t.co/rtkaX2YnsS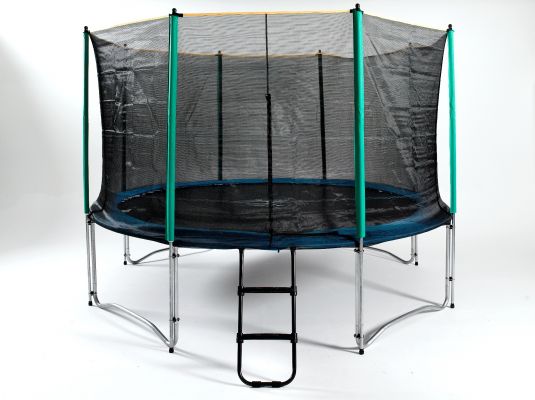 13ft Trampoline With Enclosure

Save £39.99
£269.98 FREE UK MAINLAND DELIVERY
Sorry Sold Out
This 13ft Trampoline with enclosure Package comes complete with trampoline with enclosure, ladder for easy access and a weather cover to keep the trampoline in good shape all year round.
The 13ft trampoline with enclosure package is a fantastic offer and will save you over £39. Your 13ft trampoline will also be delivered by Atlantic Trampolines for FREE!
The 13ft Trampoline with enclosure Combination Package is a 4-piece set and includes the following products:
13ft Trampoline
Trampoline safety enclosure
Trampoline weather cover
Trampoline access ladder
Plus!
5 year warranty on frame from failure due to rust
12 month guarantee on springs, padding & jumping mat.
We offer FREE next day delivery in the UK and an installation service is available for customers within 20 miles of our Pembroke Dock warehouse.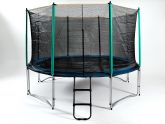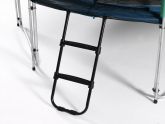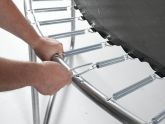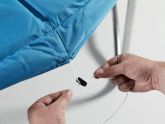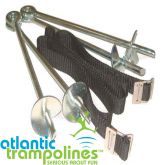 Anchor Kit

£21.98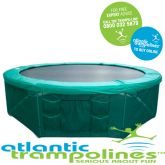 13ft Trampoline Skirt

£39.98
Huge 13' diameter 'Fun' trampoline (35" in height)
High weight loading, can take adults of up to 100kg (approx 16 stone)
Jumping mat made of A grade Permatron Polypropylene from the United States. UV resistant, sewn with heavy duty UV resistant thread and using galvanized v-rings
80 super strength 165mm zinc plated galvanized springs
Frame tubes - 42mm x 1.5mm (galvanized both inside and out)
Connecting tubes - 42mm x 1.5mm (galvanized both inside and out)
Leg tubes - 38.1mm x 1.5mm (galvanized both inside and out), 4 leg sets
21mm thick 260mm wide double thick weather resistant pvc padding (Top layer Polyester,bottom layer PE) blue in colour
Closed cell foam that does not absorb water or mildew or lose shape
Black jumping mesh
Assembly instruction manual complete with spring assembly tool


Also Includes..
13' mesh safety-net enclosure
Tubes 25mm x 1.5mm galvanized
Designed to retain the maximum jumping area
Pole sleeves are green in colour
EN-71 approved (British Safety)
RWTUV/GS approved (European Safety Certificate)
Cadmium testing passed
in 1986 Cleveland State UniversityÃ���Ã�¯Ã�¿Ã�½Ã��Ã�¯Ã��Ã�¿Ã��Ã�½Ã���Ã��Ã�¯Ã���Ã��Ã�¿Ã���Ã��Ã�½Ã���Ã�¯Ã�¿Ã�½Ã���Ã��Ã�¯Ã���Ã�¯Ã�¿Ã�½Ã���Ã��Ã�¿Ã���Ã�¯Ã�¿Ã�½Ã���Ã��Ã�½Ã���Ã�¯Ã�¿Ã�½Ã��Ã�¯Ã��Ã�¿Ã��Ã�½Ã���Ã�¯Ã�¿Ã�½Ã���Ã��Ã�¯Ã���Ã�¯Ã�¿Ã�½Ã��Ã�¯Ã��Ã�¿Ã��Ã�½Ã���Ã�¯Ã�¿Ã�½Ã���Ã��Ã�¿Ã���Ã�¯Ã�¿Ã�½Ã��Ã�¯Ã��Ã�¿Ã��Ã�½Ã���Ã�¯Ã�¿Ã�½Ã���Ã��Ã�½Ã���Ã�¯Ã�¿Ã�½Ã��Ã�¯Ã��Ã�¿Ã��Ã�½Ã���Ã��Ã�¯Ã���Ã��Ã�¿Ã���Ã��Ã�½Ã���Ã�¯Ã�¿Ã�½Ã��Ã�¯Ã��Ã�¿Ã��Ã�½Ã���Ã�¯Ã�¿Ã�½Ã���Ã��Ã�¯Ã���Ã�¯Ã�¿Ã�½Ã��Ã�¯Ã��Ã�¿Ã��Ã�½Ã���Ã��Ã�¯Ã���Ã��Ã�¿Ã���Ã��Ã�½Ã���Ã�¯Ã�¿Ã�½Ã��Ã�¯Ã��Ã�¿Ã��Ã�½Ã���Ã�¯Ã�¿Ã�½Ã���Ã��Ã�¿Ã���Ã�¯Ã�¿Ã�½Ã��Ã�¯Ã��Ã�¿Ã��Ã�½Ã���Ã��Ã�¯Ã���Ã��Ã�¿Ã���Ã��Ã�½Ã���Ã�¯Ã�¿Ã�½Ã��Ã�¯Ã��Ã�¿Ã��Ã�½Ã���Ã�¯Ã�¿Ã�½Ã���Ã��Ã�½Ã���Ã�¯Ã�¿Ã�½Ã��Ã�¯Ã��Ã�¿Ã��Ã�½Ã���Ã��Ã�¯Ã���Ã��Ã�¿Ã���Ã��Ã�½Ã���Ã�¯Ã�¿Ã�½Ã���Ã��Ã�¯Ã���Ã�¯Ã�¿Ã�½Ã���Ã��Ã�¿Ã���Ã�¯Ã�¿Ã�½Ã���Ã��Ã�½Ã���Ã�¯Ã�¿Ã�½Ã��Ã�¯Ã��Ã�¿Ã��Ã�½Ã���Ã��Ã�¯Ã���Ã��Ã�¿Ã���Ã��Ã�½Ã���Ã�¯Ã�¿Ã�½Ã��Ã�¯Ã��Ã�¿Ã��Ã�½Ã���Ã�¯Ã�¿Ã�½Ã���Ã��Ã�¯Ã���Ã�¯Ã�¿Ã�½Ã��Ã�¯Ã��Ã�¿Ã��Ã�½Ã���Ã��Ã�¯Ã���Ã��Ã�¿Ã���Ã��Ã�½Ã���Ã�¯Ã�¿Ã�½Ã���Ã��Ã�¯Ã���Ã�¯Ã�¿Ã�½Ã���Ã��Ã�¿Ã���Ã�¯Ã�¿Ã�½Ã���Ã��Ã�½Ã���Ã�¯Ã�¿Ã�½Ã��Ã�¯Ã��Ã�¿Ã��Ã�½Ã���Ã��Ã�¯Ã���Ã��Ã�¿Ã���Ã��Ã�½Ã���Ã�¯Ã�¿Ã�½Ã��Ã�¯Ã��Ã�¿Ã��Ã�½Ã���Ã�¯Ã�¿Ã�½Ã���Ã��Ã�¿Ã���Ã�¯Ã�¿Ã�½Ã��Ã�¯Ã��Ã�¿Ã��Ã�½Ã���Ã��Ã�¯Ã���Ã��Ã�¿Ã���Ã��Ã�½Ã���Ã�¯Ã�¿Ã�½Ã���Ã��Ã�¯Ã���Ã�¯Ã�¿Ã�½Ã���Ã��Ã�¿Ã���Ã�¯Ã�¿Ã�½Ã���Ã��Ã�½Ã���Ã�¯Ã�¿Ã�½Ã��Ã�¯Ã��Ã�¿Ã��Ã�½Ã���Ã��Ã�¯Ã���Ã��Ã�¿Ã���Ã��Ã�½Ã���Ã�¯Ã�¿Ã�½Ã��Ã�¯Ã��Ã�¿Ã��Ã�½Ã���Ã�¯Ã�¿Ã�½Ã���Ã��Ã�½Ã���Ã�¯Ã�¿Ã�½Ã��Ã�¯Ã��Ã�¿Ã��Ã�½Ã���Ã��Ã�¯Ã���Ã��Ã�¿Ã���Ã��Ã�½Ã���Ã�¯Ã�¿Ã�½Ã���Ã��Ã�¯Ã���Ã�¯Ã�¿Ã�½Ã���Ã��Ã�¿Ã���Ã�¯Ã�¿Ã�½Ã���Ã��Ã�½Ã���Ã�¯Ã�¿Ã�½Ã��Ã�¯Ã��Ã�¿Ã��Ã�½Ã���Ã�¯Ã�¿Ã�½Ã���Ã��Ã�¯Ã���Ã�¯Ã�¿Ã�½Ã��Ã�¯Ã��Ã�¿Ã��Ã�½Ã���Ã�¯Ã�¿Ã�½Ã���Ã��Ã�¿Ã���Ã�¯Ã�¿Ã�½Ã��Ã�¯Ã��Ã�¿Ã��Ã�½Ã���Ã�¯Ã�¿Ã�½Ã���Ã��Ã�½Ã���Ã�¯Ã�¿Ã�½Ã��Ã�¯Ã��Ã�¿Ã��Ã�½Ã���Ã��Ã�¯Ã���Ã��Ã�¿Ã���Ã��Ã�½Ã���Ã�¯Ã�¿Ã�½Ã���Ã��Ã�¯Ã���Ã�¯Ã�¿Ã�½Ã���Ã��Ã�¿Ã���Ã�¯Ã�¿Ã�½Ã���Ã��Ã�½Ã���Ã�¯Ã�¿Ã�½Ã��Ã�¯Ã��Ã�¿Ã��Ã�½Ã���Ã��Ã�¯Ã���Ã��Ã�¿Ã���Ã��Ã�½Ã���Ã�¯Ã�¿Ã�½Ã��Ã�¯Ã��Ã�¿Ã��Ã�½Ã���Ã�¯Ã�¿Ã�½Ã���Ã��Ã�¯Ã���Ã�¯Ã�¿Ã�½Ã��Ã�¯Ã��Ã�¿Ã��Ã�½Ã���Ã��Ã�¯Ã���Ã��Ã�¿Ã���Ã��Ã�½Ã���Ã�¯Ã�¿Ã�½Ã���Ã��Ã�¯Ã���Ã�¯Ã�¿Ã�½Ã���Ã��Ã�¿Ã���Ã�¯Ã�¿Ã�½Ã���Ã��Ã�½Ã���Ã�¯Ã�¿Ã�½Ã��Ã�¯Ã��Ã�¿Ã��Ã�½Ã���Ã�¯Ã�¿Ã�½Ã���Ã��Ã�¯Ã���Ã�¯Ã�¿Ã�½Ã��Ã�¯Ã��Ã�¿Ã��Ã�½Ã���Ã�¯Ã�¿Ã�½Ã���Ã��Ã�¿Ã���Ã�¯Ã�¿Ã�½Ã��Ã�¯Ã��Ã�¿Ã��Ã�½Ã���Ã�¯Ã�¿Ã�½Ã���Ã��Ã�½Ã���Ã�¯Ã�¿Ã�½Ã��Ã�¯Ã��Ã�¿Ã��Ã�½Ã���Ã��Ã�¯Ã���Ã��Ã�¿Ã���Ã��Ã�½Ã���Ã�¯Ã�¿Ã�½Ã���Ã��Ã�¯Ã���Ã�¯Ã�¿Ã�½Ã���Ã��Ã�¿Ã���Ã�¯Ã�¿Ã�½Ã���Ã��Ã�½Ã���Ã�¯Ã�¿Ã�½Ã��Ã�¯Ã��Ã�¿Ã��Ã�½Ã���Ã��Ã�¯Ã���Ã��Ã�¿Ã���Ã��Ã�½Ã���Ã�¯Ã�¿Ã�½Ã��Ã�¯Ã��Ã�¿Ã��Ã�½Ã���Ã�¯Ã�¿Ã�½Ã���Ã��Ã�¿Ã���Ã�¯Ã�¿Ã�½Ã��Ã�¯Ã��Ã�¿Ã��Ã�½Ã���Ã��Ã�¯Ã���Ã��Ã�¿Ã���Ã��Ã�½Ã���Ã�¯Ã�¿Ã�½Ã���Ã��Ã�¯Ã���Ã�¯Ã�¿Ã�½Ã���Ã��Ã�¿Ã���Ã�¯Ã�¿Ã�½Ã���Ã��Ã�½Ã���Ã�¯Ã�¿Ã�½Ã��Ã�¯Ã��Ã�¿Ã��Ã�½Ã���Ã�¯Ã�¿Ã�½Ã���Ã��Ã�¯Ã���Ã�¯Ã�¿Ã�½Ã��Ã�¯Ã��Ã�¿Ã��Ã�½Ã���Ã�¯Ã�¿Ã�½Ã���Ã��Ã�¿Ã���Ã�¯Ã�¿Ã�½Ã��Ã�¯Ã��Ã�¿Ã��Ã�½Ã���Ã�¯Ã�¿Ã�½Ã���Ã��Ã�½Ã���Ã�¯Ã�¿Ã�½Ã��Ã�¯Ã��Ã�¿Ã��Ã�½Ã���Ã��Ã�¯Ã���Ã��Ã�¿Ã���Ã��Ã�½Ã���Ã�¯Ã�¿Ã�½Ã���Ã��Ã�¯Ã���Ã�¯Ã�¿Ã�½Ã���Ã��Ã�¿Ã���Ã�¯Ã�¿Ã�½Ã���Ã��Ã�½Ã���Ã�¯Ã�¿Ã�½Ã��Ã�¯Ã��Ã�¿Ã��Ã�½Ã���Ã��Ã�¯Ã���Ã��Ã�¿Ã���Ã��Ã�½Ã���Ã�¯Ã�¿Ã�½Ã��Ã�¯Ã��Ã�¿Ã��Ã�½Ã���Ã�¯Ã�¿Ã�½Ã���Ã��Ã�½Ã���Ã�¯Ã�¿Ã�½Ã��Ã�¯Ã��Ã�¿Ã��Ã�½Ã���Ã��Ã�¯Ã���Ã��Ã�¿Ã���Ã��Ã�½Ã���Ã�¯Ã�¿Ã�½Ã���Ã��Ã�¯Ã���Ã�¯Ã�¿Ã�½Ã���Ã��Ã�¿Ã���Ã�¯Ã�¿Ã�½Ã���Ã��Ã�½Ã���Ã�¯Ã�¿Ã�½Ã��Ã�¯Ã��Ã�¿Ã��Ã�½Ã���Ã�¯Ã�¿Ã�½Ã���Ã��Ã�¯Ã���Ã�¯Ã�¿Ã�½Ã��Ã�¯Ã��Ã�¿Ã��Ã�½Ã���Ã�¯Ã�¿Ã�½Ã���Ã��Ã�¿Ã���Ã�¯Ã�¿Ã�½Ã��Ã�¯Ã��Ã�¿Ã��Ã�½Ã���Ã�¯Ã�¿Ã�½Ã���Ã��Ã�½Ã���Ã�¯Ã�¿Ã�½Ã��Ã�¯Ã��Ã�¿Ã��Ã�½Ã���Ã��Ã�¯Ã���Ã��Ã�¿Ã���Ã��Ã�½Ã���Ã�¯Ã�¿Ã�½Ã��Ã�¯Ã��Ã�¿Ã��Ã�½Ã���Ã�¯Ã�¿Ã�½Ã���Ã��Ã�¯Ã���Ã�¯Ã�¿Ã�½Ã��Ã�¯Ã��Ã�¿Ã��Ã�½Ã���Ã��Ã�¯Ã���Ã��Ã�¿Ã���Ã��Ã�½Ã���Ã�¯Ã�¿Ã�½Ã��Ã�¯Ã��Ã�¿Ã��Ã�½Ã���Ã�¯Ã�¿Ã�½Ã���Ã��Ã�¿Ã���Ã�¯Ã�¿Ã�½Ã��Ã�¯Ã��Ã�¿Ã��Ã�½Ã���Ã��Ã�¯Ã���Ã��Ã�¿Ã���Ã��Ã�½Ã���Ã�¯Ã�¿Ã�½Ã��Ã�¯Ã��Ã�¿Ã��Ã�½Ã���Ã�¯Ã�¿Ã�½Ã���Ã��Ã�½Ã���Ã�¯Ã�¿Ã�½Ã��Ã�¯Ã��Ã�¿Ã��Ã�½Ã���Ã��Ã�¯Ã���Ã��Ã�¿Ã���Ã��Ã�½Ã���Ã�¯Ã�¿Ã�½Ã���Ã��Ã�¯Ã���Ã�¯Ã�¿Ã�½Ã���Ã��Ã�¿Ã���Ã�¯Ã�¿Ã�½Ã���Ã��Ã�½Ã���Ã�¯Ã�¿Ã�½Ã��Ã�¯Ã��Ã�¿Ã��Ã�½Ã���Ã�¯Ã�¿Ã�½Ã���Ã��Ã�¯Ã���Ã�¯Ã�¿Ã�½Ã��Ã�¯Ã��Ã�¿Ã��Ã�½Ã���Ã�¯Ã�¿Ã�½Ã���Ã��Ã�¿Ã���Ã�¯Ã�¿Ã�½Ã��Ã�¯Ã��Ã�¿Ã��Ã�½Ã���Ã�¯Ã�¿Ã�½Ã���Ã��Ã�½Ã���Ã�¯Ã�¿Ã�½Ã��Ã�¯Ã��Ã�¿Ã��Ã�½Ã���Ã��Ã�¯Ã���Ã��Ã�¿Ã���Ã��Ã�½Ã���Ã�¯Ã�¿Ã�½Ã���Ã��Ã�¯Ã���Ã�¯Ã�¿Ã�½Ã���Ã��Ã�¿Ã���Ã�¯Ã�¿Ã�½Ã���Ã��Ã�½Ã���Ã�¯Ã�¿Ã�½Ã��Ã�¯Ã��Ã�¿Ã��Ã�½Ã���Ã��Ã�¯Ã���Ã��Ã�¿Ã���Ã��Ã�½Ã���Ã�¯Ã�¿Ã�½Ã��Ã�¯Ã��Ã�¿Ã��Ã�½Ã���Ã�¯Ã�¿Ã�½Ã���Ã��Ã�¯Ã���Ã�¯Ã�¿Ã�½Ã��Ã�¯Ã��Ã�¿Ã��Ã�½Ã���Ã��Ã�¯Ã���Ã��Ã�¿Ã���Ã��Ã�½Ã���Ã�¯Ã�¿Ã�½Ã���Ã��Ã�¯Ã���Ã�¯Ã�¿Ã�½Ã���Ã��Ã�¿Ã���Ã�¯Ã�¿Ã�½Ã���Ã��Ã�½Ã���Ã�¯Ã�¿Ã�½Ã��Ã�¯Ã��Ã�¿Ã��Ã�½Ã���Ã�¯Ã�¿Ã�½Ã���Ã��Ã�¯Ã���Ã�¯Ã�¿Ã�½Ã��Ã�¯Ã��Ã�¿Ã��Ã�½Ã���Ã�¯Ã�¿Ã�½Ã���Ã��Ã�¿Ã���Ã�¯Ã�¿Ã�½Ã��Ã�¯Ã��Ã�¿Ã��Ã�½Ã���Ã�¯Ã�¿Ã�½Ã���Ã��Ã�½Ã���Ã�¯Ã�¿Ã�½Ã��Ã�¯Ã��Ã�¿Ã��Ã�½Ã���Ã��Ã�¯Ã���Ã��Ã�¿Ã���Ã��Ã�½Ã���Ã�¯Ã�¿Ã�½Ã��Ã�¯Ã��Ã�¿Ã��Ã�½Ã���Ã�¯Ã�¿Ã�½Ã���Ã��Ã�¯Ã���Ã�¯Ã�¿Ã�½Ã��Ã�¯Ã��Ã�¿Ã��Ã�½Ã���Ã��Ã�¯Ã���Ã��Ã�¿Ã���Ã��Ã�½Ã���Ã�¯Ã�¿Ã�½Ã��Ã�¯Ã��Ã�¿Ã��Ã�½Ã���Ã�¯Ã�¿Ã�½Ã���Ã��Ã�¿Ã���Ã�¯Ã�¿Ã�½Ã��Ã�¯Ã��Ã�¿Ã��Ã�½Ã���Ã��Ã�¯Ã���Ã��Ã�¿Ã���Ã��Ã�½Ã���Ã�¯Ã�¿Ã�½Ã��Ã�¯Ã��Ã�¿Ã��Ã�½Ã���Ã�¯Ã�¿Ã�½Ã���Ã��Ã�½Ã���Ã�¯Ã�¿Ã�½Ã��Ã�¯Ã��Ã�¿Ã��Ã�½Ã���Ã��Ã�¯Ã���Ã��Ã�¿Ã���Ã��Ã�½Ã���Ã�¯Ã�¿Ã�½Ã���Ã��Ã�¯Ã���Ã�¯Ã�¿Ã�½Ã���Ã��Ã�¿Ã���Ã�¯Ã�¿Ã�½Ã���Ã��Ã�½Ã���Ã�¯Ã�¿Ã�½Ã��Ã�¯Ã��Ã�¿Ã��Ã�½Ã���Ã�¯Ã�¿Ã�½Ã���Ã��Ã�¯Ã���Ã�¯Ã�¿Ã�½Ã��Ã�¯Ã��Ã�¿Ã��Ã�½Ã���Ã�¯Ã�¿Ã�½Ã���Ã��Ã�¿Ã���Ã�¯Ã�¿Ã�½Ã��Ã�¯Ã��Ã�¿Ã��Ã�½Ã���Ã�¯Ã�¿Ã�½Ã���Ã��Ã�½Ã���Ã�¯Ã�¿Ã�½Ã��Ã�¯Ã��Ã�¿Ã��Ã�½Ã���Ã��Ã�¯Ã���Ã��Ã�¿Ã���Ã��Ã�½Ã���Ã�¯Ã�¿Ã�½Ã���Ã��Ã�¯Ã���Ã�¯Ã�¿Ã�½Ã���Ã��Ã�¿Ã���Ã�¯Ã�¿Ã�½Ã���Ã��Ã�½Ã���Ã�¯Ã�¿Ã�½Ã��Ã�¯Ã��Ã�¿Ã��Ã�½Ã���Ã��Ã�¯Ã���Ã��Ã�¿Ã���Ã��Ã�½Ã���Ã�¯Ã�¿Ã�½Ã��Ã�¯Ã��Ã�¿Ã��Ã�½Ã���Ã�¯Ã�¿Ã�½Ã���Ã��Ã�¿Ã���Ã�¯Ã�¿Ã�½Ã��Ã�¯Ã��Ã�¿Ã��Ã�½Ã���Ã��Ã�¯Ã���Ã��Ã�¿Ã���Ã��Ã�½Ã���Ã�¯Ã�¿Ã�½Ã���Ã��Ã�¯Ã���Ã�¯Ã�¿Ã�½Ã���Ã��Ã�¿Ã���Ã�¯Ã�¿Ã�½Ã���Ã��Ã�½Ã���Ã�¯Ã�¿Ã�½Ã��Ã�¯Ã��Ã�¿Ã��Ã�½Ã���Ã�¯Ã�¿Ã�½Ã���Ã��Ã�¯Ã���Ã�¯Ã�¿Ã�½Ã��Ã�¯Ã��Ã�¿Ã��Ã�½Ã���Ã�¯Ã�¿Ã�½Ã���Ã��Ã�¿Ã���Ã�¯Ã�¿Ã�½Ã��Ã�¯Ã��Ã�¿Ã��Ã�½Ã���Ã�¯Ã�¿Ã�½Ã���Ã��Ã�½Ã���Ã�¯Ã�¿Ã�½Ã��Ã�¯Ã��Ã�¿Ã��Ã�½Ã���Ã��Ã�¯Ã���Ã��Ã�¿Ã���Ã��Ã�½Ã���Ã�¯Ã�¿Ã�½Ã��Ã�¯Ã��Ã�¿Ã��Ã�½Ã���Ã�¯Ã�¿Ã�½Ã���Ã��Ã�¯Ã���Ã�¯Ã�¿Ã�½Ã��Ã�¯Ã��Ã�¿Ã��Ã�½Ã���Ã��Ã�¯Ã���Ã��Ã�¿Ã���Ã��Ã�½Ã���Ã�¯Ã�¿Ã�½Ã��Ã�¯Ã��Ã�¿Ã��Ã�½Ã���Ã�¯Ã�¿Ã�½Ã���Ã��Ã�¿Ã���Ã�¯Ã�¿Ã�½Ã��Ã�¯Ã��Ã�¿Ã��Ã�½Ã���Ã��Ã�¯Ã���Ã��Ã�¿Ã���Ã��Ã�½Ã���Ã�¯Ã�¿Ã�½Ã��Ã�¯Ã��Ã�¿Ã��Ã�½Ã���Ã�¯Ã�¿Ã�½Ã���Ã��Ã�½Ã���Ã�¯Ã�¿Ã�½Ã��Ã�¯Ã��Ã�¿Ã��Ã�½Ã���Ã��Ã�¯Ã���Ã��Ã�¿Ã���Ã��Ã�½Ã���Ã�¯Ã�¿Ã�½Ã���Ã��Ã�¯Ã���Ã�¯Ã�¿Ã�½Ã���Ã��Ã�¿Ã���Ã�¯Ã�¿Ã�½Ã���Ã��Ã�½Ã���Ã�¯Ã�¿Ã�½Ã��Ã�¯Ã��Ã�¿Ã��Ã�½Ã���Ã�¯Ã�¿Ã�½Ã���Ã��Ã�¯Ã���Ã�¯Ã�¿Ã�½Ã��Ã�¯Ã��Ã�¿Ã��Ã�½Ã���Ã�¯Ã�¿Ã�½Ã���Ã��Ã�¿Ã���Ã�¯Ã�¿Ã�½Ã��Ã�¯Ã��Ã�¿Ã��Ã�½Ã���Ã�¯Ã�¿Ã�½Ã���Ã��Ã�½Ã���Ã�¯Ã�¿Ã�½Ã��Ã�¯Ã��Ã�¿Ã��Ã�½Ã���Ã��Ã�¯Ã���Ã��Ã�¿Ã���Ã��Ã�½Ã���Ã�¯Ã�¿Ã�½Ã���Ã��Ã�¯Ã���Ã�¯Ã�¿Ã�½Ã���Ã��Ã�¿Ã���Ã�¯Ã�¿Ã�½Ã���Ã��Ã�½Ã���Ã�¯Ã�¿Ã�½Ã��Ã�¯Ã��Ã�¿Ã��Ã�½Ã���Ã��Ã�¯Ã���Ã��Ã�¿Ã���Ã��Ã�½Ã���Ã�¯Ã�¿Ã�½Ã��Ã�¯Ã��Ã�¿Ã��Ã�½Ã���Ã�¯Ã�¿Ã�½Ã���Ã��Ã�½Ã���Ã�¯Ã�¿Ã�½Ã��Ã�¯Ã��Ã�¿Ã��Ã�½Ã���Ã��Ã�¯Ã���Ã��Ã�¿Ã���Ã��Ã�½Ã���Ã�¯Ã�¿Ã�½Ã���Ã��Ã�¯Ã���Ã�¯Ã�¿Ã�½Ã���Ã��Ã�¿Ã���Ã�¯Ã�¿Ã�½Ã���Ã��Ã�½Ã���Ã�¯Ã�¿Ã�½Ã��Ã�¯Ã��Ã�¿Ã��Ã�½Ã���Ã�¯Ã�¿Ã�½Ã���Ã��Ã�¯Ã���Ã�¯Ã�¿Ã�½Ã��Ã�¯Ã��Ã�¿Ã��Ã�½Ã���Ã�¯Ã�¿Ã�½Ã���Ã��Ã�¿Ã���Ã�¯Ã�¿Ã�½Ã��Ã�¯Ã��Ã�¿Ã��Ã�½Ã���Ã�¯Ã�¿Ã�½Ã���Ã��Ã�½Ã���Ã�¯Ã�¿Ã�½Ã��Ã�¯Ã��Ã�¿Ã��Ã�½Ã���Ã��Ã�¯Ã���Ã��Ã�¿Ã���Ã��Ã�½Ã���Ã�¯Ã�¿Ã�½Ã��Ã�¯Ã��Ã�¿Ã��Ã�½Ã���Ã�¯Ã�¿Ã�½Ã���Ã��Ã�¯Ã���Ã�¯Ã�¿Ã�½Ã��Ã�¯Ã��Ã�¿Ã��Ã�½Ã���Ã��Ã�¯Ã���Ã��Ã�¿Ã���Ã��Ã�½Ã���Ã�¯Ã�¿Ã�½Ã��Ã�¯Ã��Ã�¿Ã��Ã�½Ã���Ã�¯Ã�¿Ã�½Ã���Ã��Ã�¿Ã���Ã�¯Ã�¿Ã�½Ã��Ã�¯Ã��Ã�¿Ã��Ã�½Ã���Ã��Ã�¯Ã���Ã��Ã�¿Ã���Ã��Ã�½Ã���Ã�¯Ã�¿Ã�½Ã��Ã�¯Ã��Ã�¿Ã��Ã�½Ã���Ã�¯Ã�¿Ã�½Ã���Ã��Ã�½Ã���Ã�¯Ã�¿Ã�½Ã��Ã�¯Ã��Ã�¿Ã��Ã�½Ã���Ã��Ã�¯Ã���Ã��Ã�¿Ã���Ã��Ã�½Ã���Ã�¯Ã�¿Ã�½Ã���Ã��Ã�¯Ã���Ã�¯Ã�¿Ã�½Ã���Ã��Ã�¿Ã���Ã�¯Ã�¿Ã�½Ã���Ã��Ã�½Ã���Ã�¯Ã�¿Ã�½Ã��Ã�¯Ã��Ã�¿Ã��Ã�½Ã���Ã��Ã�¯Ã���Ã��Ã�¿Ã���Ã��Ã�½Ã���Ã�¯Ã�¿Ã�½Ã��Ã�¯Ã��Ã�¿Ã��Ã�½Ã���Ã�¯Ã�¿Ã�½Ã���Ã��Ã�¯Ã���Ã�¯Ã�¿Ã�½Ã��Ã�¯Ã��Ã�¿Ã��Ã�½Ã���Ã��Ã�¯Ã���Ã��Ã�¿Ã���Ã��Ã�½Ã���Ã�¯Ã�¿Ã�½Ã���Ã��Ã�¯Ã���Ã�¯Ã�¿Ã�½Ã���Ã��Ã�¿Ã���Ã�¯Ã�¿Ã�½Ã���Ã��Ã�½Ã���Ã�¯Ã�¿Ã�½Ã��Ã�¯Ã��Ã�¿Ã��Ã�½Ã���Ã��Ã�¯Ã���Ã��Ã�¿Ã���Ã��Ã�½Ã���Ã�¯Ã�¿Ã�½Ã��Ã�¯Ã��Ã�¿Ã��Ã�½Ã���Ã�¯Ã�¿Ã�½Ã���Ã��Ã�¿Ã���Ã�¯Ã�¿Ã�½Ã��Ã�¯Ã��Ã�¿Ã��Ã�½Ã���Ã��Ã�¯Ã���Ã��Ã�¿Ã���Ã��Ã�½Ã���Ã�¯Ã�¿Ã�½Ã���Ã��Ã�¯Ã���Ã�¯Ã�¿Ã�½Ã���Ã��Ã�¿Ã���Ã�¯Ã�¿Ã�½Ã���Ã��Ã�½Ã���Ã�¯Ã�¿Ã�½Ã��Ã�¯Ã��Ã�¿Ã��Ã�½Ã���Ã��Ã�¯Ã���Ã��Ã�¿Ã���Ã��Ã�½Ã���Ã�¯Ã�¿Ã�½Ã��Ã�¯Ã��Ã�¿Ã��Ã�½Ã���Ã�¯Ã�¿Ã�½Ã���Ã��Ã�½Ã���Ã�¯Ã�¿Ã�½Ã��Ã�¯Ã��Ã�¿Ã��Ã�½Ã���Ã��Ã�¯Ã���Ã��Ã�¿Ã���Ã��Ã�½Ã���Ã�¯Ã�¿Ã�½Ã���Ã��Ã�¯Ã���Ã�¯Ã�¿Ã�½Ã���Ã��Ã�¿Ã���Ã�¯Ã�¿Ã�½Ã���Ã��Ã�½Ã���Ã�¯Ã�¿Ã�½Ã��Ã�¯Ã��Ã�¿Ã��Ã�½Ã���Ã�¯Ã�¿Ã�½Ã���Ã��Ã�¯Ã���Ã�¯Ã�¿Ã�½Ã��Ã�¯Ã��Ã�¿Ã��Ã�½Ã���Ã�¯Ã�¿Ã�½Ã���Ã��Ã�¿Ã���Ã�¯Ã�¿Ã�½Ã��Ã�¯Ã��Ã�¿Ã��Ã�½Ã���Ã�¯Ã�¿Ã�½Ã���Ã��Ã�½Ã���Ã�¯Ã�¿Ã�½Ã��Ã�¯Ã��Ã�¿Ã��Ã�½Ã���Ã��Ã�¯Ã���Ã��Ã�¿Ã���Ã��Ã�½Ã���Ã�¯Ã�¿Ã�½Ã��Ã�¯Ã��Ã�¿Ã��Ã�½Ã���Ã�¯Ã�¿Ã�½Ã���Ã��Ã�¯Ã���Ã�¯Ã�¿Ã�½Ã��Ã�¯Ã��Ã�¿Ã��Ã�½Ã���Ã��Ã�¯Ã���Ã��Ã�¿Ã���Ã��Ã�½Ã���Ã�¯Ã�¿Ã�½Ã��Ã�¯Ã��Ã�¿Ã��Ã�½Ã���Ã�¯Ã�¿Ã�½Ã���Ã��Ã�¿Ã���Ã�¯Ã�¿Ã�½Ã��Ã�¯Ã��Ã�¿Ã��Ã�½Ã���Ã��Ã�¯Ã���Ã��Ã�¿Ã���Ã��Ã�½Ã���Ã�¯Ã�¿Ã�½Ã��Ã�¯Ã��Ã�¿Ã��Ã�½Ã���Ã�¯Ã�¿Ã�½Ã���Ã��Ã�½Ã���Ã�¯Ã�¿Ã�½Ã��Ã�¯Ã��Ã�¿Ã��Ã�½Ã���Ã��Ã�¯Ã���Ã��Ã�¿Ã���Ã��Ã�½Ã���Ã�¯Ã�¿Ã�½Ã���Ã��Ã�¯Ã���Ã�¯Ã�¿Ã�½Ã���Ã��Ã�¿Ã���Ã�¯Ã�¿Ã�½Ã���Ã��Ã�½Ã���Ã�¯Ã�¿Ã�½Ã��Ã�¯Ã��Ã�¿Ã��Ã�½Ã���Ã�¯Ã�¿Ã�½Ã���Ã��Ã�¯Ã���Ã�¯Ã�¿Ã�½Ã��Ã�¯Ã��Ã�¿Ã��Ã�½Ã���Ã�¯Ã�¿Ã�½Ã���Ã��Ã�¿Ã���Ã�¯Ã�¿Ã�½Ã��Ã�¯Ã��Ã�¿Ã��Ã�½Ã���Ã�¯Ã�¿Ã�½Ã���Ã��Ã�½Ã���Ã�¯Ã�¿Ã�½Ã��Ã�¯Ã��Ã�¿Ã��Ã�½Ã���Ã��Ã�¯Ã���Ã��Ã�¿Ã���Ã��Ã�½Ã���Ã�¯Ã�¿Ã�½Ã���Ã��Ã�¯Ã���Ã�¯Ã�¿Ã�½Ã���Ã��Ã�¿Ã���Ã�¯Ã�¿Ã�½Ã���Ã��Ã�½Ã���Ã�¯Ã�¿Ã�½Ã��Ã�¯Ã��Ã�¿Ã��Ã�½Ã���Ã��Ã�¯Ã���Ã��Ã�¿Ã���Ã��Ã�½Ã���Ã�¯Ã�¿Ã�½Ã��Ã�¯Ã��Ã�¿Ã��Ã�½Ã���Ã�¯Ã�¿Ã�½Ã���Ã��Ã�¯Ã���Ã�¯Ã�¿Ã�½Ã��Ã�¯Ã��Ã�¿Ã��Ã�½Ã���Ã��Ã�¯Ã���Ã��Ã�¿Ã���Ã��Ã�½Ã���Ã�¯Ã�¿Ã�½Ã���Ã��Ã�¯Ã���Ã�¯Ã�¿Ã�½Ã���Ã��Ã�¿Ã���Ã�¯Ã�¿Ã�½Ã���Ã��Ã�½Ã���Ã�¯Ã�¿Ã�½Ã��Ã�¯Ã��Ã�¿Ã��Ã�½Ã���Ã�¯Ã�¿Ã�½Ã���Ã��Ã�¯Ã���Ã�¯Ã�¿Ã�½Ã��Ã�¯Ã��Ã�¿Ã��Ã�½Ã���Ã�¯Ã�¿Ã�½Ã���Ã��Ã�¿Ã���Ã�¯Ã�¿Ã�½Ã��Ã�¯Ã��Ã�¿Ã��Ã�½Ã���Ã�¯Ã�¿Ã�½Ã���Ã��Ã�½Ã���Ã�¯Ã�¿Ã�½Ã��Ã�¯Ã��Ã�¿Ã��Ã�½Ã���Ã��Ã�¯Ã���Ã��Ã�¿Ã���Ã��Ã�½Ã���Ã�¯Ã�¿Ã�½Ã��Ã�¯Ã��Ã�¿Ã��Ã�½Ã���Ã�¯Ã�¿Ã�½Ã���Ã��Ã�¯Ã���Ã�¯Ã�¿Ã�½Ã��Ã�¯Ã��Ã�¿Ã��Ã�½Ã���Ã��Ã�¯Ã���Ã��Ã�¿Ã���Ã��Ã�½Ã���Ã�¯Ã�¿Ã�½Ã��Ã�¯Ã��Ã�¿Ã��Ã�½Ã���Ã�¯Ã�¿Ã�½Ã���Ã��Ã�¿Ã���Ã�¯Ã�¿Ã�½Ã��Ã�¯Ã��Ã�¿Ã��Ã�½Ã���Ã��Ã�¯Ã���Ã��Ã�¿Ã���Ã��Ã�½Ã���Ã�¯Ã�¿Ã�½Ã��Ã�¯Ã��Ã�¿Ã��Ã�½Ã���Ã�¯Ã�¿Ã�½Ã���Ã��Ã�½Ã���Ã�¯Ã�¿Ã�½Ã��Ã�¯Ã��Ã�¿Ã��Ã�½Ã���Ã��Ã�¯Ã���Ã��Ã�¿Ã���Ã��Ã�½Ã���Ã�¯Ã�¿Ã�½Ã���Ã��Ã�¯Ã���Ã�¯Ã�¿Ã�½Ã���Ã��Ã�¿Ã���Ã�¯Ã�¿Ã�½Ã���Ã��Ã�½Ã���Ã�¯Ã�¿Ã�½Ã��Ã�¯Ã��Ã�¿Ã��Ã�½Ã���Ã��Ã�¯Ã���Ã��Ã�¿Ã���Ã��Ã�½Ã���Ã�¯Ã�¿Ã�½Ã��Ã�¯Ã��Ã�¿Ã��Ã�½Ã���Ã�¯Ã�¿Ã�½Ã���Ã��Ã�¯Ã���Ã�¯Ã�¿Ã�½Ã��Ã�¯Ã��Ã�¿Ã��Ã�½Ã���Ã��Ã�¯Ã���Ã��Ã�¿Ã���Ã��Ã�½Ã���Ã�¯Ã�¿Ã�½Ã���Ã��Ã�¯Ã���Ã�¯Ã�¿Ã�½Ã���Ã��Ã�¿Ã���Ã�¯Ã�¿Ã�½Ã���Ã��Ã�½Ã���Ã�¯Ã�¿Ã�½Ã��Ã�¯Ã��Ã�¿Ã��Ã�½Ã���Ã��Ã�¯Ã���Ã��Ã�¿Ã���Ã��Ã�½Ã���Ã�¯Ã�¿Ã�½Ã��Ã�¯Ã��Ã�¿Ã��Ã�½Ã���Ã�¯Ã�¿Ã�½Ã���Ã��Ã�¿Ã���Ã�¯Ã�¿Ã�½Ã��Ã�¯Ã��Ã�¿Ã��Ã�½Ã���Ã��Ã�¯Ã���Ã��Ã�¿Ã���Ã��Ã�½Ã���Ã�¯Ã�¿Ã�½Ã���Ã��Ã�¯Ã���Ã�¯Ã�¿Ã�½Ã���Ã��Ã�¿Ã���Ã�¯Ã�¿Ã�½Ã���Ã��Ã�½Ã���Ã�¯Ã�¿Ã�½Ã��Ã�¯Ã��Ã�¿Ã��Ã�½Ã���Ã��Ã�¯Ã���Ã��Ã�¿Ã���Ã��Ã�½Ã���Ã�¯Ã�¿Ã�½Ã��Ã�¯Ã��Ã�¿Ã��Ã�½Ã���Ã�¯Ã�¿Ã�½Ã���Ã��Ã�½Ã���Ã�¯Ã�¿Ã�½Ã��Ã�¯Ã��Ã�¿Ã��Ã�½Ã���Ã��Ã�¯Ã���Ã��Ã�¿Ã���Ã��Ã�½Ã���Ã�¯Ã�¿Ã�½Ã���Ã��Ã�¯Ã���Ã�¯Ã�¿Ã�½Ã���Ã��Ã�¿Ã���Ã�¯Ã�¿Ã�½Ã���Ã��Ã�½Ã���Ã�¯Ã�¿Ã�½Ã��Ã�¯Ã��Ã�¿Ã��Ã�½Ã���Ã�¯Ã�¿Ã�½Ã���Ã��Ã�¯Ã���Ã�¯Ã�¿Ã�½Ã��Ã�¯Ã��Ã�¿Ã��Ã�½Ã���Ã�¯Ã�¿Ã�½Ã���Ã��Ã�¿Ã���Ã�¯Ã�¿Ã�½Ã��Ã�¯Ã��Ã�¿Ã��Ã�½Ã���Ã�¯Ã�¿Ã�½Ã���Ã��Ã�½Ã���Ã�¯Ã�¿Ã�½Ã��Ã�¯Ã��Ã�¿Ã��Ã�½Ã���Ã��Ã�¯Ã���Ã��Ã�¿Ã���Ã��Ã�½Ã���Ã�¯Ã�¿Ã�½Ã��Ã�¯Ã��Ã�¿Ã��Ã�½Ã���Ã�¯Ã�¿Ã�½Ã���Ã��Ã�¯Ã���Ã�¯Ã�¿Ã�½Ã��Ã�¯Ã��Ã�¿Ã��Ã�½Ã���Ã��Ã�¯Ã���Ã��Ã�¿Ã���Ã��Ã�½Ã���Ã�¯Ã�¿Ã�½Ã��Ã�¯Ã��Ã�¿Ã��Ã�½Ã���Ã�¯Ã�¿Ã�½Ã���Ã��Ã�¿Ã���Ã�¯Ã�¿Ã�½Ã��Ã�¯Ã��Ã�¿Ã��Ã�½Ã���Ã��Ã�¯Ã���Ã��Ã�¿Ã���Ã��Ã�½Ã���Ã�¯Ã�¿Ã�½Ã��Ã�¯Ã��Ã�¿Ã��Ã�½Ã���Ã�¯Ã�¿Ã�½Ã���Ã��Ã�½Ã���Ã�¯Ã�¿Ã�½Ã��Ã�¯Ã��Ã�¿Ã��Ã�½Ã���Ã��Ã�¯Ã���Ã��Ã�¿Ã���Ã��Ã�½Ã���Ã�¯Ã�¿Ã�½Ã���Ã��Ã�¯Ã���Ã�¯Ã�¿Ã�½Ã���Ã��Ã�¿Ã���Ã�¯Ã�¿Ã�½Ã���Ã��Ã�½Ã���Ã�¯Ã�¿Ã�½Ã��Ã�¯Ã��Ã�¿Ã��Ã�½Ã���Ã�¯Ã�¿Ã�½Ã���Ã��Ã�¯Ã���Ã�¯Ã�¿Ã�½Ã��Ã�¯Ã��Ã�¿Ã��Ã�½Ã���Ã�¯Ã�¿Ã�½Ã���Ã��Ã�¿Ã���Ã�¯Ã�¿Ã�½Ã��Ã�¯Ã��Ã�¿Ã��Ã�½Ã���Ã�¯Ã�¿Ã�½Ã���Ã��Ã�½Ã���Ã�¯Ã�¿Ã�½Ã��Ã�¯Ã��Ã�¿Ã��Ã�½Ã���Ã��Ã�¯Ã���Ã��Ã�¿Ã���Ã��Ã�½Ã���Ã�¯Ã�¿Ã�½Ã���Ã��Ã�¯Ã���Ã�¯Ã�¿Ã�½Ã���Ã��Ã�¿Ã���Ã�¯Ã�¿Ã�½Ã���Ã��Ã�½Ã���Ã�¯Ã�¿Ã�½Ã��Ã�¯Ã��Ã�¿Ã��Ã�½Ã���Ã��Ã�¯Ã���Ã��Ã�¿Ã���Ã��Ã�½Ã���Ã�¯Ã�¿Ã�½Ã��Ã�¯Ã��Ã�¿Ã��Ã�½Ã���Ã�¯Ã�¿Ã�½Ã���Ã��Ã�¿Ã���Ã�¯Ã�¿Ã�½Ã��Ã�¯Ã��Ã�¿Ã��Ã�½Ã���Ã��Ã�¯Ã���Ã��Ã�¿Ã���Ã��Ã�½Ã���Ã�¯Ã�¿Ã�½Ã���Ã��Ã�¯Ã���Ã�¯Ã�¿Ã�½Ã���Ã��Ã�¿Ã���Ã�¯Ã�¿Ã�½Ã���Ã��Ã�½Ã���Ã�¯Ã�¿Ã�½Ã��Ã�¯Ã��Ã�¿Ã��Ã�½Ã���Ã�¯Ã�¿Ã�½Ã���Ã��Ã�¯Ã���Ã�¯Ã�¿Ã�½Ã��Ã�¯Ã��Ã�¿Ã��Ã�½Ã���Ã�¯Ã�¿Ã�½Ã���Ã��Ã�¿Ã���Ã�¯Ã�¿Ã�½Ã��Ã�¯Ã��Ã�¿Ã��Ã�½Ã���Ã�¯Ã�¿Ã�½Ã���Ã��Ã�½Ã���Ã�¯Ã�¿Ã�½Ã��Ã�¯Ã��Ã�¿Ã��Ã�½Ã���Ã��Ã�¯Ã���Ã��Ã�¿Ã���Ã��Ã�½Ã���Ã�¯Ã�¿Ã�½Ã��Ã�¯Ã��Ã�¿Ã��Ã�½Ã���Ã�¯Ã�¿Ã�½Ã���Ã��Ã�¯Ã���Ã�¯Ã�¿Ã�½Ã��Ã�¯Ã��Ã�¿Ã��Ã�½Ã���Ã��Ã�¯Ã���Ã��Ã�¿Ã���Ã��Ã�½Ã���Ã�¯Ã�¿Ã�½Ã��Ã�¯Ã��Ã�¿Ã��Ã�½Ã���Ã�¯Ã�¿Ã�½Ã���Ã��Ã�¿Ã���Ã�¯Ã�¿Ã�½Ã��Ã�¯Ã��Ã�¿Ã��Ã�½Ã���Ã��Ã�¯Ã���Ã��Ã�¿Ã���Ã��Ã�½Ã���Ã�¯Ã�¿Ã�½Ã��Ã�¯Ã��Ã�¿Ã��Ã�½Ã���Ã�¯Ã�¿Ã�½Ã���Ã��Ã�½Ã���Ã�¯Ã�¿Ã�½Ã��Ã�¯Ã��Ã�¿Ã��Ã�½Ã���Ã��Ã�¯Ã���Ã��Ã�¿Ã���Ã��Ã�½Ã���Ã�¯Ã�¿Ã�½Ã���Ã��Ã�¯Ã���Ã�¯Ã�¿Ã�½Ã���Ã��Ã�¿Ã���Ã�¯Ã�¿Ã�½Ã���Ã��Ã�½Ã���Ã�¯Ã�¿Ã�½Ã��Ã�¯Ã��Ã�¿Ã��Ã�½Ã���Ã��Ã�¯Ã���Ã��Ã�¿Ã���Ã��Ã�½Ã���Ã�¯Ã�¿Ã�½Ã��Ã�¯Ã��Ã�¿Ã��Ã�½Ã���Ã�¯Ã�¿Ã�½Ã���Ã��Ã�¯Ã���Ã�¯Ã�¿Ã�½Ã��Ã�¯Ã��Ã�¿Ã��Ã�½Ã���Ã��Ã�¯Ã���Ã��Ã�¿Ã���Ã��Ã�½Ã���Ã�¯Ã�¿Ã�½Ã���Ã��Ã�¯Ã���Ã�¯Ã�¿Ã�½Ã���Ã��Ã�¿Ã���Ã�¯Ã�¿Ã�½Ã���Ã��Ã�½Ã���Ã�¯Ã�¿Ã�½Ã��Ã�¯Ã��Ã�¿Ã��Ã�½Ã���Ã��Ã�¯Ã���Ã��Ã�¿Ã���Ã��Ã�½Ã���Ã�¯Ã�¿Ã�½Ã��Ã�¯Ã��Ã�¿Ã��Ã�½Ã���Ã�¯Ã�¿Ã�½Ã���Ã��Ã�¿Ã���Ã�¯Ã�¿Ã�½Ã��Ã�¯Ã��Ã�¿Ã��Ã�½Ã���Ã��Ã�¯Ã���Ã��Ã�¿Ã���Ã��Ã�½Ã���Ã�¯Ã�¿Ã�½Ã���Ã��Ã�¯Ã���Ã�¯Ã�¿Ã�½Ã���Ã��Ã�¿Ã���Ã�¯Ã�¿Ã�½Ã���Ã��Ã�½Ã���Ã�¯Ã�¿Ã�½Ã��Ã�¯Ã��Ã�¿Ã��Ã�½Ã���Ã��Ã�¯Ã���Ã��Ã�¿Ã���Ã��Ã�½Ã���Ã�¯Ã�¿Ã�½Ã��Ã�¯Ã��Ã�¿Ã��Ã�½Ã���Ã�¯Ã�¿Ã�½Ã���Ã��Ã�½Ã���Ã�¯Ã�¿Ã�½Ã��Ã�¯Ã��Ã�¿Ã��Ã�½Ã���Ã��Ã�¯Ã���Ã��Ã�¿Ã���Ã��Ã�½Ã���Ã�¯Ã�¿Ã�½Ã���Ã��Ã�¯Ã���Ã�¯Ã�¿Ã�½Ã���Ã��Ã�¿Ã���Ã�¯Ã�¿Ã�½Ã���Ã��Ã�½Ã���Ã�¯Ã�¿Ã�½Ã��Ã�¯Ã��Ã�¿Ã��Ã�½Ã���Ã�¯Ã�¿Ã�½Ã���Ã��Ã�¯Ã���Ã�¯Ã�¿Ã�½Ã��Ã�¯Ã��Ã�¿Ã��Ã�½Ã���Ã�¯Ã�¿Ã�½Ã���Ã��Ã�¿Ã���Ã�¯Ã�¿Ã�½Ã��Ã�¯Ã��Ã�¿Ã��Ã�½Ã���Ã�¯Ã�¿Ã�½Ã���Ã��Ã�½Ã���Ã�¯Ã�¿Ã�½Ã��Ã�¯Ã��Ã�¿Ã��Ã�½Ã���Ã��Ã�¯Ã���Ã��Ã�¿Ã���Ã��Ã�½Ã���Ã�¯Ã�¿Ã�½Ã��Ã�¯Ã��Ã�¿Ã��Ã�½Ã���Ã�¯Ã�¿Ã�½Ã���Ã��Ã�¯Ã���Ã�¯Ã�¿Ã�½Ã��Ã�¯Ã��Ã�¿Ã��Ã�½Ã���Ã��Ã�¯Ã���Ã��Ã�¿Ã���Ã��Ã�½Ã���Ã�¯Ã�¿Ã�½Ã��Ã�¯Ã��Ã�¿Ã��Ã�½Ã���Ã�¯Ã�¿Ã�½Ã���Ã��Ã�¿Ã���Ã�¯Ã�¿Ã�½Ã��Ã�¯Ã��Ã�¿Ã��Ã�½Ã���Ã��Ã�¯Ã���Ã��Ã�¿Ã���Ã��Ã�½Ã���Ã�¯Ã�¿Ã�½Ã��Ã�¯Ã��Ã�¿Ã��Ã�½Ã���Ã�¯Ã�¿Ã�½Ã���Ã��Ã�½Ã���Ã�¯Ã�¿Ã�½Ã��Ã�¯Ã��Ã�¿Ã��Ã�½Ã���Ã��Ã�¯Ã���Ã��Ã�¿Ã���Ã��Ã�½Ã���Ã�¯Ã�¿Ã�½Ã���Ã��Ã�¯Ã���Ã�¯Ã�¿Ã�½Ã���Ã��Ã�¿Ã���Ã�¯Ã�¿Ã�½Ã���Ã��Ã�½Ã���Ã�¯Ã�¿Ã�½Ã��Ã�¯Ã��Ã�¿Ã��Ã�½Ã���Ã�¯Ã�¿Ã�½Ã���Ã��Ã�¯Ã���Ã�¯Ã�¿Ã�½Ã��Ã�¯Ã��Ã�¿Ã��Ã�½Ã���Ã�¯Ã�¿Ã�½Ã���Ã��Ã�¿Ã���Ã�¯Ã�¿Ã�½Ã��Ã�¯Ã��Ã�¿Ã��Ã�½Ã���Ã�¯Ã�¿Ã�½Ã���Ã��Ã�½Ã���Ã�¯Ã�¿Ã�½Ã��Ã�¯Ã��Ã�¿Ã��Ã�½Ã���Ã��Ã�¯Ã���Ã��Ã�¿Ã���Ã��Ã�½Ã���Ã�¯Ã�¿Ã�½Ã���Ã��Ã�¯Ã���Ã�¯Ã�¿Ã�½Ã���Ã��Ã�¿Ã���Ã�¯Ã�¿Ã�½Ã���Ã��Ã�½Ã���Ã�¯Ã�¿Ã�½Ã��Ã�¯Ã��Ã�¿Ã��Ã�½Ã���Ã��Ã�¯Ã���Ã��Ã�¿Ã���Ã��Ã�½Ã���Ã�¯Ã�¿Ã�½Ã��Ã�¯Ã��Ã�¿Ã��Ã�½Ã���Ã�¯Ã�¿Ã�½Ã���Ã��Ã�½Ã���Ã�¯Ã�¿Ã�½Ã��Ã�¯Ã��Ã�¿Ã��Ã�½Ã���Ã��Ã�¯Ã���Ã��Ã�¿Ã���Ã��Ã�½Ã���Ã�¯Ã�¿Ã�½Ã���Ã��Ã�¯Ã���Ã�¯Ã�¿Ã�½Ã���Ã��Ã�¿Ã���Ã�¯Ã�¿Ã�½Ã���Ã��Ã�½Ã���Ã�¯Ã�¿Ã�½Ã��Ã�¯Ã��Ã�¿Ã��Ã�½Ã���Ã�¯Ã�¿Ã�½Ã���Ã��Ã�¯Ã���Ã�¯Ã�¿Ã�½Ã��Ã�¯Ã��Ã�¿Ã��Ã�½Ã���Ã�¯Ã�¿Ã�½Ã���Ã��Ã�¿Ã���Ã�¯Ã�¿Ã�½Ã��Ã�¯Ã��Ã�¿Ã��Ã�½Ã���Ã�¯Ã�¿Ã�½Ã���Ã��Ã�½Ã���Ã�¯Ã�¿Ã�½Ã��Ã�¯Ã��Ã�¿Ã��Ã�½Ã���Ã��Ã�¯Ã���Ã��Ã�¿Ã���Ã��Ã�½Ã���Ã�¯Ã�¿Ã�½Ã��Ã�¯Ã��Ã�¿Ã��Ã�½Ã���Ã�¯Ã�¿Ã�½Ã���Ã��Ã�¯Ã���Ã�¯Ã�¿Ã�½Ã��Ã�¯Ã��Ã�¿Ã��Ã�½Ã���Ã��Ã�¯Ã���Ã��Ã�¿Ã���Ã��Ã�½Ã���Ã�¯Ã�¿Ã�½Ã��Ã�¯Ã��Ã�¿Ã��Ã�½Ã���Ã�¯Ã�¿Ã�½Ã���Ã��Ã�¿Ã���Ã�¯Ã�¿Ã�½Ã��Ã�¯Ã��Ã�¿Ã��Ã�½Ã���Ã��Ã�¯Ã���Ã��Ã�¿Ã���Ã��Ã�½Ã���Ã�¯Ã�¿Ã�½Ã��Ã�¯Ã��Ã�¿Ã��Ã�½Ã���Ã�¯Ã�¿Ã�½Ã���Ã��Ã�½Ã���Ã�¯Ã�¿Ã�½Ã��Ã�¯Ã��Ã�¿Ã��Ã�½Ã���Ã��Ã�¯Ã���Ã��Ã�¿Ã���Ã��Ã�½Ã���Ã�¯Ã�¿Ã�½Ã���Ã��Ã�¯Ã���Ã�¯Ã�¿Ã�½Ã���Ã��Ã�¿Ã���Ã�¯Ã�¿Ã�½Ã���Ã��Ã�½Ã���Ã�¯Ã�¿Ã�½Ã��Ã�¯Ã��Ã�¿Ã��Ã�½Ã���Ã��Ã�¯Ã���Ã��Ã�¿Ã���Ã��Ã�½Ã���Ã�¯Ã�¿Ã�½Ã��Ã�¯Ã��Ã�¿Ã��Ã�½Ã���Ã�¯Ã�¿Ã�½Ã���Ã��Ã�¯Ã���Ã�¯Ã�¿Ã�½Ã��Ã�¯Ã��Ã�¿Ã��Ã�½Ã���Ã��Ã�¯Ã���Ã��Ã�¿Ã���Ã��Ã�½Ã���Ã�¯Ã�¿Ã�½Ã���Ã��Ã�¯Ã���Ã�¯Ã�¿Ã�½Ã���Ã��Ã�¿Ã���Ã�¯Ã�¿Ã�½Ã���Ã��Ã�½Ã���Ã�¯Ã�¿Ã�½Ã��Ã�¯Ã��Ã�¿Ã��Ã�½Ã���Ã��Ã�¯Ã���Ã��Ã�¿Ã���Ã��Ã�½Ã���Ã�¯Ã�¿Ã�½Ã��Ã�¯Ã��Ã�¿Ã��Ã�½Ã���Ã�¯Ã�¿Ã�½Ã���Ã��Ã�¿Ã���Ã�¯Ã�¿Ã�½Ã��Ã�¯Ã��Ã�¿Ã��Ã�½Ã���Ã��Ã�¯Ã���Ã��Ã�¿Ã���Ã��Ã�½Ã���Ã�¯Ã�¿Ã�½Ã���Ã��Ã�¯Ã���Ã�¯Ã�¿Ã�½Ã���Ã��Ã�¿Ã���Ã�¯Ã�¿Ã�½Ã���Ã��Ã�½Ã���Ã�¯Ã�¿Ã�½Ã��Ã�¯Ã��Ã�¿Ã��Ã�½Ã���Ã��Ã�¯Ã���Ã��Ã�¿Ã���Ã��Ã�½Ã���Ã�¯Ã�¿Ã�½Ã��Ã�¯Ã��Ã�¿Ã��Ã�½Ã���Ã�¯Ã�¿Ã�½Ã���Ã��Ã�½Ã���Ã�¯Ã�¿Ã�½Ã��Ã�¯Ã��Ã�¿Ã��Ã�½Ã���Ã��Ã�¯Ã���Ã��Ã�¿Ã���Ã��Ã�½Ã���Ã�¯Ã�¿Ã�½Ã���Ã��Ã�¯Ã���Ã�¯Ã�¿Ã�½Ã���Ã��Ã�¿Ã���Ã�¯Ã�¿Ã�½Ã���Ã��Ã�½Ã���Ã�¯Ã�¿Ã�½Ã��Ã�¯Ã��Ã�¿Ã��Ã�½Ã���Ã�¯Ã�¿Ã�½Ã���Ã��Ã�¯Ã���Ã�¯Ã�¿Ã�½Ã��Ã�¯Ã��Ã�¿Ã��Ã�½Ã���Ã�¯Ã�¿Ã�½Ã���Ã��Ã�¿Ã���Ã�¯Ã�¿Ã�½Ã��Ã�¯Ã��Ã�¿Ã��Ã�½Ã���Ã�¯Ã�¿Ã�½Ã���Ã��Ã�½Ã���Ã�¯Ã�¿Ã�½Ã��Ã�¯Ã��Ã�¿Ã��Ã�½Ã���Ã��Ã�¯Ã���Ã��Ã�¿Ã���Ã��Ã�½Ã���Ã�¯Ã�¿Ã�½Ã���Ã��Ã�¯Ã���Ã�¯Ã�¿Ã�½Ã���Ã��Ã�¿Ã���Ã�¯Ã�¿Ã�½Ã���Ã��Ã�½Ã���Ã�¯Ã�¿Ã�½Ã��Ã�¯Ã��Ã�¿Ã��Ã�½Ã���Ã��Ã�¯Ã���Ã��Ã�¿Ã���Ã��Ã�½Ã���Ã�¯Ã�¿Ã�½Ã��Ã�¯Ã��Ã�¿Ã��Ã�½Ã���Ã�¯Ã�¿Ã�½Ã���Ã��Ã�¯Ã���Ã�¯Ã�¿Ã�½Ã��Ã�¯Ã��Ã�¿Ã��Ã�½Ã���Ã��Ã�¯Ã���Ã��Ã�¿Ã���Ã��Ã�½Ã���Ã�¯Ã�¿Ã�½Ã���Ã��Ã�¯Ã���Ã�¯Ã�¿Ã�½Ã���Ã��Ã�¿Ã���Ã�¯Ã�¿Ã�½Ã���Ã��Ã�½Ã���Ã�¯Ã�¿Ã�½Ã��Ã�¯Ã��Ã�¿Ã��Ã�½Ã���Ã�¯Ã�¿Ã�½Ã���Ã��Ã�¯Ã���Ã�¯Ã�¿Ã�½Ã��Ã�¯Ã��Ã�¿Ã��Ã�½Ã���Ã�¯Ã�¿Ã�½Ã���Ã��Ã�¿Ã���Ã�¯Ã�¿Ã�½Ã��Ã�¯Ã��Ã�¿Ã��Ã�½Ã���Ã�¯Ã�¿Ã�½Ã���Ã��Ã�½Ã���Ã�¯Ã�¿Ã�½Ã��Ã�¯Ã��Ã�¿Ã��Ã�½Ã���Ã��Ã�¯Ã���Ã��Ã�¿Ã���Ã��Ã�½Ã���Ã�¯Ã�¿Ã�½Ã���Ã��Ã�¯Ã���Ã�¯Ã�¿Ã�½Ã���Ã��Ã�¿Ã���Ã�¯Ã�¿Ã�½Ã���Ã��Ã�½Ã���Ã�¯Ã�¿Ã�½Ã��Ã�¯Ã��Ã�¿Ã��Ã�½Ã���Ã��Ã�¯Ã���Ã��Ã�¿Ã���Ã��Ã�½Ã���Ã�¯Ã�¿Ã�½Ã��Ã�¯Ã��Ã�¿Ã��Ã�½Ã���Ã�¯Ã�¿Ã�½Ã���Ã��Ã�¿Ã���Ã�¯Ã�¿Ã�½Ã��Ã�¯Ã��Ã�¿Ã��Ã�½Ã���Ã��Ã�¯Ã���Ã��Ã�¿Ã���Ã��Ã�½Ã���Ã�¯Ã�¿Ã�½Ã���Ã��Ã�¯Ã���Ã�¯Ã�¿Ã�½Ã���Ã��Ã�¿Ã���Ã�¯Ã�¿Ã�½Ã���Ã��Ã�½Ã���Ã�¯Ã�¿Ã�½Ã��Ã�¯Ã��Ã�¿Ã��Ã�½Ã���Ã�¯Ã�¿Ã�½Ã���Ã��Ã�¯Ã���Ã�¯Ã�¿Ã�½Ã��Ã�¯Ã��Ã�¿Ã��Ã�½Ã���Ã�¯Ã�¿Ã�½Ã���Ã��Ã�¿Ã���Ã�¯Ã�¿Ã�½Ã��Ã�¯Ã��Ã�¿Ã��Ã�½Ã���Ã�¯Ã�¿Ã�½Ã���Ã��Ã�½Ã���Ã�¯Ã�¿Ã�½Ã��Ã�¯Ã��Ã�¿Ã��Ã�½Ã���Ã��Ã�¯Ã���Ã��Ã�¿Ã���Ã��Ã�½Ã���Ã�¯Ã�¿Ã�½Ã���Ã��Ã�¯Ã���Ã�¯Ã�¿Ã�½Ã���Ã��Ã�¿Ã���Ã�¯Ã�¿Ã�½Ã���Ã��Ã�½Ã���Ã�¯Ã�¿Ã�½Ã��Ã�¯Ã��Ã�¿Ã��Ã�½Ã���Ã��Ã�¯Ã���Ã��Ã�¿Ã���Ã��Ã�½Ã���Ã�¯Ã�¿Ã�½Ã��Ã�¯Ã��Ã�¿Ã��Ã�½Ã���Ã�¯Ã�¿Ã�½Ã���Ã��Ã�½Ã���Ã�¯Ã�¿Ã�½Ã��Ã�¯Ã��Ã�¿Ã��Ã�½Ã���Ã��Ã�¯Ã���Ã��Ã�¿Ã���Ã��Ã�½Ã���Ã�¯Ã�¿Ã�½Ã���Ã��Ã�¯Ã���Ã�¯Ã�¿Ã�½Ã���Ã��Ã�¿Ã���Ã�¯Ã�¿Ã�½Ã���Ã��Ã�½Ã���Ã�¯Ã�¿Ã�½Ã��Ã�¯Ã��Ã�¿Ã��Ã�½Ã���Ã�¯Ã�¿Ã�½Ã���Ã��Ã�¯Ã���Ã�¯Ã�¿Ã�½Ã��Ã�¯Ã��Ã�¿Ã��Ã�½Ã���Ã�¯Ã�¿Ã�½Ã���Ã��Ã�¿Ã���Ã�¯Ã�¿Ã�½Ã��Ã�¯Ã��Ã�¿Ã��Ã�½Ã���Ã�¯Ã�¿Ã�½Ã���Ã��Ã�½Ã���Ã�¯Ã�¿Ã�½Ã��Ã�¯Ã��Ã�¿Ã��Ã�½Ã���Ã��Ã�¯Ã���Ã��Ã�¿Ã���Ã��Ã�½Ã���Ã�¯Ã�¿Ã�½Ã��Ã�¯Ã��Ã�¿Ã��Ã�½Ã���Ã�¯Ã�¿Ã�½Ã���Ã��Ã�¯Ã���Ã�¯Ã�¿Ã�½Ã��Ã�¯Ã��Ã�¿Ã��Ã�½Ã���Ã��Ã�¯Ã���Ã��Ã�¿Ã���Ã��Ã�½Ã���Ã�¯Ã�¿Ã�½Ã��Ã�¯Ã��Ã�¿Ã��Ã�½Ã���Ã�¯Ã�¿Ã�½Ã���Ã��Ã�¿Ã���Ã�¯Ã�¿Ã�½Ã��Ã�¯Ã��Ã�¿Ã��Ã�½Ã���Ã��Ã�¯Ã���Ã��Ã�¿Ã���Ã��Ã�½Ã���Ã�¯Ã�¿Ã�½Ã��Ã�¯Ã��Ã�¿Ã��Ã�½Ã���Ã�¯Ã�¿Ã�½Ã���Ã��Ã�½Ã���Ã�¯Ã�¿Ã�½Ã��Ã�¯Ã��Ã�¿Ã��Ã�½Ã���Ã��Ã�¯Ã���Ã��Ã�¿Ã���Ã��Ã�½Ã���Ã�¯Ã�¿Ã�½Ã���Ã��Ã�¯Ã���Ã�¯Ã�¿Ã�½Ã���Ã��Ã�¿Ã���Ã�¯Ã�¿Ã�½Ã���Ã��Ã�½Ã���Ã�¯Ã�¿Ã�½Ã��Ã�¯Ã��Ã�¿Ã��Ã�½Ã���Ã��Ã�¯Ã���Ã��Ã�¿Ã���Ã��Ã�½Ã���Ã�¯Ã�¿Ã�½Ã��Ã�¯Ã��Ã�¿Ã��Ã�½Ã���Ã�¯Ã�¿Ã�½Ã���Ã��Ã�¯Ã���Ã�¯Ã�¿Ã�½Ã��Ã�¯Ã��Ã�¿Ã��Ã�½Ã���Ã��Ã�¯Ã���Ã��Ã�¿Ã���Ã��Ã�½Ã���Ã�¯Ã�¿Ã�½Ã���Ã��Ã�¯Ã���Ã�¯Ã�¿Ã�½Ã���Ã��Ã�¿Ã���Ã�¯Ã�¿Ã�½Ã���Ã��Ã�½Ã���Ã�¯Ã�¿Ã�½Ã��Ã�¯Ã��Ã�¿Ã��Ã�½Ã���Ã��Ã�¯Ã���Ã��Ã�¿Ã���Ã��Ã�½Ã���Ã�¯Ã�¿Ã�½Ã��Ã�¯Ã��Ã�¿Ã��Ã�½Ã���Ã�¯Ã�¿Ã�½Ã���Ã��Ã�¿Ã���Ã�¯Ã�¿Ã�½Ã��Ã�¯Ã��Ã�¿Ã��Ã�½Ã���Ã��Ã�¯Ã���Ã��Ã�¿Ã���Ã��Ã�½Ã���Ã�¯Ã�¿Ã�½Ã���Ã��Ã�¯Ã���Ã�¯Ã�¿Ã�½Ã���Ã��Ã�¿Ã���Ã�¯Ã�¿Ã�½Ã���Ã��Ã�½Ã���Ã�¯Ã�¿Ã�½Ã��Ã�¯Ã��Ã�¿Ã��Ã�½Ã���Ã��Ã�¯Ã���Ã��Ã�¿Ã���Ã��Ã�½Ã���Ã�¯Ã�¿Ã�½Ã��Ã�¯Ã��Ã�¿Ã��Ã�½Ã���Ã�¯Ã�¿Ã�½Ã���Ã��Ã�½Ã���Ã�¯Ã�¿Ã�½Ã��Ã�¯Ã��Ã�¿Ã��Ã�½Ã���Ã��Ã�¯Ã���Ã��Ã�¿Ã���Ã��Ã�½Ã���Ã�¯Ã�¿Ã�½Ã���Ã��Ã�¯Ã���Ã�¯Ã�¿Ã�½Ã���Ã��Ã�¿Ã���Ã�¯Ã�¿Ã�½Ã���Ã��Ã�½Ã���Ã�¯Ã�¿Ã�½Ã��Ã�¯Ã��Ã�¿Ã��Ã�½Ã���Ã�¯Ã�¿Ã�½Ã���Ã��Ã�¯Ã���Ã�¯Ã�¿Ã�½Ã��Ã�¯Ã��Ã�¿Ã��Ã�½Ã���Ã�¯Ã�¿Ã�½Ã���Ã��Ã�¿Ã���Ã�¯Ã�¿Ã�½Ã��Ã�¯Ã��Ã�¿Ã��Ã�½Ã���Ã�¯Ã�¿Ã�½Ã���Ã��Ã�½Ã���Ã�¯Ã�¿Ã�½Ã��Ã�¯Ã��Ã�¿Ã��Ã�½Ã���Ã��Ã�¯Ã���Ã��Ã�¿Ã���Ã��Ã�½Ã���Ã�¯Ã�¿Ã�½Ã��Ã�¯Ã��Ã�¿Ã��Ã�½Ã���Ã�¯Ã�¿Ã�½Ã���Ã��Ã�¯Ã���Ã�¯Ã�¿Ã�½Ã��Ã�¯Ã��Ã�¿Ã��Ã�½Ã���Ã��Ã�¯Ã���Ã��Ã�¿Ã���Ã��Ã�½Ã���Ã�¯Ã�¿Ã�½Ã��Ã�¯Ã��Ã�¿Ã��Ã�½Ã���Ã�¯Ã�¿Ã�½Ã���Ã��Ã�¿Ã���Ã�¯Ã�¿Ã�½Ã��Ã�¯Ã��Ã�¿Ã��Ã�½Ã���Ã��Ã�¯Ã���Ã��Ã�¿Ã���Ã��Ã�½Ã���Ã�¯Ã�¿Ã�½Ã��Ã�¯Ã��Ã�¿Ã��Ã�½Ã���Ã�¯Ã�¿Ã�½Ã���Ã��Ã�½Ã���Ã�¯Ã�¿Ã�½Ã��Ã�¯Ã��Ã�¿Ã��Ã�½Ã���Ã��Ã�¯Ã���Ã��Ã�¿Ã���Ã��Ã�½Ã���Ã�¯Ã�¿Ã�½Ã���Ã��Ã�¯Ã���Ã�¯Ã�¿Ã�½Ã���Ã��Ã�¿Ã���Ã�¯Ã�¿Ã�½Ã���Ã��Ã�½Ã���Ã�¯Ã�¿Ã�½Ã��Ã�¯Ã��Ã�¿Ã��Ã�½Ã���Ã�¯Ã�¿Ã�½Ã���Ã��Ã�¯Ã���Ã�¯Ã�¿Ã�½Ã��Ã�¯Ã��Ã�¿Ã��Ã�½Ã���Ã�¯Ã�¿Ã�½Ã���Ã��Ã�¿Ã���Ã�¯Ã�¿Ã�½Ã��Ã�¯Ã��Ã�¿Ã��Ã�½Ã���Ã�¯Ã�¿Ã�½Ã���Ã��Ã�½Ã���Ã�¯Ã�¿Ã�½Ã��Ã�¯Ã��Ã�¿Ã��Ã�½Ã���Ã��Ã�¯Ã���Ã��Ã�¿Ã���Ã��Ã�½Ã���Ã�¯Ã�¿Ã�½Ã���Ã��Ã�¯Ã���Ã�¯Ã�¿Ã�½Ã���Ã��Ã�¿Ã���Ã�¯Ã�¿Ã�½Ã���Ã��Ã�½Ã���Ã�¯Ã�¿Ã�½Ã��Ã�¯Ã��Ã�¿Ã��Ã�½Ã���Ã��Ã�¯Ã���Ã��Ã�¿Ã���Ã��Ã�½Ã���Ã�¯Ã�¿Ã�½Ã��Ã�¯Ã��Ã�¿Ã��Ã�½Ã���Ã�¯Ã�¿Ã�½Ã���Ã��Ã�¯Ã���Ã�¯Ã�¿Ã�½Ã��Ã�¯Ã��Ã�¿Ã��Ã�½Ã���Ã��Ã�¯Ã���Ã��Ã�¿Ã���Ã��Ã�½Ã���Ã�¯Ã�¿Ã�½Ã���Ã��Ã�¯Ã���Ã�¯Ã�¿Ã�½Ã���Ã��Ã�¿Ã���Ã�¯Ã�¿Ã�½Ã���Ã��Ã�½Ã���Ã�¯Ã�¿Ã�½Ã��Ã�¯Ã��Ã�¿Ã��Ã�½Ã���Ã�¯Ã�¿Ã�½Ã���Ã��Ã�¯Ã���Ã�¯Ã�¿Ã�½Ã��Ã�¯Ã��Ã�¿Ã��Ã�½Ã���Ã�¯Ã�¿Ã�½Ã���Ã��Ã�¿Ã���Ã�¯Ã�¿Ã�½Ã��Ã�¯Ã��Ã�¿Ã��Ã�½Ã���Ã�¯Ã�¿Ã�½Ã���Ã��Ã�½Ã���Ã�¯Ã�¿Ã�½Ã��Ã�¯Ã��Ã�¿Ã��Ã�½Ã���Ã��Ã�¯Ã���Ã��Ã�¿Ã���Ã��Ã�½Ã���Ã�¯Ã�¿Ã�½Ã��Ã�¯Ã��Ã�¿Ã��Ã�½Ã���Ã�¯Ã�¿Ã�½Ã���Ã��Ã�¯Ã���Ã�¯Ã�¿Ã�½Ã��Ã�¯Ã��Ã�¿Ã��Ã�½Ã���Ã��Ã�¯Ã���Ã��Ã�¿Ã���Ã��Ã�½Ã���Ã�¯Ã�¿Ã�½Ã��Ã�¯Ã��Ã�¿Ã��Ã�½Ã���Ã�¯Ã�¿Ã�½Ã���Ã��Ã�¿Ã���Ã�¯Ã�¿Ã�½Ã��Ã�¯Ã��Ã�¿Ã��Ã�½Ã���Ã��Ã�¯Ã���Ã��Ã�¿Ã���Ã��Ã�½Ã���Ã�¯Ã�¿Ã�½Ã��Ã�¯Ã��Ã�¿Ã��Ã�½Ã���Ã�¯Ã�¿Ã�½Ã���Ã��Ã�½Ã���Ã�¯Ã�¿Ã�½Ã��Ã�¯Ã��Ã�¿Ã��Ã�½Ã���Ã��Ã�¯Ã���Ã��Ã�¿Ã���Ã��Ã�½Ã���Ã�¯Ã�¿Ã�½Ã���Ã��Ã�¯Ã���Ã�¯Ã�¿Ã�½Ã���Ã��Ã�¿Ã���Ã�¯Ã�¿Ã�½Ã���Ã��Ã�½Ã���Ã�¯Ã�¿Ã�½Ã��Ã�¯Ã��Ã�¿Ã��Ã�½Ã���Ã��Ã�¯Ã���Ã��Ã�¿Ã���Ã��Ã�½Ã���Ã�¯Ã�¿Ã�½Ã��Ã�¯Ã��Ã�¿Ã��Ã�½Ã���Ã�¯Ã�¿Ã�½Ã���Ã��Ã�¯Ã���Ã�¯Ã�¿Ã�½Ã��Ã�¯Ã��Ã�¿Ã��Ã�½Ã���Ã��Ã�¯Ã���Ã��Ã�¿Ã���Ã��Ã�½Ã���Ã�¯Ã�¿Ã�½Ã���Ã��Ã�¯Ã���Ã�¯Ã�¿Ã�½Ã���Ã��Ã�¿Ã���Ã�¯Ã�¿Ã�½Ã���Ã��Ã�½Ã���Ã�¯Ã�¿Ã�½Ã��Ã�¯Ã��Ã�¿Ã��Ã�½Ã���Ã��Ã�¯Ã���Ã��Ã�¿Ã���Ã��Ã�½Ã���Ã�¯Ã�¿Ã�½Ã��Ã�¯Ã��Ã�¿Ã��Ã�½Ã���Ã�¯Ã�¿Ã�½Ã���Ã��Ã�¿Ã���Ã�¯Ã�¿Ã�½Ã��Ã�¯Ã��Ã�¿Ã��Ã�½Ã���Ã��Ã�¯Ã���Ã��Ã�¿Ã���Ã��Ã�½Ã���Ã�¯Ã�¿Ã�½Ã���Ã��Ã�¯Ã���Ã�¯Ã�¿Ã�½Ã���Ã��Ã�¿Ã���Ã�¯Ã�¿Ã�½Ã���Ã��Ã�½Ã���Ã�¯Ã�¿Ã�½Ã��Ã�¯Ã��Ã�¿Ã��Ã�½Ã���Ã��Ã�¯Ã���Ã��Ã�¿Ã���Ã��Ã�½Ã���Ã�¯Ã�¿Ã�½Ã��Ã�¯Ã��Ã�¿Ã��Ã�½Ã���Ã�¯Ã�¿Ã�½Ã���Ã��Ã�½Ã���Ã�¯Ã�¿Ã�½Ã��Ã�¯Ã��Ã�¿Ã��Ã�½Ã���Ã��Ã�¯Ã���Ã��Ã�¿Ã���Ã��Ã�½Ã���Ã�¯Ã�¿Ã�½Ã���Ã��Ã�¯Ã���Ã�¯Ã�¿Ã�½Ã���Ã��Ã�¿Ã���Ã�¯Ã�¿Ã�½Ã���Ã��Ã�½Ã���Ã�¯Ã�¿Ã�½Ã��Ã�¯Ã��Ã�¿Ã��Ã�½Ã���Ã�¯Ã�¿Ã�½Ã���Ã��Ã�¯Ã���Ã�¯Ã�¿Ã�½Ã��Ã�¯Ã��Ã�¿Ã��Ã�½Ã���Ã�¯Ã�¿Ã�½Ã���Ã��Ã�¿Ã���Ã�¯Ã�¿Ã�½Ã��Ã�¯Ã��Ã�¿Ã��Ã�½Ã���Ã�¯Ã�¿Ã�½Ã���Ã��Ã�½Ã���Ã�¯Ã�¿Ã�½Ã��Ã�¯Ã��Ã�¿Ã��Ã�½Ã���Ã��Ã�¯Ã���Ã��Ã�¿Ã���Ã��Ã�½Ã���Ã�¯Ã�¿Ã�½Ã���Ã��Ã�¯Ã���Ã�¯Ã�¿Ã�½Ã���Ã��Ã�¿Ã���Ã�¯Ã�¿Ã�½Ã���Ã��Ã�½Ã���Ã�¯Ã�¿Ã�½Ã��Ã�¯Ã��Ã�¿Ã��Ã�½Ã���Ã��Ã�¯Ã���Ã��Ã�¿Ã���Ã��Ã�½Ã���Ã�¯Ã�¿Ã�½Ã��Ã�¯Ã��Ã�¿Ã��Ã�½Ã���Ã�¯Ã�¿Ã�½Ã���Ã��Ã�¯Ã���Ã�¯Ã�¿Ã�½Ã��Ã�¯Ã��Ã�¿Ã��Ã�½Ã���Ã��Ã�¯Ã���Ã��Ã�¿Ã���Ã��Ã�½Ã���Ã�¯Ã�¿Ã�½Ã���Ã��Ã�¯Ã���Ã�¯Ã�¿Ã�½Ã���Ã��Ã�¿Ã���Ã�¯Ã�¿Ã�½Ã���Ã��Ã�½Ã���Ã�¯Ã�¿Ã�½Ã��Ã�¯Ã��Ã�¿Ã��Ã�½Ã���Ã�¯Ã�¿Ã�½Ã���Ã��Ã�¯Ã���Ã�¯Ã�¿Ã�½Ã��Ã�¯Ã��Ã�¿Ã��Ã�½Ã���Ã�¯Ã�¿Ã�½Ã���Ã��Ã�¿Ã���Ã�¯Ã�¿Ã�½Ã��Ã�¯Ã��Ã�¿Ã��Ã�½Ã���Ã�¯Ã�¿Ã�½Ã���Ã��Ã�½Ã���Ã�¯Ã�¿Ã�½Ã��Ã�¯Ã��Ã�¿Ã��Ã�½Ã���Ã��Ã�¯Ã���Ã��Ã�¿Ã���Ã��Ã�½Ã���Ã�¯Ã�¿Ã�½Ã���Ã��Ã�¯Ã���Ã�¯Ã�¿Ã�½Ã���Ã��Ã�¿Ã���Ã�¯Ã�¿Ã�½Ã���Ã��Ã�½Ã���Ã�¯Ã�¿Ã�½Ã��Ã�¯Ã��Ã�¿Ã��Ã�½Ã���Ã��Ã�¯Ã���Ã��Ã�¿Ã���Ã��Ã�½Ã���Ã�¯Ã�¿Ã�½Ã��Ã�¯Ã��Ã�¿Ã��Ã�½Ã���Ã�¯Ã�¿Ã�½Ã���Ã��Ã�¿Ã���Ã�¯Ã�¿Ã�½Ã��Ã�¯Ã��Ã�¿Ã��Ã�½Ã���Ã��Ã�¯Ã���Ã��Ã�¿Ã���Ã��Ã�½Ã���Ã�¯Ã�¿Ã�½Ã���Ã��Ã�¯Ã���Ã�¯Ã�¿Ã�½Ã���Ã��Ã�¿Ã���Ã�¯Ã�¿Ã�½Ã���Ã��Ã�½Ã���Ã�¯Ã�¿Ã�½Ã��Ã�¯Ã��Ã�¿Ã��Ã�½Ã���Ã�¯Ã�¿Ã�½Ã���Ã��Ã�¯Ã���Ã�¯Ã�¿Ã�½Ã��Ã�¯Ã��Ã�¿Ã��Ã�½Ã���Ã�¯Ã�¿Ã�½Ã���Ã��Ã�¿Ã���Ã�¯Ã�¿Ã�½Ã��Ã�¯Ã��Ã�¿Ã��Ã�½Ã���Ã�¯Ã�¿Ã�½Ã���Ã��Ã�½Ã���Ã�¯Ã�¿Ã�½Ã��Ã�¯Ã��Ã�¿Ã��Ã�½Ã���Ã��Ã�¯Ã���Ã��Ã�¿Ã���Ã��Ã�½Ã���Ã�¯Ã�¿Ã�½Ã���Ã��Ã�¯Ã���Ã�¯Ã�¿Ã�½Ã���Ã��Ã�¿Ã���Ã�¯Ã�¿Ã�½Ã���Ã��Ã�½Ã���Ã�¯Ã�¿Ã�½Ã��Ã�¯Ã��Ã�¿Ã��Ã�½Ã���Ã��Ã�¯Ã���Ã��Ã�¿Ã���Ã��Ã�½Ã���Ã�¯Ã�¿Ã�½Ã��Ã�¯Ã��Ã�¿Ã��Ã�½Ã���Ã�¯Ã�¿Ã�½Ã���Ã��Ã�½Ã���Ã�¯Ã�¿Ã�½Ã��Ã�¯Ã��Ã�¿Ã��Ã�½Ã���Ã��Ã�¯Ã���Ã��Ã�¿Ã���Ã��Ã�½Ã���Ã�¯Ã�¿Ã�½Ã���Ã��Ã�¯Ã���Ã�¯Ã�¿Ã�½Ã���Ã��Ã�¿Ã���Ã�¯Ã�¿Ã�½Ã���Ã��Ã�½Ã���Ã�¯Ã�¿Ã�½Ã��Ã�¯Ã��Ã�¿Ã��Ã�½Ã���Ã�¯Ã�¿Ã�½Ã���Ã��Ã�¯Ã���Ã�¯Ã�¿Ã�½Ã��Ã�¯Ã��Ã�¿Ã��Ã�½Ã���Ã�¯Ã�¿Ã�½Ã���Ã��Ã�¿Ã���Ã�¯Ã�¿Ã�½Ã��Ã�¯Ã��Ã�¿Ã��Ã�½Ã���Ã�¯Ã�¿Ã�½Ã���Ã��Ã�½Ã���Ã�¯Ã�¿Ã�½Ã��Ã�¯Ã��Ã�¿Ã��Ã�½Ã���Ã��Ã�¯Ã���Ã��Ã�¿Ã���Ã��Ã�½Ã���Ã�¯Ã�¿Ã�½Ã��Ã�¯Ã��Ã�¿Ã��Ã�½Ã���Ã�¯Ã�¿Ã�½Ã���Ã��Ã�¯Ã���Ã�¯Ã�¿Ã�½Ã��Ã�¯Ã��Ã�¿Ã��Ã�½Ã���Ã��Ã�¯Ã���Ã��Ã�¿Ã���Ã��Ã�½Ã���Ã�¯Ã�¿Ã�½Ã��Ã�¯Ã��Ã�¿Ã��Ã�½Ã���Ã�¯Ã�¿Ã�½Ã���Ã��Ã�¿Ã���Ã�¯Ã�¿Ã�½Ã��Ã�¯Ã��Ã�¿Ã��Ã�½Ã���Ã��Ã�¯Ã���Ã��Ã�¿Ã���Ã��Ã�½Ã���Ã�¯Ã�¿Ã�½Ã��Ã�¯Ã��Ã�¿Ã��Ã�½Ã���Ã�¯Ã�¿Ã�½Ã���Ã��Ã�½Ã���Ã�¯Ã�¿Ã�½Ã��Ã�¯Ã��Ã�¿Ã��Ã�½Ã���Ã��Ã�¯Ã���Ã��Ã�¿Ã���Ã��Ã�½Ã���Ã�¯Ã�¿Ã�½Ã���Ã��Ã�¯Ã���Ã�¯Ã�¿Ã�½Ã���Ã��Ã�¿Ã���Ã�¯Ã�¿Ã�½Ã���Ã��Ã�½Ã���Ã�¯Ã�¿Ã�½Ã��Ã�¯Ã��Ã�¿Ã��Ã�½Ã���Ã��Ã�¯Ã���Ã��Ã�¿Ã���Ã��Ã�½Ã���Ã�¯Ã�¿Ã�½Ã��Ã�¯Ã��Ã�¿Ã��Ã�½Ã���Ã�¯Ã�¿Ã�½Ã���Ã��Ã�¯Ã���Ã�¯Ã�¿Ã�½Ã��Ã�¯Ã��Ã�¿Ã��Ã�½Ã���Ã��Ã�¯Ã���Ã��Ã�¿Ã���Ã��Ã�½Ã���Ã�¯Ã�¿Ã�½Ã���Ã��Ã�¯Ã���Ã�¯Ã�¿Ã�½Ã���Ã��Ã�¿Ã���Ã�¯Ã�¿Ã�½Ã���Ã��Ã�½Ã���Ã�¯Ã�¿Ã�½Ã��Ã�¯Ã��Ã�¿Ã��Ã�½Ã���Ã��Ã�¯Ã���Ã��Ã�¿Ã���Ã��Ã�½Ã���Ã�¯Ã�¿Ã�½Ã��Ã�¯Ã��Ã�¿Ã��Ã�½Ã���Ã�¯Ã�¿Ã�½Ã���Ã��Ã�¿Ã���Ã�¯Ã�¿Ã�½Ã��Ã�¯Ã��Ã�¿Ã��Ã�½Ã���Ã��Ã�¯Ã���Ã��Ã�¿Ã���Ã��Ã�½Ã���Ã�¯Ã�¿Ã�½Ã���Ã��Ã�¯Ã���Ã�¯Ã�¿Ã�½Ã���Ã��Ã�¿Ã���Ã�¯Ã�¿Ã�½Ã���Ã��Ã�½Ã���Ã�¯Ã�¿Ã�½Ã��Ã�¯Ã��Ã�¿Ã��Ã�½Ã���Ã��Ã�¯Ã���Ã��Ã�¿Ã���Ã��Ã�½Ã���Ã�¯Ã�¿Ã�½Ã��Ã�¯Ã��Ã�¿Ã��Ã�½Ã���Ã�¯Ã�¿Ã�½Ã���Ã��Ã�½Ã���Ã�¯Ã�¿Ã�½Ã��Ã�¯Ã��Ã�¿Ã��Ã�½Ã���Ã��Ã�¯Ã���Ã��Ã�¿Ã���Ã��Ã�½Ã���Ã�¯Ã�¿Ã�½Ã���Ã��Ã�¯Ã���Ã�¯Ã�¿Ã�½Ã���Ã��Ã�¿Ã���Ã�¯Ã�¿Ã�½Ã���Ã��Ã�½Ã���Ã�¯Ã�¿Ã�½Ã��Ã�¯Ã��Ã�¿Ã��Ã�½Ã���Ã�¯Ã�¿Ã�½Ã���Ã��Ã�¯Ã���Ã�¯Ã�¿Ã�½Ã��Ã�¯Ã��Ã�¿Ã��Ã�½Ã���Ã�¯Ã�¿Ã�½Ã���Ã��Ã�¿Ã���Ã�¯Ã�¿Ã�½Ã��Ã�¯Ã��Ã�¿Ã��Ã�½Ã���Ã�¯Ã�¿Ã�½Ã���Ã��Ã�½Ã���Ã�¯Ã�¿Ã�½Ã��Ã�¯Ã��Ã�¿Ã��Ã�½Ã���Ã��Ã�¯Ã���Ã��Ã�¿Ã���Ã��Ã�½Ã���Ã�¯Ã�¿Ã�½Ã��Ã�¯Ã��Ã�¿Ã��Ã�½Ã���Ã�¯Ã�¿Ã�½Ã���Ã��Ã�¯Ã���Ã�¯Ã�¿Ã�½Ã��Ã�¯Ã��Ã�¿Ã��Ã�½Ã���Ã��Ã�¯Ã���Ã��Ã�¿Ã���Ã��Ã�½Ã���Ã�¯Ã�¿Ã�½Ã��Ã�¯Ã��Ã�¿Ã��Ã�½Ã���Ã�¯Ã�¿Ã�½Ã���Ã��Ã�¿Ã���Ã�¯Ã�¿Ã�½Ã��Ã�¯Ã��Ã�¿Ã��Ã�½Ã���Ã��Ã�¯Ã���Ã��Ã�¿Ã���Ã��Ã�½Ã���Ã�¯Ã�¿Ã�½Ã��Ã�¯Ã��Ã�¿Ã��Ã�½Ã���Ã�¯Ã�¿Ã�½Ã���Ã��Ã�½Ã���Ã�¯Ã�¿Ã�½Ã��Ã�¯Ã��Ã�¿Ã��Ã�½Ã���Ã��Ã�¯Ã���Ã��Ã�¿Ã���Ã��Ã�½Ã���Ã�¯Ã�¿Ã�½Ã���Ã��Ã�¯Ã���Ã�¯Ã�¿Ã�½Ã���Ã��Ã�¿Ã���Ã�¯Ã�¿Ã�½Ã���Ã��Ã�½Ã���Ã�¯Ã�¿Ã�½Ã��Ã�¯Ã��Ã�¿Ã��Ã�½Ã���Ã�¯Ã�¿Ã�½Ã���Ã��Ã�¯Ã���Ã�¯Ã�¿Ã�½Ã��Ã�¯Ã��Ã�¿Ã��Ã�½Ã���Ã�¯Ã�¿Ã�½Ã���Ã��Ã�¿Ã���Ã�¯Ã�¿Ã�½Ã��Ã�¯Ã��Ã�¿Ã��Ã�½Ã���Ã�¯Ã�¿Ã�½Ã���Ã��Ã�½Ã���Ã�¯Ã�¿Ã�½Ã��Ã�¯Ã��Ã�¿Ã��Ã�½Ã���Ã��Ã�¯Ã���Ã��Ã�¿Ã���Ã��Ã�½Ã���Ã�¯Ã�¿Ã�½Ã���Ã��Ã�¯Ã���Ã�¯Ã�¿Ã�½Ã���Ã��Ã�¿Ã���Ã�¯Ã�¿Ã�½Ã���Ã��Ã�½Ã���Ã�¯Ã�¿Ã�½Ã��Ã�¯Ã��Ã�¿Ã��Ã�½Ã���Ã��Ã�¯Ã���Ã��Ã�¿Ã���Ã��Ã�½Ã���Ã�¯Ã�¿Ã�½Ã��Ã�¯Ã��Ã�¿Ã��Ã�½Ã���Ã�¯Ã�¿Ã�½Ã���Ã��Ã�¿Ã���Ã�¯Ã�¿Ã�½Ã��Ã�¯Ã��Ã�¿Ã��Ã�½Ã���Ã��Ã�¯Ã���Ã��Ã�¿Ã���Ã��Ã�½Ã���Ã�¯Ã�¿Ã�½Ã���Ã��Ã�¯Ã���Ã�¯Ã�¿Ã�½Ã���Ã��Ã�¿Ã���Ã�¯Ã�¿Ã�½Ã���Ã��Ã�½Ã���Ã�¯Ã�¿Ã�½Ã��Ã�¯Ã��Ã�¿Ã��Ã�½Ã���Ã�¯Ã�¿Ã�½Ã���Ã��Ã�¯Ã���Ã�¯Ã�¿Ã�½Ã��Ã�¯Ã��Ã�¿Ã��Ã�½Ã���Ã�¯Ã�¿Ã�½Ã���Ã��Ã�¿Ã���Ã�¯Ã�¿Ã�½Ã��Ã�¯Ã��Ã�¿Ã��Ã�½Ã���Ã�¯Ã�¿Ã�½Ã���Ã��Ã�½Ã���Ã�¯Ã�¿Ã�½Ã��Ã�¯Ã��Ã�¿Ã��Ã�½Ã���Ã��Ã�¯Ã���Ã��Ã�¿Ã���Ã��Ã�½Ã���Ã�¯Ã�¿Ã�½Ã��Ã�¯Ã��Ã�¿Ã��Ã�½Ã���Ã�¯Ã�¿Ã�½Ã���Ã��Ã�¯Ã���Ã�¯Ã�¿Ã�½Ã��Ã�¯Ã��Ã�¿Ã��Ã�½Ã���Ã��Ã�¯Ã���Ã��Ã�¿Ã���Ã��Ã�½Ã���Ã�¯Ã�¿Ã�½Ã��Ã�¯Ã��Ã�¿Ã��Ã�½Ã���Ã�¯Ã�¿Ã�½Ã���Ã��Ã�¿Ã���Ã�¯Ã�¿Ã�½Ã��Ã�¯Ã��Ã�¿Ã��Ã�½Ã���Ã��Ã�¯Ã���Ã��Ã�¿Ã���Ã��Ã�½Ã���Ã�¯Ã�¿Ã�½Ã��Ã�¯Ã��Ã�¿Ã��Ã�½Ã���Ã�¯Ã�¿Ã�½Ã���Ã��Ã�½Ã���Ã�¯Ã�¿Ã�½Ã��Ã�¯Ã��Ã�¿Ã��Ã�½Ã���Ã��Ã�¯Ã���Ã��Ã�¿Ã���Ã��Ã�½Ã���Ã�¯Ã�¿Ã�½Ã���Ã��Ã�¯Ã���Ã�¯Ã�¿Ã�½Ã���Ã��Ã�¿Ã���Ã�¯Ã�¿Ã�½Ã���Ã��Ã�½Ã���Ã�¯Ã�¿Ã�½Ã��Ã�¯Ã��Ã�¿Ã��Ã�½Ã���Ã��Ã�¯Ã���Ã��Ã�¿Ã���Ã��Ã�½Ã���Ã�¯Ã�¿Ã�½Ã��Ã�¯Ã��Ã�¿Ã��Ã�½Ã���Ã�¯Ã�¿Ã�½Ã���Ã��Ã�¯Ã���Ã�¯Ã�¿Ã�½Ã��Ã�¯Ã��Ã�¿Ã��Ã�½Ã���Ã��Ã�¯Ã���Ã��Ã�¿Ã���Ã��Ã�½Ã���Ã�¯Ã�¿Ã�½Ã���Ã��Ã�¯Ã���Ã�¯Ã�¿Ã�½Ã���Ã��Ã�¿Ã���Ã�¯Ã�¿Ã�½Ã���Ã��Ã�½Ã���Ã�¯Ã�¿Ã�½Ã��Ã�¯Ã��Ã�¿Ã��Ã�½Ã���Ã��Ã�¯Ã���Ã��Ã�¿Ã���Ã��Ã�½Ã���Ã�¯Ã�¿Ã�½Ã��Ã�¯Ã��Ã�¿Ã��Ã�½Ã���Ã�¯Ã�¿Ã�½Ã���Ã��Ã�¿Ã���Ã�¯Ã�¿Ã�½Ã��Ã�¯Ã��Ã�¿Ã��Ã�½Ã���Ã��Ã�¯Ã���Ã��Ã�¿Ã���Ã��Ã�½Ã���Ã�¯Ã�¿Ã�½Ã���Ã��Ã�¯Ã���Ã�¯Ã�¿Ã�½Ã���Ã��Ã�¿Ã���Ã�¯Ã�¿Ã�½Ã���Ã��Ã�½Ã���Ã�¯Ã�¿Ã�½Ã��Ã�¯Ã��Ã�¿Ã��Ã�½Ã���Ã��Ã�¯Ã���Ã��Ã�¿Ã���Ã��Ã�½Ã���Ã�¯Ã�¿Ã�½Ã��Ã�¯Ã��Ã�¿Ã��Ã�½Ã���Ã�¯Ã�¿Ã�½Ã���Ã��Ã�½Ã���Ã�¯Ã�¿Ã�½Ã��Ã�¯Ã��Ã�¿Ã��Ã�½Ã���Ã��Ã�¯Ã���Ã��Ã�¿Ã���Ã��Ã�½Ã���Ã�¯Ã�¿Ã�½Ã���Ã��Ã�¯Ã���Ã�¯Ã�¿Ã�½Ã���Ã��Ã�¿Ã���Ã�¯Ã�¿Ã�½Ã���Ã��Ã�½Ã���Ã�¯Ã�¿Ã�½Ã��Ã�¯Ã��Ã�¿Ã��Ã�½Ã���Ã�¯Ã�¿Ã�½Ã���Ã��Ã�¯Ã���Ã�¯Ã�¿Ã�½Ã��Ã�¯Ã��Ã�¿Ã��Ã�½Ã���Ã�¯Ã�¿Ã�½Ã���Ã��Ã�¿Ã���Ã�¯Ã�¿Ã�½Ã��Ã�¯Ã��Ã�¿Ã��Ã�½Ã���Ã�¯Ã�¿Ã�½Ã���Ã��Ã�½Ã���Ã�¯Ã�¿Ã�½Ã��Ã�¯Ã��Ã�¿Ã��Ã�½Ã���Ã��Ã�¯Ã���Ã��Ã�¿Ã���Ã��Ã�½Ã���Ã�¯Ã�¿Ã�½Ã���Ã��Ã�¯Ã���Ã�¯Ã�¿Ã�½Ã���Ã��Ã�¿Ã���Ã�¯Ã�¿Ã�½Ã���Ã��Ã�½Ã���Ã�¯Ã�¿Ã�½Ã��Ã�¯Ã��Ã�¿Ã��Ã�½Ã���Ã��Ã�¯Ã���Ã��Ã�¿Ã���Ã��Ã�½Ã���Ã�¯Ã�¿Ã�½Ã��Ã�¯Ã��Ã�¿Ã��Ã�½Ã���Ã�¯Ã�¿Ã�½Ã���Ã��Ã�¯Ã���Ã�¯Ã�¿Ã�½Ã��Ã�¯Ã��Ã�¿Ã��Ã�½Ã���Ã��Ã�¯Ã���Ã��Ã�¿Ã���Ã��Ã�½Ã���Ã�¯Ã�¿Ã�½Ã���Ã��Ã�¯Ã���Ã�¯Ã�¿Ã�½Ã���Ã��Ã�¿Ã���Ã�¯Ã�¿Ã�½Ã���Ã��Ã�½Ã���Ã�¯Ã�¿Ã�½Ã��Ã�¯Ã��Ã�¿Ã��Ã�½Ã���Ã�¯Ã�¿Ã�½Ã���Ã��Ã�¯Ã���Ã�¯Ã�¿Ã�½Ã��Ã�¯Ã��Ã�¿Ã��Ã�½Ã���Ã�¯Ã�¿Ã�½Ã���Ã��Ã�¿Ã���Ã�¯Ã�¿Ã�½Ã��Ã�¯Ã��Ã�¿Ã��Ã�½Ã���Ã�¯Ã�¿Ã�½Ã���Ã��Ã�½Ã���Ã�¯Ã�¿Ã�½Ã��Ã�¯Ã��Ã�¿Ã��Ã�½Ã���Ã��Ã�¯Ã���Ã��Ã�¿Ã���Ã��Ã�½Ã���Ã�¯Ã�¿Ã�½Ã���Ã��Ã�¯Ã���Ã�¯Ã�¿Ã�½Ã���Ã��Ã�¿Ã���Ã�¯Ã�¿Ã�½Ã���Ã��Ã�½Ã���Ã�¯Ã�¿Ã�½Ã��Ã�¯Ã��Ã�¿Ã��Ã�½Ã���Ã��Ã�¯Ã���Ã��Ã�¿Ã���Ã��Ã�½Ã���Ã�¯Ã�¿Ã�½Ã��Ã�¯Ã��Ã�¿Ã��Ã�½Ã���Ã�¯Ã�¿Ã�½Ã���Ã��Ã�¿Ã���Ã�¯Ã�¿Ã�½Ã��Ã�¯Ã��Ã�¿Ã��Ã�½Ã���Ã��Ã�¯Ã���Ã��Ã�¿Ã���Ã��Ã�½Ã���Ã�¯Ã�¿Ã�½Ã���Ã��Ã�¯Ã���Ã�¯Ã�¿Ã�½Ã���Ã��Ã�¿Ã���Ã�¯Ã�¿Ã�½Ã���Ã��Ã�½Ã���Ã�¯Ã�¿Ã�½Ã��Ã�¯Ã��Ã�¿Ã��Ã�½Ã���Ã�¯Ã�¿Ã�½Ã���Ã��Ã�¯Ã���Ã�¯Ã�¿Ã�½Ã��Ã�¯Ã��Ã�¿Ã��Ã�½Ã���Ã�¯Ã�¿Ã�½Ã���Ã��Ã�¿Ã���Ã�¯Ã�¿Ã�½Ã��Ã�¯Ã��Ã�¿Ã��Ã�½Ã���Ã�¯Ã�¿Ã�½Ã���Ã��Ã�½Ã���Ã�¯Ã�¿Ã�½Ã��Ã�¯Ã��Ã�¿Ã��Ã�½Ã���Ã��Ã�¯Ã���Ã��Ã�¿Ã���Ã��Ã�½Ã���Ã�¯Ã�¿Ã�½Ã���Ã��Ã�¯Ã���Ã�¯Ã�¿Ã�½Ã���Ã��Ã�¿Ã���Ã�¯Ã�¿Ã�½Ã���Ã��Ã�½Ã���Ã�¯Ã�¿Ã�½Ã��Ã�¯Ã��Ã�¿Ã��Ã�½Ã���Ã��Ã�¯Ã���Ã��Ã�¿Ã���Ã��Ã�½Ã���Ã�¯Ã�¿Ã�½Ã��Ã�¯Ã��Ã�¿Ã��Ã�½Ã���Ã�¯Ã�¿Ã�½Ã���Ã��Ã�½Ã���Ã�¯Ã�¿Ã�½Ã��Ã�¯Ã��Ã�¿Ã��Ã�½Ã���Ã��Ã�¯Ã���Ã��Ã�¿Ã���Ã��Ã�½Ã���Ã�¯Ã�¿Ã�½Ã���Ã��Ã�¯Ã���Ã�¯Ã�¿Ã�½Ã���Ã��Ã�¿Ã���Ã�¯Ã�¿Ã�½Ã���Ã��Ã�½Ã���Ã�¯Ã�¿Ã�½Ã��Ã�¯Ã��Ã�¿Ã��Ã�½Ã���Ã�¯Ã�¿Ã�½Ã���Ã��Ã�¯Ã���Ã�¯Ã�¿Ã�½Ã��Ã�¯Ã��Ã�¿Ã��Ã�½Ã���Ã�¯Ã�¿Ã�½Ã���Ã��Ã�¿Ã���Ã�¯Ã�¿Ã�½Ã��Ã�¯Ã��Ã�¿Ã��Ã�½Ã���Ã�¯Ã�¿Ã�½Ã���Ã��Ã�½Ã���Ã�¯Ã�¿Ã�½Ã��Ã�¯Ã��Ã�¿Ã��Ã�½Ã���Ã��Ã�¯Ã���Ã��Ã�¿Ã���Ã��Ã�½Ã���Ã�¯Ã�¿Ã�½Ã��Ã�¯Ã��Ã�¿Ã��Ã�½Ã���Ã�¯Ã�¿Ã�½Ã���Ã��Ã�¯Ã���Ã�¯Ã�¿Ã�½Ã��Ã�¯Ã��Ã�¿Ã��Ã�½Ã���Ã��Ã�¯Ã���Ã��Ã�¿Ã���Ã��Ã�½Ã���Ã�¯Ã�¿Ã�½Ã��Ã�¯Ã��Ã�¿Ã��Ã�½Ã���Ã�¯Ã�¿Ã�½Ã���Ã��Ã�¿Ã���Ã�¯Ã�¿Ã�½Ã��Ã�¯Ã��Ã�¿Ã��Ã�½Ã���Ã��Ã�¯Ã���Ã��Ã�¿Ã���Ã��Ã�½Ã���Ã�¯Ã�¿Ã�½Ã��Ã�¯Ã��Ã�¿Ã��Ã�½Ã���Ã�¯Ã�¿Ã�½Ã���Ã��Ã�½Ã���Ã�¯Ã�¿Ã�½Ã��Ã�¯Ã��Ã�¿Ã��Ã�½Ã���Ã��Ã�¯Ã���Ã��Ã�¿Ã���Ã��Ã�½Ã���Ã�¯Ã�¿Ã�½Ã���Ã��Ã�¯Ã���Ã�¯Ã�¿Ã�½Ã���Ã��Ã�¿Ã���Ã�¯Ã�¿Ã�½Ã���Ã��Ã�½Ã���Ã�¯Ã�¿Ã�½Ã��Ã�¯Ã��Ã�¿Ã��Ã�½Ã���Ã��Ã�¯Ã���Ã��Ã�¿Ã���Ã��Ã�½Ã���Ã�¯Ã�¿Ã�½Ã��Ã�¯Ã��Ã�¿Ã��Ã�½Ã���Ã�¯Ã�¿Ã�½Ã���Ã��Ã�¯Ã���Ã�¯Ã�¿Ã�½Ã��Ã�¯Ã��Ã�¿Ã��Ã�½Ã���Ã��Ã�¯Ã���Ã��Ã�¿Ã���Ã��Ã�½Ã���Ã�¯Ã�¿Ã�½Ã���Ã��Ã�¯Ã���Ã�¯Ã�¿Ã�½Ã���Ã��Ã�¿Ã���Ã�¯Ã�¿Ã�½Ã���Ã��Ã�½Ã���Ã�¯Ã�¿Ã�½Ã��Ã�¯Ã��Ã�¿Ã��Ã�½Ã���Ã��Ã�¯Ã���Ã��Ã�¿Ã���Ã��Ã�½Ã���Ã�¯Ã�¿Ã�½Ã��Ã�¯Ã��Ã�¿Ã��Ã�½Ã���Ã�¯Ã�¿Ã�½Ã���Ã��Ã�¿Ã���Ã�¯Ã�¿Ã�½Ã��Ã�¯Ã��Ã�¿Ã��Ã�½Ã���Ã��Ã�¯Ã���Ã��Ã�¿Ã���Ã��Ã�½Ã���Ã�¯Ã�¿Ã�½Ã���Ã��Ã�¯Ã���Ã�¯Ã�¿Ã�½Ã���Ã��Ã�¿Ã���Ã�¯Ã�¿Ã�½Ã���Ã��Ã�½Ã���Ã�¯Ã�¿Ã�½Ã��Ã�¯Ã��Ã�¿Ã��Ã�½Ã���Ã��Ã�¯Ã���Ã��Ã�¿Ã���Ã��Ã�½Ã���Ã�¯Ã�¿Ã�½Ã��Ã�¯Ã��Ã�¿Ã��Ã�½Ã���Ã�¯Ã�¿Ã�½Ã���Ã��Ã�½Ã���Ã�¯Ã�¿Ã�½Ã��Ã�¯Ã��Ã�¿Ã��Ã�½Ã���Ã��Ã�¯Ã���Ã��Ã�¿Ã���Ã��Ã�½Ã���Ã�¯Ã�¿Ã�½Ã���Ã��Ã�¯Ã���Ã�¯Ã�¿Ã�½Ã���Ã��Ã�¿Ã���Ã�¯Ã�¿Ã�½Ã���Ã��Ã�½Ã���Ã�¯Ã�¿Ã�½Ã��Ã�¯Ã��Ã�¿Ã��Ã�½Ã���Ã�¯Ã�¿Ã�½Ã���Ã��Ã�¯Ã���Ã�¯Ã�¿Ã�½Ã��Ã�¯Ã��Ã�¿Ã��Ã�½Ã���Ã�¯Ã�¿Ã�½Ã���Ã��Ã�¿Ã���Ã�¯Ã�¿Ã�½Ã��Ã�¯Ã��Ã�¿Ã��Ã�½Ã���Ã�¯Ã�¿Ã�½Ã���Ã��Ã�½Ã���Ã�¯Ã�¿Ã�½Ã��Ã�¯Ã��Ã�¿Ã��Ã�½Ã���Ã��Ã�¯Ã���Ã��Ã�¿Ã���Ã��Ã�½Ã���Ã�¯Ã�¿Ã�½Ã��Ã�¯Ã��Ã�¿Ã��Ã�½Ã���Ã�¯Ã�¿Ã�½Ã���Ã��Ã�¯Ã���Ã�¯Ã�¿Ã�½Ã��Ã�¯Ã��Ã�¿Ã��Ã�½Ã���Ã��Ã�¯Ã���Ã��Ã�¿Ã���Ã��Ã�½Ã���Ã�¯Ã�¿Ã�½Ã��Ã�¯Ã��Ã�¿Ã��Ã�½Ã���Ã�¯Ã�¿Ã�½Ã���Ã��Ã�¿Ã���Ã�¯Ã�¿Ã�½Ã��Ã�¯Ã��Ã�¿Ã��Ã�½Ã���Ã��Ã�¯Ã���Ã��Ã�¿Ã���Ã��Ã�½Ã���Ã�¯Ã�¿Ã�½Ã��Ã�¯Ã��Ã�¿Ã��Ã�½Ã���Ã�¯Ã�¿Ã�½Ã���Ã��Ã�½Ã���Ã�¯Ã�¿Ã�½Ã��Ã�¯Ã��Ã�¿Ã��Ã�½Ã���Ã��Ã�¯Ã���Ã��Ã�¿Ã���Ã��Ã�½Ã���Ã�¯Ã�¿Ã�½Ã���Ã��Ã�¯Ã���Ã�¯Ã�¿Ã�½Ã���Ã��Ã�¿Ã���Ã�¯Ã�¿Ã�½Ã���Ã��Ã�½Ã���Ã�¯Ã�¿Ã�½Ã��Ã�¯Ã��Ã�¿Ã��Ã�½Ã���Ã�¯Ã�¿Ã�½Ã���Ã��Ã�¯Ã���Ã�¯Ã�¿Ã�½Ã��Ã�¯Ã��Ã�¿Ã��Ã�½Ã���Ã�¯Ã�¿Ã�½Ã���Ã��Ã�¿Ã���Ã�¯Ã�¿Ã�½Ã��Ã�¯Ã��Ã�¿Ã��Ã�½Ã���Ã�¯Ã�¿Ã�½Ã���Ã��Ã�½Ã���Ã�¯Ã�¿Ã�½Ã��Ã�¯Ã��Ã�¿Ã��Ã�½Ã���Ã��Ã�¯Ã���Ã��Ã�¿Ã���Ã��Ã�½Ã���Ã�¯Ã�¿Ã�½Ã���Ã��Ã�¯Ã���Ã�¯Ã�¿Ã�½Ã���Ã��Ã�¿Ã���Ã�¯Ã�¿Ã�½Ã���Ã��Ã�½Ã���Ã�¯Ã�¿Ã�½Ã��Ã�¯Ã��Ã�¿Ã��Ã�½Ã���Ã��Ã�¯Ã���Ã��Ã�¿Ã���Ã��Ã�½Ã���Ã�¯Ã�¿Ã�½Ã��Ã�¯Ã��Ã�¿Ã��Ã�½Ã���Ã�¯Ã�¿Ã�½Ã���Ã��Ã�½Ã���Ã�¯Ã�¿Ã�½Ã��Ã�¯Ã��Ã�¿Ã��Ã�½Ã���Ã��Ã�¯Ã���Ã��Ã�¿Ã���Ã��Ã�½Ã���Ã�¯Ã�¿Ã�½Ã���Ã��Ã�¯Ã���Ã�¯Ã�¿Ã�½Ã���Ã��Ã�¿Ã���Ã�¯Ã�¿Ã�½Ã���Ã��Ã�½Ã���Ã�¯Ã�¿Ã�½Ã��Ã�¯Ã��Ã�¿Ã��Ã�½Ã���Ã�¯Ã�¿Ã�½Ã���Ã��Ã�¯Ã���Ã�¯Ã�¿Ã�½Ã��Ã�¯Ã��Ã�¿Ã��Ã�½Ã���Ã�¯Ã�¿Ã�½Ã���Ã��Ã�¿Ã���Ã�¯Ã�¿Ã�½Ã��Ã�¯Ã��Ã�¿Ã��Ã�½Ã���Ã�¯Ã�¿Ã�½Ã���Ã��Ã�½Ã���Ã�¯Ã�¿Ã�½Ã��Ã�¯Ã��Ã�¿Ã��Ã�½Ã���Ã��Ã�¯Ã���Ã��Ã�¿Ã���Ã��Ã�½Ã���Ã�¯Ã�¿Ã�½Ã��Ã�¯Ã��Ã�¿Ã��Ã�½Ã���Ã�¯Ã�¿Ã�½Ã���Ã��Ã�¯Ã���Ã�¯Ã�¿Ã�½Ã��Ã�¯Ã��Ã�¿Ã��Ã�½Ã���Ã��Ã�¯Ã���Ã��Ã�¿Ã���Ã��Ã�½Ã���Ã�¯Ã�¿Ã�½Ã��Ã�¯Ã��Ã�¿Ã��Ã�½Ã���Ã�¯Ã�¿Ã�½Ã���Ã��Ã�¿Ã���Ã�¯Ã�¿Ã�½Ã��Ã�¯Ã��Ã�¿Ã��Ã�½Ã���Ã��Ã�¯Ã���Ã��Ã�¿Ã���Ã��Ã�½Ã���Ã�¯Ã�¿Ã�½Ã��Ã�¯Ã��Ã�¿Ã��Ã�½Ã���Ã�¯Ã�¿Ã�½Ã���Ã��Ã�½Ã���Ã�¯Ã�¿Ã�½Ã��Ã�¯Ã��Ã�¿Ã��Ã�½Ã���Ã��Ã�¯Ã���Ã��Ã�¿Ã���Ã��Ã�½Ã���Ã�¯Ã�¿Ã�½Ã���Ã��Ã�¯Ã���Ã�¯Ã�¿Ã�½Ã���Ã��Ã�¿Ã���Ã�¯Ã�¿Ã�½Ã���Ã��Ã�½Ã���Ã�¯Ã�¿Ã�½Ã��Ã�¯Ã��Ã�¿Ã��Ã�½Ã���Ã��Ã�¯Ã���Ã��Ã�¿Ã���Ã��Ã�½Ã���Ã�¯Ã�¿Ã�½Ã��Ã�¯Ã��Ã�¿Ã��Ã�½Ã���Ã�¯Ã�¿Ã�½Ã���Ã��Ã�¯Ã���Ã�¯Ã�¿Ã�½Ã��Ã�¯Ã��Ã�¿Ã��Ã�½Ã���Ã��Ã�¯Ã���Ã��Ã�¿Ã���Ã��Ã�½Ã���Ã�¯Ã�¿Ã�½Ã���Ã��Ã�¯Ã���Ã�¯Ã�¿Ã�½Ã���Ã��Ã�¿Ã���Ã�¯Ã�¿Ã�½Ã���Ã��Ã�½Ã���Ã�¯Ã�¿Ã�½Ã��Ã�¯Ã��Ã�¿Ã��Ã�½Ã���Ã��Ã�¯Ã���Ã��Ã�¿Ã���Ã��Ã�½Ã���Ã�¯Ã�¿Ã�½Ã��Ã�¯Ã��Ã�¿Ã��Ã�½Ã���Ã�¯Ã�¿Ã�½Ã���Ã��Ã�¿Ã���Ã�¯Ã�¿Ã�½Ã��Ã�¯Ã��Ã�¿Ã��Ã�½Ã���Ã��Ã�¯Ã���Ã��Ã�¿Ã���Ã��Ã�½Ã���Ã�¯Ã�¿Ã�½Ã���Ã��Ã�¯Ã���Ã�¯Ã�¿Ã�½Ã���Ã��Ã�¿Ã���Ã�¯Ã�¿Ã�½Ã���Ã��Ã�½Ã���Ã�¯Ã�¿Ã�½Ã��Ã�¯Ã��Ã�¿Ã��Ã�½Ã���Ã��Ã�¯Ã���Ã��Ã�¿Ã���Ã��Ã�½Ã���Ã�¯Ã�¿Ã�½Ã��Ã�¯Ã��Ã�¿Ã��Ã�½Ã���Ã�¯Ã�¿Ã�½Ã���Ã��Ã�½Ã���Ã�¯Ã�¿Ã�½Ã��Ã�¯Ã��Ã�¿Ã��Ã�½Ã���Ã��Ã�¯Ã���Ã��Ã�¿Ã���Ã��Ã�½Ã���Ã�¯Ã�¿Ã�½Ã���Ã��Ã�¯Ã���Ã�¯Ã�¿Ã�½Ã���Ã��Ã�¿Ã���Ã�¯Ã�¿Ã�½Ã���Ã��Ã�½Ã���Ã�¯Ã�¿Ã�½Ã��Ã�¯Ã��Ã�¿Ã��Ã�½Ã���Ã�¯Ã�¿Ã�½Ã���Ã��Ã�¯Ã���Ã�¯Ã�¿Ã�½Ã��Ã�¯Ã��Ã�¿Ã��Ã�½Ã���Ã�¯Ã�¿Ã�½Ã���Ã��Ã�¿Ã���Ã�¯Ã�¿Ã�½Ã��Ã�¯Ã��Ã�¿Ã��Ã�½Ã���Ã�¯Ã�¿Ã�½Ã���Ã��Ã�½Ã���Ã�¯Ã�¿Ã�½Ã��Ã�¯Ã��Ã�¿Ã��Ã�½Ã���Ã��Ã�¯Ã���Ã��Ã�¿Ã���Ã��Ã�½Ã���Ã�¯Ã�¿Ã�½Ã���Ã��Ã�¯Ã���Ã�¯Ã�¿Ã�½Ã���Ã��Ã�¿Ã���Ã�¯Ã�¿Ã�½Ã���Ã��Ã�½Ã���Ã�¯Ã�¿Ã�½Ã��Ã�¯Ã��Ã�¿Ã��Ã�½Ã���Ã��Ã�¯Ã���Ã��Ã�¿Ã���Ã��Ã�½Ã���Ã�¯Ã�¿Ã�½Ã��Ã�¯Ã��Ã�¿Ã��Ã�½Ã���Ã�¯Ã�¿Ã�½Ã���Ã��Ã�¯Ã���Ã�¯Ã�¿Ã�½Ã��Ã�¯Ã��Ã�¿Ã��Ã�½Ã���Ã��Ã�¯Ã���Ã��Ã�¿Ã���Ã��Ã�½Ã���Ã�¯Ã�¿Ã�½Ã���Ã��Ã�¯Ã���Ã�¯Ã�¿Ã�½Ã���Ã��Ã�¿Ã���Ã�¯Ã�¿Ã�½Ã���Ã��Ã�½Ã���Ã�¯Ã�¿Ã�½Ã��Ã�¯Ã��Ã�¿Ã��Ã�½Ã���Ã�¯Ã�¿Ã�½Ã���Ã��Ã�¯Ã���Ã�¯Ã�¿Ã�½Ã��Ã�¯Ã��Ã�¿Ã��Ã�½Ã���Ã�¯Ã�¿Ã�½Ã���Ã��Ã�¿Ã���Ã�¯Ã�¿Ã�½Ã��Ã�¯Ã��Ã�¿Ã��Ã�½Ã���Ã�¯Ã�¿Ã�½Ã���Ã��Ã�½Ã���Ã�¯Ã�¿Ã�½Ã��Ã�¯Ã��Ã�¿Ã��Ã�½Ã���Ã��Ã�¯Ã���Ã��Ã�¿Ã���Ã��Ã�½Ã���Ã�¯Ã�¿Ã�½Ã���Ã��Ã�¯Ã���Ã�¯Ã�¿Ã�½Ã���Ã��Ã�¿Ã���Ã�¯Ã�¿Ã�½Ã���Ã��Ã�½Ã���Ã�¯Ã�¿Ã�½Ã��Ã�¯Ã��Ã�¿Ã��Ã�½Ã���Ã��Ã�¯Ã���Ã��Ã�¿Ã���Ã��Ã�½Ã���Ã�¯Ã�¿Ã�½Ã��Ã�¯Ã��Ã�¿Ã��Ã�½Ã���Ã�¯Ã�¿Ã�½Ã���Ã��Ã�¿Ã���Ã�¯Ã�¿Ã�½Ã��Ã�¯Ã��Ã�¿Ã��Ã�½Ã���Ã��Ã�¯Ã���Ã��Ã�¿Ã���Ã��Ã�½Ã���Ã�¯Ã�¿Ã�½Ã���Ã��Ã�¯Ã���Ã�¯Ã�¿Ã�½Ã���Ã��Ã�¿Ã���Ã�¯Ã�¿Ã�½Ã���Ã��Ã�½Ã���Ã�¯Ã�¿Ã�½Ã��Ã�¯Ã��Ã�¿Ã��Ã�½Ã���Ã�¯Ã�¿Ã�½Ã���Ã��Ã�¯Ã���Ã�¯Ã�¿Ã�½Ã��Ã�¯Ã��Ã�¿Ã��Ã�½Ã���Ã�¯Ã�¿Ã�½Ã���Ã��Ã�¿Ã���Ã�¯Ã�¿Ã�½Ã��Ã�¯Ã��Ã�¿Ã��Ã�½Ã���Ã�¯Ã�¿Ã�½Ã���Ã��Ã�½Ã���Ã�¯Ã�¿Ã�½Ã��Ã�¯Ã��Ã�¿Ã��Ã�½Ã���Ã��Ã�¯Ã���Ã��Ã�¿Ã���Ã��Ã�½Ã���Ã�¯Ã�¿Ã�½Ã���Ã��Ã�¯Ã���Ã�¯Ã�¿Ã�½Ã���Ã��Ã�¿Ã���Ã�¯Ã�¿Ã�½Ã���Ã��Ã�½Ã���Ã�¯Ã�¿Ã�½Ã��Ã�¯Ã��Ã�¿Ã��Ã�½Ã���Ã��Ã�¯Ã���Ã��Ã�¿Ã���Ã��Ã�½Ã���Ã�¯Ã�¿Ã�½Ã��Ã�¯Ã��Ã�¿Ã��Ã�½Ã���Ã�¯Ã�¿Ã�½Ã���Ã��Ã�½Ã���Ã�¯Ã�¿Ã�½Ã��Ã�¯Ã��Ã�¿Ã��Ã�½Ã���Ã��Ã�¯Ã���Ã��Ã�¿Ã���Ã��Ã�½Ã���Ã�¯Ã�¿Ã�½Ã���Ã��Ã�¯Ã���Ã�¯Ã�¿Ã�½Ã���Ã��Ã�¿Ã���Ã�¯Ã�¿Ã�½Ã���Ã��Ã�½Ã���Ã�¯Ã�¿Ã�½Ã��Ã�¯Ã��Ã�¿Ã��Ã�½Ã���Ã�¯Ã�¿Ã�½Ã���Ã��Ã�¯Ã���Ã�¯Ã�¿Ã�½Ã��Ã�¯Ã��Ã�¿Ã��Ã�½Ã���Ã�¯Ã�¿Ã�½Ã���Ã��Ã�¿Ã���Ã�¯Ã�¿Ã�½Ã��Ã�¯Ã��Ã�¿Ã��Ã�½Ã���Ã�¯Ã�¿Ã�½Ã���Ã��Ã�½Ã���Ã�¯Ã�¿Ã�½Ã��Ã�¯Ã��Ã�¿Ã��Ã�½Ã���Ã��Ã�¯Ã���Ã��Ã�¿Ã���Ã��Ã�½Ã���Ã�¯Ã�¿Ã�½Ã��Ã�¯Ã��Ã�¿Ã��Ã�½Ã���Ã�¯Ã�¿Ã�½Ã���Ã��Ã�¯Ã���Ã�¯Ã�¿Ã�½Ã��Ã�¯Ã��Ã�¿Ã��Ã�½Ã���Ã��Ã�¯Ã���Ã��Ã�¿Ã���Ã��Ã�½Ã���Ã�¯Ã�¿Ã�½Ã��Ã�¯Ã��Ã�¿Ã��Ã�½Ã���Ã�¯Ã�¿Ã�½Ã���Ã��Ã�¿Ã���Ã�¯Ã�¿Ã�½Ã��Ã�¯Ã��Ã�¿Ã��Ã�½Ã���Ã��Ã�¯Ã���Ã��Ã�¿Ã���Ã��Ã�½Ã���Ã�¯Ã�¿Ã�½Ã��Ã�¯Ã��Ã�¿Ã��Ã�½Ã���Ã�¯Ã�¿Ã�½Ã���Ã��Ã�½Ã���Ã�¯Ã�¿Ã�½Ã��Ã�¯Ã��Ã�¿Ã��Ã�½Ã���Ã��Ã�¯Ã���Ã��Ã�¿Ã���Ã��Ã�½Ã���Ã�¯Ã�¿Ã�½Ã���Ã��Ã�¯Ã���Ã�¯Ã�¿Ã�½Ã���Ã��Ã�¿Ã���Ã�¯Ã�¿Ã�½Ã���Ã��Ã�½Ã���Ã�¯Ã�¿Ã�½Ã��Ã�¯Ã��Ã�¿Ã��Ã�½Ã���Ã�¯Ã�¿Ã�½Ã���Ã��Ã�¯Ã���Ã�¯Ã�¿Ã�½Ã��Ã�¯Ã��Ã�¿Ã��Ã�½Ã���Ã�¯Ã�¿Ã�½Ã���Ã��Ã�¿Ã���Ã�¯Ã�¿Ã�½Ã��Ã�¯Ã��Ã�¿Ã��Ã�½Ã���Ã�¯Ã�¿Ã�½Ã���Ã��Ã�½Ã���Ã�¯Ã�¿Ã�½Ã��Ã�¯Ã��Ã�¿Ã��Ã�½Ã���Ã��Ã�¯Ã���Ã��Ã�¿Ã���Ã��Ã�½Ã���Ã�¯Ã�¿Ã�½Ã���Ã��Ã�¯Ã���Ã�¯Ã�¿Ã�½Ã���Ã��Ã�¿Ã���Ã�¯Ã�¿Ã�½Ã���Ã��Ã�½Ã���Ã�¯Ã�¿Ã�½Ã��Ã�¯Ã��Ã�¿Ã��Ã�½Ã���Ã��Ã�¯Ã���Ã��Ã�¿Ã���Ã��Ã�½Ã���Ã�¯Ã�¿Ã�½Ã��Ã�¯Ã��Ã�¿Ã��Ã�½Ã���Ã�¯Ã�¿Ã�½Ã���Ã��Ã�¯Ã���Ã�¯Ã�¿Ã�½Ã��Ã�¯Ã��Ã�¿Ã��Ã�½Ã���Ã��Ã�¯Ã���Ã��Ã�¿Ã���Ã��Ã�½Ã���Ã�¯Ã�¿Ã�½Ã���Ã��Ã�¯Ã���Ã�¯Ã�¿Ã�½Ã���Ã��Ã�¿Ã���Ã�¯Ã�¿Ã�½Ã���Ã��Ã�½Ã���Ã�¯Ã�¿Ã�½Ã��Ã�¯Ã��Ã�¿Ã��Ã�½Ã���Ã�¯Ã�¿Ã�½Ã���Ã��Ã�¯Ã���Ã�¯Ã�¿Ã�½Ã��Ã�¯Ã��Ã�¿Ã��Ã�½Ã���Ã�¯Ã�¿Ã�½Ã���Ã��Ã�¿Ã���Ã�¯Ã�¿Ã�½Ã��Ã�¯Ã��Ã�¿Ã��Ã�½Ã���Ã�¯Ã�¿Ã�½Ã���Ã��Ã�½Ã���Ã�¯Ã�¿Ã�½Ã��Ã�¯Ã��Ã�¿Ã��Ã�½Ã���Ã��Ã�¯Ã���Ã��Ã�¿Ã���Ã��Ã�½Ã���Ã�¯Ã�¿Ã�½Ã��Ã�¯Ã��Ã�¿Ã��Ã�½Ã���Ã�¯Ã�¿Ã�½Ã���Ã��Ã�¯Ã���Ã�¯Ã�¿Ã�½Ã��Ã�¯Ã��Ã�¿Ã��Ã�½Ã���Ã��Ã�¯Ã���Ã��Ã�¿Ã���Ã��Ã�½Ã���Ã�¯Ã�¿Ã�½Ã��Ã�¯Ã��Ã�¿Ã��Ã�½Ã���Ã�¯Ã�¿Ã�½Ã���Ã��Ã�¿Ã���Ã�¯Ã�¿Ã�½Ã��Ã�¯Ã��Ã�¿Ã��Ã�½Ã���Ã��Ã�¯Ã���Ã��Ã�¿Ã���Ã��Ã�½Ã���Ã�¯Ã�¿Ã�½Ã��Ã�¯Ã��Ã�¿Ã��Ã�½Ã���Ã�¯Ã�¿Ã�½Ã���Ã��Ã�½Ã���Ã�¯Ã�¿Ã�½Ã��Ã�¯Ã��Ã�¿Ã��Ã�½Ã���Ã��Ã�¯Ã���Ã��Ã�¿Ã���Ã��Ã�½Ã���Ã�¯Ã�¿Ã�½Ã���Ã��Ã�¯Ã���Ã�¯Ã�¿Ã�½Ã���Ã��Ã�¿Ã���Ã�¯Ã�¿Ã�½Ã���Ã��Ã�½Ã���Ã�¯Ã�¿Ã�½Ã��Ã�¯Ã��Ã�¿Ã��Ã�½Ã���Ã�¯Ã�¿Ã�½Ã���Ã��Ã�¯Ã���Ã�¯Ã�¿Ã�½Ã��Ã�¯Ã��Ã�¿Ã��Ã�½Ã���Ã�¯Ã�¿Ã�½Ã���Ã��Ã�¿Ã���Ã�¯Ã�¿Ã�½Ã��Ã�¯Ã��Ã�¿Ã��Ã�½Ã���Ã�¯Ã�¿Ã�½Ã���Ã��Ã�½Ã���Ã�¯Ã�¿Ã�½Ã��Ã�¯Ã��Ã�¿Ã��Ã�½Ã���Ã��Ã�¯Ã���Ã��Ã�¿Ã���Ã��Ã�½Ã���Ã�¯Ã�¿Ã�½Ã���Ã��Ã�¯Ã���Ã�¯Ã�¿Ã�½Ã���Ã��Ã�¿Ã���Ã�¯Ã�¿Ã�½Ã���Ã��Ã�½Ã���Ã�¯Ã�¿Ã�½Ã��Ã�¯Ã��Ã�¿Ã��Ã�½Ã���Ã��Ã�¯Ã���Ã��Ã�¿Ã���Ã��Ã�½Ã���Ã�¯Ã�¿Ã�½Ã��Ã�¯Ã��Ã�¿Ã��Ã�½Ã���Ã�¯Ã�¿Ã�½Ã���Ã��Ã�¿Ã���Ã�¯Ã�¿Ã�½Ã��Ã�¯Ã��Ã�¿Ã��Ã�½Ã���Ã��Ã�¯Ã���Ã��Ã�¿Ã���Ã��Ã�½Ã���Ã�¯Ã�¿Ã�½Ã���Ã��Ã�¯Ã���Ã�¯Ã�¿Ã�½Ã���Ã��Ã�¿Ã���Ã�¯Ã�¿Ã�½Ã���Ã��Ã�½Ã���Ã�¯Ã�¿Ã�½Ã��Ã�¯Ã��Ã�¿Ã��Ã�½Ã���Ã�¯Ã�¿Ã�½Ã���Ã��Ã�¯Ã���Ã�¯Ã�¿Ã�½Ã��Ã�¯Ã��Ã�¿Ã��Ã�½Ã���Ã�¯Ã�¿Ã�½Ã���Ã��Ã�¿Ã���Ã�¯Ã�¿Ã�½Ã��Ã�¯Ã��Ã�¿Ã��Ã�½Ã���Ã�¯Ã�¿Ã�½Ã���Ã��Ã�½Ã���Ã�¯Ã�¿Ã�½Ã��Ã�¯Ã��Ã�¿Ã��Ã�½Ã���Ã��Ã�¯Ã���Ã��Ã�¿Ã���Ã��Ã�½Ã���Ã�¯Ã�¿Ã�½Ã��Ã�¯Ã��Ã�¿Ã��Ã�½Ã���Ã�¯Ã�¿Ã�½Ã���Ã��Ã�¯Ã���Ã�¯Ã�¿Ã�½Ã��Ã�¯Ã��Ã�¿Ã��Ã�½Ã���Ã��Ã�¯Ã���Ã��Ã�¿Ã���Ã��Ã�½Ã���Ã�¯Ã�¿Ã�½Ã��Ã�¯Ã��Ã�¿Ã��Ã�½Ã���Ã�¯Ã�¿Ã�½Ã���Ã��Ã�¿Ã���Ã�¯Ã�¿Ã�½Ã��Ã�¯Ã��Ã�¿Ã��Ã�½Ã���Ã��Ã�¯Ã���Ã��Ã�¿Ã���Ã��Ã�½Ã���Ã�¯Ã�¿Ã�½Ã��Ã�¯Ã��Ã�¿Ã��Ã�½Ã���Ã�¯Ã�¿Ã�½Ã���Ã��Ã�½Ã���Ã�¯Ã�¿Ã�½Ã��Ã�¯Ã��Ã�¿Ã��Ã�½Ã���Ã��Ã�¯Ã���Ã��Ã�¿Ã���Ã��Ã�½Ã���Ã�¯Ã�¿Ã�½Ã���Ã��Ã�¯Ã���Ã�¯Ã�¿Ã�½Ã���Ã��Ã�¿Ã���Ã�¯Ã�¿Ã�½Ã���Ã��Ã�½Ã���Ã�¯Ã�¿Ã�½Ã��Ã�¯Ã��Ã�¿Ã��Ã�½Ã���Ã�¯Ã�¿Ã�½Ã���Ã��Ã�¯Ã���Ã�¯Ã�¿Ã�½Ã��Ã�¯Ã��Ã�¿Ã��Ã�½Ã���Ã�¯Ã�¿Ã�½Ã���Ã��Ã�¿Ã���Ã�¯Ã�¿Ã�½Ã��Ã�¯Ã��Ã�¿Ã��Ã�½Ã���Ã�¯Ã�¿Ã�½Ã���Ã��Ã�½Ã���Ã�¯Ã�¿Ã�½Ã��Ã�¯Ã��Ã�¿Ã��Ã�½Ã���Ã��Ã�¯Ã���Ã��Ã�¿Ã���Ã��Ã�½Ã���Ã�¯Ã�¿Ã�½Ã���Ã��Ã�¯Ã���Ã�¯Ã�¿Ã�½Ã���Ã��Ã�¿Ã���Ã�¯Ã�¿Ã�½Ã���Ã��Ã�½Ã���Ã�¯Ã�¿Ã�½Ã��Ã�¯Ã��Ã�¿Ã��Ã�½Ã���Ã��Ã�¯Ã���Ã��Ã�¿Ã���Ã��Ã�½Ã���Ã�¯Ã�¿Ã�½Ã��Ã�¯Ã��Ã�¿Ã��Ã�½Ã���Ã�¯Ã�¿Ã�½Ã���Ã��Ã�½Ã���Ã�¯Ã�¿Ã�½Ã��Ã�¯Ã��Ã�¿Ã��Ã�½Ã���Ã��Ã�¯Ã���Ã��Ã�¿Ã���Ã��Ã�½Ã���Ã�¯Ã�¿Ã�½Ã���Ã��Ã�¯Ã���Ã�¯Ã�¿Ã�½Ã���Ã��Ã�¿Ã���Ã�¯Ã�¿Ã�½Ã���Ã��Ã�½Ã���Ã�¯Ã�¿Ã�½Ã��Ã�¯Ã��Ã�¿Ã��Ã�½Ã���Ã�¯Ã�¿Ã�½Ã���Ã��Ã�¯Ã���Ã�¯Ã�¿Ã�½Ã��Ã�¯Ã��Ã�¿Ã��Ã�½Ã���Ã�¯Ã�¿Ã�½Ã���Ã��Ã�¿Ã���Ã�¯Ã�¿Ã�½Ã��Ã�¯Ã��Ã�¿Ã��Ã�½Ã���Ã�¯Ã�¿Ã�½Ã���Ã��Ã�½Ã���Ã�¯Ã�¿Ã�½Ã��Ã�¯Ã��Ã�¿Ã��Ã�½Ã���Ã��Ã�¯Ã���Ã��Ã�¿Ã���Ã��Ã�½Ã���Ã�¯Ã�¿Ã�½Ã��Ã�¯Ã��Ã�¿Ã��Ã�½Ã���Ã�¯Ã�¿Ã�½Ã���Ã��Ã�¯Ã���Ã�¯Ã�¿Ã�½Ã��Ã�¯Ã��Ã�¿Ã��Ã�½Ã���Ã��Ã�¯Ã���Ã��Ã�¿Ã���Ã��Ã�½Ã���Ã�¯Ã�¿Ã�½Ã��Ã�¯Ã��Ã�¿Ã��Ã�½Ã���Ã�¯Ã�¿Ã�½Ã���Ã��Ã�¿Ã���Ã�¯Ã�¿Ã�½Ã��Ã�¯Ã��Ã�¿Ã��Ã�½Ã���Ã��Ã�¯Ã���Ã��Ã�¿Ã���Ã��Ã�½Ã���Ã�¯Ã�¿Ã�½Ã��Ã�¯Ã��Ã�¿Ã��Ã�½Ã���Ã�¯Ã�¿Ã�½Ã���Ã��Ã�½Ã���Ã�¯Ã�¿Ã�½Ã��Ã�¯Ã��Ã�¿Ã��Ã�½Ã���Ã��Ã�¯Ã���Ã��Ã�¿Ã���Ã��Ã�½Ã���Ã�¯Ã�¿Ã�½Ã���Ã��Ã�¯Ã���Ã�¯Ã�¿Ã�½Ã���Ã��Ã�¿Ã���Ã�¯Ã�¿Ã�½Ã���Ã��Ã�½Ã���Ã�¯Ã�¿Ã�½Ã��Ã�¯Ã��Ã�¿Ã��Ã�½Ã���Ã��Ã�¯Ã���Ã��Ã�¿Ã���Ã��Ã�½Ã���Ã�¯Ã�¿Ã�½Ã��Ã�¯Ã��Ã�¿Ã��Ã�½Ã���Ã�¯Ã�¿Ã�½Ã���Ã��Ã�¯Ã���Ã�¯Ã�¿Ã�½Ã��Ã�¯Ã��Ã�¿Ã��Ã�½Ã���Ã��Ã�¯Ã���Ã��Ã�¿Ã���Ã��Ã�½Ã���Ã�¯Ã�¿Ã�½Ã���Ã��Ã�¯Ã���Ã�¯Ã�¿Ã�½Ã���Ã��Ã�¿Ã���Ã�¯Ã�¿Ã�½Ã���Ã��Ã�½Ã���Ã�¯Ã�¿Ã�½Ã��Ã�¯Ã��Ã�¿Ã��Ã�½Ã���Ã��Ã�¯Ã���Ã��Ã�¿Ã���Ã��Ã�½Ã���Ã�¯Ã�¿Ã�½Ã��Ã�¯Ã��Ã�¿Ã��Ã�½Ã���Ã�¯Ã�¿Ã�½Ã���Ã��Ã�¿Ã���Ã�¯Ã�¿Ã�½Ã��Ã�¯Ã��Ã�¿Ã��Ã�½Ã���Ã��Ã�¯Ã���Ã��Ã�¿Ã���Ã��Ã�½Ã���Ã�¯Ã�¿Ã�½Ã���Ã��Ã�¯Ã���Ã�¯Ã�¿Ã�½Ã���Ã��Ã�¿Ã���Ã�¯Ã�¿Ã�½Ã���Ã��Ã�½Ã���Ã�¯Ã�¿Ã�½Ã��Ã�¯Ã��Ã�¿Ã��Ã�½Ã���Ã��Ã�¯Ã���Ã��Ã�¿Ã���Ã��Ã�½Ã���Ã�¯Ã�¿Ã�½Ã��Ã�¯Ã��Ã�¿Ã��Ã�½Ã���Ã�¯Ã�¿Ã�½Ã���Ã��Ã�½Ã���Ã�¯Ã�¿Ã�½Ã��Ã�¯Ã��Ã�¿Ã��Ã�½Ã���Ã��Ã�¯Ã���Ã��Ã�¿Ã���Ã��Ã�½Ã���Ã�¯Ã�¿Ã�½Ã���Ã��Ã�¯Ã���Ã�¯Ã�¿Ã�½Ã���Ã��Ã�¿Ã���Ã�¯Ã�¿Ã�½Ã���Ã��Ã�½Ã���Ã�¯Ã�¿Ã�½Ã��Ã�¯Ã��Ã�¿Ã��Ã�½Ã���Ã�¯Ã�¿Ã�½Ã���Ã��Ã�¯Ã���Ã�¯Ã�¿Ã�½Ã��Ã�¯Ã��Ã�¿Ã��Ã�½Ã���Ã�¯Ã�¿Ã�½Ã���Ã��Ã�¿Ã���Ã�¯Ã�¿Ã�½Ã��Ã�¯Ã��Ã�¿Ã��Ã�½Ã���Ã�¯Ã�¿Ã�½Ã���Ã��Ã�½Ã���Ã�¯Ã�¿Ã�½Ã��Ã�¯Ã��Ã�¿Ã��Ã�½Ã���Ã��Ã�¯Ã���Ã��Ã�¿Ã���Ã��Ã�½Ã���Ã�¯Ã�¿Ã�½Ã���Ã��Ã�¯Ã���Ã�¯Ã�¿Ã�½Ã���Ã��Ã�¿Ã���Ã�¯Ã�¿Ã�½Ã���Ã��Ã�½Ã���Ã�¯Ã�¿Ã�½Ã��Ã�¯Ã��Ã�¿Ã��Ã�½Ã���Ã��Ã�¯Ã���Ã��Ã�¿Ã���Ã��Ã�½Ã���Ã�¯Ã�¿Ã�½Ã��Ã�¯Ã��Ã�¿Ã��Ã�½Ã���Ã�¯Ã�¿Ã�½Ã���Ã��Ã�¯Ã���Ã�¯Ã�¿Ã�½Ã��Ã�¯Ã��Ã�¿Ã��Ã�½Ã���Ã��Ã�¯Ã���Ã��Ã�¿Ã���Ã��Ã�½Ã���Ã�¯Ã�¿Ã�½Ã���Ã��Ã�¯Ã���Ã�¯Ã�¿Ã�½Ã���Ã��Ã�¿Ã���Ã�¯Ã�¿Ã�½Ã���Ã��Ã�½Ã���Ã�¯Ã�¿Ã�½Ã��Ã�¯Ã��Ã�¿Ã��Ã�½Ã���Ã�¯Ã�¿Ã�½Ã���Ã��Ã�¯Ã���Ã�¯Ã�¿Ã�½Ã��Ã�¯Ã��Ã�¿Ã��Ã�½Ã���Ã�¯Ã�¿Ã�½Ã���Ã��Ã�¿Ã���Ã�¯Ã�¿Ã�½Ã��Ã�¯Ã��Ã�¿Ã��Ã�½Ã���Ã�¯Ã�¿Ã�½Ã���Ã��Ã�½Ã���Ã�¯Ã�¿Ã�½Ã��Ã�¯Ã��Ã�¿Ã��Ã�½Ã���Ã��Ã�¯Ã���Ã��Ã�¿Ã���Ã��Ã�½Ã���Ã�¯Ã�¿Ã�½Ã���Ã��Ã�¯Ã���Ã�¯Ã�¿Ã�½Ã���Ã��Ã�¿Ã���Ã�¯Ã�¿Ã�½Ã���Ã��Ã�½Ã���Ã�¯Ã�¿Ã�½Ã��Ã�¯Ã��Ã�¿Ã��Ã�½Ã���Ã��Ã�¯Ã���Ã��Ã�¿Ã���Ã��Ã�½Ã���Ã�¯Ã�¿Ã�½Ã��Ã�¯Ã��Ã�¿Ã��Ã�½Ã���Ã�¯Ã�¿Ã�½Ã���Ã��Ã�¿Ã���Ã�¯Ã�¿Ã�½Ã��Ã�¯Ã��Ã�¿Ã��Ã�½Ã���Ã��Ã�¯Ã���Ã��Ã�¿Ã���Ã��Ã�½Ã���Ã�¯Ã�¿Ã�½Ã���Ã��Ã�¯Ã���Ã�¯Ã�¿Ã�½Ã���Ã��Ã�¿Ã���Ã�¯Ã�¿Ã�½Ã���Ã��Ã�½Ã���Ã�¯Ã�¿Ã�½Ã��Ã�¯Ã��Ã�¿Ã��Ã�½Ã���Ã�¯Ã�¿Ã�½Ã���Ã��Ã�¯Ã���Ã�¯Ã�¿Ã�½Ã��Ã�¯Ã��Ã�¿Ã��Ã�½Ã���Ã�¯Ã�¿Ã�½Ã���Ã��Ã�¿Ã���Ã�¯Ã�¿Ã�½Ã��Ã�¯Ã��Ã�¿Ã��Ã�½Ã���Ã�¯Ã�¿Ã�½Ã���Ã��Ã�½Ã���Ã�¯Ã�¿Ã�½Ã��Ã�¯Ã��Ã�¿Ã��Ã�½Ã���Ã��Ã�¯Ã���Ã��Ã�¿Ã���Ã��Ã�½Ã���Ã�¯Ã�¿Ã�½Ã���Ã��Ã�¯Ã���Ã�¯Ã�¿Ã�½Ã���Ã��Ã�¿Ã���Ã�¯Ã�¿Ã�½Ã���Ã��Ã�½Ã���Ã�¯Ã�¿Ã�½Ã��Ã�¯Ã��Ã�¿Ã��Ã�½Ã���Ã��Ã�¯Ã���Ã��Ã�¿Ã���Ã��Ã�½Ã���Ã�¯Ã�¿Ã�½Ã��Ã�¯Ã��Ã�¿Ã��Ã�½Ã���Ã�¯Ã�¿Ã�½Ã���Ã��Ã�½Ã���Ã�¯Ã�¿Ã�½Ã��Ã�¯Ã��Ã�¿Ã��Ã�½Ã���Ã��Ã�¯Ã���Ã��Ã�¿Ã���Ã��Ã�½Ã���Ã�¯Ã�¿Ã�½Ã���Ã��Ã�¯Ã���Ã�¯Ã�¿Ã�½Ã���Ã��Ã�¿Ã���Ã�¯Ã�¿Ã�½Ã���Ã��Ã�½Ã���Ã�¯Ã�¿Ã�½Ã��Ã�¯Ã��Ã�¿Ã��Ã�½Ã���Ã�¯Ã�¿Ã�½Ã���Ã��Ã�¯Ã���Ã�¯Ã�¿Ã�½Ã��Ã�¯Ã��Ã�¿Ã��Ã�½Ã���Ã�¯Ã�¿Ã�½Ã���Ã��Ã�¿Ã���Ã�¯Ã�¿Ã�½Ã��Ã�¯Ã��Ã�¿Ã��Ã�½Ã���Ã�¯Ã�¿Ã�½Ã���Ã��Ã�½Ã���Ã�¯Ã�¿Ã�½Ã��Ã�¯Ã��Ã�¿Ã��Ã�½Ã���Ã��Ã�¯Ã���Ã��Ã�¿Ã���Ã��Ã�½Ã���Ã�¯Ã�¿Ã�½Ã��Ã�¯Ã��Ã�¿Ã��Ã�½Ã���Ã�¯Ã�¿Ã�½Ã���Ã��Ã�¯Ã���Ã�¯Ã�¿Ã�½Ã��Ã�¯Ã��Ã�¿Ã��Ã�½Ã���Ã��Ã�¯Ã���Ã��Ã�¿Ã���Ã��Ã�½Ã���Ã�¯Ã�¿Ã�½Ã��Ã�¯Ã��Ã�¿Ã��Ã�½Ã���Ã�¯Ã�¿Ã�½Ã���Ã��Ã�¿Ã���Ã�¯Ã�¿Ã�½Ã��Ã�¯Ã��Ã�¿Ã��Ã�½Ã���Ã��Ã�¯Ã���Ã��Ã�¿Ã���Ã��Ã�½Ã���Ã�¯Ã�¿Ã�½Ã��Ã�¯Ã��Ã�¿Ã��Ã�½Ã���Ã�¯Ã�¿Ã�½Ã���Ã��Ã�½Ã���Ã�¯Ã�¿Ã�½Ã��Ã�¯Ã��Ã�¿Ã��Ã�½Ã���Ã��Ã�¯Ã���Ã��Ã�¿Ã���Ã��Ã�½Ã���Ã�¯Ã�¿Ã�½Ã���Ã��Ã�¯Ã���Ã�¯Ã�¿Ã�½Ã���Ã��Ã�¿Ã���Ã�¯Ã�¿Ã�½Ã���Ã��Ã�½Ã���Ã�¯Ã�¿Ã�½Ã��Ã�¯Ã��Ã�¿Ã��Ã�½Ã���Ã��Ã�¯Ã���Ã��Ã�¿Ã���Ã��Ã�½Ã���Ã�¯Ã�¿Ã�½Ã��Ã�¯Ã��Ã�¿Ã��Ã�½Ã���Ã�¯Ã�¿Ã�½Ã���Ã��Ã�¯Ã���Ã�¯Ã�¿Ã�½Ã��Ã�¯Ã��Ã�¿Ã��Ã�½Ã���Ã��Ã�¯Ã���Ã��Ã�¿Ã���Ã��Ã�½Ã���Ã�¯Ã�¿Ã�½Ã���Ã��Ã�¯Ã���Ã�¯Ã�¿Ã�½Ã���Ã��Ã�¿Ã���Ã�¯Ã�¿Ã�½Ã���Ã��Ã�½Ã���Ã�¯Ã�¿Ã�½Ã��Ã�¯Ã��Ã�¿Ã��Ã�½Ã���Ã��Ã�¯Ã���Ã��Ã�¿Ã���Ã��Ã�½Ã���Ã�¯Ã�¿Ã�½Ã��Ã�¯Ã��Ã�¿Ã��Ã�½Ã���Ã�¯Ã�¿Ã�½Ã���Ã��Ã�¿Ã���Ã�¯Ã�¿Ã�½Ã��Ã�¯Ã��Ã�¿Ã��Ã�½Ã���Ã��Ã�¯Ã���Ã��Ã�¿Ã���Ã��Ã�½Ã���Ã�¯Ã�¿Ã�½Ã���Ã��Ã�¯Ã���Ã�¯Ã�¿Ã�½Ã���Ã��Ã�¿Ã���Ã�¯Ã�¿Ã�½Ã���Ã��Ã�½Ã���Ã�¯Ã�¿Ã�½Ã��Ã�¯Ã��Ã�¿Ã��Ã�½Ã���Ã��Ã�¯Ã���Ã��Ã�¿Ã���Ã��Ã�½Ã���Ã�¯Ã�¿Ã�½Ã��Ã�¯Ã��Ã�¿Ã��Ã�½Ã���Ã�¯Ã�¿Ã�½Ã���Ã��Ã�½Ã���Ã�¯Ã�¿Ã�½Ã��Ã�¯Ã��Ã�¿Ã��Ã�½Ã���Ã��Ã�¯Ã���Ã��Ã�¿Ã���Ã��Ã�½Ã���Ã�¯Ã�¿Ã�½Ã���Ã��Ã�¯Ã���Ã�¯Ã�¿Ã�½Ã���Ã��Ã�¿Ã���Ã�¯Ã�¿Ã�½Ã���Ã��Ã�½Ã���Ã�¯Ã�¿Ã�½Ã��Ã�¯Ã��Ã�¿Ã��Ã�½Ã���Ã�¯Ã�¿Ã�½Ã���Ã��Ã�¯Ã���Ã�¯Ã�¿Ã�½Ã��Ã�¯Ã��Ã�¿Ã��Ã�½Ã���Ã�¯Ã�¿Ã�½Ã���Ã��Ã�¿Ã���Ã�¯Ã�¿Ã�½Ã��Ã�¯Ã��Ã�¿Ã��Ã�½Ã���Ã�¯Ã�¿Ã�½Ã���Ã��Ã�½Ã���Ã�¯Ã�¿Ã�½Ã��Ã�¯Ã��Ã�¿Ã��Ã�½Ã���Ã��Ã�¯Ã���Ã��Ã�¿Ã���Ã��Ã�½Ã���Ã�¯Ã�¿Ã�½Ã��Ã�¯Ã��Ã�¿Ã��Ã�½Ã���Ã�¯Ã�¿Ã�½Ã���Ã��Ã�¯Ã���Ã�¯Ã�¿Ã�½Ã��Ã�¯Ã��Ã�¿Ã��Ã�½Ã���Ã��Ã�¯Ã���Ã��Ã�¿Ã���Ã��Ã�½Ã���Ã�¯Ã�¿Ã�½Ã��Ã�¯Ã��Ã�¿Ã��Ã�½Ã���Ã�¯Ã�¿Ã�½Ã���Ã��Ã�¿Ã���Ã�¯Ã�¿Ã�½Ã��Ã�¯Ã��Ã�¿Ã��Ã�½Ã���Ã��Ã�¯Ã���Ã��Ã�¿Ã���Ã��Ã�½Ã���Ã�¯Ã�¿Ã�½Ã��Ã�¯Ã��Ã�¿Ã��Ã�½Ã���Ã�¯Ã�¿Ã�½Ã���Ã��Ã�½Ã���Ã�¯Ã�¿Ã�½Ã��Ã�¯Ã��Ã�¿Ã��Ã�½Ã���Ã��Ã�¯Ã���Ã��Ã�¿Ã���Ã��Ã�½Ã���Ã�¯Ã�¿Ã�½Ã���Ã��Ã�¯Ã���Ã�¯Ã�¿Ã�½Ã���Ã��Ã�¿Ã���Ã�¯Ã�¿Ã�½Ã���Ã��Ã�½Ã���Ã�¯Ã�¿Ã�½Ã��Ã�¯Ã��Ã�¿Ã��Ã�½Ã���Ã�¯Ã�¿Ã�½Ã���Ã��Ã�¯Ã���Ã�¯Ã�¿Ã�½Ã��Ã�¯Ã��Ã�¿Ã��Ã�½Ã���Ã�¯Ã�¿Ã�½Ã���Ã��Ã�¿Ã���Ã�¯Ã�¿Ã�½Ã��Ã�¯Ã��Ã�¿Ã��Ã�½Ã���Ã�¯Ã�¿Ã�½Ã���Ã��Ã�½Ã���Ã�¯Ã�¿Ã�½Ã��Ã�¯Ã��Ã�¿Ã��Ã�½Ã���Ã��Ã�¯Ã���Ã��Ã�¿Ã���Ã��Ã�½Ã���Ã�¯Ã�¿Ã�½Ã���Ã��Ã�¯Ã���Ã�¯Ã�¿Ã�½Ã���Ã��Ã�¿Ã���Ã�¯Ã�¿Ã�½Ã���Ã��Ã�½Ã���Ã�¯Ã�¿Ã�½Ã��Ã�¯Ã��Ã�¿Ã��Ã�½Ã���Ã��Ã�¯Ã���Ã��Ã�¿Ã���Ã��Ã�½Ã���Ã�¯Ã�¿Ã�½Ã��Ã�¯Ã��Ã�¿Ã��Ã�½Ã���Ã�¯Ã�¿Ã�½Ã���Ã��Ã�¯Ã���Ã�¯Ã�¿Ã�½Ã��Ã�¯Ã��Ã�¿Ã��Ã�½Ã���Ã��Ã�¯Ã���Ã��Ã�¿Ã���Ã��Ã�½Ã���Ã�¯Ã�¿Ã�½Ã���Ã��Ã�¯Ã���Ã�¯Ã�¿Ã�½Ã���Ã��Ã�¿Ã���Ã�¯Ã�¿Ã�½Ã���Ã��Ã�½Ã���Ã�¯Ã�¿Ã�½Ã��Ã�¯Ã��Ã�¿Ã��Ã�½Ã���Ã�¯Ã�¿Ã�½Ã���Ã��Ã�¯Ã���Ã�¯Ã�¿Ã�½Ã��Ã�¯Ã��Ã�¿Ã��Ã�½Ã���Ã�¯Ã�¿Ã�½Ã���Ã��Ã�¿Ã���Ã�¯Ã�¿Ã�½Ã��Ã�¯Ã��Ã�¿Ã��Ã�½Ã���Ã�¯Ã�¿Ã�½Ã���Ã��Ã�½Ã���Ã�¯Ã�¿Ã�½Ã��Ã�¯Ã��Ã�¿Ã��Ã�½Ã���Ã��Ã�¯Ã���Ã��Ã�¿Ã���Ã��Ã�½Ã���Ã�¯Ã�¿Ã�½Ã��Ã�¯Ã��Ã�¿Ã��Ã�½Ã���Ã�¯Ã�¿Ã�½Ã���Ã��Ã�¯Ã���Ã�¯Ã�¿Ã�½Ã��Ã�¯Ã��Ã�¿Ã��Ã�½Ã���Ã��Ã�¯Ã���Ã��Ã�¿Ã���Ã��Ã�½Ã���Ã�¯Ã�¿Ã�½Ã��Ã�¯Ã��Ã�¿Ã��Ã�½Ã���Ã�¯Ã�¿Ã�½Ã���Ã��Ã�¿Ã���Ã�¯Ã�¿Ã�½Ã��Ã�¯Ã��Ã�¿Ã��Ã�½Ã���Ã��Ã�¯Ã���Ã��Ã�¿Ã���Ã��Ã�½Ã���Ã�¯Ã�¿Ã�½Ã��Ã�¯Ã��Ã�¿Ã��Ã�½Ã���Ã�¯Ã�¿Ã�½Ã���Ã��Ã�½Ã���Ã�¯Ã�¿Ã�½Ã��Ã�¯Ã��Ã�¿Ã��Ã�½Ã���Ã��Ã�¯Ã���Ã��Ã�¿Ã���Ã��Ã�½Ã���Ã�¯Ã�¿Ã�½Ã���Ã��Ã�¯Ã���Ã�¯Ã�¿Ã�½Ã���Ã��Ã�¿Ã���Ã�¯Ã�¿Ã�½Ã���Ã��Ã�½Ã���Ã�¯Ã�¿Ã�½Ã��Ã�¯Ã��Ã�¿Ã��Ã�½Ã���Ã��Ã�¯Ã���Ã��Ã�¿Ã���Ã��Ã�½Ã���Ã�¯Ã�¿Ã�½Ã��Ã�¯Ã��Ã�¿Ã��Ã�½Ã���Ã�¯Ã�¿Ã�½Ã���Ã��Ã�¯Ã���Ã�¯Ã�¿Ã�½Ã��Ã�¯Ã��Ã�¿Ã��Ã�½Ã���Ã��Ã�¯Ã���Ã��Ã�¿Ã���Ã��Ã�½Ã���Ã�¯Ã�¿Ã�½Ã���Ã��Ã�¯Ã���Ã�¯Ã�¿Ã�½Ã���Ã��Ã�¿Ã���Ã�¯Ã�¿Ã�½Ã���Ã��Ã�½Ã���Ã�¯Ã�¿Ã�½Ã��Ã�¯Ã��Ã�¿Ã��Ã�½Ã���Ã��Ã�¯Ã���Ã��Ã�¿Ã���Ã��Ã�½Ã���Ã�¯Ã�¿Ã�½Ã��Ã�¯Ã��Ã�¿Ã��Ã�½Ã���Ã�¯Ã�¿Ã�½Ã���Ã��Ã�¿Ã���Ã�¯Ã�¿Ã�½Ã��Ã�¯Ã��Ã�¿Ã��Ã�½Ã���Ã��Ã�¯Ã���Ã��Ã�¿Ã���Ã��Ã�½Ã���Ã�¯Ã�¿Ã�½Ã���Ã��Ã�¯Ã���Ã�¯Ã�¿Ã�½Ã���Ã��Ã�¿Ã���Ã�¯Ã�¿Ã�½Ã���Ã��Ã�½Ã���Ã�¯Ã�¿Ã�½Ã��Ã�¯Ã��Ã�¿Ã��Ã�½Ã���Ã��Ã�¯Ã���Ã��Ã�¿Ã���Ã��Ã�½Ã���Ã�¯Ã�¿Ã�½Ã��Ã�¯Ã��Ã�¿Ã��Ã�½Ã���Ã�¯Ã�¿Ã�½Ã���Ã��Ã�½Ã���Ã�¯Ã�¿Ã�½Ã��Ã�¯Ã��Ã�¿Ã��Ã�½Ã���Ã��Ã�¯Ã���Ã��Ã�¿Ã���Ã��Ã�½Ã���Ã�¯Ã�¿Ã�½Ã���Ã��Ã�¯Ã���Ã�¯Ã�¿Ã�½Ã���Ã��Ã�¿Ã���Ã�¯Ã�¿Ã�½Ã���Ã��Ã�½Ã���Ã�¯Ã�¿Ã�½Ã��Ã�¯Ã��Ã�¿Ã��Ã�½Ã���Ã�¯Ã�¿Ã�½Ã���Ã��Ã�¯Ã���Ã�¯Ã�¿Ã�½Ã��Ã�¯Ã��Ã�¿Ã��Ã�½Ã���Ã�¯Ã�¿Ã�½Ã���Ã��Ã�¿Ã���Ã�¯Ã�¿Ã�½Ã��Ã�¯Ã��Ã�¿Ã��Ã�½Ã���Ã�¯Ã�¿Ã�½Ã���Ã��Ã�½Ã���Ã�¯Ã�¿Ã�½Ã��Ã�¯Ã��Ã�¿Ã��Ã�½Ã���Ã��Ã�¯Ã���Ã��Ã�¿Ã���Ã��Ã�½Ã���Ã�¯Ã�¿Ã�½Ã���Ã��Ã�¯Ã���Ã�¯Ã�¿Ã�½Ã���Ã��Ã�¿Ã���Ã�¯Ã�¿Ã�½Ã���Ã��Ã�½Ã���Ã�¯Ã�¿Ã�½Ã��Ã�¯Ã��Ã�¿Ã��Ã�½Ã���Ã��Ã�¯Ã���Ã��Ã�¿Ã���Ã��Ã�½Ã���Ã�¯Ã�¿Ã�½Ã��Ã�¯Ã��Ã�¿Ã��Ã�½Ã���Ã�¯Ã�¿Ã�½Ã���Ã��Ã�¯Ã���Ã�¯Ã�¿Ã�½Ã��Ã�¯Ã��Ã�¿Ã��Ã�½Ã���Ã��Ã�¯Ã���Ã��Ã�¿Ã���Ã��Ã�½Ã���Ã�¯Ã�¿Ã�½Ã���Ã��Ã�¯Ã���Ã�¯Ã�¿Ã�½Ã���Ã��Ã�¿Ã���Ã�¯Ã�¿Ã�½Ã���Ã��Ã�½Ã���Ã�¯Ã�¿Ã�½Ã��Ã�¯Ã��Ã�¿Ã��Ã�½Ã���Ã�¯Ã�¿Ã�½Ã���Ã��Ã�¯Ã���Ã�¯Ã�¿Ã�½Ã��Ã�¯Ã��Ã�¿Ã��Ã�½Ã���Ã�¯Ã�¿Ã�½Ã���Ã��Ã�¿Ã���Ã�¯Ã�¿Ã�½Ã��Ã�¯Ã��Ã�¿Ã��Ã�½Ã���Ã�¯Ã�¿Ã�½Ã���Ã��Ã�½Ã���Ã�¯Ã�¿Ã�½Ã��Ã�¯Ã��Ã�¿Ã��Ã�½Ã���Ã��Ã�¯Ã���Ã��Ã�¿Ã���Ã��Ã�½Ã���Ã�¯Ã�¿Ã�½Ã���Ã��Ã�¯Ã���Ã�¯Ã�¿Ã�½Ã���Ã��Ã�¿Ã���Ã�¯Ã�¿Ã�½Ã���Ã��Ã�½Ã���Ã�¯Ã�¿Ã�½Ã��Ã�¯Ã��Ã�¿Ã��Ã�½Ã���Ã��Ã�¯Ã���Ã��Ã�¿Ã���Ã��Ã�½Ã���Ã�¯Ã�¿Ã�½Ã��Ã�¯Ã��Ã�¿Ã��Ã�½Ã���Ã�¯Ã�¿Ã�½Ã���Ã��Ã�¿Ã���Ã�¯Ã�¿Ã�½Ã��Ã�¯Ã��Ã�¿Ã��Ã�½Ã���Ã��Ã�¯Ã���Ã��Ã�¿Ã���Ã��Ã�½Ã���Ã�¯Ã�¿Ã�½Ã���Ã��Ã�¯Ã���Ã�¯Ã�¿Ã�½Ã���Ã��Ã�¿Ã���Ã�¯Ã�¿Ã�½Ã���Ã��Ã�½Ã���Ã�¯Ã�¿Ã�½Ã��Ã�¯Ã��Ã�¿Ã��Ã�½Ã���Ã�¯Ã�¿Ã�½Ã���Ã��Ã�¯Ã���Ã�¯Ã�¿Ã�½Ã��Ã�¯Ã��Ã�¿Ã��Ã�½Ã���Ã�¯Ã�¿Ã�½Ã���Ã��Ã�¿Ã���Ã�¯Ã�¿Ã�½Ã��Ã�¯Ã��Ã�¿Ã��Ã�½Ã���Ã�¯Ã�¿Ã�½Ã���Ã��Ã�½Ã���Ã�¯Ã�¿Ã�½Ã��Ã�¯Ã��Ã�¿Ã��Ã�½Ã���Ã��Ã�¯Ã���Ã��Ã�¿Ã���Ã��Ã�½Ã���Ã�¯Ã�¿Ã�½Ã���Ã��Ã�¯Ã���Ã�¯Ã�¿Ã�½Ã���Ã��Ã�¿Ã���Ã�¯Ã�¿Ã�½Ã���Ã��Ã�½Ã���Ã�¯Ã�¿Ã�½Ã��Ã�¯Ã��Ã�¿Ã��Ã�½Ã���Ã��Ã�¯Ã���Ã��Ã�¿Ã���Ã��Ã�½Ã���Ã�¯Ã�¿Ã�½Ã��Ã�¯Ã��Ã�¿Ã��Ã�½Ã���Ã�¯Ã�¿Ã�½Ã���Ã��Ã�½Ã���Ã�¯Ã�¿Ã�½Ã��Ã�¯Ã��Ã�¿Ã��Ã�½Ã���Ã��Ã�¯Ã���Ã��Ã�¿Ã���Ã��Ã�½Ã���Ã�¯Ã�¿Ã�½Ã���Ã��Ã�¯Ã���Ã�¯Ã�¿Ã�½Ã���Ã��Ã�¿Ã���Ã�¯Ã�¿Ã�½Ã���Ã��Ã�½Ã���Ã�¯Ã�¿Ã�½Ã��Ã�¯Ã��Ã�¿Ã��Ã�½Ã���Ã�¯Ã�¿Ã�½Ã���Ã��Ã�¯Ã���Ã�¯Ã�¿Ã�½Ã��Ã�¯Ã��Ã�¿Ã��Ã�½Ã���Ã�¯Ã�¿Ã�½Ã���Ã��Ã�¿Ã���Ã�¯Ã�¿Ã�½Ã��Ã�¯Ã��Ã�¿Ã��Ã�½Ã���Ã�¯Ã�¿Ã�½Ã���Ã��Ã�½Ã���Ã�¯Ã�¿Ã�½Ã��Ã�¯Ã��Ã�¿Ã��Ã�½Ã���Ã��Ã�¯Ã���Ã��Ã�¿Ã���Ã��Ã�½Ã���Ã�¯Ã�¿Ã�½Ã��Ã�¯Ã��Ã�¿Ã��Ã�½Ã���Ã�¯Ã�¿Ã�½Ã���Ã��Ã�¯Ã���Ã�¯Ã�¿Ã�½Ã��Ã�¯Ã��Ã�¿Ã��Ã�½Ã���Ã��Ã�¯Ã���Ã��Ã�¿Ã���Ã��Ã�½Ã���Ã�¯Ã�¿Ã�½Ã��Ã�¯Ã��Ã�¿Ã��Ã�½Ã���Ã�¯Ã�¿Ã�½Ã���Ã��Ã�¿Ã���Ã�¯Ã�¿Ã�½Ã��Ã�¯Ã��Ã�¿Ã��Ã�½Ã���Ã��Ã�¯Ã���Ã��Ã�¿Ã���Ã��Ã�½Ã���Ã�¯Ã�¿Ã�½Ã��Ã�¯Ã��Ã�¿Ã��Ã�½Ã���Ã�¯Ã�¿Ã�½Ã���Ã��Ã�½Ã���Ã�¯Ã�¿Ã�½Ã��Ã�¯Ã��Ã�¿Ã��Ã�½Ã���Ã��Ã�¯Ã���Ã��Ã�¿Ã���Ã��Ã�½Ã���Ã�¯Ã�¿Ã�½Ã���Ã��Ã�¯Ã���Ã�¯Ã�¿Ã�½Ã���Ã��Ã�¿Ã���Ã�¯Ã�¿Ã�½Ã���Ã��Ã�½Ã���Ã�¯Ã�¿Ã�½Ã��Ã�¯Ã��Ã�¿Ã��Ã�½Ã���Ã�¯Ã�¿Ã�½Ã���Ã��Ã�¯Ã���Ã�¯Ã�¿Ã�½Ã��Ã�¯Ã��Ã�¿Ã��Ã�½Ã���Ã�¯Ã�¿Ã�½Ã���Ã��Ã�¿Ã���Ã�¯Ã�¿Ã�½Ã��Ã�¯Ã��Ã�¿Ã��Ã�½Ã���Ã�¯Ã�¿Ã�½Ã���Ã��Ã�½Ã���Ã�¯Ã�¿Ã�½Ã��Ã�¯Ã��Ã�¿Ã��Ã�½Ã���Ã��Ã�¯Ã���Ã��Ã�¿Ã���Ã��Ã�½Ã���Ã�¯Ã�¿Ã�½Ã���Ã��Ã�¯Ã���Ã�¯Ã�¿Ã�½Ã���Ã��Ã�¿Ã���Ã�¯Ã�¿Ã�½Ã���Ã��Ã�½Ã���Ã�¯Ã�¿Ã�½Ã��Ã�¯Ã��Ã�¿Ã��Ã�½Ã���Ã��Ã�¯Ã���Ã��Ã�¿Ã���Ã��Ã�½Ã���Ã�¯Ã�¿Ã�½Ã��Ã�¯Ã��Ã�¿Ã��Ã�½Ã���Ã�¯Ã�¿Ã�½Ã���Ã��Ã�¯Ã���Ã�¯Ã�¿Ã�½Ã��Ã�¯Ã��Ã�¿Ã��Ã�½Ã���Ã��Ã�¯Ã���Ã��Ã�¿Ã���Ã��Ã�½Ã���Ã�¯Ã�¿Ã�½Ã���Ã��Ã�¯Ã���Ã�¯Ã�¿Ã�½Ã���Ã��Ã�¿Ã���Ã�¯Ã�¿Ã�½Ã���Ã��Ã�½Ã���Ã�¯Ã�¿Ã�½Ã��Ã�¯Ã��Ã�¿Ã��Ã�½Ã���Ã�¯Ã�¿Ã�½Ã���Ã��Ã�¯Ã���Ã�¯Ã�¿Ã�½Ã��Ã�¯Ã��Ã�¿Ã��Ã�½Ã���Ã�¯Ã�¿Ã�½Ã���Ã��Ã�¿Ã���Ã�¯Ã�¿Ã�½Ã��Ã�¯Ã��Ã�¿Ã��Ã�½Ã���Ã�¯Ã�¿Ã�½Ã���Ã��Ã�½Ã���Ã�¯Ã�¿Ã�½Ã��Ã�¯Ã��Ã�¿Ã��Ã�½Ã���Ã��Ã�¯Ã���Ã��Ã�¿Ã���Ã��Ã�½Ã���Ã�¯Ã�¿Ã�½Ã��Ã�¯Ã��Ã�¿Ã��Ã�½Ã���Ã�¯Ã�¿Ã�½Ã���Ã��Ã�¯Ã���Ã�¯Ã�¿Ã�½Ã��Ã�¯Ã��Ã�¿Ã��Ã�½Ã���Ã��Ã�¯Ã���Ã��Ã�¿Ã���Ã��Ã�½Ã���Ã�¯Ã�¿Ã�½Ã��Ã�¯Ã��Ã�¿Ã��Ã�½Ã���Ã�¯Ã�¿Ã�½Ã���Ã��Ã�¿Ã���Ã�¯Ã�¿Ã�½Ã��Ã�¯Ã��Ã�¿Ã��Ã�½Ã���Ã��Ã�¯Ã���Ã��Ã�¿Ã���Ã��Ã�½Ã���Ã�¯Ã�¿Ã�½Ã��Ã�¯Ã��Ã�¿Ã��Ã�½Ã���Ã�¯Ã�¿Ã�½Ã���Ã��Ã�½Ã���Ã�¯Ã�¿Ã�½Ã��Ã�¯Ã��Ã�¿Ã��Ã�½Ã���Ã��Ã�¯Ã���Ã��Ã�¿Ã���Ã��Ã�½Ã���Ã�¯Ã�¿Ã�½Ã���Ã��Ã�¯Ã���Ã�¯Ã�¿Ã�½Ã���Ã��Ã�¿Ã���Ã�¯Ã�¿Ã�½Ã���Ã��Ã�½Ã���Ã�¯Ã�¿Ã�½Ã��Ã�¯Ã��Ã�¿Ã��Ã�½Ã���Ã�¯Ã�¿Ã�½Ã���Ã��Ã�¯Ã���Ã�¯Ã�¿Ã�½Ã��Ã�¯Ã��Ã�¿Ã��Ã�½Ã���Ã�¯Ã�¿Ã�½Ã���Ã��Ã�¿Ã���Ã�¯Ã�¿Ã�½Ã��Ã�¯Ã��Ã�¿Ã��Ã�½Ã���Ã�¯Ã�¿Ã�½Ã���Ã��Ã�½Ã���Ã�¯Ã�¿Ã�½Ã��Ã�¯Ã��Ã�¿Ã��Ã�½Ã���Ã��Ã�¯Ã���Ã��Ã�¿Ã���Ã��Ã�½Ã���Ã�¯Ã�¿Ã�½Ã���Ã��Ã�¯Ã���Ã�¯Ã�¿Ã�½Ã���Ã��Ã�¿Ã���Ã�¯Ã�¿Ã�½Ã���Ã��Ã�½Ã���Ã�¯Ã�¿Ã�½Ã��Ã�¯Ã��Ã�¿Ã��Ã�½Ã���Ã��Ã�¯Ã���Ã��Ã�¿Ã���Ã��Ã�½Ã���Ã�¯Ã�¿Ã�½Ã��Ã�¯Ã��Ã�¿Ã��Ã�½Ã���Ã�¯Ã�¿Ã�½Ã���Ã��Ã�¿Ã���Ã�¯Ã�¿Ã�½Ã��Ã�¯Ã��Ã�¿Ã��Ã�½Ã���Ã��Ã�¯Ã���Ã��Ã�¿Ã���Ã��Ã�½Ã���Ã�¯Ã�¿Ã�½Ã���Ã��Ã�¯Ã���Ã�¯Ã�¿Ã�½Ã���Ã��Ã�¿Ã���Ã�¯Ã�¿Ã�½Ã���Ã��Ã�½Ã���Ã�¯Ã�¿Ã�½Ã��Ã�¯Ã��Ã�¿Ã��Ã�½Ã���Ã�¯Ã�¿Ã�½Ã���Ã��Ã�¯Ã���Ã�¯Ã�¿Ã�½Ã��Ã�¯Ã��Ã�¿Ã��Ã�½Ã���Ã�¯Ã�¿Ã�½Ã���Ã��Ã�¿Ã���Ã�¯Ã�¿Ã�½Ã��Ã�¯Ã��Ã�¿Ã��Ã�½Ã���Ã�¯Ã�¿Ã�½Ã���Ã��Ã�½Ã���Ã�¯Ã�¿Ã�½Ã��Ã�¯Ã��Ã�¿Ã��Ã�½Ã���Ã��Ã�¯Ã���Ã��Ã�¿Ã���Ã��Ã�½Ã���Ã�¯Ã�¿Ã�½Ã��Ã�¯Ã��Ã�¿Ã��Ã�½Ã���Ã�¯Ã�¿Ã�½Ã���Ã��Ã�¯Ã���Ã�¯Ã�¿Ã�½Ã��Ã�¯Ã��Ã�¿Ã��Ã�½Ã���Ã��Ã�¯Ã���Ã��Ã�¿Ã���Ã��Ã�½Ã���Ã�¯Ã�¿Ã�½Ã��Ã�¯Ã��Ã�¿Ã��Ã�½Ã���Ã�¯Ã�¿Ã�½Ã���Ã��Ã�¿Ã���Ã�¯Ã�¿Ã�½Ã��Ã�¯Ã��Ã�¿Ã��Ã�½Ã���Ã��Ã�¯Ã���Ã��Ã�¿Ã���Ã��Ã�½Ã���Ã�¯Ã�¿Ã�½Ã��Ã�¯Ã��Ã�¿Ã��Ã�½Ã���Ã�¯Ã�¿Ã�½Ã���Ã��Ã�½Ã���Ã�¯Ã�¿Ã�½Ã��Ã�¯Ã��Ã�¿Ã��Ã�½Ã���Ã��Ã�¯Ã���Ã��Ã�¿Ã���Ã��Ã�½Ã���Ã�¯Ã�¿Ã�½Ã���Ã��Ã�¯Ã���Ã�¯Ã�¿Ã�½Ã���Ã��Ã�¿Ã���Ã�¯Ã�¿Ã�½Ã���Ã��Ã�½Ã���Ã�¯Ã�¿Ã�½Ã��Ã�¯Ã��Ã�¿Ã��Ã�½Ã���Ã�¯Ã�¿Ã�½Ã���Ã��Ã�¯Ã���Ã�¯Ã�¿Ã�½Ã��Ã�¯Ã��Ã�¿Ã��Ã�½Ã���Ã�¯Ã�¿Ã�½Ã���Ã��Ã�¿Ã���Ã�¯Ã�¿Ã�½Ã��Ã�¯Ã��Ã�¿Ã��Ã�½Ã���Ã�¯Ã�¿Ã�½Ã���Ã��Ã�½Ã���Ã�¯Ã�¿Ã�½Ã��Ã�¯Ã��Ã�¿Ã��Ã�½Ã���Ã��Ã�¯Ã���Ã��Ã�¿Ã���Ã��Ã�½Ã���Ã�¯Ã�¿Ã�½Ã���Ã��Ã�¯Ã���Ã�¯Ã�¿Ã�½Ã���Ã��Ã�¿Ã���Ã�¯Ã�¿Ã�½Ã���Ã��Ã�½Ã���Ã�¯Ã�¿Ã�½Ã��Ã�¯Ã��Ã�¿Ã��Ã�½Ã���Ã��Ã�¯Ã���Ã��Ã�¿Ã���Ã��Ã�½Ã���Ã�¯Ã�¿Ã�½Ã��Ã�¯Ã��Ã�¿Ã��Ã�½Ã���Ã�¯Ã�¿Ã�½Ã���Ã��Ã�½Ã���Ã�¯Ã�¿Ã�½Ã��Ã�¯Ã��Ã�¿Ã��Ã�½Ã���Ã��Ã�¯Ã���Ã��Ã�¿Ã���Ã��Ã�½Ã���Ã�¯Ã�¿Ã�½Ã���Ã��Ã�¯Ã���Ã�¯Ã�¿Ã�½Ã���Ã��Ã�¿Ã���Ã�¯Ã�¿Ã�½Ã���Ã��Ã�½Ã���Ã�¯Ã�¿Ã�½Ã��Ã�¯Ã��Ã�¿Ã��Ã�½Ã���Ã�¯Ã�¿Ã�½Ã���Ã��Ã�¯Ã���Ã�¯Ã�¿Ã�½Ã��Ã�¯Ã��Ã�¿Ã��Ã�½Ã���Ã�¯Ã�¿Ã�½Ã���Ã��Ã�¿Ã���Ã�¯Ã�¿Ã�½Ã��Ã�¯Ã��Ã�¿Ã��Ã�½Ã���Ã�¯Ã�¿Ã�½Ã���Ã��Ã�½Ã���Ã�¯Ã�¿Ã�½Ã��Ã�¯Ã��Ã�¿Ã��Ã�½Ã���Ã��Ã�¯Ã���Ã��Ã�¿Ã���Ã��Ã�½Ã���Ã�¯Ã�¿Ã�½Ã��Ã�¯Ã��Ã�¿Ã��Ã�½Ã���Ã�¯Ã�¿Ã�½Ã���Ã��Ã�¯Ã���Ã�¯Ã�¿Ã�½Ã��Ã�¯Ã��Ã�¿Ã��Ã�½Ã���Ã��Ã�¯Ã���Ã��Ã�¿Ã���Ã��Ã�½Ã���Ã�¯Ã�¿Ã�½Ã��Ã�¯Ã��Ã�¿Ã��Ã�½Ã���Ã�¯Ã�¿Ã�½Ã���Ã��Ã�¿Ã���Ã�¯Ã�¿Ã�½Ã��Ã�¯Ã��Ã�¿Ã��Ã�½Ã���Ã��Ã�¯Ã���Ã��Ã�¿Ã���Ã��Ã�½Ã���Ã�¯Ã�¿Ã�½Ã��Ã�¯Ã��Ã�¿Ã��Ã�½Ã���Ã�¯Ã�¿Ã�½Ã���Ã��Ã�½Ã���Ã�¯Ã�¿Ã�½Ã��Ã�¯Ã��Ã�¿Ã��Ã�½Ã���Ã��Ã�¯Ã���Ã��Ã�¿Ã���Ã��Ã�½Ã���Ã�¯Ã�¿Ã�½Ã���Ã��Ã�¯Ã���Ã�¯Ã�¿Ã�½Ã���Ã��Ã�¿Ã���Ã�¯Ã�¿Ã�½Ã���Ã��Ã�½Ã���Ã�¯Ã�¿Ã�½Ã��Ã�¯Ã��Ã�¿Ã��Ã�½Ã���Ã��Ã�¯Ã���Ã��Ã�¿Ã���Ã��Ã�½Ã���Ã�¯Ã�¿Ã�½Ã��Ã�¯Ã��Ã�¿Ã��Ã�½Ã���Ã�¯Ã�¿Ã�½Ã���Ã��Ã�¯Ã���Ã�¯Ã�¿Ã�½Ã��Ã�¯Ã��Ã�¿Ã��Ã�½Ã���Ã��Ã�¯Ã���Ã��Ã�¿Ã���Ã��Ã�½Ã���Ã�¯Ã�¿Ã�½Ã���Ã��Ã�¯Ã���Ã�¯Ã�¿Ã�½Ã���Ã��Ã�¿Ã���Ã�¯Ã�¿Ã�½Ã���Ã��Ã�½Ã���Ã�¯Ã�¿Ã�½Ã��Ã�¯Ã��Ã�¿Ã��Ã�½Ã���Ã��Ã�¯Ã���Ã��Ã�¿Ã���Ã��Ã�½Ã���Ã�¯Ã�¿Ã�½Ã��Ã�¯Ã��Ã�¿Ã��Ã�½Ã���Ã�¯Ã�¿Ã�½Ã���Ã��Ã�¿Ã���Ã�¯Ã�¿Ã�½Ã��Ã�¯Ã��Ã�¿Ã��Ã�½Ã���Ã��Ã�¯Ã���Ã��Ã�¿Ã���Ã��Ã�½Ã���Ã�¯Ã�¿Ã�½Ã���Ã��Ã�¯Ã���Ã�¯Ã�¿Ã�½Ã���Ã��Ã�¿Ã���Ã�¯Ã�¿Ã�½Ã���Ã��Ã�½Ã���Ã�¯Ã�¿Ã�½Ã��Ã�¯Ã��Ã�¿Ã��Ã�½Ã���Ã��Ã�¯Ã���Ã��Ã�¿Ã���Ã��Ã�½Ã���Ã�¯Ã�¿Ã�½Ã��Ã�¯Ã��Ã�¿Ã��Ã�½Ã���Ã�¯Ã�¿Ã�½Ã���Ã��Ã�½Ã���Ã�¯Ã�¿Ã�½Ã��Ã�¯Ã��Ã�¿Ã��Ã�½Ã���Ã��Ã�¯Ã���Ã��Ã�¿Ã���Ã��Ã�½Ã���Ã�¯Ã�¿Ã�½Ã���Ã��Ã�¯Ã���Ã�¯Ã�¿Ã�½Ã���Ã��Ã�¿Ã���Ã�¯Ã�¿Ã�½Ã���Ã��Ã�½Ã���Ã�¯Ã�¿Ã�½Ã��Ã�¯Ã��Ã�¿Ã��Ã�½Ã���Ã�¯Ã�¿Ã�½Ã���Ã��Ã�¯Ã���Ã�¯Ã�¿Ã�½Ã��Ã�¯Ã��Ã�¿Ã��Ã�½Ã���Ã�¯Ã�¿Ã�½Ã���Ã��Ã�¿Ã���Ã�¯Ã�¿Ã�½Ã��Ã�¯Ã��Ã�¿Ã��Ã�½Ã���Ã�¯Ã�¿Ã�½Ã���Ã��Ã�½Ã���Ã�¯Ã�¿Ã�½Ã��Ã�¯Ã��Ã�¿Ã��Ã�½Ã���Ã��Ã�¯Ã���Ã��Ã�¿Ã���Ã��Ã�½Ã���Ã�¯Ã�¿Ã�½Ã���Ã��Ã�¯Ã���Ã�¯Ã�¿Ã�½Ã���Ã��Ã�¿Ã���Ã�¯Ã�¿Ã�½Ã���Ã��Ã�½Ã���Ã�¯Ã�¿Ã�½Ã��Ã�¯Ã��Ã�¿Ã��Ã�½Ã���Ã��Ã�¯Ã���Ã��Ã�¿Ã���Ã��Ã�½Ã���Ã�¯Ã�¿Ã�½Ã��Ã�¯Ã��Ã�¿Ã��Ã�½Ã���Ã�¯Ã�¿Ã�½Ã���Ã��Ã�¯Ã���Ã�¯Ã�¿Ã�½Ã��Ã�¯Ã��Ã�¿Ã��Ã�½Ã���Ã��Ã�¯Ã���Ã��Ã�¿Ã���Ã��Ã�½Ã���Ã�¯Ã�¿Ã�½Ã���Ã��Ã�¯Ã���Ã�¯Ã�¿Ã�½Ã���Ã��Ã�¿Ã���Ã�¯Ã�¿Ã�½Ã���Ã��Ã�½Ã���Ã�¯Ã�¿Ã�½Ã��Ã�¯Ã��Ã�¿Ã��Ã�½Ã���Ã�¯Ã�¿Ã�½Ã���Ã��Ã�¯Ã���Ã�¯Ã�¿Ã�½Ã��Ã�¯Ã��Ã�¿Ã��Ã�½Ã���Ã�¯Ã�¿Ã�½Ã���Ã��Ã�¿Ã���Ã�¯Ã�¿Ã�½Ã��Ã�¯Ã��Ã�¿Ã��Ã�½Ã���Ã�¯Ã�¿Ã�½Ã���Ã��Ã�½Ã���Ã�¯Ã�¿Ã�½Ã��Ã�¯Ã��Ã�¿Ã��Ã�½Ã���Ã��Ã�¯Ã���Ã��Ã�¿Ã���Ã��Ã�½Ã���Ã�¯Ã�¿Ã�½Ã���Ã��Ã�¯Ã���Ã�¯Ã�¿Ã�½Ã���Ã��Ã�¿Ã���Ã�¯Ã�¿Ã�½Ã���Ã��Ã�½Ã���Ã�¯Ã�¿Ã�½Ã��Ã�¯Ã��Ã�¿Ã��Ã�½Ã���Ã��Ã�¯Ã���Ã��Ã�¿Ã���Ã��Ã�½Ã���Ã�¯Ã�¿Ã�½Ã��Ã�¯Ã��Ã�¿Ã��Ã�½Ã���Ã�¯Ã�¿Ã�½Ã���Ã��Ã�¿Ã���Ã�¯Ã�¿Ã�½Ã��Ã�¯Ã��Ã�¿Ã��Ã�½Ã���Ã��Ã�¯Ã���Ã��Ã�¿Ã���Ã��Ã�½Ã���Ã�¯Ã�¿Ã�½Ã���Ã��Ã�¯Ã���Ã�¯Ã�¿Ã�½Ã���Ã��Ã�¿Ã���Ã�¯Ã�¿Ã�½Ã���Ã��Ã�½Ã���Ã�¯Ã�¿Ã�½Ã��Ã�¯Ã��Ã�¿Ã��Ã�½Ã���Ã�¯Ã�¿Ã�½Ã���Ã��Ã�¯Ã���Ã�¯Ã�¿Ã�½Ã��Ã�¯Ã��Ã�¿Ã��Ã�½Ã���Ã�¯Ã�¿Ã�½Ã���Ã��Ã�¿Ã���Ã�¯Ã�¿Ã�½Ã��Ã�¯Ã��Ã�¿Ã��Ã�½Ã���Ã�¯Ã�¿Ã�½Ã���Ã��Ã�½Ã���Ã�¯Ã�¿Ã�½Ã��Ã�¯Ã��Ã�¿Ã��Ã�½Ã���Ã��Ã�¯Ã���Ã��Ã�¿Ã���Ã��Ã�½Ã���Ã�¯Ã�¿Ã�½Ã���Ã��Ã�¯Ã���Ã�¯Ã�¿Ã�½Ã���Ã��Ã�¿Ã���Ã�¯Ã�¿Ã�½Ã���Ã��Ã�½Ã���Ã�¯Ã�¿Ã�½Ã��Ã�¯Ã��Ã�¿Ã��Ã�½Ã���Ã��Ã�¯Ã���Ã��Ã�¿Ã���Ã��Ã�½Ã���Ã�¯Ã�¿Ã�½Ã��Ã�¯Ã��Ã�¿Ã��Ã�½Ã���Ã�¯Ã�¿Ã�½Ã���Ã��Ã�½Ã���Ã�¯Ã�¿Ã�½Ã��Ã�¯Ã��Ã�¿Ã��Ã�½Ã���Ã��Ã�¯Ã���Ã��Ã�¿Ã���Ã��Ã�½Ã���Ã�¯Ã�¿Ã�½Ã���Ã��Ã�¯Ã���Ã�¯Ã�¿Ã�½Ã���Ã��Ã�¿Ã���Ã�¯Ã�¿Ã�½Ã���Ã��Ã�½Ã���Ã�¯Ã�¿Ã�½Ã��Ã�¯Ã��Ã�¿Ã��Ã�½Ã���Ã�¯Ã�¿Ã�½Ã���Ã��Ã�¯Ã���Ã�¯Ã�¿Ã�½Ã��Ã�¯Ã��Ã�¿Ã��Ã�½Ã���Ã�¯Ã�¿Ã�½Ã���Ã��Ã�¿Ã���Ã�¯Ã�¿Ã�½Ã��Ã�¯Ã��Ã�¿Ã��Ã�½Ã���Ã�¯Ã�¿Ã�½Ã���Ã��Ã�½Ã���Ã�¯Ã�¿Ã�½Ã��Ã�¯Ã��Ã�¿Ã��Ã�½Ã���Ã��Ã�¯Ã���Ã��Ã�¿Ã���Ã��Ã�½Ã���Ã�¯Ã�¿Ã�½Ã��Ã�¯Ã��Ã�¿Ã��Ã�½Ã���Ã�¯Ã�¿Ã�½Ã���Ã��Ã�¯Ã���Ã�¯Ã�¿Ã�½Ã��Ã�¯Ã��Ã�¿Ã��Ã�½Ã���Ã��Ã�¯Ã���Ã��Ã�¿Ã���Ã��Ã�½Ã���Ã�¯Ã�¿Ã�½Ã��Ã�¯Ã��Ã�¿Ã��Ã�½Ã���Ã�¯Ã�¿Ã�½Ã���Ã��Ã�¿Ã���Ã�¯Ã�¿Ã�½Ã��Ã�¯Ã��Ã�¿Ã��Ã�½Ã���Ã��Ã�¯Ã���Ã��Ã�¿Ã���Ã��Ã�½Ã���Ã�¯Ã�¿Ã�½Ã��Ã�¯Ã��Ã�¿Ã��Ã�½Ã���Ã�¯Ã�¿Ã�½Ã���Ã��Ã�½Ã���Ã�¯Ã�¿Ã�½Ã��Ã�¯Ã��Ã�¿Ã��Ã�½Ã���Ã��Ã�¯Ã���Ã��Ã�¿Ã���Ã��Ã�½Ã���Ã�¯Ã�¿Ã�½Ã���Ã��Ã�¯Ã���Ã�¯Ã�¿Ã�½Ã���Ã��Ã�¿Ã���Ã�¯Ã�¿Ã�½Ã���Ã��Ã�½Ã���Ã�¯Ã�¿Ã�½Ã��Ã�¯Ã��Ã�¿Ã��Ã�½Ã���Ã��Ã�¯Ã���Ã��Ã�¿Ã���Ã��Ã�½Ã���Ã�¯Ã�¿Ã�½Ã��Ã�¯Ã��Ã�¿Ã��Ã�½Ã���Ã�¯Ã�¿Ã�½Ã���Ã��Ã�¯Ã���Ã�¯Ã�¿Ã�½Ã��Ã�¯Ã��Ã�¿Ã��Ã�½Ã���Ã��Ã�¯Ã���Ã��Ã�¿Ã���Ã��Ã�½Ã���Ã�¯Ã�¿Ã�½Ã���Ã��Ã�¯Ã���Ã�¯Ã�¿Ã�½Ã���Ã��Ã�¿Ã���Ã�¯Ã�¿Ã�½Ã���Ã��Ã�½Ã���Ã�¯Ã�¿Ã�½Ã��Ã�¯Ã��Ã�¿Ã��Ã�½Ã���Ã��Ã�¯Ã���Ã��Ã�¿Ã���Ã��Ã�½Ã���Ã�¯Ã�¿Ã�½Ã��Ã�¯Ã��Ã�¿Ã��Ã�½Ã���Ã�¯Ã�¿Ã�½Ã���Ã��Ã�¿Ã���Ã�¯Ã�¿Ã�½Ã��Ã�¯Ã��Ã�¿Ã��Ã�½Ã���Ã��Ã�¯Ã���Ã��Ã�¿Ã���Ã��Ã�½Ã���Ã�¯Ã�¿Ã�½Ã���Ã��Ã�¯Ã���Ã�¯Ã�¿Ã�½Ã���Ã��Ã�¿Ã���Ã�¯Ã�¿Ã�½Ã���Ã��Ã�½Ã���Ã�¯Ã�¿Ã�½Ã��Ã�¯Ã��Ã�¿Ã��Ã�½Ã���Ã��Ã�¯Ã���Ã��Ã�¿Ã���Ã��Ã�½Ã���Ã�¯Ã�¿Ã�½Ã��Ã�¯Ã��Ã�¿Ã��Ã�½Ã���Ã�¯Ã�¿Ã�½Ã���Ã��Ã�½Ã���Ã�¯Ã�¿Ã�½Ã��Ã�¯Ã��Ã�¿Ã��Ã�½Ã���Ã��Ã�¯Ã���Ã��Ã�¿Ã���Ã��Ã�½Ã���Ã�¯Ã�¿Ã�½Ã���Ã��Ã�¯Ã���Ã�¯Ã�¿Ã�½Ã���Ã��Ã�¿Ã���Ã�¯Ã�¿Ã�½Ã���Ã��Ã�½Ã���Ã�¯Ã�¿Ã�½Ã��Ã�¯Ã��Ã�¿Ã��Ã�½Ã���Ã�¯Ã�¿Ã�½Ã���Ã��Ã�¯Ã���Ã�¯Ã�¿Ã�½Ã��Ã�¯Ã��Ã�¿Ã��Ã�½Ã���Ã�¯Ã�¿Ã�½Ã���Ã��Ã�¿Ã���Ã�¯Ã�¿Ã�½Ã��Ã�¯Ã��Ã�¿Ã��Ã�½Ã���Ã�¯Ã�¿Ã�½Ã���Ã��Ã�½Ã���Ã�¯Ã�¿Ã�½Ã��Ã�¯Ã��Ã�¿Ã��Ã�½Ã���Ã��Ã�¯Ã���Ã��Ã�¿Ã���Ã��Ã�½Ã���Ã�¯Ã�¿Ã�½Ã��Ã�¯Ã��Ã�¿Ã��Ã�½Ã���Ã�¯Ã�¿Ã�½Ã���Ã��Ã�¯Ã���Ã�¯Ã�¿Ã�½Ã��Ã�¯Ã��Ã�¿Ã��Ã�½Ã���Ã��Ã�¯Ã���Ã��Ã�¿Ã���Ã��Ã�½Ã���Ã�¯Ã�¿Ã�½Ã��Ã�¯Ã��Ã�¿Ã��Ã�½Ã���Ã�¯Ã�¿Ã�½Ã���Ã��Ã�¿Ã���Ã�¯Ã�¿Ã�½Ã��Ã�¯Ã��Ã�¿Ã��Ã�½Ã���Ã��Ã�¯Ã���Ã��Ã�¿Ã���Ã��Ã�½Ã���Ã�¯Ã�¿Ã�½Ã��Ã�¯Ã��Ã�¿Ã��Ã�½Ã���Ã�¯Ã�¿Ã�½Ã���Ã��Ã�½Ã���Ã�¯Ã�¿Ã�½Ã��Ã�¯Ã��Ã�¿Ã��Ã�½Ã���Ã��Ã�¯Ã���Ã��Ã�¿Ã���Ã��Ã�½Ã���Ã�¯Ã�¿Ã�½Ã���Ã��Ã�¯Ã���Ã�¯Ã�¿Ã�½Ã���Ã��Ã�¿Ã���Ã�¯Ã�¿Ã�½Ã���Ã��Ã�½Ã���Ã�¯Ã�¿Ã�½Ã��Ã�¯Ã��Ã�¿Ã��Ã�½Ã���Ã�¯Ã�¿Ã�½Ã���Ã��Ã�¯Ã���Ã�¯Ã�¿Ã�½Ã��Ã�¯Ã��Ã�¿Ã��Ã�½Ã���Ã�¯Ã�¿Ã�½Ã���Ã��Ã�¿Ã���Ã�¯Ã�¿Ã�½Ã��Ã�¯Ã��Ã�¿Ã��Ã�½Ã���Ã�¯Ã�¿Ã�½Ã���Ã��Ã�½Ã���Ã�¯Ã�¿Ã�½Ã��Ã�¯Ã��Ã�¿Ã��Ã�½Ã���Ã��Ã�¯Ã���Ã��Ã�¿Ã���Ã��Ã�½Ã���Ã�¯Ã�¿Ã�½Ã���Ã��Ã�¯Ã���Ã�¯Ã�¿Ã�½Ã���Ã��Ã�¿Ã���Ã�¯Ã�¿Ã�½Ã���Ã��Ã�½Ã���Ã�¯Ã�¿Ã�½Ã��Ã�¯Ã��Ã�¿Ã��Ã�½Ã���Ã��Ã�¯Ã���Ã��Ã�¿Ã���Ã��Ã�½Ã���Ã�¯Ã�¿Ã�½Ã��Ã�¯Ã��Ã�¿Ã��Ã�½Ã���Ã�¯Ã�¿Ã�½Ã���Ã��Ã�¿Ã���Ã�¯Ã�¿Ã�½Ã��Ã�¯Ã��Ã�¿Ã��Ã�½Ã���Ã��Ã�¯Ã���Ã��Ã�¿Ã���Ã��Ã�½Ã���Ã�¯Ã�¿Ã�½Ã���Ã��Ã�¯Ã���Ã�¯Ã�¿Ã�½Ã���Ã��Ã�¿Ã���Ã�¯Ã�¿Ã�½Ã���Ã��Ã�½Ã���Ã�¯Ã�¿Ã�½Ã��Ã�¯Ã��Ã�¿Ã��Ã�½Ã���Ã�¯Ã�¿Ã�½Ã���Ã��Ã�¯Ã���Ã�¯Ã�¿Ã�½Ã��Ã�¯Ã��Ã�¿Ã��Ã�½Ã���Ã�¯Ã�¿Ã�½Ã���Ã��Ã�¿Ã���Ã�¯Ã�¿Ã�½Ã��Ã�¯Ã��Ã�¿Ã��Ã�½Ã���Ã�¯Ã�¿Ã�½Ã���Ã��Ã�½Ã���Ã�¯Ã�¿Ã�½Ã��Ã�¯Ã��Ã�¿Ã��Ã�½Ã���Ã��Ã�¯Ã���Ã��Ã�¿Ã���Ã��Ã�½Ã���Ã�¯Ã�¿Ã�½Ã��Ã�¯Ã��Ã�¿Ã��Ã�½Ã���Ã�¯Ã�¿Ã�½Ã���Ã��Ã�¯Ã���Ã�¯Ã�¿Ã�½Ã��Ã�¯Ã��Ã�¿Ã��Ã�½Ã���Ã��Ã�¯Ã���Ã��Ã�¿Ã���Ã��Ã�½Ã���Ã�¯Ã�¿Ã�½Ã��Ã�¯Ã��Ã�¿Ã��Ã�½Ã���Ã�¯Ã�¿Ã�½Ã���Ã��Ã�¿Ã���Ã�¯Ã�¿Ã�½Ã��Ã�¯Ã��Ã�¿Ã��Ã�½Ã���Ã��Ã�¯Ã���Ã��Ã�¿Ã���Ã��Ã�½Ã���Ã�¯Ã�¿Ã�½Ã��Ã�¯Ã��Ã�¿Ã��Ã�½Ã���Ã�¯Ã�¿Ã�½Ã���Ã��Ã�½Ã���Ã�¯Ã�¿Ã�½Ã��Ã�¯Ã��Ã�¿Ã��Ã�½Ã���Ã��Ã�¯Ã���Ã��Ã�¿Ã���Ã��Ã�½Ã���Ã�¯Ã�¿Ã�½Ã���Ã��Ã�¯Ã���Ã�¯Ã�¿Ã�½Ã���Ã��Ã�¿Ã���Ã�¯Ã�¿Ã�½Ã���Ã��Ã�½Ã���Ã�¯Ã�¿Ã�½Ã��Ã�¯Ã��Ã�¿Ã��Ã�½Ã���Ã��Ã�¯Ã���Ã��Ã�¿Ã���Ã��Ã�½Ã���Ã�¯Ã�¿Ã�½Ã��Ã�¯Ã��Ã�¿Ã��Ã�½Ã���Ã�¯Ã�¿Ã�½Ã���Ã��Ã�¯Ã���Ã�¯Ã�¿Ã�½Ã��Ã�¯Ã��Ã�¿Ã��Ã�½Ã���Ã��Ã�¯Ã���Ã��Ã�¿Ã���Ã��Ã�½Ã���Ã�¯Ã�¿Ã�½Ã���Ã��Ã�¯Ã���Ã�¯Ã�¿Ã�½Ã���Ã��Ã�¿Ã���Ã�¯Ã�¿Ã�½Ã���Ã��Ã�½Ã���Ã�¯Ã�¿Ã�½Ã��Ã�¯Ã��Ã�¿Ã��Ã�½Ã���Ã��Ã�¯Ã���Ã��Ã�¿Ã���Ã��Ã�½Ã���Ã�¯Ã�¿Ã�½Ã��Ã�¯Ã��Ã�¿Ã��Ã�½Ã���Ã�¯Ã�¿Ã�½Ã���Ã��Ã�¿Ã���Ã�¯Ã�¿Ã�½Ã��Ã�¯Ã��Ã�¿Ã��Ã�½Ã���Ã��Ã�¯Ã���Ã��Ã�¿Ã���Ã��Ã�½Ã���Ã�¯Ã�¿Ã�½Ã���Ã��Ã�¯Ã���Ã�¯Ã�¿Ã�½Ã���Ã��Ã�¿Ã���Ã�¯Ã�¿Ã�½Ã���Ã��Ã�½Ã���Ã�¯Ã�¿Ã�½Ã��Ã�¯Ã��Ã�¿Ã��Ã�½Ã���Ã��Ã�¯Ã���Ã��Ã�¿Ã���Ã��Ã�½Ã���Ã�¯Ã�¿Ã�½Ã��Ã�¯Ã��Ã�¿Ã��Ã�½Ã���Ã�¯Ã�¿Ã�½Ã���Ã��Ã�½Ã���Ã�¯Ã�¿Ã�½Ã��Ã�¯Ã��Ã�¿Ã��Ã�½Ã���Ã��Ã�¯Ã���Ã��Ã�¿Ã���Ã��Ã�½Ã���Ã�¯Ã�¿Ã�½Ã���Ã��Ã�¯Ã���Ã�¯Ã�¿Ã�½Ã���Ã��Ã�¿Ã���Ã�¯Ã�¿Ã�½Ã���Ã��Ã�½Ã���Ã�¯Ã�¿Ã�½Ã��Ã�¯Ã��Ã�¿Ã��Ã�½Ã���Ã�¯Ã�¿Ã�½Ã���Ã��Ã�¯Ã���Ã�¯Ã�¿Ã�½Ã��Ã�¯Ã��Ã�¿Ã��Ã�½Ã���Ã�¯Ã�¿Ã�½Ã���Ã��Ã�¿Ã���Ã�¯Ã�¿Ã�½Ã��Ã�¯Ã��Ã�¿Ã��Ã�½Ã���Ã�¯Ã�¿Ã�½Ã���Ã��Ã�½Ã���Ã�¯Ã�¿Ã�½Ã��Ã�¯Ã��Ã�¿Ã��Ã�½Ã���Ã��Ã�¯Ã���Ã��Ã�¿Ã���Ã��Ã�½Ã���Ã�¯Ã�¿Ã�½Ã���Ã��Ã�¯Ã���Ã�¯Ã�¿Ã�½Ã���Ã��Ã�¿Ã���Ã�¯Ã�¿Ã�½Ã���Ã��Ã�½Ã���Ã�¯Ã�¿Ã�½Ã��Ã�¯Ã��Ã�¿Ã��Ã�½Ã���Ã��Ã�¯Ã���Ã��Ã�¿Ã���Ã��Ã�½Ã���Ã�¯Ã�¿Ã�½Ã��Ã�¯Ã��Ã�¿Ã��Ã�½Ã���Ã�¯Ã�¿Ã�½Ã���Ã��Ã�¯Ã���Ã�¯Ã�¿Ã�½Ã��Ã�¯Ã��Ã�¿Ã��Ã�½Ã���Ã��Ã�¯Ã���Ã��Ã�¿Ã���Ã��Ã�½Ã���Ã�¯Ã�¿Ã�½Ã���Ã��Ã�¯Ã���Ã�¯Ã�¿Ã�½Ã���Ã��Ã�¿Ã���Ã�¯Ã�¿Ã�½Ã���Ã��Ã�½Ã���Ã�¯Ã�¿Ã�½Ã��Ã�¯Ã��Ã�¿Ã��Ã�½Ã���Ã�¯Ã�¿Ã�½Ã���Ã��Ã�¯Ã���Ã�¯Ã�¿Ã�½Ã��Ã�¯Ã��Ã�¿Ã��Ã�½Ã���Ã�¯Ã�¿Ã�½Ã���Ã��Ã�¿Ã���Ã�¯Ã�¿Ã�½Ã��Ã�¯Ã��Ã�¿Ã��Ã�½Ã���Ã�¯Ã�¿Ã�½Ã���Ã��Ã�½Ã���Ã�¯Ã�¿Ã�½Ã��Ã�¯Ã��Ã�¿Ã��Ã�½Ã���Ã��Ã�¯Ã���Ã��Ã�¿Ã���Ã��Ã�½Ã���Ã�¯Ã�¿Ã�½Ã���Ã��Ã�¯Ã���Ã�¯Ã�¿Ã�½Ã���Ã��Ã�¿Ã���Ã�¯Ã�¿Ã�½Ã���Ã��Ã�½Ã���Ã�¯Ã�¿Ã�½Ã��Ã�¯Ã��Ã�¿Ã��Ã�½Ã���Ã��Ã�¯Ã���Ã��Ã�¿Ã���Ã��Ã�½Ã���Ã�¯Ã�¿Ã�½Ã��Ã�¯Ã��Ã�¿Ã��Ã�½Ã���Ã�¯Ã�¿Ã�½Ã���Ã��Ã�¿Ã���Ã�¯Ã�¿Ã�½Ã��Ã�¯Ã��Ã�¿Ã��Ã�½Ã���Ã��Ã�¯Ã���Ã��Ã�¿Ã���Ã��Ã�½Ã���Ã�¯Ã�¿Ã�½Ã���Ã��Ã�¯Ã���Ã�¯Ã�¿Ã�½Ã���Ã��Ã�¿Ã���Ã�¯Ã�¿Ã�½Ã���Ã��Ã�½Ã���Ã�¯Ã�¿Ã�½Ã��Ã�¯Ã��Ã�¿Ã��Ã�½Ã���Ã�¯Ã�¿Ã�½Ã���Ã��Ã�¯Ã���Ã�¯Ã�¿Ã�½Ã��Ã�¯Ã��Ã�¿Ã��Ã�½Ã���Ã�¯Ã�¿Ã�½Ã���Ã��Ã�¿Ã���Ã�¯Ã�¿Ã�½Ã��Ã�¯Ã��Ã�¿Ã��Ã�½Ã���Ã�¯Ã�¿Ã�½Ã���Ã��Ã�½Ã���Ã�¯Ã�¿Ã�½Ã��Ã�¯Ã��Ã�¿Ã��Ã�½Ã���Ã��Ã�¯Ã���Ã��Ã�¿Ã���Ã��Ã�½Ã���Ã�¯Ã�¿Ã�½Ã���Ã��Ã�¯Ã���Ã�¯Ã�¿Ã�½Ã���Ã��Ã�¿Ã���Ã�¯Ã�¿Ã�½Ã���Ã��Ã�½Ã���Ã�¯Ã�¿Ã�½Ã��Ã�¯Ã��Ã�¿Ã��Ã�½Ã���Ã��Ã�¯Ã���Ã��Ã�¿Ã���Ã��Ã�½Ã���Ã�¯Ã�¿Ã�½Ã��Ã�¯Ã��Ã�¿Ã��Ã�½Ã���Ã�¯Ã�¿Ã�½Ã���Ã��Ã�½Ã���Ã�¯Ã�¿Ã�½Ã��Ã�¯Ã��Ã�¿Ã��Ã�½Ã���Ã��Ã�¯Ã���Ã��Ã�¿Ã���Ã��Ã�½Ã���Ã�¯Ã�¿Ã�½Ã���Ã��Ã�¯Ã���Ã�¯Ã�¿Ã�½Ã���Ã��Ã�¿Ã���Ã�¯Ã�¿Ã�½Ã���Ã��Ã�½Ã���Ã�¯Ã�¿Ã�½Ã��Ã�¯Ã��Ã�¿Ã��Ã�½Ã���Ã�¯Ã�¿Ã�½Ã���Ã��Ã�¯Ã���Ã�¯Ã�¿Ã�½Ã��Ã�¯Ã��Ã�¿Ã��Ã�½Ã���Ã�¯Ã�¿Ã�½Ã���Ã��Ã�¿Ã���Ã�¯Ã�¿Ã�½Ã��Ã�¯Ã��Ã�¿Ã��Ã�½Ã���Ã�¯Ã�¿Ã�½Ã���Ã��Ã�½Ã���Ã�¯Ã�¿Ã�½Ã��Ã�¯Ã��Ã�¿Ã��Ã�½Ã���Ã��Ã�¯Ã���Ã��Ã�¿Ã���Ã��Ã�½Ã���Ã�¯Ã�¿Ã�½Ã��Ã�¯Ã��Ã�¿Ã��Ã�½Ã���Ã�¯Ã�¿Ã�½Ã���Ã��Ã�¯Ã���Ã�¯Ã�¿Ã�½Ã��Ã�¯Ã��Ã�¿Ã��Ã�½Ã���Ã��Ã�¯Ã���Ã��Ã�¿Ã���Ã��Ã�½Ã���Ã�¯Ã�¿Ã�½Ã��Ã�¯Ã��Ã�¿Ã��Ã�½Ã���Ã�¯Ã�¿Ã�½Ã���Ã��Ã�¿Ã���Ã�¯Ã�¿Ã�½Ã��Ã�¯Ã��Ã�¿Ã��Ã�½Ã���Ã��Ã�¯Ã���Ã��Ã�¿Ã���Ã��Ã�½Ã���Ã�¯Ã�¿Ã�½Ã��Ã�¯Ã��Ã�¿Ã��Ã�½Ã���Ã�¯Ã�¿Ã�½Ã���Ã��Ã�½Ã���Ã�¯Ã�¿Ã�½Ã��Ã�¯Ã��Ã�¿Ã��Ã�½Ã���Ã��Ã�¯Ã���Ã��Ã�¿Ã���Ã��Ã�½Ã���Ã�¯Ã�¿Ã�½Ã���Ã��Ã�¯Ã���Ã�¯Ã�¿Ã�½Ã���Ã��Ã�¿Ã���Ã�¯Ã�¿Ã�½Ã���Ã��Ã�½Ã���Ã�¯Ã�¿Ã�½Ã��Ã�¯Ã��Ã�¿Ã��Ã�½Ã���Ã�¯Ã�¿Ã�½Ã���Ã��Ã�¯Ã���Ã�¯Ã�¿Ã�½Ã��Ã�¯Ã��Ã�¿Ã��Ã�½Ã���Ã�¯Ã�¿Ã�½Ã���Ã��Ã�¿Ã���Ã�¯Ã�¿Ã�½Ã��Ã�¯Ã��Ã�¿Ã��Ã�½Ã���Ã�¯Ã�¿Ã�½Ã���Ã��Ã�½Ã���Ã�¯Ã�¿Ã�½Ã��Ã�¯Ã��Ã�¿Ã��Ã�½Ã���Ã��Ã�¯Ã���Ã��Ã�¿Ã���Ã��Ã�½Ã���Ã�¯Ã�¿Ã�½Ã���Ã��Ã�¯Ã���Ã�¯Ã�¿Ã�½Ã���Ã��Ã�¿Ã���Ã�¯Ã�¿Ã�½Ã���Ã��Ã�½Ã���Ã�¯Ã�¿Ã�½Ã��Ã�¯Ã��Ã�¿Ã��Ã�½Ã���Ã��Ã�¯Ã���Ã��Ã�¿Ã���Ã��Ã�½Ã���Ã�¯Ã�¿Ã�½Ã��Ã�¯Ã��Ã�¿Ã��Ã�½Ã���Ã�¯Ã�¿Ã�½Ã���Ã��Ã�¯Ã���Ã�¯Ã�¿Ã�½Ã��Ã�¯Ã��Ã�¿Ã��Ã�½Ã���Ã��Ã�¯Ã���Ã��Ã�¿Ã���Ã��Ã�½Ã���Ã�¯Ã�¿Ã�½Ã���Ã��Ã�¯Ã���Ã�¯Ã�¿Ã�½Ã���Ã��Ã�¿Ã���Ã�¯Ã�¿Ã�½Ã���Ã��Ã�½Ã���Ã�¯Ã�¿Ã�½Ã��Ã�¯Ã��Ã�¿Ã��Ã�½Ã���Ã�¯Ã�¿Ã�½Ã���Ã��Ã�¯Ã���Ã�¯Ã�¿Ã�½Ã��Ã�¯Ã��Ã�¿Ã��Ã�½Ã���Ã�¯Ã�¿Ã�½Ã���Ã��Ã�¿Ã���Ã�¯Ã�¿Ã�½Ã��Ã�¯Ã��Ã�¿Ã��Ã�½Ã���Ã�¯Ã�¿Ã�½Ã���Ã��Ã�½Ã���Ã�¯Ã�¿Ã�½Ã��Ã�¯Ã��Ã�¿Ã��Ã�½Ã���Ã��Ã�¯Ã���Ã��Ã�¿Ã���Ã��Ã�½Ã���Ã�¯Ã�¿Ã�½Ã��Ã�¯Ã��Ã�¿Ã��Ã�½Ã���Ã�¯Ã�¿Ã�½Ã���Ã��Ã�¯Ã���Ã�¯Ã�¿Ã�½Ã��Ã�¯Ã��Ã�¿Ã��Ã�½Ã���Ã��Ã�¯Ã���Ã��Ã�¿Ã���Ã��Ã�½Ã���Ã�¯Ã�¿Ã�½Ã��Ã�¯Ã��Ã�¿Ã��Ã�½Ã���Ã�¯Ã�¿Ã�½Ã���Ã��Ã�¿Ã���Ã�¯Ã�¿Ã�½Ã��Ã�¯Ã��Ã�¿Ã��Ã�½Ã���Ã��Ã�¯Ã���Ã��Ã�¿Ã���Ã��Ã�½Ã���Ã�¯Ã�¿Ã�½Ã��Ã�¯Ã��Ã�¿Ã��Ã�½Ã���Ã�¯Ã�¿Ã�½Ã���Ã��Ã�½Ã���Ã�¯Ã�¿Ã�½Ã��Ã�¯Ã��Ã�¿Ã��Ã�½Ã���Ã��Ã�¯Ã���Ã��Ã�¿Ã���Ã��Ã�½Ã���Ã�¯Ã�¿Ã�½Ã���Ã��Ã�¯Ã���Ã�¯Ã�¿Ã�½Ã���Ã��Ã�¿Ã���Ã�¯Ã�¿Ã�½Ã���Ã��Ã�½Ã���Ã�¯Ã�¿Ã�½Ã��Ã�¯Ã��Ã�¿Ã��Ã�½Ã���Ã�¯Ã�¿Ã�½Ã���Ã��Ã�¯Ã���Ã�¯Ã�¿Ã�½Ã��Ã�¯Ã��Ã�¿Ã��Ã�½Ã���Ã�¯Ã�¿Ã�½Ã���Ã��Ã�¿Ã���Ã�¯Ã�¿Ã�½Ã��Ã�¯Ã��Ã�¿Ã��Ã�½Ã���Ã�¯Ã�¿Ã�½Ã���Ã��Ã�½Ã���Ã�¯Ã�¿Ã�½Ã��Ã�¯Ã��Ã�¿Ã��Ã�½Ã���Ã��Ã�¯Ã���Ã��Ã�¿Ã���Ã��Ã�½Ã���Ã�¯Ã�¿Ã�½Ã���Ã��Ã�¯Ã���Ã�¯Ã�¿Ã�½Ã���Ã��Ã�¿Ã���Ã�¯Ã�¿Ã�½Ã���Ã��Ã�½Ã���Ã�¯Ã�¿Ã�½Ã��Ã�¯Ã��Ã�¿Ã��Ã�½Ã���Ã��Ã�¯Ã���Ã��Ã�¿Ã���Ã��Ã�½Ã���Ã�¯Ã�¿Ã�½Ã��Ã�¯Ã��Ã�¿Ã��Ã�½Ã���Ã�¯Ã�¿Ã�½Ã���Ã��Ã�¿Ã���Ã�¯Ã�¿Ã�½Ã��Ã�¯Ã��Ã�¿Ã��Ã�½Ã���Ã��Ã�¯Ã���Ã��Ã�¿Ã���Ã��Ã�½Ã���Ã�¯Ã�¿Ã�½Ã���Ã��Ã�¯Ã���Ã�¯Ã�¿Ã�½Ã���Ã��Ã�¿Ã���Ã�¯Ã�¿Ã�½Ã���Ã��Ã�½Ã���Ã�¯Ã�¿Ã�½Ã��Ã�¯Ã��Ã�¿Ã��Ã�½Ã���Ã�¯Ã�¿Ã�½Ã���Ã��Ã�¯Ã���Ã�¯Ã�¿Ã�½Ã��Ã�¯Ã��Ã�¿Ã��Ã�½Ã���Ã�¯Ã�¿Ã�½Ã���Ã��Ã�¿Ã���Ã�¯Ã�¿Ã�½Ã��Ã�¯Ã��Ã�¿Ã��Ã�½Ã���Ã�¯Ã�¿Ã�½Ã���Ã��Ã�½Ã���Ã�¯Ã�¿Ã�½Ã��Ã�¯Ã��Ã�¿Ã��Ã�½Ã���Ã��Ã�¯Ã���Ã��Ã�¿Ã���Ã��Ã�½Ã���Ã�¯Ã�¿Ã�½Ã��Ã�¯Ã��Ã�¿Ã��Ã�½Ã���Ã�¯Ã�¿Ã�½Ã���Ã��Ã�¯Ã���Ã�¯Ã�¿Ã�½Ã��Ã�¯Ã��Ã�¿Ã��Ã�½Ã���Ã��Ã�¯Ã���Ã��Ã�¿Ã���Ã��Ã�½Ã���Ã�¯Ã�¿Ã�½Ã��Ã�¯Ã��Ã�¿Ã��Ã�½Ã���Ã�¯Ã�¿Ã�½Ã���Ã��Ã�¿Ã���Ã�¯Ã�¿Ã�½Ã��Ã�¯Ã��Ã�¿Ã��Ã�½Ã���Ã��Ã�¯Ã���Ã��Ã�¿Ã���Ã��Ã�½Ã���Ã�¯Ã�¿Ã�½Ã��Ã�¯Ã��Ã�¿Ã��Ã�½Ã���Ã�¯Ã�¿Ã�½Ã���Ã��Ã�½Ã���Ã�¯Ã�¿Ã�½Ã��Ã�¯Ã��Ã�¿Ã��Ã�½Ã���Ã��Ã�¯Ã���Ã��Ã�¿Ã���Ã��Ã�½Ã���Ã�¯Ã�¿Ã�½Ã���Ã��Ã�¯Ã���Ã�¯Ã�¿Ã�½Ã���Ã��Ã�¿Ã���Ã�¯Ã�¿Ã�½Ã���Ã��Ã�½Ã���Ã�¯Ã�¿Ã�½Ã��Ã�¯Ã��Ã�¿Ã��Ã�½Ã���Ã�¯Ã�¿Ã�½Ã���Ã��Ã�¯Ã���Ã�¯Ã�¿Ã�½Ã��Ã�¯Ã��Ã�¿Ã��Ã�½Ã���Ã�¯Ã�¿Ã�½Ã���Ã��Ã�¿Ã���Ã�¯Ã�¿Ã�½Ã��Ã�¯Ã��Ã�¿Ã��Ã�½Ã���Ã�¯Ã�¿Ã�½Ã���Ã��Ã�½Ã���Ã�¯Ã�¿Ã�½Ã��Ã�¯Ã��Ã�¿Ã��Ã�½Ã���Ã��Ã�¯Ã���Ã��Ã�¿Ã���Ã��Ã�½Ã���Ã�¯Ã�¿Ã�½Ã���Ã��Ã�¯Ã���Ã�¯Ã�¿Ã�½Ã���Ã��Ã�¿Ã���Ã�¯Ã�¿Ã�½Ã���Ã��Ã�½Ã���Ã�¯Ã�¿Ã�½Ã��Ã�¯Ã��Ã�¿Ã��Ã�½Ã���Ã��Ã�¯Ã���Ã��Ã�¿Ã���Ã��Ã�½Ã���Ã�¯Ã�¿Ã�½Ã��Ã�¯Ã��Ã�¿Ã��Ã�½Ã���Ã�¯Ã�¿Ã�½Ã���Ã��Ã�½Ã���Ã�¯Ã�¿Ã�½Ã��Ã�¯Ã��Ã�¿Ã��Ã�½Ã���Ã��Ã�¯Ã���Ã��Ã�¿Ã���Ã��Ã�½Ã���Ã�¯Ã�¿Ã�½Ã���Ã��Ã�¯Ã���Ã�¯Ã�¿Ã�½Ã���Ã��Ã�¿Ã���Ã�¯Ã�¿Ã�½Ã���Ã��Ã�½Ã���Ã�¯Ã�¿Ã�½Ã��Ã�¯Ã��Ã�¿Ã��Ã�½Ã���Ã�¯Ã�¿Ã�½Ã���Ã��Ã�¯Ã���Ã�¯Ã�¿Ã�½Ã��Ã�¯Ã��Ã�¿Ã��Ã�½Ã���Ã�¯Ã�¿Ã�½Ã���Ã��Ã�¿Ã���Ã�¯Ã�¿Ã�½Ã��Ã�¯Ã��Ã�¿Ã��Ã�½Ã���Ã�¯Ã�¿Ã�½Ã���Ã��Ã�½Ã���Ã�¯Ã�¿Ã�½Ã��Ã�¯Ã��Ã�¿Ã��Ã�½Ã���Ã��Ã�¯Ã���Ã��Ã�¿Ã���Ã��Ã�½Ã���Ã�¯Ã�¿Ã�½Ã��Ã�¯Ã��Ã�¿Ã��Ã�½Ã���Ã�¯Ã�¿Ã�½Ã���Ã��Ã�¯Ã���Ã�¯Ã�¿Ã�½Ã��Ã�¯Ã��Ã�¿Ã��Ã�½Ã���Ã��Ã�¯Ã���Ã��Ã�¿Ã���Ã��Ã�½Ã���Ã�¯Ã�¿Ã�½Ã��Ã�¯Ã��Ã�¿Ã��Ã�½Ã���Ã�¯Ã�¿Ã�½Ã���Ã��Ã�¿Ã���Ã�¯Ã�¿Ã�½Ã��Ã�¯Ã��Ã�¿Ã��Ã�½Ã���Ã��Ã�¯Ã���Ã��Ã�¿Ã���Ã��Ã�½Ã���Ã�¯Ã�¿Ã�½Ã��Ã�¯Ã��Ã�¿Ã��Ã�½Ã���Ã�¯Ã�¿Ã�½Ã���Ã��Ã�½Ã���Ã�¯Ã�¿Ã�½Ã��Ã�¯Ã��Ã�¿Ã��Ã�½Ã���Ã��Ã�¯Ã���Ã��Ã�¿Ã���Ã��Ã�½Ã���Ã�¯Ã�¿Ã�½Ã���Ã��Ã�¯Ã���Ã�¯Ã�¿Ã�½Ã���Ã��Ã�¿Ã���Ã�¯Ã�¿Ã�½Ã���Ã��Ã�½Ã���Ã�¯Ã�¿Ã�½Ã��Ã�¯Ã��Ã�¿Ã��Ã�½Ã���Ã��Ã�¯Ã���Ã��Ã�¿Ã���Ã��Ã�½Ã���Ã�¯Ã�¿Ã�½Ã��Ã�¯Ã��Ã�¿Ã��Ã�½Ã���Ã�¯Ã�¿Ã�½Ã���Ã��Ã�¯Ã���Ã�¯Ã�¿Ã�½Ã��Ã�¯Ã��Ã�¿Ã��Ã�½Ã���Ã��Ã�¯Ã���Ã��Ã�¿Ã���Ã��Ã�½Ã���Ã�¯Ã�¿Ã�½Ã���Ã��Ã�¯Ã���Ã�¯Ã�¿Ã�½Ã���Ã��Ã�¿Ã���Ã�¯Ã�¿Ã�½Ã���Ã��Ã�½Ã���Ã�¯Ã�¿Ã�½Ã��Ã�¯Ã��Ã�¿Ã��Ã�½Ã���Ã��Ã�¯Ã���Ã��Ã�¿Ã���Ã��Ã�½Ã���Ã�¯Ã�¿Ã�½Ã��Ã�¯Ã��Ã�¿Ã��Ã�½Ã���Ã�¯Ã�¿Ã�½Ã���Ã��Ã�¿Ã���Ã�¯Ã�¿Ã�½Ã��Ã�¯Ã��Ã�¿Ã��Ã�½Ã���Ã��Ã�¯Ã���Ã��Ã�¿Ã���Ã��Ã�½Ã���Ã�¯Ã�¿Ã�½Ã���Ã��Ã�¯Ã���Ã�¯Ã�¿Ã�½Ã���Ã��Ã�¿Ã���Ã�¯Ã�¿Ã�½Ã���Ã��Ã�½Ã���Ã�¯Ã�¿Ã�½Ã��Ã�¯Ã��Ã�¿Ã��Ã�½Ã���Ã��Ã�¯Ã���Ã��Ã�¿Ã���Ã��Ã�½Ã���Ã�¯Ã�¿Ã�½Ã��Ã�¯Ã��Ã�¿Ã��Ã�½Ã���Ã�¯Ã�¿Ã�½Ã���Ã��Ã�½Ã���Ã�¯Ã�¿Ã�½Ã��Ã�¯Ã��Ã�¿Ã��Ã�½Ã���Ã��Ã�¯Ã���Ã��Ã�¿Ã���Ã��Ã�½Ã���Ã�¯Ã�¿Ã�½Ã���Ã��Ã�¯Ã���Ã�¯Ã�¿Ã�½Ã���Ã��Ã�¿Ã���Ã�¯Ã�¿Ã�½Ã���Ã��Ã�½Ã���Ã�¯Ã�¿Ã�½Ã��Ã�¯Ã��Ã�¿Ã��Ã�½Ã���Ã�¯Ã�¿Ã�½Ã���Ã��Ã�¯Ã���Ã�¯Ã�¿Ã�½Ã��Ã�¯Ã��Ã�¿Ã��Ã�½Ã���Ã�¯Ã�¿Ã�½Ã���Ã��Ã�¿Ã���Ã�¯Ã�¿Ã�½Ã��Ã�¯Ã��Ã�¿Ã��Ã�½Ã���Ã�¯Ã�¿Ã�½Ã���Ã��Ã�½Ã���Ã�¯Ã�¿Ã�½Ã��Ã�¯Ã��Ã�¿Ã��Ã�½Ã���Ã��Ã�¯Ã���Ã��Ã�¿Ã���Ã��Ã�½Ã���Ã�¯Ã�¿Ã�½Ã���Ã��Ã�¯Ã���Ã�¯Ã�¿Ã�½Ã���Ã��Ã�¿Ã���Ã�¯Ã�¿Ã�½Ã���Ã��Ã�½Ã���Ã�¯Ã�¿Ã�½Ã��Ã�¯Ã��Ã�¿Ã��Ã�½Ã���Ã��Ã�¯Ã���Ã��Ã�¿Ã���Ã��Ã�½Ã���Ã�¯Ã�¿Ã�½Ã��Ã�¯Ã��Ã�¿Ã��Ã�½Ã���Ã�¯Ã�¿Ã�½Ã���Ã��Ã�¯Ã���Ã�¯Ã�¿Ã�½Ã��Ã�¯Ã��Ã�¿Ã��Ã�½Ã���Ã��Ã�¯Ã���Ã��Ã�¿Ã���Ã��Ã�½Ã���Ã�¯Ã�¿Ã�½Ã���Ã��Ã�¯Ã���Ã�¯Ã�¿Ã�½Ã���Ã��Ã�¿Ã���Ã�¯Ã�¿Ã�½Ã���Ã��Ã�½Ã���Ã�¯Ã�¿Ã�½Ã��Ã�¯Ã��Ã�¿Ã��Ã�½Ã���Ã�¯Ã�¿Ã�½Ã���Ã��Ã�¯Ã���Ã�¯Ã�¿Ã�½Ã��Ã�¯Ã��Ã�¿Ã��Ã�½Ã���Ã�¯Ã�¿Ã�½Ã���Ã��Ã�¿Ã���Ã�¯Ã�¿Ã�½Ã��Ã�¯Ã��Ã�¿Ã��Ã�½Ã���Ã�¯Ã�¿Ã�½Ã���Ã��Ã�½Ã���Ã�¯Ã�¿Ã�½Ã��Ã�¯Ã��Ã�¿Ã��Ã�½Ã���Ã��Ã�¯Ã���Ã��Ã�¿Ã���Ã��Ã�½Ã���Ã�¯Ã�¿Ã�½Ã���Ã��Ã�¯Ã���Ã�¯Ã�¿Ã�½Ã���Ã��Ã�¿Ã���Ã�¯Ã�¿Ã�½Ã���Ã��Ã�½Ã���Ã�¯Ã�¿Ã�½Ã��Ã�¯Ã��Ã�¿Ã��Ã�½Ã���Ã��Ã�¯Ã���Ã��Ã�¿Ã���Ã��Ã�½Ã���Ã�¯Ã�¿Ã�½Ã��Ã�¯Ã��Ã�¿Ã��Ã�½Ã���Ã�¯Ã�¿Ã�½Ã���Ã��Ã�¿Ã���Ã�¯Ã�¿Ã�½Ã��Ã�¯Ã��Ã�¿Ã��Ã�½Ã���Ã��Ã�¯Ã���Ã��Ã�¿Ã���Ã��Ã�½Ã���Ã�¯Ã�¿Ã�½Ã���Ã��Ã�¯Ã���Ã�¯Ã�¿Ã�½Ã���Ã��Ã�¿Ã���Ã�¯Ã�¿Ã�½Ã���Ã��Ã�½Ã���Ã�¯Ã�¿Ã�½Ã��Ã�¯Ã��Ã�¿Ã��Ã�½Ã���Ã�¯Ã�¿Ã�½Ã���Ã��Ã�¯Ã���Ã�¯Ã�¿Ã�½Ã��Ã�¯Ã��Ã�¿Ã��Ã�½Ã���Ã�¯Ã�¿Ã�½Ã���Ã��Ã�¿Ã���Ã�¯Ã�¿Ã�½Ã��Ã�¯Ã��Ã�¿Ã��Ã�½Ã���Ã�¯Ã�¿Ã�½Ã���Ã��Ã�½Ã���Ã�¯Ã�¿Ã�½Ã��Ã�¯Ã��Ã�¿Ã��Ã�½Ã���Ã��Ã�¯Ã���Ã��Ã�¿Ã���Ã��Ã�½Ã���Ã�¯Ã�¿Ã�½Ã���Ã��Ã�¯Ã���Ã�¯Ã�¿Ã�½Ã���Ã��Ã�¿Ã���Ã�¯Ã�¿Ã�½Ã���Ã��Ã�½Ã���Ã�¯Ã�¿Ã�½Ã��Ã�¯Ã��Ã�¿Ã��Ã�½Ã���Ã��Ã�¯Ã���Ã��Ã�¿Ã���Ã��Ã�½Ã���Ã�¯Ã�¿Ã�½Ã��Ã�¯Ã��Ã�¿Ã��Ã�½Ã���Ã�¯Ã�¿Ã�½Ã���Ã��Ã�½Ã���Ã�¯Ã�¿Ã�½Ã��Ã�¯Ã��Ã�¿Ã��Ã�½Ã���Ã��Ã�¯Ã���Ã��Ã�¿Ã���Ã��Ã�½Ã���Ã�¯Ã�¿Ã�½Ã���Ã��Ã�¯Ã���Ã�¯Ã�¿Ã�½Ã���Ã��Ã�¿Ã���Ã�¯Ã�¿Ã�½Ã���Ã��Ã�½Ã���Ã�¯Ã�¿Ã�½Ã��Ã�¯Ã��Ã�¿Ã��Ã�½Ã���Ã�¯Ã�¿Ã�½Ã���Ã��Ã�¯Ã���Ã�¯Ã�¿Ã�½Ã��Ã�¯Ã��Ã�¿Ã��Ã�½Ã���Ã�¯Ã�¿Ã�½Ã���Ã��Ã�¿Ã���Ã�¯Ã�¿Ã�½Ã��Ã�¯Ã��Ã�¿Ã��Ã�½Ã���Ã�¯Ã�¿Ã�½Ã���Ã��Ã�½Ã���Ã�¯Ã�¿Ã�½Ã��Ã�¯Ã��Ã�¿Ã��Ã�½Ã���Ã��Ã�¯Ã���Ã��Ã�¿Ã���Ã��Ã�½Ã���Ã�¯Ã�¿Ã�½Ã��Ã�¯Ã��Ã�¿Ã��Ã�½Ã���Ã�¯Ã�¿Ã�½Ã���Ã��Ã�¯Ã���Ã�¯Ã�¿Ã�½Ã��Ã�¯Ã��Ã�¿Ã��Ã�½Ã���Ã��Ã�¯Ã���Ã��Ã�¿Ã���Ã��Ã�½Ã���Ã�¯Ã�¿Ã�½Ã��Ã�¯Ã��Ã�¿Ã��Ã�½Ã���Ã�¯Ã�¿Ã�½Ã���Ã��Ã�¿Ã���Ã�¯Ã�¿Ã�½Ã��Ã�¯Ã��Ã�¿Ã��Ã�½Ã���Ã��Ã�¯Ã���Ã��Ã�¿Ã���Ã��Ã�½Ã���Ã�¯Ã�¿Ã�½Ã��Ã�¯Ã��Ã�¿Ã��Ã�½Ã���Ã�¯Ã�¿Ã�½Ã���Ã��Ã�½Ã���Ã�¯Ã�¿Ã�½Ã��Ã�¯Ã��Ã�¿Ã��Ã�½Ã���Ã��Ã�¯Ã���Ã��Ã�¿Ã���Ã��Ã�½Ã���Ã�¯Ã�¿Ã�½Ã���Ã��Ã�¯Ã���Ã�¯Ã�¿Ã�½Ã���Ã��Ã�¿Ã���Ã�¯Ã�¿Ã�½Ã���Ã��Ã�½Ã���Ã�¯Ã�¿Ã�½Ã��Ã�¯Ã��Ã�¿Ã��Ã�½Ã���Ã��Ã�¯Ã���Ã��Ã�¿Ã���Ã��Ã�½Ã���Ã�¯Ã�¿Ã�½Ã��Ã�¯Ã��Ã�¿Ã��Ã�½Ã���Ã�¯Ã�¿Ã�½Ã���Ã��Ã�¯Ã���Ã�¯Ã�¿Ã�½Ã��Ã�¯Ã��Ã�¿Ã��Ã�½Ã���Ã��Ã�¯Ã���Ã��Ã�¿Ã���Ã��Ã�½Ã���Ã�¯Ã�¿Ã�½Ã���Ã��Ã�¯Ã���Ã�¯Ã�¿Ã�½Ã���Ã��Ã�¿Ã���Ã�¯Ã�¿Ã�½Ã���Ã��Ã�½Ã���Ã�¯Ã�¿Ã�½Ã��Ã�¯Ã��Ã�¿Ã��Ã�½Ã���Ã��Ã�¯Ã���Ã��Ã�¿Ã���Ã��Ã�½Ã���Ã�¯Ã�¿Ã�½Ã��Ã�¯Ã��Ã�¿Ã��Ã�½Ã���Ã�¯Ã�¿Ã�½Ã���Ã��Ã�¿Ã���Ã�¯Ã�¿Ã�½Ã��Ã�¯Ã��Ã�¿Ã��Ã�½Ã���Ã��Ã�¯Ã���Ã��Ã�¿Ã���Ã��Ã�½Ã���Ã�¯Ã�¿Ã�½Ã���Ã��Ã�¯Ã���Ã�¯Ã�¿Ã�½Ã���Ã��Ã�¿Ã���Ã�¯Ã�¿Ã�½Ã���Ã��Ã�½Ã���Ã�¯Ã�¿Ã�½Ã��Ã�¯Ã��Ã�¿Ã��Ã�½Ã���Ã��Ã�¯Ã���Ã��Ã�¿Ã���Ã��Ã�½Ã���Ã�¯Ã�¿Ã�½Ã��Ã�¯Ã��Ã�¿Ã��Ã�½Ã���Ã�¯Ã�¿Ã�½Ã���Ã��Ã�½Ã���Ã�¯Ã�¿Ã�½Ã��Ã�¯Ã��Ã�¿Ã��Ã�½Ã���Ã��Ã�¯Ã���Ã��Ã�¿Ã���Ã��Ã�½Ã���Ã�¯Ã�¿Ã�½Ã���Ã��Ã�¯Ã���Ã�¯Ã�¿Ã�½Ã���Ã��Ã�¿Ã���Ã�¯Ã�¿Ã�½Ã���Ã��Ã�½Ã���Ã�¯Ã�¿Ã�½Ã��Ã�¯Ã��Ã�¿Ã��Ã�½Ã���Ã�¯Ã�¿Ã�½Ã���Ã��Ã�¯Ã���Ã�¯Ã�¿Ã�½Ã��Ã�¯Ã��Ã�¿Ã��Ã�½Ã���Ã�¯Ã�¿Ã�½Ã���Ã��Ã�¿Ã���Ã�¯Ã�¿Ã�½Ã��Ã�¯Ã��Ã�¿Ã��Ã�½Ã���Ã�¯Ã�¿Ã�½Ã���Ã��Ã�½Ã���Ã�¯Ã�¿Ã�½Ã��Ã�¯Ã��Ã�¿Ã��Ã�½Ã���Ã��Ã�¯Ã���Ã��Ã�¿Ã���Ã��Ã�½Ã���Ã�¯Ã�¿Ã�½Ã��Ã�¯Ã��Ã�¿Ã��Ã�½Ã���Ã�¯Ã�¿Ã�½Ã���Ã��Ã�¯Ã���Ã�¯Ã�¿Ã�½Ã��Ã�¯Ã��Ã�¿Ã��Ã�½Ã���Ã��Ã�¯Ã���Ã��Ã�¿Ã���Ã��Ã�½Ã���Ã�¯Ã�¿Ã�½Ã��Ã�¯Ã��Ã�¿Ã��Ã�½Ã���Ã�¯Ã�¿Ã�½Ã���Ã��Ã�¿Ã���Ã�¯Ã�¿Ã�½Ã��Ã�¯Ã��Ã�¿Ã��Ã�½Ã���Ã��Ã�¯Ã���Ã��Ã�¿Ã���Ã��Ã�½Ã���Ã�¯Ã�¿Ã�½Ã��Ã�¯Ã��Ã�¿Ã��Ã�½Ã���Ã�¯Ã�¿Ã�½Ã���Ã��Ã�½Ã���Ã�¯Ã�¿Ã�½Ã��Ã�¯Ã��Ã�¿Ã��Ã�½Ã���Ã��Ã�¯Ã���Ã��Ã�¿Ã���Ã��Ã�½Ã���Ã�¯Ã�¿Ã�½Ã���Ã��Ã�¯Ã���Ã�¯Ã�¿Ã�½Ã���Ã��Ã�¿Ã���Ã�¯Ã�¿Ã�½Ã���Ã��Ã�½Ã���Ã�¯Ã�¿Ã�½Ã��Ã�¯Ã��Ã�¿Ã��Ã�½Ã���Ã�¯Ã�¿Ã�½Ã���Ã��Ã�¯Ã���Ã�¯Ã�¿Ã�½Ã��Ã�¯Ã��Ã�¿Ã��Ã�½Ã���Ã�¯Ã�¿Ã�½Ã���Ã��Ã�¿Ã���Ã�¯Ã�¿Ã�½Ã��Ã�¯Ã��Ã�¿Ã��Ã�½Ã���Ã�¯Ã�¿Ã�½Ã���Ã��Ã�½Ã���Ã�¯Ã�¿Ã�½Ã��Ã�¯Ã��Ã�¿Ã��Ã�½Ã���Ã��Ã�¯Ã���Ã��Ã�¿Ã���Ã��Ã�½Ã���Ã�¯Ã�¿Ã�½Ã���Ã��Ã�¯Ã���Ã�¯Ã�¿Ã�½Ã���Ã��Ã�¿Ã���Ã�¯Ã�¿Ã�½Ã���Ã��Ã�½Ã���Ã�¯Ã�¿Ã�½Ã��Ã�¯Ã��Ã�¿Ã��Ã�½Ã���Ã��Ã�¯Ã���Ã��Ã�¿Ã���Ã��Ã�½Ã���Ã�¯Ã�¿Ã�½Ã��Ã�¯Ã��Ã�¿Ã��Ã�½Ã���Ã�¯Ã�¿Ã�½Ã���Ã��Ã�½Ã���Ã�¯Ã�¿Ã�½Ã��Ã�¯Ã��Ã�¿Ã��Ã�½Ã���Ã��Ã�¯Ã���Ã��Ã�¿Ã���Ã��Ã�½Ã���Ã�¯Ã�¿Ã�½Ã���Ã��Ã�¯Ã���Ã�¯Ã�¿Ã�½Ã���Ã��Ã�¿Ã���Ã�¯Ã�¿Ã�½Ã���Ã��Ã�½Ã���Ã�¯Ã�¿Ã�½Ã��Ã�¯Ã��Ã�¿Ã��Ã�½Ã���Ã�¯Ã�¿Ã�½Ã���Ã��Ã�¯Ã���Ã�¯Ã�¿Ã�½Ã��Ã�¯Ã��Ã�¿Ã��Ã�½Ã���Ã�¯Ã�¿Ã�½Ã���Ã��Ã�¿Ã���Ã�¯Ã�¿Ã�½Ã��Ã�¯Ã��Ã�¿Ã��Ã�½Ã���Ã�¯Ã�¿Ã�½Ã���Ã��Ã�½Ã���Ã�¯Ã�¿Ã�½Ã��Ã�¯Ã��Ã�¿Ã��Ã�½Ã���Ã��Ã�¯Ã���Ã��Ã�¿Ã���Ã��Ã�½Ã���Ã�¯Ã�¿Ã�½Ã��Ã�¯Ã��Ã�¿Ã��Ã�½Ã���Ã�¯Ã�¿Ã�½Ã���Ã��Ã�¯Ã���Ã�¯Ã�¿Ã�½Ã��Ã�¯Ã��Ã�¿Ã��Ã�½Ã���Ã��Ã�¯Ã���Ã��Ã�¿Ã���Ã��Ã�½Ã���Ã�¯Ã�¿Ã�½Ã��Ã�¯Ã��Ã�¿Ã��Ã�½Ã���Ã�¯Ã�¿Ã�½Ã���Ã��Ã�¿Ã���Ã�¯Ã�¿Ã�½Ã��Ã�¯Ã��Ã�¿Ã��Ã�½Ã���Ã��Ã�¯Ã���Ã��Ã�¿Ã���Ã��Ã�½Ã���Ã�¯Ã�¿Ã�½Ã��Ã�¯Ã��Ã�¿Ã��Ã�½Ã���Ã�¯Ã�¿Ã�½Ã���Ã��Ã�½Ã���Ã�¯Ã�¿Ã�½Ã��Ã�¯Ã��Ã�¿Ã��Ã�½Ã���Ã��Ã�¯Ã���Ã��Ã�¿Ã���Ã��Ã�½Ã���Ã�¯Ã�¿Ã�½Ã���Ã��Ã�¯Ã���Ã�¯Ã�¿Ã�½Ã���Ã��Ã�¿Ã���Ã�¯Ã�¿Ã�½Ã���Ã��Ã�½Ã���Ã�¯Ã�¿Ã�½Ã��Ã�¯Ã��Ã�¿Ã��Ã�½Ã���Ã��Ã�¯Ã���Ã��Ã�¿Ã���Ã��Ã�½Ã���Ã�¯Ã�¿Ã�½Ã��Ã�¯Ã��Ã�¿Ã��Ã�½Ã���Ã�¯Ã�¿Ã�½Ã���Ã��Ã�¯Ã���Ã�¯Ã�¿Ã�½Ã��Ã�¯Ã��Ã�¿Ã��Ã�½Ã���Ã��Ã�¯Ã���Ã��Ã�¿Ã���Ã��Ã�½Ã���Ã�¯Ã�¿Ã�½Ã���Ã��Ã�¯Ã���Ã�¯Ã�¿Ã�½Ã���Ã��Ã�¿Ã���Ã�¯Ã�¿Ã�½Ã���Ã��Ã�½Ã���Ã�¯Ã�¿Ã�½Ã��Ã�¯Ã��Ã�¿Ã��Ã�½Ã���Ã��Ã�¯Ã���Ã��Ã�¿Ã���Ã��Ã�½Ã���Ã�¯Ã�¿Ã�½Ã��Ã�¯Ã��Ã�¿Ã��Ã�½Ã���Ã�¯Ã�¿Ã�½Ã���Ã��Ã�¿Ã���Ã�¯Ã�¿Ã�½Ã��Ã�¯Ã��Ã�¿Ã��Ã�½Ã���Ã��Ã�¯Ã���Ã��Ã�¿Ã���Ã��Ã�½Ã���Ã�¯Ã�¿Ã�½Ã���Ã��Ã�¯Ã���Ã�¯Ã�¿Ã�½Ã���Ã��Ã�¿Ã���Ã�¯Ã�¿Ã�½Ã���Ã��Ã�½Ã���Ã�¯Ã�¿Ã�½Ã��Ã�¯Ã��Ã�¿Ã��Ã�½Ã���Ã��Ã�¯Ã���Ã��Ã�¿Ã���Ã��Ã�½Ã���Ã�¯Ã�¿Ã�½Ã��Ã�¯Ã��Ã�¿Ã��Ã�½Ã���Ã�¯Ã�¿Ã�½Ã���Ã��Ã�½Ã���Ã�¯Ã�¿Ã�½Ã��Ã�¯Ã��Ã�¿Ã��Ã�½Ã���Ã��Ã�¯Ã���Ã��Ã�¿Ã���Ã��Ã�½Ã���Ã�¯Ã�¿Ã�½Ã���Ã��Ã�¯Ã���Ã�¯Ã�¿Ã�½Ã���Ã��Ã�¿Ã���Ã�¯Ã�¿Ã�½Ã���Ã��Ã�½Ã���Ã�¯Ã�¿Ã�½Ã��Ã�¯Ã��Ã�¿Ã��Ã�½Ã���Ã�¯Ã�¿Ã�½Ã���Ã��Ã�¯Ã���Ã�¯Ã�¿Ã�½Ã��Ã�¯Ã��Ã�¿Ã��Ã�½Ã���Ã�¯Ã�¿Ã�½Ã���Ã��Ã�¿Ã���Ã�¯Ã�¿Ã�½Ã��Ã�¯Ã��Ã�¿Ã��Ã�½Ã���Ã�¯Ã�¿Ã�½Ã���Ã��Ã�½Ã���Ã�¯Ã�¿Ã�½Ã��Ã�¯Ã��Ã�¿Ã��Ã�½Ã���Ã��Ã�¯Ã���Ã��Ã�¿Ã���Ã��Ã�½Ã���Ã�¯Ã�¿Ã�½Ã���Ã��Ã�¯Ã���Ã�¯Ã�¿Ã�½Ã���Ã��Ã�¿Ã���Ã�¯Ã�¿Ã�½Ã���Ã��Ã�½Ã���Ã�¯Ã�¿Ã�½Ã��Ã�¯Ã��Ã�¿Ã��Ã�½Ã���Ã��Ã�¯Ã���Ã��Ã�¿Ã���Ã��Ã�½Ã���Ã�¯Ã�¿Ã�½Ã��Ã�¯Ã��Ã�¿Ã��Ã�½Ã���Ã�¯Ã�¿Ã�½Ã���Ã��Ã�¯Ã���Ã�¯Ã�¿Ã�½Ã��Ã�¯Ã��Ã�¿Ã��Ã�½Ã���Ã��Ã�¯Ã���Ã��Ã�¿Ã���Ã��Ã�½Ã���Ã�¯Ã�¿Ã�½Ã���Ã��Ã�¯Ã���Ã�¯Ã�¿Ã�½Ã���Ã��Ã�¿Ã���Ã�¯Ã�¿Ã�½Ã���Ã��Ã�½Ã���Ã�¯Ã�¿Ã�½Ã��Ã�¯Ã��Ã�¿Ã��Ã�½Ã���Ã�¯Ã�¿Ã�½Ã���Ã��Ã�¯Ã���Ã�¯Ã�¿Ã�½Ã��Ã�¯Ã��Ã�¿Ã��Ã�½Ã���Ã�¯Ã�¿Ã�½Ã���Ã��Ã�¿Ã���Ã�¯Ã�¿Ã�½Ã��Ã�¯Ã��Ã�¿Ã��Ã�½Ã���Ã�¯Ã�¿Ã�½Ã���Ã��Ã�½Ã���Ã�¯Ã�¿Ã�½Ã��Ã�¯Ã��Ã�¿Ã��Ã�½Ã���Ã��Ã�¯Ã���Ã��Ã�¿Ã���Ã��Ã�½Ã���Ã�¯Ã�¿Ã�½Ã���Ã��Ã�¯Ã���Ã�¯Ã�¿Ã�½Ã���Ã��Ã�¿Ã���Ã�¯Ã�¿Ã�½Ã���Ã��Ã�½Ã���Ã�¯Ã�¿Ã�½Ã��Ã�¯Ã��Ã�¿Ã��Ã�½Ã���Ã��Ã�¯Ã���Ã��Ã�¿Ã���Ã��Ã�½Ã���Ã�¯Ã�¿Ã�½Ã��Ã�¯Ã��Ã�¿Ã��Ã�½Ã���Ã�¯Ã�¿Ã�½Ã���Ã��Ã�¿Ã���Ã�¯Ã�¿Ã�½Ã��Ã�¯Ã��Ã�¿Ã��Ã�½Ã���Ã��Ã�¯Ã���Ã��Ã�¿Ã���Ã��Ã�½Ã���Ã�¯Ã�¿Ã�½Ã���Ã��Ã�¯Ã���Ã�¯Ã�¿Ã�½Ã���Ã��Ã�¿Ã���Ã�¯Ã�¿Ã�½Ã���Ã��Ã�½Ã���Ã�¯Ã�¿Ã�½Ã��Ã�¯Ã��Ã�¿Ã��Ã�½Ã���Ã�¯Ã�¿Ã�½Ã���Ã��Ã�¯Ã���Ã�¯Ã�¿Ã�½Ã��Ã�¯Ã��Ã�¿Ã��Ã�½Ã���Ã�¯Ã�¿Ã�½Ã���Ã��Ã�¿Ã���Ã�¯Ã�¿Ã�½Ã��Ã�¯Ã��Ã�¿Ã��Ã�½Ã���Ã�¯Ã�¿Ã�½Ã���Ã��Ã�½Ã���Ã�¯Ã�¿Ã�½Ã��Ã�¯Ã��Ã�¿Ã��Ã�½Ã���Ã��Ã�¯Ã���Ã��Ã�¿Ã���Ã��Ã�½Ã���Ã�¯Ã�¿Ã�½Ã���Ã��Ã�¯Ã���Ã�¯Ã�¿Ã�½Ã���Ã��Ã�¿Ã���Ã�¯Ã�¿Ã�½Ã���Ã��Ã�½Ã���Ã�¯Ã�¿Ã�½Ã��Ã�¯Ã��Ã�¿Ã��Ã�½Ã���Ã��Ã�¯Ã���Ã��Ã�¿Ã���Ã��Ã�½Ã���Ã�¯Ã�¿Ã�½Ã��Ã�¯Ã��Ã�¿Ã��Ã�½Ã���Ã�¯Ã�¿Ã�½Ã���Ã��Ã�½Ã���Ã�¯Ã�¿Ã�½Ã��Ã�¯Ã��Ã�¿Ã��Ã�½Ã���Ã��Ã�¯Ã���Ã��Ã�¿Ã���Ã��Ã�½Ã���Ã�¯Ã�¿Ã�½Ã���Ã��Ã�¯Ã���Ã�¯Ã�¿Ã�½Ã���Ã��Ã�¿Ã���Ã�¯Ã�¿Ã�½Ã���Ã��Ã�½Ã���Ã�¯Ã�¿Ã�½Ã��Ã�¯Ã��Ã�¿Ã��Ã�½Ã���Ã�¯Ã�¿Ã�½Ã���Ã��Ã�¯Ã���Ã�¯Ã�¿Ã�½Ã��Ã�¯Ã��Ã�¿Ã��Ã�½Ã���Ã�¯Ã�¿Ã�½Ã���Ã��Ã�¿Ã���Ã�¯Ã�¿Ã�½Ã��Ã�¯Ã��Ã�¿Ã��Ã�½Ã���Ã�¯Ã�¿Ã�½Ã���Ã��Ã�½Ã���Ã�¯Ã�¿Ã�½Ã��Ã�¯Ã��Ã�¿Ã��Ã�½Ã���Ã��Ã�¯Ã���Ã��Ã�¿Ã���Ã��Ã�½Ã���Ã�¯Ã�¿Ã�½Ã��Ã�¯Ã��Ã�¿Ã��Ã�½Ã���Ã�¯Ã�¿Ã�½Ã���Ã��Ã�¯Ã���Ã�¯Ã�¿Ã�½Ã��Ã�¯Ã��Ã�¿Ã��Ã�½Ã���Ã��Ã�¯Ã���Ã��Ã�¿Ã���Ã��Ã�½Ã���Ã�¯Ã�¿Ã�½Ã��Ã�¯Ã��Ã�¿Ã��Ã�½Ã���Ã�¯Ã�¿Ã�½Ã���Ã��Ã�¿Ã���Ã�¯Ã�¿Ã�½Ã��Ã�¯Ã��Ã�¿Ã��Ã�½Ã���Ã��Ã�¯Ã���Ã��Ã�¿Ã���Ã��Ã�½Ã���Ã�¯Ã�¿Ã�½Ã��Ã�¯Ã��Ã�¿Ã��Ã�½Ã���Ã�¯Ã�¿Ã�½Ã���Ã��Ã�½Ã���Ã�¯Ã�¿Ã�½Ã��Ã�¯Ã��Ã�¿Ã��Ã�½Ã���Ã��Ã�¯Ã���Ã��Ã�¿Ã���Ã��Ã�½Ã���Ã�¯Ã�¿Ã�½Ã���Ã��Ã�¯Ã���Ã�¯Ã�¿Ã�½Ã���Ã��Ã�¿Ã���Ã�¯Ã�¿Ã�½Ã���Ã��Ã�½Ã���Ã�¯Ã�¿Ã�½Ã��Ã�¯Ã��Ã�¿Ã��Ã�½Ã���Ã�¯Ã�¿Ã�½Ã���Ã��Ã�¯Ã���Ã�¯Ã�¿Ã�½Ã��Ã�¯Ã��Ã�¿Ã��Ã�½Ã���Ã�¯Ã�¿Ã�½Ã���Ã��Ã�¿Ã���Ã�¯Ã�¿Ã�½Ã��Ã�¯Ã��Ã�¿Ã��Ã�½Ã���Ã�¯Ã�¿Ã�½Ã���Ã��Ã�½Ã���Ã�¯Ã�¿Ã�½Ã��Ã�¯Ã��Ã�¿Ã��Ã�½Ã���Ã��Ã�¯Ã���Ã��Ã�¿Ã���Ã��Ã�½Ã���Ã�¯Ã�¿Ã�½Ã���Ã��Ã�¯Ã���Ã�¯Ã�¿Ã�½Ã���Ã��Ã�¿Ã���Ã�¯Ã�¿Ã�½Ã���Ã��Ã�½Ã���Ã�¯Ã�¿Ã�½Ã��Ã�¯Ã��Ã�¿Ã��Ã�½Ã���Ã��Ã�¯Ã���Ã��Ã�¿Ã���Ã��Ã�½Ã���Ã�¯Ã�¿Ã�½Ã��Ã�¯Ã��Ã�¿Ã��Ã�½Ã���Ã�¯Ã�¿Ã�½Ã���Ã��Ã�¯Ã���Ã�¯Ã�¿Ã�½Ã��Ã�¯Ã��Ã�¿Ã��Ã�½Ã���Ã��Ã�¯Ã���Ã��Ã�¿Ã���Ã��Ã�½Ã���Ã�¯Ã�¿Ã�½Ã���Ã��Ã�¯Ã���Ã�¯Ã�¿Ã�½Ã���Ã��Ã�¿Ã���Ã�¯Ã�¿Ã�½Ã���Ã��Ã�½Ã���Ã�¯Ã�¿Ã�½Ã��Ã�¯Ã��Ã�¿Ã��Ã�½Ã���Ã�¯Ã�¿Ã�½Ã���Ã��Ã�¯Ã���Ã�¯Ã�¿Ã�½Ã��Ã�¯Ã��Ã�¿Ã��Ã�½Ã���Ã�¯Ã�¿Ã�½Ã���Ã��Ã�¿Ã���Ã�¯Ã�¿Ã�½Ã��Ã�¯Ã��Ã�¿Ã��Ã�½Ã���Ã�¯Ã�¿Ã�½Ã���Ã��Ã�½Ã���Ã�¯Ã�¿Ã�½Ã��Ã�¯Ã��Ã�¿Ã��Ã�½Ã���Ã��Ã�¯Ã���Ã��Ã�¿Ã���Ã��Ã�½Ã���Ã�¯Ã�¿Ã�½Ã��Ã�¯Ã��Ã�¿Ã��Ã�½Ã���Ã�¯Ã�¿Ã�½Ã���Ã��Ã�¯Ã���Ã�¯Ã�¿Ã�½Ã��Ã�¯Ã��Ã�¿Ã��Ã�½Ã���Ã��Ã�¯Ã���Ã��Ã�¿Ã���Ã��Ã�½Ã���Ã�¯Ã�¿Ã�½Ã��Ã�¯Ã��Ã�¿Ã��Ã�½Ã���Ã�¯Ã�¿Ã�½Ã���Ã��Ã�¿Ã���Ã�¯Ã�¿Ã�½Ã��Ã�¯Ã��Ã�¿Ã��Ã�½Ã���Ã��Ã�¯Ã���Ã��Ã�¿Ã���Ã��Ã�½Ã���Ã�¯Ã�¿Ã�½Ã��Ã�¯Ã��Ã�¿Ã��Ã�½Ã���Ã�¯Ã�¿Ã�½Ã���Ã��Ã�½Ã���Ã�¯Ã�¿Ã�½Ã��Ã�¯Ã��Ã�¿Ã��Ã�½Ã���Ã��Ã�¯Ã���Ã��Ã�¿Ã���Ã��Ã�½Ã���Ã�¯Ã�¿Ã�½Ã���Ã��Ã�¯Ã���Ã�¯Ã�¿Ã�½Ã���Ã��Ã�¿Ã���Ã�¯Ã�¿Ã�½Ã���Ã��Ã�½Ã���Ã�¯Ã�¿Ã�½Ã��Ã�¯Ã��Ã�¿Ã��Ã�½Ã���Ã�¯Ã�¿Ã�½Ã���Ã��Ã�¯Ã���Ã�¯Ã�¿Ã�½Ã��Ã�¯Ã��Ã�¿Ã��Ã�½Ã���Ã�¯Ã�¿Ã�½Ã���Ã��Ã�¿Ã���Ã�¯Ã�¿Ã�½Ã��Ã�¯Ã��Ã�¿Ã��Ã�½Ã���Ã�¯Ã�¿Ã�½Ã���Ã��Ã�½Ã���Ã�¯Ã�¿Ã�½Ã��Ã�¯Ã��Ã�¿Ã��Ã�½Ã���Ã��Ã�¯Ã���Ã��Ã�¿Ã���Ã��Ã�½Ã���Ã�¯Ã�¿Ã�½Ã���Ã��Ã�¯Ã���Ã�¯Ã�¿Ã�½Ã���Ã��Ã�¿Ã���Ã�¯Ã�¿Ã�½Ã���Ã��Ã�½Ã���Ã�¯Ã�¿Ã�½Ã��Ã�¯Ã��Ã�¿Ã��Ã�½Ã���Ã��Ã�¯Ã���Ã��Ã�¿Ã���Ã��Ã�½Ã���Ã�¯Ã�¿Ã�½Ã��Ã�¯Ã��Ã�¿Ã��Ã�½Ã���Ã�¯Ã�¿Ã�½Ã���Ã��Ã�¿Ã���Ã�¯Ã�¿Ã�½Ã��Ã�¯Ã��Ã�¿Ã��Ã�½Ã���Ã��Ã�¯Ã���Ã��Ã�¿Ã���Ã��Ã�½Ã���Ã�¯Ã�¿Ã�½Ã���Ã��Ã�¯Ã���Ã�¯Ã�¿Ã�½Ã���Ã��Ã�¿Ã���Ã�¯Ã�¿Ã�½Ã���Ã��Ã�½Ã���Ã�¯Ã�¿Ã�½Ã��Ã�¯Ã��Ã�¿Ã��Ã�½Ã���Ã�¯Ã�¿Ã�½Ã���Ã��Ã�¯Ã���Ã�¯Ã�¿Ã�½Ã��Ã�¯Ã��Ã�¿Ã��Ã�½Ã���Ã�¯Ã�¿Ã�½Ã���Ã��Ã�¿Ã���Ã�¯Ã�¿Ã�½Ã��Ã�¯Ã��Ã�¿Ã��Ã�½Ã���Ã�¯Ã�¿Ã�½Ã���Ã��Ã�½Ã���Ã�¯Ã�¿Ã�½Ã��Ã�¯Ã��Ã�¿Ã��Ã�½Ã���Ã��Ã�¯Ã���Ã��Ã�¿Ã���Ã��Ã�½Ã���Ã�¯Ã�¿Ã�½Ã��Ã�¯Ã��Ã�¿Ã��Ã�½Ã���Ã�¯Ã�¿Ã�½Ã���Ã��Ã�¯Ã���Ã�¯Ã�¿Ã�½Ã��Ã�¯Ã��Ã�¿Ã��Ã�½Ã���Ã��Ã�¯Ã���Ã��Ã�¿Ã���Ã��Ã�½Ã���Ã�¯Ã�¿Ã�½Ã��Ã�¯Ã��Ã�¿Ã��Ã�½Ã���Ã�¯Ã�¿Ã�½Ã���Ã��Ã�¿Ã���Ã�¯Ã�¿Ã�½Ã��Ã�¯Ã��Ã�¿Ã��Ã�½Ã���Ã��Ã�¯Ã���Ã��Ã�¿Ã���Ã��Ã�½Ã���Ã�¯Ã�¿Ã�½Ã��Ã�¯Ã��Ã�¿Ã��Ã�½Ã���Ã�¯Ã�¿Ã�½Ã���Ã��Ã�½Ã���Ã�¯Ã�¿Ã�½Ã��Ã�¯Ã��Ã�¿Ã��Ã�½Ã���Ã��Ã�¯Ã���Ã��Ã�¿Ã���Ã��Ã�½Ã���Ã�¯Ã�¿Ã�½Ã���Ã��Ã�¯Ã���Ã�¯Ã�¿Ã�½Ã���Ã��Ã�¿Ã���Ã�¯Ã�¿Ã�½Ã���Ã��Ã�½Ã���Ã�¯Ã�¿Ã�½Ã��Ã�¯Ã��Ã�¿Ã��Ã�½Ã���Ã�¯Ã�¿Ã�½Ã���Ã��Ã�¯Ã���Ã�¯Ã�¿Ã�½Ã��Ã�¯Ã��Ã�¿Ã��Ã�½Ã���Ã�¯Ã�¿Ã�½Ã���Ã��Ã�¿Ã���Ã�¯Ã�¿Ã�½Ã��Ã�¯Ã��Ã�¿Ã��Ã�½Ã���Ã�¯Ã�¿Ã�½Ã���Ã��Ã�½Ã���Ã�¯Ã�¿Ã�½Ã��Ã�¯Ã��Ã�¿Ã��Ã�½Ã���Ã��Ã�¯Ã���Ã��Ã�¿Ã���Ã��Ã�½Ã���Ã�¯Ã�¿Ã�½Ã���Ã��Ã�¯Ã���Ã�¯Ã�¿Ã�½Ã���Ã��Ã�¿Ã���Ã�¯Ã�¿Ã�½Ã���Ã��Ã�½Ã���Ã�¯Ã�¿Ã�½Ã��Ã�¯Ã��Ã�¿Ã��Ã�½Ã���Ã��Ã�¯Ã���Ã��Ã�¿Ã���Ã��Ã�½Ã���Ã�¯Ã�¿Ã�½Ã��Ã�¯Ã��Ã�¿Ã��Ã�½Ã���Ã�¯Ã�¿Ã�½Ã���Ã��Ã�½Ã���Ã�¯Ã�¿Ã�½Ã��Ã�¯Ã��Ã�¿Ã��Ã�½Ã���Ã��Ã�¯Ã���Ã��Ã�¿Ã���Ã��Ã�½Ã���Ã�¯Ã�¿Ã�½Ã���Ã��Ã�¯Ã���Ã�¯Ã�¿Ã�½Ã���Ã��Ã�¿Ã���Ã�¯Ã�¿Ã�½Ã���Ã��Ã�½Ã���Ã�¯Ã�¿Ã�½Ã��Ã�¯Ã��Ã�¿Ã��Ã�½Ã���Ã�¯Ã�¿Ã�½Ã���Ã��Ã�¯Ã���Ã�¯Ã�¿Ã�½Ã��Ã�¯Ã��Ã�¿Ã��Ã�½Ã���Ã�¯Ã�¿Ã�½Ã���Ã��Ã�¿Ã���Ã�¯Ã�¿Ã�½Ã��Ã�¯Ã��Ã�¿Ã��Ã�½Ã���Ã�¯Ã�¿Ã�½Ã���Ã��Ã�½Ã���Ã�¯Ã�¿Ã�½Ã��Ã�¯Ã��Ã�¿Ã��Ã�½Ã���Ã��Ã�¯Ã���Ã��Ã�¿Ã���Ã��Ã�½Ã���Ã�¯Ã�¿Ã�½Ã��Ã�¯Ã��Ã�¿Ã��Ã�½Ã���Ã�¯Ã�¿Ã�½Ã���Ã��Ã�¯Ã���Ã�¯Ã�¿Ã�½Ã��Ã�¯Ã��Ã�¿Ã��Ã�½Ã���Ã��Ã�¯Ã���Ã��Ã�¿Ã���Ã��Ã�½Ã���Ã�¯Ã�¿Ã�½Ã��Ã�¯Ã��Ã�¿Ã��Ã�½Ã���Ã�¯Ã�¿Ã�½Ã���Ã��Ã�¿Ã���Ã�¯Ã�¿Ã�½Ã��Ã�¯Ã��Ã�¿Ã��Ã�½Ã���Ã��Ã�¯Ã���Ã��Ã�¿Ã���Ã��Ã�½Ã���Ã�¯Ã�¿Ã�½Ã��Ã�¯Ã��Ã�¿Ã��Ã�½Ã���Ã�¯Ã�¿Ã�½Ã���Ã��Ã�½Ã���Ã�¯Ã�¿Ã�½Ã��Ã�¯Ã��Ã�¿Ã��Ã�½Ã���Ã��Ã�¯Ã���Ã��Ã�¿Ã���Ã��Ã�½Ã���Ã�¯Ã�¿Ã�½Ã���Ã��Ã�¯Ã���Ã�¯Ã�¿Ã�½Ã���Ã��Ã�¿Ã���Ã�¯Ã�¿Ã�½Ã���Ã��Ã�½Ã���Ã�¯Ã�¿Ã�½Ã��Ã�¯Ã��Ã�¿Ã��Ã�½Ã���Ã��Ã�¯Ã���Ã��Ã�¿Ã���Ã��Ã�½Ã���Ã�¯Ã�¿Ã�½Ã��Ã�¯Ã��Ã�¿Ã��Ã�½Ã���Ã�¯Ã�¿Ã�½Ã���Ã��Ã�¯Ã���Ã�¯Ã�¿Ã�½Ã��Ã�¯Ã��Ã�¿Ã��Ã�½Ã���Ã��Ã�¯Ã���Ã��Ã�¿Ã���Ã��Ã�½Ã���Ã�¯Ã�¿Ã�½Ã���Ã��Ã�¯Ã���Ã�¯Ã�¿Ã�½Ã���Ã��Ã�¿Ã���Ã�¯Ã�¿Ã�½Ã���Ã��Ã�½Ã���Ã�¯Ã�¿Ã�½Ã��Ã�¯Ã��Ã�¿Ã��Ã�½Ã���Ã��Ã�¯Ã���Ã��Ã�¿Ã���Ã��Ã�½Ã���Ã�¯Ã�¿Ã�½Ã��Ã�¯Ã��Ã�¿Ã��Ã�½Ã���Ã�¯Ã�¿Ã�½Ã���Ã��Ã�¿Ã���Ã�¯Ã�¿Ã�½Ã��Ã�¯Ã��Ã�¿Ã��Ã�½Ã���Ã��Ã�¯Ã���Ã��Ã�¿Ã���Ã��Ã�½Ã���Ã�¯Ã�¿Ã�½Ã���Ã��Ã�¯Ã���Ã�¯Ã�¿Ã�½Ã���Ã��Ã�¿Ã���Ã�¯Ã�¿Ã�½Ã���Ã��Ã�½Ã���Ã�¯Ã�¿Ã�½Ã��Ã�¯Ã��Ã�¿Ã��Ã�½Ã���Ã��Ã�¯Ã���Ã��Ã�¿Ã���Ã��Ã�½Ã���Ã�¯Ã�¿Ã�½Ã��Ã�¯Ã��Ã�¿Ã��Ã�½Ã���Ã�¯Ã�¿Ã�½Ã���Ã��Ã�½Ã���Ã�¯Ã�¿Ã�½Ã��Ã�¯Ã��Ã�¿Ã��Ã�½Ã���Ã��Ã�¯Ã���Ã��Ã�¿Ã���Ã��Ã�½Ã���Ã�¯Ã�¿Ã�½Ã���Ã��Ã�¯Ã���Ã�¯Ã�¿Ã�½Ã���Ã��Ã�¿Ã���Ã�¯Ã�¿Ã�½Ã���Ã��Ã�½Ã���Ã�¯Ã�¿Ã�½Ã��Ã�¯Ã��Ã�¿Ã��Ã�½Ã���Ã�¯Ã�¿Ã�½Ã���Ã��Ã�¯Ã���Ã�¯Ã�¿Ã�½Ã��Ã�¯Ã��Ã�¿Ã��Ã�½Ã���Ã�¯Ã�¿Ã�½Ã���Ã��Ã�¿Ã���Ã�¯Ã�¿Ã�½Ã��Ã�¯Ã��Ã�¿Ã��Ã�½Ã���Ã�¯Ã�¿Ã�½Ã���Ã��Ã�½Ã���Ã�¯Ã�¿Ã�½Ã��Ã�¯Ã��Ã�¿Ã��Ã�½Ã���Ã��Ã�¯Ã���Ã��Ã�¿Ã���Ã��Ã�½Ã���Ã�¯Ã�¿Ã�½Ã��Ã�¯Ã��Ã�¿Ã��Ã�½Ã���Ã�¯Ã�¿Ã�½Ã���Ã��Ã�¯Ã���Ã�¯Ã�¿Ã�½Ã��Ã�¯Ã��Ã�¿Ã��Ã�½Ã���Ã��Ã�¯Ã���Ã��Ã�¿Ã���Ã��Ã�½Ã���Ã�¯Ã�¿Ã�½Ã��Ã�¯Ã��Ã�¿Ã��Ã�½Ã���Ã�¯Ã�¿Ã�½Ã���Ã��Ã�¿Ã���Ã�¯Ã�¿Ã�½Ã��Ã�¯Ã��Ã�¿Ã��Ã�½Ã���Ã��Ã�¯Ã���Ã��Ã�¿Ã���Ã��Ã�½Ã���Ã�¯Ã�¿Ã�½Ã��Ã�¯Ã��Ã�¿Ã��Ã�½Ã���Ã�¯Ã�¿Ã�½Ã���Ã��Ã�½Ã���Ã�¯Ã�¿Ã�½Ã��Ã�¯Ã��Ã�¿Ã��Ã�½Ã���Ã��Ã�¯Ã���Ã��Ã�¿Ã���Ã��Ã�½Ã���Ã�¯Ã�¿Ã�½Ã���Ã��Ã�¯Ã���Ã�¯Ã�¿Ã�½Ã���Ã��Ã�¿Ã���Ã�¯Ã�¿Ã�½Ã���Ã��Ã�½Ã���Ã�¯Ã�¿Ã�½Ã��Ã�¯Ã��Ã�¿Ã��Ã�½Ã���Ã�¯Ã�¿Ã�½Ã���Ã��Ã�¯Ã���Ã�¯Ã�¿Ã�½Ã��Ã�¯Ã��Ã�¿Ã��Ã�½Ã���Ã�¯Ã�¿Ã�½Ã���Ã��Ã�¿Ã���Ã�¯Ã�¿Ã�½Ã��Ã�¯Ã��Ã�¿Ã��Ã�½Ã���Ã�¯Ã�¿Ã�½Ã���Ã��Ã�½Ã���Ã�¯Ã�¿Ã�½Ã��Ã�¯Ã��Ã�¿Ã��Ã�½Ã���Ã��Ã�¯Ã���Ã��Ã�¿Ã���Ã��Ã�½Ã���Ã�¯Ã�¿Ã�½Ã���Ã��Ã�¯Ã���Ã�¯Ã�¿Ã�½Ã���Ã��Ã�¿Ã���Ã�¯Ã�¿Ã�½Ã���Ã��Ã�½Ã���Ã�¯Ã�¿Ã�½Ã��Ã�¯Ã��Ã�¿Ã��Ã�½Ã���Ã��Ã�¯Ã���Ã��Ã�¿Ã���Ã��Ã�½Ã���Ã�¯Ã�¿Ã�½Ã��Ã�¯Ã��Ã�¿Ã��Ã�½Ã���Ã�¯Ã�¿Ã�½Ã���Ã��Ã�¯Ã���Ã�¯Ã�¿Ã�½Ã��Ã�¯Ã��Ã�¿Ã��Ã�½Ã���Ã��Ã�¯Ã���Ã��Ã�¿Ã���Ã��Ã�½Ã���Ã�¯Ã�¿Ã�½Ã���Ã��Ã�¯Ã���Ã�¯Ã�¿Ã�½Ã���Ã��Ã�¿Ã���Ã�¯Ã�¿Ã�½Ã���Ã��Ã�½Ã���Ã�¯Ã�¿Ã�½Ã��Ã�¯Ã��Ã�¿Ã��Ã�½Ã���Ã�¯Ã�¿Ã�½Ã���Ã��Ã�¯Ã���Ã�¯Ã�¿Ã�½Ã��Ã�¯Ã��Ã�¿Ã��Ã�½Ã���Ã�¯Ã�¿Ã�½Ã���Ã��Ã�¿Ã���Ã�¯Ã�¿Ã�½Ã��Ã�¯Ã��Ã�¿Ã��Ã�½Ã���Ã�¯Ã�¿Ã�½Ã���Ã��Ã�½Ã���Ã�¯Ã�¿Ã�½Ã��Ã�¯Ã��Ã�¿Ã��Ã�½Ã���Ã��Ã�¯Ã���Ã��Ã�¿Ã���Ã��Ã�½Ã���Ã�¯Ã�¿Ã�½Ã��Ã�¯Ã��Ã�¿Ã��Ã�½Ã���Ã�¯Ã�¿Ã�½Ã���Ã��Ã�¯Ã���Ã�¯Ã�¿Ã�½Ã��Ã�¯Ã��Ã�¿Ã��Ã�½Ã���Ã��Ã�¯Ã���Ã��Ã�¿Ã���Ã��Ã�½Ã���Ã�¯Ã�¿Ã�½Ã��Ã�¯Ã��Ã�¿Ã��Ã�½Ã���Ã�¯Ã�¿Ã�½Ã���Ã��Ã�¿Ã���Ã�¯Ã�¿Ã�½Ã��Ã�¯Ã��Ã�¿Ã��Ã�½Ã���Ã��Ã�¯Ã���Ã��Ã�¿Ã���Ã��Ã�½Ã���Ã�¯Ã�¿Ã�½Ã��Ã�¯Ã��Ã�¿Ã��Ã�½Ã���Ã�¯Ã�¿Ã�½Ã���Ã��Ã�½Ã���Ã�¯Ã�¿Ã�½Ã��Ã�¯Ã��Ã�¿Ã��Ã�½Ã���Ã��Ã�¯Ã���Ã��Ã�¿Ã���Ã��Ã�½Ã���Ã�¯Ã�¿Ã�½Ã���Ã��Ã�¯Ã���Ã�¯Ã�¿Ã�½Ã���Ã��Ã�¿Ã���Ã�¯Ã�¿Ã�½Ã���Ã��Ã�½Ã���Ã�¯Ã�¿Ã�½Ã��Ã�¯Ã��Ã�¿Ã��Ã�½Ã���Ã��Ã�¯Ã���Ã��Ã�¿Ã���Ã��Ã�½Ã���Ã�¯Ã�¿Ã�½Ã��Ã�¯Ã��Ã�¿Ã��Ã�½Ã���Ã�¯Ã�¿Ã�½Ã���Ã��Ã�¯Ã���Ã�¯Ã�¿Ã�½Ã��Ã�¯Ã��Ã�¿Ã��Ã�½Ã���Ã��Ã�¯Ã���Ã��Ã�¿Ã���Ã��Ã�½Ã���Ã�¯Ã�¿Ã�½Ã���Ã��Ã�¯Ã���Ã�¯Ã�¿Ã�½Ã���Ã��Ã�¿Ã���Ã�¯Ã�¿Ã�½Ã���Ã��Ã�½Ã���Ã�¯Ã�¿Ã�½Ã��Ã�¯Ã��Ã�¿Ã��Ã�½Ã���Ã��Ã�¯Ã���Ã��Ã�¿Ã���Ã��Ã�½Ã���Ã�¯Ã�¿Ã�½Ã��Ã�¯Ã��Ã�¿Ã��Ã�½Ã���Ã�¯Ã�¿Ã�½Ã���Ã��Ã�¿Ã���Ã�¯Ã�¿Ã�½Ã��Ã�¯Ã��Ã�¿Ã��Ã�½Ã���Ã��Ã�¯Ã���Ã��Ã�¿Ã���Ã��Ã�½Ã���Ã�¯Ã�¿Ã�½Ã���Ã��Ã�¯Ã���Ã�¯Ã�¿Ã�½Ã���Ã��Ã�¿Ã���Ã�¯Ã�¿Ã�½Ã���Ã��Ã�½Ã���Ã�¯Ã�¿Ã�½Ã��Ã�¯Ã��Ã�¿Ã��Ã�½Ã���Ã��Ã�¯Ã���Ã��Ã�¿Ã���Ã��Ã�½Ã���Ã�¯Ã�¿Ã�½Ã��Ã�¯Ã��Ã�¿Ã��Ã�½Ã���Ã�¯Ã�¿Ã�½Ã���Ã��Ã�½Ã���Ã�¯Ã�¿Ã�½Ã��Ã�¯Ã��Ã�¿Ã��Ã�½Ã���Ã��Ã�¯Ã���Ã��Ã�¿Ã���Ã��Ã�½Ã���Ã�¯Ã�¿Ã�½Ã���Ã��Ã�¯Ã���Ã�¯Ã�¿Ã�½Ã���Ã��Ã�¿Ã���Ã�¯Ã�¿Ã�½Ã���Ã��Ã�½Ã���Ã�¯Ã�¿Ã�½Ã��Ã�¯Ã��Ã�¿Ã��Ã�½Ã���Ã�¯Ã�¿Ã�½Ã���Ã��Ã�¯Ã���Ã�¯Ã�¿Ã�½Ã��Ã�¯Ã��Ã�¿Ã��Ã�½Ã���Ã�¯Ã�¿Ã�½Ã���Ã��Ã�¿Ã���Ã�¯Ã�¿Ã�½Ã��Ã�¯Ã��Ã�¿Ã��Ã�½Ã���Ã�¯Ã�¿Ã�½Ã���Ã��Ã�½Ã���Ã�¯Ã�¿Ã�½Ã��Ã�¯Ã��Ã�¿Ã��Ã�½Ã���Ã��Ã�¯Ã���Ã��Ã�¿Ã���Ã��Ã�½Ã���Ã�¯Ã�¿Ã�½Ã��Ã�¯Ã��Ã�¿Ã��Ã�½Ã���Ã�¯Ã�¿Ã�½Ã���Ã��Ã�¯Ã���Ã�¯Ã�¿Ã�½Ã��Ã�¯Ã��Ã�¿Ã��Ã�½Ã���Ã��Ã�¯Ã���Ã��Ã�¿Ã���Ã��Ã�½Ã���Ã�¯Ã�¿Ã�½Ã��Ã�¯Ã��Ã�¿Ã��Ã�½Ã���Ã�¯Ã�¿Ã�½Ã���Ã��Ã�¿Ã���Ã�¯Ã�¿Ã�½Ã��Ã�¯Ã��Ã�¿Ã��Ã�½Ã���Ã��Ã�¯Ã���Ã��Ã�¿Ã���Ã��Ã�½Ã���Ã�¯Ã�¿Ã�½Ã��Ã�¯Ã��Ã�¿Ã��Ã�½Ã���Ã�¯Ã�¿Ã�½Ã���Ã��Ã�½Ã���Ã�¯Ã�¿Ã�½Ã��Ã�¯Ã��Ã�¿Ã��Ã�½Ã���Ã��Ã�¯Ã���Ã��Ã�¿Ã���Ã��Ã�½Ã���Ã�¯Ã�¿Ã�½Ã���Ã��Ã�¯Ã���Ã�¯Ã�¿Ã�½Ã���Ã��Ã�¿Ã���Ã�¯Ã�¿Ã�½Ã���Ã��Ã�½Ã���Ã�¯Ã�¿Ã�½Ã��Ã�¯Ã��Ã�¿Ã��Ã�½Ã���Ã�¯Ã�¿Ã�½Ã���Ã��Ã�¯Ã���Ã�¯Ã�¿Ã�½Ã��Ã�¯Ã��Ã�¿Ã��Ã�½Ã���Ã�¯Ã�¿Ã�½Ã���Ã��Ã�¿Ã���Ã�¯Ã�¿Ã�½Ã��Ã�¯Ã��Ã�¿Ã��Ã�½Ã���Ã�¯Ã�¿Ã�½Ã���Ã��Ã�½Ã���Ã�¯Ã�¿Ã�½Ã��Ã�¯Ã��Ã�¿Ã��Ã�½Ã���Ã��Ã�¯Ã���Ã��Ã�¿Ã���Ã��Ã�½Ã���Ã�¯Ã�¿Ã�½Ã���Ã��Ã�¯Ã���Ã�¯Ã�¿Ã�½Ã���Ã��Ã�¿Ã���Ã�¯Ã�¿Ã�½Ã���Ã��Ã�½Ã���Ã�¯Ã�¿Ã�½Ã��Ã�¯Ã��Ã�¿Ã��Ã�½Ã���Ã��Ã�¯Ã���Ã��Ã�¿Ã���Ã��Ã�½Ã���Ã�¯Ã�¿Ã�½Ã��Ã�¯Ã��Ã�¿Ã��Ã�½Ã���Ã�¯Ã�¿Ã�½Ã���Ã��Ã�¿Ã���Ã�¯Ã�¿Ã�½Ã��Ã�¯Ã��Ã�¿Ã��Ã�½Ã���Ã��Ã�¯Ã���Ã��Ã�¿Ã���Ã��Ã�½Ã���Ã�¯Ã�¿Ã�½Ã���Ã��Ã�¯Ã���Ã�¯Ã�¿Ã�½Ã���Ã��Ã�¿Ã���Ã�¯Ã�¿Ã�½Ã���Ã��Ã�½Ã���Ã�¯Ã�¿Ã�½Ã��Ã�¯Ã��Ã�¿Ã��Ã�½Ã���Ã�¯Ã�¿Ã�½Ã���Ã��Ã�¯Ã���Ã�¯Ã�¿Ã�½Ã��Ã�¯Ã��Ã�¿Ã��Ã�½Ã���Ã�¯Ã�¿Ã�½Ã���Ã��Ã�¿Ã���Ã�¯Ã�¿Ã�½Ã��Ã�¯Ã��Ã�¿Ã��Ã�½Ã���Ã�¯Ã�¿Ã�½Ã���Ã��Ã�½Ã���Ã�¯Ã�¿Ã�½Ã��Ã�¯Ã��Ã�¿Ã��Ã�½Ã���Ã��Ã�¯Ã���Ã��Ã�¿Ã���Ã��Ã�½Ã���Ã�¯Ã�¿Ã�½Ã��Ã�¯Ã��Ã�¿Ã��Ã�½Ã���Ã�¯Ã�¿Ã�½Ã���Ã��Ã�¯Ã���Ã�¯Ã�¿Ã�½Ã��Ã�¯Ã��Ã�¿Ã��Ã�½Ã���Ã��Ã�¯Ã���Ã��Ã�¿Ã���Ã��Ã�½Ã���Ã�¯Ã�¿Ã�½Ã��Ã�¯Ã��Ã�¿Ã��Ã�½Ã���Ã�¯Ã�¿Ã�½Ã���Ã��Ã�¿Ã���Ã�¯Ã�¿Ã�½Ã��Ã�¯Ã��Ã�¿Ã��Ã�½Ã���Ã��Ã�¯Ã���Ã��Ã�¿Ã���Ã��Ã�½Ã���Ã�¯Ã�¿Ã�½Ã��Ã�¯Ã��Ã�¿Ã��Ã�½Ã���Ã�¯Ã�¿Ã�½Ã���Ã��Ã�½Ã���Ã�¯Ã�¿Ã�½Ã��Ã�¯Ã��Ã�¿Ã��Ã�½Ã���Ã��Ã�¯Ã���Ã��Ã�¿Ã���Ã��Ã�½Ã���Ã�¯Ã�¿Ã�½Ã���Ã��Ã�¯Ã���Ã�¯Ã�¿Ã�½Ã���Ã��Ã�¿Ã���Ã�¯Ã�¿Ã�½Ã���Ã��Ã�½Ã���Ã�¯Ã�¿Ã�½Ã��Ã�¯Ã��Ã�¿Ã��Ã�½Ã���Ã��Ã�¯Ã���Ã��Ã�¿Ã���Ã��Ã�½Ã���Ã�¯Ã�¿Ã�½Ã��Ã�¯Ã��Ã�¿Ã��Ã�½Ã���Ã�¯Ã�¿Ã�½Ã���Ã��Ã�¯Ã���Ã�¯Ã�¿Ã�½Ã��Ã�¯Ã��Ã�¿Ã��Ã�½Ã���Ã��Ã�¯Ã���Ã��Ã�¿Ã���Ã��Ã�½Ã���Ã�¯Ã�¿Ã�½Ã���Ã��Ã�¯Ã���Ã�¯Ã�¿Ã�½Ã���Ã��Ã�¿Ã���Ã�¯Ã�¿Ã�½Ã���Ã��Ã�½Ã���Ã�¯Ã�¿Ã�½Ã��Ã�¯Ã��Ã�¿Ã��Ã�½Ã���Ã��Ã�¯Ã���Ã��Ã�¿Ã���Ã��Ã�½Ã���Ã�¯Ã�¿Ã�½Ã��Ã�¯Ã��Ã�¿Ã��Ã�½Ã���Ã�¯Ã�¿Ã�½Ã���Ã��Ã�¿Ã���Ã�¯Ã�¿Ã�½Ã��Ã�¯Ã��Ã�¿Ã��Ã�½Ã���Ã��Ã�¯Ã���Ã��Ã�¿Ã���Ã��Ã�½Ã���Ã�¯Ã�¿Ã�½Ã���Ã��Ã�¯Ã���Ã�¯Ã�¿Ã�½Ã���Ã��Ã�¿Ã���Ã�¯Ã�¿Ã�½Ã���Ã��Ã�½Ã���Ã�¯Ã�¿Ã�½Ã��Ã�¯Ã��Ã�¿Ã��Ã�½Ã���Ã��Ã�¯Ã���Ã��Ã�¿Ã���Ã��Ã�½Ã���Ã�¯Ã�¿Ã�½Ã��Ã�¯Ã��Ã�¿Ã��Ã�½Ã���Ã�¯Ã�¿Ã�½Ã���Ã��Ã�½Ã���Ã�¯Ã�¿Ã�½Ã��Ã�¯Ã��Ã�¿Ã��Ã�½Ã���Ã��Ã�¯Ã���Ã��Ã�¿Ã���Ã��Ã�½Ã���Ã�¯Ã�¿Ã�½Ã���Ã��Ã�¯Ã���Ã�¯Ã�¿Ã�½Ã���Ã��Ã�¿Ã���Ã�¯Ã�¿Ã�½Ã���Ã��Ã�½Ã���Ã�¯Ã�¿Ã�½Ã��Ã�¯Ã��Ã�¿Ã��Ã�½Ã���Ã�¯Ã�¿Ã�½Ã���Ã��Ã�¯Ã���Ã�¯Ã�¿Ã�½Ã��Ã�¯Ã��Ã�¿Ã��Ã�½Ã���Ã�¯Ã�¿Ã�½Ã���Ã��Ã�¿Ã���Ã�¯Ã�¿Ã�½Ã��Ã�¯Ã��Ã�¿Ã��Ã�½Ã���Ã�¯Ã�¿Ã�½Ã���Ã��Ã�½Ã���Ã�¯Ã�¿Ã�½Ã��Ã�¯Ã��Ã�¿Ã��Ã�½Ã���Ã��Ã�¯Ã���Ã��Ã�¿Ã���Ã��Ã�½Ã���Ã�¯Ã�¿Ã�½Ã��Ã�¯Ã��Ã�¿Ã��Ã�½Ã���Ã�¯Ã�¿Ã�½Ã���Ã��Ã�¯Ã���Ã�¯Ã�¿Ã�½Ã��Ã�¯Ã��Ã�¿Ã��Ã�½Ã���Ã��Ã�¯Ã���Ã��Ã�¿Ã���Ã��Ã�½Ã���Ã�¯Ã�¿Ã�½Ã��Ã�¯Ã��Ã�¿Ã��Ã�½Ã���Ã�¯Ã�¿Ã�½Ã���Ã��Ã�¿Ã���Ã�¯Ã�¿Ã�½Ã��Ã�¯Ã��Ã�¿Ã��Ã�½Ã���Ã��Ã�¯Ã���Ã��Ã�¿Ã���Ã��Ã�½Ã���Ã�¯Ã�¿Ã�½Ã��Ã�¯Ã��Ã�¿Ã��Ã�½Ã���Ã�¯Ã�¿Ã�½Ã���Ã��Ã�½Ã���Ã�¯Ã�¿Ã�½Ã��Ã�¯Ã��Ã�¿Ã��Ã�½Ã���Ã��Ã�¯Ã���Ã��Ã�¿Ã���Ã��Ã�½Ã���Ã�¯Ã�¿Ã�½Ã���Ã��Ã�¯Ã���Ã�¯Ã�¿Ã�½Ã���Ã��Ã�¿Ã���Ã�¯Ã�¿Ã�½Ã���Ã��Ã�½Ã���Ã�¯Ã�¿Ã�½Ã��Ã�¯Ã��Ã�¿Ã��Ã�½Ã���Ã�¯Ã�¿Ã�½Ã���Ã��Ã�¯Ã���Ã�¯Ã�¿Ã�½Ã��Ã�¯Ã��Ã�¿Ã��Ã�½Ã���Ã�¯Ã�¿Ã�½Ã���Ã��Ã�¿Ã���Ã�¯Ã�¿Ã�½Ã��Ã�¯Ã��Ã�¿Ã��Ã�½Ã���Ã�¯Ã�¿Ã�½Ã���Ã��Ã�½Ã���Ã�¯Ã�¿Ã�½Ã��Ã�¯Ã��Ã�¿Ã��Ã�½Ã���Ã��Ã�¯Ã���Ã��Ã�¿Ã���Ã��Ã�½Ã���Ã�¯Ã�¿Ã�½Ã���Ã��Ã�¯Ã���Ã�¯Ã�¿Ã�½Ã���Ã��Ã�¿Ã���Ã�¯Ã�¿Ã�½Ã���Ã��Ã�½Ã���Ã�¯Ã�¿Ã�½Ã��Ã�¯Ã��Ã�¿Ã��Ã�½Ã���Ã��Ã�¯Ã���Ã��Ã�¿Ã���Ã��Ã�½Ã���Ã�¯Ã�¿Ã�½Ã��Ã�¯Ã��Ã�¿Ã��Ã�½Ã���Ã�¯Ã�¿Ã�½Ã���Ã��Ã�½Ã���Ã�¯Ã�¿Ã�½Ã��Ã�¯Ã��Ã�¿Ã��Ã�½Ã���Ã��Ã�¯Ã���Ã��Ã�¿Ã���Ã��Ã�½Ã���Ã�¯Ã�¿Ã�½Ã���Ã��Ã�¯Ã���Ã�¯Ã�¿Ã�½Ã���Ã��Ã�¿Ã���Ã�¯Ã�¿Ã�½Ã���Ã��Ã�½Ã���Ã�¯Ã�¿Ã�½Ã��Ã�¯Ã��Ã�¿Ã��Ã�½Ã���Ã�¯Ã�¿Ã�½Ã���Ã��Ã�¯Ã���Ã�¯Ã�¿Ã�½Ã��Ã�¯Ã��Ã�¿Ã��Ã�½Ã���Ã�¯Ã�¿Ã�½Ã���Ã��Ã�¿Ã���Ã�¯Ã�¿Ã�½Ã��Ã�¯Ã��Ã�¿Ã��Ã�½Ã���Ã�¯Ã�¿Ã�½Ã���Ã��Ã�½Ã���Ã�¯Ã�¿Ã�½Ã��Ã�¯Ã��Ã�¿Ã��Ã�½Ã���Ã��Ã�¯Ã���Ã��Ã�¿Ã���Ã��Ã�½Ã���Ã�¯Ã�¿Ã�½Ã��Ã�¯Ã��Ã�¿Ã��Ã�½Ã���Ã�¯Ã�¿Ã�½Ã���Ã��Ã�¯Ã���Ã�¯Ã�¿Ã�½Ã��Ã�¯Ã��Ã�¿Ã��Ã�½Ã���Ã��Ã�¯Ã���Ã��Ã�¿Ã���Ã��Ã�½Ã���Ã�¯Ã�¿Ã�½Ã��Ã�¯Ã��Ã�¿Ã��Ã�½Ã���Ã�¯Ã�¿Ã�½Ã���Ã��Ã�¿Ã���Ã�¯Ã�¿Ã�½Ã��Ã�¯Ã��Ã�¿Ã��Ã�½Ã���Ã��Ã�¯Ã���Ã��Ã�¿Ã���Ã��Ã�½Ã���Ã�¯Ã�¿Ã�½Ã��Ã�¯Ã��Ã�¿Ã��Ã�½Ã���Ã�¯Ã�¿Ã�½Ã���Ã��Ã�½Ã���Ã�¯Ã�¿Ã�½Ã��Ã�¯Ã��Ã�¿Ã��Ã�½Ã���Ã��Ã�¯Ã���Ã��Ã�¿Ã���Ã��Ã�½Ã���Ã�¯Ã�¿Ã�½Ã���Ã��Ã�¯Ã���Ã�¯Ã�¿Ã�½Ã���Ã��Ã�¿Ã���Ã�¯Ã�¿Ã�½Ã���Ã��Ã�½Ã���Ã�¯Ã�¿Ã�½Ã��Ã�¯Ã��Ã�¿Ã��Ã�½Ã���Ã��Ã�¯Ã���Ã��Ã�¿Ã���Ã��Ã�½Ã���Ã�¯Ã�¿Ã�½Ã��Ã�¯Ã��Ã�¿Ã��Ã�½Ã���Ã�¯Ã�¿Ã�½Ã���Ã��Ã�¯Ã���Ã�¯Ã�¿Ã�½Ã��Ã�¯Ã��Ã�¿Ã��Ã�½Ã���Ã��Ã�¯Ã���Ã��Ã�¿Ã���Ã��Ã�½Ã���Ã�¯Ã�¿Ã�½Ã���Ã��Ã�¯Ã���Ã�¯Ã�¿Ã�½Ã���Ã��Ã�¿Ã���Ã�¯Ã�¿Ã�½Ã���Ã��Ã�½Ã���Ã�¯Ã�¿Ã�½Ã��Ã�¯Ã��Ã�¿Ã��Ã�½Ã���Ã��Ã�¯Ã���Ã��Ã�¿Ã���Ã��Ã�½Ã���Ã�¯Ã�¿Ã�½Ã��Ã�¯Ã��Ã�¿Ã��Ã�½Ã���Ã�¯Ã�¿Ã�½Ã���Ã��Ã�¿Ã���Ã�¯Ã�¿Ã�½Ã��Ã�¯Ã��Ã�¿Ã��Ã�½Ã���Ã��Ã�¯Ã���Ã��Ã�¿Ã���Ã��Ã�½Ã���Ã�¯Ã�¿Ã�½Ã���Ã��Ã�¯Ã���Ã�¯Ã�¿Ã�½Ã���Ã��Ã�¿Ã���Ã�¯Ã�¿Ã�½Ã���Ã��Ã�½Ã���Ã�¯Ã�¿Ã�½Ã��Ã�¯Ã��Ã�¿Ã��Ã�½Ã���Ã��Ã�¯Ã���Ã��Ã�¿Ã���Ã��Ã�½Ã���Ã�¯Ã�¿Ã�½Ã��Ã�¯Ã��Ã�¿Ã��Ã�½Ã���Ã�¯Ã�¿Ã�½Ã���Ã��Ã�½Ã���Ã�¯Ã�¿Ã�½Ã��Ã�¯Ã��Ã�¿Ã��Ã�½Ã���Ã��Ã�¯Ã���Ã��Ã�¿Ã���Ã��Ã�½Ã���Ã�¯Ã�¿Ã�½Ã���Ã��Ã�¯Ã���Ã�¯Ã�¿Ã�½Ã���Ã��Ã�¿Ã���Ã�¯Ã�¿Ã�½Ã���Ã��Ã�½Ã���Ã�¯Ã�¿Ã�½Ã��Ã�¯Ã��Ã�¿Ã��Ã�½Ã���Ã�¯Ã�¿Ã�½Ã���Ã��Ã�¯Ã���Ã�¯Ã�¿Ã�½Ã��Ã�¯Ã��Ã�¿Ã��Ã�½Ã���Ã�¯Ã�¿Ã�½Ã���Ã��Ã�¿Ã���Ã�¯Ã�¿Ã�½Ã��Ã�¯Ã��Ã�¿Ã��Ã�½Ã���Ã�¯Ã�¿Ã�½Ã���Ã��Ã�½Ã���Ã�¯Ã�¿Ã�½Ã��Ã�¯Ã��Ã�¿Ã��Ã�½Ã���Ã��Ã�¯Ã���Ã��Ã�¿Ã���Ã��Ã�½Ã���Ã�¯Ã�¿Ã�½Ã���Ã��Ã�¯Ã���Ã�¯Ã�¿Ã�½Ã���Ã��Ã�¿Ã���Ã�¯Ã�¿Ã�½Ã���Ã��Ã�½Ã���Ã�¯Ã�¿Ã�½Ã��Ã�¯Ã��Ã�¿Ã��Ã�½Ã���Ã��Ã�¯Ã���Ã��Ã�¿Ã���Ã��Ã�½Ã���Ã�¯Ã�¿Ã�½Ã��Ã�¯Ã��Ã�¿Ã��Ã�½Ã���Ã�¯Ã�¿Ã�½Ã���Ã��Ã�¯Ã���Ã�¯Ã�¿Ã�½Ã��Ã�¯Ã��Ã�¿Ã��Ã�½Ã���Ã��Ã�¯Ã���Ã��Ã�¿Ã���Ã��Ã�½Ã���Ã�¯Ã�¿Ã�½Ã���Ã��Ã�¯Ã���Ã�¯Ã�¿Ã�½Ã���Ã��Ã�¿Ã���Ã�¯Ã�¿Ã�½Ã���Ã��Ã�½Ã���Ã�¯Ã�¿Ã�½Ã��Ã�¯Ã��Ã�¿Ã��Ã�½Ã���Ã�¯Ã�¿Ã�½Ã���Ã��Ã�¯Ã���Ã�¯Ã�¿Ã�½Ã��Ã�¯Ã��Ã�¿Ã��Ã�½Ã���Ã�¯Ã�¿Ã�½Ã���Ã��Ã�¿Ã���Ã�¯Ã�¿Ã�½Ã��Ã�¯Ã��Ã�¿Ã��Ã�½Ã���Ã�¯Ã�¿Ã�½Ã���Ã��Ã�½Ã���Ã�¯Ã�¿Ã�½Ã��Ã�¯Ã��Ã�¿Ã��Ã�½Ã���Ã��Ã�¯Ã���Ã��Ã�¿Ã���Ã��Ã�½Ã���Ã�¯Ã�¿Ã�½Ã���Ã��Ã�¯Ã���Ã�¯Ã�¿Ã�½Ã���Ã��Ã�¿Ã���Ã�¯Ã�¿Ã�½Ã���Ã��Ã�½Ã���Ã�¯Ã�¿Ã�½Ã��Ã�¯Ã��Ã�¿Ã��Ã�½Ã���Ã��Ã�¯Ã���Ã��Ã�¿Ã���Ã��Ã�½Ã���Ã�¯Ã�¿Ã�½Ã��Ã�¯Ã��Ã�¿Ã��Ã�½Ã���Ã�¯Ã�¿Ã�½Ã���Ã��Ã�¿Ã���Ã�¯Ã�¿Ã�½Ã��Ã�¯Ã��Ã�¿Ã��Ã�½Ã���Ã��Ã�¯Ã���Ã��Ã�¿Ã���Ã��Ã�½Ã���Ã�¯Ã�¿Ã�½Ã���Ã��Ã�¯Ã���Ã�¯Ã�¿Ã�½Ã���Ã��Ã�¿Ã���Ã�¯Ã�¿Ã�½Ã���Ã��Ã�½Ã���Ã�¯Ã�¿Ã�½Ã��Ã�¯Ã��Ã�¿Ã��Ã�½Ã���Ã�¯Ã�¿Ã�½Ã���Ã��Ã�¯Ã���Ã�¯Ã�¿Ã�½Ã��Ã�¯Ã��Ã�¿Ã��Ã�½Ã���Ã�¯Ã�¿Ã�½Ã���Ã��Ã�¿Ã���Ã�¯Ã�¿Ã�½Ã��Ã�¯Ã��Ã�¿Ã��Ã�½Ã���Ã�¯Ã�¿Ã�½Ã���Ã��Ã�½Ã���Ã�¯Ã�¿Ã�½Ã��Ã�¯Ã��Ã�¿Ã��Ã�½Ã���Ã��Ã�¯Ã���Ã��Ã�¿Ã���Ã��Ã�½Ã���Ã�¯Ã�¿Ã�½Ã���Ã��Ã�¯Ã���Ã�¯Ã�¿Ã�½Ã���Ã��Ã�¿Ã���Ã�¯Ã�¿Ã�½Ã���Ã��Ã�½Ã���Ã�¯Ã�¿Ã�½Ã��Ã�¯Ã��Ã�¿Ã��Ã�½Ã���Ã��Ã�¯Ã���Ã��Ã�¿Ã���Ã��Ã�½Ã���Ã�¯Ã�¿Ã�½Ã��Ã�¯Ã��Ã�¿Ã��Ã�½Ã���Ã�¯Ã�¿Ã�½Ã���Ã��Ã�½Ã���Ã�¯Ã�¿Ã�½Ã��Ã�¯Ã��Ã�¿Ã��Ã�½Ã���Ã��Ã�¯Ã���Ã��Ã�¿Ã���Ã��Ã�½Ã���Ã�¯Ã�¿Ã�½Ã���Ã��Ã�¯Ã���Ã�¯Ã�¿Ã�½Ã���Ã��Ã�¿Ã���Ã�¯Ã�¿Ã�½Ã���Ã��Ã�½Ã���Ã�¯Ã�¿Ã�½Ã��Ã�¯Ã��Ã�¿Ã��Ã�½Ã���Ã�¯Ã�¿Ã�½Ã���Ã��Ã�¯Ã���Ã�¯Ã�¿Ã�½Ã��Ã�¯Ã��Ã�¿Ã��Ã�½Ã���Ã�¯Ã�¿Ã�½Ã���Ã��Ã�¿Ã���Ã�¯Ã�¿Ã�½Ã��Ã�¯Ã��Ã�¿Ã��Ã�½Ã���Ã�¯Ã�¿Ã�½Ã���Ã��Ã�½Ã���Ã�¯Ã�¿Ã�½Ã��Ã�¯Ã��Ã�¿Ã��Ã�½Ã���Ã��Ã�¯Ã���Ã��Ã�¿Ã���Ã��Ã�½Ã���Ã�¯Ã�¿Ã�½Ã��Ã�¯Ã��Ã�¿Ã��Ã�½Ã���Ã�¯Ã�¿Ã�½Ã���Ã��Ã�¯Ã���Ã�¯Ã�¿Ã�½Ã��Ã�¯Ã��Ã�¿Ã��Ã�½Ã���Ã��Ã�¯Ã���Ã��Ã�¿Ã���Ã��Ã�½Ã���Ã�¯Ã�¿Ã�½Ã��Ã�¯Ã��Ã�¿Ã��Ã�½Ã���Ã�¯Ã�¿Ã�½Ã���Ã��Ã�¿Ã���Ã�¯Ã�¿Ã�½Ã��Ã�¯Ã��Ã�¿Ã��Ã�½Ã���Ã��Ã�¯Ã���Ã��Ã�¿Ã���Ã��Ã�½Ã���Ã�¯Ã�¿Ã�½Ã��Ã�¯Ã��Ã�¿Ã��Ã�½Ã���Ã�¯Ã�¿Ã�½Ã���Ã��Ã�½Ã���Ã�¯Ã�¿Ã�½Ã��Ã�¯Ã��Ã�¿Ã��Ã�½Ã���Ã��Ã�¯Ã���Ã��Ã�¿Ã���Ã��Ã�½Ã���Ã�¯Ã�¿Ã�½Ã���Ã��Ã�¯Ã���Ã�¯Ã�¿Ã�½Ã���Ã��Ã�¿Ã���Ã�¯Ã�¿Ã�½Ã���Ã��Ã�½Ã���Ã�¯Ã�¿Ã�½Ã��Ã�¯Ã��Ã�¿Ã��Ã�½Ã���Ã�¯Ã�¿Ã�½Ã���Ã��Ã�¯Ã���Ã�¯Ã�¿Ã�½Ã��Ã�¯Ã��Ã�¿Ã��Ã�½Ã���Ã�¯Ã�¿Ã�½Ã���Ã��Ã�¿Ã���Ã�¯Ã�¿Ã�½Ã��Ã�¯Ã��Ã�¿Ã��Ã�½Ã���Ã�¯Ã�¿Ã�½Ã���Ã��Ã�½Ã���Ã�¯Ã�¿Ã�½Ã��Ã�¯Ã��Ã�¿Ã��Ã�½Ã���Ã��Ã�¯Ã���Ã��Ã�¿Ã���Ã��Ã�½Ã���Ã�¯Ã�¿Ã�½Ã���Ã��Ã�¯Ã���Ã�¯Ã�¿Ã�½Ã���Ã��Ã�¿Ã���Ã�¯Ã�¿Ã�½Ã���Ã��Ã�½Ã���Ã�¯Ã�¿Ã�½Ã��Ã�¯Ã��Ã�¿Ã��Ã�½Ã���Ã��Ã�¯Ã���Ã��Ã�¿Ã���Ã��Ã�½Ã���Ã�¯Ã�¿Ã�½Ã��Ã�¯Ã��Ã�¿Ã��Ã�½Ã���Ã�¯Ã�¿Ã�½Ã���Ã��Ã�¯Ã���Ã�¯Ã�¿Ã�½Ã��Ã�¯Ã��Ã�¿Ã��Ã�½Ã���Ã��Ã�¯Ã���Ã��Ã�¿Ã���Ã��Ã�½Ã���Ã�¯Ã�¿Ã�½Ã���Ã��Ã�¯Ã���Ã�¯Ã�¿Ã�½Ã���Ã��Ã�¿Ã���Ã�¯Ã�¿Ã�½Ã���Ã��Ã�½Ã���Ã�¯Ã�¿Ã�½Ã��Ã�¯Ã��Ã�¿Ã��Ã�½Ã���Ã�¯Ã�¿Ã�½Ã���Ã��Ã�¯Ã���Ã�¯Ã�¿Ã�½Ã��Ã�¯Ã��Ã�¿Ã��Ã�½Ã���Ã�¯Ã�¿Ã�½Ã���Ã��Ã�¿Ã���Ã�¯Ã�¿Ã�½Ã��Ã�¯Ã��Ã�¿Ã��Ã�½Ã���Ã�¯Ã�¿Ã�½Ã���Ã��Ã�½Ã���Ã�¯Ã�¿Ã�½Ã��Ã�¯Ã��Ã�¿Ã��Ã�½Ã���Ã��Ã�¯Ã���Ã��Ã�¿Ã���Ã��Ã�½Ã���Ã�¯Ã�¿Ã�½Ã��Ã�¯Ã��Ã�¿Ã��Ã�½Ã���Ã�¯Ã�¿Ã�½Ã���Ã��Ã�¯Ã���Ã�¯Ã�¿Ã�½Ã��Ã�¯Ã��Ã�¿Ã��Ã�½Ã���Ã��Ã�¯Ã���Ã��Ã�¿Ã���Ã��Ã�½Ã���Ã�¯Ã�¿Ã�½Ã��Ã�¯Ã��Ã�¿Ã��Ã�½Ã���Ã�¯Ã�¿Ã�½Ã���Ã��Ã�¿Ã���Ã�¯Ã�¿Ã�½Ã��Ã�¯Ã��Ã�¿Ã��Ã�½Ã���Ã��Ã�¯Ã���Ã��Ã�¿Ã���Ã��Ã�½Ã���Ã�¯Ã�¿Ã�½Ã��Ã�¯Ã��Ã�¿Ã��Ã�½Ã���Ã�¯Ã�¿Ã�½Ã���Ã��Ã�½Ã���Ã�¯Ã�¿Ã�½Ã��Ã�¯Ã��Ã�¿Ã��Ã�½Ã���Ã��Ã�¯Ã���Ã��Ã�¿Ã���Ã��Ã�½Ã���Ã�¯Ã�¿Ã�½Ã���Ã��Ã�¯Ã���Ã�¯Ã�¿Ã�½Ã���Ã��Ã�¿Ã���Ã�¯Ã�¿Ã�½Ã���Ã��Ã�½Ã���Ã�¯Ã�¿Ã�½Ã��Ã�¯Ã��Ã�¿Ã��Ã�½Ã���Ã�¯Ã�¿Ã�½Ã���Ã��Ã�¯Ã���Ã�¯Ã�¿Ã�½Ã��Ã�¯Ã��Ã�¿Ã��Ã�½Ã���Ã�¯Ã�¿Ã�½Ã���Ã��Ã�¿Ã���Ã�¯Ã�¿Ã�½Ã��Ã�¯Ã��Ã�¿Ã��Ã�½Ã���Ã�¯Ã�¿Ã�½Ã���Ã��Ã�½Ã���Ã�¯Ã�¿Ã�½Ã��Ã�¯Ã��Ã�¿Ã��Ã�½Ã���Ã��Ã�¯Ã���Ã��Ã�¿Ã���Ã��Ã�½Ã���Ã�¯Ã�¿Ã�½Ã���Ã��Ã�¯Ã���Ã�¯Ã�¿Ã�½Ã���Ã��Ã�¿Ã���Ã�¯Ã�¿Ã�½Ã���Ã��Ã�½Ã���Ã�¯Ã�¿Ã�½Ã��Ã�¯Ã��Ã�¿Ã��Ã�½Ã���Ã��Ã�¯Ã���Ã��Ã�¿Ã���Ã��Ã�½Ã���Ã�¯Ã�¿Ã�½Ã��Ã�¯Ã��Ã�¿Ã��Ã�½Ã���Ã�¯Ã�¿Ã�½Ã���Ã��Ã�¿Ã���Ã�¯Ã�¿Ã�½Ã��Ã�¯Ã��Ã�¿Ã��Ã�½Ã���Ã��Ã�¯Ã���Ã��Ã�¿Ã���Ã��Ã�½Ã���Ã�¯Ã�¿Ã�½Ã���Ã��Ã�¯Ã���Ã�¯Ã�¿Ã�½Ã���Ã��Ã�¿Ã���Ã�¯Ã�¿Ã�½Ã���Ã��Ã�½Ã���Ã�¯Ã�¿Ã�½Ã��Ã�¯Ã��Ã�¿Ã��Ã�½Ã���Ã�¯Ã�¿Ã�½Ã���Ã��Ã�¯Ã���Ã�¯Ã�¿Ã�½Ã��Ã�¯Ã��Ã�¿Ã��Ã�½Ã���Ã�¯Ã�¿Ã�½Ã���Ã��Ã�¿Ã���Ã�¯Ã�¿Ã�½Ã��Ã�¯Ã��Ã�¿Ã��Ã�½Ã���Ã�¯Ã�¿Ã�½Ã���Ã��Ã�½Ã���Ã�¯Ã�¿Ã�½Ã��Ã�¯Ã��Ã�¿Ã��Ã�½Ã���Ã��Ã�¯Ã���Ã��Ã�¿Ã���Ã��Ã�½Ã���Ã�¯Ã�¿Ã�½Ã��Ã�¯Ã��Ã�¿Ã��Ã�½Ã���Ã�¯Ã�¿Ã�½Ã���Ã��Ã�¯Ã���Ã�¯Ã�¿Ã�½Ã��Ã�¯Ã��Ã�¿Ã��Ã�½Ã���Ã��Ã�¯Ã���Ã��Ã�¿Ã���Ã��Ã�½Ã���Ã�¯Ã�¿Ã�½Ã��Ã�¯Ã��Ã�¿Ã��Ã�½Ã���Ã�¯Ã�¿Ã�½Ã���Ã��Ã�¿Ã���Ã�¯Ã�¿Ã�½Ã��Ã�¯Ã��Ã�¿Ã��Ã�½Ã���Ã��Ã�¯Ã���Ã��Ã�¿Ã���Ã��Ã�½Ã���Ã�¯Ã�¿Ã�½Ã��Ã�¯Ã��Ã�¿Ã��Ã�½Ã���Ã�¯Ã�¿Ã�½Ã���Ã��Ã�½Ã���Ã�¯Ã�¿Ã�½Ã��Ã�¯Ã��Ã�¿Ã��Ã�½Ã���Ã��Ã�¯Ã���Ã��Ã�¿Ã���Ã��Ã�½Ã���Ã�¯Ã�¿Ã�½Ã���Ã��Ã�¯Ã���Ã�¯Ã�¿Ã�½Ã���Ã��Ã�¿Ã���Ã�¯Ã�¿Ã�½Ã���Ã��Ã�½Ã���Ã�¯Ã�¿Ã�½Ã��Ã�¯Ã��Ã�¿Ã��Ã�½Ã���Ã�¯Ã�¿Ã�½Ã���Ã��Ã�¯Ã���Ã�¯Ã�¿Ã�½Ã��Ã�¯Ã��Ã�¿Ã��Ã�½Ã���Ã�¯Ã�¿Ã�½Ã���Ã��Ã�¿Ã���Ã�¯Ã�¿Ã�½Ã��Ã�¯Ã��Ã�¿Ã��Ã�½Ã���Ã�¯Ã�¿Ã�½Ã���Ã��Ã�½Ã���Ã�¯Ã�¿Ã�½Ã��Ã�¯Ã��Ã�¿Ã��Ã�½Ã���Ã��Ã�¯Ã���Ã��Ã�¿Ã���Ã��Ã�½Ã���Ã�¯Ã�¿Ã�½Ã���Ã��Ã�¯Ã���Ã�¯Ã�¿Ã�½Ã���Ã��Ã�¿Ã���Ã�¯Ã�¿Ã�½Ã���Ã��Ã�½Ã���Ã�¯Ã�¿Ã�½Ã��Ã�¯Ã��Ã�¿Ã��Ã�½Ã���Ã��Ã�¯Ã���Ã��Ã�¿Ã���Ã��Ã�½Ã���Ã�¯Ã�¿Ã�½Ã��Ã�¯Ã��Ã�¿Ã��Ã�½Ã���Ã�¯Ã�¿Ã�½Ã���Ã��Ã�½Ã���Ã�¯Ã�¿Ã�½Ã��Ã�¯Ã��Ã�¿Ã��Ã�½Ã���Ã��Ã�¯Ã���Ã��Ã�¿Ã���Ã��Ã�½Ã���Ã�¯Ã�¿Ã�½Ã���Ã��Ã�¯Ã���Ã�¯Ã�¿Ã�½Ã���Ã��Ã�¿Ã���Ã�¯Ã�¿Ã�½Ã���Ã��Ã�½Ã���Ã�¯Ã�¿Ã�½Ã��Ã�¯Ã��Ã�¿Ã��Ã�½Ã���Ã�¯Ã�¿Ã�½Ã���Ã��Ã�¯Ã���Ã�¯Ã�¿Ã�½Ã��Ã�¯Ã��Ã�¿Ã��Ã�½Ã���Ã�¯Ã�¿Ã�½Ã���Ã��Ã�¿Ã���Ã�¯Ã�¿Ã�½Ã��Ã�¯Ã��Ã�¿Ã��Ã�½Ã���Ã�¯Ã�¿Ã�½Ã���Ã��Ã�½Ã���Ã�¯Ã�¿Ã�½Ã��Ã�¯Ã��Ã�¿Ã��Ã�½Ã���Ã��Ã�¯Ã���Ã��Ã�¿Ã���Ã��Ã�½Ã���Ã�¯Ã�¿Ã�½Ã��Ã�¯Ã��Ã�¿Ã��Ã�½Ã���Ã�¯Ã�¿Ã�½Ã���Ã��Ã�¯Ã���Ã�¯Ã�¿Ã�½Ã��Ã�¯Ã��Ã�¿Ã��Ã�½Ã���Ã��Ã�¯Ã���Ã��Ã�¿Ã���Ã��Ã�½Ã���Ã�¯Ã�¿Ã�½Ã��Ã�¯Ã��Ã�¿Ã��Ã�½Ã���Ã�¯Ã�¿Ã�½Ã���Ã��Ã�¿Ã���Ã�¯Ã�¿Ã�½Ã��Ã�¯Ã��Ã�¿Ã��Ã�½Ã���Ã��Ã�¯Ã���Ã��Ã�¿Ã���Ã��Ã�½Ã���Ã�¯Ã�¿Ã�½Ã��Ã�¯Ã��Ã�¿Ã��Ã�½Ã���Ã�¯Ã�¿Ã�½Ã���Ã��Ã�½Ã���Ã�¯Ã�¿Ã�½Ã��Ã�¯Ã��Ã�¿Ã��Ã�½Ã���Ã��Ã�¯Ã���Ã��Ã�¿Ã���Ã��Ã�½Ã���Ã�¯Ã�¿Ã�½Ã���Ã��Ã�¯Ã���Ã�¯Ã�¿Ã�½Ã���Ã��Ã�¿Ã���Ã�¯Ã�¿Ã�½Ã���Ã��Ã�½Ã���Ã�¯Ã�¿Ã�½Ã��Ã�¯Ã��Ã�¿Ã��Ã�½Ã���Ã��Ã�¯Ã���Ã��Ã�¿Ã���Ã��Ã�½Ã���Ã�¯Ã�¿Ã�½Ã��Ã�¯Ã��Ã�¿Ã��Ã�½Ã���Ã�¯Ã�¿Ã�½Ã���Ã��Ã�¯Ã���Ã�¯Ã�¿Ã�½Ã��Ã�¯Ã��Ã�¿Ã��Ã�½Ã���Ã��Ã�¯Ã���Ã��Ã�¿Ã���Ã��Ã�½Ã���Ã�¯Ã�¿Ã�½Ã���Ã��Ã�¯Ã���Ã�¯Ã�¿Ã�½Ã���Ã��Ã�¿Ã���Ã�¯Ã�¿Ã�½Ã���Ã��Ã�½Ã���Ã�¯Ã�¿Ã�½Ã��Ã�¯Ã��Ã�¿Ã��Ã�½Ã���Ã��Ã�¯Ã���Ã��Ã�¿Ã���Ã��Ã�½Ã���Ã�¯Ã�¿Ã�½Ã��Ã�¯Ã��Ã�¿Ã��Ã�½Ã���Ã�¯Ã�¿Ã�½Ã���Ã��Ã�¿Ã���Ã�¯Ã�¿Ã�½Ã��Ã�¯Ã��Ã�¿Ã��Ã�½Ã���Ã��Ã�¯Ã���Ã��Ã�¿Ã���Ã��Ã�½Ã���Ã�¯Ã�¿Ã�½Ã���Ã��Ã�¯Ã���Ã�¯Ã�¿Ã�½Ã���Ã��Ã�¿Ã���Ã�¯Ã�¿Ã�½Ã���Ã��Ã�½Ã���Ã�¯Ã�¿Ã�½Ã��Ã�¯Ã��Ã�¿Ã��Ã�½Ã���Ã��Ã�¯Ã���Ã��Ã�¿Ã���Ã��Ã�½Ã���Ã�¯Ã�¿Ã�½Ã��Ã�¯Ã��Ã�¿Ã��Ã�½Ã���Ã�¯Ã�¿Ã�½Ã���Ã��Ã�½Ã���Ã�¯Ã�¿Ã�½Ã��Ã�¯Ã��Ã�¿Ã��Ã�½Ã���Ã��Ã�¯Ã���Ã��Ã�¿Ã���Ã��Ã�½Ã���Ã�¯Ã�¿Ã�½Ã���Ã��Ã�¯Ã���Ã�¯Ã�¿Ã�½Ã���Ã��Ã�¿Ã���Ã�¯Ã�¿Ã�½Ã���Ã��Ã�½Ã���Ã�¯Ã�¿Ã�½Ã��Ã�¯Ã��Ã�¿Ã��Ã�½Ã���Ã�¯Ã�¿Ã�½Ã���Ã��Ã�¯Ã���Ã�¯Ã�¿Ã�½Ã��Ã�¯Ã��Ã�¿Ã��Ã�½Ã���Ã�¯Ã�¿Ã�½Ã���Ã��Ã�¿Ã���Ã�¯Ã�¿Ã�½Ã��Ã�¯Ã��Ã�¿Ã��Ã�½Ã���Ã�¯Ã�¿Ã�½Ã���Ã��Ã�½Ã���Ã�¯Ã�¿Ã�½Ã��Ã�¯Ã��Ã�¿Ã��Ã�½Ã���Ã��Ã�¯Ã���Ã��Ã�¿Ã���Ã��Ã�½Ã���Ã�¯Ã�¿Ã�½Ã���Ã��Ã�¯Ã���Ã�¯Ã�¿Ã�½Ã���Ã��Ã�¿Ã���Ã�¯Ã�¿Ã�½Ã���Ã��Ã�½Ã���Ã�¯Ã�¿Ã�½Ã��Ã�¯Ã��Ã�¿Ã��Ã�½Ã���Ã��Ã�¯Ã���Ã��Ã�¿Ã���Ã��Ã�½Ã���Ã�¯Ã�¿Ã�½Ã��Ã�¯Ã��Ã�¿Ã��Ã�½Ã���Ã�¯Ã�¿Ã�½Ã���Ã��Ã�¯Ã���Ã�¯Ã�¿Ã�½Ã��Ã�¯Ã��Ã�¿Ã��Ã�½Ã���Ã��Ã�¯Ã���Ã��Ã�¿Ã���Ã��Ã�½Ã���Ã�¯Ã�¿Ã�½Ã���Ã��Ã�¯Ã���Ã�¯Ã�¿Ã�½Ã���Ã��Ã�¿Ã���Ã�¯Ã�¿Ã�½Ã���Ã��Ã�½Ã���Ã�¯Ã�¿Ã�½Ã��Ã�¯Ã��Ã�¿Ã��Ã�½Ã���Ã�¯Ã�¿Ã�½Ã���Ã��Ã�¯Ã���Ã�¯Ã�¿Ã�½Ã��Ã�¯Ã��Ã�¿Ã��Ã�½Ã���Ã�¯Ã�¿Ã�½Ã���Ã��Ã�¿Ã���Ã�¯Ã�¿Ã�½Ã��Ã�¯Ã��Ã�¿Ã��Ã�½Ã���Ã�¯Ã�¿Ã�½Ã���Ã��Ã�½Ã���Ã�¯Ã�¿Ã�½Ã��Ã�¯Ã��Ã�¿Ã��Ã�½Ã���Ã��Ã�¯Ã���Ã��Ã�¿Ã���Ã��Ã�½Ã���Ã�¯Ã�¿Ã�½Ã���Ã��Ã�¯Ã���Ã�¯Ã�¿Ã�½Ã���Ã��Ã�¿Ã���Ã�¯Ã�¿Ã�½Ã���Ã��Ã�½Ã���Ã�¯Ã�¿Ã�½Ã��Ã�¯Ã��Ã�¿Ã��Ã�½Ã���Ã��Ã�¯Ã���Ã��Ã�¿Ã���Ã��Ã�½Ã���Ã�¯Ã�¿Ã�½Ã��Ã�¯Ã��Ã�¿Ã��Ã�½Ã���Ã�¯Ã�¿Ã�½Ã���Ã��Ã�¿Ã���Ã�¯Ã�¿Ã�½Ã��Ã�¯Ã��Ã�¿Ã��Ã�½Ã���Ã��Ã�¯Ã���Ã��Ã�¿Ã���Ã��Ã�½Ã���Ã�¯Ã�¿Ã�½Ã���Ã��Ã�¯Ã���Ã�¯Ã�¿Ã�½Ã���Ã��Ã�¿Ã���Ã�¯Ã�¿Ã�½Ã���Ã��Ã�½Ã���Ã�¯Ã�¿Ã�½Ã��Ã�¯Ã��Ã�¿Ã��Ã�½Ã���Ã�¯Ã�¿Ã�½Ã���Ã��Ã�¯Ã���Ã�¯Ã�¿Ã�½Ã��Ã�¯Ã��Ã�¿Ã��Ã�½Ã���Ã�¯Ã�¿Ã�½Ã���Ã��Ã�¿Ã���Ã�¯Ã�¿Ã�½Ã��Ã�¯Ã��Ã�¿Ã��Ã�½Ã���Ã�¯Ã�¿Ã�½Ã���Ã��Ã�½Ã���Ã�¯Ã�¿Ã�½Ã��Ã�¯Ã��Ã�¿Ã��Ã�½Ã���Ã��Ã�¯Ã���Ã��Ã�¿Ã���Ã��Ã�½Ã���Ã�¯Ã�¿Ã�½Ã���Ã��Ã�¯Ã���Ã�¯Ã�¿Ã�½Ã���Ã��Ã�¿Ã���Ã�¯Ã�¿Ã�½Ã���Ã��Ã�½Ã���Ã�¯Ã�¿Ã�½Ã��Ã�¯Ã��Ã�¿Ã��Ã�½Ã���Ã��Ã�¯Ã���Ã��Ã�¿Ã���Ã��Ã�½Ã���Ã�¯Ã�¿Ã�½Ã��Ã�¯Ã��Ã�¿Ã��Ã�½Ã���Ã�¯Ã�¿Ã�½Ã���Ã��Ã�½Ã���Ã�¯Ã�¿Ã�½Ã��Ã�¯Ã��Ã�¿Ã��Ã�½Ã���Ã��Ã�¯Ã���Ã��Ã�¿Ã���Ã��Ã�½Ã���Ã�¯Ã�¿Ã�½Ã���Ã��Ã�¯Ã���Ã�¯Ã�¿Ã�½Ã���Ã��Ã�¿Ã���Ã�¯Ã�¿Ã�½Ã���Ã��Ã�½Ã���Ã�¯Ã�¿Ã�½Ã��Ã�¯Ã��Ã�¿Ã��Ã�½Ã���Ã�¯Ã�¿Ã�½Ã���Ã��Ã�¯Ã���Ã�¯Ã�¿Ã�½Ã��Ã�¯Ã��Ã�¿Ã��Ã�½Ã���Ã�¯Ã�¿Ã�½Ã���Ã��Ã�¿Ã���Ã�¯Ã�¿Ã�½Ã��Ã�¯Ã��Ã�¿Ã��Ã�½Ã���Ã�¯Ã�¿Ã�½Ã���Ã��Ã�½Ã���Ã�¯Ã�¿Ã�½Ã��Ã�¯Ã��Ã�¿Ã��Ã�½Ã���Ã��Ã�¯Ã���Ã��Ã�¿Ã���Ã��Ã�½Ã���Ã�¯Ã�¿Ã�½Ã��Ã�¯Ã��Ã�¿Ã��Ã�½Ã���Ã�¯Ã�¿Ã�½Ã���Ã��Ã�¯Ã���Ã�¯Ã�¿Ã�½Ã��Ã�¯Ã��Ã�¿Ã��Ã�½Ã���Ã��Ã�¯Ã���Ã��Ã�¿Ã���Ã��Ã�½Ã���Ã�¯Ã�¿Ã�½Ã��Ã�¯Ã��Ã�¿Ã��Ã�½Ã���Ã�¯Ã�¿Ã�½Ã���Ã��Ã�¿Ã���Ã�¯Ã�¿Ã�½Ã��Ã�¯Ã��Ã�¿Ã��Ã�½Ã���Ã��Ã�¯Ã���Ã��Ã�¿Ã���Ã��Ã�½Ã���Ã�¯Ã�¿Ã�½Ã��Ã�¯Ã��Ã�¿Ã��Ã�½Ã���Ã�¯Ã�¿Ã�½Ã���Ã��Ã�½Ã���Ã�¯Ã�¿Ã�½Ã��Ã�¯Ã��Ã�¿Ã��Ã�½Ã���Ã��Ã�¯Ã���Ã��Ã�¿Ã���Ã��Ã�½Ã���Ã�¯Ã�¿Ã�½Ã���Ã��Ã�¯Ã���Ã�¯Ã�¿Ã�½Ã���Ã��Ã�¿Ã���Ã�¯Ã�¿Ã�½Ã���Ã��Ã�½Ã���Ã�¯Ã�¿Ã�½Ã��Ã�¯Ã��Ã�¿Ã��Ã�½Ã���Ã��Ã�¯Ã���Ã��Ã�¿Ã���Ã��Ã�½Ã���Ã�¯Ã�¿Ã�½Ã��Ã�¯Ã��Ã�¿Ã��Ã�½Ã���Ã�¯Ã�¿Ã�½Ã���Ã��Ã�¯Ã���Ã�¯Ã�¿Ã�½Ã��Ã�¯Ã��Ã�¿Ã��Ã�½Ã���Ã��Ã�¯Ã���Ã��Ã�¿Ã���Ã��Ã�½Ã���Ã�¯Ã�¿Ã�½Ã���Ã��Ã�¯Ã���Ã�¯Ã�¿Ã�½Ã���Ã��Ã�¿Ã���Ã�¯Ã�¿Ã�½Ã���Ã��Ã�½Ã���Ã�¯Ã�¿Ã�½Ã��Ã�¯Ã��Ã�¿Ã��Ã�½Ã���Ã��Ã�¯Ã���Ã��Ã�¿Ã���Ã��Ã�½Ã���Ã�¯Ã�¿Ã�½Ã��Ã�¯Ã��Ã�¿Ã��Ã�½Ã���Ã�¯Ã�¿Ã�½Ã���Ã��Ã�¿Ã���Ã�¯Ã�¿Ã�½Ã��Ã�¯Ã��Ã�¿Ã��Ã�½Ã���Ã��Ã�¯Ã���Ã��Ã�¿Ã���Ã��Ã�½Ã���Ã�¯Ã�¿Ã�½Ã���Ã��Ã�¯Ã���Ã�¯Ã�¿Ã�½Ã���Ã��Ã�¿Ã���Ã�¯Ã�¿Ã�½Ã���Ã��Ã�½Ã���Ã�¯Ã�¿Ã�½Ã��Ã�¯Ã��Ã�¿Ã��Ã�½Ã���Ã��Ã�¯Ã���Ã��Ã�¿Ã���Ã��Ã�½Ã���Ã�¯Ã�¿Ã�½Ã��Ã�¯Ã��Ã�¿Ã��Ã�½Ã���Ã�¯Ã�¿Ã�½Ã���Ã��Ã�½Ã���Ã�¯Ã�¿Ã�½Ã��Ã�¯Ã��Ã�¿Ã��Ã�½Ã���Ã��Ã�¯Ã���Ã��Ã�¿Ã���Ã��Ã�½Ã���Ã�¯Ã�¿Ã�½Ã���Ã��Ã�¯Ã���Ã�¯Ã�¿Ã�½Ã���Ã��Ã�¿Ã���Ã�¯Ã�¿Ã�½Ã���Ã��Ã�½Ã���Ã�¯Ã�¿Ã�½Ã��Ã�¯Ã��Ã�¿Ã��Ã�½Ã���Ã�¯Ã�¿Ã�½Ã���Ã��Ã�¯Ã���Ã�¯Ã�¿Ã�½Ã��Ã�¯Ã��Ã�¿Ã��Ã�½Ã���Ã�¯Ã�¿Ã�½Ã���Ã��Ã�¿Ã���Ã�¯Ã�¿Ã�½Ã��Ã�¯Ã��Ã�¿Ã��Ã�½Ã���Ã�¯Ã�¿Ã�½Ã���Ã��Ã�½Ã���Ã�¯Ã�¿Ã�½Ã��Ã�¯Ã��Ã�¿Ã��Ã�½Ã���Ã��Ã�¯Ã���Ã��Ã�¿Ã���Ã��Ã�½Ã���Ã�¯Ã�¿Ã�½Ã��Ã�¯Ã��Ã�¿Ã��Ã�½Ã���Ã�¯Ã�¿Ã�½Ã���Ã��Ã�¯Ã���Ã�¯Ã�¿Ã�½Ã��Ã�¯Ã��Ã�¿Ã��Ã�½Ã���Ã��Ã�¯Ã���Ã��Ã�¿Ã���Ã��Ã�½Ã���Ã�¯Ã�¿Ã�½Ã��Ã�¯Ã��Ã�¿Ã��Ã�½Ã���Ã�¯Ã�¿Ã�½Ã���Ã��Ã�¿Ã���Ã�¯Ã�¿Ã�½Ã��Ã�¯Ã��Ã�¿Ã��Ã�½Ã���Ã��Ã�¯Ã���Ã��Ã�¿Ã���Ã��Ã�½Ã���Ã�¯Ã�¿Ã�½Ã��Ã�¯Ã��Ã�¿Ã��Ã�½Ã���Ã�¯Ã�¿Ã�½Ã���Ã��Ã�½Ã���Ã�¯Ã�¿Ã�½Ã��Ã�¯Ã��Ã�¿Ã��Ã�½Ã���Ã��Ã�¯Ã���Ã��Ã�¿Ã���Ã��Ã�½Ã���Ã�¯Ã�¿Ã�½Ã���Ã��Ã�¯Ã���Ã�¯Ã�¿Ã�½Ã���Ã��Ã�¿Ã���Ã�¯Ã�¿Ã�½Ã���Ã��Ã�½Ã���Ã�¯Ã�¿Ã�½Ã��Ã�¯Ã��Ã�¿Ã��Ã�½Ã���Ã�¯Ã�¿Ã�½Ã���Ã��Ã�¯Ã���Ã�¯Ã�¿Ã�½Ã��Ã�¯Ã��Ã�¿Ã��Ã�½Ã���Ã�¯Ã�¿Ã�½Ã���Ã��Ã�¿Ã���Ã�¯Ã�¿Ã�½Ã��Ã�¯Ã��Ã�¿Ã��Ã�½Ã���Ã�¯Ã�¿Ã�½Ã���Ã��Ã�½Ã���Ã�¯Ã�¿Ã�½Ã��Ã�¯Ã��Ã�¿Ã��Ã�½Ã���Ã��Ã�¯Ã���Ã��Ã�¿Ã���Ã��Ã�½Ã���Ã�¯Ã�¿Ã�½Ã���Ã��Ã�¯Ã���Ã�¯Ã�¿Ã�½Ã���Ã��Ã�¿Ã���Ã�¯Ã�¿Ã�½Ã���Ã��Ã�½Ã���Ã�¯Ã�¿Ã�½Ã��Ã�¯Ã��Ã�¿Ã��Ã�½Ã���Ã��Ã�¯Ã���Ã��Ã�¿Ã���Ã��Ã�½Ã���Ã�¯Ã�¿Ã�½Ã��Ã�¯Ã��Ã�¿Ã��Ã�½Ã���Ã�¯Ã�¿Ã�½Ã���Ã��Ã�¯Ã���Ã�¯Ã�¿Ã�½Ã��Ã�¯Ã��Ã�¿Ã��Ã�½Ã���Ã��Ã�¯Ã���Ã��Ã�¿Ã���Ã��Ã�½Ã���Ã�¯Ã�¿Ã�½Ã���Ã��Ã�¯Ã���Ã�¯Ã�¿Ã�½Ã���Ã��Ã�¿Ã���Ã�¯Ã�¿Ã�½Ã���Ã��Ã�½Ã���Ã�¯Ã�¿Ã�½Ã��Ã�¯Ã��Ã�¿Ã��Ã�½Ã���Ã�¯Ã�¿Ã�½Ã���Ã��Ã�¯Ã���Ã�¯Ã�¿Ã�½Ã��Ã�¯Ã��Ã�¿Ã��Ã�½Ã���Ã�¯Ã�¿Ã�½Ã���Ã��Ã�¿Ã���Ã�¯Ã�¿Ã�½Ã��Ã�¯Ã��Ã�¿Ã��Ã�½Ã���Ã�¯Ã�¿Ã�½Ã���Ã��Ã�½Ã���Ã�¯Ã�¿Ã�½Ã��Ã�¯Ã��Ã�¿Ã��Ã�½Ã���Ã��Ã�¯Ã���Ã��Ã�¿Ã���Ã��Ã�½Ã���Ã�¯Ã�¿Ã�½Ã��Ã�¯Ã��Ã�¿Ã��Ã�½Ã���Ã�¯Ã�¿Ã�½Ã���Ã��Ã�¯Ã���Ã�¯Ã�¿Ã�½Ã��Ã�¯Ã��Ã�¿Ã��Ã�½Ã���Ã��Ã�¯Ã���Ã��Ã�¿Ã���Ã��Ã�½Ã���Ã�¯Ã�¿Ã�½Ã��Ã�¯Ã��Ã�¿Ã��Ã�½Ã���Ã�¯Ã�¿Ã�½Ã���Ã��Ã�¿Ã���Ã�¯Ã�¿Ã�½Ã��Ã�¯Ã��Ã�¿Ã��Ã�½Ã���Ã��Ã�¯Ã���Ã��Ã�¿Ã���Ã��Ã�½Ã���Ã�¯Ã�¿Ã�½Ã��Ã�¯Ã��Ã�¿Ã��Ã�½Ã���Ã�¯Ã�¿Ã�½Ã���Ã��Ã�½Ã���Ã�¯Ã�¿Ã�½Ã��Ã�¯Ã��Ã�¿Ã��Ã�½Ã���Ã��Ã�¯Ã���Ã��Ã�¿Ã���Ã��Ã�½Ã���Ã�¯Ã�¿Ã�½Ã���Ã��Ã�¯Ã���Ã�¯Ã�¿Ã�½Ã���Ã��Ã�¿Ã���Ã�¯Ã�¿Ã�½Ã���Ã��Ã�½Ã���Ã�¯Ã�¿Ã�½Ã��Ã�¯Ã��Ã�¿Ã��Ã�½Ã���Ã��Ã�¯Ã���Ã��Ã�¿Ã���Ã��Ã�½Ã���Ã�¯Ã�¿Ã�½Ã��Ã�¯Ã��Ã�¿Ã��Ã�½Ã���Ã�¯Ã�¿Ã�½Ã���Ã��Ã�¯Ã���Ã�¯Ã�¿Ã�½Ã��Ã�¯Ã��Ã�¿Ã��Ã�½Ã���Ã��Ã�¯Ã���Ã��Ã�¿Ã���Ã��Ã�½Ã���Ã�¯Ã�¿Ã�½Ã���Ã��Ã�¯Ã���Ã�¯Ã�¿Ã�½Ã���Ã��Ã�¿Ã���Ã�¯Ã�¿Ã�½Ã���Ã��Ã�½Ã���Ã�¯Ã�¿Ã�½Ã��Ã�¯Ã��Ã�¿Ã��Ã�½Ã���Ã��Ã�¯Ã���Ã��Ã�¿Ã���Ã��Ã�½Ã���Ã�¯Ã�¿Ã�½Ã��Ã�¯Ã��Ã�¿Ã��Ã�½Ã���Ã�¯Ã�¿Ã�½Ã���Ã��Ã�¿Ã���Ã�¯Ã�¿Ã�½Ã��Ã�¯Ã��Ã�¿Ã��Ã�½Ã���Ã��Ã�¯Ã���Ã��Ã�¿Ã���Ã��Ã�½Ã���Ã�¯Ã�¿Ã�½Ã���Ã��Ã�¯Ã���Ã�¯Ã�¿Ã�½Ã���Ã��Ã�¿Ã���Ã�¯Ã�¿Ã�½Ã���Ã��Ã�½Ã���Ã�¯Ã�¿Ã�½Ã��Ã�¯Ã��Ã�¿Ã��Ã�½Ã���Ã��Ã�¯Ã���Ã��Ã�¿Ã���Ã��Ã�½Ã���Ã�¯Ã�¿Ã�½Ã��Ã�¯Ã��Ã�¿Ã��Ã�½Ã���Ã�¯Ã�¿Ã�½Ã���Ã��Ã�½Ã���Ã�¯Ã�¿Ã�½Ã��Ã�¯Ã��Ã�¿Ã��Ã�½Ã���Ã��Ã�¯Ã���Ã��Ã�¿Ã���Ã��Ã�½Ã���Ã�¯Ã�¿Ã�½Ã���Ã��Ã�¯Ã���Ã�¯Ã�¿Ã�½Ã���Ã��Ã�¿Ã���Ã�¯Ã�¿Ã�½Ã���Ã��Ã�½Ã���Ã�¯Ã�¿Ã�½Ã��Ã�¯Ã��Ã�¿Ã��Ã�½Ã���Ã�¯Ã�¿Ã�½Ã���Ã��Ã�¯Ã���Ã�¯Ã�¿Ã�½Ã��Ã�¯Ã��Ã�¿Ã��Ã�½Ã���Ã�¯Ã�¿Ã�½Ã���Ã��Ã�¿Ã���Ã�¯Ã�¿Ã�½Ã��Ã�¯Ã��Ã�¿Ã��Ã�½Ã���Ã�¯Ã�¿Ã�½Ã���Ã��Ã�½Ã���Ã�¯Ã�¿Ã�½Ã��Ã�¯Ã��Ã�¿Ã��Ã�½Ã���Ã��Ã�¯Ã���Ã��Ã�¿Ã���Ã��Ã�½Ã���Ã�¯Ã�¿Ã�½Ã���Ã��Ã�¯Ã���Ã�¯Ã�¿Ã�½Ã���Ã��Ã�¿Ã���Ã�¯Ã�¿Ã�½Ã���Ã��Ã�½Ã���Ã�¯Ã�¿Ã�½Ã��Ã�¯Ã��Ã�¿Ã��Ã�½Ã���Ã��Ã�¯Ã���Ã��Ã�¿Ã���Ã��Ã�½Ã���Ã�¯Ã�¿Ã�½Ã��Ã�¯Ã��Ã�¿Ã��Ã�½Ã���Ã�¯Ã�¿Ã�½Ã���Ã��Ã�¯Ã���Ã�¯Ã�¿Ã�½Ã��Ã�¯Ã��Ã�¿Ã��Ã�½Ã���Ã��Ã�¯Ã���Ã��Ã�¿Ã���Ã��Ã�½Ã���Ã�¯Ã�¿Ã�½Ã���Ã��Ã�¯Ã���Ã�¯Ã�¿Ã�½Ã���Ã��Ã�¿Ã���Ã�¯Ã�¿Ã�½Ã���Ã��Ã�½Ã���Ã�¯Ã�¿Ã�½Ã��Ã�¯Ã��Ã�¿Ã��Ã�½Ã���Ã�¯Ã�¿Ã�½Ã���Ã��Ã�¯Ã���Ã�¯Ã�¿Ã�½Ã��Ã�¯Ã��Ã�¿Ã��Ã�½Ã���Ã�¯Ã�¿Ã�½Ã���Ã��Ã�¿Ã���Ã�¯Ã�¿Ã�½Ã��Ã�¯Ã��Ã�¿Ã��Ã�½Ã���Ã�¯Ã�¿Ã�½Ã���Ã��Ã�½Ã���Ã�¯Ã�¿Ã�½Ã��Ã�¯Ã��Ã�¿Ã��Ã�½Ã���Ã��Ã�¯Ã���Ã��Ã�¿Ã���Ã��Ã�½Ã���Ã�¯Ã�¿Ã�½Ã���Ã��Ã�¯Ã���Ã�¯Ã�¿Ã�½Ã���Ã��Ã�¿Ã���Ã�¯Ã�¿Ã�½Ã���Ã��Ã�½Ã���Ã�¯Ã�¿Ã�½Ã��Ã�¯Ã��Ã�¿Ã��Ã�½Ã���Ã��Ã�¯Ã���Ã��Ã�¿Ã���Ã��Ã�½Ã���Ã�¯Ã�¿Ã�½Ã��Ã�¯Ã��Ã�¿Ã��Ã�½Ã���Ã�¯Ã�¿Ã�½Ã���Ã��Ã�¿Ã���Ã�¯Ã�¿Ã�½Ã��Ã�¯Ã��Ã�¿Ã��Ã�½Ã���Ã��Ã�¯Ã���Ã��Ã�¿Ã���Ã��Ã�½Ã���Ã�¯Ã�¿Ã�½Ã���Ã��Ã�¯Ã���Ã�¯Ã�¿Ã�½Ã���Ã��Ã�¿Ã���Ã�¯Ã�¿Ã�½Ã���Ã��Ã�½Ã���Ã�¯Ã�¿Ã�½Ã��Ã�¯Ã��Ã�¿Ã��Ã�½Ã���Ã�¯Ã�¿Ã�½Ã���Ã��Ã�¯Ã���Ã�¯Ã�¿Ã�½Ã��Ã�¯Ã��Ã�¿Ã��Ã�½Ã���Ã�¯Ã�¿Ã�½Ã���Ã��Ã�¿Ã���Ã�¯Ã�¿Ã�½Ã��Ã�¯Ã��Ã�¿Ã��Ã�½Ã���Ã�¯Ã�¿Ã�½Ã���Ã��Ã�½Ã���Ã�¯Ã�¿Ã�½Ã��Ã�¯Ã��Ã�¿Ã��Ã�½Ã���Ã��Ã�¯Ã���Ã��Ã�¿Ã���Ã��Ã�½Ã���Ã�¯Ã�¿Ã�½Ã���Ã��Ã�¯Ã���Ã�¯Ã�¿Ã�½Ã���Ã��Ã�¿Ã���Ã�¯Ã�¿Ã�½Ã���Ã��Ã�½Ã���Ã�¯Ã�¿Ã�½Ã��Ã�¯Ã��Ã�¿Ã��Ã�½Ã���Ã��Ã�¯Ã���Ã��Ã�¿Ã���Ã��Ã�½Ã���Ã�¯Ã�¿Ã�½Ã��Ã�¯Ã��Ã�¿Ã��Ã�½Ã���Ã�¯Ã�¿Ã�½Ã���Ã��Ã�½Ã���Ã�¯Ã�¿Ã�½Ã��Ã�¯Ã��Ã�¿Ã��Ã�½Ã���Ã��Ã�¯Ã���Ã��Ã�¿Ã���Ã��Ã�½Ã���Ã�¯Ã�¿Ã�½Ã���Ã��Ã�¯Ã���Ã�¯Ã�¿Ã�½Ã���Ã��Ã�¿Ã���Ã�¯Ã�¿Ã�½Ã���Ã��Ã�½Ã���Ã�¯Ã�¿Ã�½Ã��Ã�¯Ã��Ã�¿Ã��Ã�½Ã���Ã�¯Ã�¿Ã�½Ã���Ã��Ã�¯Ã���Ã�¯Ã�¿Ã�½Ã��Ã�¯Ã��Ã�¿Ã��Ã�½Ã���Ã�¯Ã�¿Ã�½Ã���Ã��Ã�¿Ã���Ã�¯Ã�¿Ã�½Ã��Ã�¯Ã��Ã�¿Ã��Ã�½Ã���Ã�¯Ã�¿Ã�½Ã���Ã��Ã�½Ã���Ã�¯Ã�¿Ã�½Ã��Ã�¯Ã��Ã�¿Ã��Ã�½Ã���Ã��Ã�¯Ã���Ã��Ã�¿Ã���Ã��Ã�½Ã���Ã�¯Ã�¿Ã�½Ã��Ã�¯Ã��Ã�¿Ã��Ã�½Ã���Ã�¯Ã�¿Ã�½Ã���Ã��Ã�¯Ã���Ã�¯Ã�¿Ã�½Ã��Ã�¯Ã��Ã�¿Ã��Ã�½Ã���Ã��Ã�¯Ã���Ã��Ã�¿Ã���Ã��Ã�½Ã���Ã�¯Ã�¿Ã�½Ã��Ã�¯Ã��Ã�¿Ã��Ã�½Ã���Ã�¯Ã�¿Ã�½Ã���Ã��Ã�¿Ã���Ã�¯Ã�¿Ã�½Ã��Ã�¯Ã��Ã�¿Ã��Ã�½Ã���Ã��Ã�¯Ã���Ã��Ã�¿Ã���Ã��Ã�½Ã���Ã�¯Ã�¿Ã�½Ã��Ã�¯Ã��Ã�¿Ã��Ã�½Ã���Ã�¯Ã�¿Ã�½Ã���Ã��Ã�½Ã���Ã�¯Ã�¿Ã�½Ã��Ã�¯Ã��Ã�¿Ã��Ã�½Ã���Ã��Ã�¯Ã���Ã��Ã�¿Ã���Ã��Ã�½Ã���Ã�¯Ã�¿Ã�½Ã���Ã��Ã�¯Ã���Ã�¯Ã�¿Ã�½Ã���Ã��Ã�¿Ã���Ã�¯Ã�¿Ã�½Ã���Ã��Ã�½Ã���Ã�¯Ã�¿Ã�½Ã��Ã�¯Ã��Ã�¿Ã��Ã�½Ã���Ã�¯Ã�¿Ã�½Ã���Ã��Ã�¯Ã���Ã�¯Ã�¿Ã�½Ã��Ã�¯Ã��Ã�¿Ã��Ã�½Ã���Ã�¯Ã�¿Ã�½Ã���Ã��Ã�¿Ã���Ã�¯Ã�¿Ã�½Ã��Ã�¯Ã��Ã�¿Ã��Ã�½Ã���Ã�¯Ã�¿Ã�½Ã���Ã��Ã�½Ã���Ã�¯Ã�¿Ã�½Ã��Ã�¯Ã��Ã�¿Ã��Ã�½Ã���Ã��Ã�¯Ã���Ã��Ã�¿Ã���Ã��Ã�½Ã���Ã�¯Ã�¿Ã�½Ã���Ã��Ã�¯Ã���Ã�¯Ã�¿Ã�½Ã���Ã��Ã�¿Ã���Ã�¯Ã�¿Ã�½Ã���Ã��Ã�½Ã���Ã�¯Ã�¿Ã�½Ã��Ã�¯Ã��Ã�¿Ã��Ã�½Ã���Ã��Ã�¯Ã���Ã��Ã�¿Ã���Ã��Ã�½Ã���Ã�¯Ã�¿Ã�½Ã��Ã�¯Ã��Ã�¿Ã��Ã�½Ã���Ã�¯Ã�¿Ã�½Ã���Ã��Ã�¯Ã���Ã�¯Ã�¿Ã�½Ã��Ã�¯Ã��Ã�¿Ã��Ã�½Ã���Ã��Ã�¯Ã���Ã��Ã�¿Ã���Ã��Ã�½Ã���Ã�¯Ã�¿Ã�½Ã���Ã��Ã�¯Ã���Ã�¯Ã�¿Ã�½Ã���Ã��Ã�¿Ã���Ã�¯Ã�¿Ã�½Ã���Ã��Ã�½Ã���Ã�¯Ã�¿Ã�½Ã��Ã�¯Ã��Ã�¿Ã��Ã�½Ã���Ã�¯Ã�¿Ã�½Ã���Ã��Ã�¯Ã���Ã�¯Ã�¿Ã�½Ã��Ã�¯Ã��Ã�¿Ã��Ã�½Ã���Ã�¯Ã�¿Ã�½Ã���Ã��Ã�¿Ã���Ã�¯Ã�¿Ã�½Ã��Ã�¯Ã��Ã�¿Ã��Ã�½Ã���Ã�¯Ã�¿Ã�½Ã���Ã��Ã�½Ã���Ã�¯Ã�¿Ã�½Ã��Ã�¯Ã��Ã�¿Ã��Ã�½Ã���Ã��Ã�¯Ã���Ã��Ã�¿Ã���Ã��Ã�½Ã���Ã�¯Ã�¿Ã�½Ã��Ã�¯Ã��Ã�¿Ã��Ã�½Ã���Ã�¯Ã�¿Ã�½Ã���Ã��Ã�¯Ã���Ã�¯Ã�¿Ã�½Ã��Ã�¯Ã��Ã�¿Ã��Ã�½Ã���Ã��Ã�¯Ã���Ã��Ã�¿Ã���Ã��Ã�½Ã���Ã�¯Ã�¿Ã�½Ã��Ã�¯Ã��Ã�¿Ã��Ã�½Ã���Ã�¯Ã�¿Ã�½Ã���Ã��Ã�¿Ã���Ã�¯Ã�¿Ã�½Ã��Ã�¯Ã��Ã�¿Ã��Ã�½Ã���Ã��Ã�¯Ã���Ã��Ã�¿Ã���Ã��Ã�½Ã���Ã�¯Ã�¿Ã�½Ã��Ã�¯Ã��Ã�¿Ã��Ã�½Ã���Ã�¯Ã�¿Ã�½Ã���Ã��Ã�½Ã���Ã�¯Ã�¿Ã�½Ã��Ã�¯Ã��Ã�¿Ã��Ã�½Ã���Ã��Ã�¯Ã���Ã��Ã�¿Ã���Ã��Ã�½Ã���Ã�¯Ã�¿Ã�½Ã���Ã��Ã�¯Ã���Ã�¯Ã�¿Ã�½Ã���Ã��Ã�¿Ã���Ã�¯Ã�¿Ã�½Ã���Ã��Ã�½Ã���Ã�¯Ã�¿Ã�½Ã��Ã�¯Ã��Ã�¿Ã��Ã�½Ã���Ã�¯Ã�¿Ã�½Ã���Ã��Ã�¯Ã���Ã�¯Ã�¿Ã�½Ã��Ã�¯Ã��Ã�¿Ã��Ã�½Ã���Ã�¯Ã�¿Ã�½Ã���Ã��Ã�¿Ã���Ã�¯Ã�¿Ã�½Ã��Ã�¯Ã��Ã�¿Ã��Ã�½Ã���Ã�¯Ã�¿Ã�½Ã���Ã��Ã�½Ã���Ã�¯Ã�¿Ã�½Ã��Ã�¯Ã��Ã�¿Ã��Ã�½Ã���Ã��Ã�¯Ã���Ã��Ã�¿Ã���Ã��Ã�½Ã���Ã�¯Ã�¿Ã�½Ã���Ã��Ã�¯Ã���Ã�¯Ã�¿Ã�½Ã���Ã��Ã�¿Ã���Ã�¯Ã�¿Ã�½Ã���Ã��Ã�½Ã���Ã�¯Ã�¿Ã�½Ã��Ã�¯Ã��Ã�¿Ã��Ã�½Ã���Ã��Ã�¯Ã���Ã��Ã�¿Ã���Ã��Ã�½Ã���Ã�¯Ã�¿Ã�½Ã��Ã�¯Ã��Ã�¿Ã��Ã�½Ã���Ã�¯Ã�¿Ã�½Ã���Ã��Ã�¿Ã���Ã�¯Ã�¿Ã�½Ã��Ã�¯Ã��Ã�¿Ã��Ã�½Ã���Ã��Ã�¯Ã���Ã��Ã�¿Ã���Ã��Ã�½Ã���Ã�¯Ã�¿Ã�½Ã���Ã��Ã�¯Ã���Ã�¯Ã�¿Ã�½Ã���Ã��Ã�¿Ã���Ã�¯Ã�¿Ã�½Ã���Ã��Ã�½Ã���Ã�¯Ã�¿Ã�½Ã��Ã�¯Ã��Ã�¿Ã��Ã�½Ã���Ã�¯Ã�¿Ã�½Ã���Ã��Ã�¯Ã���Ã�¯Ã�¿Ã�½Ã��Ã�¯Ã��Ã�¿Ã��Ã�½Ã���Ã�¯Ã�¿Ã�½Ã���Ã��Ã�¿Ã���Ã�¯Ã�¿Ã�½Ã��Ã�¯Ã��Ã�¿Ã��Ã�½Ã���Ã�¯Ã�¿Ã�½Ã���Ã��Ã�½Ã���Ã�¯Ã�¿Ã�½Ã��Ã�¯Ã��Ã�¿Ã��Ã�½Ã���Ã��Ã�¯Ã���Ã��Ã�¿Ã���Ã��Ã�½Ã���Ã�¯Ã�¿Ã�½Ã��Ã�¯Ã��Ã�¿Ã��Ã�½Ã���Ã�¯Ã�¿Ã�½Ã���Ã��Ã�¯Ã���Ã�¯Ã�¿Ã�½Ã��Ã�¯Ã��Ã�¿Ã��Ã�½Ã���Ã��Ã�¯Ã���Ã��Ã�¿Ã���Ã��Ã�½Ã���Ã�¯Ã�¿Ã�½Ã��Ã�¯Ã��Ã�¿Ã��Ã�½Ã���Ã�¯Ã�¿Ã�½Ã���Ã��Ã�¿Ã���Ã�¯Ã�¿Ã�½Ã��Ã�¯Ã��Ã�¿Ã��Ã�½Ã���Ã��Ã�¯Ã���Ã��Ã�¿Ã���Ã��Ã�½Ã���Ã�¯Ã�¿Ã�½Ã��Ã�¯Ã��Ã�¿Ã��Ã�½Ã���Ã�¯Ã�¿Ã�½Ã���Ã��Ã�½Ã���Ã�¯Ã�¿Ã�½Ã��Ã�¯Ã��Ã�¿Ã��Ã�½Ã���Ã��Ã�¯Ã���Ã��Ã�¿Ã���Ã��Ã�½Ã���Ã�¯Ã�¿Ã�½Ã���Ã��Ã�¯Ã���Ã�¯Ã�¿Ã�½Ã���Ã��Ã�¿Ã���Ã�¯Ã�¿Ã�½Ã���Ã��Ã�½Ã���Ã�¯Ã�¿Ã�½Ã��Ã�¯Ã��Ã�¿Ã��Ã�½Ã���Ã�¯Ã�¿Ã�½Ã���Ã��Ã�¯Ã���Ã�¯Ã�¿Ã�½Ã��Ã�¯Ã��Ã�¿Ã��Ã�½Ã���Ã�¯Ã�¿Ã�½Ã���Ã��Ã�¿Ã���Ã�¯Ã�¿Ã�½Ã��Ã�¯Ã��Ã�¿Ã��Ã�½Ã���Ã�¯Ã�¿Ã�½Ã���Ã��Ã�½Ã���Ã�¯Ã�¿Ã�½Ã��Ã�¯Ã��Ã�¿Ã��Ã�½Ã���Ã��Ã�¯Ã���Ã��Ã�¿Ã���Ã��Ã�½Ã���Ã�¯Ã�¿Ã�½Ã���Ã��Ã�¯Ã���Ã�¯Ã�¿Ã�½Ã���Ã��Ã�¿Ã���Ã�¯Ã�¿Ã�½Ã���Ã��Ã�½Ã���Ã�¯Ã�¿Ã�½Ã��Ã�¯Ã��Ã�¿Ã��Ã�½Ã���Ã��Ã�¯Ã���Ã��Ã�¿Ã���Ã��Ã�½Ã���Ã�¯Ã�¿Ã�½Ã��Ã�¯Ã��Ã�¿Ã��Ã�½Ã���Ã�¯Ã�¿Ã�½Ã���Ã��Ã�½Ã���Ã�¯Ã�¿Ã�½Ã��Ã�¯Ã��Ã�¿Ã��Ã�½Ã���Ã��Ã�¯Ã���Ã��Ã�¿Ã���Ã��Ã�½Ã���Ã�¯Ã�¿Ã�½Ã���Ã��Ã�¯Ã���Ã�¯Ã�¿Ã�½Ã���Ã��Ã�¿Ã���Ã�¯Ã�¿Ã�½Ã���Ã��Ã�½Ã���Ã�¯Ã�¿Ã�½Ã��Ã�¯Ã��Ã�¿Ã��Ã�½Ã���Ã�¯Ã�¿Ã�½Ã���Ã��Ã�¯Ã���Ã�¯Ã�¿Ã�½Ã��Ã�¯Ã��Ã�¿Ã��Ã�½Ã���Ã�¯Ã�¿Ã�½Ã���Ã��Ã�¿Ã���Ã�¯Ã�¿Ã�½Ã��Ã�¯Ã��Ã�¿Ã��Ã�½Ã���Ã�¯Ã�¿Ã�½Ã���Ã��Ã�½Ã���Ã�¯Ã�¿Ã�½Ã��Ã�¯Ã��Ã�¿Ã��Ã�½Ã���Ã��Ã�¯Ã���Ã��Ã�¿Ã���Ã��Ã�½Ã���Ã�¯Ã�¿Ã�½Ã��Ã�¯Ã��Ã�¿Ã��Ã�½Ã���Ã�¯Ã�¿Ã�½Ã���Ã��Ã�¯Ã���Ã�¯Ã�¿Ã�½Ã��Ã�¯Ã��Ã�¿Ã��Ã�½Ã���Ã��Ã�¯Ã���Ã��Ã�¿Ã���Ã��Ã�½Ã���Ã�¯Ã�¿Ã�½Ã��Ã�¯Ã��Ã�¿Ã��Ã�½Ã���Ã�¯Ã�¿Ã�½Ã���Ã��Ã�¿Ã���Ã�¯Ã�¿Ã�½Ã��Ã�¯Ã��Ã�¿Ã��Ã�½Ã���Ã��Ã�¯Ã���Ã��Ã�¿Ã���Ã��Ã�½Ã���Ã�¯Ã�¿Ã�½Ã��Ã�¯Ã��Ã�¿Ã��Ã�½Ã���Ã�¯Ã�¿Ã�½Ã���Ã��Ã�½Ã���Ã�¯Ã�¿Ã�½Ã��Ã�¯Ã��Ã�¿Ã��Ã�½Ã���Ã��Ã�¯Ã���Ã��Ã�¿Ã���Ã��Ã�½Ã���Ã�¯Ã�¿Ã�½Ã���Ã��Ã�¯Ã���Ã�¯Ã�¿Ã�½Ã���Ã��Ã�¿Ã���Ã�¯Ã�¿Ã�½Ã���Ã��Ã�½Ã���Ã�¯Ã�¿Ã�½Ã��Ã�¯Ã��Ã�¿Ã��Ã�½Ã���Ã��Ã�¯Ã���Ã��Ã�¿Ã���Ã��Ã�½Ã���Ã�¯Ã�¿Ã�½Ã��Ã�¯Ã��Ã�¿Ã��Ã�½Ã���Ã�¯Ã�¿Ã�½Ã���Ã��Ã�¯Ã���Ã�¯Ã�¿Ã�½Ã��Ã�¯Ã��Ã�¿Ã��Ã�½Ã���Ã��Ã�¯Ã���Ã��Ã�¿Ã���Ã��Ã�½Ã���Ã�¯Ã�¿Ã�½Ã���Ã��Ã�¯Ã���Ã�¯Ã�¿Ã�½Ã���Ã��Ã�¿Ã���Ã�¯Ã�¿Ã�½Ã���Ã��Ã�½Ã���Ã�¯Ã�¿Ã�½Ã��Ã�¯Ã��Ã�¿Ã��Ã�½Ã���Ã��Ã�¯Ã���Ã��Ã�¿Ã���Ã��Ã�½Ã���Ã�¯Ã�¿Ã�½Ã��Ã�¯Ã��Ã�¿Ã��Ã�½Ã���Ã�¯Ã�¿Ã�½Ã���Ã��Ã�¿Ã���Ã�¯Ã�¿Ã�½Ã��Ã�¯Ã��Ã�¿Ã��Ã�½Ã���Ã��Ã�¯Ã���Ã��Ã�¿Ã���Ã��Ã�½Ã���Ã�¯Ã�¿Ã�½Ã���Ã��Ã�¯Ã���Ã�¯Ã�¿Ã�½Ã���Ã��Ã�¿Ã���Ã�¯Ã�¿Ã�½Ã���Ã��Ã�½Ã���Ã�¯Ã�¿Ã�½Ã��Ã�¯Ã��Ã�¿Ã��Ã�½Ã���Ã��Ã�¯Ã���Ã��Ã�¿Ã���Ã��Ã�½Ã���Ã�¯Ã�¿Ã�½Ã��Ã�¯Ã��Ã�¿Ã��Ã�½Ã���Ã�¯Ã�¿Ã�½Ã���Ã��Ã�½Ã���Ã�¯Ã�¿Ã�½Ã��Ã�¯Ã��Ã�¿Ã��Ã�½Ã���Ã��Ã�¯Ã���Ã��Ã�¿Ã���Ã��Ã�½Ã���Ã�¯Ã�¿Ã�½Ã���Ã��Ã�¯Ã���Ã�¯Ã�¿Ã�½Ã���Ã��Ã�¿Ã���Ã�¯Ã�¿Ã�½Ã���Ã��Ã�½Ã���Ã�¯Ã�¿Ã�½Ã��Ã�¯Ã��Ã�¿Ã��Ã�½Ã���Ã�¯Ã�¿Ã�½Ã���Ã��Ã�¯Ã���Ã�¯Ã�¿Ã�½Ã��Ã�¯Ã��Ã�¿Ã��Ã�½Ã���Ã�¯Ã�¿Ã�½Ã���Ã��Ã�¿Ã���Ã�¯Ã�¿Ã�½Ã��Ã�¯Ã��Ã�¿Ã��Ã�½Ã���Ã�¯Ã�¿Ã�½Ã���Ã��Ã�½Ã���Ã�¯Ã�¿Ã�½Ã��Ã�¯Ã��Ã�¿Ã��Ã�½Ã���Ã��Ã�¯Ã���Ã��Ã�¿Ã���Ã��Ã�½Ã���Ã�¯Ã�¿Ã�½Ã��Ã�¯Ã��Ã�¿Ã��Ã�½Ã���Ã�¯Ã�¿Ã�½Ã���Ã��Ã�¯Ã���Ã�¯Ã�¿Ã�½Ã��Ã�¯Ã��Ã�¿Ã��Ã�½Ã���Ã��Ã�¯Ã���Ã��Ã�¿Ã���Ã��Ã�½Ã���Ã�¯Ã�¿Ã�½Ã��Ã�¯Ã��Ã�¿Ã��Ã�½Ã���Ã�¯Ã�¿Ã�½Ã���Ã��Ã�¿Ã���Ã�¯Ã�¿Ã�½Ã��Ã�¯Ã��Ã�¿Ã��Ã�½Ã���Ã��Ã�¯Ã���Ã��Ã�¿Ã���Ã��Ã�½Ã���Ã�¯Ã�¿Ã�½Ã��Ã�¯Ã��Ã�¿Ã��Ã�½Ã���Ã�¯Ã�¿Ã�½Ã���Ã��Ã�½Ã���Ã�¯Ã�¿Ã�½Ã��Ã�¯Ã��Ã�¿Ã��Ã�½Ã���Ã��Ã�¯Ã���Ã��Ã�¿Ã���Ã��Ã�½Ã���Ã�¯Ã�¿Ã�½Ã���Ã��Ã�¯Ã���Ã�¯Ã�¿Ã�½Ã���Ã��Ã�¿Ã���Ã�¯Ã�¿Ã�½Ã���Ã��Ã�½Ã���Ã�¯Ã�¿Ã�½Ã��Ã�¯Ã��Ã�¿Ã��Ã�½Ã���Ã�¯Ã�¿Ã�½Ã���Ã��Ã�¯Ã���Ã�¯Ã�¿Ã�½Ã��Ã�¯Ã��Ã�¿Ã��Ã�½Ã���Ã�¯Ã�¿Ã�½Ã���Ã��Ã�¿Ã���Ã�¯Ã�¿Ã�½Ã��Ã�¯Ã��Ã�¿Ã��Ã�½Ã���Ã�¯Ã�¿Ã�½Ã���Ã��Ã�½Ã���Ã�¯Ã�¿Ã�½Ã��Ã�¯Ã��Ã�¿Ã��Ã�½Ã���Ã��Ã�¯Ã���Ã��Ã�¿Ã���Ã��Ã�½Ã���Ã�¯Ã�¿Ã�½Ã���Ã��Ã�¯Ã���Ã�¯Ã�¿Ã�½Ã���Ã��Ã�¿Ã���Ã�¯Ã�¿Ã�½Ã���Ã��Ã�½Ã���Ã�¯Ã�¿Ã�½Ã��Ã�¯Ã��Ã�¿Ã��Ã�½Ã���Ã��Ã�¯Ã���Ã��Ã�¿Ã���Ã��Ã�½Ã���Ã�¯Ã�¿Ã�½Ã��Ã�¯Ã��Ã�¿Ã��Ã�½Ã���Ã�¯Ã�¿Ã�½Ã���Ã��Ã�¯Ã���Ã�¯Ã�¿Ã�½Ã��Ã�¯Ã��Ã�¿Ã��Ã�½Ã���Ã��Ã�¯Ã���Ã��Ã�¿Ã���Ã��Ã�½Ã���Ã�¯Ã�¿Ã�½Ã���Ã��Ã�¯Ã���Ã�¯Ã�¿Ã�½Ã���Ã��Ã�¿Ã���Ã�¯Ã�¿Ã�½Ã���Ã��Ã�½Ã���Ã�¯Ã�¿Ã�½Ã��Ã�¯Ã��Ã�¿Ã��Ã�½Ã���Ã�¯Ã�¿Ã�½Ã���Ã��Ã�¯Ã���Ã�¯Ã�¿Ã�½Ã��Ã�¯Ã��Ã�¿Ã��Ã�½Ã���Ã�¯Ã�¿Ã�½Ã���Ã��Ã�¿Ã���Ã�¯Ã�¿Ã�½Ã��Ã�¯Ã��Ã�¿Ã��Ã�½Ã���Ã�¯Ã�¿Ã�½Ã���Ã��Ã�½Ã���Ã�¯Ã�¿Ã�½Ã��Ã�¯Ã��Ã�¿Ã��Ã�½Ã���Ã��Ã�¯Ã���Ã��Ã�¿Ã���Ã��Ã�½Ã���Ã�¯Ã�¿Ã�½Ã��Ã�¯Ã��Ã�¿Ã��Ã�½Ã���Ã�¯Ã�¿Ã�½Ã���Ã��Ã�¯Ã���Ã�¯Ã�¿Ã�½Ã��Ã�¯Ã��Ã�¿Ã��Ã�½Ã���Ã��Ã�¯Ã���Ã��Ã�¿Ã���Ã��Ã�½Ã���Ã�¯Ã�¿Ã�½Ã��Ã�¯Ã��Ã�¿Ã��Ã�½Ã���Ã�¯Ã�¿Ã�½Ã���Ã��Ã�¿Ã���Ã�¯Ã�¿Ã�½Ã��Ã�¯Ã��Ã�¿Ã��Ã�½Ã���Ã��Ã�¯Ã���Ã��Ã�¿Ã���Ã��Ã�½Ã���Ã�¯Ã�¿Ã�½Ã��Ã�¯Ã��Ã�¿Ã��Ã�½Ã���Ã�¯Ã�¿Ã�½Ã���Ã��Ã�½Ã���Ã�¯Ã�¿Ã�½Ã��Ã�¯Ã��Ã�¿Ã��Ã�½Ã���Ã��Ã�¯Ã���Ã��Ã�¿Ã���Ã��Ã�½Ã���Ã�¯Ã�¿Ã�½Ã���Ã��Ã�¯Ã���Ã�¯Ã�¿Ã�½Ã���Ã��Ã�¿Ã���Ã�¯Ã�¿Ã�½Ã���Ã��Ã�½Ã���Ã�¯Ã�¿Ã�½Ã��Ã�¯Ã��Ã�¿Ã��Ã�½Ã���Ã��Ã�¯Ã���Ã��Ã�¿Ã���Ã��Ã�½Ã���Ã�¯Ã�¿Ã�½Ã��Ã�¯Ã��Ã�¿Ã��Ã�½Ã���Ã�¯Ã�¿Ã�½Ã���Ã��Ã�¯Ã���Ã�¯Ã�¿Ã�½Ã��Ã�¯Ã��Ã�¿Ã��Ã�½Ã���Ã��Ã�¯Ã���Ã��Ã�¿Ã���Ã��Ã�½Ã���Ã�¯Ã�¿Ã�½Ã���Ã��Ã�¯Ã���Ã�¯Ã�¿Ã�½Ã���Ã��Ã�¿Ã���Ã�¯Ã�¿Ã�½Ã���Ã��Ã�½Ã���Ã�¯Ã�¿Ã�½Ã��Ã�¯Ã��Ã�¿Ã��Ã�½Ã���Ã��Ã�¯Ã���Ã��Ã�¿Ã���Ã��Ã�½Ã���Ã�¯Ã�¿Ã�½Ã��Ã�¯Ã��Ã�¿Ã��Ã�½Ã���Ã�¯Ã�¿Ã�½Ã���Ã��Ã�¿Ã���Ã�¯Ã�¿Ã�½Ã��Ã�¯Ã��Ã�¿Ã��Ã�½Ã���Ã��Ã�¯Ã���Ã��Ã�¿Ã���Ã��Ã�½Ã���Ã�¯Ã�¿Ã�½Ã���Ã��Ã�¯Ã���Ã�¯Ã�¿Ã�½Ã���Ã��Ã�¿Ã���Ã�¯Ã�¿Ã�½Ã���Ã��Ã�½Ã���Ã�¯Ã�¿Ã�½Ã��Ã�¯Ã��Ã�¿Ã��Ã�½Ã���Ã��Ã�¯Ã���Ã��Ã�¿Ã���Ã��Ã�½Ã���Ã�¯Ã�¿Ã�½Ã��Ã�¯Ã��Ã�¿Ã��Ã�½Ã���Ã�¯Ã�¿Ã�½Ã���Ã��Ã�½Ã���Ã�¯Ã�¿Ã�½Ã��Ã�¯Ã��Ã�¿Ã��Ã�½Ã���Ã��Ã�¯Ã���Ã��Ã�¿Ã���Ã��Ã�½Ã���Ã�¯Ã�¿Ã�½Ã���Ã��Ã�¯Ã���Ã�¯Ã�¿Ã�½Ã���Ã��Ã�¿Ã���Ã�¯Ã�¿Ã�½Ã���Ã��Ã�½Ã���Ã�¯Ã�¿Ã�½Ã��Ã�¯Ã��Ã�¿Ã��Ã�½Ã���Ã�¯Ã�¿Ã�½Ã���Ã��Ã�¯Ã���Ã�¯Ã�¿Ã�½Ã��Ã�¯Ã��Ã�¿Ã��Ã�½Ã���Ã�¯Ã�¿Ã�½Ã���Ã��Ã�¿Ã���Ã�¯Ã�¿Ã�½Ã��Ã�¯Ã��Ã�¿Ã��Ã�½Ã���Ã�¯Ã�¿Ã�½Ã���Ã��Ã�½Ã���Ã�¯Ã�¿Ã�½Ã��Ã�¯Ã��Ã�¿Ã��Ã�½Ã���Ã��Ã�¯Ã���Ã��Ã�¿Ã���Ã��Ã�½Ã���Ã�¯Ã�¿Ã�½Ã��Ã�¯Ã��Ã�¿Ã��Ã�½Ã���Ã�¯Ã�¿Ã�½Ã���Ã��Ã�¯Ã���Ã�¯Ã�¿Ã�½Ã��Ã�¯Ã��Ã�¿Ã��Ã�½Ã���Ã��Ã�¯Ã���Ã��Ã�¿Ã���Ã��Ã�½Ã���Ã�¯Ã�¿Ã�½Ã��Ã�¯Ã��Ã�¿Ã��Ã�½Ã���Ã�¯Ã�¿Ã�½Ã���Ã��Ã�¿Ã���Ã�¯Ã�¿Ã�½Ã��Ã�¯Ã��Ã�¿Ã��Ã�½Ã���Ã��Ã�¯Ã���Ã��Ã�¿Ã���Ã��Ã�½Ã���Ã�¯Ã�¿Ã�½Ã��Ã�¯Ã��Ã�¿Ã��Ã�½Ã���Ã�¯Ã�¿Ã�½Ã���Ã��Ã�½Ã���Ã�¯Ã�¿Ã�½Ã��Ã�¯Ã��Ã�¿Ã��Ã�½Ã���Ã��Ã�¯Ã���Ã��Ã�¿Ã���Ã��Ã�½Ã���Ã�¯Ã�¿Ã�½Ã���Ã��Ã�¯Ã���Ã�¯Ã�¿Ã�½Ã���Ã��Ã�¿Ã���Ã�¯Ã�¿Ã�½Ã���Ã��Ã�½Ã���Ã�¯Ã�¿Ã�½Ã��Ã�¯Ã��Ã�¿Ã��Ã�½Ã���Ã�¯Ã�¿Ã�½Ã���Ã��Ã�¯Ã���Ã�¯Ã�¿Ã�½Ã��Ã�¯Ã��Ã�¿Ã��Ã�½Ã���Ã�¯Ã�¿Ã�½Ã���Ã��Ã�¿Ã���Ã�¯Ã�¿Ã�½Ã��Ã�¯Ã��Ã�¿Ã��Ã�½Ã���Ã�¯Ã�¿Ã�½Ã���Ã��Ã�½Ã���Ã�¯Ã�¿Ã�½Ã��Ã�¯Ã��Ã�¿Ã��Ã�½Ã���Ã��Ã�¯Ã���Ã��Ã�¿Ã���Ã��Ã�½Ã���Ã�¯Ã�¿Ã�½Ã���Ã��Ã�¯Ã���Ã�¯Ã�¿Ã�½Ã���Ã��Ã�¿Ã���Ã�¯Ã�¿Ã�½Ã���Ã��Ã�½Ã���Ã�¯Ã�¿Ã�½Ã��Ã�¯Ã��Ã�¿Ã��Ã�½Ã���Ã��Ã�¯Ã���Ã��Ã�¿Ã���Ã��Ã�½Ã���Ã�¯Ã�¿Ã�½Ã��Ã�¯Ã��Ã�¿Ã��Ã�½Ã���Ã�¯Ã�¿Ã�½Ã���Ã��Ã�¿Ã���Ã�¯Ã�¿Ã�½Ã��Ã�¯Ã��Ã�¿Ã��Ã�½Ã���Ã��Ã�¯Ã���Ã��Ã�¿Ã���Ã��Ã�½Ã���Ã�¯Ã�¿Ã�½Ã���Ã��Ã�¯Ã���Ã�¯Ã�¿Ã�½Ã���Ã��Ã�¿Ã���Ã�¯Ã�¿Ã�½Ã���Ã��Ã�½Ã���Ã�¯Ã�¿Ã�½Ã��Ã�¯Ã��Ã�¿Ã��Ã�½Ã���Ã�¯Ã�¿Ã�½Ã���Ã��Ã�¯Ã���Ã�¯Ã�¿Ã�½Ã��Ã�¯Ã��Ã�¿Ã��Ã�½Ã���Ã�¯Ã�¿Ã�½Ã���Ã��Ã�¿Ã���Ã�¯Ã�¿Ã�½Ã��Ã�¯Ã��Ã�¿Ã��Ã�½Ã���Ã�¯Ã�¿Ã�½Ã���Ã��Ã�½Ã���Ã�¯Ã�¿Ã�½Ã��Ã�¯Ã��Ã�¿Ã��Ã�½Ã���Ã��Ã�¯Ã���Ã��Ã�¿Ã���Ã��Ã�½Ã���Ã�¯Ã�¿Ã�½Ã��Ã�¯Ã��Ã�¿Ã��Ã�½Ã���Ã�¯Ã�¿Ã�½Ã���Ã��Ã�¯Ã���Ã�¯Ã�¿Ã�½Ã��Ã�¯Ã��Ã�¿Ã��Ã�½Ã���Ã��Ã�¯Ã���Ã��Ã�¿Ã���Ã��Ã�½Ã���Ã�¯Ã�¿Ã�½Ã��Ã�¯Ã��Ã�¿Ã��Ã�½Ã���Ã�¯Ã�¿Ã�½Ã���Ã��Ã�¿Ã���Ã�¯Ã�¿Ã�½Ã��Ã�¯Ã��Ã�¿Ã��Ã�½Ã���Ã��Ã�¯Ã���Ã��Ã�¿Ã���Ã��Ã�½Ã���Ã�¯Ã�¿Ã�½Ã��Ã�¯Ã��Ã�¿Ã��Ã�½Ã���Ã�¯Ã�¿Ã�½Ã���Ã��Ã�½Ã���Ã�¯Ã�¿Ã�½Ã��Ã�¯Ã��Ã�¿Ã��Ã�½Ã���Ã��Ã�¯Ã���Ã��Ã�¿Ã���Ã��Ã�½Ã���Ã�¯Ã�¿Ã�½Ã���Ã��Ã�¯Ã���Ã�¯Ã�¿Ã�½Ã���Ã��Ã�¿Ã���Ã�¯Ã�¿Ã�½Ã���Ã��Ã�½Ã���Ã�¯Ã�¿Ã�½Ã��Ã�¯Ã��Ã�¿Ã��Ã�½Ã���Ã��Ã�¯Ã���Ã��Ã�¿Ã���Ã��Ã�½Ã���Ã�¯Ã�¿Ã�½Ã��Ã�¯Ã��Ã�¿Ã��Ã�½Ã���Ã�¯Ã�¿Ã�½Ã���Ã��Ã�¯Ã���Ã�¯Ã�¿Ã�½Ã��Ã�¯Ã��Ã�¿Ã��Ã�½Ã���Ã��Ã�¯Ã���Ã��Ã�¿Ã���Ã��Ã�½Ã���Ã�¯Ã�¿Ã�½Ã���Ã��Ã�¯Ã���Ã�¯Ã�¿Ã�½Ã���Ã��Ã�¿Ã���Ã�¯Ã�¿Ã�½Ã���Ã��Ã�½Ã���Ã�¯Ã�¿Ã�½Ã��Ã�¯Ã��Ã�¿Ã��Ã�½Ã���Ã��Ã�¯Ã���Ã��Ã�¿Ã���Ã��Ã�½Ã���Ã�¯Ã�¿Ã�½Ã��Ã�¯Ã��Ã�¿Ã��Ã�½Ã���Ã�¯Ã�¿Ã�½Ã���Ã��Ã�¿Ã���Ã�¯Ã�¿Ã�½Ã��Ã�¯Ã��Ã�¿Ã��Ã�½Ã���Ã��Ã�¯Ã���Ã��Ã�¿Ã���Ã��Ã�½Ã���Ã�¯Ã�¿Ã�½Ã���Ã��Ã�¯Ã���Ã�¯Ã�¿Ã�½Ã���Ã��Ã�¿Ã���Ã�¯Ã�¿Ã�½Ã���Ã��Ã�½Ã���Ã�¯Ã�¿Ã�½Ã��Ã�¯Ã��Ã�¿Ã��Ã�½Ã���Ã��Ã�¯Ã���Ã��Ã�¿Ã���Ã��Ã�½Ã���Ã�¯Ã�¿Ã�½Ã��Ã�¯Ã��Ã�¿Ã��Ã�½Ã���Ã�¯Ã�¿Ã�½Ã���Ã��Ã�½Ã���Ã�¯Ã�¿Ã�½Ã��Ã�¯Ã��Ã�¿Ã��Ã�½Ã���Ã��Ã�¯Ã���Ã��Ã�¿Ã���Ã��Ã�½Ã���Ã�¯Ã�¿Ã�½Ã���Ã��Ã�¯Ã���Ã�¯Ã�¿Ã�½Ã���Ã��Ã�¿Ã���Ã�¯Ã�¿Ã�½Ã���Ã��Ã�½Ã���Ã�¯Ã�¿Ã�½Ã��Ã�¯Ã��Ã�¿Ã��Ã�½Ã���Ã�¯Ã�¿Ã�½Ã���Ã��Ã�¯Ã���Ã�¯Ã�¿Ã�½Ã��Ã�¯Ã��Ã�¿Ã��Ã�½Ã���Ã�¯Ã�¿Ã�½Ã���Ã��Ã�¿Ã���Ã�¯Ã�¿Ã�½Ã��Ã�¯Ã��Ã�¿Ã��Ã�½Ã���Ã�¯Ã�¿Ã�½Ã���Ã��Ã�½Ã���Ã�¯Ã�¿Ã�½Ã��Ã�¯Ã��Ã�¿Ã��Ã�½Ã���Ã��Ã�¯Ã���Ã��Ã�¿Ã���Ã��Ã�½Ã���Ã�¯Ã�¿Ã�½Ã��Ã�¯Ã��Ã�¿Ã��Ã�½Ã���Ã�¯Ã�¿Ã�½Ã���Ã��Ã�¯Ã���Ã�¯Ã�¿Ã�½Ã��Ã�¯Ã��Ã�¿Ã��Ã�½Ã���Ã��Ã�¯Ã���Ã��Ã�¿Ã���Ã��Ã�½Ã���Ã�¯Ã�¿Ã�½Ã��Ã�¯Ã��Ã�¿Ã��Ã�½Ã���Ã�¯Ã�¿Ã�½Ã���Ã��Ã�¿Ã���Ã�¯Ã�¿Ã�½Ã��Ã�¯Ã��Ã�¿Ã��Ã�½Ã���Ã��Ã�¯Ã���Ã��Ã�¿Ã���Ã��Ã�½Ã���Ã�¯Ã�¿Ã�½Ã��Ã�¯Ã��Ã�¿Ã��Ã�½Ã���Ã�¯Ã�¿Ã�½Ã���Ã��Ã�½Ã���Ã�¯Ã�¿Ã�½Ã��Ã�¯Ã��Ã�¿Ã��Ã�½Ã���Ã��Ã�¯Ã���Ã��Ã�¿Ã���Ã��Ã�½Ã���Ã�¯Ã�¿Ã�½Ã���Ã��Ã�¯Ã���Ã�¯Ã�¿Ã�½Ã���Ã��Ã�¿Ã���Ã�¯Ã�¿Ã�½Ã���Ã��Ã�½Ã���Ã�¯Ã�¿Ã�½Ã��Ã�¯Ã��Ã�¿Ã��Ã�½Ã���Ã�¯Ã�¿Ã�½Ã���Ã��Ã�¯Ã���Ã�¯Ã�¿Ã�½Ã��Ã�¯Ã��Ã�¿Ã��Ã�½Ã���Ã�¯Ã�¿Ã�½Ã���Ã��Ã�¿Ã���Ã�¯Ã�¿Ã�½Ã��Ã�¯Ã��Ã�¿Ã��Ã�½Ã���Ã�¯Ã�¿Ã�½Ã���Ã��Ã�½Ã���Ã�¯Ã�¿Ã�½Ã��Ã�¯Ã��Ã�¿Ã��Ã�½Ã���Ã��Ã�¯Ã���Ã��Ã�¿Ã���Ã��Ã�½Ã���Ã�¯Ã�¿Ã�½Ã���Ã��Ã�¯Ã���Ã�¯Ã�¿Ã�½Ã���Ã��Ã�¿Ã���Ã�¯Ã�¿Ã�½Ã���Ã��Ã�½Ã���Ã�¯Ã�¿Ã�½Ã��Ã�¯Ã��Ã�¿Ã��Ã�½Ã���Ã��Ã�¯Ã���Ã��Ã�¿Ã���Ã��Ã�½Ã���Ã�¯Ã�¿Ã�½Ã��Ã�¯Ã��Ã�¿Ã��Ã�½Ã���Ã�¯Ã�¿Ã�½Ã���Ã��Ã�½Ã���Ã�¯Ã�¿Ã�½Ã��Ã�¯Ã��Ã�¿Ã��Ã�½Ã���Ã��Ã�¯Ã���Ã��Ã�¿Ã���Ã��Ã�½Ã���Ã�¯Ã�¿Ã�½Ã���Ã��Ã�¯Ã���Ã�¯Ã�¿Ã�½Ã���Ã��Ã�¿Ã���Ã�¯Ã�¿Ã�½Ã���Ã��Ã�½Ã���Ã�¯Ã�¿Ã�½Ã��Ã�¯Ã��Ã�¿Ã��Ã�½Ã���Ã�¯Ã�¿Ã�½Ã���Ã��Ã�¯Ã���Ã�¯Ã�¿Ã�½Ã��Ã�¯Ã��Ã�¿Ã��Ã�½Ã���Ã�¯Ã�¿Ã�½Ã���Ã��Ã�¿Ã���Ã�¯Ã�¿Ã�½Ã��Ã�¯Ã��Ã�¿Ã��Ã�½Ã���Ã�¯Ã�¿Ã�½Ã���Ã��Ã�½Ã���Ã�¯Ã�¿Ã�½Ã��Ã�¯Ã��Ã�¿Ã��Ã�½Ã���Ã��Ã�¯Ã���Ã��Ã�¿Ã���Ã��Ã�½Ã���Ã�¯Ã�¿Ã�½Ã��Ã�¯Ã��Ã�¿Ã��Ã�½Ã���Ã�¯Ã�¿Ã�½Ã���Ã��Ã�¯Ã���Ã�¯Ã�¿Ã�½Ã��Ã�¯Ã��Ã�¿Ã��Ã�½Ã���Ã��Ã�¯Ã���Ã��Ã�¿Ã���Ã��Ã�½Ã���Ã�¯Ã�¿Ã�½Ã��Ã�¯Ã��Ã�¿Ã��Ã�½Ã���Ã�¯Ã�¿Ã�½Ã���Ã��Ã�¿Ã���Ã�¯Ã�¿Ã�½Ã��Ã�¯Ã��Ã�¿Ã��Ã�½Ã���Ã��Ã�¯Ã���Ã��Ã�¿Ã���Ã��Ã�½Ã���Ã�¯Ã�¿Ã�½Ã��Ã�¯Ã��Ã�¿Ã��Ã�½Ã���Ã�¯Ã�¿Ã�½Ã���Ã��Ã�½Ã���Ã�¯Ã�¿Ã�½Ã��Ã�¯Ã��Ã�¿Ã��Ã�½Ã���Ã��Ã�¯Ã���Ã��Ã�¿Ã���Ã��Ã�½Ã���Ã�¯Ã�¿Ã�½Ã���Ã��Ã�¯Ã���Ã�¯Ã�¿Ã�½Ã���Ã��Ã�¿Ã���Ã�¯Ã�¿Ã�½Ã���Ã��Ã�½Ã���Ã�¯Ã�¿Ã�½Ã��Ã�¯Ã��Ã�¿Ã��Ã�½Ã���Ã��Ã�¯Ã���Ã��Ã�¿Ã���Ã��Ã�½Ã���Ã�¯Ã�¿Ã�½Ã��Ã�¯Ã��Ã�¿Ã��Ã�½Ã���Ã�¯Ã�¿Ã�½Ã���Ã��Ã�¯Ã���Ã�¯Ã�¿Ã�½Ã��Ã�¯Ã��Ã�¿Ã��Ã�½Ã���Ã��Ã�¯Ã���Ã��Ã�¿Ã���Ã��Ã�½Ã���Ã�¯Ã�¿Ã�½Ã���Ã��Ã�¯Ã���Ã�¯Ã�¿Ã�½Ã���Ã��Ã�¿Ã���Ã�¯Ã�¿Ã�½Ã���Ã��Ã�½Ã���Ã�¯Ã�¿Ã�½Ã��Ã�¯Ã��Ã�¿Ã��Ã�½Ã���Ã��Ã�¯Ã���Ã��Ã�¿Ã���Ã��Ã�½Ã���Ã�¯Ã�¿Ã�½Ã��Ã�¯Ã��Ã�¿Ã��Ã�½Ã���Ã�¯Ã�¿Ã�½Ã���Ã��Ã�¿Ã���Ã�¯Ã�¿Ã�½Ã��Ã�¯Ã��Ã�¿Ã��Ã�½Ã���Ã��Ã�¯Ã���Ã��Ã�¿Ã���Ã��Ã�½Ã���Ã�¯Ã�¿Ã�½Ã���Ã��Ã�¯Ã���Ã�¯Ã�¿Ã�½Ã���Ã��Ã�¿Ã���Ã�¯Ã�¿Ã�½Ã���Ã��Ã�½Ã���Ã�¯Ã�¿Ã�½Ã��Ã�¯Ã��Ã�¿Ã��Ã�½Ã���Ã��Ã�¯Ã���Ã��Ã�¿Ã���Ã��Ã�½Ã���Ã�¯Ã�¿Ã�½Ã��Ã�¯Ã��Ã�¿Ã��Ã�½Ã���Ã�¯Ã�¿Ã�½Ã���Ã��Ã�½Ã���Ã�¯Ã�¿Ã�½Ã��Ã�¯Ã��Ã�¿Ã��Ã�½Ã���Ã��Ã�¯Ã���Ã��Ã�¿Ã���Ã��Ã�½Ã���Ã�¯Ã�¿Ã�½Ã���Ã��Ã�¯Ã���Ã�¯Ã�¿Ã�½Ã���Ã��Ã�¿Ã���Ã�¯Ã�¿Ã�½Ã���Ã��Ã�½Ã���Ã�¯Ã�¿Ã�½Ã��Ã�¯Ã��Ã�¿Ã��Ã�½Ã���Ã�¯Ã�¿Ã�½Ã���Ã��Ã�¯Ã���Ã�¯Ã�¿Ã�½Ã��Ã�¯Ã��Ã�¿Ã��Ã�½Ã���Ã�¯Ã�¿Ã�½Ã���Ã��Ã�¿Ã���Ã�¯Ã�¿Ã�½Ã��Ã�¯Ã��Ã�¿Ã��Ã�½Ã���Ã�¯Ã�¿Ã�½Ã���Ã��Ã�½Ã���Ã�¯Ã�¿Ã�½Ã��Ã�¯Ã��Ã�¿Ã��Ã�½Ã���Ã��Ã�¯Ã���Ã��Ã�¿Ã���Ã��Ã�½Ã���Ã�¯Ã�¿Ã�½Ã���Ã��Ã�¯Ã���Ã�¯Ã�¿Ã�½Ã���Ã��Ã�¿Ã���Ã�¯Ã�¿Ã�½Ã���Ã��Ã�½Ã���Ã�¯Ã�¿Ã�½Ã��Ã�¯Ã��Ã�¿Ã��Ã�½Ã���Ã��Ã�¯Ã���Ã��Ã�¿Ã���Ã��Ã�½Ã���Ã�¯Ã�¿Ã�½Ã��Ã�¯Ã��Ã�¿Ã��Ã�½Ã���Ã�¯Ã�¿Ã�½Ã���Ã��Ã�¯Ã���Ã�¯Ã�¿Ã�½Ã��Ã�¯Ã��Ã�¿Ã��Ã�½Ã���Ã��Ã�¯Ã���Ã��Ã�¿Ã���Ã��Ã�½Ã���Ã�¯Ã�¿Ã�½Ã���Ã��Ã�¯Ã���Ã�¯Ã�¿Ã�½Ã���Ã��Ã�¿Ã���Ã�¯Ã�¿Ã�½Ã���Ã��Ã�½Ã���Ã�¯Ã�¿Ã�½Ã��Ã�¯Ã��Ã�¿Ã��Ã�½Ã���Ã�¯Ã�¿Ã�½Ã���Ã��Ã�¯Ã���Ã�¯Ã�¿Ã�½Ã��Ã�¯Ã��Ã�¿Ã��Ã�½Ã���Ã�¯Ã�¿Ã�½Ã���Ã��Ã�¿Ã���Ã�¯Ã�¿Ã�½Ã��Ã�¯Ã��Ã�¿Ã��Ã�½Ã���Ã�¯Ã�¿Ã�½Ã���Ã��Ã�½Ã���Ã�¯Ã�¿Ã�½Ã��Ã�¯Ã��Ã�¿Ã��Ã�½Ã���Ã��Ã�¯Ã���Ã��Ã�¿Ã���Ã��Ã�½Ã���Ã�¯Ã�¿Ã�½Ã���Ã��Ã�¯Ã���Ã�¯Ã�¿Ã�½Ã���Ã��Ã�¿Ã���Ã�¯Ã�¿Ã�½Ã���Ã��Ã�½Ã���Ã�¯Ã�¿Ã�½Ã��Ã�¯Ã��Ã�¿Ã��Ã�½Ã���Ã��Ã�¯Ã���Ã��Ã�¿Ã���Ã��Ã�½Ã���Ã�¯Ã�¿Ã�½Ã��Ã�¯Ã��Ã�¿Ã��Ã�½Ã���Ã�¯Ã�¿Ã�½Ã���Ã��Ã�¿Ã���Ã�¯Ã�¿Ã�½Ã��Ã�¯Ã��Ã�¿Ã��Ã�½Ã���Ã��Ã�¯Ã���Ã��Ã�¿Ã���Ã��Ã�½Ã���Ã�¯Ã�¿Ã�½Ã���Ã��Ã�¯Ã���Ã�¯Ã�¿Ã�½Ã���Ã��Ã�¿Ã���Ã�¯Ã�¿Ã�½Ã���Ã��Ã�½Ã���Ã�¯Ã�¿Ã�½Ã��Ã�¯Ã��Ã�¿Ã��Ã�½Ã���Ã�¯Ã�¿Ã�½Ã���Ã��Ã�¯Ã���Ã�¯Ã�¿Ã�½Ã��Ã�¯Ã��Ã�¿Ã��Ã�½Ã���Ã�¯Ã�¿Ã�½Ã���Ã��Ã�¿Ã���Ã�¯Ã�¿Ã�½Ã��Ã�¯Ã��Ã�¿Ã��Ã�½Ã���Ã�¯Ã�¿Ã�½Ã���Ã��Ã�½Ã���Ã�¯Ã�¿Ã�½Ã��Ã�¯Ã��Ã�¿Ã��Ã�½Ã���Ã��Ã�¯Ã���Ã��Ã�¿Ã���Ã��Ã�½Ã���Ã�¯Ã�¿Ã�½Ã���Ã��Ã�¯Ã���Ã�¯Ã�¿Ã�½Ã���Ã��Ã�¿Ã���Ã�¯Ã�¿Ã�½Ã���Ã��Ã�½Ã���Ã�¯Ã�¿Ã�½Ã��Ã�¯Ã��Ã�¿Ã��Ã�½Ã���Ã��Ã�¯Ã���Ã��Ã�¿Ã���Ã��Ã�½Ã���Ã�¯Ã�¿Ã�½Ã��Ã�¯Ã��Ã�¿Ã��Ã�½Ã���Ã�¯Ã�¿Ã�½Ã���Ã��Ã�½Ã���Ã�¯Ã�¿Ã�½Ã��Ã�¯Ã��Ã�¿Ã��Ã�½Ã���Ã��Ã�¯Ã���Ã��Ã�¿Ã���Ã��Ã�½Ã���Ã�¯Ã�¿Ã�½Ã���Ã��Ã�¯Ã���Ã�¯Ã�¿Ã�½Ã���Ã��Ã�¿Ã���Ã�¯Ã�¿Ã�½Ã���Ã��Ã�½Ã���Ã�¯Ã�¿Ã�½Ã��Ã�¯Ã��Ã�¿Ã��Ã�½Ã���Ã�¯Ã�¿Ã�½Ã���Ã��Ã�¯Ã���Ã�¯Ã�¿Ã�½Ã��Ã�¯Ã��Ã�¿Ã��Ã�½Ã���Ã�¯Ã�¿Ã�½Ã���Ã��Ã�¿Ã���Ã�¯Ã�¿Ã�½Ã��Ã�¯Ã��Ã�¿Ã��Ã�½Ã���Ã�¯Ã�¿Ã�½Ã���Ã��Ã�½Ã���Ã�¯Ã�¿Ã�½Ã��Ã�¯Ã��Ã�¿Ã��Ã�½Ã���Ã��Ã�¯Ã���Ã��Ã�¿Ã���Ã��Ã�½Ã���Ã�¯Ã�¿Ã�½Ã��Ã�¯Ã��Ã�¿Ã��Ã�½Ã���Ã�¯Ã�¿Ã�½Ã���Ã��Ã�¯Ã���Ã�¯Ã�¿Ã�½Ã��Ã�¯Ã��Ã�¿Ã��Ã�½Ã���Ã��Ã�¯Ã���Ã��Ã�¿Ã���Ã��Ã�½Ã���Ã�¯Ã�¿Ã�½Ã��Ã�¯Ã��Ã�¿Ã��Ã�½Ã���Ã�¯Ã�¿Ã�½Ã���Ã��Ã�¿Ã���Ã�¯Ã�¿Ã�½Ã��Ã�¯Ã��Ã�¿Ã��Ã�½Ã���Ã��Ã�¯Ã���Ã��Ã�¿Ã���Ã��Ã�½Ã���Ã�¯Ã�¿Ã�½Ã��Ã�¯Ã��Ã�¿Ã��Ã�½Ã���Ã�¯Ã�¿Ã�½Ã���Ã��Ã�½Ã���Ã�¯Ã�¿Ã�½Ã��Ã�¯Ã��Ã�¿Ã��Ã�½Ã���Ã��Ã�¯Ã���Ã��Ã�¿Ã���Ã��Ã�½Ã���Ã�¯Ã�¿Ã�½Ã���Ã��Ã�¯Ã���Ã�¯Ã�¿Ã�½Ã���Ã��Ã�¿Ã���Ã�¯Ã�¿Ã�½Ã���Ã��Ã�½Ã���Ã�¯Ã�¿Ã�½Ã��Ã�¯Ã��Ã�¿Ã��Ã�½Ã���Ã�¯Ã�¿Ã�½Ã���Ã��Ã�¯Ã���Ã�¯Ã�¿Ã�½Ã��Ã�¯Ã��Ã�¿Ã��Ã�½Ã���Ã�¯Ã�¿Ã�½Ã���Ã��Ã�¿Ã���Ã�¯Ã�¿Ã�½Ã��Ã�¯Ã��Ã�¿Ã��Ã�½Ã���Ã�¯Ã�¿Ã�½Ã���Ã��Ã�½Ã���Ã�¯Ã�¿Ã�½Ã��Ã�¯Ã��Ã�¿Ã��Ã�½Ã���Ã��Ã�¯Ã���Ã��Ã�¿Ã���Ã��Ã�½Ã���Ã�¯Ã�¿Ã�½Ã���Ã��Ã�¯Ã���Ã�¯Ã�¿Ã�½Ã���Ã��Ã�¿Ã���Ã�¯Ã�¿Ã�½Ã���Ã��Ã�½Ã���Ã�¯Ã�¿Ã�½Ã��Ã�¯Ã��Ã�¿Ã��Ã�½Ã���Ã��Ã�¯Ã���Ã��Ã�¿Ã���Ã��Ã�½Ã���Ã�¯Ã�¿Ã�½Ã��Ã�¯Ã��Ã�¿Ã��Ã�½Ã���Ã�¯Ã�¿Ã�½Ã���Ã��Ã�¯Ã���Ã�¯Ã�¿Ã�½Ã��Ã�¯Ã��Ã�¿Ã��Ã�½Ã���Ã��Ã�¯Ã���Ã��Ã�¿Ã���Ã��Ã�½Ã���Ã�¯Ã�¿Ã�½Ã���Ã��Ã�¯Ã���Ã�¯Ã�¿Ã�½Ã���Ã��Ã�¿Ã���Ã�¯Ã�¿Ã�½Ã���Ã��Ã�½Ã���Ã�¯Ã�¿Ã�½Ã��Ã�¯Ã��Ã�¿Ã��Ã�½Ã���Ã�¯Ã�¿Ã�½Ã���Ã��Ã�¯Ã���Ã�¯Ã�¿Ã�½Ã��Ã�¯Ã��Ã�¿Ã��Ã�½Ã���Ã�¯Ã�¿Ã�½Ã���Ã��Ã�¿Ã���Ã�¯Ã�¿Ã�½Ã��Ã�¯Ã��Ã�¿Ã��Ã�½Ã���Ã�¯Ã�¿Ã�½Ã���Ã��Ã�½Ã���Ã�¯Ã�¿Ã�½Ã��Ã�¯Ã��Ã�¿Ã��Ã�½Ã���Ã��Ã�¯Ã���Ã��Ã�¿Ã���Ã��Ã�½Ã���Ã�¯Ã�¿Ã�½Ã��Ã�¯Ã��Ã�¿Ã��Ã�½Ã���Ã�¯Ã�¿Ã�½Ã���Ã��Ã�¯Ã���Ã�¯Ã�¿Ã�½Ã��Ã�¯Ã��Ã�¿Ã��Ã�½Ã���Ã��Ã�¯Ã���Ã��Ã�¿Ã���Ã��Ã�½Ã���Ã�¯Ã�¿Ã�½Ã��Ã�¯Ã��Ã�¿Ã��Ã�½Ã���Ã�¯Ã�¿Ã�½Ã���Ã��Ã�¿Ã���Ã�¯Ã�¿Ã�½Ã��Ã�¯Ã��Ã�¿Ã��Ã�½Ã���Ã��Ã�¯Ã���Ã��Ã�¿Ã���Ã��Ã�½Ã���Ã�¯Ã�¿Ã�½Ã��Ã�¯Ã��Ã�¿Ã��Ã�½Ã���Ã�¯Ã�¿Ã�½Ã���Ã��Ã�½Ã���Ã�¯Ã�¿Ã�½Ã��Ã�¯Ã��Ã�¿Ã��Ã�½Ã���Ã��Ã�¯Ã���Ã��Ã�¿Ã���Ã��Ã�½Ã���Ã�¯Ã�¿Ã�½Ã���Ã��Ã�¯Ã���Ã�¯Ã�¿Ã�½Ã���Ã��Ã�¿Ã���Ã�¯Ã�¿Ã�½Ã���Ã��Ã�½Ã���Ã�¯Ã�¿Ã�½Ã��Ã�¯Ã��Ã�¿Ã��Ã�½Ã���Ã�¯Ã�¿Ã�½Ã���Ã��Ã�¯Ã���Ã�¯Ã�¿Ã�½Ã��Ã�¯Ã��Ã�¿Ã��Ã�½Ã���Ã�¯Ã�¿Ã�½Ã���Ã��Ã�¿Ã���Ã�¯Ã�¿Ã�½Ã��Ã�¯Ã��Ã�¿Ã��Ã�½Ã���Ã�¯Ã�¿Ã�½Ã���Ã��Ã�½Ã���Ã�¯Ã�¿Ã�½Ã��Ã�¯Ã��Ã�¿Ã��Ã�½Ã���Ã��Ã�¯Ã���Ã��Ã�¿Ã���Ã��Ã�½Ã���Ã�¯Ã�¿Ã�½Ã���Ã��Ã�¯Ã���Ã�¯Ã�¿Ã�½Ã���Ã��Ã�¿Ã���Ã�¯Ã�¿Ã�½Ã���Ã��Ã�½Ã���Ã�¯Ã�¿Ã�½Ã��Ã�¯Ã��Ã�¿Ã��Ã�½Ã���Ã��Ã�¯Ã���Ã��Ã�¿Ã���Ã��Ã�½Ã���Ã�¯Ã�¿Ã�½Ã��Ã�¯Ã��Ã�¿Ã��Ã�½Ã���Ã�¯Ã�¿Ã�½Ã���Ã��Ã�¿Ã���Ã�¯Ã�¿Ã�½Ã��Ã�¯Ã��Ã�¿Ã��Ã�½Ã���Ã��Ã�¯Ã���Ã��Ã�¿Ã���Ã��Ã�½Ã���Ã�¯Ã�¿Ã�½Ã���Ã��Ã�¯Ã���Ã�¯Ã�¿Ã�½Ã���Ã��Ã�¿Ã���Ã�¯Ã�¿Ã�½Ã���Ã��Ã�½Ã���Ã�¯Ã�¿Ã�½Ã��Ã�¯Ã��Ã�¿Ã��Ã�½Ã���Ã�¯Ã�¿Ã�½Ã���Ã��Ã�¯Ã���Ã�¯Ã�¿Ã�½Ã��Ã�¯Ã��Ã�¿Ã��Ã�½Ã���Ã�¯Ã�¿Ã�½Ã���Ã��Ã�¿Ã���Ã�¯Ã�¿Ã�½Ã��Ã�¯Ã��Ã�¿Ã��Ã�½Ã���Ã�¯Ã�¿Ã�½Ã���Ã��Ã�½Ã���Ã�¯Ã�¿Ã�½Ã��Ã�¯Ã��Ã�¿Ã��Ã�½Ã���Ã��Ã�¯Ã���Ã��Ã�¿Ã���Ã��Ã�½Ã���Ã�¯Ã�¿Ã�½Ã��Ã�¯Ã��Ã�¿Ã��Ã�½Ã���Ã�¯Ã�¿Ã�½Ã���Ã��Ã�¯Ã���Ã�¯Ã�¿Ã�½Ã��Ã�¯Ã��Ã�¿Ã��Ã�½Ã���Ã��Ã�¯Ã���Ã��Ã�¿Ã���Ã��Ã�½Ã���Ã�¯Ã�¿Ã�½Ã��Ã�¯Ã��Ã�¿Ã��Ã�½Ã���Ã�¯Ã�¿Ã�½Ã���Ã��Ã�¿Ã���Ã�¯Ã�¿Ã�½Ã��Ã�¯Ã��Ã�¿Ã��Ã�½Ã���Ã��Ã�¯Ã���Ã��Ã�¿Ã���Ã��Ã�½Ã���Ã�¯Ã�¿Ã�½Ã��Ã�¯Ã��Ã�¿Ã��Ã�½Ã���Ã�¯Ã�¿Ã�½Ã���Ã��Ã�½Ã���Ã�¯Ã�¿Ã�½Ã��Ã�¯Ã��Ã�¿Ã��Ã�½Ã���Ã��Ã�¯Ã���Ã��Ã�¿Ã���Ã��Ã�½Ã���Ã�¯Ã�¿Ã�½Ã���Ã��Ã�¯Ã���Ã�¯Ã�¿Ã�½Ã���Ã��Ã�¿Ã���Ã�¯Ã�¿Ã�½Ã���Ã��Ã�½Ã���Ã�¯Ã�¿Ã�½Ã��Ã�¯Ã��Ã�¿Ã��Ã�½Ã���Ã�¯Ã�¿Ã�½Ã���Ã��Ã�¯Ã���Ã�¯Ã�¿Ã�½Ã��Ã�¯Ã��Ã�¿Ã��Ã�½Ã���Ã�¯Ã�¿Ã�½Ã���Ã��Ã�¿Ã���Ã�¯Ã�¿Ã�½Ã��Ã�¯Ã��Ã�¿Ã��Ã�½Ã���Ã�¯Ã�¿Ã�½Ã���Ã��Ã�½Ã���Ã�¯Ã�¿Ã�½Ã��Ã�¯Ã��Ã�¿Ã��Ã�½Ã���Ã��Ã�¯Ã���Ã��Ã�¿Ã���Ã��Ã�½Ã���Ã�¯Ã�¿Ã�½Ã���Ã��Ã�¯Ã���Ã�¯Ã�¿Ã�½Ã���Ã��Ã�¿Ã���Ã�¯Ã�¿Ã�½Ã���Ã��Ã�½Ã���Ã�¯Ã�¿Ã�½Ã��Ã�¯Ã��Ã�¿Ã��Ã�½Ã���Ã��Ã�¯Ã���Ã��Ã�¿Ã���Ã��Ã�½Ã���Ã�¯Ã�¿Ã�½Ã��Ã�¯Ã��Ã�¿Ã��Ã�½Ã���Ã�¯Ã�¿Ã�½Ã���Ã��Ã�½Ã���Ã�¯Ã�¿Ã�½Ã��Ã�¯Ã��Ã�¿Ã��Ã�½Ã���Ã��Ã�¯Ã���Ã��Ã�¿Ã���Ã��Ã�½Ã���Ã�¯Ã�¿Ã�½Ã���Ã��Ã�¯Ã���Ã�¯Ã�¿Ã�½Ã���Ã��Ã�¿Ã���Ã�¯Ã�¿Ã�½Ã���Ã��Ã�½Ã���Ã�¯Ã�¿Ã�½Ã��Ã�¯Ã��Ã�¿Ã��Ã�½Ã���Ã�¯Ã�¿Ã�½Ã���Ã��Ã�¯Ã���Ã�¯Ã�¿Ã�½Ã��Ã�¯Ã��Ã�¿Ã��Ã�½Ã���Ã�¯Ã�¿Ã�½Ã���Ã��Ã�¿Ã���Ã�¯Ã�¿Ã�½Ã��Ã�¯Ã��Ã�¿Ã��Ã�½Ã���Ã�¯Ã�¿Ã�½Ã���Ã��Ã�½Ã���Ã�¯Ã�¿Ã�½Ã��Ã�¯Ã��Ã�¿Ã��Ã�½Ã���Ã��Ã�¯Ã���Ã��Ã�¿Ã���Ã��Ã�½Ã���Ã�¯Ã�¿Ã�½Ã��Ã�¯Ã��Ã�¿Ã��Ã�½Ã���Ã�¯Ã�¿Ã�½Ã���Ã��Ã�¯Ã���Ã�¯Ã�¿Ã�½Ã��Ã�¯Ã��Ã�¿Ã��Ã�½Ã���Ã��Ã�¯Ã���Ã��Ã�¿Ã���Ã��Ã�½Ã���Ã�¯Ã�¿Ã�½Ã��Ã�¯Ã��Ã�¿Ã��Ã�½Ã���Ã�¯Ã�¿Ã�½Ã���Ã��Ã�¿Ã���Ã�¯Ã�¿Ã�½Ã��Ã�¯Ã��Ã�¿Ã��Ã�½Ã���Ã��Ã�¯Ã���Ã��Ã�¿Ã���Ã��Ã�½Ã���Ã�¯Ã�¿Ã�½Ã��Ã�¯Ã��Ã�¿Ã��Ã�½Ã���Ã�¯Ã�¿Ã�½Ã���Ã��Ã�½Ã���Ã�¯Ã�¿Ã�½Ã��Ã�¯Ã��Ã�¿Ã��Ã�½Ã���Ã��Ã�¯Ã���Ã��Ã�¿Ã���Ã��Ã�½Ã���Ã�¯Ã�¿Ã�½Ã���Ã��Ã�¯Ã���Ã�¯Ã�¿Ã�½Ã���Ã��Ã�¿Ã���Ã�¯Ã�¿Ã�½Ã���Ã��Ã�½Ã���Ã�¯Ã�¿Ã�½Ã��Ã�¯Ã��Ã�¿Ã��Ã�½Ã���Ã��Ã�¯Ã���Ã��Ã�¿Ã���Ã��Ã�½Ã���Ã�¯Ã�¿Ã�½Ã��Ã�¯Ã��Ã�¿Ã��Ã�½Ã���Ã�¯Ã�¿Ã�½Ã���Ã��Ã�¯Ã���Ã�¯Ã�¿Ã�½Ã��Ã�¯Ã��Ã�¿Ã��Ã�½Ã���Ã��Ã�¯Ã���Ã��Ã�¿Ã���Ã��Ã�½Ã���Ã�¯Ã�¿Ã�½Ã���Ã��Ã�¯Ã���Ã�¯Ã�¿Ã�½Ã���Ã��Ã�¿Ã���Ã�¯Ã�¿Ã�½Ã���Ã��Ã�½Ã���Ã�¯Ã�¿Ã�½Ã��Ã�¯Ã��Ã�¿Ã��Ã�½Ã���Ã��Ã�¯Ã���Ã��Ã�¿Ã���Ã��Ã�½Ã���Ã�¯Ã�¿Ã�½Ã��Ã�¯Ã��Ã�¿Ã��Ã�½Ã���Ã�¯Ã�¿Ã�½Ã���Ã��Ã�¿Ã���Ã�¯Ã�¿Ã�½Ã��Ã�¯Ã��Ã�¿Ã��Ã�½Ã���Ã��Ã�¯Ã���Ã��Ã�¿Ã���Ã��Ã�½Ã���Ã�¯Ã�¿Ã�½Ã���Ã��Ã�¯Ã���Ã�¯Ã�¿Ã�½Ã���Ã��Ã�¿Ã���Ã�¯Ã�¿Ã�½Ã���Ã��Ã�½Ã���Ã�¯Ã�¿Ã�½Ã��Ã�¯Ã��Ã�¿Ã��Ã�½Ã���Ã��Ã�¯Ã���Ã��Ã�¿Ã���Ã��Ã�½Ã���Ã�¯Ã�¿Ã�½Ã��Ã�¯Ã��Ã�¿Ã��Ã�½Ã���Ã�¯Ã�¿Ã�½Ã���Ã��Ã�½Ã���Ã�¯Ã�¿Ã�½Ã��Ã�¯Ã��Ã�¿Ã��Ã�½Ã���Ã��Ã�¯Ã���Ã��Ã�¿Ã���Ã��Ã�½Ã���Ã�¯Ã�¿Ã�½Ã���Ã��Ã�¯Ã���Ã�¯Ã�¿Ã�½Ã���Ã��Ã�¿Ã���Ã�¯Ã�¿Ã�½Ã���Ã��Ã�½Ã���Ã�¯Ã�¿Ã�½Ã��Ã�¯Ã��Ã�¿Ã��Ã�½Ã���Ã�¯Ã�¿Ã�½Ã���Ã��Ã�¯Ã���Ã�¯Ã�¿Ã�½Ã��Ã�¯Ã��Ã�¿Ã��Ã�½Ã���Ã�¯Ã�¿Ã�½Ã���Ã��Ã�¿Ã���Ã�¯Ã�¿Ã�½Ã��Ã�¯Ã��Ã�¿Ã��Ã�½Ã���Ã�¯Ã�¿Ã�½Ã���Ã��Ã�½Ã���Ã�¯Ã�¿Ã�½Ã��Ã�¯Ã��Ã�¿Ã��Ã�½Ã���Ã��Ã�¯Ã���Ã��Ã�¿Ã���Ã��Ã�½Ã���Ã�¯Ã�¿Ã�½Ã���Ã��Ã�¯Ã���Ã�¯Ã�¿Ã�½Ã���Ã��Ã�¿Ã���Ã�¯Ã�¿Ã�½Ã���Ã��Ã�½Ã���Ã�¯Ã�¿Ã�½Ã��Ã�¯Ã��Ã�¿Ã��Ã�½Ã���Ã��Ã�¯Ã���Ã��Ã�¿Ã���Ã��Ã�½Ã���Ã�¯Ã�¿Ã�½Ã��Ã�¯Ã��Ã�¿Ã��Ã�½Ã���Ã�¯Ã�¿Ã�½Ã���Ã��Ã�¯Ã���Ã�¯Ã�¿Ã�½Ã��Ã�¯Ã��Ã�¿Ã��Ã�½Ã���Ã��Ã�¯Ã���Ã��Ã�¿Ã���Ã��Ã�½Ã���Ã�¯Ã�¿Ã�½Ã���Ã��Ã�¯Ã���Ã�¯Ã�¿Ã�½Ã���Ã��Ã�¿Ã���Ã�¯Ã�¿Ã�½Ã���Ã��Ã�½Ã���Ã�¯Ã�¿Ã�½Ã��Ã�¯Ã��Ã�¿Ã��Ã�½Ã���Ã�¯Ã�¿Ã�½Ã���Ã��Ã�¯Ã���Ã�¯Ã�¿Ã�½Ã��Ã�¯Ã��Ã�¿Ã��Ã�½Ã���Ã�¯Ã�¿Ã�½Ã���Ã��Ã�¿Ã���Ã�¯Ã�¿Ã�½Ã��Ã�¯Ã��Ã�¿Ã��Ã�½Ã���Ã�¯Ã�¿Ã�½Ã���Ã��Ã�½Ã���Ã�¯Ã�¿Ã�½Ã��Ã�¯Ã��Ã�¿Ã��Ã�½Ã���Ã��Ã�¯Ã���Ã��Ã�¿Ã���Ã��Ã�½Ã���Ã�¯Ã�¿Ã�½Ã���Ã��Ã�¯Ã���Ã�¯Ã�¿Ã�½Ã���Ã��Ã�¿Ã���Ã�¯Ã�¿Ã�½Ã���Ã��Ã�½Ã���Ã�¯Ã�¿Ã�½Ã��Ã�¯Ã��Ã�¿Ã��Ã�½Ã���Ã��Ã�¯Ã���Ã��Ã�¿Ã���Ã��Ã�½Ã���Ã�¯Ã�¿Ã�½Ã��Ã�¯Ã��Ã�¿Ã��Ã�½Ã���Ã�¯Ã�¿Ã�½Ã���Ã��Ã�¿Ã���Ã�¯Ã�¿Ã�½Ã��Ã�¯Ã��Ã�¿Ã��Ã�½Ã���Ã��Ã�¯Ã���Ã��Ã�¿Ã���Ã��Ã�½Ã���Ã�¯Ã�¿Ã�½Ã���Ã��Ã�¯Ã���Ã�¯Ã�¿Ã�½Ã���Ã��Ã�¿Ã���Ã�¯Ã�¿Ã�½Ã���Ã��Ã�½Ã���Ã�¯Ã�¿Ã�½Ã��Ã�¯Ã��Ã�¿Ã��Ã�½Ã���Ã�¯Ã�¿Ã�½Ã���Ã��Ã�¯Ã���Ã�¯Ã�¿Ã�½Ã��Ã�¯Ã��Ã�¿Ã��Ã�½Ã���Ã�¯Ã�¿Ã�½Ã���Ã��Ã�¿Ã���Ã�¯Ã�¿Ã�½Ã��Ã�¯Ã��Ã�¿Ã��Ã�½Ã���Ã�¯Ã�¿Ã�½Ã���Ã��Ã�½Ã���Ã�¯Ã�¿Ã�½Ã��Ã�¯Ã��Ã�¿Ã��Ã�½Ã���Ã��Ã�¯Ã���Ã��Ã�¿Ã���Ã��Ã�½Ã���Ã�¯Ã�¿Ã�½Ã���Ã��Ã�¯Ã���Ã�¯Ã�¿Ã�½Ã���Ã��Ã�¿Ã���Ã�¯Ã�¿Ã�½Ã���Ã��Ã�½Ã���Ã�¯Ã�¿Ã�½Ã��Ã�¯Ã��Ã�¿Ã��Ã�½Ã���Ã��Ã�¯Ã���Ã��Ã�¿Ã���Ã��Ã�½Ã���Ã�¯Ã�¿Ã�½Ã��Ã�¯Ã��Ã�¿Ã��Ã�½Ã���Ã�¯Ã�¿Ã�½Ã���Ã��Ã�½Ã���Ã�¯Ã�¿Ã�½Ã��Ã�¯Ã��Ã�¿Ã��Ã�½Ã���Ã��Ã�¯Ã���Ã��Ã�¿Ã���Ã��Ã�½Ã���Ã�¯Ã�¿Ã�½Ã���Ã��Ã�¯Ã���Ã�¯Ã�¿Ã�½Ã���Ã��Ã�¿Ã���Ã�¯Ã�¿Ã�½Ã���Ã��Ã�½Ã���Ã�¯Ã�¿Ã�½Ã��Ã�¯Ã��Ã�¿Ã��Ã�½Ã���Ã�¯Ã�¿Ã�½Ã���Ã��Ã�¯Ã���Ã�¯Ã�¿Ã�½Ã��Ã�¯Ã��Ã�¿Ã��Ã�½Ã���Ã�¯Ã�¿Ã�½Ã���Ã��Ã�¿Ã���Ã�¯Ã�¿Ã�½Ã��Ã�¯Ã��Ã�¿Ã��Ã�½Ã���Ã�¯Ã�¿Ã�½Ã���Ã��Ã�½Ã���Ã�¯Ã�¿Ã�½Ã��Ã�¯Ã��Ã�¿Ã��Ã�½Ã���Ã��Ã�¯Ã���Ã��Ã�¿Ã���Ã��Ã�½Ã���Ã�¯Ã�¿Ã�½Ã��Ã�¯Ã��Ã�¿Ã��Ã�½Ã���Ã�¯Ã�¿Ã�½Ã���Ã��Ã�¯Ã���Ã�¯Ã�¿Ã�½Ã��Ã�¯Ã��Ã�¿Ã��Ã�½Ã���Ã��Ã�¯Ã���Ã��Ã�¿Ã���Ã��Ã�½Ã���Ã�¯Ã�¿Ã�½Ã��Ã�¯Ã��Ã�¿Ã��Ã�½Ã���Ã�¯Ã�¿Ã�½Ã���Ã��Ã�¿Ã���Ã�¯Ã�¿Ã�½Ã��Ã�¯Ã��Ã�¿Ã��Ã�½Ã���Ã��Ã�¯Ã���Ã��Ã�¿Ã���Ã��Ã�½Ã���Ã�¯Ã�¿Ã�½Ã��Ã�¯Ã��Ã�¿Ã��Ã�½Ã���Ã�¯Ã�¿Ã�½Ã���Ã��Ã�½Ã���Ã�¯Ã�¿Ã�½Ã��Ã�¯Ã��Ã�¿Ã��Ã�½Ã���Ã��Ã�¯Ã���Ã��Ã�¿Ã���Ã��Ã�½Ã���Ã�¯Ã�¿Ã�½Ã���Ã��Ã�¯Ã���Ã�¯Ã�¿Ã�½Ã���Ã��Ã�¿Ã���Ã�¯Ã�¿Ã�½Ã���Ã��Ã�½Ã���Ã�¯Ã�¿Ã�½Ã��Ã�¯Ã��Ã�¿Ã��Ã�½Ã���Ã��Ã�¯Ã���Ã��Ã�¿Ã���Ã��Ã�½Ã���Ã�¯Ã�¿Ã�½Ã��Ã�¯Ã��Ã�¿Ã��Ã�½Ã���Ã�¯Ã�¿Ã�½Ã���Ã��Ã�¯Ã���Ã�¯Ã�¿Ã�½Ã��Ã�¯Ã��Ã�¿Ã��Ã�½Ã���Ã��Ã�¯Ã���Ã��Ã�¿Ã���Ã��Ã�½Ã���Ã�¯Ã�¿Ã�½Ã���Ã��Ã�¯Ã���Ã�¯Ã�¿Ã�½Ã���Ã��Ã�¿Ã���Ã�¯Ã�¿Ã�½Ã���Ã��Ã�½Ã���Ã�¯Ã�¿Ã�½Ã��Ã�¯Ã��Ã�¿Ã��Ã�½Ã���Ã��Ã�¯Ã���Ã��Ã�¿Ã���Ã��Ã�½Ã���Ã�¯Ã�¿Ã�½Ã��Ã�¯Ã��Ã�¿Ã��Ã�½Ã���Ã�¯Ã�¿Ã�½Ã���Ã��Ã�¿Ã���Ã�¯Ã�¿Ã�½Ã��Ã�¯Ã��Ã�¿Ã��Ã�½Ã���Ã��Ã�¯Ã���Ã��Ã�¿Ã���Ã��Ã�½Ã���Ã�¯Ã�¿Ã�½Ã���Ã��Ã�¯Ã���Ã�¯Ã�¿Ã�½Ã���Ã��Ã�¿Ã���Ã�¯Ã�¿Ã�½Ã���Ã��Ã�½Ã���Ã�¯Ã�¿Ã�½Ã��Ã�¯Ã��Ã�¿Ã��Ã�½Ã���Ã��Ã�¯Ã���Ã��Ã�¿Ã���Ã��Ã�½Ã���Ã�¯Ã�¿Ã�½Ã��Ã�¯Ã��Ã�¿Ã��Ã�½Ã���Ã�¯Ã�¿Ã�½Ã���Ã��Ã�½Ã���Ã�¯Ã�¿Ã�½Ã��Ã�¯Ã��Ã�¿Ã��Ã�½Ã���Ã��Ã�¯Ã���Ã��Ã�¿Ã���Ã��Ã�½Ã���Ã�¯Ã�¿Ã�½Ã���Ã��Ã�¯Ã���Ã�¯Ã�¿Ã�½Ã���Ã��Ã�¿Ã���Ã�¯Ã�¿Ã�½Ã���Ã��Ã�½Ã���Ã�¯Ã�¿Ã�½Ã��Ã�¯Ã��Ã�¿Ã��Ã�½Ã���Ã�¯Ã�¿Ã�½Ã���Ã��Ã�¯Ã���Ã�¯Ã�¿Ã�½Ã��Ã�¯Ã��Ã�¿Ã��Ã�½Ã���Ã�¯Ã�¿Ã�½Ã���Ã��Ã�¿Ã���Ã�¯Ã�¿Ã�½Ã��Ã�¯Ã��Ã�¿Ã��Ã�½Ã���Ã�¯Ã�¿Ã�½Ã���Ã��Ã�½Ã���Ã�¯Ã�¿Ã�½Ã��Ã�¯Ã��Ã�¿Ã��Ã�½Ã���Ã��Ã�¯Ã���Ã��Ã�¿Ã���Ã��Ã�½Ã���Ã�¯Ã�¿Ã�½Ã��Ã�¯Ã��Ã�¿Ã��Ã�½Ã���Ã�¯Ã�¿Ã�½Ã���Ã��Ã�¯Ã���Ã�¯Ã�¿Ã�½Ã��Ã�¯Ã��Ã�¿Ã��Ã�½Ã���Ã��Ã�¯Ã���Ã��Ã�¿Ã���Ã��Ã�½Ã���Ã�¯Ã�¿Ã�½Ã��Ã�¯Ã��Ã�¿Ã��Ã�½Ã���Ã�¯Ã�¿Ã�½Ã���Ã��Ã�¿Ã���Ã�¯Ã�¿Ã�½Ã��Ã�¯Ã��Ã�¿Ã��Ã�½Ã���Ã��Ã�¯Ã���Ã��Ã�¿Ã���Ã��Ã�½Ã���Ã�¯Ã�¿Ã�½Ã��Ã�¯Ã��Ã�¿Ã��Ã�½Ã���Ã�¯Ã�¿Ã�½Ã���Ã��Ã�½Ã���Ã�¯Ã�¿Ã�½Ã��Ã�¯Ã��Ã�¿Ã��Ã�½Ã���Ã��Ã�¯Ã���Ã��Ã�¿Ã���Ã��Ã�½Ã���Ã�¯Ã�¿Ã�½Ã���Ã��Ã�¯Ã���Ã�¯Ã�¿Ã�½Ã���Ã��Ã�¿Ã���Ã�¯Ã�¿Ã�½Ã���Ã��Ã�½Ã���Ã�¯Ã�¿Ã�½Ã��Ã�¯Ã��Ã�¿Ã��Ã�½Ã���Ã�¯Ã�¿Ã�½Ã���Ã��Ã�¯Ã���Ã�¯Ã�¿Ã�½Ã��Ã�¯Ã��Ã�¿Ã��Ã�½Ã���Ã�¯Ã�¿Ã�½Ã���Ã��Ã�¿Ã���Ã�¯Ã�¿Ã�½Ã��Ã�¯Ã��Ã�¿Ã��Ã�½Ã���Ã�¯Ã�¿Ã�½Ã���Ã��Ã�½Ã���Ã�¯Ã�¿Ã�½Ã��Ã�¯Ã��Ã�¿Ã��Ã�½Ã���Ã��Ã�¯Ã���Ã��Ã�¿Ã���Ã��Ã�½Ã���Ã�¯Ã�¿Ã�½Ã���Ã��Ã�¯Ã���Ã�¯Ã�¿Ã�½Ã���Ã��Ã�¿Ã���Ã�¯Ã�¿Ã�½Ã���Ã��Ã�½Ã���Ã�¯Ã�¿Ã�½Ã��Ã�¯Ã��Ã�¿Ã��Ã�½Ã���Ã��Ã�¯Ã���Ã��Ã�¿Ã���Ã��Ã�½Ã���Ã�¯Ã�¿Ã�½Ã��Ã�¯Ã��Ã�¿Ã��Ã�½Ã���Ã�¯Ã�¿Ã�½Ã���Ã��Ã�¿Ã���Ã�¯Ã�¿Ã�½Ã��Ã�¯Ã��Ã�¿Ã��Ã�½Ã���Ã��Ã�¯Ã���Ã��Ã�¿Ã���Ã��Ã�½Ã���Ã�¯Ã�¿Ã�½Ã���Ã��Ã�¯Ã���Ã�¯Ã�¿Ã�½Ã���Ã��Ã�¿Ã���Ã�¯Ã�¿Ã�½Ã���Ã��Ã�½Ã���Ã�¯Ã�¿Ã�½Ã��Ã�¯Ã��Ã�¿Ã��Ã�½Ã���Ã�¯Ã�¿Ã�½Ã���Ã��Ã�¯Ã���Ã�¯Ã�¿Ã�½Ã��Ã�¯Ã��Ã�¿Ã��Ã�½Ã���Ã�¯Ã�¿Ã�½Ã���Ã��Ã�¿Ã���Ã�¯Ã�¿Ã�½Ã��Ã�¯Ã��Ã�¿Ã��Ã�½Ã���Ã�¯Ã�¿Ã�½Ã���Ã��Ã�½Ã���Ã�¯Ã�¿Ã�½Ã��Ã�¯Ã��Ã�¿Ã��Ã�½Ã���Ã��Ã�¯Ã���Ã��Ã�¿Ã���Ã��Ã�½Ã���Ã�¯Ã�¿Ã�½Ã��Ã�¯Ã��Ã�¿Ã��Ã�½Ã���Ã�¯Ã�¿Ã�½Ã���Ã��Ã�¯Ã���Ã�¯Ã�¿Ã�½Ã��Ã�¯Ã��Ã�¿Ã��Ã�½Ã���Ã��Ã�¯Ã���Ã��Ã�¿Ã���Ã��Ã�½Ã���Ã�¯Ã�¿Ã�½Ã��Ã�¯Ã��Ã�¿Ã��Ã�½Ã���Ã�¯Ã�¿Ã�½Ã���Ã��Ã�¿Ã���Ã�¯Ã�¿Ã�½Ã��Ã�¯Ã��Ã�¿Ã��Ã�½Ã���Ã��Ã�¯Ã���Ã��Ã�¿Ã���Ã��Ã�½Ã���Ã�¯Ã�¿Ã�½Ã��Ã�¯Ã��Ã�¿Ã��Ã�½Ã���Ã�¯Ã�¿Ã�½Ã���Ã��Ã�½Ã���Ã�¯Ã�¿Ã�½Ã��Ã�¯Ã��Ã�¿Ã��Ã�½Ã���Ã��Ã�¯Ã���Ã��Ã�¿Ã���Ã��Ã�½Ã���Ã�¯Ã�¿Ã�½Ã���Ã��Ã�¯Ã���Ã�¯Ã�¿Ã�½Ã���Ã��Ã�¿Ã���Ã�¯Ã�¿Ã�½Ã���Ã��Ã�½Ã���Ã�¯Ã�¿Ã�½Ã��Ã�¯Ã��Ã�¿Ã��Ã�½Ã���Ã��Ã�¯Ã���Ã��Ã�¿Ã���Ã��Ã�½Ã���Ã�¯Ã�¿Ã�½Ã��Ã�¯Ã��Ã�¿Ã��Ã�½Ã���Ã�¯Ã�¿Ã�½Ã���Ã��Ã�¯Ã���Ã�¯Ã�¿Ã�½Ã��Ã�¯Ã��Ã�¿Ã��Ã�½Ã���Ã��Ã�¯Ã���Ã��Ã�¿Ã���Ã��Ã�½Ã���Ã�¯Ã�¿Ã�½Ã���Ã��Ã�¯Ã���Ã�¯Ã�¿Ã�½Ã���Ã��Ã�¿Ã���Ã�¯Ã�¿Ã�½Ã���Ã��Ã�½Ã���Ã�¯Ã�¿Ã�½Ã��Ã�¯Ã��Ã�¿Ã��Ã�½Ã���Ã��Ã�¯Ã���Ã��Ã�¿Ã���Ã��Ã�½Ã���Ã�¯Ã�¿Ã�½Ã��Ã�¯Ã��Ã�¿Ã��Ã�½Ã���Ã�¯Ã�¿Ã�½Ã���Ã��Ã�¿Ã���Ã�¯Ã�¿Ã�½Ã��Ã�¯Ã��Ã�¿Ã��Ã�½Ã���Ã��Ã�¯Ã���Ã��Ã�¿Ã���Ã��Ã�½Ã���Ã�¯Ã�¿Ã�½Ã���Ã��Ã�¯Ã���Ã�¯Ã�¿Ã�½Ã���Ã��Ã�¿Ã���Ã�¯Ã�¿Ã�½Ã���Ã��Ã�½Ã���Ã�¯Ã�¿Ã�½Ã��Ã�¯Ã��Ã�¿Ã��Ã�½Ã���Ã��Ã�¯Ã���Ã��Ã�¿Ã���Ã��Ã�½Ã���Ã�¯Ã�¿Ã�½Ã��Ã�¯Ã��Ã�¿Ã��Ã�½Ã���Ã�¯Ã�¿Ã�½Ã���Ã��Ã�½Ã���Ã�¯Ã�¿Ã�½Ã��Ã�¯Ã��Ã�¿Ã��Ã�½Ã���Ã��Ã�¯Ã���Ã��Ã�¿Ã���Ã��Ã�½Ã���Ã�¯Ã�¿Ã�½Ã���Ã��Ã�¯Ã���Ã�¯Ã�¿Ã�½Ã���Ã��Ã�¿Ã���Ã�¯Ã�¿Ã�½Ã���Ã��Ã�½Ã���Ã�¯Ã�¿Ã�½Ã��Ã�¯Ã��Ã�¿Ã��Ã�½Ã���Ã�¯Ã�¿Ã�½Ã���Ã��Ã�¯Ã���Ã�¯Ã�¿Ã�½Ã��Ã�¯Ã��Ã�¿Ã��Ã�½Ã���Ã�¯Ã�¿Ã�½Ã���Ã��Ã�¿Ã���Ã�¯Ã�¿Ã�½Ã��Ã�¯Ã��Ã�¿Ã��Ã�½Ã���Ã�¯Ã�¿Ã�½Ã���Ã��Ã�½Ã���Ã�¯Ã�¿Ã�½Ã��Ã�¯Ã��Ã�¿Ã��Ã�½Ã���Ã��Ã�¯Ã���Ã��Ã�¿Ã���Ã��Ã�½Ã���Ã�¯Ã�¿Ã�½Ã���Ã��Ã�¯Ã���Ã�¯Ã�¿Ã�½Ã���Ã��Ã�¿Ã���Ã�¯Ã�¿Ã�½Ã���Ã��Ã�½Ã���Ã�¯Ã�¿Ã�½Ã��Ã�¯Ã��Ã�¿Ã��Ã�½Ã���Ã��Ã�¯Ã���Ã��Ã�¿Ã���Ã��Ã�½Ã���Ã�¯Ã�¿Ã�½Ã��Ã�¯Ã��Ã�¿Ã��Ã�½Ã���Ã�¯Ã�¿Ã�½Ã���Ã��Ã�¯Ã���Ã�¯Ã�¿Ã�½Ã��Ã�¯Ã��Ã�¿Ã��Ã�½Ã���Ã��Ã�¯Ã���Ã��Ã�¿Ã���Ã��Ã�½Ã���Ã�¯Ã�¿Ã�½Ã���Ã��Ã�¯Ã���Ã�¯Ã�¿Ã�½Ã���Ã��Ã�¿Ã���Ã�¯Ã�¿Ã�½Ã���Ã��Ã�½Ã���Ã�¯Ã�¿Ã�½Ã��Ã�¯Ã��Ã�¿Ã��Ã�½Ã���Ã�¯Ã�¿Ã�½Ã���Ã��Ã�¯Ã���Ã�¯Ã�¿Ã�½Ã��Ã�¯Ã��Ã�¿Ã��Ã�½Ã���Ã�¯Ã�¿Ã�½Ã���Ã��Ã�¿Ã���Ã�¯Ã�¿Ã�½Ã��Ã�¯Ã��Ã�¿Ã��Ã�½Ã���Ã�¯Ã�¿Ã�½Ã���Ã��Ã�½Ã���Ã�¯Ã�¿Ã�½Ã��Ã�¯Ã��Ã�¿Ã��Ã�½Ã���Ã��Ã�¯Ã���Ã��Ã�¿Ã���Ã��Ã�½Ã���Ã�¯Ã�¿Ã�½Ã���Ã��Ã�¯Ã���Ã�¯Ã�¿Ã�½Ã���Ã��Ã�¿Ã���Ã�¯Ã�¿Ã�½Ã���Ã��Ã�½Ã���Ã�¯Ã�¿Ã�½Ã��Ã�¯Ã��Ã�¿Ã��Ã�½Ã���Ã��Ã�¯Ã���Ã��Ã�¿Ã���Ã��Ã�½Ã���Ã�¯Ã�¿Ã�½Ã��Ã�¯Ã��Ã�¿Ã��Ã�½Ã���Ã�¯Ã�¿Ã�½Ã���Ã��Ã�¿Ã���Ã�¯Ã�¿Ã�½Ã��Ã�¯Ã��Ã�¿Ã��Ã�½Ã���Ã��Ã�¯Ã���Ã��Ã�¿Ã���Ã��Ã�½Ã���Ã�¯Ã�¿Ã�½Ã���Ã��Ã�¯Ã���Ã�¯Ã�¿Ã�½Ã���Ã��Ã�¿Ã���Ã�¯Ã�¿Ã�½Ã���Ã��Ã�½Ã���Ã�¯Ã�¿Ã�½Ã��Ã�¯Ã��Ã�¿Ã��Ã�½Ã���Ã�¯Ã�¿Ã�½Ã���Ã��Ã�¯Ã���Ã�¯Ã�¿Ã�½Ã��Ã�¯Ã��Ã�¿Ã��Ã�½Ã���Ã�¯Ã�¿Ã�½Ã���Ã��Ã�¿Ã���Ã�¯Ã�¿Ã�½Ã��Ã�¯Ã��Ã�¿Ã��Ã�½Ã���Ã�¯Ã�¿Ã�½Ã���Ã��Ã�½Ã���Ã�¯Ã�¿Ã�½Ã��Ã�¯Ã��Ã�¿Ã��Ã�½Ã���Ã��Ã�¯Ã���Ã��Ã�¿Ã���Ã��Ã�½Ã���Ã�¯Ã�¿Ã�½Ã���Ã��Ã�¯Ã���Ã�¯Ã�¿Ã�½Ã���Ã��Ã�¿Ã���Ã�¯Ã�¿Ã�½Ã���Ã��Ã�½Ã���Ã�¯Ã�¿Ã�½Ã��Ã�¯Ã��Ã�¿Ã��Ã�½Ã���Ã��Ã�¯Ã���Ã��Ã�¿Ã���Ã��Ã�½Ã���Ã�¯Ã�¿Ã�½Ã��Ã�¯Ã��Ã�¿Ã��Ã�½Ã���Ã�¯Ã�¿Ã�½Ã���Ã��Ã�½Ã���Ã�¯Ã�¿Ã�½Ã��Ã�¯Ã��Ã�¿Ã��Ã�½Ã���Ã��Ã�¯Ã���Ã��Ã�¿Ã���Ã��Ã�½Ã���Ã�¯Ã�¿Ã�½Ã���Ã��Ã�¯Ã���Ã�¯Ã�¿Ã�½Ã���Ã��Ã�¿Ã���Ã�¯Ã�¿Ã�½Ã���Ã��Ã�½Ã���Ã�¯Ã�¿Ã�½Ã��Ã�¯Ã��Ã�¿Ã��Ã�½Ã���Ã�¯Ã�¿Ã�½Ã���Ã��Ã�¯Ã���Ã�¯Ã�¿Ã�½Ã��Ã�¯Ã��Ã�¿Ã��Ã�½Ã���Ã�¯Ã�¿Ã�½Ã���Ã��Ã�¿Ã���Ã�¯Ã�¿Ã�½Ã��Ã�¯Ã��Ã�¿Ã��Ã�½Ã���Ã�¯Ã�¿Ã�½Ã���Ã��Ã�½Ã���Ã�¯Ã�¿Ã�½Ã��Ã�¯Ã��Ã�¿Ã��Ã�½Ã���Ã��Ã�¯Ã���Ã��Ã�¿Ã���Ã��Ã�½Ã���Ã�¯Ã�¿Ã�½Ã��Ã�¯Ã��Ã�¿Ã��Ã�½Ã���Ã�¯Ã�¿Ã�½Ã���Ã��Ã�¯Ã���Ã�¯Ã�¿Ã�½Ã��Ã�¯Ã��Ã�¿Ã��Ã�½Ã���Ã��Ã�¯Ã���Ã��Ã�¿Ã���Ã��Ã�½Ã���Ã�¯Ã�¿Ã�½Ã��Ã�¯Ã��Ã�¿Ã��Ã�½Ã���Ã�¯Ã�¿Ã�½Ã���Ã��Ã�¿Ã���Ã�¯Ã�¿Ã�½Ã��Ã�¯Ã��Ã�¿Ã��Ã�½Ã���Ã��Ã�¯Ã���Ã��Ã�¿Ã���Ã��Ã�½Ã���Ã�¯Ã�¿Ã�½Ã��Ã�¯Ã��Ã�¿Ã��Ã�½Ã���Ã�¯Ã�¿Ã�½Ã���Ã��Ã�½Ã���Ã�¯Ã�¿Ã�½Ã��Ã�¯Ã��Ã�¿Ã��Ã�½Ã���Ã��Ã�¯Ã���Ã��Ã�¿Ã���Ã��Ã�½Ã���Ã�¯Ã�¿Ã�½Ã���Ã��Ã�¯Ã���Ã�¯Ã�¿Ã�½Ã���Ã��Ã�¿Ã���Ã�¯Ã�¿Ã�½Ã���Ã��Ã�½Ã���Ã�¯Ã�¿Ã�½Ã��Ã�¯Ã��Ã�¿Ã��Ã�½Ã���Ã�¯Ã�¿Ã�½Ã���Ã��Ã�¯Ã���Ã�¯Ã�¿Ã�½Ã��Ã�¯Ã��Ã�¿Ã��Ã�½Ã���Ã�¯Ã�¿Ã�½Ã���Ã��Ã�¿Ã���Ã�¯Ã�¿Ã�½Ã��Ã�¯Ã��Ã�¿Ã��Ã�½Ã���Ã�¯Ã�¿Ã�½Ã���Ã��Ã�½Ã���Ã�¯Ã�¿Ã�½Ã��Ã�¯Ã��Ã�¿Ã��Ã�½Ã���Ã��Ã�¯Ã���Ã��Ã�¿Ã���Ã��Ã�½Ã���Ã�¯Ã�¿Ã�½Ã���Ã��Ã�¯Ã���Ã�¯Ã�¿Ã�½Ã���Ã��Ã�¿Ã���Ã�¯Ã�¿Ã�½Ã���Ã��Ã�½Ã���Ã�¯Ã�¿Ã�½Ã��Ã�¯Ã��Ã�¿Ã��Ã�½Ã���Ã��Ã�¯Ã���Ã��Ã�¿Ã���Ã��Ã�½Ã���Ã�¯Ã�¿Ã�½Ã��Ã�¯Ã��Ã�¿Ã��Ã�½Ã���Ã�¯Ã�¿Ã�½Ã���Ã��Ã�¯Ã���Ã�¯Ã�¿Ã�½Ã��Ã�¯Ã��Ã�¿Ã��Ã�½Ã���Ã��Ã�¯Ã���Ã��Ã�¿Ã���Ã��Ã�½Ã���Ã�¯Ã�¿Ã�½Ã���Ã��Ã�¯Ã���Ã�¯Ã�¿Ã�½Ã���Ã��Ã�¿Ã���Ã�¯Ã�¿Ã�½Ã���Ã��Ã�½Ã���Ã�¯Ã�¿Ã�½Ã��Ã�¯Ã��Ã�¿Ã��Ã�½Ã���Ã�¯Ã�¿Ã�½Ã���Ã��Ã�¯Ã���Ã�¯Ã�¿Ã�½Ã��Ã�¯Ã��Ã�¿Ã��Ã�½Ã���Ã�¯Ã�¿Ã�½Ã���Ã��Ã�¿Ã���Ã�¯Ã�¿Ã�½Ã��Ã�¯Ã��Ã�¿Ã��Ã�½Ã���Ã�¯Ã�¿Ã�½Ã���Ã��Ã�½Ã���Ã�¯Ã�¿Ã�½Ã��Ã�¯Ã��Ã�¿Ã��Ã�½Ã���Ã��Ã�¯Ã���Ã��Ã�¿Ã���Ã��Ã�½Ã���Ã�¯Ã�¿Ã�½Ã��Ã�¯Ã��Ã�¿Ã��Ã�½Ã���Ã�¯Ã�¿Ã�½Ã���Ã��Ã�¯Ã���Ã�¯Ã�¿Ã�½Ã��Ã�¯Ã��Ã�¿Ã��Ã�½Ã���Ã��Ã�¯Ã���Ã��Ã�¿Ã���Ã��Ã�½Ã���Ã�¯Ã�¿Ã�½Ã��Ã�¯Ã��Ã�¿Ã��Ã�½Ã���Ã�¯Ã�¿Ã�½Ã���Ã��Ã�¿Ã���Ã�¯Ã�¿Ã�½Ã��Ã�¯Ã��Ã�¿Ã��Ã�½Ã���Ã��Ã�¯Ã���Ã��Ã�¿Ã���Ã��Ã�½Ã���Ã�¯Ã�¿Ã�½Ã��Ã�¯Ã��Ã�¿Ã��Ã�½Ã���Ã�¯Ã�¿Ã�½Ã���Ã��Ã�½Ã���Ã�¯Ã�¿Ã�½Ã��Ã�¯Ã��Ã�¿Ã��Ã�½Ã���Ã��Ã�¯Ã���Ã��Ã�¿Ã���Ã��Ã�½Ã���Ã�¯Ã�¿Ã�½Ã���Ã��Ã�¯Ã���Ã�¯Ã�¿Ã�½Ã���Ã��Ã�¿Ã���Ã�¯Ã�¿Ã�½Ã���Ã��Ã�½Ã���Ã�¯Ã�¿Ã�½Ã��Ã�¯Ã��Ã�¿Ã��Ã�½Ã���Ã�¯Ã�¿Ã�½Ã���Ã��Ã�¯Ã���Ã�¯Ã�¿Ã�½Ã��Ã�¯Ã��Ã�¿Ã��Ã�½Ã���Ã�¯Ã�¿Ã�½Ã���Ã��Ã�¿Ã���Ã�¯Ã�¿Ã�½Ã��Ã�¯Ã��Ã�¿Ã��Ã�½Ã���Ã�¯Ã�¿Ã�½Ã���Ã��Ã�½Ã���Ã�¯Ã�¿Ã�½Ã��Ã�¯Ã��Ã�¿Ã��Ã�½Ã���Ã��Ã�¯Ã���Ã��Ã�¿Ã���Ã��Ã�½Ã���Ã�¯Ã�¿Ã�½Ã���Ã��Ã�¯Ã���Ã�¯Ã�¿Ã�½Ã���Ã��Ã�¿Ã���Ã�¯Ã�¿Ã�½Ã���Ã��Ã�½Ã���Ã�¯Ã�¿Ã�½Ã��Ã�¯Ã��Ã�¿Ã��Ã�½Ã���Ã��Ã�¯Ã���Ã��Ã�¿Ã���Ã��Ã�½Ã���Ã�¯Ã�¿Ã�½Ã��Ã�¯Ã��Ã�¿Ã��Ã�½Ã���Ã�¯Ã�¿Ã�½Ã���Ã��Ã�¿Ã���Ã�¯Ã�¿Ã�½Ã��Ã�¯Ã��Ã�¿Ã��Ã�½Ã���Ã��Ã�¯Ã���Ã��Ã�¿Ã���Ã��Ã�½Ã���Ã�¯Ã�¿Ã�½Ã���Ã��Ã�¯Ã���Ã�¯Ã�¿Ã�½Ã���Ã��Ã�¿Ã���Ã�¯Ã�¿Ã�½Ã���Ã��Ã�½Ã���Ã�¯Ã�¿Ã�½Ã��Ã�¯Ã��Ã�¿Ã��Ã�½Ã���Ã�¯Ã�¿Ã�½Ã���Ã��Ã�¯Ã���Ã�¯Ã�¿Ã�½Ã��Ã�¯Ã��Ã�¿Ã��Ã�½Ã���Ã�¯Ã�¿Ã�½Ã���Ã��Ã�¿Ã���Ã�¯Ã�¿Ã�½Ã��Ã�¯Ã��Ã�¿Ã��Ã�½Ã���Ã�¯Ã�¿Ã�½Ã���Ã��Ã�½Ã���Ã�¯Ã�¿Ã�½Ã��Ã�¯Ã��Ã�¿Ã��Ã�½Ã���Ã��Ã�¯Ã���Ã��Ã�¿Ã���Ã��Ã�½Ã���Ã�¯Ã�¿Ã�½Ã��Ã�¯Ã��Ã�¿Ã��Ã�½Ã���Ã�¯Ã�¿Ã�½Ã���Ã��Ã�¯Ã���Ã�¯Ã�¿Ã�½Ã��Ã�¯Ã��Ã�¿Ã��Ã�½Ã���Ã��Ã�¯Ã���Ã��Ã�¿Ã���Ã��Ã�½Ã���Ã�¯Ã�¿Ã�½Ã��Ã�¯Ã��Ã�¿Ã��Ã�½Ã���Ã�¯Ã�¿Ã�½Ã���Ã��Ã�¿Ã���Ã�¯Ã�¿Ã�½Ã��Ã�¯Ã��Ã�¿Ã��Ã�½Ã���Ã��Ã�¯Ã���Ã��Ã�¿Ã���Ã��Ã�½Ã���Ã�¯Ã�¿Ã�½Ã��Ã�¯Ã��Ã�¿Ã��Ã�½Ã���Ã�¯Ã�¿Ã�½Ã���Ã��Ã�½Ã���Ã�¯Ã�¿Ã�½Ã��Ã�¯Ã��Ã�¿Ã��Ã�½Ã���Ã��Ã�¯Ã���Ã��Ã�¿Ã���Ã��Ã�½Ã���Ã�¯Ã�¿Ã�½Ã���Ã��Ã�¯Ã���Ã�¯Ã�¿Ã�½Ã���Ã��Ã�¿Ã���Ã�¯Ã�¿Ã�½Ã���Ã��Ã�½Ã���Ã�¯Ã�¿Ã�½Ã��Ã�¯Ã��Ã�¿Ã��Ã�½Ã���Ã�¯Ã�¿Ã�½Ã���Ã��Ã�¯Ã���Ã�¯Ã�¿Ã�½Ã��Ã�¯Ã��Ã�¿Ã��Ã�½Ã���Ã�¯Ã�¿Ã�½Ã���Ã��Ã�¿Ã���Ã�¯Ã�¿Ã�½Ã��Ã�¯Ã��Ã�¿Ã��Ã�½Ã���Ã�¯Ã�¿Ã�½Ã���Ã��Ã�½Ã���Ã�¯Ã�¿Ã�½Ã��Ã�¯Ã��Ã�¿Ã��Ã�½Ã���Ã��Ã�¯Ã���Ã��Ã�¿Ã���Ã��Ã�½Ã���Ã�¯Ã�¿Ã�½Ã���Ã��Ã�¯Ã���Ã�¯Ã�¿Ã�½Ã���Ã��Ã�¿Ã���Ã�¯Ã�¿Ã�½Ã���Ã��Ã�½Ã���Ã�¯Ã�¿Ã�½Ã��Ã�¯Ã��Ã�¿Ã��Ã�½Ã���Ã��Ã�¯Ã���Ã��Ã�¿Ã���Ã��Ã�½Ã���Ã�¯Ã�¿Ã�½Ã��Ã�¯Ã��Ã�¿Ã��Ã�½Ã���Ã�¯Ã�¿Ã�½Ã���Ã��Ã�½Ã���Ã�¯Ã�¿Ã�½Ã��Ã�¯Ã��Ã�¿Ã��Ã�½Ã���Ã��Ã�¯Ã���Ã��Ã�¿Ã���Ã��Ã�½Ã���Ã�¯Ã�¿Ã�½Ã���Ã��Ã�¯Ã���Ã�¯Ã�¿Ã�½Ã���Ã��Ã�¿Ã���Ã�¯Ã�¿Ã�½Ã���Ã��Ã�½Ã���Ã�¯Ã�¿Ã�½Ã��Ã�¯Ã��Ã�¿Ã��Ã�½Ã���Ã�¯Ã�¿Ã�½Ã���Ã��Ã�¯Ã���Ã�¯Ã�¿Ã�½Ã��Ã�¯Ã��Ã�¿Ã��Ã�½Ã���Ã�¯Ã�¿Ã�½Ã���Ã��Ã�¿Ã���Ã�¯Ã�¿Ã�½Ã��Ã�¯Ã��Ã�¿Ã��Ã�½Ã���Ã�¯Ã�¿Ã�½Ã���Ã��Ã�½Ã���Ã�¯Ã�¿Ã�½Ã��Ã�¯Ã��Ã�¿Ã��Ã�½Ã���Ã��Ã�¯Ã���Ã��Ã�¿Ã���Ã��Ã�½Ã���Ã�¯Ã�¿Ã�½Ã��Ã�¯Ã��Ã�¿Ã��Ã�½Ã���Ã�¯Ã�¿Ã�½Ã���Ã��Ã�¯Ã���Ã�¯Ã�¿Ã�½Ã��Ã�¯Ã��Ã�¿Ã��Ã�½Ã���Ã��Ã�¯Ã���Ã��Ã�¿Ã���Ã��Ã�½Ã���Ã�¯Ã�¿Ã�½Ã��Ã�¯Ã��Ã�¿Ã��Ã�½Ã���Ã�¯Ã�¿Ã�½Ã���Ã��Ã�¿Ã���Ã�¯Ã�¿Ã�½Ã��Ã�¯Ã��Ã�¿Ã��Ã�½Ã���Ã��Ã�¯Ã���Ã��Ã�¿Ã���Ã��Ã�½Ã���Ã�¯Ã�¿Ã�½Ã��Ã�¯Ã��Ã�¿Ã��Ã�½Ã���Ã�¯Ã�¿Ã�½Ã���Ã��Ã�½Ã���Ã�¯Ã�¿Ã�½Ã��Ã�¯Ã��Ã�¿Ã��Ã�½Ã���Ã��Ã�¯Ã���Ã��Ã�¿Ã���Ã��Ã�½Ã���Ã�¯Ã�¿Ã�½Ã���Ã��Ã�¯Ã���Ã�¯Ã�¿Ã�½Ã���Ã��Ã�¿Ã���Ã�¯Ã�¿Ã�½Ã���Ã��Ã�½Ã���Ã�¯Ã�¿Ã�½Ã��Ã�¯Ã��Ã�¿Ã��Ã�½Ã���Ã��Ã�¯Ã���Ã��Ã�¿Ã���Ã��Ã�½Ã���Ã�¯Ã�¿Ã�½Ã��Ã�¯Ã��Ã�¿Ã��Ã�½Ã���Ã�¯Ã�¿Ã�½Ã���Ã��Ã�¯Ã���Ã�¯Ã�¿Ã�½Ã��Ã�¯Ã��Ã�¿Ã��Ã�½Ã���Ã��Ã�¯Ã���Ã��Ã�¿Ã���Ã��Ã�½Ã���Ã�¯Ã�¿Ã�½Ã���Ã��Ã�¯Ã���Ã�¯Ã�¿Ã�½Ã���Ã��Ã�¿Ã���Ã�¯Ã�¿Ã�½Ã���Ã��Ã�½Ã���Ã�¯Ã�¿Ã�½Ã��Ã�¯Ã��Ã�¿Ã��Ã�½Ã���Ã��Ã�¯Ã���Ã��Ã�¿Ã���Ã��Ã�½Ã���Ã�¯Ã�¿Ã�½Ã��Ã�¯Ã��Ã�¿Ã��Ã�½Ã���Ã�¯Ã�¿Ã�½Ã���Ã��Ã�¿Ã���Ã�¯Ã�¿Ã�½Ã��Ã�¯Ã��Ã�¿Ã��Ã�½Ã���Ã��Ã�¯Ã���Ã��Ã�¿Ã���Ã��Ã�½Ã���Ã�¯Ã�¿Ã�½Ã���Ã��Ã�¯Ã���Ã�¯Ã�¿Ã�½Ã���Ã��Ã�¿Ã���Ã�¯Ã�¿Ã�½Ã���Ã��Ã�½Ã���Ã�¯Ã�¿Ã�½Ã��Ã�¯Ã��Ã�¿Ã��Ã�½Ã���Ã��Ã�¯Ã���Ã��Ã�¿Ã���Ã��Ã�½Ã���Ã�¯Ã�¿Ã�½Ã��Ã�¯Ã��Ã�¿Ã��Ã�½Ã���Ã�¯Ã�¿Ã�½Ã���Ã��Ã�½Ã���Ã�¯Ã�¿Ã�½Ã��Ã�¯Ã��Ã�¿Ã��Ã�½Ã���Ã��Ã�¯Ã���Ã��Ã�¿Ã���Ã��Ã�½Ã���Ã�¯Ã�¿Ã�½Ã���Ã��Ã�¯Ã���Ã�¯Ã�¿Ã�½Ã���Ã��Ã�¿Ã���Ã�¯Ã�¿Ã�½Ã���Ã��Ã�½Ã���Ã�¯Ã�¿Ã�½Ã��Ã�¯Ã��Ã�¿Ã��Ã�½Ã���Ã�¯Ã�¿Ã�½Ã���Ã��Ã�¯Ã���Ã�¯Ã�¿Ã�½Ã��Ã�¯Ã��Ã�¿Ã��Ã�½Ã���Ã�¯Ã�¿Ã�½Ã���Ã��Ã�¿Ã���Ã�¯Ã�¿Ã�½Ã��Ã�¯Ã��Ã�¿Ã��Ã�½Ã���Ã�¯Ã�¿Ã�½Ã���Ã��Ã�½Ã���Ã�¯Ã�¿Ã�½Ã��Ã�¯Ã��Ã�¿Ã��Ã�½Ã���Ã��Ã�¯Ã���Ã��Ã�¿Ã���Ã��Ã�½Ã���Ã�¯Ã�¿Ã�½Ã��Ã�¯Ã��Ã�¿Ã��Ã�½Ã���Ã�¯Ã�¿Ã�½Ã���Ã��Ã�¯Ã���Ã�¯Ã�¿Ã�½Ã��Ã�¯Ã��Ã�¿Ã��Ã�½Ã���Ã��Ã�¯Ã���Ã��Ã�¿Ã���Ã��Ã�½Ã���Ã�¯Ã�¿Ã�½Ã��Ã�¯Ã��Ã�¿Ã��Ã�½Ã���Ã�¯Ã�¿Ã�½Ã���Ã��Ã�¿Ã���Ã�¯Ã�¿Ã�½Ã��Ã�¯Ã��Ã�¿Ã��Ã�½Ã���Ã��Ã�¯Ã���Ã��Ã�¿Ã���Ã��Ã�½Ã���Ã�¯Ã�¿Ã�½Ã��Ã�¯Ã��Ã�¿Ã��Ã�½Ã���Ã�¯Ã�¿Ã�½Ã���Ã��Ã�½Ã���Ã�¯Ã�¿Ã�½Ã��Ã�¯Ã��Ã�¿Ã��Ã�½Ã���Ã��Ã�¯Ã���Ã��Ã�¿Ã���Ã��Ã�½Ã���Ã�¯Ã�¿Ã�½Ã���Ã��Ã�¯Ã���Ã�¯Ã�¿Ã�½Ã���Ã��Ã�¿Ã���Ã�¯Ã�¿Ã�½Ã���Ã��Ã�½Ã���Ã�¯Ã�¿Ã�½Ã��Ã�¯Ã��Ã�¿Ã��Ã�½Ã���Ã�¯Ã�¿Ã�½Ã���Ã��Ã�¯Ã���Ã�¯Ã�¿Ã�½Ã��Ã�¯Ã��Ã�¿Ã��Ã�½Ã���Ã�¯Ã�¿Ã�½Ã���Ã��Ã�¿Ã���Ã�¯Ã�¿Ã�½Ã��Ã�¯Ã��Ã�¿Ã��Ã�½Ã���Ã�¯Ã�¿Ã�½Ã���Ã��Ã�½Ã���Ã�¯Ã�¿Ã�½Ã��Ã�¯Ã��Ã�¿Ã��Ã�½Ã���Ã��Ã�¯Ã���Ã��Ã�¿Ã���Ã��Ã�½Ã���Ã�¯Ã�¿Ã�½Ã���Ã��Ã�¯Ã���Ã�¯Ã�¿Ã�½Ã���Ã��Ã�¿Ã���Ã�¯Ã�¿Ã�½Ã���Ã��Ã�½Ã���Ã�¯Ã�¿Ã�½Ã��Ã�¯Ã��Ã�¿Ã��Ã�½Ã���Ã��Ã�¯Ã���Ã��Ã�¿Ã���Ã��Ã�½Ã���Ã�¯Ã�¿Ã�½Ã��Ã�¯Ã��Ã�¿Ã��Ã�½Ã���Ã�¯Ã�¿Ã�½Ã���Ã��Ã�¯Ã���Ã�¯Ã�¿Ã�½Ã��Ã�¯Ã��Ã�¿Ã��Ã�½Ã���Ã��Ã�¯Ã���Ã��Ã�¿Ã���Ã��Ã�½Ã���Ã�¯Ã�¿Ã�½Ã���Ã��Ã�¯Ã���Ã�¯Ã�¿Ã�½Ã���Ã��Ã�¿Ã���Ã�¯Ã�¿Ã�½Ã���Ã��Ã�½Ã���Ã�¯Ã�¿Ã�½Ã��Ã�¯Ã��Ã�¿Ã��Ã�½Ã���Ã�¯Ã�¿Ã�½Ã���Ã��Ã�¯Ã���Ã�¯Ã�¿Ã�½Ã��Ã�¯Ã��Ã�¿Ã��Ã�½Ã���Ã�¯Ã�¿Ã�½Ã���Ã��Ã�¿Ã���Ã�¯Ã�¿Ã�½Ã��Ã�¯Ã��Ã�¿Ã��Ã�½Ã���Ã�¯Ã�¿Ã�½Ã���Ã��Ã�½Ã���Ã�¯Ã�¿Ã�½Ã��Ã�¯Ã��Ã�¿Ã��Ã�½Ã���Ã��Ã�¯Ã���Ã��Ã�¿Ã���Ã��Ã�½Ã���Ã�¯Ã�¿Ã�½Ã��Ã�¯Ã��Ã�¿Ã��Ã�½Ã���Ã�¯Ã�¿Ã�½Ã���Ã��Ã�¯Ã���Ã�¯Ã�¿Ã�½Ã��Ã�¯Ã��Ã�¿Ã��Ã�½Ã���Ã��Ã�¯Ã���Ã��Ã�¿Ã���Ã��Ã�½Ã���Ã�¯Ã�¿Ã�½Ã��Ã�¯Ã��Ã�¿Ã��Ã�½Ã���Ã�¯Ã�¿Ã�½Ã���Ã��Ã�¿Ã���Ã�¯Ã�¿Ã�½Ã��Ã�¯Ã��Ã�¿Ã��Ã�½Ã���Ã��Ã�¯Ã���Ã��Ã�¿Ã���Ã��Ã�½Ã���Ã�¯Ã�¿Ã�½Ã��Ã�¯Ã��Ã�¿Ã��Ã�½Ã���Ã�¯Ã�¿Ã�½Ã���Ã��Ã�½Ã���Ã�¯Ã�¿Ã�½Ã��Ã�¯Ã��Ã�¿Ã��Ã�½Ã���Ã��Ã�¯Ã���Ã��Ã�¿Ã���Ã��Ã�½Ã���Ã�¯Ã�¿Ã�½Ã���Ã��Ã�¯Ã���Ã�¯Ã�¿Ã�½Ã���Ã��Ã�¿Ã���Ã�¯Ã�¿Ã�½Ã���Ã��Ã�½Ã���Ã�¯Ã�¿Ã�½Ã��Ã�¯Ã��Ã�¿Ã��Ã�½Ã���Ã��Ã�¯Ã���Ã��Ã�¿Ã���Ã��Ã�½Ã���Ã�¯Ã�¿Ã�½Ã��Ã�¯Ã��Ã�¿Ã��Ã�½Ã���Ã�¯Ã�¿Ã�½Ã���Ã��Ã�¯Ã���Ã�¯Ã�¿Ã�½Ã��Ã�¯Ã��Ã�¿Ã��Ã�½Ã���Ã��Ã�¯Ã���Ã��Ã�¿Ã���Ã��Ã�½Ã���Ã�¯Ã�¿Ã�½Ã���Ã��Ã�¯Ã���Ã�¯Ã�¿Ã�½Ã���Ã��Ã�¿Ã���Ã�¯Ã�¿Ã�½Ã���Ã��Ã�½Ã���Ã�¯Ã�¿Ã�½Ã��Ã�¯Ã��Ã�¿Ã��Ã�½Ã���Ã��Ã�¯Ã���Ã��Ã�¿Ã���Ã��Ã�½Ã���Ã�¯Ã�¿Ã�½Ã��Ã�¯Ã��Ã�¿Ã��Ã�½Ã���Ã�¯Ã�¿Ã�½Ã���Ã��Ã�¿Ã���Ã�¯Ã�¿Ã�½Ã��Ã�¯Ã��Ã�¿Ã��Ã�½Ã���Ã��Ã�¯Ã���Ã��Ã�¿Ã���Ã��Ã�½Ã���Ã�¯Ã�¿Ã�½Ã���Ã��Ã�¯Ã���Ã�¯Ã�¿Ã�½Ã���Ã��Ã�¿Ã���Ã�¯Ã�¿Ã�½Ã���Ã��Ã�½Ã���Ã�¯Ã�¿Ã�½Ã��Ã�¯Ã��Ã�¿Ã��Ã�½Ã���Ã��Ã�¯Ã���Ã��Ã�¿Ã���Ã��Ã�½Ã���Ã�¯Ã�¿Ã�½Ã��Ã�¯Ã��Ã�¿Ã��Ã�½Ã���Ã�¯Ã�¿Ã�½Ã���Ã��Ã�½Ã���Ã�¯Ã�¿Ã�½Ã��Ã�¯Ã��Ã�¿Ã��Ã�½Ã���Ã��Ã�¯Ã���Ã��Ã�¿Ã���Ã��Ã�½Ã���Ã�¯Ã�¿Ã�½Ã���Ã��Ã�¯Ã���Ã�¯Ã�¿Ã�½Ã���Ã��Ã�¿Ã���Ã�¯Ã�¿Ã�½Ã���Ã��Ã�½Ã���Ã�¯Ã�¿Ã�½Ã��Ã�¯Ã��Ã�¿Ã��Ã�½Ã���Ã�¯Ã�¿Ã�½Ã���Ã��Ã�¯Ã���Ã�¯Ã�¿Ã�½Ã��Ã�¯Ã��Ã�¿Ã��Ã�½Ã���Ã�¯Ã�¿Ã�½Ã���Ã��Ã�¿Ã���Ã�¯Ã�¿Ã�½Ã��Ã�¯Ã��Ã�¿Ã��Ã�½Ã���Ã�¯Ã�¿Ã�½Ã���Ã��Ã�½Ã���Ã�¯Ã�¿Ã�½Ã��Ã�¯Ã��Ã�¿Ã��Ã�½Ã���Ã��Ã�¯Ã���Ã��Ã�¿Ã���Ã��Ã�½Ã���Ã�¯Ã�¿Ã�½Ã��Ã�¯Ã��Ã�¿Ã��Ã�½Ã���Ã�¯Ã�¿Ã�½Ã���Ã��Ã�¯Ã���Ã�¯Ã�¿Ã�½Ã��Ã�¯Ã��Ã�¿Ã��Ã�½Ã���Ã��Ã�¯Ã���Ã��Ã�¿Ã���Ã��Ã�½Ã���Ã�¯Ã�¿Ã�½Ã��Ã�¯Ã��Ã�¿Ã��Ã�½Ã���Ã�¯Ã�¿Ã�½Ã���Ã��Ã�¿Ã���Ã�¯Ã�¿Ã�½Ã��Ã�¯Ã��Ã�¿Ã��Ã�½Ã���Ã��Ã�¯Ã���Ã��Ã�¿Ã���Ã��Ã�½Ã���Ã�¯Ã�¿Ã�½Ã��Ã�¯Ã��Ã�¿Ã��Ã�½Ã���Ã�¯Ã�¿Ã�½Ã���Ã��Ã�½Ã���Ã�¯Ã�¿Ã�½Ã��Ã�¯Ã��Ã�¿Ã��Ã�½Ã���Ã��Ã�¯Ã���Ã��Ã�¿Ã���Ã��Ã�½Ã���Ã�¯Ã�¿Ã�½Ã���Ã��Ã�¯Ã���Ã�¯Ã�¿Ã�½Ã���Ã��Ã�¿Ã���Ã�¯Ã�¿Ã�½Ã���Ã��Ã�½Ã���Ã�¯Ã�¿Ã�½Ã��Ã�¯Ã��Ã�¿Ã��Ã�½Ã���Ã�¯Ã�¿Ã�½Ã���Ã��Ã�¯Ã���Ã�¯Ã�¿Ã�½Ã��Ã�¯Ã��Ã�¿Ã��Ã�½Ã���Ã�¯Ã�¿Ã�½Ã���Ã��Ã�¿Ã���Ã�¯Ã�¿Ã�½Ã��Ã�¯Ã��Ã�¿Ã��Ã�½Ã���Ã�¯Ã�¿Ã�½Ã���Ã��Ã�½Ã���Ã�¯Ã�¿Ã�½Ã��Ã�¯Ã��Ã�¿Ã��Ã�½Ã���Ã��Ã�¯Ã���Ã��Ã�¿Ã���Ã��Ã�½Ã���Ã�¯Ã�¿Ã�½Ã���Ã��Ã�¯Ã���Ã�¯Ã�¿Ã�½Ã���Ã��Ã�¿Ã���Ã�¯Ã�¿Ã�½Ã���Ã��Ã�½Ã���Ã�¯Ã�¿Ã�½Ã��Ã�¯Ã��Ã�¿Ã��Ã�½Ã���Ã��Ã�¯Ã���Ã��Ã�¿Ã���Ã��Ã�½Ã���Ã�¯Ã�¿Ã�½Ã��Ã�¯Ã��Ã�¿Ã��Ã�½Ã���Ã�¯Ã�¿Ã�½Ã���Ã��Ã�¿Ã���Ã�¯Ã�¿Ã�½Ã��Ã�¯Ã��Ã�¿Ã��Ã�½Ã���Ã��Ã�¯Ã���Ã��Ã�¿Ã���Ã��Ã�½Ã���Ã�¯Ã�¿Ã�½Ã���Ã��Ã�¯Ã���Ã�¯Ã�¿Ã�½Ã���Ã��Ã�¿Ã���Ã�¯Ã�¿Ã�½Ã���Ã��Ã�½Ã���Ã�¯Ã�¿Ã�½Ã��Ã�¯Ã��Ã�¿Ã��Ã�½Ã���Ã�¯Ã�¿Ã�½Ã���Ã��Ã�¯Ã���Ã�¯Ã�¿Ã�½Ã��Ã�¯Ã��Ã�¿Ã��Ã�½Ã���Ã�¯Ã�¿Ã�½Ã���Ã��Ã�¿Ã���Ã�¯Ã�¿Ã�½Ã��Ã�¯Ã��Ã�¿Ã��Ã�½Ã���Ã�¯Ã�¿Ã�½Ã���Ã��Ã�½Ã���Ã�¯Ã�¿Ã�½Ã��Ã�¯Ã��Ã�¿Ã��Ã�½Ã���Ã��Ã�¯Ã���Ã��Ã�¿Ã���Ã��Ã�½Ã���Ã�¯Ã�¿Ã�½Ã��Ã�¯Ã��Ã�¿Ã��Ã�½Ã���Ã�¯Ã�¿Ã�½Ã���Ã��Ã�¯Ã���Ã�¯Ã�¿Ã�½Ã��Ã�¯Ã��Ã�¿Ã��Ã�½Ã���Ã��Ã�¯Ã���Ã��Ã�¿Ã���Ã��Ã�½Ã���Ã�¯Ã�¿Ã�½Ã��Ã�¯Ã��Ã�¿Ã��Ã�½Ã���Ã�¯Ã�¿Ã�½Ã���Ã��Ã�¿Ã���Ã�¯Ã�¿Ã�½Ã��Ã�¯Ã��Ã�¿Ã��Ã�½Ã���Ã��Ã�¯Ã���Ã��Ã�¿Ã���Ã��Ã�½Ã���Ã�¯Ã�¿Ã�½Ã��Ã�¯Ã��Ã�¿Ã��Ã�½Ã���Ã�¯Ã�¿Ã�½Ã���Ã��Ã�½Ã���Ã�¯Ã�¿Ã�½Ã��Ã�¯Ã��Ã�¿Ã��Ã�½Ã���Ã��Ã�¯Ã���Ã��Ã�¿Ã���Ã��Ã�½Ã���Ã�¯Ã�¿Ã�½Ã���Ã��Ã�¯Ã���Ã�¯Ã�¿Ã�½Ã���Ã��Ã�¿Ã���Ã�¯Ã�¿Ã�½Ã���Ã��Ã�½Ã���Ã�¯Ã�¿Ã�½Ã��Ã�¯Ã��Ã�¿Ã��Ã�½Ã���Ã��Ã�¯Ã���Ã��Ã�¿Ã���Ã��Ã�½Ã���Ã�¯Ã�¿Ã�½Ã��Ã�¯Ã��Ã�¿Ã��Ã�½Ã���Ã�¯Ã�¿Ã�½Ã���Ã��Ã�¯Ã���Ã�¯Ã�¿Ã�½Ã��Ã�¯Ã��Ã�¿Ã��Ã�½Ã���Ã��Ã�¯Ã���Ã��Ã�¿Ã���Ã��Ã�½Ã���Ã�¯Ã�¿Ã�½Ã���Ã��Ã�¯Ã���Ã�¯Ã�¿Ã�½Ã���Ã��Ã�¿Ã���Ã�¯Ã�¿Ã�½Ã���Ã��Ã�½Ã���Ã�¯Ã�¿Ã�½Ã��Ã�¯Ã��Ã�¿Ã��Ã�½Ã���Ã��Ã�¯Ã���Ã��Ã�¿Ã���Ã��Ã�½Ã���Ã�¯Ã�¿Ã�½Ã��Ã�¯Ã��Ã�¿Ã��Ã�½Ã���Ã�¯Ã�¿Ã�½Ã���Ã��Ã�¿Ã���Ã�¯Ã�¿Ã�½Ã��Ã�¯Ã��Ã�¿Ã��Ã�½Ã���Ã��Ã�¯Ã���Ã��Ã�¿Ã���Ã��Ã�½Ã���Ã�¯Ã�¿Ã�½Ã���Ã��Ã�¯Ã���Ã�¯Ã�¿Ã�½Ã���Ã��Ã�¿Ã���Ã�¯Ã�¿Ã�½Ã���Ã��Ã�½Ã���Ã�¯Ã�¿Ã�½Ã��Ã�¯Ã��Ã�¿Ã��Ã�½Ã���Ã��Ã�¯Ã���Ã��Ã�¿Ã���Ã��Ã�½Ã���Ã�¯Ã�¿Ã�½Ã��Ã�¯Ã��Ã�¿Ã��Ã�½Ã���Ã�¯Ã�¿Ã�½Ã���Ã��Ã�½Ã���Ã�¯Ã�¿Ã�½Ã��Ã�¯Ã��Ã�¿Ã��Ã�½Ã���Ã��Ã�¯Ã���Ã��Ã�¿Ã���Ã��Ã�½Ã���Ã�¯Ã�¿Ã�½Ã���Ã��Ã�¯Ã���Ã�¯Ã�¿Ã�½Ã���Ã��Ã�¿Ã���Ã�¯Ã�¿Ã�½Ã���Ã��Ã�½Ã���Ã�¯Ã�¿Ã�½Ã��Ã�¯Ã��Ã�¿Ã��Ã�½Ã���Ã�¯Ã�¿Ã�½Ã���Ã��Ã�¯Ã���Ã�¯Ã�¿Ã�½Ã��Ã�¯Ã��Ã�¿Ã��Ã�½Ã���Ã�¯Ã�¿Ã�½Ã���Ã��Ã�¿Ã���Ã�¯Ã�¿Ã�½Ã��Ã�¯Ã��Ã�¿Ã��Ã�½Ã���Ã�¯Ã�¿Ã�½Ã���Ã��Ã�½Ã���Ã�¯Ã�¿Ã�½Ã��Ã�¯Ã��Ã�¿Ã��Ã�½Ã���Ã��Ã�¯Ã���Ã��Ã�¿Ã���Ã��Ã�½Ã���Ã�¯Ã�¿Ã�½Ã��Ã�¯Ã��Ã�¿Ã��Ã�½Ã���Ã�¯Ã�¿Ã�½Ã���Ã��Ã�¯Ã���Ã�¯Ã�¿Ã�½Ã��Ã�¯Ã��Ã�¿Ã��Ã�½Ã���Ã��Ã�¯Ã���Ã��Ã�¿Ã���Ã��Ã�½Ã���Ã�¯Ã�¿Ã�½Ã��Ã�¯Ã��Ã�¿Ã��Ã�½Ã���Ã�¯Ã�¿Ã�½Ã���Ã��Ã�¿Ã���Ã�¯Ã�¿Ã�½Ã��Ã�¯Ã��Ã�¿Ã��Ã�½Ã���Ã��Ã�¯Ã���Ã��Ã�¿Ã���Ã��Ã�½Ã���Ã�¯Ã�¿Ã�½Ã��Ã�¯Ã��Ã�¿Ã��Ã�½Ã���Ã�¯Ã�¿Ã�½Ã���Ã��Ã�½Ã���Ã�¯Ã�¿Ã�½Ã��Ã�¯Ã��Ã�¿Ã��Ã�½Ã���Ã��Ã�¯Ã���Ã��Ã�¿Ã���Ã��Ã�½Ã���Ã�¯Ã�¿Ã�½Ã���Ã��Ã�¯Ã���Ã�¯Ã�¿Ã�½Ã���Ã��Ã�¿Ã���Ã�¯Ã�¿Ã�½Ã���Ã��Ã�½Ã���Ã�¯Ã�¿Ã�½Ã��Ã�¯Ã��Ã�¿Ã��Ã�½Ã���Ã�¯Ã�¿Ã�½Ã���Ã��Ã�¯Ã���Ã�¯Ã�¿Ã�½Ã��Ã�¯Ã��Ã�¿Ã��Ã�½Ã���Ã�¯Ã�¿Ã�½Ã���Ã��Ã�¿Ã���Ã�¯Ã�¿Ã�½Ã��Ã�¯Ã��Ã�¿Ã��Ã�½Ã���Ã�¯Ã�¿Ã�½Ã���Ã��Ã�½Ã���Ã�¯Ã�¿Ã�½Ã��Ã�¯Ã��Ã�¿Ã��Ã�½Ã���Ã��Ã�¯Ã���Ã��Ã�¿Ã���Ã��Ã�½Ã���Ã�¯Ã�¿Ã�½Ã���Ã��Ã�¯Ã���Ã�¯Ã�¿Ã�½Ã���Ã��Ã�¿Ã���Ã�¯Ã�¿Ã�½Ã���Ã��Ã�½Ã���Ã�¯Ã�¿Ã�½Ã��Ã�¯Ã��Ã�¿Ã��Ã�½Ã���Ã��Ã�¯Ã���Ã��Ã�¿Ã���Ã��Ã�½Ã���Ã�¯Ã�¿Ã�½Ã��Ã�¯Ã��Ã�¿Ã��Ã�½Ã���Ã�¯Ã�¿Ã�½Ã���Ã��Ã�½Ã���Ã�¯Ã�¿Ã�½Ã��Ã�¯Ã��Ã�¿Ã��Ã�½Ã���Ã��Ã�¯Ã���Ã��Ã�¿Ã���Ã��Ã�½Ã���Ã�¯Ã�¿Ã�½Ã���Ã��Ã�¯Ã���Ã�¯Ã�¿Ã�½Ã���Ã��Ã�¿Ã���Ã�¯Ã�¿Ã�½Ã���Ã��Ã�½Ã���Ã�¯Ã�¿Ã�½Ã��Ã�¯Ã��Ã�¿Ã��Ã�½Ã���Ã�¯Ã�¿Ã�½Ã���Ã��Ã�¯Ã���Ã�¯Ã�¿Ã�½Ã��Ã�¯Ã��Ã�¿Ã��Ã�½Ã���Ã�¯Ã�¿Ã�½Ã���Ã��Ã�¿Ã���Ã�¯Ã�¿Ã�½Ã��Ã�¯Ã��Ã�¿Ã��Ã�½Ã���Ã�¯Ã�¿Ã�½Ã���Ã��Ã�½Ã���Ã�¯Ã�¿Ã�½Ã��Ã�¯Ã��Ã�¿Ã��Ã�½Ã���Ã��Ã�¯Ã���Ã��Ã�¿Ã���Ã��Ã�½Ã���Ã�¯Ã�¿Ã�½Ã��Ã�¯Ã��Ã�¿Ã��Ã�½Ã���Ã�¯Ã�¿Ã�½Ã���Ã��Ã�¯Ã���Ã�¯Ã�¿Ã�½Ã��Ã�¯Ã��Ã�¿Ã��Ã�½Ã���Ã��Ã�¯Ã���Ã��Ã�¿Ã���Ã��Ã�½Ã���Ã�¯Ã�¿Ã�½Ã��Ã�¯Ã��Ã�¿Ã��Ã�½Ã���Ã�¯Ã�¿Ã�½Ã���Ã��Ã�¿Ã���Ã�¯Ã�¿Ã�½Ã��Ã�¯Ã��Ã�¿Ã��Ã�½Ã���Ã��Ã�¯Ã���Ã��Ã�¿Ã���Ã��Ã�½Ã���Ã�¯Ã�¿Ã�½Ã��Ã�¯Ã��Ã�¿Ã��Ã�½Ã���Ã�¯Ã�¿Ã�½Ã���Ã��Ã�½Ã���Ã�¯Ã�¿Ã�½Ã��Ã�¯Ã��Ã�¿Ã��Ã�½Ã���Ã��Ã�¯Ã���Ã��Ã�¿Ã���Ã��Ã�½Ã���Ã�¯Ã�¿Ã�½Ã���Ã��Ã�¯Ã���Ã�¯Ã�¿Ã�½Ã���Ã��Ã�¿Ã���Ã�¯Ã�¿Ã�½Ã���Ã��Ã�½Ã���Ã�¯Ã�¿Ã�½Ã��Ã�¯Ã��Ã�¿Ã��Ã�½Ã���Ã��Ã�¯Ã���Ã��Ã�¿Ã���Ã��Ã�½Ã���Ã�¯Ã�¿Ã�½Ã��Ã�¯Ã��Ã�¿Ã��Ã�½Ã���Ã�¯Ã�¿Ã�½Ã���Ã��Ã�¯Ã���Ã�¯Ã�¿Ã�½Ã��Ã�¯Ã��Ã�¿Ã��Ã�½Ã���Ã��Ã�¯Ã���Ã��Ã�¿Ã���Ã��Ã�½Ã���Ã�¯Ã�¿Ã�½Ã���Ã��Ã�¯Ã���Ã�¯Ã�¿Ã�½Ã���Ã��Ã�¿Ã���Ã�¯Ã�¿Ã�½Ã���Ã��Ã�½Ã���Ã�¯Ã�¿Ã�½Ã��Ã�¯Ã��Ã�¿Ã��Ã�½Ã���Ã��Ã�¯Ã���Ã��Ã�¿Ã���Ã��Ã�½Ã���Ã�¯Ã�¿Ã�½Ã��Ã�¯Ã��Ã�¿Ã��Ã�½Ã���Ã�¯Ã�¿Ã�½Ã���Ã��Ã�¿Ã���Ã�¯Ã�¿Ã�½Ã��Ã�¯Ã��Ã�¿Ã��Ã�½Ã���Ã��Ã�¯Ã���Ã��Ã�¿Ã���Ã��Ã�½Ã���Ã�¯Ã�¿Ã�½Ã���Ã��Ã�¯Ã���Ã�¯Ã�¿Ã�½Ã���Ã��Ã�¿Ã���Ã�¯Ã�¿Ã�½Ã���Ã��Ã�½Ã���Ã�¯Ã�¿Ã�½Ã��Ã�¯Ã��Ã�¿Ã��Ã�½Ã���Ã��Ã�¯Ã���Ã��Ã�¿Ã���Ã��Ã�½Ã���Ã�¯Ã�¿Ã�½Ã��Ã�¯Ã��Ã�¿Ã��Ã�½Ã���Ã�¯Ã�¿Ã�½Ã���Ã��Ã�½Ã���Ã�¯Ã�¿Ã�½Ã��Ã�¯Ã��Ã�¿Ã��Ã�½Ã���Ã��Ã�¯Ã���Ã��Ã�¿Ã���Ã��Ã�½Ã���Ã�¯Ã�¿Ã�½Ã���Ã��Ã�¯Ã���Ã�¯Ã�¿Ã�½Ã���Ã��Ã�¿Ã���Ã�¯Ã�¿Ã�½Ã���Ã��Ã�½Ã���Ã�¯Ã�¿Ã�½Ã��Ã�¯Ã��Ã�¿Ã��Ã�½Ã���Ã�¯Ã�¿Ã�½Ã���Ã��Ã�¯Ã���Ã�¯Ã�¿Ã�½Ã��Ã�¯Ã��Ã�¿Ã��Ã�½Ã���Ã�¯Ã�¿Ã�½Ã���Ã��Ã�¿Ã���Ã�¯Ã�¿Ã�½Ã��Ã�¯Ã��Ã�¿Ã��Ã�½Ã���Ã�¯Ã�¿Ã�½Ã���Ã��Ã�½Ã���Ã�¯Ã�¿Ã�½Ã��Ã�¯Ã��Ã�¿Ã��Ã�½Ã���Ã��Ã�¯Ã���Ã��Ã�¿Ã���Ã��Ã�½Ã���Ã�¯Ã�¿Ã�½Ã���Ã��Ã�¯Ã���Ã�¯Ã�¿Ã�½Ã���Ã��Ã�¿Ã���Ã�¯Ã�¿Ã�½Ã���Ã��Ã�½Ã���Ã�¯Ã�¿Ã�½Ã��Ã�¯Ã��Ã�¿Ã��Ã�½Ã���Ã��Ã�¯Ã���Ã��Ã�¿Ã���Ã��Ã�½Ã���Ã�¯Ã�¿Ã�½Ã��Ã�¯Ã��Ã�¿Ã��Ã�½Ã���Ã�¯Ã�¿Ã�½Ã���Ã��Ã�¯Ã���Ã�¯Ã�¿Ã�½Ã��Ã�¯Ã��Ã�¿Ã��Ã�½Ã���Ã��Ã�¯Ã���Ã��Ã�¿Ã���Ã��Ã�½Ã���Ã�¯Ã�¿Ã�½Ã���Ã��Ã�¯Ã���Ã�¯Ã�¿Ã�½Ã���Ã��Ã�¿Ã���Ã�¯Ã�¿Ã�½Ã���Ã��Ã�½Ã���Ã�¯Ã�¿Ã�½Ã��Ã�¯Ã��Ã�¿Ã��Ã�½Ã���Ã�¯Ã�¿Ã�½Ã���Ã��Ã�¯Ã���Ã�¯Ã�¿Ã�½Ã��Ã�¯Ã��Ã�¿Ã��Ã�½Ã���Ã�¯Ã�¿Ã�½Ã���Ã��Ã�¿Ã���Ã�¯Ã�¿Ã�½Ã��Ã�¯Ã��Ã�¿Ã��Ã�½Ã���Ã�¯Ã�¿Ã�½Ã���Ã��Ã�½Ã���Ã�¯Ã�¿Ã�½Ã��Ã�¯Ã��Ã�¿Ã��Ã�½Ã���Ã��Ã�¯Ã���Ã��Ã�¿Ã���Ã��Ã�½Ã���Ã�¯Ã�¿Ã�½Ã���Ã��Ã�¯Ã���Ã�¯Ã�¿Ã�½Ã���Ã��Ã�¿Ã���Ã�¯Ã�¿Ã�½Ã���Ã��Ã�½Ã���Ã�¯Ã�¿Ã�½Ã��Ã�¯Ã��Ã�¿Ã��Ã�½Ã���Ã��Ã�¯Ã���Ã��Ã�¿Ã���Ã��Ã�½Ã���Ã�¯Ã�¿Ã�½Ã��Ã�¯Ã��Ã�¿Ã��Ã�½Ã���Ã�¯Ã�¿Ã�½Ã���Ã��Ã�¿Ã���Ã�¯Ã�¿Ã�½Ã��Ã�¯Ã��Ã�¿Ã��Ã�½Ã���Ã��Ã�¯Ã���Ã��Ã�¿Ã���Ã��Ã�½Ã���Ã�¯Ã�¿Ã�½Ã���Ã��Ã�¯Ã���Ã�¯Ã�¿Ã�½Ã���Ã��Ã�¿Ã���Ã�¯Ã�¿Ã�½Ã���Ã��Ã�½Ã���Ã�¯Ã�¿Ã�½Ã��Ã�¯Ã��Ã�¿Ã��Ã�½Ã���Ã�¯Ã�¿Ã�½Ã���Ã��Ã�¯Ã���Ã�¯Ã�¿Ã�½Ã��Ã�¯Ã��Ã�¿Ã��Ã�½Ã���Ã�¯Ã�¿Ã�½Ã���Ã��Ã�¿Ã���Ã�¯Ã�¿Ã�½Ã��Ã�¯Ã��Ã�¿Ã��Ã�½Ã���Ã�¯Ã�¿Ã�½Ã���Ã��Ã�½Ã���Ã�¯Ã�¿Ã�½Ã��Ã�¯Ã��Ã�¿Ã��Ã�½Ã���Ã��Ã�¯Ã���Ã��Ã�¿Ã���Ã��Ã�½Ã���Ã�¯Ã�¿Ã�½Ã���Ã��Ã�¯Ã���Ã�¯Ã�¿Ã�½Ã���Ã��Ã�¿Ã���Ã�¯Ã�¿Ã�½Ã���Ã��Ã�½Ã���Ã�¯Ã�¿Ã�½Ã��Ã�¯Ã��Ã�¿Ã��Ã�½Ã���Ã��Ã�¯Ã���Ã��Ã�¿Ã���Ã��Ã�½Ã���Ã�¯Ã�¿Ã�½Ã��Ã�¯Ã��Ã�¿Ã��Ã�½Ã���Ã�¯Ã�¿Ã�½Ã���Ã��Ã�½Ã���Ã�¯Ã�¿Ã�½Ã��Ã�¯Ã��Ã�¿Ã��Ã�½Ã���Ã��Ã�¯Ã���Ã��Ã�¿Ã���Ã��Ã�½Ã���Ã�¯Ã�¿Ã�½Ã���Ã��Ã�¯Ã���Ã�¯Ã�¿Ã�½Ã���Ã��Ã�¿Ã���Ã�¯Ã�¿Ã�½Ã���Ã��Ã�½Ã���Ã�¯Ã�¿Ã�½Ã��Ã�¯Ã��Ã�¿Ã��Ã�½Ã���Ã�¯Ã�¿Ã�½Ã���Ã��Ã�¯Ã���Ã�¯Ã�¿Ã�½Ã��Ã�¯Ã��Ã�¿Ã��Ã�½Ã���Ã�¯Ã�¿Ã�½Ã���Ã��Ã�¿Ã���Ã�¯Ã�¿Ã�½Ã��Ã�¯Ã��Ã�¿Ã��Ã�½Ã���Ã�¯Ã�¿Ã�½Ã���Ã��Ã�½Ã���Ã�¯Ã�¿Ã�½Ã��Ã�¯Ã��Ã�¿Ã��Ã�½Ã���Ã��Ã�¯Ã���Ã��Ã�¿Ã���Ã��Ã�½Ã���Ã�¯Ã�¿Ã�½Ã��Ã�¯Ã��Ã�¿Ã��Ã�½Ã���Ã�¯Ã�¿Ã�½Ã���Ã��Ã�¯Ã���Ã�¯Ã�¿Ã�½Ã��Ã�¯Ã��Ã�¿Ã��Ã�½Ã���Ã��Ã�¯Ã���Ã��Ã�¿Ã���Ã��Ã�½Ã���Ã�¯Ã�¿Ã�½Ã��Ã�¯Ã��Ã�¿Ã��Ã�½Ã���Ã�¯Ã�¿Ã�½Ã���Ã��Ã�¿Ã���Ã�¯Ã�¿Ã�½Ã��Ã�¯Ã��Ã�¿Ã��Ã�½Ã���Ã��Ã�¯Ã���Ã��Ã�¿Ã���Ã��Ã�½Ã���Ã�¯Ã�¿Ã�½Ã��Ã�¯Ã��Ã�¿Ã��Ã�½Ã���Ã�¯Ã�¿Ã�½Ã���Ã��Ã�½Ã���Ã�¯Ã�¿Ã�½Ã��Ã�¯Ã��Ã�¿Ã��Ã�½Ã���Ã��Ã�¯Ã���Ã��Ã�¿Ã���Ã��Ã�½Ã���Ã�¯Ã�¿Ã�½Ã���Ã��Ã�¯Ã���Ã�¯Ã�¿Ã�½Ã���Ã��Ã�¿Ã���Ã�¯Ã�¿Ã�½Ã���Ã��Ã�½Ã���Ã�¯Ã�¿Ã�½Ã��Ã�¯Ã��Ã�¿Ã��Ã�½Ã���Ã�¯Ã�¿Ã�½Ã���Ã��Ã�¯Ã���Ã�¯Ã�¿Ã�½Ã��Ã�¯Ã��Ã�¿Ã��Ã�½Ã���Ã�¯Ã�¿Ã�½Ã���Ã��Ã�¿Ã���Ã�¯Ã�¿Ã�½Ã��Ã�¯Ã��Ã�¿Ã��Ã�½Ã���Ã�¯Ã�¿Ã�½Ã���Ã��Ã�½Ã���Ã�¯Ã�¿Ã�½Ã��Ã�¯Ã��Ã�¿Ã��Ã�½Ã���Ã��Ã�¯Ã���Ã��Ã�¿Ã���Ã��Ã�½Ã���Ã�¯Ã�¿Ã�½Ã���Ã��Ã�¯Ã���Ã�¯Ã�¿Ã�½Ã���Ã��Ã�¿Ã���Ã�¯Ã�¿Ã�½Ã���Ã��Ã�½Ã���Ã�¯Ã�¿Ã�½Ã��Ã�¯Ã��Ã�¿Ã��Ã�½Ã���Ã��Ã�¯Ã���Ã��Ã�¿Ã���Ã��Ã�½Ã���Ã�¯Ã�¿Ã�½Ã��Ã�¯Ã��Ã�¿Ã��Ã�½Ã���Ã�¯Ã�¿Ã�½Ã���Ã��Ã�¯Ã���Ã�¯Ã�¿Ã�½Ã��Ã�¯Ã��Ã�¿Ã��Ã�½Ã���Ã��Ã�¯Ã���Ã��Ã�¿Ã���Ã��Ã�½Ã���Ã�¯Ã�¿Ã�½Ã���Ã��Ã�¯Ã���Ã�¯Ã�¿Ã�½Ã���Ã��Ã�¿Ã���Ã�¯Ã�¿Ã�½Ã���Ã��Ã�½Ã���Ã�¯Ã�¿Ã�½Ã��Ã�¯Ã��Ã�¿Ã��Ã�½Ã���Ã�¯Ã�¿Ã�½Ã���Ã��Ã�¯Ã���Ã�¯Ã�¿Ã�½Ã��Ã�¯Ã��Ã�¿Ã��Ã�½Ã���Ã�¯Ã�¿Ã�½Ã���Ã��Ã�¿Ã���Ã�¯Ã�¿Ã�½Ã��Ã�¯Ã��Ã�¿Ã��Ã�½Ã���Ã�¯Ã�¿Ã�½Ã���Ã��Ã�½Ã���Ã�¯Ã�¿Ã�½Ã��Ã�¯Ã��Ã�¿Ã��Ã�½Ã���Ã��Ã�¯Ã���Ã��Ã�¿Ã���Ã��Ã�½Ã���Ã�¯Ã�¿Ã�½Ã��Ã�¯Ã��Ã�¿Ã��Ã�½Ã���Ã�¯Ã�¿Ã�½Ã���Ã��Ã�¯Ã���Ã�¯Ã�¿Ã�½Ã��Ã�¯Ã��Ã�¿Ã��Ã�½Ã���Ã��Ã�¯Ã���Ã��Ã�¿Ã���Ã��Ã�½Ã���Ã�¯Ã�¿Ã�½Ã��Ã�¯Ã��Ã�¿Ã��Ã�½Ã���Ã�¯Ã�¿Ã�½Ã���Ã��Ã�¿Ã���Ã�¯Ã�¿Ã�½Ã��Ã�¯Ã��Ã�¿Ã��Ã�½Ã���Ã��Ã�¯Ã���Ã��Ã�¿Ã���Ã��Ã�½Ã���Ã�¯Ã�¿Ã�½Ã��Ã�¯Ã��Ã�¿Ã��Ã�½Ã���Ã�¯Ã�¿Ã�½Ã���Ã��Ã�½Ã���Ã�¯Ã�¿Ã�½Ã��Ã�¯Ã��Ã�¿Ã��Ã�½Ã���Ã��Ã�¯Ã���Ã��Ã�¿Ã���Ã��Ã�½Ã���Ã�¯Ã�¿Ã�½Ã���Ã��Ã�¯Ã���Ã�¯Ã�¿Ã�½Ã���Ã��Ã�¿Ã���Ã�¯Ã�¿Ã�½Ã���Ã��Ã�½Ã���Ã�¯Ã�¿Ã�½Ã��Ã�¯Ã��Ã�¿Ã��Ã�½Ã���Ã�¯Ã�¿Ã�½Ã���Ã��Ã�¯Ã���Ã�¯Ã�¿Ã�½Ã��Ã�¯Ã��Ã�¿Ã��Ã�½Ã���Ã�¯Ã�¿Ã�½Ã���Ã��Ã�¿Ã���Ã�¯Ã�¿Ã�½Ã��Ã�¯Ã��Ã�¿Ã��Ã�½Ã���Ã�¯Ã�¿Ã�½Ã���Ã��Ã�½Ã���Ã�¯Ã�¿Ã�½Ã��Ã�¯Ã��Ã�¿Ã��Ã�½Ã���Ã��Ã�¯Ã���Ã��Ã�¿Ã���Ã��Ã�½Ã���Ã�¯Ã�¿Ã�½Ã���Ã��Ã�¯Ã���Ã�¯Ã�¿Ã�½Ã���Ã��Ã�¿Ã���Ã�¯Ã�¿Ã�½Ã���Ã��Ã�½Ã���Ã�¯Ã�¿Ã�½Ã��Ã�¯Ã��Ã�¿Ã��Ã�½Ã���Ã��Ã�¯Ã���Ã��Ã�¿Ã���Ã��Ã�½Ã���Ã�¯Ã�¿Ã�½Ã��Ã�¯Ã��Ã�¿Ã��Ã�½Ã���Ã�¯Ã�¿Ã�½Ã���Ã��Ã�¿Ã���Ã�¯Ã�¿Ã�½Ã��Ã�¯Ã��Ã�¿Ã��Ã�½Ã���Ã��Ã�¯Ã���Ã��Ã�¿Ã���Ã��Ã�½Ã���Ã�¯Ã�¿Ã�½Ã���Ã��Ã�¯Ã���Ã�¯Ã�¿Ã�½Ã���Ã��Ã�¿Ã���Ã�¯Ã�¿Ã�½Ã���Ã��Ã�½Ã���Ã�¯Ã�¿Ã�½Ã��Ã�¯Ã��Ã�¿Ã��Ã�½Ã���Ã�¯Ã�¿Ã�½Ã���Ã��Ã�¯Ã���Ã�¯Ã�¿Ã�½Ã��Ã�¯Ã��Ã�¿Ã��Ã�½Ã���Ã�¯Ã�¿Ã�½Ã���Ã��Ã�¿Ã���Ã�¯Ã�¿Ã�½Ã��Ã�¯Ã��Ã�¿Ã��Ã�½Ã���Ã�¯Ã�¿Ã�½Ã���Ã��Ã�½Ã���Ã�¯Ã�¿Ã�½Ã��Ã�¯Ã��Ã�¿Ã��Ã�½Ã���Ã��Ã�¯Ã���Ã��Ã�¿Ã���Ã��Ã�½Ã���Ã�¯Ã�¿Ã�½Ã��Ã�¯Ã��Ã�¿Ã��Ã�½Ã���Ã�¯Ã�¿Ã�½Ã���Ã��Ã�¯Ã���Ã�¯Ã�¿Ã�½Ã��Ã�¯Ã��Ã�¿Ã��Ã�½Ã���Ã��Ã�¯Ã���Ã��Ã�¿Ã���Ã��Ã�½Ã���Ã�¯Ã�¿Ã�½Ã��Ã�¯Ã��Ã�¿Ã��Ã�½Ã���Ã�¯Ã�¿Ã�½Ã���Ã��Ã�¿Ã���Ã�¯Ã�¿Ã�½Ã��Ã�¯Ã��Ã�¿Ã��Ã�½Ã���Ã��Ã�¯Ã���Ã��Ã�¿Ã���Ã��Ã�½Ã���Ã�¯Ã�¿Ã�½Ã��Ã�¯Ã��Ã�¿Ã��Ã�½Ã���Ã�¯Ã�¿Ã�½Ã���Ã��Ã�½Ã���Ã�¯Ã�¿Ã�½Ã��Ã�¯Ã��Ã�¿Ã��Ã�½Ã���Ã��Ã�¯Ã���Ã��Ã�¿Ã���Ã��Ã�½Ã���Ã�¯Ã�¿Ã�½Ã���Ã��Ã�¯Ã���Ã�¯Ã�¿Ã�½Ã���Ã��Ã�¿Ã���Ã�¯Ã�¿Ã�½Ã���Ã��Ã�½Ã���Ã�¯Ã�¿Ã�½Ã��Ã�¯Ã��Ã�¿Ã��Ã�½Ã���Ã�¯Ã�¿Ã�½Ã���Ã��Ã�¯Ã���Ã�¯Ã�¿Ã�½Ã��Ã�¯Ã��Ã�¿Ã��Ã�½Ã���Ã�¯Ã�¿Ã�½Ã���Ã��Ã�¿Ã���Ã�¯Ã�¿Ã�½Ã��Ã�¯Ã��Ã�¿Ã��Ã�½Ã���Ã�¯Ã�¿Ã�½Ã���Ã��Ã�½Ã���Ã�¯Ã�¿Ã�½Ã��Ã�¯Ã��Ã�¿Ã��Ã�½Ã���Ã��Ã�¯Ã���Ã��Ã�¿Ã���Ã��Ã�½Ã���Ã�¯Ã�¿Ã�½Ã���Ã��Ã�¯Ã���Ã�¯Ã�¿Ã�½Ã���Ã��Ã�¿Ã���Ã�¯Ã�¿Ã�½Ã���Ã��Ã�½Ã���Ã�¯Ã�¿Ã�½Ã��Ã�¯Ã��Ã�¿Ã��Ã�½Ã���Ã��Ã�¯Ã���Ã��Ã�¿Ã���Ã��Ã�½Ã���Ã�¯Ã�¿Ã�½Ã��Ã�¯Ã��Ã�¿Ã��Ã�½Ã���Ã�¯Ã�¿Ã�½Ã���Ã��Ã�½Ã���Ã�¯Ã�¿Ã�½Ã��Ã�¯Ã��Ã�¿Ã��Ã�½Ã���Ã��Ã�¯Ã���Ã��Ã�¿Ã���Ã��Ã�½Ã���Ã�¯Ã�¿Ã�½Ã���Ã��Ã�¯Ã���Ã�¯Ã�¿Ã�½Ã���Ã��Ã�¿Ã���Ã�¯Ã�¿Ã�½Ã���Ã��Ã�½Ã���Ã�¯Ã�¿Ã�½Ã��Ã�¯Ã��Ã�¿Ã��Ã�½Ã���Ã�¯Ã�¿Ã�½Ã���Ã��Ã�¯Ã���Ã�¯Ã�¿Ã�½Ã��Ã�¯Ã��Ã�¿Ã��Ã�½Ã���Ã�¯Ã�¿Ã�½Ã���Ã��Ã�¿Ã���Ã�¯Ã�¿Ã�½Ã��Ã�¯Ã��Ã�¿Ã��Ã�½Ã���Ã�¯Ã�¿Ã�½Ã���Ã��Ã�½Ã���Ã�¯Ã�¿Ã�½Ã��Ã�¯Ã��Ã�¿Ã��Ã�½Ã���Ã��Ã�¯Ã���Ã��Ã�¿Ã���Ã��Ã�½Ã���Ã�¯Ã�¿Ã�½Ã��Ã�¯Ã��Ã�¿Ã��Ã�½Ã���Ã�¯Ã�¿Ã�½Ã���Ã��Ã�¯Ã���Ã�¯Ã�¿Ã�½Ã��Ã�¯Ã��Ã�¿Ã��Ã�½Ã���Ã��Ã�¯Ã���Ã��Ã�¿Ã���Ã��Ã�½Ã���Ã�¯Ã�¿Ã�½Ã��Ã�¯Ã��Ã�¿Ã��Ã�½Ã���Ã�¯Ã�¿Ã�½Ã���Ã��Ã�¿Ã���Ã�¯Ã�¿Ã�½Ã��Ã�¯Ã��Ã�¿Ã��Ã�½Ã���Ã��Ã�¯Ã���Ã��Ã�¿Ã���Ã��Ã�½Ã���Ã�¯Ã�¿Ã�½Ã��Ã�¯Ã��Ã�¿Ã��Ã�½Ã���Ã�¯Ã�¿Ã�½Ã���Ã��Ã�½Ã���Ã�¯Ã�¿Ã�½Ã��Ã�¯Ã��Ã�¿Ã��Ã�½Ã���Ã��Ã�¯Ã���Ã��Ã�¿Ã���Ã��Ã�½Ã���Ã�¯Ã�¿Ã�½Ã���Ã��Ã�¯Ã���Ã�¯Ã�¿Ã�½Ã���Ã��Ã�¿Ã���Ã�¯Ã�¿Ã�½Ã���Ã��Ã�½Ã���Ã�¯Ã�¿Ã�½Ã��Ã�¯Ã��Ã�¿Ã��Ã�½Ã���Ã��Ã�¯Ã���Ã��Ã�¿Ã���Ã��Ã�½Ã���Ã�¯Ã�¿Ã�½Ã��Ã�¯Ã��Ã�¿Ã��Ã�½Ã���Ã�¯Ã�¿Ã�½Ã���Ã��Ã�¯Ã���Ã�¯Ã�¿Ã�½Ã��Ã�¯Ã��Ã�¿Ã��Ã�½Ã���Ã��Ã�¯Ã���Ã��Ã�¿Ã���Ã��Ã�½Ã���Ã�¯Ã�¿Ã�½Ã���Ã��Ã�¯Ã���Ã�¯Ã�¿Ã�½Ã���Ã��Ã�¿Ã���Ã�¯Ã�¿Ã�½Ã���Ã��Ã�½Ã���Ã�¯Ã�¿Ã�½Ã��Ã�¯Ã��Ã�¿Ã��Ã�½Ã���Ã��Ã�¯Ã���Ã��Ã�¿Ã���Ã��Ã�½Ã���Ã�¯Ã�¿Ã�½Ã��Ã�¯Ã��Ã�¿Ã��Ã�½Ã���Ã�¯Ã�¿Ã�½Ã���Ã��Ã�¿Ã���Ã�¯Ã�¿Ã�½Ã��Ã�¯Ã��Ã�¿Ã��Ã�½Ã���Ã��Ã�¯Ã���Ã��Ã�¿Ã���Ã��Ã�½Ã���Ã�¯Ã�¿Ã�½Ã���Ã��Ã�¯Ã���Ã�¯Ã�¿Ã�½Ã���Ã��Ã�¿Ã���Ã�¯Ã�¿Ã�½Ã���Ã��Ã�½Ã���Ã�¯Ã�¿Ã�½Ã��Ã�¯Ã��Ã�¿Ã��Ã�½Ã���Ã��Ã�¯Ã���Ã��Ã�¿Ã���Ã��Ã�½Ã���Ã�¯Ã�¿Ã�½Ã��Ã�¯Ã��Ã�¿Ã��Ã�½Ã���Ã�¯Ã�¿Ã�½Ã���Ã��Ã�½Ã���Ã�¯Ã�¿Ã�½Ã��Ã�¯Ã��Ã�¿Ã��Ã�½Ã���Ã��Ã�¯Ã���Ã��Ã�¿Ã���Ã��Ã�½Ã���Ã�¯Ã�¿Ã�½Ã���Ã��Ã�¯Ã���Ã�¯Ã�¿Ã�½Ã���Ã��Ã�¿Ã���Ã�¯Ã�¿Ã�½Ã���Ã��Ã�½Ã���Ã�¯Ã�¿Ã�½Ã��Ã�¯Ã��Ã�¿Ã��Ã�½Ã���Ã�¯Ã�¿Ã�½Ã���Ã��Ã�¯Ã���Ã�¯Ã�¿Ã�½Ã��Ã�¯Ã��Ã�¿Ã��Ã�½Ã���Ã�¯Ã�¿Ã�½Ã���Ã��Ã�¿Ã���Ã�¯Ã�¿Ã�½Ã��Ã�¯Ã��Ã�¿Ã��Ã�½Ã���Ã�¯Ã�¿Ã�½Ã���Ã��Ã�½Ã���Ã�¯Ã�¿Ã�½Ã��Ã�¯Ã��Ã�¿Ã��Ã�½Ã���Ã��Ã�¯Ã���Ã��Ã�¿Ã���Ã��Ã�½Ã���Ã�¯Ã�¿Ã�½Ã���Ã��Ã�¯Ã���Ã�¯Ã�¿Ã�½Ã���Ã��Ã�¿Ã���Ã�¯Ã�¿Ã�½Ã���Ã��Ã�½Ã���Ã�¯Ã�¿Ã�½Ã��Ã�¯Ã��Ã�¿Ã��Ã�½Ã���Ã��Ã�¯Ã���Ã��Ã�¿Ã���Ã��Ã�½Ã���Ã�¯Ã�¿Ã�½Ã��Ã�¯Ã��Ã�¿Ã��Ã�½Ã���Ã�¯Ã�¿Ã�½Ã���Ã��Ã�¯Ã���Ã�¯Ã�¿Ã�½Ã��Ã�¯Ã��Ã�¿Ã��Ã�½Ã���Ã��Ã�¯Ã���Ã��Ã�¿Ã���Ã��Ã�½Ã���Ã�¯Ã�¿Ã�½Ã���Ã��Ã�¯Ã���Ã�¯Ã�¿Ã�½Ã���Ã��Ã�¿Ã���Ã�¯Ã�¿Ã�½Ã���Ã��Ã�½Ã���Ã�¯Ã�¿Ã�½Ã��Ã�¯Ã��Ã�¿Ã��Ã�½Ã���Ã�¯Ã�¿Ã�½Ã���Ã��Ã�¯Ã���Ã�¯Ã�¿Ã�½Ã��Ã�¯Ã��Ã�¿Ã��Ã�½Ã���Ã�¯Ã�¿Ã�½Ã���Ã��Ã�¿Ã���Ã�¯Ã�¿Ã�½Ã��Ã�¯Ã��Ã�¿Ã��Ã�½Ã���Ã�¯Ã�¿Ã�½Ã���Ã��Ã�½Ã���Ã�¯Ã�¿Ã�½Ã��Ã�¯Ã��Ã�¿Ã��Ã�½Ã���Ã��Ã�¯Ã���Ã��Ã�¿Ã���Ã��Ã�½Ã���Ã�¯Ã�¿Ã�½Ã���Ã��Ã�¯Ã���Ã�¯Ã�¿Ã�½Ã���Ã��Ã�¿Ã���Ã�¯Ã�¿Ã�½Ã���Ã��Ã�½Ã���Ã�¯Ã�¿Ã�½Ã��Ã�¯Ã��Ã�¿Ã��Ã�½Ã���Ã��Ã�¯Ã���Ã��Ã�¿Ã���Ã��Ã�½Ã���Ã�¯Ã�¿Ã�½Ã��Ã�¯Ã��Ã�¿Ã��Ã�½Ã���Ã�¯Ã�¿Ã�½Ã���Ã��Ã�¿Ã���Ã�¯Ã�¿Ã�½Ã��Ã�¯Ã��Ã�¿Ã��Ã�½Ã���Ã��Ã�¯Ã���Ã��Ã�¿Ã���Ã��Ã�½Ã���Ã�¯Ã�¿Ã�½Ã���Ã��Ã�¯Ã���Ã�¯Ã�¿Ã�½Ã���Ã��Ã�¿Ã���Ã�¯Ã�¿Ã�½Ã���Ã��Ã�½Ã���Ã�¯Ã�¿Ã�½Ã��Ã�¯Ã��Ã�¿Ã��Ã�½Ã���Ã�¯Ã�¿Ã�½Ã���Ã��Ã�¯Ã���Ã�¯Ã�¿Ã�½Ã��Ã�¯Ã��Ã�¿Ã��Ã�½Ã���Ã�¯Ã�¿Ã�½Ã���Ã��Ã�¿Ã���Ã�¯Ã�¿Ã�½Ã��Ã�¯Ã��Ã�¿Ã��Ã�½Ã���Ã�¯Ã�¿Ã�½Ã���Ã��Ã�½Ã���Ã�¯Ã�¿Ã�½Ã��Ã�¯Ã��Ã�¿Ã��Ã�½Ã���Ã��Ã�¯Ã���Ã��Ã�¿Ã���Ã��Ã�½Ã���Ã�¯Ã�¿Ã�½Ã���Ã��Ã�¯Ã���Ã�¯Ã�¿Ã�½Ã���Ã��Ã�¿Ã���Ã�¯Ã�¿Ã�½Ã���Ã��Ã�½Ã���Ã�¯Ã�¿Ã�½Ã��Ã�¯Ã��Ã�¿Ã��Ã�½Ã���Ã��Ã�¯Ã���Ã��Ã�¿Ã���Ã��Ã�½Ã���Ã�¯Ã�¿Ã�½Ã��Ã�¯Ã��Ã�¿Ã��Ã�½Ã���Ã�¯Ã�¿Ã�½Ã���Ã��Ã�½Ã���Ã�¯Ã�¿Ã�½Ã��Ã�¯Ã��Ã�¿Ã��Ã�½Ã���Ã��Ã�¯Ã���Ã��Ã�¿Ã���Ã��Ã�½Ã���Ã�¯Ã�¿Ã�½Ã���Ã��Ã�¯Ã���Ã�¯Ã�¿Ã�½Ã���Ã��Ã�¿Ã���Ã�¯Ã�¿Ã�½Ã���Ã��Ã�½Ã���Ã�¯Ã�¿Ã�½Ã��Ã�¯Ã��Ã�¿Ã��Ã�½Ã���Ã�¯Ã�¿Ã�½Ã���Ã��Ã�¯Ã���Ã�¯Ã�¿Ã�½Ã��Ã�¯Ã��Ã�¿Ã��Ã�½Ã���Ã�¯Ã�¿Ã�½Ã���Ã��Ã�¿Ã���Ã�¯Ã�¿Ã�½Ã��Ã�¯Ã��Ã�¿Ã��Ã�½Ã���Ã�¯Ã�¿Ã�½Ã���Ã��Ã�½Ã���Ã�¯Ã�¿Ã�½Ã��Ã�¯Ã��Ã�¿Ã��Ã�½Ã���Ã��Ã�¯Ã���Ã��Ã�¿Ã���Ã��Ã�½Ã���Ã�¯Ã�¿Ã�½Ã��Ã�¯Ã��Ã�¿Ã��Ã�½Ã���Ã�¯Ã�¿Ã�½Ã���Ã��Ã�¯Ã���Ã�¯Ã�¿Ã�½Ã��Ã�¯Ã��Ã�¿Ã��Ã�½Ã���Ã��Ã�¯Ã���Ã��Ã�¿Ã���Ã��Ã�½Ã���Ã�¯Ã�¿Ã�½Ã��Ã�¯Ã��Ã�¿Ã��Ã�½Ã���Ã�¯Ã�¿Ã�½Ã���Ã��Ã�¿Ã���Ã�¯Ã�¿Ã�½Ã��Ã�¯Ã��Ã�¿Ã��Ã�½Ã���Ã��Ã�¯Ã���Ã��Ã�¿Ã���Ã��Ã�½Ã���Ã�¯Ã�¿Ã�½Ã��Ã�¯Ã��Ã�¿Ã��Ã�½Ã���Ã�¯Ã�¿Ã�½Ã���Ã��Ã�½Ã���Ã�¯Ã�¿Ã�½Ã��Ã�¯Ã��Ã�¿Ã��Ã�½Ã���Ã��Ã�¯Ã���Ã��Ã�¿Ã���Ã��Ã�½Ã���Ã�¯Ã�¿Ã�½Ã���Ã��Ã�¯Ã���Ã�¯Ã�¿Ã�½Ã���Ã��Ã�¿Ã���Ã�¯Ã�¿Ã�½Ã���Ã��Ã�½Ã���Ã�¯Ã�¿Ã�½Ã��Ã�¯Ã��Ã�¿Ã��Ã�½Ã���Ã��Ã�¯Ã���Ã��Ã�¿Ã���Ã��Ã�½Ã���Ã�¯Ã�¿Ã�½Ã��Ã�¯Ã��Ã�¿Ã��Ã�½Ã���Ã�¯Ã�¿Ã�½Ã���Ã��Ã�¯Ã���Ã�¯Ã�¿Ã�½Ã��Ã�¯Ã��Ã�¿Ã��Ã�½Ã���Ã��Ã�¯Ã���Ã��Ã�¿Ã���Ã��Ã�½Ã���Ã�¯Ã�¿Ã�½Ã���Ã��Ã�¯Ã���Ã�¯Ã�¿Ã�½Ã���Ã��Ã�¿Ã���Ã�¯Ã�¿Ã�½Ã���Ã��Ã�½Ã���Ã�¯Ã�¿Ã�½Ã��Ã�¯Ã��Ã�¿Ã��Ã�½Ã���Ã��Ã�¯Ã���Ã��Ã�¿Ã���Ã��Ã�½Ã���Ã�¯Ã�¿Ã�½Ã��Ã�¯Ã��Ã�¿Ã��Ã�½Ã���Ã�¯Ã�¿Ã�½Ã���Ã��Ã�¿Ã���Ã�¯Ã�¿Ã�½Ã��Ã�¯Ã��Ã�¿Ã��Ã�½Ã���Ã��Ã�¯Ã���Ã��Ã�¿Ã���Ã��Ã�½Ã���Ã�¯Ã�¿Ã�½Ã���Ã��Ã�¯Ã���Ã�¯Ã�¿Ã�½Ã���Ã��Ã�¿Ã���Ã�¯Ã�¿Ã�½Ã���Ã��Ã�½Ã���Ã�¯Ã�¿Ã�½Ã��Ã�¯Ã��Ã�¿Ã��Ã�½Ã���Ã��Ã�¯Ã���Ã��Ã�¿Ã���Ã��Ã�½Ã���Ã�¯Ã�¿Ã�½Ã��Ã�¯Ã��Ã�¿Ã��Ã�½Ã���Ã�¯Ã�¿Ã�½Ã���Ã��Ã�½Ã���Ã�¯Ã�¿Ã�½Ã��Ã�¯Ã��Ã�¿Ã��Ã�½Ã���Ã��Ã�¯Ã���Ã��Ã�¿Ã���Ã��Ã�½Ã���Ã�¯Ã�¿Ã�½Ã���Ã��Ã�¯Ã���Ã�¯Ã�¿Ã�½Ã���Ã��Ã�¿Ã���Ã�¯Ã�¿Ã�½Ã���Ã��Ã�½Ã���Ã�¯Ã�¿Ã�½Ã��Ã�¯Ã��Ã�¿Ã��Ã�½Ã���Ã�¯Ã�¿Ã�½Ã���Ã��Ã�¯Ã���Ã�¯Ã�¿Ã�½Ã��Ã�¯Ã��Ã�¿Ã��Ã�½Ã���Ã�¯Ã�¿Ã�½Ã���Ã��Ã�¿Ã���Ã�¯Ã�¿Ã�½Ã��Ã�¯Ã��Ã�¿Ã��Ã�½Ã���Ã�¯Ã�¿Ã�½Ã���Ã��Ã�½Ã���Ã�¯Ã�¿Ã�½Ã��Ã�¯Ã��Ã�¿Ã��Ã�½Ã���Ã��Ã�¯Ã���Ã��Ã�¿Ã���Ã��Ã�½Ã���Ã�¯Ã�¿Ã�½Ã��Ã�¯Ã��Ã�¿Ã��Ã�½Ã���Ã�¯Ã�¿Ã�½Ã���Ã��Ã�¯Ã���Ã�¯Ã�¿Ã�½Ã��Ã�¯Ã��Ã�¿Ã��Ã�½Ã���Ã��Ã�¯Ã���Ã��Ã�¿Ã���Ã��Ã�½Ã���Ã�¯Ã�¿Ã�½Ã��Ã�¯Ã��Ã�¿Ã��Ã�½Ã���Ã�¯Ã�¿Ã�½Ã���Ã��Ã�¿Ã���Ã�¯Ã�¿Ã�½Ã��Ã�¯Ã��Ã�¿Ã��Ã�½Ã���Ã��Ã�¯Ã���Ã��Ã�¿Ã���Ã��Ã�½Ã���Ã�¯Ã�¿Ã�½Ã��Ã�¯Ã��Ã�¿Ã��Ã�½Ã���Ã�¯Ã�¿Ã�½Ã���Ã��Ã�½Ã���Ã�¯Ã�¿Ã�½Ã��Ã�¯Ã��Ã�¿Ã��Ã�½Ã���Ã��Ã�¯Ã���Ã��Ã�¿Ã���Ã��Ã�½Ã���Ã�¯Ã�¿Ã�½Ã���Ã��Ã�¯Ã���Ã�¯Ã�¿Ã�½Ã���Ã��Ã�¿Ã���Ã�¯Ã�¿Ã�½Ã���Ã��Ã�½Ã���Ã�¯Ã�¿Ã�½Ã��Ã�¯Ã��Ã�¿Ã��Ã�½Ã���Ã�¯Ã�¿Ã�½Ã���Ã��Ã�¯Ã���Ã�¯Ã�¿Ã�½Ã��Ã�¯Ã��Ã�¿Ã��Ã�½Ã���Ã�¯Ã�¿Ã�½Ã���Ã��Ã�¿Ã���Ã�¯Ã�¿Ã�½Ã��Ã�¯Ã��Ã�¿Ã��Ã�½Ã���Ã�¯Ã�¿Ã�½Ã���Ã��Ã�½Ã���Ã�¯Ã�¿Ã�½Ã��Ã�¯Ã��Ã�¿Ã��Ã�½Ã���Ã��Ã�¯Ã���Ã��Ã�¿Ã���Ã��Ã�½Ã���Ã�¯Ã�¿Ã�½Ã���Ã��Ã�¯Ã���Ã�¯Ã�¿Ã�½Ã���Ã��Ã�¿Ã���Ã�¯Ã�¿Ã�½Ã���Ã��Ã�½Ã���Ã�¯Ã�¿Ã�½Ã��Ã�¯Ã��Ã�¿Ã��Ã�½Ã���Ã��Ã�¯Ã���Ã��Ã�¿Ã���Ã��Ã�½Ã���Ã�¯Ã�¿Ã�½Ã��Ã�¯Ã��Ã�¿Ã��Ã�½Ã���Ã�¯Ã�¿Ã�½Ã���Ã��Ã�½Ã���Ã�¯Ã�¿Ã�½Ã��Ã�¯Ã��Ã�¿Ã��Ã�½Ã���Ã��Ã�¯Ã���Ã��Ã�¿Ã���Ã��Ã�½Ã���Ã�¯Ã�¿Ã�½Ã���Ã��Ã�¯Ã���Ã�¯Ã�¿Ã�½Ã���Ã��Ã�¿Ã���Ã�¯Ã�¿Ã�½Ã���Ã��Ã�½Ã���Ã�¯Ã�¿Ã�½Ã��Ã�¯Ã��Ã�¿Ã��Ã�½Ã���Ã�¯Ã�¿Ã�½Ã���Ã��Ã�¯Ã���Ã�¯Ã�¿Ã�½Ã��Ã�¯Ã��Ã�¿Ã��Ã�½Ã���Ã�¯Ã�¿Ã�½Ã���Ã��Ã�¿Ã���Ã�¯Ã�¿Ã�½Ã��Ã�¯Ã��Ã�¿Ã��Ã�½Ã���Ã�¯Ã�¿Ã�½Ã���Ã��Ã�½Ã���Ã�¯Ã�¿Ã�½Ã��Ã�¯Ã��Ã�¿Ã��Ã�½Ã���Ã��Ã�¯Ã���Ã��Ã�¿Ã���Ã��Ã�½Ã���Ã�¯Ã�¿Ã�½Ã��Ã�¯Ã��Ã�¿Ã��Ã�½Ã���Ã�¯Ã�¿Ã�½Ã���Ã��Ã�¯Ã���Ã�¯Ã�¿Ã�½Ã��Ã�¯Ã��Ã�¿Ã��Ã�½Ã���Ã��Ã�¯Ã���Ã��Ã�¿Ã���Ã��Ã�½Ã���Ã�¯Ã�¿Ã�½Ã��Ã�¯Ã��Ã�¿Ã��Ã�½Ã���Ã�¯Ã�¿Ã�½Ã���Ã��Ã�¿Ã���Ã�¯Ã�¿Ã�½Ã��Ã�¯Ã��Ã�¿Ã��Ã�½Ã���Ã��Ã�¯Ã���Ã��Ã�¿Ã���Ã��Ã�½Ã���Ã�¯Ã�¿Ã�½Ã��Ã�¯Ã��Ã�¿Ã��Ã�½Ã���Ã�¯Ã�¿Ã�½Ã���Ã��Ã�½Ã���Ã�¯Ã�¿Ã�½Ã��Ã�¯Ã��Ã�¿Ã��Ã�½Ã���Ã��Ã�¯Ã���Ã��Ã�¿Ã���Ã��Ã�½Ã���Ã�¯Ã�¿Ã�½Ã���Ã��Ã�¯Ã���Ã�¯Ã�¿Ã�½Ã���Ã��Ã�¿Ã���Ã�¯Ã�¿Ã�½Ã���Ã��Ã�½Ã���Ã�¯Ã�¿Ã�½Ã��Ã�¯Ã��Ã�¿Ã��Ã�½Ã���Ã��Ã�¯Ã���Ã��Ã�¿Ã���Ã��Ã�½Ã���Ã�¯Ã�¿Ã�½Ã��Ã�¯Ã��Ã�¿Ã��Ã�½Ã���Ã�¯Ã�¿Ã�½Ã���Ã��Ã�¯Ã���Ã�¯Ã�¿Ã�½Ã��Ã�¯Ã��Ã�¿Ã��Ã�½Ã���Ã��Ã�¯Ã���Ã��Ã�¿Ã���Ã��Ã�½Ã���Ã�¯Ã�¿Ã�½Ã���Ã��Ã�¯Ã���Ã�¯Ã�¿Ã�½Ã���Ã��Ã�¿Ã���Ã�¯Ã�¿Ã�½Ã���Ã��Ã�½Ã���Ã�¯Ã�¿Ã�½Ã��Ã�¯Ã��Ã�¿Ã��Ã�½Ã���Ã��Ã�¯Ã���Ã��Ã�¿Ã���Ã��Ã�½Ã���Ã�¯Ã�¿Ã�½Ã��Ã�¯Ã��Ã�¿Ã��Ã�½Ã���Ã�¯Ã�¿Ã�½Ã���Ã��Ã�¿Ã���Ã�¯Ã�¿Ã�½Ã��Ã�¯Ã��Ã�¿Ã��Ã�½Ã���Ã��Ã�¯Ã���Ã��Ã�¿Ã���Ã��Ã�½Ã���Ã�¯Ã�¿Ã�½Ã���Ã��Ã�¯Ã���Ã�¯Ã�¿Ã�½Ã���Ã��Ã�¿Ã���Ã�¯Ã�¿Ã�½Ã���Ã��Ã�½Ã���Ã�¯Ã�¿Ã�½Ã��Ã�¯Ã��Ã�¿Ã��Ã�½Ã���Ã��Ã�¯Ã���Ã��Ã�¿Ã���Ã��Ã�½Ã���Ã�¯Ã�¿Ã�½Ã��Ã�¯Ã��Ã�¿Ã��Ã�½Ã���Ã�¯Ã�¿Ã�½Ã���Ã��Ã�½Ã���Ã�¯Ã�¿Ã�½Ã��Ã�¯Ã��Ã�¿Ã��Ã�½Ã���Ã��Ã�¯Ã���Ã��Ã�¿Ã���Ã��Ã�½Ã���Ã�¯Ã�¿Ã�½Ã���Ã��Ã�¯Ã���Ã�¯Ã�¿Ã�½Ã���Ã��Ã�¿Ã���Ã�¯Ã�¿Ã�½Ã���Ã��Ã�½Ã���Ã�¯Ã�¿Ã�½Ã��Ã�¯Ã��Ã�¿Ã��Ã�½Ã���Ã�¯Ã�¿Ã�½Ã���Ã��Ã�¯Ã���Ã�¯Ã�¿Ã�½Ã��Ã�¯Ã��Ã�¿Ã��Ã�½Ã���Ã�¯Ã�¿Ã�½Ã���Ã��Ã�¿Ã���Ã�¯Ã�¿Ã�½Ã��Ã�¯Ã��Ã�¿Ã��Ã�½Ã���Ã�¯Ã�¿Ã�½Ã���Ã��Ã�½Ã���Ã�¯Ã�¿Ã�½Ã��Ã�¯Ã��Ã�¿Ã��Ã�½Ã���Ã��Ã�¯Ã���Ã��Ã�¿Ã���Ã��Ã�½Ã���Ã�¯Ã�¿Ã�½Ã���Ã��Ã�¯Ã���Ã�¯Ã�¿Ã�½Ã���Ã��Ã�¿Ã���Ã�¯Ã�¿Ã�½Ã���Ã��Ã�½Ã���Ã�¯Ã�¿Ã�½Ã��Ã�¯Ã��Ã�¿Ã��Ã�½Ã���Ã��Ã�¯Ã���Ã��Ã�¿Ã���Ã��Ã�½Ã���Ã�¯Ã�¿Ã�½Ã��Ã�¯Ã��Ã�¿Ã��Ã�½Ã���Ã�¯Ã�¿Ã�½Ã���Ã��Ã�¯Ã���Ã�¯Ã�¿Ã�½Ã��Ã�¯Ã��Ã�¿Ã��Ã�½Ã���Ã��Ã�¯Ã���Ã��Ã�¿Ã���Ã��Ã�½Ã���Ã�¯Ã�¿Ã�½Ã���Ã��Ã�¯Ã���Ã�¯Ã�¿Ã�½Ã���Ã��Ã�¿Ã���Ã�¯Ã�¿Ã�½Ã���Ã��Ã�½Ã���Ã�¯Ã�¿Ã�½Ã��Ã�¯Ã��Ã�¿Ã��Ã�½Ã���Ã�¯Ã�¿Ã�½Ã���Ã��Ã�¯Ã���Ã�¯Ã�¿Ã�½Ã��Ã�¯Ã��Ã�¿Ã��Ã�½Ã���Ã�¯Ã�¿Ã�½Ã���Ã��Ã�¿Ã���Ã�¯Ã�¿Ã�½Ã��Ã�¯Ã��Ã�¿Ã��Ã�½Ã���Ã�¯Ã�¿Ã�½Ã���Ã��Ã�½Ã���Ã�¯Ã�¿Ã�½Ã��Ã�¯Ã��Ã�¿Ã��Ã�½Ã���Ã��Ã�¯Ã���Ã��Ã�¿Ã���Ã��Ã�½Ã���Ã�¯Ã�¿Ã�½Ã���Ã��Ã�¯Ã���Ã�¯Ã�¿Ã�½Ã���Ã��Ã�¿Ã���Ã�¯Ã�¿Ã�½Ã���Ã��Ã�½Ã���Ã�¯Ã�¿Ã�½Ã��Ã�¯Ã��Ã�¿Ã��Ã�½Ã���Ã��Ã�¯Ã���Ã��Ã�¿Ã���Ã��Ã�½Ã���Ã�¯Ã�¿Ã�½Ã��Ã�¯Ã��Ã�¿Ã��Ã�½Ã���Ã�¯Ã�¿Ã�½Ã���Ã��Ã�¿Ã���Ã�¯Ã�¿Ã�½Ã��Ã�¯Ã��Ã�¿Ã��Ã�½Ã���Ã��Ã�¯Ã���Ã��Ã�¿Ã���Ã��Ã�½Ã���Ã�¯Ã�¿Ã�½Ã���Ã��Ã�¯Ã���Ã�¯Ã�¿Ã�½Ã���Ã��Ã�¿Ã���Ã�¯Ã�¿Ã�½Ã���Ã��Ã�½Ã���Ã�¯Ã�¿Ã�½Ã��Ã�¯Ã��Ã�¿Ã��Ã�½Ã���Ã�¯Ã�¿Ã�½Ã���Ã��Ã�¯Ã���Ã�¯Ã�¿Ã�½Ã��Ã�¯Ã��Ã�¿Ã��Ã�½Ã���Ã�¯Ã�¿Ã�½Ã���Ã��Ã�¿Ã���Ã�¯Ã�¿Ã�½Ã��Ã�¯Ã��Ã�¿Ã��Ã�½Ã���Ã�¯Ã�¿Ã�½Ã���Ã��Ã�½Ã���Ã�¯Ã�¿Ã�½Ã��Ã�¯Ã��Ã�¿Ã��Ã�½Ã���Ã��Ã�¯Ã���Ã��Ã�¿Ã���Ã��Ã�½Ã���Ã�¯Ã�¿Ã�½Ã���Ã��Ã�¯Ã���Ã�¯Ã�¿Ã�½Ã���Ã��Ã�¿Ã���Ã�¯Ã�¿Ã�½Ã���Ã��Ã�½Ã���Ã�¯Ã�¿Ã�½Ã��Ã�¯Ã��Ã�¿Ã��Ã�½Ã���Ã��Ã�¯Ã���Ã��Ã�¿Ã���Ã��Ã�½Ã���Ã�¯Ã�¿Ã�½Ã��Ã�¯Ã��Ã�¿Ã��Ã�½Ã���Ã�¯Ã�¿Ã�½Ã���Ã��Ã�½Ã���Ã�¯Ã�¿Ã�½Ã��Ã�¯Ã��Ã�¿Ã��Ã�½Ã���Ã��Ã�¯Ã���Ã��Ã�¿Ã���Ã��Ã�½Ã���Ã�¯Ã�¿Ã�½Ã���Ã��Ã�¯Ã���Ã�¯Ã�¿Ã�½Ã���Ã��Ã�¿Ã���Ã�¯Ã�¿Ã�½Ã���Ã��Ã�½Ã���Ã�¯Ã�¿Ã�½Ã��Ã�¯Ã��Ã�¿Ã��Ã�½Ã���Ã�¯Ã�¿Ã�½Ã���Ã��Ã�¯Ã���Ã�¯Ã�¿Ã�½Ã��Ã�¯Ã��Ã�¿Ã��Ã�½Ã���Ã�¯Ã�¿Ã�½Ã���Ã��Ã�¿Ã���Ã�¯Ã�¿Ã�½Ã��Ã�¯Ã��Ã�¿Ã��Ã�½Ã���Ã�¯Ã�¿Ã�½Ã���Ã��Ã�½Ã���Ã�¯Ã�¿Ã�½Ã��Ã�¯Ã��Ã�¿Ã��Ã�½Ã���Ã��Ã�¯Ã���Ã��Ã�¿Ã���Ã��Ã�½Ã���Ã�¯Ã�¿Ã�½Ã��Ã�¯Ã��Ã�¿Ã��Ã�½Ã���Ã�¯Ã�¿Ã�½Ã���Ã��Ã�¯Ã���Ã�¯Ã�¿Ã�½Ã��Ã�¯Ã��Ã�¿Ã��Ã�½Ã���Ã��Ã�¯Ã���Ã��Ã�¿Ã���Ã��Ã�½Ã���Ã�¯Ã�¿Ã�½Ã��Ã�¯Ã��Ã�¿Ã��Ã�½Ã���Ã�¯Ã�¿Ã�½Ã���Ã��Ã�¿Ã���Ã�¯Ã�¿Ã�½Ã��Ã�¯Ã��Ã�¿Ã��Ã�½Ã���Ã��Ã�¯Ã���Ã��Ã�¿Ã���Ã��Ã�½Ã���Ã�¯Ã�¿Ã�½Ã��Ã�¯Ã��Ã�¿Ã��Ã�½Ã���Ã�¯Ã�¿Ã�½Ã���Ã��Ã�½Ã���Ã�¯Ã�¿Ã�½Ã��Ã�¯Ã��Ã�¿Ã��Ã�½Ã���Ã��Ã�¯Ã���Ã��Ã�¿Ã���Ã��Ã�½Ã���Ã�¯Ã�¿Ã�½Ã���Ã��Ã�¯Ã���Ã�¯Ã�¿Ã�½Ã���Ã��Ã�¿Ã���Ã�¯Ã�¿Ã�½Ã���Ã��Ã�½Ã���Ã�¯Ã�¿Ã�½Ã��Ã�¯Ã��Ã�¿Ã��Ã�½Ã���Ã�¯Ã�¿Ã�½Ã���Ã��Ã�¯Ã���Ã�¯Ã�¿Ã�½Ã��Ã�¯Ã��Ã�¿Ã��Ã�½Ã���Ã�¯Ã�¿Ã�½Ã���Ã��Ã�¿Ã���Ã�¯Ã�¿Ã�½Ã��Ã�¯Ã��Ã�¿Ã��Ã�½Ã���Ã�¯Ã�¿Ã�½Ã���Ã��Ã�½Ã���Ã�¯Ã�¿Ã�½Ã��Ã�¯Ã��Ã�¿Ã��Ã�½Ã���Ã��Ã�¯Ã���Ã��Ã�¿Ã���Ã��Ã�½Ã���Ã�¯Ã�¿Ã�½Ã���Ã��Ã�¯Ã���Ã�¯Ã�¿Ã�½Ã���Ã��Ã�¿Ã���Ã�¯Ã�¿Ã�½Ã���Ã��Ã�½Ã���Ã�¯Ã�¿Ã�½Ã��Ã�¯Ã��Ã�¿Ã��Ã�½Ã���Ã��Ã�¯Ã���Ã��Ã�¿Ã���Ã��Ã�½Ã���Ã�¯Ã�¿Ã�½Ã��Ã�¯Ã��Ã�¿Ã��Ã�½Ã���Ã�¯Ã�¿Ã�½Ã���Ã��Ã�¯Ã���Ã�¯Ã�¿Ã�½Ã��Ã�¯Ã��Ã�¿Ã��Ã�½Ã���Ã��Ã�¯Ã���Ã��Ã�¿Ã���Ã��Ã�½Ã���Ã�¯Ã�¿Ã�½Ã���Ã��Ã�¯Ã���Ã�¯Ã�¿Ã�½Ã���Ã��Ã�¿Ã���Ã�¯Ã�¿Ã�½Ã���Ã��Ã�½Ã���Ã�¯Ã�¿Ã�½Ã��Ã�¯Ã��Ã�¿Ã��Ã�½Ã���Ã�¯Ã�¿Ã�½Ã���Ã��Ã�¯Ã���Ã�¯Ã�¿Ã�½Ã��Ã�¯Ã��Ã�¿Ã��Ã�½Ã���Ã�¯Ã�¿Ã�½Ã���Ã��Ã�¿Ã���Ã�¯Ã�¿Ã�½Ã��Ã�¯Ã��Ã�¿Ã��Ã�½Ã���Ã�¯Ã�¿Ã�½Ã���Ã��Ã�½Ã���Ã�¯Ã�¿Ã�½Ã��Ã�¯Ã��Ã�¿Ã��Ã�½Ã���Ã��Ã�¯Ã���Ã��Ã�¿Ã���Ã��Ã�½Ã���Ã�¯Ã�¿Ã�½Ã��Ã�¯Ã��Ã�¿Ã��Ã�½Ã���Ã�¯Ã�¿Ã�½Ã���Ã��Ã�¯Ã���Ã�¯Ã�¿Ã�½Ã��Ã�¯Ã��Ã�¿Ã��Ã�½Ã���Ã��Ã�¯Ã���Ã��Ã�¿Ã���Ã��Ã�½Ã���Ã�¯Ã�¿Ã�½Ã��Ã�¯Ã��Ã�¿Ã��Ã�½Ã���Ã�¯Ã�¿Ã�½Ã���Ã��Ã�¿Ã���Ã�¯Ã�¿Ã�½Ã��Ã�¯Ã��Ã�¿Ã��Ã�½Ã���Ã��Ã�¯Ã���Ã��Ã�¿Ã���Ã��Ã�½Ã���Ã�¯Ã�¿Ã�½Ã��Ã�¯Ã��Ã�¿Ã��Ã�½Ã���Ã�¯Ã�¿Ã�½Ã���Ã��Ã�½Ã���Ã�¯Ã�¿Ã�½Ã��Ã�¯Ã��Ã�¿Ã��Ã�½Ã���Ã��Ã�¯Ã���Ã��Ã�¿Ã���Ã��Ã�½Ã���Ã�¯Ã�¿Ã�½Ã���Ã��Ã�¯Ã���Ã�¯Ã�¿Ã�½Ã���Ã��Ã�¿Ã���Ã�¯Ã�¿Ã�½Ã���Ã��Ã�½Ã���Ã�¯Ã�¿Ã�½Ã��Ã�¯Ã��Ã�¿Ã��Ã�½Ã���Ã�¯Ã�¿Ã�½Ã���Ã��Ã�¯Ã���Ã�¯Ã�¿Ã�½Ã��Ã�¯Ã��Ã�¿Ã��Ã�½Ã���Ã�¯Ã�¿Ã�½Ã���Ã��Ã�¿Ã���Ã�¯Ã�¿Ã�½Ã��Ã�¯Ã��Ã�¿Ã��Ã�½Ã���Ã�¯Ã�¿Ã�½Ã���Ã��Ã�½Ã���Ã�¯Ã�¿Ã�½Ã��Ã�¯Ã��Ã�¿Ã��Ã�½Ã���Ã��Ã�¯Ã���Ã��Ã�¿Ã���Ã��Ã�½Ã���Ã�¯Ã�¿Ã�½Ã���Ã��Ã�¯Ã���Ã�¯Ã�¿Ã�½Ã���Ã��Ã�¿Ã���Ã�¯Ã�¿Ã�½Ã���Ã��Ã�½Ã���Ã�¯Ã�¿Ã�½Ã��Ã�¯Ã��Ã�¿Ã��Ã�½Ã���Ã��Ã�¯Ã���Ã��Ã�¿Ã���Ã��Ã�½Ã���Ã�¯Ã�¿Ã�½Ã��Ã�¯Ã��Ã�¿Ã��Ã�½Ã���Ã�¯Ã�¿Ã�½Ã���Ã��Ã�¿Ã���Ã�¯Ã�¿Ã�½Ã��Ã�¯Ã��Ã�¿Ã��Ã�½Ã���Ã��Ã�¯Ã���Ã��Ã�¿Ã���Ã��Ã�½Ã���Ã�¯Ã�¿Ã�½Ã���Ã��Ã�¯Ã���Ã�¯Ã�¿Ã�½Ã���Ã��Ã�¿Ã���Ã�¯Ã�¿Ã�½Ã���Ã��Ã�½Ã���Ã�¯Ã�¿Ã�½Ã��Ã�¯Ã��Ã�¿Ã��Ã�½Ã���Ã�¯Ã�¿Ã�½Ã���Ã��Ã�¯Ã���Ã�¯Ã�¿Ã�½Ã��Ã�¯Ã��Ã�¿Ã��Ã�½Ã���Ã�¯Ã�¿Ã�½Ã���Ã��Ã�¿Ã���Ã�¯Ã�¿Ã�½Ã��Ã�¯Ã��Ã�¿Ã��Ã�½Ã���Ã�¯Ã�¿Ã�½Ã���Ã��Ã�½Ã���Ã�¯Ã�¿Ã�½Ã��Ã�¯Ã��Ã�¿Ã��Ã�½Ã���Ã��Ã�¯Ã���Ã��Ã�¿Ã���Ã��Ã�½Ã���Ã�¯Ã�¿Ã�½Ã��Ã�¯Ã��Ã�¿Ã��Ã�½Ã���Ã�¯Ã�¿Ã�½Ã���Ã��Ã�¯Ã���Ã�¯Ã�¿Ã�½Ã��Ã�¯Ã��Ã�¿Ã��Ã�½Ã���Ã��Ã�¯Ã���Ã��Ã�¿Ã���Ã��Ã�½Ã���Ã�¯Ã�¿Ã�½Ã��Ã�¯Ã��Ã�¿Ã��Ã�½Ã���Ã�¯Ã�¿Ã�½Ã���Ã��Ã�¿Ã���Ã�¯Ã�¿Ã�½Ã��Ã�¯Ã��Ã�¿Ã��Ã�½Ã���Ã��Ã�¯Ã���Ã��Ã�¿Ã���Ã��Ã�½Ã���Ã�¯Ã�¿Ã�½Ã��Ã�¯Ã��Ã�¿Ã��Ã�½Ã���Ã�¯Ã�¿Ã�½Ã���Ã��Ã�½Ã���Ã�¯Ã�¿Ã�½Ã��Ã�¯Ã��Ã�¿Ã��Ã�½Ã���Ã��Ã�¯Ã���Ã��Ã�¿Ã���Ã��Ã�½Ã���Ã�¯Ã�¿Ã�½Ã���Ã��Ã�¯Ã���Ã�¯Ã�¿Ã�½Ã���Ã��Ã�¿Ã���Ã�¯Ã�¿Ã�½Ã���Ã��Ã�½Ã���Ã�¯Ã�¿Ã�½Ã��Ã�¯Ã��Ã�¿Ã��Ã�½Ã���Ã�¯Ã�¿Ã�½Ã���Ã��Ã�¯Ã���Ã�¯Ã�¿Ã�½Ã��Ã�¯Ã��Ã�¿Ã��Ã�½Ã���Ã�¯Ã�¿Ã�½Ã���Ã��Ã�¿Ã���Ã�¯Ã�¿Ã�½Ã��Ã�¯Ã��Ã�¿Ã��Ã�½Ã���Ã�¯Ã�¿Ã�½Ã���Ã��Ã�½Ã���Ã�¯Ã�¿Ã�½Ã��Ã�¯Ã��Ã�¿Ã��Ã�½Ã���Ã��Ã�¯Ã���Ã��Ã�¿Ã���Ã��Ã�½Ã���Ã�¯Ã�¿Ã�½Ã���Ã��Ã�¯Ã���Ã�¯Ã�¿Ã�½Ã���Ã��Ã�¿Ã���Ã�¯Ã�¿Ã�½Ã���Ã��Ã�½Ã���Ã�¯Ã�¿Ã�½Ã��Ã�¯Ã��Ã�¿Ã��Ã�½Ã���Ã��Ã�¯Ã���Ã��Ã�¿Ã���Ã��Ã�½Ã���Ã�¯Ã�¿Ã�½Ã��Ã�¯Ã��Ã�¿Ã��Ã�½Ã���Ã�¯Ã�¿Ã�½Ã���Ã��Ã�½Ã���Ã�¯Ã�¿Ã�½Ã��Ã�¯Ã��Ã�¿Ã��Ã�½Ã���Ã��Ã�¯Ã���Ã��Ã�¿Ã���Ã��Ã�½Ã���Ã�¯Ã�¿Ã�½Ã���Ã��Ã�¯Ã���Ã�¯Ã�¿Ã�½Ã���Ã��Ã�¿Ã���Ã�¯Ã�¿Ã�½Ã���Ã��Ã�½Ã���Ã�¯Ã�¿Ã�½Ã��Ã�¯Ã��Ã�¿Ã��Ã�½Ã���Ã�¯Ã�¿Ã�½Ã���Ã��Ã�¯Ã���Ã�¯Ã�¿Ã�½Ã��Ã�¯Ã��Ã�¿Ã��Ã�½Ã���Ã�¯Ã�¿Ã�½Ã���Ã��Ã�¿Ã���Ã�¯Ã�¿Ã�½Ã��Ã�¯Ã��Ã�¿Ã��Ã�½Ã���Ã�¯Ã�¿Ã�½Ã���Ã��Ã�½Ã���Ã�¯Ã�¿Ã�½Ã��Ã�¯Ã��Ã�¿Ã��Ã�½Ã���Ã��Ã�¯Ã���Ã��Ã�¿Ã���Ã��Ã�½Ã���Ã�¯Ã�¿Ã�½Ã��Ã�¯Ã��Ã�¿Ã��Ã�½Ã���Ã�¯Ã�¿Ã�½Ã���Ã��Ã�¯Ã���Ã�¯Ã�¿Ã�½Ã��Ã�¯Ã��Ã�¿Ã��Ã�½Ã���Ã��Ã�¯Ã���Ã��Ã�¿Ã���Ã��Ã�½Ã���Ã�¯Ã�¿Ã�½Ã��Ã�¯Ã��Ã�¿Ã��Ã�½Ã���Ã�¯Ã�¿Ã�½Ã���Ã��Ã�¿Ã���Ã�¯Ã�¿Ã�½Ã��Ã�¯Ã��Ã�¿Ã��Ã�½Ã���Ã��Ã�¯Ã���Ã��Ã�¿Ã���Ã��Ã�½Ã���Ã�¯Ã�¿Ã�½Ã��Ã�¯Ã��Ã�¿Ã��Ã�½Ã���Ã�¯Ã�¿Ã�½Ã���Ã��Ã�½Ã���Ã�¯Ã�¿Ã�½Ã��Ã�¯Ã��Ã�¿Ã��Ã�½Ã���Ã��Ã�¯Ã���Ã��Ã�¿Ã���Ã��Ã�½Ã���Ã�¯Ã�¿Ã�½Ã���Ã��Ã�¯Ã���Ã�¯Ã�¿Ã�½Ã���Ã��Ã�¿Ã���Ã�¯Ã�¿Ã�½Ã���Ã��Ã�½Ã���Ã�¯Ã�¿Ã�½Ã��Ã�¯Ã��Ã�¿Ã��Ã�½Ã���Ã��Ã�¯Ã���Ã��Ã�¿Ã���Ã��Ã�½Ã���Ã�¯Ã�¿Ã�½Ã��Ã�¯Ã��Ã�¿Ã��Ã�½Ã���Ã�¯Ã�¿Ã�½Ã���Ã��Ã�¯Ã���Ã�¯Ã�¿Ã�½Ã��Ã�¯Ã��Ã�¿Ã��Ã�½Ã���Ã��Ã�¯Ã���Ã��Ã�¿Ã���Ã��Ã�½Ã���Ã�¯Ã�¿Ã�½Ã���Ã��Ã�¯Ã���Ã�¯Ã�¿Ã�½Ã���Ã��Ã�¿Ã���Ã�¯Ã�¿Ã�½Ã���Ã��Ã�½Ã���Ã�¯Ã�¿Ã�½Ã��Ã�¯Ã��Ã�¿Ã��Ã�½Ã���Ã��Ã�¯Ã���Ã��Ã�¿Ã���Ã��Ã�½Ã���Ã�¯Ã�¿Ã�½Ã��Ã�¯Ã��Ã�¿Ã��Ã�½Ã���Ã�¯Ã�¿Ã�½Ã���Ã��Ã�¿Ã���Ã�¯Ã�¿Ã�½Ã��Ã�¯Ã��Ã�¿Ã��Ã�½Ã���Ã��Ã�¯Ã���Ã��Ã�¿Ã���Ã��Ã�½Ã���Ã�¯Ã�¿Ã�½Ã���Ã��Ã�¯Ã���Ã�¯Ã�¿Ã�½Ã���Ã��Ã�¿Ã���Ã�¯Ã�¿Ã�½Ã���Ã��Ã�½Ã���Ã�¯Ã�¿Ã�½Ã��Ã�¯Ã��Ã�¿Ã��Ã�½Ã���Ã��Ã�¯Ã���Ã��Ã�¿Ã���Ã��Ã�½Ã���Ã�¯Ã�¿Ã�½Ã��Ã�¯Ã��Ã�¿Ã��Ã�½Ã���Ã�¯Ã�¿Ã�½Ã���Ã��Ã�½Ã���Ã�¯Ã�¿Ã�½Ã��Ã�¯Ã��Ã�¿Ã��Ã�½Ã���Ã��Ã�¯Ã���Ã��Ã�¿Ã���Ã��Ã�½Ã���Ã�¯Ã�¿Ã�½Ã���Ã��Ã�¯Ã���Ã�¯Ã�¿Ã�½Ã���Ã��Ã�¿Ã���Ã�¯Ã�¿Ã�½Ã���Ã��Ã�½Ã���Ã�¯Ã�¿Ã�½Ã��Ã�¯Ã��Ã�¿Ã��Ã�½Ã���Ã�¯Ã�¿Ã�½Ã���Ã��Ã�¯Ã���Ã�¯Ã�¿Ã�½Ã��Ã�¯Ã��Ã�¿Ã��Ã�½Ã���Ã�¯Ã�¿Ã�½Ã���Ã��Ã�¿Ã���Ã�¯Ã�¿Ã�½Ã��Ã�¯Ã��Ã�¿Ã��Ã�½Ã���Ã�¯Ã�¿Ã�½Ã���Ã��Ã�½Ã���Ã�¯Ã�¿Ã�½Ã��Ã�¯Ã��Ã�¿Ã��Ã�½Ã���Ã��Ã�¯Ã���Ã��Ã�¿Ã���Ã��Ã�½Ã���Ã�¯Ã�¿Ã�½Ã��Ã�¯Ã��Ã�¿Ã��Ã�½Ã���Ã�¯Ã�¿Ã�½Ã���Ã��Ã�¯Ã���Ã�¯Ã�¿Ã�½Ã��Ã�¯Ã��Ã�¿Ã��Ã�½Ã���Ã��Ã�¯Ã���Ã��Ã�¿Ã���Ã��Ã�½Ã���Ã�¯Ã�¿Ã�½Ã��Ã�¯Ã��Ã�¿Ã��Ã�½Ã���Ã�¯Ã�¿Ã�½Ã���Ã��Ã�¿Ã���Ã�¯Ã�¿Ã�½Ã��Ã�¯Ã��Ã�¿Ã��Ã�½Ã���Ã��Ã�¯Ã���Ã��Ã�¿Ã���Ã��Ã�½Ã���Ã�¯Ã�¿Ã�½Ã��Ã�¯Ã��Ã�¿Ã��Ã�½Ã���Ã�¯Ã�¿Ã�½Ã���Ã��Ã�½Ã���Ã�¯Ã�¿Ã�½Ã��Ã�¯Ã��Ã�¿Ã��Ã�½Ã���Ã��Ã�¯Ã���Ã��Ã�¿Ã���Ã��Ã�½Ã���Ã�¯Ã�¿Ã�½Ã���Ã��Ã�¯Ã���Ã�¯Ã�¿Ã�½Ã���Ã��Ã�¿Ã���Ã�¯Ã�¿Ã�½Ã���Ã��Ã�½Ã���Ã�¯Ã�¿Ã�½Ã��Ã�¯Ã��Ã�¿Ã��Ã�½Ã���Ã�¯Ã�¿Ã�½Ã���Ã��Ã�¯Ã���Ã�¯Ã�¿Ã�½Ã��Ã�¯Ã��Ã�¿Ã��Ã�½Ã���Ã�¯Ã�¿Ã�½Ã���Ã��Ã�¿Ã���Ã�¯Ã�¿Ã�½Ã��Ã�¯Ã��Ã�¿Ã��Ã�½Ã���Ã�¯Ã�¿Ã�½Ã���Ã��Ã�½Ã���Ã�¯Ã�¿Ã�½Ã��Ã�¯Ã��Ã�¿Ã��Ã�½Ã���Ã��Ã�¯Ã���Ã��Ã�¿Ã���Ã��Ã�½Ã���Ã�¯Ã�¿Ã�½Ã���Ã��Ã�¯Ã���Ã�¯Ã�¿Ã�½Ã���Ã��Ã�¿Ã���Ã�¯Ã�¿Ã�½Ã���Ã��Ã�½Ã���Ã�¯Ã�¿Ã�½Ã��Ã�¯Ã��Ã�¿Ã��Ã�½Ã���Ã��Ã�¯Ã���Ã��Ã�¿Ã���Ã��Ã�½Ã���Ã�¯Ã�¿Ã�½Ã��Ã�¯Ã��Ã�¿Ã��Ã�½Ã���Ã�¯Ã�¿Ã�½Ã���Ã��Ã�¯Ã���Ã�¯Ã�¿Ã�½Ã��Ã�¯Ã��Ã�¿Ã��Ã�½Ã���Ã��Ã�¯Ã���Ã��Ã�¿Ã���Ã��Ã�½Ã���Ã�¯Ã�¿Ã�½Ã���Ã��Ã�¯Ã���Ã�¯Ã�¿Ã�½Ã���Ã��Ã�¿Ã���Ã�¯Ã�¿Ã�½Ã���Ã��Ã�½Ã���Ã�¯Ã�¿Ã�½Ã��Ã�¯Ã��Ã�¿Ã��Ã�½Ã���Ã�¯Ã�¿Ã�½Ã���Ã��Ã�¯Ã���Ã�¯Ã�¿Ã�½Ã��Ã�¯Ã��Ã�¿Ã��Ã�½Ã���Ã�¯Ã�¿Ã�½Ã���Ã��Ã�¿Ã���Ã�¯Ã�¿Ã�½Ã��Ã�¯Ã��Ã�¿Ã��Ã�½Ã���Ã�¯Ã�¿Ã�½Ã���Ã��Ã�½Ã���Ã�¯Ã�¿Ã�½Ã��Ã�¯Ã��Ã�¿Ã��Ã�½Ã���Ã��Ã�¯Ã���Ã��Ã�¿Ã���Ã��Ã�½Ã���Ã�¯Ã�¿Ã�½Ã��Ã�¯Ã��Ã�¿Ã��Ã�½Ã���Ã�¯Ã�¿Ã�½Ã���Ã��Ã�¯Ã���Ã�¯Ã�¿Ã�½Ã��Ã�¯Ã��Ã�¿Ã��Ã�½Ã���Ã��Ã�¯Ã���Ã��Ã�¿Ã���Ã��Ã�½Ã���Ã�¯Ã�¿Ã�½Ã��Ã�¯Ã��Ã�¿Ã��Ã�½Ã���Ã�¯Ã�¿Ã�½Ã���Ã��Ã�¿Ã���Ã�¯Ã�¿Ã�½Ã��Ã�¯Ã��Ã�¿Ã��Ã�½Ã���Ã��Ã�¯Ã���Ã��Ã�¿Ã���Ã��Ã�½Ã���Ã�¯Ã�¿Ã�½Ã��Ã�¯Ã��Ã�¿Ã��Ã�½Ã���Ã�¯Ã�¿Ã�½Ã���Ã��Ã�½Ã���Ã�¯Ã�¿Ã�½Ã��Ã�¯Ã��Ã�¿Ã��Ã�½Ã���Ã��Ã�¯Ã���Ã��Ã�¿Ã���Ã��Ã�½Ã���Ã�¯Ã�¿Ã�½Ã���Ã��Ã�¯Ã���Ã�¯Ã�¿Ã�½Ã���Ã��Ã�¿Ã���Ã�¯Ã�¿Ã�½Ã���Ã��Ã�½Ã���Ã�¯Ã�¿Ã�½Ã��Ã�¯Ã��Ã�¿Ã��Ã�½Ã���Ã��Ã�¯Ã���Ã��Ã�¿Ã���Ã��Ã�½Ã���Ã�¯Ã�¿Ã�½Ã��Ã�¯Ã��Ã�¿Ã��Ã�½Ã���Ã�¯Ã�¿Ã�½Ã���Ã��Ã�¯Ã���Ã�¯Ã�¿Ã�½Ã��Ã�¯Ã��Ã�¿Ã��Ã�½Ã���Ã��Ã�¯Ã���Ã��Ã�¿Ã���Ã��Ã�½Ã���Ã�¯Ã�¿Ã�½Ã���Ã��Ã�¯Ã���Ã�¯Ã�¿Ã�½Ã���Ã��Ã�¿Ã���Ã�¯Ã�¿Ã�½Ã���Ã��Ã�½Ã���Ã�¯Ã�¿Ã�½Ã��Ã�¯Ã��Ã�¿Ã��Ã�½Ã���Ã��Ã�¯Ã���Ã��Ã�¿Ã���Ã��Ã�½Ã���Ã�¯Ã�¿Ã�½Ã��Ã�¯Ã��Ã�¿Ã��Ã�½Ã���Ã�¯Ã�¿Ã�½Ã���Ã��Ã�¿Ã���Ã�¯Ã�¿Ã�½Ã��Ã�¯Ã��Ã�¿Ã��Ã�½Ã���Ã��Ã�¯Ã���Ã��Ã�¿Ã���Ã��Ã�½Ã���Ã�¯Ã�¿Ã�½Ã���Ã��Ã�¯Ã���Ã�¯Ã�¿Ã�½Ã���Ã��Ã�¿Ã���Ã�¯Ã�¿Ã�½Ã���Ã��Ã�½Ã���Ã�¯Ã�¿Ã�½Ã��Ã�¯Ã��Ã�¿Ã��Ã�½Ã���Ã��Ã�¯Ã���Ã��Ã�¿Ã���Ã��Ã�½Ã���Ã�¯Ã�¿Ã�½Ã��Ã�¯Ã��Ã�¿Ã��Ã�½Ã���Ã�¯Ã�¿Ã�½Ã���Ã��Ã�½Ã���Ã�¯Ã�¿Ã�½Ã��Ã�¯Ã��Ã�¿Ã��Ã�½Ã���Ã��Ã�¯Ã���Ã��Ã�¿Ã���Ã��Ã�½Ã���Ã�¯Ã�¿Ã�½Ã���Ã��Ã�¯Ã���Ã�¯Ã�¿Ã�½Ã���Ã��Ã�¿Ã���Ã�¯Ã�¿Ã�½Ã���Ã��Ã�½Ã���Ã�¯Ã�¿Ã�½Ã��Ã�¯Ã��Ã�¿Ã��Ã�½Ã���Ã�¯Ã�¿Ã�½Ã���Ã��Ã�¯Ã���Ã�¯Ã�¿Ã�½Ã��Ã�¯Ã��Ã�¿Ã��Ã�½Ã���Ã�¯Ã�¿Ã�½Ã���Ã��Ã�¿Ã���Ã�¯Ã�¿Ã�½Ã��Ã�¯Ã��Ã�¿Ã��Ã�½Ã���Ã�¯Ã�¿Ã�½Ã���Ã��Ã�½Ã���Ã�¯Ã�¿Ã�½Ã��Ã�¯Ã��Ã�¿Ã��Ã�½Ã���Ã��Ã�¯Ã���Ã��Ã�¿Ã���Ã��Ã�½Ã���Ã�¯Ã�¿Ã�½Ã��Ã�¯Ã��Ã�¿Ã��Ã�½Ã���Ã�¯Ã�¿Ã�½Ã���Ã��Ã�¯Ã���Ã�¯Ã�¿Ã�½Ã��Ã�¯Ã��Ã�¿Ã��Ã�½Ã���Ã��Ã�¯Ã���Ã��Ã�¿Ã���Ã��Ã�½Ã���Ã�¯Ã�¿Ã�½Ã��Ã�¯Ã��Ã�¿Ã��Ã�½Ã���Ã�¯Ã�¿Ã�½Ã���Ã��Ã�¿Ã���Ã�¯Ã�¿Ã�½Ã��Ã�¯Ã��Ã�¿Ã��Ã�½Ã���Ã��Ã�¯Ã���Ã��Ã�¿Ã���Ã��Ã�½Ã���Ã�¯Ã�¿Ã�½Ã��Ã�¯Ã��Ã�¿Ã��Ã�½Ã���Ã�¯Ã�¿Ã�½Ã���Ã��Ã�½Ã���Ã�¯Ã�¿Ã�½Ã��Ã�¯Ã��Ã�¿Ã��Ã�½Ã���Ã��Ã�¯Ã���Ã��Ã�¿Ã���Ã��Ã�½Ã���Ã�¯Ã�¿Ã�½Ã���Ã��Ã�¯Ã���Ã�¯Ã�¿Ã�½Ã���Ã��Ã�¿Ã���Ã�¯Ã�¿Ã�½Ã���Ã��Ã�½Ã���Ã�¯Ã�¿Ã�½Ã��Ã�¯Ã��Ã�¿Ã��Ã�½Ã���Ã�¯Ã�¿Ã�½Ã���Ã��Ã�¯Ã���Ã�¯Ã�¿Ã�½Ã��Ã�¯Ã��Ã�¿Ã��Ã�½Ã���Ã�¯Ã�¿Ã�½Ã���Ã��Ã�¿Ã���Ã�¯Ã�¿Ã�½Ã��Ã�¯Ã��Ã�¿Ã��Ã�½Ã���Ã�¯Ã�¿Ã�½Ã���Ã��Ã�½Ã���Ã�¯Ã�¿Ã�½Ã��Ã�¯Ã��Ã�¿Ã��Ã�½Ã���Ã��Ã�¯Ã���Ã��Ã�¿Ã���Ã��Ã�½Ã���Ã�¯Ã�¿Ã�½Ã���Ã��Ã�¯Ã���Ã�¯Ã�¿Ã�½Ã���Ã��Ã�¿Ã���Ã�¯Ã�¿Ã�½Ã���Ã��Ã�½Ã���Ã�¯Ã�¿Ã�½Ã��Ã�¯Ã��Ã�¿Ã��Ã�½Ã���Ã��Ã�¯Ã���Ã��Ã�¿Ã���Ã��Ã�½Ã���Ã�¯Ã�¿Ã�½Ã��Ã�¯Ã��Ã�¿Ã��Ã�½Ã���Ã�¯Ã�¿Ã�½Ã���Ã��Ã�¿Ã���Ã�¯Ã�¿Ã�½Ã��Ã�¯Ã��Ã�¿Ã��Ã�½Ã���Ã��Ã�¯Ã���Ã��Ã�¿Ã���Ã��Ã�½Ã���Ã�¯Ã�¿Ã�½Ã���Ã��Ã�¯Ã���Ã�¯Ã�¿Ã�½Ã���Ã��Ã�¿Ã���Ã�¯Ã�¿Ã�½Ã���Ã��Ã�½Ã���Ã�¯Ã�¿Ã�½Ã��Ã�¯Ã��Ã�¿Ã��Ã�½Ã���Ã�¯Ã�¿Ã�½Ã���Ã��Ã�¯Ã���Ã�¯Ã�¿Ã�½Ã��Ã�¯Ã��Ã�¿Ã��Ã�½Ã���Ã�¯Ã�¿Ã�½Ã���Ã��Ã�¿Ã���Ã�¯Ã�¿Ã�½Ã��Ã�¯Ã��Ã�¿Ã��Ã�½Ã���Ã�¯Ã�¿Ã�½Ã���Ã��Ã�½Ã���Ã�¯Ã�¿Ã�½Ã��Ã�¯Ã��Ã�¿Ã��Ã�½Ã���Ã��Ã�¯Ã���Ã��Ã�¿Ã���Ã��Ã�½Ã���Ã�¯Ã�¿Ã�½Ã��Ã�¯Ã��Ã�¿Ã��Ã�½Ã���Ã�¯Ã�¿Ã�½Ã���Ã��Ã�¯Ã���Ã�¯Ã�¿Ã�½Ã��Ã�¯Ã��Ã�¿Ã��Ã�½Ã���Ã��Ã�¯Ã���Ã��Ã�¿Ã���Ã��Ã�½Ã���Ã�¯Ã�¿Ã�½Ã��Ã�¯Ã��Ã�¿Ã��Ã�½Ã���Ã�¯Ã�¿Ã�½Ã���Ã��Ã�¿Ã���Ã�¯Ã�¿Ã�½Ã��Ã�¯Ã��Ã�¿Ã��Ã�½Ã���Ã��Ã�¯Ã���Ã��Ã�¿Ã���Ã��Ã�½Ã���Ã�¯Ã�¿Ã�½Ã��Ã�¯Ã��Ã�¿Ã��Ã�½Ã���Ã�¯Ã�¿Ã�½Ã���Ã��Ã�½Ã���Ã�¯Ã�¿Ã�½Ã��Ã�¯Ã��Ã�¿Ã��Ã�½Ã���Ã��Ã�¯Ã���Ã��Ã�¿Ã���Ã��Ã�½Ã���Ã�¯Ã�¿Ã�½Ã���Ã��Ã�¯Ã���Ã�¯Ã�¿Ã�½Ã���Ã��Ã�¿Ã���Ã�¯Ã�¿Ã�½Ã���Ã��Ã�½Ã���Ã�¯Ã�¿Ã�½Ã��Ã�¯Ã��Ã�¿Ã��Ã�½Ã���Ã��Ã�¯Ã���Ã��Ã�¿Ã���Ã��Ã�½Ã���Ã�¯Ã�¿Ã�½Ã��Ã�¯Ã��Ã�¿Ã��Ã�½Ã���Ã�¯Ã�¿Ã�½Ã���Ã��Ã�¯Ã���Ã�¯Ã�¿Ã�½Ã��Ã�¯Ã��Ã�¿Ã��Ã�½Ã���Ã��Ã�¯Ã���Ã��Ã�¿Ã���Ã��Ã�½Ã���Ã�¯Ã�¿Ã�½Ã���Ã��Ã�¯Ã���Ã�¯Ã�¿Ã�½Ã���Ã��Ã�¿Ã���Ã�¯Ã�¿Ã�½Ã���Ã��Ã�½Ã���Ã�¯Ã�¿Ã�½Ã��Ã�¯Ã��Ã�¿Ã��Ã�½Ã���Ã��Ã�¯Ã���Ã��Ã�¿Ã���Ã��Ã�½Ã���Ã�¯Ã�¿Ã�½Ã��Ã�¯Ã��Ã�¿Ã��Ã�½Ã���Ã�¯Ã�¿Ã�½Ã���Ã��Ã�¿Ã���Ã�¯Ã�¿Ã�½Ã��Ã�¯Ã��Ã�¿Ã��Ã�½Ã���Ã��Ã�¯Ã���Ã��Ã�¿Ã���Ã��Ã�½Ã���Ã�¯Ã�¿Ã�½Ã���Ã��Ã�¯Ã���Ã�¯Ã�¿Ã�½Ã���Ã��Ã�¿Ã���Ã�¯Ã�¿Ã�½Ã���Ã��Ã�½Ã���Ã�¯Ã�¿Ã�½Ã��Ã�¯Ã��Ã�¿Ã��Ã�½Ã���Ã��Ã�¯Ã���Ã��Ã�¿Ã���Ã��Ã�½Ã���Ã�¯Ã�¿Ã�½Ã��Ã�¯Ã��Ã�¿Ã��Ã�½Ã���Ã�¯Ã�¿Ã�½Ã���Ã��Ã�½Ã���Ã�¯Ã�¿Ã�½Ã��Ã�¯Ã��Ã�¿Ã��Ã�½Ã���Ã��Ã�¯Ã���Ã��Ã�¿Ã���Ã��Ã�½Ã���Ã�¯Ã�¿Ã�½Ã���Ã��Ã�¯Ã���Ã�¯Ã�¿Ã�½Ã���Ã��Ã�¿Ã���Ã�¯Ã�¿Ã�½Ã���Ã��Ã�½Ã���Ã�¯Ã�¿Ã�½Ã��Ã�¯Ã��Ã�¿Ã��Ã�½Ã���Ã�¯Ã�¿Ã�½Ã���Ã��Ã�¯Ã���Ã�¯Ã�¿Ã�½Ã��Ã�¯Ã��Ã�¿Ã��Ã�½Ã���Ã�¯Ã�¿Ã�½Ã���Ã��Ã�¿Ã���Ã�¯Ã�¿Ã�½Ã��Ã�¯Ã��Ã�¿Ã��Ã�½Ã���Ã�¯Ã�¿Ã�½Ã���Ã��Ã�½Ã���Ã�¯Ã�¿Ã�½Ã��Ã�¯Ã��Ã�¿Ã��Ã�½Ã���Ã��Ã�¯Ã���Ã��Ã�¿Ã���Ã��Ã�½Ã���Ã�¯Ã�¿Ã�½Ã��Ã�¯Ã��Ã�¿Ã��Ã�½Ã���Ã�¯Ã�¿Ã�½Ã���Ã��Ã�¯Ã���Ã�¯Ã�¿Ã�½Ã��Ã�¯Ã��Ã�¿Ã��Ã�½Ã���Ã��Ã�¯Ã���Ã��Ã�¿Ã���Ã��Ã�½Ã���Ã�¯Ã�¿Ã�½Ã��Ã�¯Ã��Ã�¿Ã��Ã�½Ã���Ã�¯Ã�¿Ã�½Ã���Ã��Ã�¿Ã���Ã�¯Ã�¿Ã�½Ã��Ã�¯Ã��Ã�¿Ã��Ã�½Ã���Ã��Ã�¯Ã���Ã��Ã�¿Ã���Ã��Ã�½Ã���Ã�¯Ã�¿Ã�½Ã��Ã�¯Ã��Ã�¿Ã��Ã�½Ã���Ã�¯Ã�¿Ã�½Ã���Ã��Ã�½Ã���Ã�¯Ã�¿Ã�½Ã��Ã�¯Ã��Ã�¿Ã��Ã�½Ã���Ã��Ã�¯Ã���Ã��Ã�¿Ã���Ã��Ã�½Ã���Ã�¯Ã�¿Ã�½Ã���Ã��Ã�¯Ã���Ã�¯Ã�¿Ã�½Ã���Ã��Ã�¿Ã���Ã�¯Ã�¿Ã�½Ã���Ã��Ã�½Ã���Ã�¯Ã�¿Ã�½Ã��Ã�¯Ã��Ã�¿Ã��Ã�½Ã���Ã�¯Ã�¿Ã�½Ã���Ã��Ã�¯Ã���Ã�¯Ã�¿Ã�½Ã��Ã�¯Ã��Ã�¿Ã��Ã�½Ã���Ã�¯Ã�¿Ã�½Ã���Ã��Ã�¿Ã���Ã�¯Ã�¿Ã�½Ã��Ã�¯Ã��Ã�¿Ã��Ã�½Ã���Ã�¯Ã�¿Ã�½Ã���Ã��Ã�½Ã���Ã�¯Ã�¿Ã�½Ã��Ã�¯Ã��Ã�¿Ã��Ã�½Ã���Ã��Ã�¯Ã���Ã��Ã�¿Ã���Ã��Ã�½Ã���Ã�¯Ã�¿Ã�½Ã���Ã��Ã�¯Ã���Ã�¯Ã�¿Ã�½Ã���Ã��Ã�¿Ã���Ã�¯Ã�¿Ã�½Ã���Ã��Ã�½Ã���Ã�¯Ã�¿Ã�½Ã��Ã�¯Ã��Ã�¿Ã��Ã�½Ã���Ã��Ã�¯Ã���Ã��Ã�¿Ã���Ã��Ã�½Ã���Ã�¯Ã�¿Ã�½Ã��Ã�¯Ã��Ã�¿Ã��Ã�½Ã���Ã�¯Ã�¿Ã�½Ã���Ã��Ã�½Ã���Ã�¯Ã�¿Ã�½Ã��Ã�¯Ã��Ã�¿Ã��Ã�½Ã���Ã��Ã�¯Ã���Ã��Ã�¿Ã���Ã��Ã�½Ã���Ã�¯Ã�¿Ã�½Ã���Ã��Ã�¯Ã���Ã�¯Ã�¿Ã�½Ã���Ã��Ã�¿Ã���Ã�¯Ã�¿Ã�½Ã���Ã��Ã�½Ã���Ã�¯Ã�¿Ã�½Ã��Ã�¯Ã��Ã�¿Ã��Ã�½Ã���Ã�¯Ã�¿Ã�½Ã���Ã��Ã�¯Ã���Ã�¯Ã�¿Ã�½Ã��Ã�¯Ã��Ã�¿Ã��Ã�½Ã���Ã�¯Ã�¿Ã�½Ã���Ã��Ã�¿Ã���Ã�¯Ã�¿Ã�½Ã��Ã�¯Ã��Ã�¿Ã��Ã�½Ã���Ã�¯Ã�¿Ã�½Ã���Ã��Ã�½Ã���Ã�¯Ã�¿Ã�½Ã��Ã�¯Ã��Ã�¿Ã��Ã�½Ã���Ã��Ã�¯Ã���Ã��Ã�¿Ã���Ã��Ã�½Ã���Ã�¯Ã�¿Ã�½Ã��Ã�¯Ã��Ã�¿Ã��Ã�½Ã���Ã�¯Ã�¿Ã�½Ã���Ã��Ã�¯Ã���Ã�¯Ã�¿Ã�½Ã��Ã�¯Ã��Ã�¿Ã��Ã�½Ã���Ã��Ã�¯Ã���Ã��Ã�¿Ã���Ã��Ã�½Ã���Ã�¯Ã�¿Ã�½Ã��Ã�¯Ã��Ã�¿Ã��Ã�½Ã���Ã�¯Ã�¿Ã�½Ã���Ã��Ã�¿Ã���Ã�¯Ã�¿Ã�½Ã��Ã�¯Ã��Ã�¿Ã��Ã�½Ã���Ã��Ã�¯Ã���Ã��Ã�¿Ã���Ã��Ã�½Ã���Ã�¯Ã�¿Ã�½Ã��Ã�¯Ã��Ã�¿Ã��Ã�½Ã���Ã�¯Ã�¿Ã�½Ã���Ã��Ã�½Ã���Ã�¯Ã�¿Ã�½Ã��Ã�¯Ã��Ã�¿Ã��Ã�½Ã���Ã��Ã�¯Ã���Ã��Ã�¿Ã���Ã��Ã�½Ã���Ã�¯Ã�¿Ã�½Ã���Ã��Ã�¯Ã���Ã�¯Ã�¿Ã�½Ã���Ã��Ã�¿Ã���Ã�¯Ã�¿Ã�½Ã���Ã��Ã�½Ã���Ã�¯Ã�¿Ã�½Ã��Ã�¯Ã��Ã�¿Ã��Ã�½Ã���Ã��Ã�¯Ã���Ã��Ã�¿Ã���Ã��Ã�½Ã���Ã�¯Ã�¿Ã�½Ã��Ã�¯Ã��Ã�¿Ã��Ã�½Ã���Ã�¯Ã�¿Ã�½Ã���Ã��Ã�¯Ã���Ã�¯Ã�¿Ã�½Ã��Ã�¯Ã��Ã�¿Ã��Ã�½Ã���Ã��Ã�¯Ã���Ã��Ã�¿Ã���Ã��Ã�½Ã���Ã�¯Ã�¿Ã�½Ã���Ã��Ã�¯Ã���Ã�¯Ã�¿Ã�½Ã���Ã��Ã�¿Ã���Ã�¯Ã�¿Ã�½Ã���Ã��Ã�½Ã���Ã�¯Ã�¿Ã�½Ã��Ã�¯Ã��Ã�¿Ã��Ã�½Ã���Ã��Ã�¯Ã���Ã��Ã�¿Ã���Ã��Ã�½Ã���Ã�¯Ã�¿Ã�½Ã��Ã�¯Ã��Ã�¿Ã��Ã�½Ã���Ã�¯Ã�¿Ã�½Ã���Ã��Ã�¿Ã���Ã�¯Ã�¿Ã�½Ã��Ã�¯Ã��Ã�¿Ã��Ã�½Ã���Ã��Ã�¯Ã���Ã��Ã�¿Ã���Ã��Ã�½Ã���Ã�¯Ã�¿Ã�½Ã���Ã��Ã�¯Ã���Ã�¯Ã�¿Ã�½Ã���Ã��Ã�¿Ã���Ã�¯Ã�¿Ã�½Ã���Ã��Ã�½Ã���Ã�¯Ã�¿Ã�½Ã��Ã�¯Ã��Ã�¿Ã��Ã�½Ã���Ã��Ã�¯Ã���Ã��Ã�¿Ã���Ã��Ã�½Ã���Ã�¯Ã�¿Ã�½Ã��Ã�¯Ã��Ã�¿Ã��Ã�½Ã���Ã�¯Ã�¿Ã�½Ã���Ã��Ã�½Ã���Ã�¯Ã�¿Ã�½Ã��Ã�¯Ã��Ã�¿Ã��Ã�½Ã���Ã��Ã�¯Ã���Ã��Ã�¿Ã���Ã��Ã�½Ã���Ã�¯Ã�¿Ã�½Ã���Ã��Ã�¯Ã���Ã�¯Ã�¿Ã�½Ã���Ã��Ã�¿Ã���Ã�¯Ã�¿Ã�½Ã���Ã��Ã�½Ã���Ã�¯Ã�¿Ã�½Ã��Ã�¯Ã��Ã�¿Ã��Ã�½Ã���Ã�¯Ã�¿Ã�½Ã���Ã��Ã�¯Ã���Ã�¯Ã�¿Ã�½Ã��Ã�¯Ã��Ã�¿Ã��Ã�½Ã���Ã�¯Ã�¿Ã�½Ã���Ã��Ã�¿Ã���Ã�¯Ã�¿Ã�½Ã��Ã�¯Ã��Ã�¿Ã��Ã�½Ã���Ã�¯Ã�¿Ã�½Ã���Ã��Ã�½Ã���Ã�¯Ã�¿Ã�½Ã��Ã�¯Ã��Ã�¿Ã��Ã�½Ã���Ã��Ã�¯Ã���Ã��Ã�¿Ã���Ã��Ã�½Ã���Ã�¯Ã�¿Ã�½Ã���Ã��Ã�¯Ã���Ã�¯Ã�¿Ã�½Ã���Ã��Ã�¿Ã���Ã�¯Ã�¿Ã�½Ã���Ã��Ã�½Ã���Ã�¯Ã�¿Ã�½Ã��Ã�¯Ã��Ã�¿Ã��Ã�½Ã���Ã��Ã�¯Ã���Ã��Ã�¿Ã���Ã��Ã�½Ã���Ã�¯Ã�¿Ã�½Ã��Ã�¯Ã��Ã�¿Ã��Ã�½Ã���Ã�¯Ã�¿Ã�½Ã���Ã��Ã�¯Ã���Ã�¯Ã�¿Ã�½Ã��Ã�¯Ã��Ã�¿Ã��Ã�½Ã���Ã��Ã�¯Ã���Ã��Ã�¿Ã���Ã��Ã�½Ã���Ã�¯Ã�¿Ã�½Ã���Ã��Ã�¯Ã���Ã�¯Ã�¿Ã�½Ã���Ã��Ã�¿Ã���Ã�¯Ã�¿Ã�½Ã���Ã��Ã�½Ã���Ã�¯Ã�¿Ã�½Ã��Ã�¯Ã��Ã�¿Ã��Ã�½Ã���Ã�¯Ã�¿Ã�½Ã���Ã��Ã�¯Ã���Ã�¯Ã�¿Ã�½Ã��Ã�¯Ã��Ã�¿Ã��Ã�½Ã���Ã�¯Ã�¿Ã�½Ã���Ã��Ã�¿Ã���Ã�¯Ã�¿Ã�½Ã��Ã�¯Ã��Ã�¿Ã��Ã�½Ã���Ã�¯Ã�¿Ã�½Ã���Ã��Ã�½Ã���Ã�¯Ã�¿Ã�½Ã��Ã�¯Ã��Ã�¿Ã��Ã�½Ã���Ã��Ã�¯Ã���Ã��Ã�¿Ã���Ã��Ã�½Ã���Ã�¯Ã�¿Ã�½Ã���Ã��Ã�¯Ã���Ã�¯Ã�¿Ã�½Ã���Ã��Ã�¿Ã���Ã�¯Ã�¿Ã�½Ã���Ã��Ã�½Ã���Ã�¯Ã�¿Ã�½Ã��Ã�¯Ã��Ã�¿Ã��Ã�½Ã���Ã��Ã�¯Ã���Ã��Ã�¿Ã���Ã��Ã�½Ã���Ã�¯Ã�¿Ã�½Ã��Ã�¯Ã��Ã�¿Ã��Ã�½Ã���Ã�¯Ã�¿Ã�½Ã���Ã��Ã�¿Ã���Ã�¯Ã�¿Ã�½Ã��Ã�¯Ã��Ã�¿Ã��Ã�½Ã���Ã��Ã�¯Ã���Ã��Ã�¿Ã���Ã��Ã�½Ã���Ã�¯Ã�¿Ã�½Ã���Ã��Ã�¯Ã���Ã�¯Ã�¿Ã�½Ã���Ã��Ã�¿Ã���Ã�¯Ã�¿Ã�½Ã���Ã��Ã�½Ã���Ã�¯Ã�¿Ã�½Ã��Ã�¯Ã��Ã�¿Ã��Ã�½Ã���Ã�¯Ã�¿Ã�½Ã���Ã��Ã�¯Ã���Ã�¯Ã�¿Ã�½Ã��Ã�¯Ã��Ã�¿Ã��Ã�½Ã���Ã�¯Ã�¿Ã�½Ã���Ã��Ã�¿Ã���Ã�¯Ã�¿Ã�½Ã��Ã�¯Ã��Ã�¿Ã��Ã�½Ã���Ã�¯Ã�¿Ã�½Ã���Ã��Ã�½Ã���Ã�¯Ã�¿Ã�½Ã��Ã�¯Ã��Ã�¿Ã��Ã�½Ã���Ã��Ã�¯Ã���Ã��Ã�¿Ã���Ã��Ã�½Ã���Ã�¯Ã�¿Ã�½Ã���Ã��Ã�¯Ã���Ã�¯Ã�¿Ã�½Ã���Ã��Ã�¿Ã���Ã�¯Ã�¿Ã�½Ã���Ã��Ã�½Ã���Ã�¯Ã�¿Ã�½Ã��Ã�¯Ã��Ã�¿Ã��Ã�½Ã���Ã��Ã�¯Ã���Ã��Ã�¿Ã���Ã��Ã�½Ã���Ã�¯Ã�¿Ã�½Ã��Ã�¯Ã��Ã�¿Ã��Ã�½Ã���Ã�¯Ã�¿Ã�½Ã���Ã��Ã�½Ã���Ã�¯Ã�¿Ã�½Ã��Ã�¯Ã��Ã�¿Ã��Ã�½Ã���Ã��Ã�¯Ã���Ã��Ã�¿Ã���Ã��Ã�½Ã���Ã�¯Ã�¿Ã�½Ã���Ã��Ã�¯Ã���Ã�¯Ã�¿Ã�½Ã���Ã��Ã�¿Ã���Ã�¯Ã�¿Ã�½Ã���Ã��Ã�½Ã���Ã�¯Ã�¿Ã�½Ã��Ã�¯Ã��Ã�¿Ã��Ã�½Ã���Ã�¯Ã�¿Ã�½Ã���Ã��Ã�¯Ã���Ã�¯Ã�¿Ã�½Ã��Ã�¯Ã��Ã�¿Ã��Ã�½Ã���Ã�¯Ã�¿Ã�½Ã���Ã��Ã�¿Ã���Ã�¯Ã�¿Ã�½Ã��Ã�¯Ã��Ã�¿Ã��Ã�½Ã���Ã�¯Ã�¿Ã�½Ã���Ã��Ã�½Ã���Ã�¯Ã�¿Ã�½Ã��Ã�¯Ã��Ã�¿Ã��Ã�½Ã���Ã��Ã�¯Ã���Ã��Ã�¿Ã���Ã��Ã�½Ã���Ã�¯Ã�¿Ã�½Ã��Ã�¯Ã��Ã�¿Ã��Ã�½Ã���Ã�¯Ã�¿Ã�½Ã���Ã��Ã�¯Ã���Ã�¯Ã�¿Ã�½Ã��Ã�¯Ã��Ã�¿Ã��Ã�½Ã���Ã��Ã�¯Ã���Ã��Ã�¿Ã���Ã��Ã�½Ã���Ã�¯Ã�¿Ã�½Ã��Ã�¯Ã��Ã�¿Ã��Ã�½Ã���Ã�¯Ã�¿Ã�½Ã���Ã��Ã�¿Ã���Ã�¯Ã�¿Ã�½Ã��Ã�¯Ã��Ã�¿Ã��Ã�½Ã���Ã��Ã�¯Ã���Ã��Ã�¿Ã���Ã��Ã�½Ã���Ã�¯Ã�¿Ã�½Ã��Ã�¯Ã��Ã�¿Ã��Ã�½Ã���Ã�¯Ã�¿Ã�½Ã���Ã��Ã�½Ã���Ã�¯Ã�¿Ã�½Ã��Ã�¯Ã��Ã�¿Ã��Ã�½Ã���Ã��Ã�¯Ã���Ã��Ã�¿Ã���Ã��Ã�½Ã���Ã�¯Ã�¿Ã�½Ã���Ã��Ã�¯Ã���Ã�¯Ã�¿Ã�½Ã���Ã��Ã�¿Ã���Ã�¯Ã�¿Ã�½Ã���Ã��Ã�½Ã���Ã�¯Ã�¿Ã�½Ã��Ã�¯Ã��Ã�¿Ã��Ã�½Ã���Ã��Ã�¯Ã���Ã��Ã�¿Ã���Ã��Ã�½Ã���Ã�¯Ã�¿Ã�½Ã��Ã�¯Ã��Ã�¿Ã��Ã�½Ã���Ã�¯Ã�¿Ã�½Ã���Ã��Ã�¯Ã���Ã�¯Ã�¿Ã�½Ã��Ã�¯Ã��Ã�¿Ã��Ã�½Ã���Ã��Ã�¯Ã���Ã��Ã�¿Ã���Ã��Ã�½Ã���Ã�¯Ã�¿Ã�½Ã���Ã��Ã�¯Ã���Ã�¯Ã�¿Ã�½Ã���Ã��Ã�¿Ã���Ã�¯Ã�¿Ã�½Ã���Ã��Ã�½Ã���Ã�¯Ã�¿Ã�½Ã��Ã�¯Ã��Ã�¿Ã��Ã�½Ã���Ã��Ã�¯Ã���Ã��Ã�¿Ã���Ã��Ã�½Ã���Ã�¯Ã�¿Ã�½Ã��Ã�¯Ã��Ã�¿Ã��Ã�½Ã���Ã�¯Ã�¿Ã�½Ã���Ã��Ã�¿Ã���Ã�¯Ã�¿Ã�½Ã��Ã�¯Ã��Ã�¿Ã��Ã�½Ã���Ã��Ã�¯Ã���Ã��Ã�¿Ã���Ã��Ã�½Ã���Ã�¯Ã�¿Ã�½Ã���Ã��Ã�¯Ã���Ã�¯Ã�¿Ã�½Ã���Ã��Ã�¿Ã���Ã�¯Ã�¿Ã�½Ã���Ã��Ã�½Ã���Ã�¯Ã�¿Ã�½Ã��Ã�¯Ã��Ã�¿Ã��Ã�½Ã���Ã��Ã�¯Ã���Ã��Ã�¿Ã���Ã��Ã�½Ã���Ã�¯Ã�¿Ã�½Ã��Ã�¯Ã��Ã�¿Ã��Ã�½Ã���Ã�¯Ã�¿Ã�½Ã���Ã��Ã�½Ã���Ã�¯Ã�¿Ã�½Ã��Ã�¯Ã��Ã�¿Ã��Ã�½Ã���Ã��Ã�¯Ã���Ã��Ã�¿Ã���Ã��Ã�½Ã���Ã�¯Ã�¿Ã�½Ã���Ã��Ã�¯Ã���Ã�¯Ã�¿Ã�½Ã���Ã��Ã�¿Ã���Ã�¯Ã�¿Ã�½Ã���Ã��Ã�½Ã���Ã�¯Ã�¿Ã�½Ã��Ã�¯Ã��Ã�¿Ã��Ã�½Ã���Ã�¯Ã�¿Ã�½Ã���Ã��Ã�¯Ã���Ã�¯Ã�¿Ã�½Ã��Ã�¯Ã��Ã�¿Ã��Ã�½Ã���Ã�¯Ã�¿Ã�½Ã���Ã��Ã�¿Ã���Ã�¯Ã�¿Ã�½Ã��Ã�¯Ã��Ã�¿Ã��Ã�½Ã���Ã�¯Ã�¿Ã�½Ã���Ã��Ã�½Ã���Ã�¯Ã�¿Ã�½Ã��Ã�¯Ã��Ã�¿Ã��Ã�½Ã���Ã��Ã�¯Ã���Ã��Ã�¿Ã���Ã��Ã�½Ã���Ã�¯Ã�¿Ã�½Ã��Ã�¯Ã��Ã�¿Ã��Ã�½Ã���Ã�¯Ã�¿Ã�½Ã���Ã��Ã�¯Ã���Ã�¯Ã�¿Ã�½Ã��Ã�¯Ã��Ã�¿Ã��Ã�½Ã���Ã��Ã�¯Ã���Ã��Ã�¿Ã���Ã��Ã�½Ã���Ã�¯Ã�¿Ã�½Ã��Ã�¯Ã��Ã�¿Ã��Ã�½Ã���Ã�¯Ã�¿Ã�½Ã���Ã��Ã�¿Ã���Ã�¯Ã�¿Ã�½Ã��Ã�¯Ã��Ã�¿Ã��Ã�½Ã���Ã��Ã�¯Ã���Ã��Ã�¿Ã���Ã��Ã�½Ã���Ã�¯Ã�¿Ã�½Ã��Ã�¯Ã��Ã�¿Ã��Ã�½Ã���Ã�¯Ã�¿Ã�½Ã���Ã��Ã�½Ã���Ã�¯Ã�¿Ã�½Ã��Ã�¯Ã��Ã�¿Ã��Ã�½Ã���Ã��Ã�¯Ã���Ã��Ã�¿Ã���Ã��Ã�½Ã���Ã�¯Ã�¿Ã�½Ã���Ã��Ã�¯Ã���Ã�¯Ã�¿Ã�½Ã���Ã��Ã�¿Ã���Ã�¯Ã�¿Ã�½Ã���Ã��Ã�½Ã���Ã�¯Ã�¿Ã�½Ã��Ã�¯Ã��Ã�¿Ã��Ã�½Ã���Ã�¯Ã�¿Ã�½Ã���Ã��Ã�¯Ã���Ã�¯Ã�¿Ã�½Ã��Ã�¯Ã��Ã�¿Ã��Ã�½Ã���Ã�¯Ã�¿Ã�½Ã���Ã��Ã�¿Ã���Ã�¯Ã�¿Ã�½Ã��Ã�¯Ã��Ã�¿Ã��Ã�½Ã���Ã�¯Ã�¿Ã�½Ã���Ã��Ã�½Ã���Ã�¯Ã�¿Ã�½Ã��Ã�¯Ã��Ã�¿Ã��Ã�½Ã���Ã��Ã�¯Ã���Ã��Ã�¿Ã���Ã��Ã�½Ã���Ã�¯Ã�¿Ã�½Ã���Ã��Ã�¯Ã���Ã�¯Ã�¿Ã�½Ã���Ã��Ã�¿Ã���Ã�¯Ã�¿Ã�½Ã���Ã��Ã�½Ã���Ã�¯Ã�¿Ã�½Ã��Ã�¯Ã��Ã�¿Ã��Ã�½Ã���Ã��Ã�¯Ã���Ã��Ã�¿Ã���Ã��Ã�½Ã���Ã�¯Ã�¿Ã�½Ã��Ã�¯Ã��Ã�¿Ã��Ã�½Ã���Ã�¯Ã�¿Ã�½Ã���Ã��Ã�¯Ã���Ã�¯Ã�¿Ã�½Ã��Ã�¯Ã��Ã�¿Ã��Ã�½Ã���Ã��Ã�¯Ã���Ã��Ã�¿Ã���Ã��Ã�½Ã���Ã�¯Ã�¿Ã�½Ã���Ã��Ã�¯Ã���Ã�¯Ã�¿Ã�½Ã���Ã��Ã�¿Ã���Ã�¯Ã�¿Ã�½Ã���Ã��Ã�½Ã���Ã�¯Ã�¿Ã�½Ã��Ã�¯Ã��Ã�¿Ã��Ã�½Ã���Ã�¯Ã�¿Ã�½Ã���Ã��Ã�¯Ã���Ã�¯Ã�¿Ã�½Ã��Ã�¯Ã��Ã�¿Ã��Ã�½Ã���Ã�¯Ã�¿Ã�½Ã���Ã��Ã�¿Ã���Ã�¯Ã�¿Ã�½Ã��Ã�¯Ã��Ã�¿Ã��Ã�½Ã���Ã�¯Ã�¿Ã�½Ã���Ã��Ã�½Ã���Ã�¯Ã�¿Ã�½Ã��Ã�¯Ã��Ã�¿Ã��Ã�½Ã���Ã��Ã�¯Ã���Ã��Ã�¿Ã���Ã��Ã�½Ã���Ã�¯Ã�¿Ã�½Ã��Ã�¯Ã��Ã�¿Ã��Ã�½Ã���Ã�¯Ã�¿Ã�½Ã���Ã��Ã�¯Ã���Ã�¯Ã�¿Ã�½Ã��Ã�¯Ã��Ã�¿Ã��Ã�½Ã���Ã��Ã�¯Ã���Ã��Ã�¿Ã���Ã��Ã�½Ã���Ã�¯Ã�¿Ã�½Ã��Ã�¯Ã��Ã�¿Ã��Ã�½Ã���Ã�¯Ã�¿Ã�½Ã���Ã��Ã�¿Ã���Ã�¯Ã�¿Ã�½Ã��Ã�¯Ã��Ã�¿Ã��Ã�½Ã���Ã��Ã�¯Ã���Ã��Ã�¿Ã���Ã��Ã�½Ã���Ã�¯Ã�¿Ã�½Ã��Ã�¯Ã��Ã�¿Ã��Ã�½Ã���Ã�¯Ã�¿Ã�½Ã���Ã��Ã�½Ã���Ã�¯Ã�¿Ã�½Ã��Ã�¯Ã��Ã�¿Ã��Ã�½Ã���Ã��Ã�¯Ã���Ã��Ã�¿Ã���Ã��Ã�½Ã���Ã�¯Ã�¿Ã�½Ã���Ã��Ã�¯Ã���Ã�¯Ã�¿Ã�½Ã���Ã��Ã�¿Ã���Ã�¯Ã�¿Ã�½Ã���Ã��Ã�½Ã���Ã�¯Ã�¿Ã�½Ã��Ã�¯Ã��Ã�¿Ã��Ã�½Ã���Ã��Ã�¯Ã���Ã��Ã�¿Ã���Ã��Ã�½Ã���Ã�¯Ã�¿Ã�½Ã��Ã�¯Ã��Ã�¿Ã��Ã�½Ã���Ã�¯Ã�¿Ã�½Ã���Ã��Ã�¯Ã���Ã�¯Ã�¿Ã�½Ã��Ã�¯Ã��Ã�¿Ã��Ã�½Ã���Ã��Ã�¯Ã���Ã��Ã�¿Ã���Ã��Ã�½Ã���Ã�¯Ã�¿Ã�½Ã���Ã��Ã�¯Ã���Ã�¯Ã�¿Ã�½Ã���Ã��Ã�¿Ã���Ã�¯Ã�¿Ã�½Ã���Ã��Ã�½Ã���Ã�¯Ã�¿Ã�½Ã��Ã�¯Ã��Ã�¿Ã��Ã�½Ã���Ã��Ã�¯Ã���Ã��Ã�¿Ã���Ã��Ã�½Ã���Ã�¯Ã�¿Ã�½Ã��Ã�¯Ã��Ã�¿Ã��Ã�½Ã���Ã�¯Ã�¿Ã�½Ã���Ã��Ã�¿Ã���Ã�¯Ã�¿Ã�½Ã��Ã�¯Ã��Ã�¿Ã��Ã�½Ã���Ã��Ã�¯Ã���Ã��Ã�¿Ã���Ã��Ã�½Ã���Ã�¯Ã�¿Ã�½Ã���Ã��Ã�¯Ã���Ã�¯Ã�¿Ã�½Ã���Ã��Ã�¿Ã���Ã�¯Ã�¿Ã�½Ã���Ã��Ã�½Ã���Ã�¯Ã�¿Ã�½Ã��Ã�¯Ã��Ã�¿Ã��Ã�½Ã���Ã��Ã�¯Ã���Ã��Ã�¿Ã���Ã��Ã�½Ã���Ã�¯Ã�¿Ã�½Ã��Ã�¯Ã��Ã�¿Ã��Ã�½Ã���Ã�¯Ã�¿Ã�½Ã���Ã��Ã�½Ã���Ã�¯Ã�¿Ã�½Ã��Ã�¯Ã��Ã�¿Ã��Ã�½Ã���Ã��Ã�¯Ã���Ã��Ã�¿Ã���Ã��Ã�½Ã���Ã�¯Ã�¿Ã�½Ã���Ã��Ã�¯Ã���Ã�¯Ã�¿Ã�½Ã���Ã��Ã�¿Ã���Ã�¯Ã�¿Ã�½Ã���Ã��Ã�½Ã���Ã�¯Ã�¿Ã�½Ã��Ã�¯Ã��Ã�¿Ã��Ã�½Ã���Ã�¯Ã�¿Ã�½Ã���Ã��Ã�¯Ã���Ã�¯Ã�¿Ã�½Ã��Ã�¯Ã��Ã�¿Ã��Ã�½Ã���Ã�¯Ã�¿Ã�½Ã���Ã��Ã�¿Ã���Ã�¯Ã�¿Ã�½Ã��Ã�¯Ã��Ã�¿Ã��Ã�½Ã���Ã�¯Ã�¿Ã�½Ã���Ã��Ã�½Ã���Ã�¯Ã�¿Ã�½Ã��Ã�¯Ã��Ã�¿Ã��Ã�½Ã���Ã��Ã�¯Ã���Ã��Ã�¿Ã���Ã��Ã�½Ã���Ã�¯Ã�¿Ã�½Ã���Ã��Ã�¯Ã���Ã�¯Ã�¿Ã�½Ã���Ã��Ã�¿Ã���Ã�¯Ã�¿Ã�½Ã���Ã��Ã�½Ã���Ã�¯Ã�¿Ã�½Ã��Ã�¯Ã��Ã�¿Ã��Ã�½Ã���Ã��Ã�¯Ã���Ã��Ã�¿Ã���Ã��Ã�½Ã���Ã�¯Ã�¿Ã�½Ã��Ã�¯Ã��Ã�¿Ã��Ã�½Ã���Ã�¯Ã�¿Ã�½Ã���Ã��Ã�¯Ã���Ã�¯Ã�¿Ã�½Ã��Ã�¯Ã��Ã�¿Ã��Ã�½Ã���Ã��Ã�¯Ã���Ã��Ã�¿Ã���Ã��Ã�½Ã���Ã�¯Ã�¿Ã�½Ã���Ã��Ã�¯Ã���Ã�¯Ã�¿Ã�½Ã���Ã��Ã�¿Ã���Ã�¯Ã�¿Ã�½Ã���Ã��Ã�½Ã���Ã�¯Ã�¿Ã�½Ã��Ã�¯Ã��Ã�¿Ã��Ã�½Ã���Ã�¯Ã�¿Ã�½Ã���Ã��Ã�¯Ã���Ã�¯Ã�¿Ã�½Ã��Ã�¯Ã��Ã�¿Ã��Ã�½Ã���Ã�¯Ã�¿Ã�½Ã���Ã��Ã�¿Ã���Ã�¯Ã�¿Ã�½Ã��Ã�¯Ã��Ã�¿Ã��Ã�½Ã���Ã�¯Ã�¿Ã�½Ã���Ã��Ã�½Ã���Ã�¯Ã�¿Ã�½Ã��Ã�¯Ã��Ã�¿Ã��Ã�½Ã���Ã��Ã�¯Ã���Ã��Ã�¿Ã���Ã��Ã�½Ã���Ã�¯Ã�¿Ã�½Ã���Ã��Ã�¯Ã���Ã�¯Ã�¿Ã�½Ã���Ã��Ã�¿Ã���Ã�¯Ã�¿Ã�½Ã���Ã��Ã�½Ã���Ã�¯Ã�¿Ã�½Ã��Ã�¯Ã��Ã�¿Ã��Ã�½Ã���Ã��Ã�¯Ã���Ã��Ã�¿Ã���Ã��Ã�½Ã���Ã�¯Ã�¿Ã�½Ã��Ã�¯Ã��Ã�¿Ã��Ã�½Ã���Ã�¯Ã�¿Ã�½Ã���Ã��Ã�¿Ã���Ã�¯Ã�¿Ã�½Ã��Ã�¯Ã��Ã�¿Ã��Ã�½Ã���Ã��Ã�¯Ã���Ã��Ã�¿Ã���Ã��Ã�½Ã���Ã�¯Ã�¿Ã�½Ã���Ã��Ã�¯Ã���Ã�¯Ã�¿Ã�½Ã���Ã��Ã�¿Ã���Ã�¯Ã�¿Ã�½Ã���Ã��Ã�½Ã���Ã�¯Ã�¿Ã�½Ã��Ã�¯Ã��Ã�¿Ã��Ã�½Ã���Ã�¯Ã�¿Ã�½Ã���Ã��Ã�¯Ã���Ã�¯Ã�¿Ã�½Ã��Ã�¯Ã��Ã�¿Ã��Ã�½Ã���Ã�¯Ã�¿Ã�½Ã���Ã��Ã�¿Ã���Ã�¯Ã�¿Ã�½Ã��Ã�¯Ã��Ã�¿Ã��Ã�½Ã���Ã�¯Ã�¿Ã�½Ã���Ã��Ã�½Ã���Ã�¯Ã�¿Ã�½Ã��Ã�¯Ã��Ã�¿Ã��Ã�½Ã���Ã��Ã�¯Ã���Ã��Ã�¿Ã���Ã��Ã�½Ã���Ã�¯Ã�¿Ã�½Ã���Ã��Ã�¯Ã���Ã�¯Ã�¿Ã�½Ã���Ã��Ã�¿Ã���Ã�¯Ã�¿Ã�½Ã���Ã��Ã�½Ã���Ã�¯Ã�¿Ã�½Ã��Ã�¯Ã��Ã�¿Ã��Ã�½Ã���Ã��Ã�¯Ã���Ã��Ã�¿Ã���Ã��Ã�½Ã���Ã�¯Ã�¿Ã�½Ã��Ã�¯Ã��Ã�¿Ã��Ã�½Ã���Ã�¯Ã�¿Ã�½Ã���Ã��Ã�½Ã���Ã�¯Ã�¿Ã�½Ã��Ã�¯Ã��Ã�¿Ã��Ã�½Ã���Ã��Ã�¯Ã���Ã��Ã�¿Ã���Ã��Ã�½Ã���Ã�¯Ã�¿Ã�½Ã���Ã��Ã�¯Ã���Ã�¯Ã�¿Ã�½Ã���Ã��Ã�¿Ã���Ã�¯Ã�¿Ã�½Ã���Ã��Ã�½Ã���Ã�¯Ã�¿Ã�½Ã��Ã�¯Ã��Ã�¿Ã��Ã�½Ã���Ã�¯Ã�¿Ã�½Ã���Ã��Ã�¯Ã���Ã�¯Ã�¿Ã�½Ã��Ã�¯Ã��Ã�¿Ã��Ã�½Ã���Ã�¯Ã�¿Ã�½Ã���Ã��Ã�¿Ã���Ã�¯Ã�¿Ã�½Ã��Ã�¯Ã��Ã�¿Ã��Ã�½Ã���Ã�¯Ã�¿Ã�½Ã���Ã��Ã�½Ã���Ã�¯Ã�¿Ã�½Ã��Ã�¯Ã��Ã�¿Ã��Ã�½Ã���Ã��Ã�¯Ã���Ã��Ã�¿Ã���Ã��Ã�½Ã���Ã�¯Ã�¿Ã�½Ã��Ã�¯Ã��Ã�¿Ã��Ã�½Ã���Ã�¯Ã�¿Ã�½Ã���Ã��Ã�¯Ã���Ã�¯Ã�¿Ã�½Ã��Ã�¯Ã��Ã�¿Ã��Ã�½Ã���Ã��Ã�¯Ã���Ã��Ã�¿Ã���Ã��Ã�½Ã���Ã�¯Ã�¿Ã�½Ã��Ã�¯Ã��Ã�¿Ã��Ã�½Ã���Ã�¯Ã�¿Ã�½Ã���Ã��Ã�¿Ã���Ã�¯Ã�¿Ã�½Ã��Ã�¯Ã��Ã�¿Ã��Ã�½Ã���Ã��Ã�¯Ã���Ã��Ã�¿Ã���Ã��Ã�½Ã���Ã�¯Ã�¿Ã�½Ã��Ã�¯Ã��Ã�¿Ã��Ã�½Ã���Ã�¯Ã�¿Ã�½Ã���Ã��Ã�½Ã���Ã�¯Ã�¿Ã�½Ã��Ã�¯Ã��Ã�¿Ã��Ã�½Ã���Ã��Ã�¯Ã���Ã��Ã�¿Ã���Ã��Ã�½Ã���Ã�¯Ã�¿Ã�½Ã���Ã��Ã�¯Ã���Ã�¯Ã�¿Ã�½Ã���Ã��Ã�¿Ã���Ã�¯Ã�¿Ã�½Ã���Ã��Ã�½Ã���Ã�¯Ã�¿Ã�½Ã��Ã�¯Ã��Ã�¿Ã��Ã�½Ã���Ã��Ã�¯Ã���Ã��Ã�¿Ã���Ã��Ã�½Ã���Ã�¯Ã�¿Ã�½Ã��Ã�¯Ã��Ã�¿Ã��Ã�½Ã���Ã�¯Ã�¿Ã�½Ã���Ã��Ã�¯Ã���Ã�¯Ã�¿Ã�½Ã��Ã�¯Ã��Ã�¿Ã��Ã�½Ã���Ã��Ã�¯Ã���Ã��Ã�¿Ã���Ã��Ã�½Ã���Ã�¯Ã�¿Ã�½Ã���Ã��Ã�¯Ã���Ã�¯Ã�¿Ã�½Ã���Ã��Ã�¿Ã���Ã�¯Ã�¿Ã�½Ã���Ã��Ã�½Ã���Ã�¯Ã�¿Ã�½Ã��Ã�¯Ã��Ã�¿Ã��Ã�½Ã���Ã��Ã�¯Ã���Ã��Ã�¿Ã���Ã��Ã�½Ã���Ã�¯Ã�¿Ã�½Ã��Ã�¯Ã��Ã�¿Ã��Ã�½Ã���Ã�¯Ã�¿Ã�½Ã���Ã��Ã�¿Ã���Ã�¯Ã�¿Ã�½Ã��Ã�¯Ã��Ã�¿Ã��Ã�½Ã���Ã��Ã�¯Ã���Ã��Ã�¿Ã���Ã��Ã�½Ã���Ã�¯Ã�¿Ã�½Ã���Ã��Ã�¯Ã���Ã�¯Ã�¿Ã�½Ã���Ã��Ã�¿Ã���Ã�¯Ã�¿Ã�½Ã���Ã��Ã�½Ã���Ã�¯Ã�¿Ã�½Ã��Ã�¯Ã��Ã�¿Ã��Ã�½Ã���Ã��Ã�¯Ã���Ã��Ã�¿Ã���Ã��Ã�½Ã���Ã�¯Ã�¿Ã�½Ã��Ã�¯Ã��Ã�¿Ã��Ã�½Ã���Ã�¯Ã�¿Ã�½Ã���Ã��Ã�½Ã���Ã�¯Ã�¿Ã�½Ã��Ã�¯Ã��Ã�¿Ã��Ã�½Ã���Ã��Ã�¯Ã���Ã��Ã�¿Ã���Ã��Ã�½Ã���Ã�¯Ã�¿Ã�½Ã���Ã��Ã�¯Ã���Ã�¯Ã�¿Ã�½Ã���Ã��Ã�¿Ã���Ã�¯Ã�¿Ã�½Ã���Ã��Ã�½Ã���Ã�¯Ã�¿Ã�½Ã��Ã�¯Ã��Ã�¿Ã��Ã�½Ã���Ã�¯Ã�¿Ã�½Ã���Ã��Ã�¯Ã���Ã�¯Ã�¿Ã�½Ã��Ã�¯Ã��Ã�¿Ã��Ã�½Ã���Ã�¯Ã�¿Ã�½Ã���Ã��Ã�¿Ã���Ã�¯Ã�¿Ã�½Ã��Ã�¯Ã��Ã�¿Ã��Ã�½Ã���Ã�¯Ã�¿Ã�½Ã���Ã��Ã�½Ã���Ã�¯Ã�¿Ã�½Ã��Ã�¯Ã��Ã�¿Ã��Ã�½Ã���Ã��Ã�¯Ã���Ã��Ã�¿Ã���Ã��Ã�½Ã���Ã�¯Ã�¿Ã�½Ã��Ã�¯Ã��Ã�¿Ã��Ã�½Ã���Ã�¯Ã�¿Ã�½Ã���Ã��Ã�¯Ã���Ã�¯Ã�¿Ã�½Ã��Ã�¯Ã��Ã�¿Ã��Ã�½Ã���Ã��Ã�¯Ã���Ã��Ã�¿Ã���Ã��Ã�½Ã���Ã�¯Ã�¿Ã�½Ã��Ã�¯Ã��Ã�¿Ã��Ã�½Ã���Ã�¯Ã�¿Ã�½Ã���Ã��Ã�¿Ã���Ã�¯Ã�¿Ã�½Ã��Ã�¯Ã��Ã�¿Ã��Ã�½Ã���Ã��Ã�¯Ã���Ã��Ã�¿Ã���Ã��Ã�½Ã���Ã�¯Ã�¿Ã�½Ã��Ã�¯Ã��Ã�¿Ã��Ã�½Ã���Ã�¯Ã�¿Ã�½Ã���Ã��Ã�½Ã���Ã�¯Ã�¿Ã�½Ã��Ã�¯Ã��Ã�¿Ã��Ã�½Ã���Ã��Ã�¯Ã���Ã��Ã�¿Ã���Ã��Ã�½Ã���Ã�¯Ã�¿Ã�½Ã���Ã��Ã�¯Ã���Ã�¯Ã�¿Ã�½Ã���Ã��Ã�¿Ã���Ã�¯Ã�¿Ã�½Ã���Ã��Ã�½Ã���Ã�¯Ã�¿Ã�½Ã��Ã�¯Ã��Ã�¿Ã��Ã�½Ã���Ã�¯Ã�¿Ã�½Ã���Ã��Ã�¯Ã���Ã�¯Ã�¿Ã�½Ã��Ã�¯Ã��Ã�¿Ã��Ã�½Ã���Ã�¯Ã�¿Ã�½Ã���Ã��Ã�¿Ã���Ã�¯Ã�¿Ã�½Ã��Ã�¯Ã��Ã�¿Ã��Ã�½Ã���Ã�¯Ã�¿Ã�½Ã���Ã��Ã�½Ã���Ã�¯Ã�¿Ã�½Ã��Ã�¯Ã��Ã�¿Ã��Ã�½Ã���Ã��Ã�¯Ã���Ã��Ã�¿Ã���Ã��Ã�½Ã���Ã�¯Ã�¿Ã�½Ã���Ã��Ã�¯Ã���Ã�¯Ã�¿Ã�½Ã���Ã��Ã�¿Ã���Ã�¯Ã�¿Ã�½Ã���Ã��Ã�½Ã���Ã�¯Ã�¿Ã�½Ã��Ã�¯Ã��Ã�¿Ã��Ã�½Ã���Ã��Ã�¯Ã���Ã��Ã�¿Ã���Ã��Ã�½Ã���Ã�¯Ã�¿Ã�½Ã��Ã�¯Ã��Ã�¿Ã��Ã�½Ã���Ã�¯Ã�¿Ã�½Ã���Ã��Ã�¿Ã���Ã�¯Ã�¿Ã�½Ã��Ã�¯Ã��Ã�¿Ã��Ã�½Ã���Ã��Ã�¯Ã���Ã��Ã�¿Ã���Ã��Ã�½Ã���Ã�¯Ã�¿Ã�½Ã���Ã��Ã�¯Ã���Ã�¯Ã�¿Ã�½Ã���Ã��Ã�¿Ã���Ã�¯Ã�¿Ã�½Ã���Ã��Ã�½Ã���Ã�¯Ã�¿Ã�½Ã��Ã�¯Ã��Ã�¿Ã��Ã�½Ã���Ã�¯Ã�¿Ã�½Ã���Ã��Ã�¯Ã���Ã�¯Ã�¿Ã�½Ã��Ã�¯Ã��Ã�¿Ã��Ã�½Ã���Ã�¯Ã�¿Ã�½Ã���Ã��Ã�¿Ã���Ã�¯Ã�¿Ã�½Ã��Ã�¯Ã��Ã�¿Ã��Ã�½Ã���Ã�¯Ã�¿Ã�½Ã���Ã��Ã�½Ã���Ã�¯Ã�¿Ã�½Ã��Ã�¯Ã��Ã�¿Ã��Ã�½Ã���Ã��Ã�¯Ã���Ã��Ã�¿Ã���Ã��Ã�½Ã���Ã�¯Ã�¿Ã�½Ã��Ã�¯Ã��Ã�¿Ã��Ã�½Ã���Ã�¯Ã�¿Ã�½Ã���Ã��Ã�¯Ã���Ã�¯Ã�¿Ã�½Ã��Ã�¯Ã��Ã�¿Ã��Ã�½Ã���Ã��Ã�¯Ã���Ã��Ã�¿Ã���Ã��Ã�½Ã���Ã�¯Ã�¿Ã�½Ã��Ã�¯Ã��Ã�¿Ã��Ã�½Ã���Ã�¯Ã�¿Ã�½Ã���Ã��Ã�¿Ã���Ã�¯Ã�¿Ã�½Ã��Ã�¯Ã��Ã�¿Ã��Ã�½Ã���Ã��Ã�¯Ã���Ã��Ã�¿Ã���Ã��Ã�½Ã���Ã�¯Ã�¿Ã�½Ã��Ã�¯Ã��Ã�¿Ã��Ã�½Ã���Ã�¯Ã�¿Ã�½Ã���Ã��Ã�½Ã���Ã�¯Ã�¿Ã�½Ã��Ã�¯Ã��Ã�¿Ã��Ã�½Ã���Ã��Ã�¯Ã���Ã��Ã�¿Ã���Ã��Ã�½Ã���Ã�¯Ã�¿Ã�½Ã���Ã��Ã�¯Ã���Ã�¯Ã�¿Ã�½Ã���Ã��Ã�¿Ã���Ã�¯Ã�¿Ã�½Ã���Ã��Ã�½Ã���Ã�¯Ã�¿Ã�½Ã��Ã�¯Ã��Ã�¿Ã��Ã�½Ã���Ã��Ã�¯Ã���Ã��Ã�¿Ã���Ã��Ã�½Ã���Ã�¯Ã�¿Ã�½Ã��Ã�¯Ã��Ã�¿Ã��Ã�½Ã���Ã�¯Ã�¿Ã�½Ã���Ã��Ã�¯Ã���Ã�¯Ã�¿Ã�½Ã��Ã�¯Ã��Ã�¿Ã��Ã�½Ã���Ã��Ã�¯Ã���Ã��Ã�¿Ã���Ã��Ã�½Ã���Ã�¯Ã�¿Ã�½Ã���Ã��Ã�¯Ã���Ã�¯Ã�¿Ã�½Ã���Ã��Ã�¿Ã���Ã�¯Ã�¿Ã�½Ã���Ã��Ã�½Ã���Ã�¯Ã�¿Ã�½Ã��Ã�¯Ã��Ã�¿Ã��Ã�½Ã���Ã��Ã�¯Ã���Ã��Ã�¿Ã���Ã��Ã�½Ã���Ã�¯Ã�¿Ã�½Ã��Ã�¯Ã��Ã�¿Ã��Ã�½Ã���Ã�¯Ã�¿Ã�½Ã���Ã��Ã�¿Ã���Ã�¯Ã�¿Ã�½Ã��Ã�¯Ã��Ã�¿Ã��Ã�½Ã���Ã��Ã�¯Ã���Ã��Ã�¿Ã���Ã��Ã�½Ã���Ã�¯Ã�¿Ã�½Ã���Ã��Ã�¯Ã���Ã�¯Ã�¿Ã�½Ã���Ã��Ã�¿Ã���Ã�¯Ã�¿Ã�½Ã���Ã��Ã�½Ã���Ã�¯Ã�¿Ã�½Ã��Ã�¯Ã��Ã�¿Ã��Ã�½Ã���Ã��Ã�¯Ã���Ã��Ã�¿Ã���Ã��Ã�½Ã���Ã�¯Ã�¿Ã�½Ã��Ã�¯Ã��Ã�¿Ã��Ã�½Ã���Ã�¯Ã�¿Ã�½Ã���Ã��Ã�½Ã���Ã�¯Ã�¿Ã�½Ã��Ã�¯Ã��Ã�¿Ã��Ã�½Ã���Ã��Ã�¯Ã���Ã��Ã�¿Ã���Ã��Ã�½Ã���Ã�¯Ã�¿Ã�½Ã���Ã��Ã�¯Ã���Ã�¯Ã�¿Ã�½Ã���Ã��Ã�¿Ã���Ã�¯Ã�¿Ã�½Ã���Ã��Ã�½Ã���Ã�¯Ã�¿Ã�½Ã��Ã�¯Ã��Ã�¿Ã��Ã�½Ã���Ã�¯Ã�¿Ã�½Ã���Ã��Ã�¯Ã���Ã�¯Ã�¿Ã�½Ã��Ã�¯Ã��Ã�¿Ã��Ã�½Ã���Ã�¯Ã�¿Ã�½Ã���Ã��Ã�¿Ã���Ã�¯Ã�¿Ã�½Ã��Ã�¯Ã��Ã�¿Ã��Ã�½Ã���Ã�¯Ã�¿Ã�½Ã���Ã��Ã�½Ã���Ã�¯Ã�¿Ã�½Ã��Ã�¯Ã��Ã�¿Ã��Ã�½Ã���Ã��Ã�¯Ã���Ã��Ã�¿Ã���Ã��Ã�½Ã���Ã�¯Ã�¿Ã�½Ã���Ã��Ã�¯Ã���Ã�¯Ã�¿Ã�½Ã���Ã��Ã�¿Ã���Ã�¯Ã�¿Ã�½Ã���Ã��Ã�½Ã���Ã�¯Ã�¿Ã�½Ã��Ã�¯Ã��Ã�¿Ã��Ã�½Ã���Ã��Ã�¯Ã���Ã��Ã�¿Ã���Ã��Ã�½Ã���Ã�¯Ã�¿Ã�½Ã��Ã�¯Ã��Ã�¿Ã��Ã�½Ã���Ã�¯Ã�¿Ã�½Ã���Ã��Ã�¯Ã���Ã�¯Ã�¿Ã�½Ã��Ã�¯Ã��Ã�¿Ã��Ã�½Ã���Ã��Ã�¯Ã���Ã��Ã�¿Ã���Ã��Ã�½Ã���Ã�¯Ã�¿Ã�½Ã���Ã��Ã�¯Ã���Ã�¯Ã�¿Ã�½Ã���Ã��Ã�¿Ã���Ã�¯Ã�¿Ã�½Ã���Ã��Ã�½Ã���Ã�¯Ã�¿Ã�½Ã��Ã�¯Ã��Ã�¿Ã��Ã�½Ã���Ã�¯Ã�¿Ã�½Ã���Ã��Ã�¯Ã���Ã�¯Ã�¿Ã�½Ã��Ã�¯Ã��Ã�¿Ã��Ã�½Ã���Ã�¯Ã�¿Ã�½Ã���Ã��Ã�¿Ã���Ã�¯Ã�¿Ã�½Ã��Ã�¯Ã��Ã�¿Ã��Ã�½Ã���Ã�¯Ã�¿Ã�½Ã���Ã��Ã�½Ã���Ã�¯Ã�¿Ã�½Ã��Ã�¯Ã��Ã�¿Ã��Ã�½Ã���Ã��Ã�¯Ã���Ã��Ã�¿Ã���Ã��Ã�½Ã���Ã�¯Ã�¿Ã�½Ã���Ã��Ã�¯Ã���Ã�¯Ã�¿Ã�½Ã���Ã��Ã�¿Ã���Ã�¯Ã�¿Ã�½Ã���Ã��Ã�½Ã���Ã�¯Ã�¿Ã�½Ã��Ã�¯Ã��Ã�¿Ã��Ã�½Ã���Ã��Ã�¯Ã���Ã��Ã�¿Ã���Ã��Ã�½Ã���Ã�¯Ã�¿Ã�½Ã��Ã�¯Ã��Ã�¿Ã��Ã�½Ã���Ã�¯Ã�¿Ã�½Ã���Ã��Ã�¿Ã���Ã�¯Ã�¿Ã�½Ã��Ã�¯Ã��Ã�¿Ã��Ã�½Ã���Ã��Ã�¯Ã���Ã��Ã�¿Ã���Ã��Ã�½Ã���Ã�¯Ã�¿Ã�½Ã���Ã��Ã�¯Ã���Ã�¯Ã�¿Ã�½Ã���Ã��Ã�¿Ã���Ã�¯Ã�¿Ã�½Ã���Ã��Ã�½Ã���Ã�¯Ã�¿Ã�½Ã��Ã�¯Ã��Ã�¿Ã��Ã�½Ã���Ã�¯Ã�¿Ã�½Ã���Ã��Ã�¯Ã���Ã�¯Ã�¿Ã�½Ã��Ã�¯Ã��Ã�¿Ã��Ã�½Ã���Ã�¯Ã�¿Ã�½Ã���Ã��Ã�¿Ã���Ã�¯Ã�¿Ã�½Ã��Ã�¯Ã��Ã�¿Ã��Ã�½Ã���Ã�¯Ã�¿Ã�½Ã���Ã��Ã�½Ã���Ã�¯Ã�¿Ã�½Ã��Ã�¯Ã��Ã�¿Ã��Ã�½Ã���Ã��Ã�¯Ã���Ã��Ã�¿Ã���Ã��Ã�½Ã���Ã�¯Ã�¿Ã�½Ã���Ã��Ã�¯Ã���Ã�¯Ã�¿Ã�½Ã���Ã��Ã�¿Ã���Ã�¯Ã�¿Ã�½Ã���Ã��Ã�½Ã���Ã�¯Ã�¿Ã�½Ã��Ã�¯Ã��Ã�¿Ã��Ã�½Ã���Ã��Ã�¯Ã���Ã��Ã�¿Ã���Ã��Ã�½Ã���Ã�¯Ã�¿Ã�½Ã��Ã�¯Ã��Ã�¿Ã��Ã�½Ã���Ã�¯Ã�¿Ã�½Ã���Ã��Ã�½Ã���Ã�¯Ã�¿Ã�½Ã��Ã�¯Ã��Ã�¿Ã��Ã�½Ã���Ã��Ã�¯Ã���Ã��Ã�¿Ã���Ã��Ã�½Ã���Ã�¯Ã�¿Ã�½Ã���Ã��Ã�¯Ã���Ã�¯Ã�¿Ã�½Ã���Ã��Ã�¿Ã���Ã�¯Ã�¿Ã�½Ã���Ã��Ã�½Ã���Ã�¯Ã�¿Ã�½Ã��Ã�¯Ã��Ã�¿Ã��Ã�½Ã���Ã�¯Ã�¿Ã�½Ã���Ã��Ã�¯Ã���Ã�¯Ã�¿Ã�½Ã��Ã�¯Ã��Ã�¿Ã��Ã�½Ã���Ã�¯Ã�¿Ã�½Ã���Ã��Ã�¿Ã���Ã�¯Ã�¿Ã�½Ã��Ã�¯Ã��Ã�¿Ã��Ã�½Ã���Ã�¯Ã�¿Ã�½Ã���Ã��Ã�½Ã���Ã�¯Ã�¿Ã�½Ã��Ã�¯Ã��Ã�¿Ã��Ã�½Ã���Ã��Ã�¯Ã���Ã��Ã�¿Ã���Ã��Ã�½Ã���Ã�¯Ã�¿Ã�½Ã��Ã�¯Ã��Ã�¿Ã��Ã�½Ã���Ã�¯Ã�¿Ã�½Ã���Ã��Ã�¯Ã���Ã�¯Ã�¿Ã�½Ã��Ã�¯Ã��Ã�¿Ã��Ã�½Ã���Ã��Ã�¯Ã���Ã��Ã�¿Ã���Ã��Ã�½Ã���Ã�¯Ã�¿Ã�½Ã��Ã�¯Ã��Ã�¿Ã��Ã�½Ã���Ã�¯Ã�¿Ã�½Ã���Ã��Ã�¿Ã���Ã�¯Ã�¿Ã�½Ã��Ã�¯Ã��Ã�¿Ã��Ã�½Ã���Ã��Ã�¯Ã���Ã��Ã�¿Ã���Ã��Ã�½Ã���Ã�¯Ã�¿Ã�½Ã��Ã�¯Ã��Ã�¿Ã��Ã�½Ã���Ã�¯Ã�¿Ã�½Ã���Ã��Ã�½Ã���Ã�¯Ã�¿Ã�½Ã��Ã�¯Ã��Ã�¿Ã��Ã�½Ã���Ã��Ã�¯Ã���Ã��Ã�¿Ã���Ã��Ã�½Ã���Ã�¯Ã�¿Ã�½Ã���Ã��Ã�¯Ã���Ã�¯Ã�¿Ã�½Ã���Ã��Ã�¿Ã���Ã�¯Ã�¿Ã�½Ã���Ã��Ã�½Ã���Ã�¯Ã�¿Ã�½Ã��Ã�¯Ã��Ã�¿Ã��Ã�½Ã���Ã��Ã�¯Ã���Ã��Ã�¿Ã���Ã��Ã�½Ã���Ã�¯Ã�¿Ã�½Ã��Ã�¯Ã��Ã�¿Ã��Ã�½Ã���Ã�¯Ã�¿Ã�½Ã���Ã��Ã�¯Ã���Ã�¯Ã�¿Ã�½Ã��Ã�¯Ã��Ã�¿Ã��Ã�½Ã���Ã��Ã�¯Ã���Ã��Ã�¿Ã���Ã��Ã�½Ã���Ã�¯Ã�¿Ã�½Ã���Ã��Ã�¯Ã���Ã�¯Ã�¿Ã�½Ã���Ã��Ã�¿Ã���Ã�¯Ã�¿Ã�½Ã���Ã��Ã�½Ã���Ã�¯Ã�¿Ã�½Ã��Ã�¯Ã��Ã�¿Ã��Ã�½Ã���Ã��Ã�¯Ã���Ã��Ã�¿Ã���Ã��Ã�½Ã���Ã�¯Ã�¿Ã�½Ã��Ã�¯Ã��Ã�¿Ã��Ã�½Ã���Ã�¯Ã�¿Ã�½Ã���Ã��Ã�¿Ã���Ã�¯Ã�¿Ã�½Ã��Ã�¯Ã��Ã�¿Ã��Ã�½Ã���Ã��Ã�¯Ã���Ã��Ã�¿Ã���Ã��Ã�½Ã���Ã�¯Ã�¿Ã�½Ã���Ã��Ã�¯Ã���Ã�¯Ã�¿Ã�½Ã���Ã��Ã�¿Ã���Ã�¯Ã�¿Ã�½Ã���Ã��Ã�½Ã���Ã�¯Ã�¿Ã�½Ã��Ã�¯Ã��Ã�¿Ã��Ã�½Ã���Ã��Ã�¯Ã���Ã��Ã�¿Ã���Ã��Ã�½Ã���Ã�¯Ã�¿Ã�½Ã��Ã�¯Ã��Ã�¿Ã��Ã�½Ã���Ã�¯Ã�¿Ã�½Ã���Ã��Ã�½Ã���Ã�¯Ã�¿Ã�½Ã��Ã�¯Ã��Ã�¿Ã��Ã�½Ã���Ã��Ã�¯Ã���Ã��Ã�¿Ã���Ã��Ã�½Ã���Ã�¯Ã�¿Ã�½Ã���Ã��Ã�¯Ã���Ã�¯Ã�¿Ã�½Ã���Ã��Ã�¿Ã���Ã�¯Ã�¿Ã�½Ã���Ã��Ã�½Ã���Ã�¯Ã�¿Ã�½Ã��Ã�¯Ã��Ã�¿Ã��Ã�½Ã���Ã�¯Ã�¿Ã�½Ã���Ã��Ã�¯Ã���Ã�¯Ã�¿Ã�½Ã��Ã�¯Ã��Ã�¿Ã��Ã�½Ã���Ã�¯Ã�¿Ã�½Ã���Ã��Ã�¿Ã���Ã�¯Ã�¿Ã�½Ã��Ã�¯Ã��Ã�¿Ã��Ã�½Ã���Ã�¯Ã�¿Ã�½Ã���Ã��Ã�½Ã���Ã�¯Ã�¿Ã�½Ã��Ã�¯Ã��Ã�¿Ã��Ã�½Ã���Ã��Ã�¯Ã���Ã��Ã�¿Ã���Ã��Ã�½Ã���Ã�¯Ã�¿Ã�½Ã��Ã�¯Ã��Ã�¿Ã��Ã�½Ã���Ã�¯Ã�¿Ã�½Ã���Ã��Ã�¯Ã���Ã�¯Ã�¿Ã�½Ã��Ã�¯Ã��Ã�¿Ã��Ã�½Ã���Ã��Ã�¯Ã���Ã��Ã�¿Ã���Ã��Ã�½Ã���Ã�¯Ã�¿Ã�½Ã��Ã�¯Ã��Ã�¿Ã��Ã�½Ã���Ã�¯Ã�¿Ã�½Ã���Ã��Ã�¿Ã���Ã�¯Ã�¿Ã�½Ã��Ã�¯Ã��Ã�¿Ã��Ã�½Ã���Ã��Ã�¯Ã���Ã��Ã�¿Ã���Ã��Ã�½Ã���Ã�¯Ã�¿Ã�½Ã��Ã�¯Ã��Ã�¿Ã��Ã�½Ã���Ã�¯Ã�¿Ã�½Ã���Ã��Ã�½Ã���Ã�¯Ã�¿Ã�½Ã��Ã�¯Ã��Ã�¿Ã��Ã�½Ã���Ã��Ã�¯Ã���Ã��Ã�¿Ã���Ã��Ã�½Ã���Ã�¯Ã�¿Ã�½Ã���Ã��Ã�¯Ã���Ã�¯Ã�¿Ã�½Ã���Ã��Ã�¿Ã���Ã�¯Ã�¿Ã�½Ã���Ã��Ã�½Ã���Ã�¯Ã�¿Ã�½Ã��Ã�¯Ã��Ã�¿Ã��Ã�½Ã���Ã�¯Ã�¿Ã�½Ã���Ã��Ã�¯Ã���Ã�¯Ã�¿Ã�½Ã��Ã�¯Ã��Ã�¿Ã��Ã�½Ã���Ã�¯Ã�¿Ã�½Ã���Ã��Ã�¿Ã���Ã�¯Ã�¿Ã�½Ã��Ã�¯Ã��Ã�¿Ã��Ã�½Ã���Ã�¯Ã�¿Ã�½Ã���Ã��Ã�½Ã���Ã�¯Ã�¿Ã�½Ã��Ã�¯Ã��Ã�¿Ã��Ã�½Ã���Ã��Ã�¯Ã���Ã��Ã�¿Ã���Ã��Ã�½Ã���Ã�¯Ã�¿Ã�½Ã���Ã��Ã�¯Ã���Ã�¯Ã�¿Ã�½Ã���Ã��Ã�¿Ã���Ã�¯Ã�¿Ã�½Ã���Ã��Ã�½Ã���Ã�¯Ã�¿Ã�½Ã��Ã�¯Ã��Ã�¿Ã��Ã�½Ã���Ã��Ã�¯Ã���Ã��Ã�¿Ã���Ã��Ã�½Ã���Ã�¯Ã�¿Ã�½Ã��Ã�¯Ã��Ã�¿Ã��Ã�½Ã���Ã�¯Ã�¿Ã�½Ã���Ã��Ã�½Ã���Ã�¯Ã�¿Ã�½Ã��Ã�¯Ã��Ã�¿Ã��Ã�½Ã���Ã��Ã�¯Ã���Ã��Ã�¿Ã���Ã��Ã�½Ã���Ã�¯Ã�¿Ã�½Ã���Ã��Ã�¯Ã���Ã�¯Ã�¿Ã�½Ã���Ã��Ã�¿Ã���Ã�¯Ã�¿Ã�½Ã���Ã��Ã�½Ã���Ã�¯Ã�¿Ã�½Ã��Ã�¯Ã��Ã�¿Ã��Ã�½Ã���Ã�¯Ã�¿Ã�½Ã���Ã��Ã�¯Ã���Ã�¯Ã�¿Ã�½Ã��Ã�¯Ã��Ã�¿Ã��Ã�½Ã���Ã�¯Ã�¿Ã�½Ã���Ã��Ã�¿Ã���Ã�¯Ã�¿Ã�½Ã��Ã�¯Ã��Ã�¿Ã��Ã�½Ã���Ã�¯Ã�¿Ã�½Ã���Ã��Ã�½Ã���Ã�¯Ã�¿Ã�½Ã��Ã�¯Ã��Ã�¿Ã��Ã�½Ã���Ã��Ã�¯Ã���Ã��Ã�¿Ã���Ã��Ã�½Ã���Ã�¯Ã�¿Ã�½Ã��Ã�¯Ã��Ã�¿Ã��Ã�½Ã���Ã�¯Ã�¿Ã�½Ã���Ã��Ã�¯Ã���Ã�¯Ã�¿Ã�½Ã��Ã�¯Ã��Ã�¿Ã��Ã�½Ã���Ã��Ã�¯Ã���Ã��Ã�¿Ã���Ã��Ã�½Ã���Ã�¯Ã�¿Ã�½Ã��Ã�¯Ã��Ã�¿Ã��Ã�½Ã���Ã�¯Ã�¿Ã�½Ã���Ã��Ã�¿Ã���Ã�¯Ã�¿Ã�½Ã��Ã�¯Ã��Ã�¿Ã��Ã�½Ã���Ã��Ã�¯Ã���Ã��Ã�¿Ã���Ã��Ã�½Ã���Ã�¯Ã�¿Ã�½Ã��Ã�¯Ã��Ã�¿Ã��Ã�½Ã���Ã�¯Ã�¿Ã�½Ã���Ã��Ã�½Ã���Ã�¯Ã�¿Ã�½Ã��Ã�¯Ã��Ã�¿Ã��Ã�½Ã���Ã��Ã�¯Ã���Ã��Ã�¿Ã���Ã��Ã�½Ã���Ã�¯Ã�¿Ã�½Ã���Ã��Ã�¯Ã���Ã�¯Ã�¿Ã�½Ã���Ã��Ã�¿Ã���Ã�¯Ã�¿Ã�½Ã���Ã��Ã�½Ã���Ã�¯Ã�¿Ã�½Ã��Ã�¯Ã��Ã�¿Ã��Ã�½Ã���Ã��Ã�¯Ã���Ã��Ã�¿Ã���Ã��Ã�½Ã���Ã�¯Ã�¿Ã�½Ã��Ã�¯Ã��Ã�¿Ã��Ã�½Ã���Ã�¯Ã�¿Ã�½Ã���Ã��Ã�¯Ã���Ã�¯Ã�¿Ã�½Ã��Ã�¯Ã��Ã�¿Ã��Ã�½Ã���Ã��Ã�¯Ã���Ã��Ã�¿Ã���Ã��Ã�½Ã���Ã�¯Ã�¿Ã�½Ã���Ã��Ã�¯Ã���Ã�¯Ã�¿Ã�½Ã���Ã��Ã�¿Ã���Ã�¯Ã�¿Ã�½Ã���Ã��Ã�½Ã���Ã�¯Ã�¿Ã�½Ã��Ã�¯Ã��Ã�¿Ã��Ã�½Ã���Ã��Ã�¯Ã���Ã��Ã�¿Ã���Ã��Ã�½Ã���Ã�¯Ã�¿Ã�½Ã��Ã�¯Ã��Ã�¿Ã��Ã�½Ã���Ã�¯Ã�¿Ã�½Ã���Ã��Ã�¿Ã���Ã�¯Ã�¿Ã�½Ã��Ã�¯Ã��Ã�¿Ã��Ã�½Ã���Ã��Ã�¯Ã���Ã��Ã�¿Ã���Ã��Ã�½Ã���Ã�¯Ã�¿Ã�½Ã���Ã��Ã�¯Ã���Ã�¯Ã�¿Ã�½Ã���Ã��Ã�¿Ã���Ã�¯Ã�¿Ã�½Ã���Ã��Ã�½Ã���Ã�¯Ã�¿Ã�½Ã��Ã�¯Ã��Ã�¿Ã��Ã�½Ã���Ã��Ã�¯Ã���Ã��Ã�¿Ã���Ã��Ã�½Ã���Ã�¯Ã�¿Ã�½Ã��Ã�¯Ã��Ã�¿Ã��Ã�½Ã���Ã�¯Ã�¿Ã�½Ã���Ã��Ã�½Ã���Ã�¯Ã�¿Ã�½Ã��Ã�¯Ã��Ã�¿Ã��Ã�½Ã���Ã��Ã�¯Ã���Ã��Ã�¿Ã���Ã��Ã�½Ã���Ã�¯Ã�¿Ã�½Ã���Ã��Ã�¯Ã���Ã�¯Ã�¿Ã�½Ã���Ã��Ã�¿Ã���Ã�¯Ã�¿Ã�½Ã���Ã��Ã�½Ã���Ã�¯Ã�¿Ã�½Ã��Ã�¯Ã��Ã�¿Ã��Ã�½Ã���Ã�¯Ã�¿Ã�½Ã���Ã��Ã�¯Ã���Ã�¯Ã�¿Ã�½Ã��Ã�¯Ã��Ã�¿Ã��Ã�½Ã���Ã�¯Ã�¿Ã�½Ã���Ã��Ã�¿Ã���Ã�¯Ã�¿Ã�½Ã��Ã�¯Ã��Ã�¿Ã��Ã�½Ã���Ã�¯Ã�¿Ã�½Ã���Ã��Ã�½Ã���Ã�¯Ã�¿Ã�½Ã��Ã�¯Ã��Ã�¿Ã��Ã�½Ã���Ã��Ã�¯Ã���Ã��Ã�¿Ã���Ã��Ã�½Ã���Ã�¯Ã�¿Ã�½Ã���Ã��Ã�¯Ã���Ã�¯Ã�¿Ã�½Ã���Ã��Ã�¿Ã���Ã�¯Ã�¿Ã�½Ã���Ã��Ã�½Ã���Ã�¯Ã�¿Ã�½Ã��Ã�¯Ã��Ã�¿Ã��Ã�½Ã���Ã��Ã�¯Ã���Ã��Ã�¿Ã���Ã��Ã�½Ã���Ã�¯Ã�¿Ã�½Ã��Ã�¯Ã��Ã�¿Ã��Ã�½Ã���Ã�¯Ã�¿Ã�½Ã���Ã��Ã�¯Ã���Ã�¯Ã�¿Ã�½Ã��Ã�¯Ã��Ã�¿Ã��Ã�½Ã���Ã��Ã�¯Ã���Ã��Ã�¿Ã���Ã��Ã�½Ã���Ã�¯Ã�¿Ã�½Ã���Ã��Ã�¯Ã���Ã�¯Ã�¿Ã�½Ã���Ã��Ã�¿Ã���Ã�¯Ã�¿Ã�½Ã���Ã��Ã�½Ã���Ã�¯Ã�¿Ã�½Ã��Ã�¯Ã��Ã�¿Ã��Ã�½Ã���Ã�¯Ã�¿Ã�½Ã���Ã��Ã�¯Ã���Ã�¯Ã�¿Ã�½Ã��Ã�¯Ã��Ã�¿Ã��Ã�½Ã���Ã�¯Ã�¿Ã�½Ã���Ã��Ã�¿Ã���Ã�¯Ã�¿Ã�½Ã��Ã�¯Ã��Ã�¿Ã��Ã�½Ã���Ã�¯Ã�¿Ã�½Ã���Ã��Ã�½Ã���Ã�¯Ã�¿Ã�½Ã��Ã�¯Ã��Ã�¿Ã��Ã�½Ã���Ã��Ã�¯Ã���Ã��Ã�¿Ã���Ã��Ã�½Ã���Ã�¯Ã�¿Ã�½Ã���Ã��Ã�¯Ã���Ã�¯Ã�¿Ã�½Ã���Ã��Ã�¿Ã���Ã�¯Ã�¿Ã�½Ã���Ã��Ã�½Ã���Ã�¯Ã�¿Ã�½Ã��Ã�¯Ã��Ã�¿Ã��Ã�½Ã���Ã��Ã�¯Ã���Ã��Ã�¿Ã���Ã��Ã�½Ã���Ã�¯Ã�¿Ã�½Ã��Ã�¯Ã��Ã�¿Ã��Ã�½Ã���Ã�¯Ã�¿Ã�½Ã���Ã��Ã�¿Ã���Ã�¯Ã�¿Ã�½Ã��Ã�¯Ã��Ã�¿Ã��Ã�½Ã���Ã��Ã�¯Ã���Ã��Ã�¿Ã���Ã��Ã�½Ã���Ã�¯Ã�¿Ã�½Ã���Ã��Ã�¯Ã���Ã�¯Ã�¿Ã�½Ã���Ã��Ã�¿Ã���Ã�¯Ã�¿Ã�½Ã���Ã��Ã�½Ã���Ã�¯Ã�¿Ã�½Ã��Ã�¯Ã��Ã�¿Ã��Ã�½Ã���Ã�¯Ã�¿Ã�½Ã���Ã��Ã�¯Ã���Ã�¯Ã�¿Ã�½Ã��Ã�¯Ã��Ã�¿Ã��Ã�½Ã���Ã�¯Ã�¿Ã�½Ã���Ã��Ã�¿Ã���Ã�¯Ã�¿Ã�½Ã��Ã�¯Ã��Ã�¿Ã��Ã�½Ã���Ã�¯Ã�¿Ã�½Ã���Ã��Ã�½Ã���Ã�¯Ã�¿Ã�½Ã��Ã�¯Ã��Ã�¿Ã��Ã�½Ã���Ã��Ã�¯Ã���Ã��Ã�¿Ã���Ã��Ã�½Ã���Ã�¯Ã�¿Ã�½Ã���Ã��Ã�¯Ã���Ã�¯Ã�¿Ã�½Ã���Ã��Ã�¿Ã���Ã�¯Ã�¿Ã�½Ã���Ã��Ã�½Ã���Ã�¯Ã�¿Ã�½Ã��Ã�¯Ã��Ã�¿Ã��Ã�½Ã���Ã��Ã�¯Ã���Ã��Ã�¿Ã���Ã��Ã�½Ã���Ã�¯Ã�¿Ã�½Ã��Ã�¯Ã��Ã�¿Ã��Ã�½Ã���Ã�¯Ã�¿Ã�½Ã���Ã��Ã�½Ã���Ã�¯Ã�¿Ã�½Ã��Ã�¯Ã��Ã�¿Ã��Ã�½Ã���Ã��Ã�¯Ã���Ã��Ã�¿Ã���Ã��Ã�½Ã���Ã�¯Ã�¿Ã�½Ã���Ã��Ã�¯Ã���Ã�¯Ã�¿Ã�½Ã���Ã��Ã�¿Ã���Ã�¯Ã�¿Ã�½Ã���Ã��Ã�½Ã���Ã�¯Ã�¿Ã�½Ã��Ã�¯Ã��Ã�¿Ã��Ã�½Ã���Ã�¯Ã�¿Ã�½Ã���Ã��Ã�¯Ã���Ã�¯Ã�¿Ã�½Ã��Ã�¯Ã��Ã�¿Ã��Ã�½Ã���Ã�¯Ã�¿Ã�½Ã���Ã��Ã�¿Ã���Ã�¯Ã�¿Ã�½Ã��Ã�¯Ã��Ã�¿Ã��Ã�½Ã���Ã�¯Ã�¿Ã�½Ã���Ã��Ã�½Ã���Ã�¯Ã�¿Ã�½Ã��Ã�¯Ã��Ã�¿Ã��Ã�½Ã���Ã��Ã�¯Ã���Ã��Ã�¿Ã���Ã��Ã�½Ã���Ã�¯Ã�¿Ã�½Ã��Ã�¯Ã��Ã�¿Ã��Ã�½Ã���Ã�¯Ã�¿Ã�½Ã���Ã��Ã�¯Ã���Ã�¯Ã�¿Ã�½Ã��Ã�¯Ã��Ã�¿Ã��Ã�½Ã���Ã��Ã�¯Ã���Ã��Ã�¿Ã���Ã��Ã�½Ã���Ã�¯Ã�¿Ã�½Ã��Ã�¯Ã��Ã�¿Ã��Ã�½Ã���Ã�¯Ã�¿Ã�½Ã���Ã��Ã�¿Ã���Ã�¯Ã�¿Ã�½Ã��Ã�¯Ã��Ã�¿Ã��Ã�½Ã���Ã��Ã�¯Ã���Ã��Ã�¿Ã���Ã��Ã�½Ã���Ã�¯Ã�¿Ã�½Ã��Ã�¯Ã��Ã�¿Ã��Ã�½Ã���Ã�¯Ã�¿Ã�½Ã���Ã��Ã�½Ã���Ã�¯Ã�¿Ã�½Ã��Ã�¯Ã��Ã�¿Ã��Ã�½Ã���Ã��Ã�¯Ã���Ã��Ã�¿Ã���Ã��Ã�½Ã���Ã�¯Ã�¿Ã�½Ã���Ã��Ã�¯Ã���Ã�¯Ã�¿Ã�½Ã���Ã��Ã�¿Ã���Ã�¯Ã�¿Ã�½Ã���Ã��Ã�½Ã���Ã�¯Ã�¿Ã�½Ã��Ã�¯Ã��Ã�¿Ã��Ã�½Ã���Ã�¯Ã�¿Ã�½Ã���Ã��Ã�¯Ã���Ã�¯Ã�¿Ã�½Ã��Ã�¯Ã��Ã�¿Ã��Ã�½Ã���Ã�¯Ã�¿Ã�½Ã���Ã��Ã�¿Ã���Ã�¯Ã�¿Ã�½Ã��Ã�¯Ã��Ã�¿Ã��Ã�½Ã���Ã�¯Ã�¿Ã�½Ã���Ã��Ã�½Ã���Ã�¯Ã�¿Ã�½Ã��Ã�¯Ã��Ã�¿Ã��Ã�½Ã���Ã��Ã�¯Ã���Ã��Ã�¿Ã���Ã��Ã�½Ã���Ã�¯Ã�¿Ã�½Ã���Ã��Ã�¯Ã���Ã�¯Ã�¿Ã�½Ã���Ã��Ã�¿Ã���Ã�¯Ã�¿Ã�½Ã���Ã��Ã�½Ã���Ã�¯Ã�¿Ã�½Ã��Ã�¯Ã��Ã�¿Ã��Ã�½Ã���Ã��Ã�¯Ã���Ã��Ã�¿Ã���Ã��Ã�½Ã���Ã�¯Ã�¿Ã�½Ã��Ã�¯Ã��Ã�¿Ã��Ã�½Ã���Ã�¯Ã�¿Ã�½Ã���Ã��Ã�¯Ã���Ã�¯Ã�¿Ã�½Ã��Ã�¯Ã��Ã�¿Ã��Ã�½Ã���Ã��Ã�¯Ã���Ã��Ã�¿Ã���Ã��Ã�½Ã���Ã�¯Ã�¿Ã�½Ã���Ã��Ã�¯Ã���Ã�¯Ã�¿Ã�½Ã���Ã��Ã�¿Ã���Ã�¯Ã�¿Ã�½Ã���Ã��Ã�½Ã���Ã�¯Ã�¿Ã�½Ã��Ã�¯Ã��Ã�¿Ã��Ã�½Ã���Ã�¯Ã�¿Ã�½Ã���Ã��Ã�¯Ã���Ã�¯Ã�¿Ã�½Ã��Ã�¯Ã��Ã�¿Ã��Ã�½Ã���Ã�¯Ã�¿Ã�½Ã���Ã��Ã�¿Ã���Ã�¯Ã�¿Ã�½Ã��Ã�¯Ã��Ã�¿Ã��Ã�½Ã���Ã�¯Ã�¿Ã�½Ã���Ã��Ã�½Ã���Ã�¯Ã�¿Ã�½Ã��Ã�¯Ã��Ã�¿Ã��Ã�½Ã���Ã��Ã�¯Ã���Ã��Ã�¿Ã���Ã��Ã�½Ã���Ã�¯Ã�¿Ã�½Ã��Ã�¯Ã��Ã�¿Ã��Ã�½Ã���Ã�¯Ã�¿Ã�½Ã���Ã��Ã�¯Ã���Ã�¯Ã�¿Ã�½Ã��Ã�¯Ã��Ã�¿Ã��Ã�½Ã���Ã��Ã�¯Ã���Ã��Ã�¿Ã���Ã��Ã�½Ã���Ã�¯Ã�¿Ã�½Ã��Ã�¯Ã��Ã�¿Ã��Ã�½Ã���Ã�¯Ã�¿Ã�½Ã���Ã��Ã�¿Ã���Ã�¯Ã�¿Ã�½Ã��Ã�¯Ã��Ã�¿Ã��Ã�½Ã���Ã��Ã�¯Ã���Ã��Ã�¿Ã���Ã��Ã�½Ã���Ã�¯Ã�¿Ã�½Ã��Ã�¯Ã��Ã�¿Ã��Ã�½Ã���Ã�¯Ã�¿Ã�½Ã���Ã��Ã�½Ã���Ã�¯Ã�¿Ã�½Ã��Ã�¯Ã��Ã�¿Ã��Ã�½Ã���Ã��Ã�¯Ã���Ã��Ã�¿Ã���Ã��Ã�½Ã���Ã�¯Ã�¿Ã�½Ã���Ã��Ã�¯Ã���Ã�¯Ã�¿Ã�½Ã���Ã��Ã�¿Ã���Ã�¯Ã�¿Ã�½Ã���Ã��Ã�½Ã���Ã�¯Ã�¿Ã�½Ã��Ã�¯Ã��Ã�¿Ã��Ã�½Ã���Ã�¯Ã�¿Ã�½Ã���Ã��Ã�¯Ã���Ã�¯Ã�¿Ã�½Ã��Ã�¯Ã��Ã�¿Ã��Ã�½Ã���Ã�¯Ã�¿Ã�½Ã���Ã��Ã�¿Ã���Ã�¯Ã�¿Ã�½Ã��Ã�¯Ã��Ã�¿Ã��Ã�½Ã���Ã�¯Ã�¿Ã�½Ã���Ã��Ã�½Ã���Ã�¯Ã�¿Ã�½Ã��Ã�¯Ã��Ã�¿Ã��Ã�½Ã���Ã��Ã�¯Ã���Ã��Ã�¿Ã���Ã��Ã�½Ã���Ã�¯Ã�¿Ã�½Ã���Ã��Ã�¯Ã���Ã�¯Ã�¿Ã�½Ã���Ã��Ã�¿Ã���Ã�¯Ã�¿Ã�½Ã���Ã��Ã�½Ã���Ã�¯Ã�¿Ã�½Ã��Ã�¯Ã��Ã�¿Ã��Ã�½Ã���Ã��Ã�¯Ã���Ã��Ã�¿Ã���Ã��Ã�½Ã���Ã�¯Ã�¿Ã�½Ã��Ã�¯Ã��Ã�¿Ã��Ã�½Ã���Ã�¯Ã�¿Ã�½Ã���Ã��Ã�¿Ã���Ã�¯Ã�¿Ã�½Ã��Ã�¯Ã��Ã�¿Ã��Ã�½Ã���Ã��Ã�¯Ã���Ã��Ã�¿Ã���Ã��Ã�½Ã���Ã�¯Ã�¿Ã�½Ã���Ã��Ã�¯Ã���Ã�¯Ã�¿Ã�½Ã���Ã��Ã�¿Ã���Ã�¯Ã�¿Ã�½Ã���Ã��Ã�½Ã���Ã�¯Ã�¿Ã�½Ã��Ã�¯Ã��Ã�¿Ã��Ã�½Ã���Ã�¯Ã�¿Ã�½Ã���Ã��Ã�¯Ã���Ã�¯Ã�¿Ã�½Ã��Ã�¯Ã��Ã�¿Ã��Ã�½Ã���Ã�¯Ã�¿Ã�½Ã���Ã��Ã�¿Ã���Ã�¯Ã�¿Ã�½Ã��Ã�¯Ã��Ã�¿Ã��Ã�½Ã���Ã�¯Ã�¿Ã�½Ã���Ã��Ã�½Ã���Ã�¯Ã�¿Ã�½Ã��Ã�¯Ã��Ã�¿Ã��Ã�½Ã���Ã��Ã�¯Ã���Ã��Ã�¿Ã���Ã��Ã�½Ã���Ã�¯Ã�¿Ã�½Ã��Ã�¯Ã��Ã�¿Ã��Ã�½Ã���Ã�¯Ã�¿Ã�½Ã���Ã��Ã�¯Ã���Ã�¯Ã�¿Ã�½Ã��Ã�¯Ã��Ã�¿Ã��Ã�½Ã���Ã��Ã�¯Ã���Ã��Ã�¿Ã���Ã��Ã�½Ã���Ã�¯Ã�¿Ã�½Ã��Ã�¯Ã��Ã�¿Ã��Ã�½Ã���Ã�¯Ã�¿Ã�½Ã���Ã��Ã�¿Ã���Ã�¯Ã�¿Ã�½Ã��Ã�¯Ã��Ã�¿Ã��Ã�½Ã���Ã��Ã�¯Ã���Ã��Ã�¿Ã���Ã��Ã�½Ã���Ã�¯Ã�¿Ã�½Ã��Ã�¯Ã��Ã�¿Ã��Ã�½Ã���Ã�¯Ã�¿Ã�½Ã���Ã��Ã�½Ã���Ã�¯Ã�¿Ã�½Ã��Ã�¯Ã��Ã�¿Ã��Ã�½Ã���Ã��Ã�¯Ã���Ã��Ã�¿Ã���Ã��Ã�½Ã���Ã�¯Ã�¿Ã�½Ã���Ã��Ã�¯Ã���Ã�¯Ã�¿Ã�½Ã���Ã��Ã�¿Ã���Ã�¯Ã�¿Ã�½Ã���Ã��Ã�½Ã���Ã�¯Ã�¿Ã�½Ã��Ã�¯Ã��Ã�¿Ã��Ã�½Ã���Ã�¯Ã�¿Ã�½Ã���Ã��Ã�¯Ã���Ã�¯Ã�¿Ã�½Ã��Ã�¯Ã��Ã�¿Ã��Ã�½Ã���Ã�¯Ã�¿Ã�½Ã���Ã��Ã�¿Ã���Ã�¯Ã�¿Ã�½Ã��Ã�¯Ã��Ã�¿Ã��Ã�½Ã���Ã�¯Ã�¿Ã�½Ã���Ã��Ã�½Ã���Ã�¯Ã�¿Ã�½Ã��Ã�¯Ã��Ã�¿Ã��Ã�½Ã���Ã��Ã�¯Ã���Ã��Ã�¿Ã���Ã��Ã�½Ã���Ã�¯Ã�¿Ã�½Ã���Ã��Ã�¯Ã���Ã�¯Ã�¿Ã�½Ã���Ã��Ã�¿Ã���Ã�¯Ã�¿Ã�½Ã���Ã��Ã�½Ã���Ã�¯Ã�¿Ã�½Ã��Ã�¯Ã��Ã�¿Ã��Ã�½Ã���Ã��Ã�¯Ã���Ã��Ã�¿Ã���Ã��Ã�½Ã���Ã�¯Ã�¿Ã�½Ã��Ã�¯Ã��Ã�¿Ã��Ã�½Ã���Ã�¯Ã�¿Ã�½Ã���Ã��Ã�½Ã���Ã�¯Ã�¿Ã�½Ã��Ã�¯Ã��Ã�¿Ã��Ã�½Ã���Ã��Ã�¯Ã���Ã��Ã�¿Ã���Ã��Ã�½Ã���Ã�¯Ã�¿Ã�½Ã���Ã��Ã�¯Ã���Ã�¯Ã�¿Ã�½Ã���Ã��Ã�¿Ã���Ã�¯Ã�¿Ã�½Ã���Ã��Ã�½Ã���Ã�¯Ã�¿Ã�½Ã��Ã�¯Ã��Ã�¿Ã��Ã�½Ã���Ã�¯Ã�¿Ã�½Ã���Ã��Ã�¯Ã���Ã�¯Ã�¿Ã�½Ã��Ã�¯Ã��Ã�¿Ã��Ã�½Ã���Ã�¯Ã�¿Ã�½Ã���Ã��Ã�¿Ã���Ã�¯Ã�¿Ã�½Ã��Ã�¯Ã��Ã�¿Ã��Ã�½Ã���Ã�¯Ã�¿Ã�½Ã���Ã��Ã�½Ã���Ã�¯Ã�¿Ã�½Ã��Ã�¯Ã��Ã�¿Ã��Ã�½Ã���Ã��Ã�¯Ã���Ã��Ã�¿Ã���Ã��Ã�½Ã���Ã�¯Ã�¿Ã�½Ã��Ã�¯Ã��Ã�¿Ã��Ã�½Ã���Ã�¯Ã�¿Ã�½Ã���Ã��Ã�¯Ã���Ã�¯Ã�¿Ã�½Ã��Ã�¯Ã��Ã�¿Ã��Ã�½Ã���Ã��Ã�¯Ã���Ã��Ã�¿Ã���Ã��Ã�½Ã���Ã�¯Ã�¿Ã�½Ã��Ã�¯Ã��Ã�¿Ã��Ã�½Ã���Ã�¯Ã�¿Ã�½Ã���Ã��Ã�¿Ã���Ã�¯Ã�¿Ã�½Ã��Ã�¯Ã��Ã�¿Ã��Ã�½Ã���Ã��Ã�¯Ã���Ã��Ã�¿Ã���Ã��Ã�½Ã���Ã�¯Ã�¿Ã�½Ã��Ã�¯Ã��Ã�¿Ã��Ã�½Ã���Ã�¯Ã�¿Ã�½Ã���Ã��Ã�½Ã���Ã�¯Ã�¿Ã�½Ã��Ã�¯Ã��Ã�¿Ã��Ã�½Ã���Ã��Ã�¯Ã���Ã��Ã�¿Ã���Ã��Ã�½Ã���Ã�¯Ã�¿Ã�½Ã���Ã��Ã�¯Ã���Ã�¯Ã�¿Ã�½Ã���Ã��Ã�¿Ã���Ã�¯Ã�¿Ã�½Ã���Ã��Ã�½Ã���Ã�¯Ã�¿Ã�½Ã��Ã�¯Ã��Ã�¿Ã��Ã�½Ã���Ã��Ã�¯Ã���Ã��Ã�¿Ã���Ã��Ã�½Ã���Ã�¯Ã�¿Ã�½Ã��Ã�¯Ã��Ã�¿Ã��Ã�½Ã���Ã�¯Ã�¿Ã�½Ã���Ã��Ã�¯Ã���Ã�¯Ã�¿Ã�½Ã��Ã�¯Ã��Ã�¿Ã��Ã�½Ã���Ã��Ã�¯Ã���Ã��Ã�¿Ã���Ã��Ã�½Ã���Ã�¯Ã�¿Ã�½Ã���Ã��Ã�¯Ã���Ã�¯Ã�¿Ã�½Ã���Ã��Ã�¿Ã���Ã�¯Ã�¿Ã�½Ã���Ã��Ã�½Ã���Ã�¯Ã�¿Ã�½Ã��Ã�¯Ã��Ã�¿Ã��Ã�½Ã���Ã��Ã�¯Ã���Ã��Ã�¿Ã���Ã��Ã�½Ã���Ã�¯Ã�¿Ã�½Ã��Ã�¯Ã��Ã�¿Ã��Ã�½Ã���Ã�¯Ã�¿Ã�½Ã���Ã��Ã�¿Ã���Ã�¯Ã�¿Ã�½Ã��Ã�¯Ã��Ã�¿Ã��Ã�½Ã���Ã��Ã�¯Ã���Ã��Ã�¿Ã���Ã��Ã�½Ã���Ã�¯Ã�¿Ã�½Ã���Ã��Ã�¯Ã���Ã�¯Ã�¿Ã�½Ã���Ã��Ã�¿Ã���Ã�¯Ã�¿Ã�½Ã���Ã��Ã�½Ã���Ã�¯Ã�¿Ã�½Ã��Ã�¯Ã��Ã�¿Ã��Ã�½Ã���Ã��Ã�¯Ã���Ã��Ã�¿Ã���Ã��Ã�½Ã���Ã�¯Ã�¿Ã�½Ã��Ã�¯Ã��Ã�¿Ã��Ã�½Ã���Ã�¯Ã�¿Ã�½Ã���Ã��Ã�½Ã���Ã�¯Ã�¿Ã�½Ã��Ã�¯Ã��Ã�¿Ã��Ã�½Ã���Ã��Ã�¯Ã���Ã��Ã�¿Ã���Ã��Ã�½Ã���Ã�¯Ã�¿Ã�½Ã���Ã��Ã�¯Ã���Ã�¯Ã�¿Ã�½Ã���Ã��Ã�¿Ã���Ã�¯Ã�¿Ã�½Ã���Ã��Ã�½Ã���Ã�¯Ã�¿Ã�½Ã��Ã�¯Ã��Ã�¿Ã��Ã�½Ã���Ã�¯Ã�¿Ã�½Ã���Ã��Ã�¯Ã���Ã�¯Ã�¿Ã�½Ã��Ã�¯Ã��Ã�¿Ã��Ã�½Ã���Ã�¯Ã�¿Ã�½Ã���Ã��Ã�¿Ã���Ã�¯Ã�¿Ã�½Ã��Ã�¯Ã��Ã�¿Ã��Ã�½Ã���Ã�¯Ã�¿Ã�½Ã���Ã��Ã�½Ã���Ã�¯Ã�¿Ã�½Ã��Ã�¯Ã��Ã�¿Ã��Ã�½Ã���Ã��Ã�¯Ã���Ã��Ã�¿Ã���Ã��Ã�½Ã���Ã�¯Ã�¿Ã�½Ã��Ã�¯Ã��Ã�¿Ã��Ã�½Ã���Ã�¯Ã�¿Ã�½Ã���Ã��Ã�¯Ã���Ã�¯Ã�¿Ã�½Ã��Ã�¯Ã��Ã�¿Ã��Ã�½Ã���Ã��Ã�¯Ã���Ã��Ã�¿Ã���Ã��Ã�½Ã���Ã�¯Ã�¿Ã�½Ã��Ã�¯Ã��Ã�¿Ã��Ã�½Ã���Ã�¯Ã�¿Ã�½Ã���Ã��Ã�¿Ã���Ã�¯Ã�¿Ã�½Ã��Ã�¯Ã��Ã�¿Ã��Ã�½Ã���Ã��Ã�¯Ã���Ã��Ã�¿Ã���Ã��Ã�½Ã���Ã�¯Ã�¿Ã�½Ã��Ã�¯Ã��Ã�¿Ã��Ã�½Ã���Ã�¯Ã�¿Ã�½Ã���Ã��Ã�½Ã���Ã�¯Ã�¿Ã�½Ã��Ã�¯Ã��Ã�¿Ã��Ã�½Ã���Ã��Ã�¯Ã���Ã��Ã�¿Ã���Ã��Ã�½Ã���Ã�¯Ã�¿Ã�½Ã���Ã��Ã�¯Ã���Ã�¯Ã�¿Ã�½Ã���Ã��Ã�¿Ã���Ã�¯Ã�¿Ã�½Ã���Ã��Ã�½Ã���Ã�¯Ã�¿Ã�½Ã��Ã�¯Ã��Ã�¿Ã��Ã�½Ã���Ã�¯Ã�¿Ã�½Ã���Ã��Ã�¯Ã���Ã�¯Ã�¿Ã�½Ã��Ã�¯Ã��Ã�¿Ã��Ã�½Ã���Ã�¯Ã�¿Ã�½Ã���Ã��Ã�¿Ã���Ã�¯Ã�¿Ã�½Ã��Ã�¯Ã��Ã�¿Ã��Ã�½Ã���Ã�¯Ã�¿Ã�½Ã���Ã��Ã�½Ã���Ã�¯Ã�¿Ã�½Ã��Ã�¯Ã��Ã�¿Ã��Ã�½Ã���Ã��Ã�¯Ã���Ã��Ã�¿Ã���Ã��Ã�½Ã���Ã�¯Ã�¿Ã�½Ã���Ã��Ã�¯Ã���Ã�¯Ã�¿Ã�½Ã���Ã��Ã�¿Ã���Ã�¯Ã�¿Ã�½Ã���Ã��Ã�½Ã���Ã�¯Ã�¿Ã�½Ã��Ã�¯Ã��Ã�¿Ã��Ã�½Ã���Ã��Ã�¯Ã���Ã��Ã�¿Ã���Ã��Ã�½Ã���Ã�¯Ã�¿Ã�½Ã��Ã�¯Ã��Ã�¿Ã��Ã�½Ã���Ã�¯Ã�¿Ã�½Ã���Ã��Ã�¯Ã���Ã�¯Ã�¿Ã�½Ã��Ã�¯Ã��Ã�¿Ã��Ã�½Ã���Ã��Ã�¯Ã���Ã��Ã�¿Ã���Ã��Ã�½Ã���Ã�¯Ã�¿Ã�½Ã���Ã��Ã�¯Ã���Ã�¯Ã�¿Ã�½Ã���Ã��Ã�¿Ã���Ã�¯Ã�¿Ã�½Ã���Ã��Ã�½Ã���Ã�¯Ã�¿Ã�½Ã��Ã�¯Ã��Ã�¿Ã��Ã�½Ã���Ã�¯Ã�¿Ã�½Ã���Ã��Ã�¯Ã���Ã�¯Ã�¿Ã�½Ã��Ã�¯Ã��Ã�¿Ã��Ã�½Ã���Ã�¯Ã�¿Ã�½Ã���Ã��Ã�¿Ã���Ã�¯Ã�¿Ã�½Ã��Ã�¯Ã��Ã�¿Ã��Ã�½Ã���Ã�¯Ã�¿Ã�½Ã���Ã��Ã�½Ã���Ã�¯Ã�¿Ã�½Ã��Ã�¯Ã��Ã�¿Ã��Ã�½Ã���Ã��Ã�¯Ã���Ã��Ã�¿Ã���Ã��Ã�½Ã���Ã�¯Ã�¿Ã�½Ã��Ã�¯Ã��Ã�¿Ã��Ã�½Ã���Ã�¯Ã�¿Ã�½Ã���Ã��Ã�¯Ã���Ã�¯Ã�¿Ã�½Ã��Ã�¯Ã��Ã�¿Ã��Ã�½Ã���Ã��Ã�¯Ã���Ã��Ã�¿Ã���Ã��Ã�½Ã���Ã�¯Ã�¿Ã�½Ã��Ã�¯Ã��Ã�¿Ã��Ã�½Ã���Ã�¯Ã�¿Ã�½Ã���Ã��Ã�¿Ã���Ã�¯Ã�¿Ã�½Ã��Ã�¯Ã��Ã�¿Ã��Ã�½Ã���Ã��Ã�¯Ã���Ã��Ã�¿Ã���Ã��Ã�½Ã���Ã�¯Ã�¿Ã�½Ã��Ã�¯Ã��Ã�¿Ã��Ã�½Ã���Ã�¯Ã�¿Ã�½Ã���Ã��Ã�½Ã���Ã�¯Ã�¿Ã�½Ã��Ã�¯Ã��Ã�¿Ã��Ã�½Ã���Ã��Ã�¯Ã���Ã��Ã�¿Ã���Ã��Ã�½Ã���Ã�¯Ã�¿Ã�½Ã���Ã��Ã�¯Ã���Ã�¯Ã�¿Ã�½Ã���Ã��Ã�¿Ã���Ã�¯Ã�¿Ã�½Ã���Ã��Ã�½Ã���Ã�¯Ã�¿Ã�½Ã��Ã�¯Ã��Ã�¿Ã��Ã�½Ã���Ã��Ã�¯Ã���Ã��Ã�¿Ã���Ã��Ã�½Ã���Ã�¯Ã�¿Ã�½Ã��Ã�¯Ã��Ã�¿Ã��Ã�½Ã���Ã�¯Ã�¿Ã�½Ã���Ã��Ã�¯Ã���Ã�¯Ã�¿Ã�½Ã��Ã�¯Ã��Ã�¿Ã��Ã�½Ã���Ã��Ã�¯Ã���Ã��Ã�¿Ã���Ã��Ã�½Ã���Ã�¯Ã�¿Ã�½Ã���Ã��Ã�¯Ã���Ã�¯Ã�¿Ã�½Ã���Ã��Ã�¿Ã���Ã�¯Ã�¿Ã�½Ã���Ã��Ã�½Ã���Ã�¯Ã�¿Ã�½Ã��Ã�¯Ã��Ã�¿Ã��Ã�½Ã���Ã��Ã�¯Ã���Ã��Ã�¿Ã���Ã��Ã�½Ã���Ã�¯Ã�¿Ã�½Ã��Ã�¯Ã��Ã�¿Ã��Ã�½Ã���Ã�¯Ã�¿Ã�½Ã���Ã��Ã�¿Ã���Ã�¯Ã�¿Ã�½Ã��Ã�¯Ã��Ã�¿Ã��Ã�½Ã���Ã��Ã�¯Ã���Ã��Ã�¿Ã���Ã��Ã�½Ã���Ã�¯Ã�¿Ã�½Ã���Ã��Ã�¯Ã���Ã�¯Ã�¿Ã�½Ã���Ã��Ã�¿Ã���Ã�¯Ã�¿Ã�½Ã���Ã��Ã�½Ã���Ã�¯Ã�¿Ã�½Ã��Ã�¯Ã��Ã�¿Ã��Ã�½Ã���Ã��Ã�¯Ã���Ã��Ã�¿Ã���Ã��Ã�½Ã���Ã�¯Ã�¿Ã�½Ã��Ã�¯Ã��Ã�¿Ã��Ã�½Ã���Ã�¯Ã�¿Ã�½Ã���Ã��Ã�½Ã���Ã�¯Ã�¿Ã�½Ã��Ã�¯Ã��Ã�¿Ã��Ã�½Ã���Ã��Ã�¯Ã���Ã��Ã�¿Ã���Ã��Ã�½Ã���Ã�¯Ã�¿Ã�½Ã���Ã��Ã�¯Ã���Ã�¯Ã�¿Ã�½Ã���Ã��Ã�¿Ã���Ã�¯Ã�¿Ã�½Ã���Ã��Ã�½Ã���Ã�¯Ã�¿Ã�½Ã��Ã�¯Ã��Ã�¿Ã��Ã�½Ã���Ã�¯Ã�¿Ã�½Ã���Ã��Ã�¯Ã���Ã�¯Ã�¿Ã�½Ã��Ã�¯Ã��Ã�¿Ã��Ã�½Ã���Ã�¯Ã�¿Ã�½Ã���Ã��Ã�¿Ã���Ã�¯Ã�¿Ã�½Ã��Ã�¯Ã��Ã�¿Ã��Ã�½Ã���Ã�¯Ã�¿Ã�½Ã���Ã��Ã�½Ã���Ã�¯Ã�¿Ã�½Ã��Ã�¯Ã��Ã�¿Ã��Ã�½Ã���Ã��Ã�¯Ã���Ã��Ã�¿Ã���Ã��Ã�½Ã���Ã�¯Ã�¿Ã�½Ã��Ã�¯Ã��Ã�¿Ã��Ã�½Ã���Ã�¯Ã�¿Ã�½Ã���Ã��Ã�¯Ã���Ã�¯Ã�¿Ã�½Ã��Ã�¯Ã��Ã�¿Ã��Ã�½Ã���Ã��Ã�¯Ã���Ã��Ã�¿Ã���Ã��Ã�½Ã���Ã�¯Ã�¿Ã�½Ã��Ã�¯Ã��Ã�¿Ã��Ã�½Ã���Ã�¯Ã�¿Ã�½Ã���Ã��Ã�¿Ã���Ã�¯Ã�¿Ã�½Ã��Ã�¯Ã��Ã�¿Ã��Ã�½Ã���Ã��Ã�¯Ã���Ã��Ã�¿Ã���Ã��Ã�½Ã���Ã�¯Ã�¿Ã�½Ã��Ã�¯Ã��Ã�¿Ã��Ã�½Ã���Ã�¯Ã�¿Ã�½Ã���Ã��Ã�½Ã���Ã�¯Ã�¿Ã�½Ã��Ã�¯Ã��Ã�¿Ã��Ã�½Ã���Ã��Ã�¯Ã���Ã��Ã�¿Ã���Ã��Ã�½Ã���Ã�¯Ã�¿Ã�½Ã���Ã��Ã�¯Ã���Ã�¯Ã�¿Ã�½Ã���Ã��Ã�¿Ã���Ã�¯Ã�¿Ã�½Ã���Ã��Ã�½Ã���Ã�¯Ã�¿Ã�½Ã��Ã�¯Ã��Ã�¿Ã��Ã�½Ã���Ã�¯Ã�¿Ã�½Ã���Ã��Ã�¯Ã���Ã�¯Ã�¿Ã�½Ã��Ã�¯Ã��Ã�¿Ã��Ã�½Ã���Ã�¯Ã�¿Ã�½Ã���Ã��Ã�¿Ã���Ã�¯Ã�¿Ã�½Ã��Ã�¯Ã��Ã�¿Ã��Ã�½Ã���Ã�¯Ã�¿Ã�½Ã���Ã��Ã�½Ã���Ã�¯Ã�¿Ã�½Ã��Ã�¯Ã��Ã�¿Ã��Ã�½Ã���Ã��Ã�¯Ã���Ã��Ã�¿Ã���Ã��Ã�½Ã���Ã�¯Ã�¿Ã�½Ã���Ã��Ã�¯Ã���Ã�¯Ã�¿Ã�½Ã���Ã��Ã�¿Ã���Ã�¯Ã�¿Ã�½Ã���Ã��Ã�½Ã���Ã�¯Ã�¿Ã�½Ã��Ã�¯Ã��Ã�¿Ã��Ã�½Ã���Ã��Ã�¯Ã���Ã��Ã�¿Ã���Ã��Ã�½Ã���Ã�¯Ã�¿Ã�½Ã��Ã�¯Ã��Ã�¿Ã��Ã�½Ã���Ã�¯Ã�¿Ã�½Ã���Ã��Ã�¿Ã���Ã�¯Ã�¿Ã�½Ã��Ã�¯Ã��Ã�¿Ã��Ã�½Ã���Ã��Ã�¯Ã���Ã��Ã�¿Ã���Ã��Ã�½Ã���Ã�¯Ã�¿Ã�½Ã���Ã��Ã�¯Ã���Ã�¯Ã�¿Ã�½Ã���Ã��Ã�¿Ã���Ã�¯Ã�¿Ã�½Ã���Ã��Ã�½Ã���Ã�¯Ã�¿Ã�½Ã��Ã�¯Ã��Ã�¿Ã��Ã�½Ã���Ã�¯Ã�¿Ã�½Ã���Ã��Ã�¯Ã���Ã�¯Ã�¿Ã�½Ã��Ã�¯Ã��Ã�¿Ã��Ã�½Ã���Ã�¯Ã�¿Ã�½Ã���Ã��Ã�¿Ã���Ã�¯Ã�¿Ã�½Ã��Ã�¯Ã��Ã�¿Ã��Ã�½Ã���Ã�¯Ã�¿Ã�½Ã���Ã��Ã�½Ã���Ã�¯Ã�¿Ã�½Ã��Ã�¯Ã��Ã�¿Ã��Ã�½Ã���Ã��Ã�¯Ã���Ã��Ã�¿Ã���Ã��Ã�½Ã���Ã�¯Ã�¿Ã�½Ã��Ã�¯Ã��Ã�¿Ã��Ã�½Ã���Ã�¯Ã�¿Ã�½Ã���Ã��Ã�¯Ã���Ã�¯Ã�¿Ã�½Ã��Ã�¯Ã��Ã�¿Ã��Ã�½Ã���Ã��Ã�¯Ã���Ã��Ã�¿Ã���Ã��Ã�½Ã���Ã�¯Ã�¿Ã�½Ã��Ã�¯Ã��Ã�¿Ã��Ã�½Ã���Ã�¯Ã�¿Ã�½Ã���Ã��Ã�¿Ã���Ã�¯Ã�¿Ã�½Ã��Ã�¯Ã��Ã�¿Ã��Ã�½Ã���Ã��Ã�¯Ã���Ã��Ã�¿Ã���Ã��Ã�½Ã���Ã�¯Ã�¿Ã�½Ã��Ã�¯Ã��Ã�¿Ã��Ã�½Ã���Ã�¯Ã�¿Ã�½Ã���Ã��Ã�½Ã���Ã�¯Ã�¿Ã�½Ã��Ã�¯Ã��Ã�¿Ã��Ã�½Ã���Ã��Ã�¯Ã���Ã��Ã�¿Ã���Ã��Ã�½Ã���Ã�¯Ã�¿Ã�½Ã���Ã��Ã�¯Ã���Ã�¯Ã�¿Ã�½Ã���Ã��Ã�¿Ã���Ã�¯Ã�¿Ã�½Ã���Ã��Ã�½Ã���Ã�¯Ã�¿Ã�½Ã��Ã�¯Ã��Ã�¿Ã��Ã�½Ã���Ã��Ã�¯Ã���Ã��Ã�¿Ã���Ã��Ã�½Ã���Ã�¯Ã�¿Ã�½Ã��Ã�¯Ã��Ã�¿Ã��Ã�½Ã���Ã�¯Ã�¿Ã�½Ã���Ã��Ã�¯Ã���Ã�¯Ã�¿Ã�½Ã��Ã�¯Ã��Ã�¿Ã��Ã�½Ã���Ã��Ã�¯Ã���Ã��Ã�¿Ã���Ã��Ã�½Ã���Ã�¯Ã�¿Ã�½Ã���Ã��Ã�¯Ã���Ã�¯Ã�¿Ã�½Ã���Ã��Ã�¿Ã���Ã�¯Ã�¿Ã�½Ã���Ã��Ã�½Ã���Ã�¯Ã�¿Ã�½Ã��Ã�¯Ã��Ã�¿Ã��Ã�½Ã���Ã��Ã�¯Ã���Ã��Ã�¿Ã���Ã��Ã�½Ã���Ã�¯Ã�¿Ã�½Ã��Ã�¯Ã��Ã�¿Ã��Ã�½Ã���Ã�¯Ã�¿Ã�½Ã���Ã��Ã�¿Ã���Ã�¯Ã�¿Ã�½Ã��Ã�¯Ã��Ã�¿Ã��Ã�½Ã���Ã��Ã�¯Ã���Ã��Ã�¿Ã���Ã��Ã�½Ã���Ã�¯Ã�¿Ã�½Ã���Ã��Ã�¯Ã���Ã�¯Ã�¿Ã�½Ã���Ã��Ã�¿Ã���Ã�¯Ã�¿Ã�½Ã���Ã��Ã�½Ã���Ã�¯Ã�¿Ã�½Ã��Ã�¯Ã��Ã�¿Ã��Ã�½Ã���Ã��Ã�¯Ã���Ã��Ã�¿Ã���Ã��Ã�½Ã���Ã�¯Ã�¿Ã�½Ã��Ã�¯Ã��Ã�¿Ã��Ã�½Ã���Ã�¯Ã�¿Ã�½Ã���Ã��Ã�½Ã���Ã�¯Ã�¿Ã�½Ã��Ã�¯Ã��Ã�¿Ã��Ã�½Ã���Ã��Ã�¯Ã���Ã��Ã�¿Ã���Ã��Ã�½Ã���Ã�¯Ã�¿Ã�½Ã���Ã��Ã�¯Ã���Ã�¯Ã�¿Ã�½Ã���Ã��Ã�¿Ã���Ã�¯Ã�¿Ã�½Ã���Ã��Ã�½Ã���Ã�¯Ã�¿Ã�½Ã��Ã�¯Ã��Ã�¿Ã��Ã�½Ã���Ã�¯Ã�¿Ã�½Ã���Ã��Ã�¯Ã���Ã�¯Ã�¿Ã�½Ã��Ã�¯Ã��Ã�¿Ã��Ã�½Ã���Ã�¯Ã�¿Ã�½Ã���Ã��Ã�¿Ã���Ã�¯Ã�¿Ã�½Ã��Ã�¯Ã��Ã�¿Ã��Ã�½Ã���Ã�¯Ã�¿Ã�½Ã���Ã��Ã�½Ã���Ã�¯Ã�¿Ã�½Ã��Ã�¯Ã��Ã�¿Ã��Ã�½Ã���Ã��Ã�¯Ã���Ã��Ã�¿Ã���Ã��Ã�½Ã���Ã�¯Ã�¿Ã�½Ã��Ã�¯Ã��Ã�¿Ã��Ã�½Ã���Ã�¯Ã�¿Ã�½Ã���Ã��Ã�¯Ã���Ã�¯Ã�¿Ã�½Ã��Ã�¯Ã��Ã�¿Ã��Ã�½Ã���Ã��Ã�¯Ã���Ã��Ã�¿Ã���Ã��Ã�½Ã���Ã�¯Ã�¿Ã�½Ã��Ã�¯Ã��Ã�¿Ã��Ã�½Ã���Ã�¯Ã�¿Ã�½Ã���Ã��Ã�¿Ã���Ã�¯Ã�¿Ã�½Ã��Ã�¯Ã��Ã�¿Ã��Ã�½Ã���Ã��Ã�¯Ã���Ã��Ã�¿Ã���Ã��Ã�½Ã���Ã�¯Ã�¿Ã�½Ã��Ã�¯Ã��Ã�¿Ã��Ã�½Ã���Ã�¯Ã�¿Ã�½Ã���Ã��Ã�½Ã���Ã�¯Ã�¿Ã�½Ã��Ã�¯Ã��Ã�¿Ã��Ã�½Ã���Ã��Ã�¯Ã���Ã��Ã�¿Ã���Ã��Ã�½Ã���Ã�¯Ã�¿Ã�½Ã���Ã��Ã�¯Ã���Ã�¯Ã�¿Ã�½Ã���Ã��Ã�¿Ã���Ã�¯Ã�¿Ã�½Ã���Ã��Ã�½Ã���Ã�¯Ã�¿Ã�½Ã��Ã�¯Ã��Ã�¿Ã��Ã�½Ã���Ã�¯Ã�¿Ã�½Ã���Ã��Ã�¯Ã���Ã�¯Ã�¿Ã�½Ã��Ã�¯Ã��Ã�¿Ã��Ã�½Ã���Ã�¯Ã�¿Ã�½Ã���Ã��Ã�¿Ã���Ã�¯Ã�¿Ã�½Ã��Ã�¯Ã��Ã�¿Ã��Ã�½Ã���Ã�¯Ã�¿Ã�½Ã���Ã��Ã�½Ã���Ã�¯Ã�¿Ã�½Ã��Ã�¯Ã��Ã�¿Ã��Ã�½Ã���Ã��Ã�¯Ã���Ã��Ã�¿Ã���Ã��Ã�½Ã���Ã�¯Ã�¿Ã�½Ã���Ã��Ã�¯Ã���Ã�¯Ã�¿Ã�½Ã���Ã��Ã�¿Ã���Ã�¯Ã�¿Ã�½Ã���Ã��Ã�½Ã���Ã�¯Ã�¿Ã�½Ã��Ã�¯Ã��Ã�¿Ã��Ã�½Ã���Ã��Ã�¯Ã���Ã��Ã�¿Ã���Ã��Ã�½Ã���Ã�¯Ã�¿Ã�½Ã��Ã�¯Ã��Ã�¿Ã��Ã�½Ã���Ã�¯Ã�¿Ã�½Ã���Ã��Ã�½Ã���Ã�¯Ã�¿Ã�½Ã��Ã�¯Ã��Ã�¿Ã��Ã�½Ã���Ã��Ã�¯Ã���Ã��Ã�¿Ã���Ã��Ã�½Ã���Ã�¯Ã�¿Ã�½Ã���Ã��Ã�¯Ã���Ã�¯Ã�¿Ã�½Ã���Ã��Ã�¿Ã���Ã�¯Ã�¿Ã�½Ã���Ã��Ã�½Ã���Ã�¯Ã�¿Ã�½Ã��Ã�¯Ã��Ã�¿Ã��Ã�½Ã���Ã�¯Ã�¿Ã�½Ã���Ã��Ã�¯Ã���Ã�¯Ã�¿Ã�½Ã��Ã�¯Ã��Ã�¿Ã��Ã�½Ã���Ã�¯Ã�¿Ã�½Ã���Ã��Ã�¿Ã���Ã�¯Ã�¿Ã�½Ã��Ã�¯Ã��Ã�¿Ã��Ã�½Ã���Ã�¯Ã�¿Ã�½Ã���Ã��Ã�½Ã���Ã�¯Ã�¿Ã�½Ã��Ã�¯Ã��Ã�¿Ã��Ã�½Ã���Ã��Ã�¯Ã���Ã��Ã�¿Ã���Ã��Ã�½Ã���Ã�¯Ã�¿Ã�½Ã��Ã�¯Ã��Ã�¿Ã��Ã�½Ã���Ã�¯Ã�¿Ã�½Ã���Ã��Ã�¯Ã���Ã�¯Ã�¿Ã�½Ã��Ã�¯Ã��Ã�¿Ã��Ã�½Ã���Ã��Ã�¯Ã���Ã��Ã�¿Ã���Ã��Ã�½Ã���Ã�¯Ã�¿Ã�½Ã��Ã�¯Ã��Ã�¿Ã��Ã�½Ã���Ã�¯Ã�¿Ã�½Ã���Ã��Ã�¿Ã���Ã�¯Ã�¿Ã�½Ã��Ã�¯Ã��Ã�¿Ã��Ã�½Ã���Ã��Ã�¯Ã���Ã��Ã�¿Ã���Ã��Ã�½Ã���Ã�¯Ã�¿Ã�½Ã��Ã�¯Ã��Ã�¿Ã��Ã�½Ã���Ã�¯Ã�¿Ã�½Ã���Ã��Ã�½Ã���Ã�¯Ã�¿Ã�½Ã��Ã�¯Ã��Ã�¿Ã��Ã�½Ã���Ã��Ã�¯Ã���Ã��Ã�¿Ã���Ã��Ã�½Ã���Ã�¯Ã�¿Ã�½Ã���Ã��Ã�¯Ã���Ã�¯Ã�¿Ã�½Ã���Ã��Ã�¿Ã���Ã�¯Ã�¿Ã�½Ã���Ã��Ã�½Ã���Ã�¯Ã�¿Ã�½Ã��Ã�¯Ã��Ã�¿Ã��Ã�½Ã���Ã��Ã�¯Ã���Ã��Ã�¿Ã���Ã��Ã�½Ã���Ã�¯Ã�¿Ã�½Ã��Ã�¯Ã��Ã�¿Ã��Ã�½Ã���Ã�¯Ã�¿Ã�½Ã���Ã��Ã�¯Ã���Ã�¯Ã�¿Ã�½Ã��Ã�¯Ã��Ã�¿Ã��Ã�½Ã���Ã��Ã�¯Ã���Ã��Ã�¿Ã���Ã��Ã�½Ã���Ã�¯Ã�¿Ã�½Ã���Ã��Ã�¯Ã���Ã�¯Ã�¿Ã�½Ã���Ã��Ã�¿Ã���Ã�¯Ã�¿Ã�½Ã���Ã��Ã�½Ã���Ã�¯Ã�¿Ã�½Ã��Ã�¯Ã��Ã�¿Ã��Ã�½Ã���Ã��Ã�¯Ã���Ã��Ã�¿Ã���Ã��Ã�½Ã���Ã�¯Ã�¿Ã�½Ã��Ã�¯Ã��Ã�¿Ã��Ã�½Ã���Ã�¯Ã�¿Ã�½Ã���Ã��Ã�¿Ã���Ã�¯Ã�¿Ã�½Ã��Ã�¯Ã��Ã�¿Ã��Ã�½Ã���Ã��Ã�¯Ã���Ã��Ã�¿Ã���Ã��Ã�½Ã���Ã�¯Ã�¿Ã�½Ã���Ã��Ã�¯Ã���Ã�¯Ã�¿Ã�½Ã���Ã��Ã�¿Ã���Ã�¯Ã�¿Ã�½Ã���Ã��Ã�½Ã���Ã�¯Ã�¿Ã�½Ã��Ã�¯Ã��Ã�¿Ã��Ã�½Ã���Ã��Ã�¯Ã���Ã��Ã�¿Ã���Ã��Ã�½Ã���Ã�¯Ã�¿Ã�½Ã��Ã�¯Ã��Ã�¿Ã��Ã�½Ã���Ã�¯Ã�¿Ã�½Ã���Ã��Ã�½Ã���Ã�¯Ã�¿Ã�½Ã��Ã�¯Ã��Ã�¿Ã��Ã�½Ã���Ã��Ã�¯Ã���Ã��Ã�¿Ã���Ã��Ã�½Ã���Ã�¯Ã�¿Ã�½Ã���Ã��Ã�¯Ã���Ã�¯Ã�¿Ã�½Ã���Ã��Ã�¿Ã���Ã�¯Ã�¿Ã�½Ã���Ã��Ã�½Ã���Ã�¯Ã�¿Ã�½Ã��Ã�¯Ã��Ã�¿Ã��Ã�½Ã���Ã�¯Ã�¿Ã�½Ã���Ã��Ã�¯Ã���Ã�¯Ã�¿Ã�½Ã��Ã�¯Ã��Ã�¿Ã��Ã�½Ã���Ã�¯Ã�¿Ã�½Ã���Ã��Ã�¿Ã���Ã�¯Ã�¿Ã�½Ã��Ã�¯Ã��Ã�¿Ã��Ã�½Ã���Ã�¯Ã�¿Ã�½Ã���Ã��Ã�½Ã���Ã�¯Ã�¿Ã�½Ã��Ã�¯Ã��Ã�¿Ã��Ã�½Ã���Ã��Ã�¯Ã���Ã��Ã�¿Ã���Ã��Ã�½Ã���Ã�¯Ã�¿Ã�½Ã���Ã��Ã�¯Ã���Ã�¯Ã�¿Ã�½Ã���Ã��Ã�¿Ã���Ã�¯Ã�¿Ã�½Ã���Ã��Ã�½Ã���Ã�¯Ã�¿Ã�½Ã��Ã�¯Ã��Ã�¿Ã��Ã�½Ã���Ã��Ã�¯Ã���Ã��Ã�¿Ã���Ã��Ã�½Ã���Ã�¯Ã�¿Ã�½Ã��Ã�¯Ã��Ã�¿Ã��Ã�½Ã���Ã�¯Ã�¿Ã�½Ã���Ã��Ã�¯Ã���Ã�¯Ã�¿Ã�½Ã��Ã�¯Ã��Ã�¿Ã��Ã�½Ã���Ã��Ã�¯Ã���Ã��Ã�¿Ã���Ã��Ã�½Ã���Ã�¯Ã�¿Ã�½Ã���Ã��Ã�¯Ã���Ã�¯Ã�¿Ã�½Ã���Ã��Ã�¿Ã���Ã�¯Ã�¿Ã�½Ã���Ã��Ã�½Ã���Ã�¯Ã�¿Ã�½Ã��Ã�¯Ã��Ã�¿Ã��Ã�½Ã���Ã�¯Ã�¿Ã�½Ã���Ã��Ã�¯Ã���Ã�¯Ã�¿Ã�½Ã��Ã�¯Ã��Ã�¿Ã��Ã�½Ã���Ã�¯Ã�¿Ã�½Ã���Ã��Ã�¿Ã���Ã�¯Ã�¿Ã�½Ã��Ã�¯Ã��Ã�¿Ã��Ã�½Ã���Ã�¯Ã�¿Ã�½Ã���Ã��Ã�½Ã���Ã�¯Ã�¿Ã�½Ã��Ã�¯Ã��Ã�¿Ã��Ã�½Ã���Ã��Ã�¯Ã���Ã��Ã�¿Ã���Ã��Ã�½Ã���Ã�¯Ã�¿Ã�½Ã���Ã��Ã�¯Ã���Ã�¯Ã�¿Ã�½Ã���Ã��Ã�¿Ã���Ã�¯Ã�¿Ã�½Ã���Ã��Ã�½Ã���Ã�¯Ã�¿Ã�½Ã��Ã�¯Ã��Ã�¿Ã��Ã�½Ã���Ã��Ã�¯Ã���Ã��Ã�¿Ã���Ã��Ã�½Ã���Ã�¯Ã�¿Ã�½Ã��Ã�¯Ã��Ã�¿Ã��Ã�½Ã���Ã�¯Ã�¿Ã�½Ã���Ã��Ã�¿Ã���Ã�¯Ã�¿Ã�½Ã��Ã�¯Ã��Ã�¿Ã��Ã�½Ã���Ã��Ã�¯Ã���Ã��Ã�¿Ã���Ã��Ã�½Ã���Ã�¯Ã�¿Ã�½Ã���Ã��Ã�¯Ã���Ã�¯Ã�¿Ã�½Ã���Ã��Ã�¿Ã���Ã�¯Ã�¿Ã�½Ã���Ã��Ã�½Ã���Ã�¯Ã�¿Ã�½Ã��Ã�¯Ã��Ã�¿Ã��Ã�½Ã���Ã�¯Ã�¿Ã�½Ã���Ã��Ã�¯Ã���Ã�¯Ã�¿Ã�½Ã��Ã�¯Ã��Ã�¿Ã��Ã�½Ã���Ã�¯Ã�¿Ã�½Ã���Ã��Ã�¿Ã���Ã�¯Ã�¿Ã�½Ã��Ã�¯Ã��Ã�¿Ã��Ã�½Ã���Ã�¯Ã�¿Ã�½Ã���Ã��Ã�½Ã���Ã�¯Ã�¿Ã�½Ã��Ã�¯Ã��Ã�¿Ã��Ã�½Ã���Ã��Ã�¯Ã���Ã��Ã�¿Ã���Ã��Ã�½Ã���Ã�¯Ã�¿Ã�½Ã���Ã��Ã�¯Ã���Ã�¯Ã�¿Ã�½Ã���Ã��Ã�¿Ã���Ã�¯Ã�¿Ã�½Ã���Ã��Ã�½Ã���Ã�¯Ã�¿Ã�½Ã��Ã�¯Ã��Ã�¿Ã��Ã�½Ã���Ã��Ã�¯Ã���Ã��Ã�¿Ã���Ã��Ã�½Ã���Ã�¯Ã�¿Ã�½Ã��Ã�¯Ã��Ã�¿Ã��Ã�½Ã���Ã�¯Ã�¿Ã�½Ã���Ã��Ã�½Ã���Ã�¯Ã�¿Ã�½Ã��Ã�¯Ã��Ã�¿Ã��Ã�½Ã���Ã��Ã�¯Ã���Ã��Ã�¿Ã���Ã��Ã�½Ã���Ã�¯Ã�¿Ã�½Ã���Ã��Ã�¯Ã���Ã�¯Ã�¿Ã�½Ã���Ã��Ã�¿Ã���Ã�¯Ã�¿Ã�½Ã���Ã��Ã�½Ã���Ã�¯Ã�¿Ã�½Ã��Ã�¯Ã��Ã�¿Ã��Ã�½Ã���Ã�¯Ã�¿Ã�½Ã���Ã��Ã�¯Ã���Ã�¯Ã�¿Ã�½Ã��Ã�¯Ã��Ã�¿Ã��Ã�½Ã���Ã�¯Ã�¿Ã�½Ã���Ã��Ã�¿Ã���Ã�¯Ã�¿Ã�½Ã��Ã�¯Ã��Ã�¿Ã��Ã�½Ã���Ã�¯Ã�¿Ã�½Ã���Ã��Ã�½Ã���Ã�¯Ã�¿Ã�½Ã��Ã�¯Ã��Ã�¿Ã��Ã�½Ã���Ã��Ã�¯Ã���Ã��Ã�¿Ã���Ã��Ã�½Ã���Ã�¯Ã�¿Ã�½Ã��Ã�¯Ã��Ã�¿Ã��Ã�½Ã���Ã�¯Ã�¿Ã�½Ã���Ã��Ã�¯Ã���Ã�¯Ã�¿Ã�½Ã��Ã�¯Ã��Ã�¿Ã��Ã�½Ã���Ã��Ã�¯Ã���Ã��Ã�¿Ã���Ã��Ã�½Ã���Ã�¯Ã�¿Ã�½Ã��Ã�¯Ã��Ã�¿Ã��Ã�½Ã���Ã�¯Ã�¿Ã�½Ã���Ã��Ã�¿Ã���Ã�¯Ã�¿Ã�½Ã��Ã�¯Ã��Ã�¿Ã��Ã�½Ã���Ã��Ã�¯Ã���Ã��Ã�¿Ã���Ã��Ã�½Ã���Ã�¯Ã�¿Ã�½Ã��Ã�¯Ã��Ã�¿Ã��Ã�½Ã���Ã�¯Ã�¿Ã�½Ã���Ã��Ã�½Ã���Ã�¯Ã�¿Ã�½Ã��Ã�¯Ã��Ã�¿Ã��Ã�½Ã���Ã��Ã�¯Ã���Ã��Ã�¿Ã���Ã��Ã�½Ã���Ã�¯Ã�¿Ã�½Ã���Ã��Ã�¯Ã���Ã�¯Ã�¿Ã�½Ã���Ã��Ã�¿Ã���Ã�¯Ã�¿Ã�½Ã���Ã��Ã�½Ã���Ã�¯Ã�¿Ã�½Ã��Ã�¯Ã��Ã�¿Ã��Ã�½Ã���Ã�¯Ã�¿Ã�½Ã���Ã��Ã�¯Ã���Ã�¯Ã�¿Ã�½Ã��Ã�¯Ã��Ã�¿Ã��Ã�½Ã���Ã�¯Ã�¿Ã�½Ã���Ã��Ã�¿Ã���Ã�¯Ã�¿Ã�½Ã��Ã�¯Ã��Ã�¿Ã��Ã�½Ã���Ã�¯Ã�¿Ã�½Ã���Ã��Ã�½Ã���Ã�¯Ã�¿Ã�½Ã��Ã�¯Ã��Ã�¿Ã��Ã�½Ã���Ã��Ã�¯Ã���Ã��Ã�¿Ã���Ã��Ã�½Ã���Ã�¯Ã�¿Ã�½Ã���Ã��Ã�¯Ã���Ã�¯Ã�¿Ã�½Ã���Ã��Ã�¿Ã���Ã�¯Ã�¿Ã�½Ã���Ã��Ã�½Ã���Ã�¯Ã�¿Ã�½Ã��Ã�¯Ã��Ã�¿Ã��Ã�½Ã���Ã��Ã�¯Ã���Ã��Ã�¿Ã���Ã��Ã�½Ã���Ã�¯Ã�¿Ã�½Ã��Ã�¯Ã��Ã�¿Ã��Ã�½Ã���Ã�¯Ã�¿Ã�½Ã���Ã��Ã�¯Ã���Ã�¯Ã�¿Ã�½Ã��Ã�¯Ã��Ã�¿Ã��Ã�½Ã���Ã��Ã�¯Ã���Ã��Ã�¿Ã���Ã��Ã�½Ã���Ã�¯Ã�¿Ã�½Ã���Ã��Ã�¯Ã���Ã�¯Ã�¿Ã�½Ã���Ã��Ã�¿Ã���Ã�¯Ã�¿Ã�½Ã���Ã��Ã�½Ã���Ã�¯Ã�¿Ã�½Ã��Ã�¯Ã��Ã�¿Ã��Ã�½Ã���Ã�¯Ã�¿Ã�½Ã���Ã��Ã�¯Ã���Ã�¯Ã�¿Ã�½Ã��Ã�¯Ã��Ã�¿Ã��Ã�½Ã���Ã�¯Ã�¿Ã�½Ã���Ã��Ã�¿Ã���Ã�¯Ã�¿Ã�½Ã��Ã�¯Ã��Ã�¿Ã��Ã�½Ã���Ã�¯Ã�¿Ã�½Ã���Ã��Ã�½Ã���Ã�¯Ã�¿Ã�½Ã��Ã�¯Ã��Ã�¿Ã��Ã�½Ã���Ã��Ã�¯Ã���Ã��Ã�¿Ã���Ã��Ã�½Ã���Ã�¯Ã�¿Ã�½Ã��Ã�¯Ã��Ã�¿Ã��Ã�½Ã���Ã�¯Ã�¿Ã�½Ã���Ã��Ã�¯Ã���Ã�¯Ã�¿Ã�½Ã��Ã�¯Ã��Ã�¿Ã��Ã�½Ã���Ã��Ã�¯Ã���Ã��Ã�¿Ã���Ã��Ã�½Ã���Ã�¯Ã�¿Ã�½Ã��Ã�¯Ã��Ã�¿Ã��Ã�½Ã���Ã�¯Ã�¿Ã�½Ã���Ã��Ã�¿Ã���Ã�¯Ã�¿Ã�½Ã��Ã�¯Ã��Ã�¿Ã��Ã�½Ã���Ã��Ã�¯Ã���Ã��Ã�¿Ã���Ã��Ã�½Ã���Ã�¯Ã�¿Ã�½Ã��Ã�¯Ã��Ã�¿Ã��Ã�½Ã���Ã�¯Ã�¿Ã�½Ã���Ã��Ã�½Ã���Ã�¯Ã�¿Ã�½Ã��Ã�¯Ã��Ã�¿Ã��Ã�½Ã���Ã��Ã�¯Ã���Ã��Ã�¿Ã���Ã��Ã�½Ã���Ã�¯Ã�¿Ã�½Ã���Ã��Ã�¯Ã���Ã�¯Ã�¿Ã�½Ã���Ã��Ã�¿Ã���Ã�¯Ã�¿Ã�½Ã���Ã��Ã�½Ã���Ã�¯Ã�¿Ã�½Ã��Ã�¯Ã��Ã�¿Ã��Ã�½Ã���Ã�¯Ã�¿Ã�½Ã���Ã��Ã�¯Ã���Ã�¯Ã�¿Ã�½Ã��Ã�¯Ã��Ã�¿Ã��Ã�½Ã���Ã�¯Ã�¿Ã�½Ã���Ã��Ã�¿Ã���Ã�¯Ã�¿Ã�½Ã��Ã�¯Ã��Ã�¿Ã��Ã�½Ã���Ã�¯Ã�¿Ã�½Ã���Ã��Ã�½Ã���Ã�¯Ã�¿Ã�½Ã��Ã�¯Ã��Ã�¿Ã��Ã�½Ã���Ã��Ã�¯Ã���Ã��Ã�¿Ã���Ã��Ã�½Ã���Ã�¯Ã�¿Ã�½Ã���Ã��Ã�¯Ã���Ã�¯Ã�¿Ã�½Ã���Ã��Ã�¿Ã���Ã�¯Ã�¿Ã�½Ã���Ã��Ã�½Ã���Ã�¯Ã�¿Ã�½Ã��Ã�¯Ã��Ã�¿Ã��Ã�½Ã���Ã��Ã�¯Ã���Ã��Ã�¿Ã���Ã��Ã�½Ã���Ã�¯Ã�¿Ã�½Ã��Ã�¯Ã��Ã�¿Ã��Ã�½Ã���Ã�¯Ã�¿Ã�½Ã���Ã��Ã�¿Ã���Ã�¯Ã�¿Ã�½Ã��Ã�¯Ã��Ã�¿Ã��Ã�½Ã���Ã��Ã�¯Ã���Ã��Ã�¿Ã���Ã��Ã�½Ã���Ã�¯Ã�¿Ã�½Ã���Ã��Ã�¯Ã���Ã�¯Ã�¿Ã�½Ã���Ã��Ã�¿Ã���Ã�¯Ã�¿Ã�½Ã���Ã��Ã�½Ã���Ã�¯Ã�¿Ã�½Ã��Ã�¯Ã��Ã�¿Ã��Ã�½Ã���Ã�¯Ã�¿Ã�½Ã���Ã��Ã�¯Ã���Ã�¯Ã�¿Ã�½Ã��Ã�¯Ã��Ã�¿Ã��Ã�½Ã���Ã�¯Ã�¿Ã�½Ã���Ã��Ã�¿Ã���Ã�¯Ã�¿Ã�½Ã��Ã�¯Ã��Ã�¿Ã��Ã�½Ã���Ã�¯Ã�¿Ã�½Ã���Ã��Ã�½Ã���Ã�¯Ã�¿Ã�½Ã��Ã�¯Ã��Ã�¿Ã��Ã�½Ã���Ã��Ã�¯Ã���Ã��Ã�¿Ã���Ã��Ã�½Ã���Ã�¯Ã�¿Ã�½Ã��Ã�¯Ã��Ã�¿Ã��Ã�½Ã���Ã�¯Ã�¿Ã�½Ã���Ã��Ã�¯Ã���Ã�¯Ã�¿Ã�½Ã��Ã�¯Ã��Ã�¿Ã��Ã�½Ã���Ã��Ã�¯Ã���Ã��Ã�¿Ã���Ã��Ã�½Ã���Ã�¯Ã�¿Ã�½Ã��Ã�¯Ã��Ã�¿Ã��Ã�½Ã���Ã�¯Ã�¿Ã�½Ã���Ã��Ã�¿Ã���Ã�¯Ã�¿Ã�½Ã��Ã�¯Ã��Ã�¿Ã��Ã�½Ã���Ã��Ã�¯Ã���Ã��Ã�¿Ã���Ã��Ã�½Ã���Ã�¯Ã�¿Ã�½Ã��Ã�¯Ã��Ã�¿Ã��Ã�½Ã���Ã�¯Ã�¿Ã�½Ã���Ã��Ã�½Ã���Ã�¯Ã�¿Ã�½Ã��Ã�¯Ã��Ã�¿Ã��Ã�½Ã���Ã��Ã�¯Ã���Ã��Ã�¿Ã���Ã��Ã�½Ã���Ã�¯Ã�¿Ã�½Ã���Ã��Ã�¯Ã���Ã�¯Ã�¿Ã�½Ã���Ã��Ã�¿Ã���Ã�¯Ã�¿Ã�½Ã���Ã��Ã�½Ã���Ã�¯Ã�¿Ã�½Ã��Ã�¯Ã��Ã�¿Ã��Ã�½Ã���Ã�¯Ã�¿Ã�½Ã���Ã��Ã�¯Ã���Ã�¯Ã�¿Ã�½Ã��Ã�¯Ã��Ã�¿Ã��Ã�½Ã���Ã�¯Ã�¿Ã�½Ã���Ã��Ã�¿Ã���Ã�¯Ã�¿Ã�½Ã��Ã�¯Ã��Ã�¿Ã��Ã�½Ã���Ã�¯Ã�¿Ã�½Ã���Ã��Ã�½Ã���Ã�¯Ã�¿Ã�½Ã��Ã�¯Ã��Ã�¿Ã��Ã�½Ã���Ã��Ã�¯Ã���Ã��Ã�¿Ã���Ã��Ã�½Ã���Ã�¯Ã�¿Ã�½Ã���Ã��Ã�¯Ã���Ã�¯Ã�¿Ã�½Ã���Ã��Ã�¿Ã���Ã�¯Ã�¿Ã�½Ã���Ã��Ã�½Ã���Ã�¯Ã�¿Ã�½Ã��Ã�¯Ã��Ã�¿Ã��Ã�½Ã���Ã��Ã�¯Ã���Ã��Ã�¿Ã���Ã��Ã�½Ã���Ã�¯Ã�¿Ã�½Ã��Ã�¯Ã��Ã�¿Ã��Ã�½Ã���Ã�¯Ã�¿Ã�½Ã���Ã��Ã�½Ã���Ã�¯Ã�¿Ã�½Ã��Ã�¯Ã��Ã�¿Ã��Ã�½Ã���Ã��Ã�¯Ã���Ã��Ã�¿Ã���Ã��Ã�½Ã���Ã�¯Ã�¿Ã�½Ã���Ã��Ã�¯Ã���Ã�¯Ã�¿Ã�½Ã���Ã��Ã�¿Ã���Ã�¯Ã�¿Ã�½Ã���Ã��Ã�½Ã���Ã�¯Ã�¿Ã�½Ã��Ã�¯Ã��Ã�¿Ã��Ã�½Ã���Ã�¯Ã�¿Ã�½Ã���Ã��Ã�¯Ã���Ã�¯Ã�¿Ã�½Ã��Ã�¯Ã��Ã�¿Ã��Ã�½Ã���Ã�¯Ã�¿Ã�½Ã���Ã��Ã�¿Ã���Ã�¯Ã�¿Ã�½Ã��Ã�¯Ã��Ã�¿Ã��Ã�½Ã���Ã�¯Ã�¿Ã�½Ã���Ã��Ã�½Ã���Ã�¯Ã�¿Ã�½Ã��Ã�¯Ã��Ã�¿Ã��Ã�½Ã���Ã��Ã�¯Ã���Ã��Ã�¿Ã���Ã��Ã�½Ã���Ã�¯Ã�¿Ã�½Ã��Ã�¯Ã��Ã�¿Ã��Ã�½Ã���Ã�¯Ã�¿Ã�½Ã���Ã��Ã�¯Ã���Ã�¯Ã�¿Ã�½Ã��Ã�¯Ã��Ã�¿Ã��Ã�½Ã���Ã��Ã�¯Ã���Ã��Ã�¿Ã���Ã��Ã�½Ã���Ã�¯Ã�¿Ã�½Ã��Ã�¯Ã��Ã�¿Ã��Ã�½Ã���Ã�¯Ã�¿Ã�½Ã���Ã��Ã�¿Ã���Ã�¯Ã�¿Ã�½Ã��Ã�¯Ã��Ã�¿Ã��Ã�½Ã���Ã��Ã�¯Ã���Ã��Ã�¿Ã���Ã��Ã�½Ã���Ã�¯Ã�¿Ã�½Ã��Ã�¯Ã��Ã�¿Ã��Ã�½Ã���Ã�¯Ã�¿Ã�½Ã���Ã��Ã�½Ã���Ã�¯Ã�¿Ã�½Ã��Ã�¯Ã��Ã�¿Ã��Ã�½Ã���Ã��Ã�¯Ã���Ã��Ã�¿Ã���Ã��Ã�½Ã���Ã�¯Ã�¿Ã�½Ã���Ã��Ã�¯Ã���Ã�¯Ã�¿Ã�½Ã���Ã��Ã�¿Ã���Ã�¯Ã�¿Ã�½Ã���Ã��Ã�½Ã���Ã�¯Ã�¿Ã�½Ã��Ã�¯Ã��Ã�¿Ã��Ã�½Ã���Ã��Ã�¯Ã���Ã��Ã�¿Ã���Ã��Ã�½Ã���Ã�¯Ã�¿Ã�½Ã��Ã�¯Ã��Ã�¿Ã��Ã�½Ã���Ã�¯Ã�¿Ã�½Ã���Ã��Ã�¯Ã���Ã�¯Ã�¿Ã�½Ã��Ã�¯Ã��Ã�¿Ã��Ã�½Ã���Ã��Ã�¯Ã���Ã��Ã�¿Ã���Ã��Ã�½Ã���Ã�¯Ã�¿Ã�½Ã���Ã��Ã�¯Ã���Ã�¯Ã�¿Ã�½Ã���Ã��Ã�¿Ã���Ã�¯Ã�¿Ã�½Ã���Ã��Ã�½Ã���Ã�¯Ã�¿Ã�½Ã��Ã�¯Ã��Ã�¿Ã��Ã�½Ã���Ã��Ã�¯Ã���Ã��Ã�¿Ã���Ã��Ã�½Ã���Ã�¯Ã�¿Ã�½Ã��Ã�¯Ã��Ã�¿Ã��Ã�½Ã���Ã�¯Ã�¿Ã�½Ã���Ã��Ã�¿Ã���Ã�¯Ã�¿Ã�½Ã��Ã�¯Ã��Ã�¿Ã��Ã�½Ã���Ã��Ã�¯Ã���Ã��Ã�¿Ã���Ã��Ã�½Ã���Ã�¯Ã�¿Ã�½Ã���Ã��Ã�¯Ã���Ã�¯Ã�¿Ã�½Ã���Ã��Ã�¿Ã���Ã�¯Ã�¿Ã�½Ã���Ã��Ã�½Ã���Ã�¯Ã�¿Ã�½Ã��Ã�¯Ã��Ã�¿Ã��Ã�½Ã���Ã��Ã�¯Ã���Ã��Ã�¿Ã���Ã��Ã�½Ã���Ã�¯Ã�¿Ã�½Ã��Ã�¯Ã��Ã�¿Ã��Ã�½Ã���Ã�¯Ã�¿Ã�½Ã���Ã��Ã�½Ã���Ã�¯Ã�¿Ã�½Ã��Ã�¯Ã��Ã�¿Ã��Ã�½Ã���Ã��Ã�¯Ã���Ã��Ã�¿Ã���Ã��Ã�½Ã���Ã�¯Ã�¿Ã�½Ã���Ã��Ã�¯Ã���Ã�¯Ã�¿Ã�½Ã���Ã��Ã�¿Ã���Ã�¯Ã�¿Ã�½Ã���Ã��Ã�½Ã���Ã�¯Ã�¿Ã�½Ã��Ã�¯Ã��Ã�¿Ã��Ã�½Ã���Ã�¯Ã�¿Ã�½Ã���Ã��Ã�¯Ã���Ã�¯Ã�¿Ã�½Ã��Ã�¯Ã��Ã�¿Ã��Ã�½Ã���Ã�¯Ã�¿Ã�½Ã���Ã��Ã�¿Ã���Ã�¯Ã�¿Ã�½Ã��Ã�¯Ã��Ã�¿Ã��Ã�½Ã���Ã�¯Ã�¿Ã�½Ã���Ã��Ã�½Ã���Ã�¯Ã�¿Ã�½Ã��Ã�¯Ã��Ã�¿Ã��Ã�½Ã���Ã��Ã�¯Ã���Ã��Ã�¿Ã���Ã��Ã�½Ã���Ã�¯Ã�¿Ã�½Ã���Ã��Ã�¯Ã���Ã�¯Ã�¿Ã�½Ã���Ã��Ã�¿Ã���Ã�¯Ã�¿Ã�½Ã���Ã��Ã�½Ã���Ã�¯Ã�¿Ã�½Ã��Ã�¯Ã��Ã�¿Ã��Ã�½Ã���Ã��Ã�¯Ã���Ã��Ã�¿Ã���Ã��Ã�½Ã���Ã�¯Ã�¿Ã�½Ã��Ã�¯Ã��Ã�¿Ã��Ã�½Ã���Ã�¯Ã�¿Ã�½Ã���Ã��Ã�¯Ã���Ã�¯Ã�¿Ã�½Ã��Ã�¯Ã��Ã�¿Ã��Ã�½Ã���Ã��Ã�¯Ã���Ã��Ã�¿Ã���Ã��Ã�½Ã���Ã�¯Ã�¿Ã�½Ã���Ã��Ã�¯Ã���Ã�¯Ã�¿Ã�½Ã���Ã��Ã�¿Ã���Ã�¯Ã�¿Ã�½Ã���Ã��Ã�½Ã���Ã�¯Ã�¿Ã�½Ã��Ã�¯Ã��Ã�¿Ã��Ã�½Ã���Ã�¯Ã�¿Ã�½Ã���Ã��Ã�¯Ã���Ã�¯Ã�¿Ã�½Ã��Ã�¯Ã��Ã�¿Ã��Ã�½Ã���Ã�¯Ã�¿Ã�½Ã���Ã��Ã�¿Ã���Ã�¯Ã�¿Ã�½Ã��Ã�¯Ã��Ã�¿Ã��Ã�½Ã���Ã�¯Ã�¿Ã�½Ã���Ã��Ã�½Ã���Ã�¯Ã�¿Ã�½Ã��Ã�¯Ã��Ã�¿Ã��Ã�½Ã���Ã��Ã�¯Ã���Ã��Ã�¿Ã���Ã��Ã�½Ã���Ã�¯Ã�¿Ã�½Ã���Ã��Ã�¯Ã���Ã�¯Ã�¿Ã�½Ã���Ã��Ã�¿Ã���Ã�¯Ã�¿Ã�½Ã���Ã��Ã�½Ã���Ã�¯Ã�¿Ã�½Ã��Ã�¯Ã��Ã�¿Ã��Ã�½Ã���Ã��Ã�¯Ã���Ã��Ã�¿Ã���Ã��Ã�½Ã���Ã�¯Ã�¿Ã�½Ã��Ã�¯Ã��Ã�¿Ã��Ã�½Ã���Ã�¯Ã�¿Ã�½Ã���Ã��Ã�¿Ã���Ã�¯Ã�¿Ã�½Ã��Ã�¯Ã��Ã�¿Ã��Ã�½Ã���Ã��Ã�¯Ã���Ã��Ã�¿Ã���Ã��Ã�½Ã���Ã�¯Ã�¿Ã�½Ã���Ã��Ã�¯Ã���Ã�¯Ã�¿Ã�½Ã���Ã��Ã�¿Ã���Ã�¯Ã�¿Ã�½Ã���Ã��Ã�½Ã���Ã�¯Ã�¿Ã�½Ã��Ã�¯Ã��Ã�¿Ã��Ã�½Ã���Ã�¯Ã�¿Ã�½Ã���Ã��Ã�¯Ã���Ã�¯Ã�¿Ã�½Ã��Ã�¯Ã��Ã�¿Ã��Ã�½Ã���Ã�¯Ã�¿Ã�½Ã���Ã��Ã�¿Ã���Ã�¯Ã�¿Ã�½Ã��Ã�¯Ã��Ã�¿Ã��Ã�½Ã���Ã�¯Ã�¿Ã�½Ã���Ã��Ã�½Ã���Ã�¯Ã�¿Ã�½Ã��Ã�¯Ã��Ã�¿Ã��Ã�½Ã���Ã��Ã�¯Ã���Ã��Ã�¿Ã���Ã��Ã�½Ã���Ã�¯Ã�¿Ã�½Ã���Ã��Ã�¯Ã���Ã�¯Ã�¿Ã�½Ã���Ã��Ã�¿Ã���Ã�¯Ã�¿Ã�½Ã���Ã��Ã�½Ã���Ã�¯Ã�¿Ã�½Ã��Ã�¯Ã��Ã�¿Ã��Ã�½Ã���Ã��Ã�¯Ã���Ã��Ã�¿Ã���Ã��Ã�½Ã���Ã�¯Ã�¿Ã�½Ã��Ã�¯Ã��Ã�¿Ã��Ã�½Ã���Ã�¯Ã�¿Ã�½Ã���Ã��Ã�½Ã���Ã�¯Ã�¿Ã�½Ã��Ã�¯Ã��Ã�¿Ã��Ã�½Ã���Ã��Ã�¯Ã���Ã��Ã�¿Ã���Ã��Ã�½Ã���Ã�¯Ã�¿Ã�½Ã���Ã��Ã�¯Ã���Ã�¯Ã�¿Ã�½Ã���Ã��Ã�¿Ã���Ã�¯Ã�¿Ã�½Ã���Ã��Ã�½Ã���Ã�¯Ã�¿Ã�½Ã��Ã�¯Ã��Ã�¿Ã��Ã�½Ã���Ã�¯Ã�¿Ã�½Ã���Ã��Ã�¯Ã���Ã�¯Ã�¿Ã�½Ã��Ã�¯Ã��Ã�¿Ã��Ã�½Ã���Ã�¯Ã�¿Ã�½Ã���Ã��Ã�¿Ã���Ã�¯Ã�¿Ã�½Ã��Ã�¯Ã��Ã�¿Ã��Ã�½Ã���Ã�¯Ã�¿Ã�½Ã���Ã��Ã�½Ã���Ã�¯Ã�¿Ã�½Ã��Ã�¯Ã��Ã�¿Ã��Ã�½Ã���Ã��Ã�¯Ã���Ã��Ã�¿Ã���Ã��Ã�½Ã���Ã�¯Ã�¿Ã�½Ã��Ã�¯Ã��Ã�¿Ã��Ã�½Ã���Ã�¯Ã�¿Ã�½Ã���Ã��Ã�¯Ã���Ã�¯Ã�¿Ã�½Ã��Ã�¯Ã��Ã�¿Ã��Ã�½Ã���Ã��Ã�¯Ã���Ã��Ã�¿Ã���Ã��Ã�½Ã���Ã�¯Ã�¿Ã�½Ã��Ã�¯Ã��Ã�¿Ã��Ã�½Ã���Ã�¯Ã�¿Ã�½Ã���Ã��Ã�¿Ã���Ã�¯Ã�¿Ã�½Ã��Ã�¯Ã��Ã�¿Ã��Ã�½Ã���Ã��Ã�¯Ã���Ã��Ã�¿Ã���Ã��Ã�½Ã���Ã�¯Ã�¿Ã�½Ã��Ã�¯Ã��Ã�¿Ã��Ã�½Ã���Ã�¯Ã�¿Ã�½Ã���Ã��Ã�½Ã���Ã�¯Ã�¿Ã�½Ã��Ã�¯Ã��Ã�¿Ã��Ã�½Ã���Ã��Ã�¯Ã���Ã��Ã�¿Ã���Ã��Ã�½Ã���Ã�¯Ã�¿Ã�½Ã���Ã��Ã�¯Ã���Ã�¯Ã�¿Ã�½Ã���Ã��Ã�¿Ã���Ã�¯Ã�¿Ã�½Ã���Ã��Ã�½Ã���Ã�¯Ã�¿Ã�½Ã��Ã�¯Ã��Ã�¿Ã��Ã�½Ã���Ã��Ã�¯Ã���Ã��Ã�¿Ã���Ã��Ã�½Ã���Ã�¯Ã�¿Ã�½Ã��Ã�¯Ã��Ã�¿Ã��Ã�½Ã���Ã�¯Ã�¿Ã�½Ã���Ã��Ã�¯Ã���Ã�¯Ã�¿Ã�½Ã��Ã�¯Ã��Ã�¿Ã��Ã�½Ã���Ã��Ã�¯Ã���Ã��Ã�¿Ã���Ã��Ã�½Ã���Ã�¯Ã�¿Ã�½Ã���Ã��Ã�¯Ã���Ã�¯Ã�¿Ã�½Ã���Ã��Ã�¿Ã���Ã�¯Ã�¿Ã�½Ã���Ã��Ã�½Ã���Ã�¯Ã�¿Ã�½Ã��Ã�¯Ã��Ã�¿Ã��Ã�½Ã���Ã��Ã�¯Ã���Ã��Ã�¿Ã���Ã��Ã�½Ã���Ã�¯Ã�¿Ã�½Ã��Ã�¯Ã��Ã�¿Ã��Ã�½Ã���Ã�¯Ã�¿Ã�½Ã���Ã��Ã�¿Ã���Ã�¯Ã�¿Ã�½Ã��Ã�¯Ã��Ã�¿Ã��Ã�½Ã���Ã��Ã�¯Ã���Ã��Ã�¿Ã���Ã��Ã�½Ã���Ã�¯Ã�¿Ã�½Ã���Ã��Ã�¯Ã���Ã�¯Ã�¿Ã�½Ã���Ã��Ã�¿Ã���Ã�¯Ã�¿Ã�½Ã���Ã��Ã�½Ã���Ã�¯Ã�¿Ã�½Ã��Ã�¯Ã��Ã�¿Ã��Ã�½Ã���Ã��Ã�¯Ã���Ã��Ã�¿Ã���Ã��Ã�½Ã���Ã�¯Ã�¿Ã�½Ã��Ã�¯Ã��Ã�¿Ã��Ã�½Ã���Ã�¯Ã�¿Ã�½Ã���Ã��Ã�½Ã���Ã�¯Ã�¿Ã�½Ã��Ã�¯Ã��Ã�¿Ã��Ã�½Ã���Ã��Ã�¯Ã���Ã��Ã�¿Ã���Ã��Ã�½Ã���Ã�¯Ã�¿Ã�½Ã���Ã��Ã�¯Ã���Ã�¯Ã�¿Ã�½Ã���Ã��Ã�¿Ã���Ã�¯Ã�¿Ã�½Ã���Ã��Ã�½Ã���Ã�¯Ã�¿Ã�½Ã��Ã�¯Ã��Ã�¿Ã��Ã�½Ã���Ã�¯Ã�¿Ã�½Ã���Ã��Ã�¯Ã���Ã�¯Ã�¿Ã�½Ã��Ã�¯Ã��Ã�¿Ã��Ã�½Ã���Ã�¯Ã�¿Ã�½Ã���Ã��Ã�¿Ã���Ã�¯Ã�¿Ã�½Ã��Ã�¯Ã��Ã�¿Ã��Ã�½Ã���Ã�¯Ã�¿Ã�½Ã���Ã��Ã�½Ã���Ã�¯Ã�¿Ã�½Ã��Ã�¯Ã��Ã�¿Ã��Ã�½Ã���Ã��Ã�¯Ã���Ã��Ã�¿Ã���Ã��Ã�½Ã���Ã�¯Ã�¿Ã�½Ã��Ã�¯Ã��Ã�¿Ã��Ã�½Ã���Ã�¯Ã�¿Ã�½Ã���Ã��Ã�¯Ã���Ã�¯Ã�¿Ã�½Ã��Ã�¯Ã��Ã�¿Ã��Ã�½Ã���Ã��Ã�¯Ã���Ã��Ã�¿Ã���Ã��Ã�½Ã���Ã�¯Ã�¿Ã�½Ã��Ã�¯Ã��Ã�¿Ã��Ã�½Ã���Ã�¯Ã�¿Ã�½Ã���Ã��Ã�¿Ã���Ã�¯Ã�¿Ã�½Ã��Ã�¯Ã��Ã�¿Ã��Ã�½Ã���Ã��Ã�¯Ã���Ã��Ã�¿Ã���Ã��Ã�½Ã���Ã�¯Ã�¿Ã�½Ã��Ã�¯Ã��Ã�¿Ã��Ã�½Ã���Ã�¯Ã�¿Ã�½Ã���Ã��Ã�½Ã���Ã�¯Ã�¿Ã�½Ã��Ã�¯Ã��Ã�¿Ã��Ã�½Ã���Ã��Ã�¯Ã���Ã��Ã�¿Ã���Ã��Ã�½Ã���Ã�¯Ã�¿Ã�½Ã���Ã��Ã�¯Ã���Ã�¯Ã�¿Ã�½Ã���Ã��Ã�¿Ã���Ã�¯Ã�¿Ã�½Ã���Ã��Ã�½Ã���Ã�¯Ã�¿Ã�½Ã��Ã�¯Ã��Ã�¿Ã��Ã�½Ã���Ã�¯Ã�¿Ã�½Ã���Ã��Ã�¯Ã���Ã�¯Ã�¿Ã�½Ã��Ã�¯Ã��Ã�¿Ã��Ã�½Ã���Ã�¯Ã�¿Ã�½Ã���Ã��Ã�¿Ã���Ã�¯Ã�¿Ã�½Ã��Ã�¯Ã��Ã�¿Ã��Ã�½Ã���Ã�¯Ã�¿Ã�½Ã���Ã��Ã�½Ã���Ã�¯Ã�¿Ã�½Ã��Ã�¯Ã��Ã�¿Ã��Ã�½Ã���Ã��Ã�¯Ã���Ã��Ã�¿Ã���Ã��Ã�½Ã���Ã�¯Ã�¿Ã�½Ã���Ã��Ã�¯Ã���Ã�¯Ã�¿Ã�½Ã���Ã��Ã�¿Ã���Ã�¯Ã�¿Ã�½Ã���Ã��Ã�½Ã���Ã�¯Ã�¿Ã�½Ã��Ã�¯Ã��Ã�¿Ã��Ã�½Ã���Ã��Ã�¯Ã���Ã��Ã�¿Ã���Ã��Ã�½Ã���Ã�¯Ã�¿Ã�½Ã��Ã�¯Ã��Ã�¿Ã��Ã�½Ã���Ã�¯Ã�¿Ã�½Ã���Ã��Ã�¯Ã���Ã�¯Ã�¿Ã�½Ã��Ã�¯Ã��Ã�¿Ã��Ã�½Ã���Ã��Ã�¯Ã���Ã��Ã�¿Ã���Ã��Ã�½Ã���Ã�¯Ã�¿Ã�½Ã���Ã��Ã�¯Ã���Ã�¯Ã�¿Ã�½Ã���Ã��Ã�¿Ã���Ã�¯Ã�¿Ã�½Ã���Ã��Ã�½Ã���Ã�¯Ã�¿Ã�½Ã��Ã�¯Ã��Ã�¿Ã��Ã�½Ã���Ã�¯Ã�¿Ã�½Ã���Ã��Ã�¯Ã���Ã�¯Ã�¿Ã�½Ã��Ã�¯Ã��Ã�¿Ã��Ã�½Ã���Ã�¯Ã�¿Ã�½Ã���Ã��Ã�¿Ã���Ã�¯Ã�¿Ã�½Ã��Ã�¯Ã��Ã�¿Ã��Ã�½Ã���Ã�¯Ã�¿Ã�½Ã���Ã��Ã�½Ã���Ã�¯Ã�¿Ã�½Ã��Ã�¯Ã��Ã�¿Ã��Ã�½Ã���Ã��Ã�¯Ã���Ã��Ã�¿Ã���Ã��Ã�½Ã���Ã�¯Ã�¿Ã�½Ã��Ã�¯Ã��Ã�¿Ã��Ã�½Ã���Ã�¯Ã�¿Ã�½Ã���Ã��Ã�¯Ã���Ã�¯Ã�¿Ã�½Ã��Ã�¯Ã��Ã�¿Ã��Ã�½Ã���Ã��Ã�¯Ã���Ã��Ã�¿Ã���Ã��Ã�½Ã���Ã�¯Ã�¿Ã�½Ã��Ã�¯Ã��Ã�¿Ã��Ã�½Ã���Ã�¯Ã�¿Ã�½Ã���Ã��Ã�¿Ã���Ã�¯Ã�¿Ã�½Ã��Ã�¯Ã��Ã�¿Ã��Ã�½Ã���Ã��Ã�¯Ã���Ã��Ã�¿Ã���Ã��Ã�½Ã���Ã�¯Ã�¿Ã�½Ã��Ã�¯Ã��Ã�¿Ã��Ã�½Ã���Ã�¯Ã�¿Ã�½Ã���Ã��Ã�½Ã���Ã�¯Ã�¿Ã�½Ã��Ã�¯Ã��Ã�¿Ã��Ã�½Ã���Ã��Ã�¯Ã���Ã��Ã�¿Ã���Ã��Ã�½Ã���Ã�¯Ã�¿Ã�½Ã���Ã��Ã�¯Ã���Ã�¯Ã�¿Ã�½Ã���Ã��Ã�¿Ã���Ã�¯Ã�¿Ã�½Ã���Ã��Ã�½Ã���Ã�¯Ã�¿Ã�½Ã��Ã�¯Ã��Ã�¿Ã��Ã�½Ã���Ã��Ã�¯Ã���Ã��Ã�¿Ã���Ã��Ã�½Ã���Ã�¯Ã�¿Ã�½Ã��Ã�¯Ã��Ã�¿Ã��Ã�½Ã���Ã�¯Ã�¿Ã�½Ã���Ã��Ã�¯Ã���Ã�¯Ã�¿Ã�½Ã��Ã�¯Ã��Ã�¿Ã��Ã�½Ã���Ã��Ã�¯Ã���Ã��Ã�¿Ã���Ã��Ã�½Ã���Ã�¯Ã�¿Ã�½Ã���Ã��Ã�¯Ã���Ã�¯Ã�¿Ã�½Ã���Ã��Ã�¿Ã���Ã�¯Ã�¿Ã�½Ã���Ã��Ã�½Ã���Ã�¯Ã�¿Ã�½Ã��Ã�¯Ã��Ã�¿Ã��Ã�½Ã���Ã��Ã�¯Ã���Ã��Ã�¿Ã���Ã��Ã�½Ã���Ã�¯Ã�¿Ã�½Ã��Ã�¯Ã��Ã�¿Ã��Ã�½Ã���Ã�¯Ã�¿Ã�½Ã���Ã��Ã�¿Ã���Ã�¯Ã�¿Ã�½Ã��Ã�¯Ã��Ã�¿Ã��Ã�½Ã���Ã��Ã�¯Ã���Ã��Ã�¿Ã���Ã��Ã�½Ã���Ã�¯Ã�¿Ã�½Ã���Ã��Ã�¯Ã���Ã�¯Ã�¿Ã�½Ã���Ã��Ã�¿Ã���Ã�¯Ã�¿Ã�½Ã���Ã��Ã�½Ã���Ã�¯Ã�¿Ã�½Ã��Ã�¯Ã��Ã�¿Ã��Ã�½Ã���Ã��Ã�¯Ã���Ã��Ã�¿Ã���Ã��Ã�½Ã���Ã�¯Ã�¿Ã�½Ã��Ã�¯Ã��Ã�¿Ã��Ã�½Ã���Ã�¯Ã�¿Ã�½Ã���Ã��Ã�½Ã���Ã�¯Ã�¿Ã�½Ã��Ã�¯Ã��Ã�¿Ã��Ã�½Ã���Ã��Ã�¯Ã���Ã��Ã�¿Ã���Ã��Ã�½Ã���Ã�¯Ã�¿Ã�½Ã���Ã��Ã�¯Ã���Ã�¯Ã�¿Ã�½Ã���Ã��Ã�¿Ã���Ã�¯Ã�¿Ã�½Ã���Ã��Ã�½Ã���Ã�¯Ã�¿Ã�½Ã��Ã�¯Ã��Ã�¿Ã��Ã�½Ã���Ã�¯Ã�¿Ã�½Ã���Ã��Ã�¯Ã���Ã�¯Ã�¿Ã�½Ã��Ã�¯Ã��Ã�¿Ã��Ã�½Ã���Ã�¯Ã�¿Ã�½Ã���Ã��Ã�¿Ã���Ã�¯Ã�¿Ã�½Ã��Ã�¯Ã��Ã�¿Ã��Ã�½Ã���Ã�¯Ã�¿Ã�½Ã���Ã��Ã�½Ã���Ã�¯Ã�¿Ã�½Ã��Ã�¯Ã��Ã�¿Ã��Ã�½Ã���Ã��Ã�¯Ã���Ã��Ã�¿Ã���Ã��Ã�½Ã���Ã�¯Ã�¿Ã�½Ã���Ã��Ã�¯Ã���Ã�¯Ã�¿Ã�½Ã���Ã��Ã�¿Ã���Ã�¯Ã�¿Ã�½Ã���Ã��Ã�½Ã���Ã�¯Ã�¿Ã�½Ã��Ã�¯Ã��Ã�¿Ã��Ã�½Ã���Ã��Ã�¯Ã���Ã��Ã�¿Ã���Ã��Ã�½Ã���Ã�¯Ã�¿Ã�½Ã��Ã�¯Ã��Ã�¿Ã��Ã�½Ã���Ã�¯Ã�¿Ã�½Ã���Ã��Ã�¯Ã���Ã�¯Ã�¿Ã�½Ã��Ã�¯Ã��Ã�¿Ã��Ã�½Ã���Ã��Ã�¯Ã���Ã��Ã�¿Ã���Ã��Ã�½Ã���Ã�¯Ã�¿Ã�½Ã���Ã��Ã�¯Ã���Ã�¯Ã�¿Ã�½Ã���Ã��Ã�¿Ã���Ã�¯Ã�¿Ã�½Ã���Ã��Ã�½Ã���Ã�¯Ã�¿Ã�½Ã��Ã�¯Ã��Ã�¿Ã��Ã�½Ã���Ã�¯Ã�¿Ã�½Ã���Ã��Ã�¯Ã���Ã�¯Ã�¿Ã�½Ã��Ã�¯Ã��Ã�¿Ã��Ã�½Ã���Ã�¯Ã�¿Ã�½Ã���Ã��Ã�¿Ã���Ã�¯Ã�¿Ã�½Ã��Ã�¯Ã��Ã�¿Ã��Ã�½Ã���Ã�¯Ã�¿Ã�½Ã���Ã��Ã�½Ã���Ã�¯Ã�¿Ã�½Ã��Ã�¯Ã��Ã�¿Ã��Ã�½Ã���Ã��Ã�¯Ã���Ã��Ã�¿Ã���Ã��Ã�½Ã���Ã�¯Ã�¿Ã�½Ã���Ã��Ã�¯Ã���Ã�¯Ã�¿Ã�½Ã���Ã��Ã�¿Ã���Ã�¯Ã�¿Ã�½Ã���Ã��Ã�½Ã���Ã�¯Ã�¿Ã�½Ã��Ã�¯Ã��Ã�¿Ã��Ã�½Ã���Ã��Ã�¯Ã���Ã��Ã�¿Ã���Ã��Ã�½Ã���Ã�¯Ã�¿Ã�½Ã��Ã�¯Ã��Ã�¿Ã��Ã�½Ã���Ã�¯Ã�¿Ã�½Ã���Ã��Ã�¿Ã���Ã�¯Ã�¿Ã�½Ã��Ã�¯Ã��Ã�¿Ã��Ã�½Ã���Ã��Ã�¯Ã���Ã��Ã�¿Ã���Ã��Ã�½Ã���Ã�¯Ã�¿Ã�½Ã���Ã��Ã�¯Ã���Ã�¯Ã�¿Ã�½Ã���Ã��Ã�¿Ã���Ã�¯Ã�¿Ã�½Ã���Ã��Ã�½Ã���Ã�¯Ã�¿Ã�½Ã��Ã�¯Ã��Ã�¿Ã��Ã�½Ã���Ã�¯Ã�¿Ã�½Ã���Ã��Ã�¯Ã���Ã�¯Ã�¿Ã�½Ã��Ã�¯Ã��Ã�¿Ã��Ã�½Ã���Ã�¯Ã�¿Ã�½Ã���Ã��Ã�¿Ã���Ã�¯Ã�¿Ã�½Ã��Ã�¯Ã��Ã�¿Ã��Ã�½Ã���Ã�¯Ã�¿Ã�½Ã���Ã��Ã�½Ã���Ã�¯Ã�¿Ã�½Ã��Ã�¯Ã��Ã�¿Ã��Ã�½Ã���Ã��Ã�¯Ã���Ã��Ã�¿Ã���Ã��Ã�½Ã���Ã�¯Ã�¿Ã�½Ã���Ã��Ã�¯Ã���Ã�¯Ã�¿Ã�½Ã���Ã��Ã�¿Ã���Ã�¯Ã�¿Ã�½Ã���Ã��Ã�½Ã���Ã�¯Ã�¿Ã�½Ã��Ã�¯Ã��Ã�¿Ã��Ã�½Ã���Ã��Ã�¯Ã���Ã��Ã�¿Ã���Ã��Ã�½Ã���Ã�¯Ã�¿Ã�½Ã��Ã�¯Ã��Ã�¿Ã��Ã�½Ã���Ã�¯Ã�¿Ã�½Ã���Ã��Ã�½Ã���Ã�¯Ã�¿Ã�½Ã��Ã�¯Ã��Ã�¿Ã��Ã�½Ã���Ã��Ã�¯Ã���Ã��Ã�¿Ã���Ã��Ã�½Ã���Ã�¯Ã�¿Ã�½Ã���Ã��Ã�¯Ã���Ã�¯Ã�¿Ã�½Ã���Ã��Ã�¿Ã���Ã�¯Ã�¿Ã�½Ã���Ã��Ã�½Ã���Ã�¯Ã�¿Ã�½Ã��Ã�¯Ã��Ã�¿Ã��Ã�½Ã���Ã�¯Ã�¿Ã�½Ã���Ã��Ã�¯Ã���Ã�¯Ã�¿Ã�½Ã��Ã�¯Ã��Ã�¿Ã��Ã�½Ã���Ã�¯Ã�¿Ã�½Ã���Ã��Ã�¿Ã���Ã�¯Ã�¿Ã�½Ã��Ã�¯Ã��Ã�¿Ã��Ã�½Ã���Ã�¯Ã�¿Ã�½Ã���Ã��Ã�½Ã���Ã�¯Ã�¿Ã�½Ã��Ã�¯Ã��Ã�¿Ã��Ã�½Ã���Ã��Ã�¯Ã���Ã��Ã�¿Ã���Ã��Ã�½Ã���Ã�¯Ã�¿Ã�½Ã��Ã�¯Ã��Ã�¿Ã��Ã�½Ã���Ã�¯Ã�¿Ã�½Ã���Ã��Ã�¯Ã���Ã�¯Ã�¿Ã�½Ã��Ã�¯Ã��Ã�¿Ã��Ã�½Ã���Ã��Ã�¯Ã���Ã��Ã�¿Ã���Ã��Ã�½Ã���Ã�¯Ã�¿Ã�½Ã��Ã�¯Ã��Ã�¿Ã��Ã�½Ã���Ã�¯Ã�¿Ã�½Ã���Ã��Ã�¿Ã���Ã�¯Ã�¿Ã�½Ã��Ã�¯Ã��Ã�¿Ã��Ã�½Ã���Ã��Ã�¯Ã���Ã��Ã�¿Ã���Ã��Ã�½Ã���Ã�¯Ã�¿Ã�½Ã��Ã�¯Ã��Ã�¿Ã��Ã�½Ã���Ã�¯Ã�¿Ã�½Ã���Ã��Ã�½Ã���Ã�¯Ã�¿Ã�½Ã��Ã�¯Ã��Ã�¿Ã��Ã�½Ã���Ã��Ã�¯Ã���Ã��Ã�¿Ã���Ã��Ã�½Ã���Ã�¯Ã�¿Ã�½Ã���Ã��Ã�¯Ã���Ã�¯Ã�¿Ã�½Ã���Ã��Ã�¿Ã���Ã�¯Ã�¿Ã�½Ã���Ã��Ã�½Ã���Ã�¯Ã�¿Ã�½Ã��Ã�¯Ã��Ã�¿Ã��Ã�½Ã���Ã�¯Ã�¿Ã�½Ã���Ã��Ã�¯Ã���Ã�¯Ã�¿Ã�½Ã��Ã�¯Ã��Ã�¿Ã��Ã�½Ã���Ã�¯Ã�¿Ã�½Ã���Ã��Ã�¿Ã���Ã�¯Ã�¿Ã�½Ã��Ã�¯Ã��Ã�¿Ã��Ã�½Ã���Ã�¯Ã�¿Ã�½Ã���Ã��Ã�½Ã���Ã�¯Ã�¿Ã�½Ã��Ã�¯Ã��Ã�¿Ã��Ã�½Ã���Ã��Ã�¯Ã���Ã��Ã�¿Ã���Ã��Ã�½Ã���Ã�¯Ã�¿Ã�½Ã���Ã��Ã�¯Ã���Ã�¯Ã�¿Ã�½Ã���Ã��Ã�¿Ã���Ã�¯Ã�¿Ã�½Ã���Ã��Ã�½Ã���Ã�¯Ã�¿Ã�½Ã��Ã�¯Ã��Ã�¿Ã��Ã�½Ã���Ã��Ã�¯Ã���Ã��Ã�¿Ã���Ã��Ã�½Ã���Ã�¯Ã�¿Ã�½Ã��Ã�¯Ã��Ã�¿Ã��Ã�½Ã���Ã�¯Ã�¿Ã�½Ã���Ã��Ã�¯Ã���Ã�¯Ã�¿Ã�½Ã��Ã�¯Ã��Ã�¿Ã��Ã�½Ã���Ã��Ã�¯Ã���Ã��Ã�¿Ã���Ã��Ã�½Ã���Ã�¯Ã�¿Ã�½Ã���Ã��Ã�¯Ã���Ã�¯Ã�¿Ã�½Ã���Ã��Ã�¿Ã���Ã�¯Ã�¿Ã�½Ã���Ã��Ã�½Ã���Ã�¯Ã�¿Ã�½Ã��Ã�¯Ã��Ã�¿Ã��Ã�½Ã���Ã�¯Ã�¿Ã�½Ã���Ã��Ã�¯Ã���Ã�¯Ã�¿Ã�½Ã��Ã�¯Ã��Ã�¿Ã��Ã�½Ã���Ã�¯Ã�¿Ã�½Ã���Ã��Ã�¿Ã���Ã�¯Ã�¿Ã�½Ã��Ã�¯Ã��Ã�¿Ã��Ã�½Ã���Ã�¯Ã�¿Ã�½Ã���Ã��Ã�½Ã���Ã�¯Ã�¿Ã�½Ã��Ã�¯Ã��Ã�¿Ã��Ã�½Ã���Ã��Ã�¯Ã���Ã��Ã�¿Ã���Ã��Ã�½Ã���Ã�¯Ã�¿Ã�½Ã��Ã�¯Ã��Ã�¿Ã��Ã�½Ã���Ã�¯Ã�¿Ã�½Ã���Ã��Ã�¯Ã���Ã�¯Ã�¿Ã�½Ã��Ã�¯Ã��Ã�¿Ã��Ã�½Ã���Ã��Ã�¯Ã���Ã��Ã�¿Ã���Ã��Ã�½Ã���Ã�¯Ã�¿Ã�½Ã��Ã�¯Ã��Ã�¿Ã��Ã�½Ã���Ã�¯Ã�¿Ã�½Ã���Ã��Ã�¿Ã���Ã�¯Ã�¿Ã�½Ã��Ã�¯Ã��Ã�¿Ã��Ã�½Ã���Ã��Ã�¯Ã���Ã��Ã�¿Ã���Ã��Ã�½Ã���Ã�¯Ã�¿Ã�½Ã��Ã�¯Ã��Ã�¿Ã��Ã�½Ã���Ã�¯Ã�¿Ã�½Ã���Ã��Ã�½Ã���Ã�¯Ã�¿Ã�½Ã��Ã�¯Ã��Ã�¿Ã��Ã�½Ã���Ã��Ã�¯Ã���Ã��Ã�¿Ã���Ã��Ã�½Ã���Ã�¯Ã�¿Ã�½Ã���Ã��Ã�¯Ã���Ã�¯Ã�¿Ã�½Ã���Ã��Ã�¿Ã���Ã�¯Ã�¿Ã�½Ã���Ã��Ã�½Ã���Ã�¯Ã�¿Ã�½Ã��Ã�¯Ã��Ã�¿Ã��Ã�½Ã���Ã�¯Ã�¿Ã�½Ã���Ã��Ã�¯Ã���Ã�¯Ã�¿Ã�½Ã��Ã�¯Ã��Ã�¿Ã��Ã�½Ã���Ã�¯Ã�¿Ã�½Ã���Ã��Ã�¿Ã���Ã�¯Ã�¿Ã�½Ã��Ã�¯Ã��Ã�¿Ã��Ã�½Ã���Ã�¯Ã�¿Ã�½Ã���Ã��Ã�½Ã���Ã�¯Ã�¿Ã�½Ã��Ã�¯Ã��Ã�¿Ã��Ã�½Ã���Ã��Ã�¯Ã���Ã��Ã�¿Ã���Ã��Ã�½Ã���Ã�¯Ã�¿Ã�½Ã���Ã��Ã�¯Ã���Ã�¯Ã�¿Ã�½Ã���Ã��Ã�¿Ã���Ã�¯Ã�¿Ã�½Ã���Ã��Ã�½Ã���Ã�¯Ã�¿Ã�½Ã��Ã�¯Ã��Ã�¿Ã��Ã�½Ã���Ã��Ã�¯Ã���Ã��Ã�¿Ã���Ã��Ã�½Ã���Ã�¯Ã�¿Ã�½Ã��Ã�¯Ã��Ã�¿Ã��Ã�½Ã���Ã�¯Ã�¿Ã�½Ã���Ã��Ã�¿Ã���Ã�¯Ã�¿Ã�½Ã��Ã�¯Ã��Ã�¿Ã��Ã�½Ã���Ã��Ã�¯Ã���Ã��Ã�¿Ã���Ã��Ã�½Ã���Ã�¯Ã�¿Ã�½Ã���Ã��Ã�¯Ã���Ã�¯Ã�¿Ã�½Ã���Ã��Ã�¿Ã���Ã�¯Ã�¿Ã�½Ã���Ã��Ã�½Ã���Ã�¯Ã�¿Ã�½Ã��Ã�¯Ã��Ã�¿Ã��Ã�½Ã���Ã�¯Ã�¿Ã�½Ã���Ã��Ã�¯Ã���Ã�¯Ã�¿Ã�½Ã��Ã�¯Ã��Ã�¿Ã��Ã�½Ã���Ã�¯Ã�¿Ã�½Ã���Ã��Ã�¿Ã���Ã�¯Ã�¿Ã�½Ã��Ã�¯Ã��Ã�¿Ã��Ã�½Ã���Ã�¯Ã�¿Ã�½Ã���Ã��Ã�½Ã���Ã�¯Ã�¿Ã�½Ã��Ã�¯Ã��Ã�¿Ã��Ã�½Ã���Ã��Ã�¯Ã���Ã��Ã�¿Ã���Ã��Ã�½Ã���Ã�¯Ã�¿Ã�½Ã��Ã�¯Ã��Ã�¿Ã��Ã�½Ã���Ã�¯Ã�¿Ã�½Ã���Ã��Ã�¯Ã���Ã�¯Ã�¿Ã�½Ã��Ã�¯Ã��Ã�¿Ã��Ã�½Ã���Ã��Ã�¯Ã���Ã��Ã�¿Ã���Ã��Ã�½Ã���Ã�¯Ã�¿Ã�½Ã��Ã�¯Ã��Ã�¿Ã��Ã�½Ã���Ã�¯Ã�¿Ã�½Ã���Ã��Ã�¿Ã���Ã�¯Ã�¿Ã�½Ã��Ã�¯Ã��Ã�¿Ã��Ã�½Ã���Ã��Ã�¯Ã���Ã��Ã�¿Ã���Ã��Ã�½Ã���Ã�¯Ã�¿Ã�½Ã��Ã�¯Ã��Ã�¿Ã��Ã�½Ã���Ã�¯Ã�¿Ã�½Ã���Ã��Ã�½Ã���Ã�¯Ã�¿Ã�½Ã��Ã�¯Ã��Ã�¿Ã��Ã�½Ã���Ã��Ã�¯Ã���Ã��Ã�¿Ã���Ã��Ã�½Ã���Ã�¯Ã�¿Ã�½Ã���Ã��Ã�¯Ã���Ã�¯Ã�¿Ã�½Ã���Ã��Ã�¿Ã���Ã�¯Ã�¿Ã�½Ã���Ã��Ã�½Ã���Ã�¯Ã�¿Ã�½Ã��Ã�¯Ã��Ã�¿Ã��Ã�½Ã���Ã�¯Ã�¿Ã�½Ã���Ã��Ã�¯Ã���Ã�¯Ã�¿Ã�½Ã��Ã�¯Ã��Ã�¿Ã��Ã�½Ã���Ã�¯Ã�¿Ã�½Ã���Ã��Ã�¿Ã���Ã�¯Ã�¿Ã�½Ã��Ã�¯Ã��Ã�¿Ã��Ã�½Ã���Ã�¯Ã�¿Ã�½Ã���Ã��Ã�½Ã���Ã�¯Ã�¿Ã�½Ã��Ã�¯Ã��Ã�¿Ã��Ã�½Ã���Ã��Ã�¯Ã���Ã��Ã�¿Ã���Ã��Ã�½Ã���Ã�¯Ã�¿Ã�½Ã���Ã��Ã�¯Ã���Ã�¯Ã�¿Ã�½Ã���Ã��Ã�¿Ã���Ã�¯Ã�¿Ã�½Ã���Ã��Ã�½Ã���Ã�¯Ã�¿Ã�½Ã��Ã�¯Ã��Ã�¿Ã��Ã�½Ã���Ã��Ã�¯Ã���Ã��Ã�¿Ã���Ã��Ã�½Ã���Ã�¯Ã�¿Ã�½Ã��Ã�¯Ã��Ã�¿Ã��Ã�½Ã���Ã�¯Ã�¿Ã�½Ã���Ã��Ã�½Ã���Ã�¯Ã�¿Ã�½Ã��Ã�¯Ã��Ã�¿Ã��Ã�½Ã���Ã��Ã�¯Ã���Ã��Ã�¿Ã���Ã��Ã�½Ã���Ã�¯Ã�¿Ã�½Ã���Ã��Ã�¯Ã���Ã�¯Ã�¿Ã�½Ã���Ã��Ã�¿Ã���Ã�¯Ã�¿Ã�½Ã���Ã��Ã�½Ã���Ã�¯Ã�¿Ã�½Ã��Ã�¯Ã��Ã�¿Ã��Ã�½Ã���Ã�¯Ã�¿Ã�½Ã���Ã��Ã�¯Ã���Ã�¯Ã�¿Ã�½Ã��Ã�¯Ã��Ã�¿Ã��Ã�½Ã���Ã�¯Ã�¿Ã�½Ã���Ã��Ã�¿Ã���Ã�¯Ã�¿Ã�½Ã��Ã�¯Ã��Ã�¿Ã��Ã�½Ã���Ã�¯Ã�¿Ã�½Ã���Ã��Ã�½Ã���Ã�¯Ã�¿Ã�½Ã��Ã�¯Ã��Ã�¿Ã��Ã�½Ã���Ã��Ã�¯Ã���Ã��Ã�¿Ã���Ã��Ã�½Ã���Ã�¯Ã�¿Ã�½Ã��Ã�¯Ã��Ã�¿Ã��Ã�½Ã���Ã�¯Ã�¿Ã�½Ã���Ã��Ã�¯Ã���Ã�¯Ã�¿Ã�½Ã��Ã�¯Ã��Ã�¿Ã��Ã�½Ã���Ã��Ã�¯Ã���Ã��Ã�¿Ã���Ã��Ã�½Ã���Ã�¯Ã�¿Ã�½Ã��Ã�¯Ã��Ã�¿Ã��Ã�½Ã���Ã�¯Ã�¿Ã�½Ã���Ã��Ã�¿Ã���Ã�¯Ã�¿Ã�½Ã��Ã�¯Ã��Ã�¿Ã��Ã�½Ã���Ã��Ã�¯Ã���Ã��Ã�¿Ã���Ã��Ã�½Ã���Ã�¯Ã�¿Ã�½Ã��Ã�¯Ã��Ã�¿Ã��Ã�½Ã���Ã�¯Ã�¿Ã�½Ã���Ã��Ã�½Ã���Ã�¯Ã�¿Ã�½Ã��Ã�¯Ã��Ã�¿Ã��Ã�½Ã���Ã��Ã�¯Ã���Ã��Ã�¿Ã���Ã��Ã�½Ã���Ã�¯Ã�¿Ã�½Ã���Ã��Ã�¯Ã���Ã�¯Ã�¿Ã�½Ã���Ã��Ã�¿Ã���Ã�¯Ã�¿Ã�½Ã���Ã��Ã�½Ã���Ã�¯Ã�¿Ã�½Ã��Ã�¯Ã��Ã�¿Ã��Ã�½Ã���Ã��Ã�¯Ã���Ã��Ã�¿Ã���Ã��Ã�½Ã���Ã�¯Ã�¿Ã�½Ã��Ã�¯Ã��Ã�¿Ã��Ã�½Ã���Ã�¯Ã�¿Ã�½Ã���Ã��Ã�¯Ã���Ã�¯Ã�¿Ã�½Ã��Ã�¯Ã��Ã�¿Ã��Ã�½Ã���Ã��Ã�¯Ã���Ã��Ã�¿Ã���Ã��Ã�½Ã���Ã�¯Ã�¿Ã�½Ã���Ã��Ã�¯Ã���Ã�¯Ã�¿Ã�½Ã���Ã��Ã�¿Ã���Ã�¯Ã�¿Ã�½Ã���Ã��Ã�½Ã���Ã�¯Ã�¿Ã�½Ã��Ã�¯Ã��Ã�¿Ã��Ã�½Ã���Ã��Ã�¯Ã���Ã��Ã�¿Ã���Ã��Ã�½Ã���Ã�¯Ã�¿Ã�½Ã��Ã�¯Ã��Ã�¿Ã��Ã�½Ã���Ã�¯Ã�¿Ã�½Ã���Ã��Ã�¿Ã���Ã�¯Ã�¿Ã�½Ã��Ã�¯Ã��Ã�¿Ã��Ã�½Ã���Ã��Ã�¯Ã���Ã��Ã�¿Ã���Ã��Ã�½Ã���Ã�¯Ã�¿Ã�½Ã���Ã��Ã�¯Ã���Ã�¯Ã�¿Ã�½Ã���Ã��Ã�¿Ã���Ã�¯Ã�¿Ã�½Ã���Ã��Ã�½Ã���Ã�¯Ã�¿Ã�½Ã��Ã�¯Ã��Ã�¿Ã��Ã�½Ã���Ã��Ã�¯Ã���Ã��Ã�¿Ã���Ã��Ã�½Ã���Ã�¯Ã�¿Ã�½Ã��Ã�¯Ã��Ã�¿Ã��Ã�½Ã���Ã�¯Ã�¿Ã�½Ã���Ã��Ã�½Ã���Ã�¯Ã�¿Ã�½Ã��Ã�¯Ã��Ã�¿Ã��Ã�½Ã���Ã��Ã�¯Ã���Ã��Ã�¿Ã���Ã��Ã�½Ã���Ã�¯Ã�¿Ã�½Ã���Ã��Ã�¯Ã���Ã�¯Ã�¿Ã�½Ã���Ã��Ã�¿Ã���Ã�¯Ã�¿Ã�½Ã���Ã��Ã�½Ã���Ã�¯Ã�¿Ã�½Ã��Ã�¯Ã��Ã�¿Ã��Ã�½Ã���Ã�¯Ã�¿Ã�½Ã���Ã��Ã�¯Ã���Ã�¯Ã�¿Ã�½Ã��Ã�¯Ã��Ã�¿Ã��Ã�½Ã���Ã�¯Ã�¿Ã�½Ã���Ã��Ã�¿Ã���Ã�¯Ã�¿Ã�½Ã��Ã�¯Ã��Ã�¿Ã��Ã�½Ã���Ã�¯Ã�¿Ã�½Ã���Ã��Ã�½Ã���Ã�¯Ã�¿Ã�½Ã��Ã�¯Ã��Ã�¿Ã��Ã�½Ã���Ã��Ã�¯Ã���Ã��Ã�¿Ã���Ã��Ã�½Ã���Ã�¯Ã�¿Ã�½Ã��Ã�¯Ã��Ã�¿Ã��Ã�½Ã���Ã�¯Ã�¿Ã�½Ã���Ã��Ã�¯Ã���Ã�¯Ã�¿Ã�½Ã��Ã�¯Ã��Ã�¿Ã��Ã�½Ã���Ã��Ã�¯Ã���Ã��Ã�¿Ã���Ã��Ã�½Ã���Ã�¯Ã�¿Ã�½Ã��Ã�¯Ã��Ã�¿Ã��Ã�½Ã���Ã�¯Ã�¿Ã�½Ã���Ã��Ã�¿Ã���Ã�¯Ã�¿Ã�½Ã��Ã�¯Ã��Ã�¿Ã��Ã�½Ã���Ã��Ã�¯Ã���Ã��Ã�¿Ã���Ã��Ã�½Ã���Ã�¯Ã�¿Ã�½Ã��Ã�¯Ã��Ã�¿Ã��Ã�½Ã���Ã�¯Ã�¿Ã�½Ã���Ã��Ã�½Ã���Ã�¯Ã�¿Ã�½Ã��Ã�¯Ã��Ã�¿Ã��Ã�½Ã���Ã��Ã�¯Ã���Ã��Ã�¿Ã���Ã��Ã�½Ã���Ã�¯Ã�¿Ã�½Ã���Ã��Ã�¯Ã���Ã�¯Ã�¿Ã�½Ã���Ã��Ã�¿Ã���Ã�¯Ã�¿Ã�½Ã���Ã��Ã�½Ã���Ã�¯Ã�¿Ã�½Ã��Ã�¯Ã��Ã�¿Ã��Ã�½Ã���Ã�¯Ã�¿Ã�½Ã���Ã��Ã�¯Ã���Ã�¯Ã�¿Ã�½Ã��Ã�¯Ã��Ã�¿Ã��Ã�½Ã���Ã�¯Ã�¿Ã�½Ã���Ã��Ã�¿Ã���Ã�¯Ã�¿Ã�½Ã��Ã�¯Ã��Ã�¿Ã��Ã�½Ã���Ã�¯Ã�¿Ã�½Ã���Ã��Ã�½Ã���Ã�¯Ã�¿Ã�½Ã��Ã�¯Ã��Ã�¿Ã��Ã�½Ã���Ã��Ã�¯Ã���Ã��Ã�¿Ã���Ã��Ã�½Ã���Ã�¯Ã�¿Ã�½Ã���Ã��Ã�¯Ã���Ã�¯Ã�¿Ã�½Ã���Ã��Ã�¿Ã���Ã�¯Ã�¿Ã�½Ã���Ã��Ã�½Ã���Ã�¯Ã�¿Ã�½Ã��Ã�¯Ã��Ã�¿Ã��Ã�½Ã���Ã��Ã�¯Ã���Ã��Ã�¿Ã���Ã��Ã�½Ã���Ã�¯Ã�¿Ã�½Ã��Ã�¯Ã��Ã�¿Ã��Ã�½Ã���Ã�¯Ã�¿Ã�½Ã���Ã��Ã�¯Ã���Ã�¯Ã�¿Ã�½Ã��Ã�¯Ã��Ã�¿Ã��Ã�½Ã���Ã��Ã�¯Ã���Ã��Ã�¿Ã���Ã��Ã�½Ã���Ã�¯Ã�¿Ã�½Ã���Ã��Ã�¯Ã���Ã�¯Ã�¿Ã�½Ã���Ã��Ã�¿Ã���Ã�¯Ã�¿Ã�½Ã���Ã��Ã�½Ã���Ã�¯Ã�¿Ã�½Ã��Ã�¯Ã��Ã�¿Ã��Ã�½Ã���Ã�¯Ã�¿Ã�½Ã���Ã��Ã�¯Ã���Ã�¯Ã�¿Ã�½Ã��Ã�¯Ã��Ã�¿Ã��Ã�½Ã���Ã�¯Ã�¿Ã�½Ã���Ã��Ã�¿Ã���Ã�¯Ã�¿Ã�½Ã��Ã�¯Ã��Ã�¿Ã��Ã�½Ã���Ã�¯Ã�¿Ã�½Ã���Ã��Ã�½Ã���Ã�¯Ã�¿Ã�½Ã��Ã�¯Ã��Ã�¿Ã��Ã�½Ã���Ã��Ã�¯Ã���Ã��Ã�¿Ã���Ã��Ã�½Ã���Ã�¯Ã�¿Ã�½Ã��Ã�¯Ã��Ã�¿Ã��Ã�½Ã���Ã�¯Ã�¿Ã�½Ã���Ã��Ã�¯Ã���Ã�¯Ã�¿Ã�½Ã��Ã�¯Ã��Ã�¿Ã��Ã�½Ã���Ã��Ã�¯Ã���Ã��Ã�¿Ã���Ã��Ã�½Ã���Ã�¯Ã�¿Ã�½Ã��Ã�¯Ã��Ã�¿Ã��Ã�½Ã���Ã�¯Ã�¿Ã�½Ã���Ã��Ã�¿Ã���Ã�¯Ã�¿Ã�½Ã��Ã�¯Ã��Ã�¿Ã��Ã�½Ã���Ã��Ã�¯Ã���Ã��Ã�¿Ã���Ã��Ã�½Ã���Ã�¯Ã�¿Ã�½Ã��Ã�¯Ã��Ã�¿Ã��Ã�½Ã���Ã�¯Ã�¿Ã�½Ã���Ã��Ã�½Ã���Ã�¯Ã�¿Ã�½Ã��Ã�¯Ã��Ã�¿Ã��Ã�½Ã���Ã��Ã�¯Ã���Ã��Ã�¿Ã���Ã��Ã�½Ã���Ã�¯Ã�¿Ã�½Ã���Ã��Ã�¯Ã���Ã�¯Ã�¿Ã�½Ã���Ã��Ã�¿Ã���Ã�¯Ã�¿Ã�½Ã���Ã��Ã�½Ã���Ã�¯Ã�¿Ã�½Ã��Ã�¯Ã��Ã�¿Ã��Ã�½Ã���Ã��Ã�¯Ã���Ã��Ã�¿Ã���Ã��Ã�½Ã���Ã�¯Ã�¿Ã�½Ã��Ã�¯Ã��Ã�¿Ã��Ã�½Ã���Ã�¯Ã�¿Ã�½Ã���Ã��Ã�¯Ã���Ã�¯Ã�¿Ã�½Ã��Ã�¯Ã��Ã�¿Ã��Ã�½Ã���Ã��Ã�¯Ã���Ã��Ã�¿Ã���Ã��Ã�½Ã���Ã�¯Ã�¿Ã�½Ã���Ã��Ã�¯Ã���Ã�¯Ã�¿Ã�½Ã���Ã��Ã�¿Ã���Ã�¯Ã�¿Ã�½Ã���Ã��Ã�½Ã���Ã�¯Ã�¿Ã�½Ã��Ã�¯Ã��Ã�¿Ã��Ã�½Ã���Ã��Ã�¯Ã���Ã��Ã�¿Ã���Ã��Ã�½Ã���Ã�¯Ã�¿Ã�½Ã��Ã�¯Ã��Ã�¿Ã��Ã�½Ã���Ã�¯Ã�¿Ã�½Ã���Ã��Ã�¿Ã���Ã�¯Ã�¿Ã�½Ã��Ã�¯Ã��Ã�¿Ã��Ã�½Ã���Ã��Ã�¯Ã���Ã��Ã�¿Ã���Ã��Ã�½Ã���Ã�¯Ã�¿Ã�½Ã���Ã��Ã�¯Ã���Ã�¯Ã�¿Ã�½Ã���Ã��Ã�¿Ã���Ã�¯Ã�¿Ã�½Ã���Ã��Ã�½Ã���Ã�¯Ã�¿Ã�½Ã��Ã�¯Ã��Ã�¿Ã��Ã�½Ã���Ã��Ã�¯Ã���Ã��Ã�¿Ã���Ã��Ã�½Ã���Ã�¯Ã�¿Ã�½Ã��Ã�¯Ã��Ã�¿Ã��Ã�½Ã���Ã�¯Ã�¿Ã�½Ã���Ã��Ã�½Ã���Ã�¯Ã�¿Ã�½Ã��Ã�¯Ã��Ã�¿Ã��Ã�½Ã���Ã��Ã�¯Ã���Ã��Ã�¿Ã���Ã��Ã�½Ã���Ã�¯Ã�¿Ã�½Ã���Ã��Ã�¯Ã���Ã�¯Ã�¿Ã�½Ã���Ã��Ã�¿Ã���Ã�¯Ã�¿Ã�½Ã���Ã��Ã�½Ã���Ã�¯Ã�¿Ã�½Ã��Ã�¯Ã��Ã�¿Ã��Ã�½Ã���Ã�¯Ã�¿Ã�½Ã���Ã��Ã�¯Ã���Ã�¯Ã�¿Ã�½Ã��Ã�¯Ã��Ã�¿Ã��Ã�½Ã���Ã�¯Ã�¿Ã�½Ã���Ã��Ã�¿Ã���Ã�¯Ã�¿Ã�½Ã��Ã�¯Ã��Ã�¿Ã��Ã�½Ã���Ã�¯Ã�¿Ã�½Ã���Ã��Ã�½Ã���Ã�¯Ã�¿Ã�½Ã��Ã�¯Ã��Ã�¿Ã��Ã�½Ã���Ã��Ã�¯Ã���Ã��Ã�¿Ã���Ã��Ã�½Ã���Ã�¯Ã�¿Ã�½Ã��Ã�¯Ã��Ã�¿Ã��Ã�½Ã���Ã�¯Ã�¿Ã�½Ã���Ã��Ã�¯Ã���Ã�¯Ã�¿Ã�½Ã��Ã�¯Ã��Ã�¿Ã��Ã�½Ã���Ã��Ã�¯Ã���Ã��Ã�¿Ã���Ã��Ã�½Ã���Ã�¯Ã�¿Ã�½Ã��Ã�¯Ã��Ã�¿Ã��Ã�½Ã���Ã�¯Ã�¿Ã�½Ã���Ã��Ã�¿Ã���Ã�¯Ã�¿Ã�½Ã��Ã�¯Ã��Ã�¿Ã��Ã�½Ã���Ã��Ã�¯Ã���Ã��Ã�¿Ã���Ã��Ã�½Ã���Ã�¯Ã�¿Ã�½Ã��Ã�¯Ã��Ã�¿Ã��Ã�½Ã���Ã�¯Ã�¿Ã�½Ã���Ã��Ã�½Ã���Ã�¯Ã�¿Ã�½Ã��Ã�¯Ã��Ã�¿Ã��Ã�½Ã���Ã��Ã�¯Ã���Ã��Ã�¿Ã���Ã��Ã�½Ã���Ã�¯Ã�¿Ã�½Ã���Ã��Ã�¯Ã���Ã�¯Ã�¿Ã�½Ã���Ã��Ã�¿Ã���Ã�¯Ã�¿Ã�½Ã���Ã��Ã�½Ã���Ã�¯Ã�¿Ã�½Ã��Ã�¯Ã��Ã�¿Ã��Ã�½Ã���Ã�¯Ã�¿Ã�½Ã���Ã��Ã�¯Ã���Ã�¯Ã�¿Ã�½Ã��Ã�¯Ã��Ã�¿Ã��Ã�½Ã���Ã�¯Ã�¿Ã�½Ã���Ã��Ã�¿Ã���Ã�¯Ã�¿Ã�½Ã��Ã�¯Ã��Ã�¿Ã��Ã�½Ã���Ã�¯Ã�¿Ã�½Ã���Ã��Ã�½Ã���Ã�¯Ã�¿Ã�½Ã��Ã�¯Ã��Ã�¿Ã��Ã�½Ã���Ã��Ã�¯Ã���Ã��Ã�¿Ã���Ã��Ã�½Ã���Ã�¯Ã�¿Ã�½Ã���Ã��Ã�¯Ã���Ã�¯Ã�¿Ã�½Ã���Ã��Ã�¿Ã���Ã�¯Ã�¿Ã�½Ã���Ã��Ã�½Ã���Ã�¯Ã�¿Ã�½Ã��Ã�¯Ã��Ã�¿Ã��Ã�½Ã���Ã��Ã�¯Ã���Ã��Ã�¿Ã���Ã��Ã�½Ã���Ã�¯Ã�¿Ã�½Ã��Ã�¯Ã��Ã�¿Ã��Ã�½Ã���Ã�¯Ã�¿Ã�½Ã���Ã��Ã�¿Ã���Ã�¯Ã�¿Ã�½Ã��Ã�¯Ã��Ã�¿Ã��Ã�½Ã���Ã��Ã�¯Ã���Ã��Ã�¿Ã���Ã��Ã�½Ã���Ã�¯Ã�¿Ã�½Ã���Ã��Ã�¯Ã���Ã�¯Ã�¿Ã�½Ã���Ã��Ã�¿Ã���Ã�¯Ã�¿Ã�½Ã���Ã��Ã�½Ã���Ã�¯Ã�¿Ã�½Ã��Ã�¯Ã��Ã�¿Ã��Ã�½Ã���Ã�¯Ã�¿Ã�½Ã���Ã��Ã�¯Ã���Ã�¯Ã�¿Ã�½Ã��Ã�¯Ã��Ã�¿Ã��Ã�½Ã���Ã�¯Ã�¿Ã�½Ã���Ã��Ã�¿Ã���Ã�¯Ã�¿Ã�½Ã��Ã�¯Ã��Ã�¿Ã��Ã�½Ã���Ã�¯Ã�¿Ã�½Ã���Ã��Ã�½Ã���Ã�¯Ã�¿Ã�½Ã��Ã�¯Ã��Ã�¿Ã��Ã�½Ã���Ã��Ã�¯Ã���Ã��Ã�¿Ã���Ã��Ã�½Ã���Ã�¯Ã�¿Ã�½Ã��Ã�¯Ã��Ã�¿Ã��Ã�½Ã���Ã�¯Ã�¿Ã�½Ã���Ã��Ã�¯Ã���Ã�¯Ã�¿Ã�½Ã��Ã�¯Ã��Ã�¿Ã��Ã�½Ã���Ã��Ã�¯Ã���Ã��Ã�¿Ã���Ã��Ã�½Ã���Ã�¯Ã�¿Ã�½Ã��Ã�¯Ã��Ã�¿Ã��Ã�½Ã���Ã�¯Ã�¿Ã�½Ã���Ã��Ã�¿Ã���Ã�¯Ã�¿Ã�½Ã��Ã�¯Ã��Ã�¿Ã��Ã�½Ã���Ã��Ã�¯Ã���Ã��Ã�¿Ã���Ã��Ã�½Ã���Ã�¯Ã�¿Ã�½Ã��Ã�¯Ã��Ã�¿Ã��Ã�½Ã���Ã�¯Ã�¿Ã�½Ã���Ã��Ã�½Ã���Ã�¯Ã�¿Ã�½Ã��Ã�¯Ã��Ã�¿Ã��Ã�½Ã���Ã��Ã�¯Ã���Ã��Ã�¿Ã���Ã��Ã�½Ã���Ã�¯Ã�¿Ã�½Ã���Ã��Ã�¯Ã���Ã�¯Ã�¿Ã�½Ã���Ã��Ã�¿Ã���Ã�¯Ã�¿Ã�½Ã���Ã��Ã�½Ã���Ã�¯Ã�¿Ã�½Ã��Ã�¯Ã��Ã�¿Ã��Ã�½Ã���Ã��Ã�¯Ã���Ã��Ã�¿Ã���Ã��Ã�½Ã���Ã�¯Ã�¿Ã�½Ã��Ã�¯Ã��Ã�¿Ã��Ã�½Ã���Ã�¯Ã�¿Ã�½Ã���Ã��Ã�¯Ã���Ã�¯Ã�¿Ã�½Ã��Ã�¯Ã��Ã�¿Ã��Ã�½Ã���Ã��Ã�¯Ã���Ã��Ã�¿Ã���Ã��Ã�½Ã���Ã�¯Ã�¿Ã�½Ã���Ã��Ã�¯Ã���Ã�¯Ã�¿Ã�½Ã���Ã��Ã�¿Ã���Ã�¯Ã�¿Ã�½Ã���Ã��Ã�½Ã���Ã�¯Ã�¿Ã�½Ã��Ã�¯Ã��Ã�¿Ã��Ã�½Ã���Ã��Ã�¯Ã���Ã��Ã�¿Ã���Ã��Ã�½Ã���Ã�¯Ã�¿Ã�½Ã��Ã�¯Ã��Ã�¿Ã��Ã�½Ã���Ã�¯Ã�¿Ã�½Ã���Ã��Ã�¿Ã���Ã�¯Ã�¿Ã�½Ã��Ã�¯Ã��Ã�¿Ã��Ã�½Ã���Ã��Ã�¯Ã���Ã��Ã�¿Ã���Ã��Ã�½Ã���Ã�¯Ã�¿Ã�½Ã���Ã��Ã�¯Ã���Ã�¯Ã�¿Ã�½Ã���Ã��Ã�¿Ã���Ã�¯Ã�¿Ã�½Ã���Ã��Ã�½Ã���Ã�¯Ã�¿Ã�½Ã��Ã�¯Ã��Ã�¿Ã��Ã�½Ã���Ã��Ã�¯Ã���Ã��Ã�¿Ã���Ã��Ã�½Ã���Ã�¯Ã�¿Ã�½Ã��Ã�¯Ã��Ã�¿Ã��Ã�½Ã���Ã�¯Ã�¿Ã�½Ã���Ã��Ã�½Ã���Ã�¯Ã�¿Ã�½Ã��Ã�¯Ã��Ã�¿Ã��Ã�½Ã���Ã��Ã�¯Ã���Ã��Ã�¿Ã���Ã��Ã�½Ã���Ã�¯Ã�¿Ã�½Ã���Ã��Ã�¯Ã���Ã�¯Ã�¿Ã�½Ã���Ã��Ã�¿Ã���Ã�¯Ã�¿Ã�½Ã���Ã��Ã�½Ã���Ã�¯Ã�¿Ã�½Ã��Ã�¯Ã��Ã�¿Ã��Ã�½Ã���Ã�¯Ã�¿Ã�½Ã���Ã��Ã�¯Ã���Ã�¯Ã�¿Ã�½Ã��Ã�¯Ã��Ã�¿Ã��Ã�½Ã���Ã�¯Ã�¿Ã�½Ã���Ã��Ã�¿Ã���Ã�¯Ã�¿Ã�½Ã��Ã�¯Ã��Ã�¿Ã��Ã�½Ã���Ã�¯Ã�¿Ã�½Ã���Ã��Ã�½Ã���Ã�¯Ã�¿Ã�½Ã��Ã�¯Ã��Ã�¿Ã��Ã�½Ã���Ã��Ã�¯Ã���Ã��Ã�¿Ã���Ã��Ã�½Ã���Ã�¯Ã�¿Ã�½Ã��Ã�¯Ã��Ã�¿Ã��Ã�½Ã���Ã�¯Ã�¿Ã�½Ã���Ã��Ã�¯Ã���Ã�¯Ã�¿Ã�½Ã��Ã�¯Ã��Ã�¿Ã��Ã�½Ã���Ã��Ã�¯Ã���Ã��Ã�¿Ã���Ã��Ã�½Ã���Ã�¯Ã�¿Ã�½Ã��Ã�¯Ã��Ã�¿Ã��Ã�½Ã���Ã�¯Ã�¿Ã�½Ã���Ã��Ã�¿Ã���Ã�¯Ã�¿Ã�½Ã��Ã�¯Ã��Ã�¿Ã��Ã�½Ã���Ã��Ã�¯Ã���Ã��Ã�¿Ã���Ã��Ã�½Ã���Ã�¯Ã�¿Ã�½Ã��Ã�¯Ã��Ã�¿Ã��Ã�½Ã���Ã�¯Ã�¿Ã�½Ã���Ã��Ã�½Ã���Ã�¯Ã�¿Ã�½Ã��Ã�¯Ã��Ã�¿Ã��Ã�½Ã���Ã��Ã�¯Ã���Ã��Ã�¿Ã���Ã��Ã�½Ã���Ã�¯Ã�¿Ã�½Ã���Ã��Ã�¯Ã���Ã�¯Ã�¿Ã�½Ã���Ã��Ã�¿Ã���Ã�¯Ã�¿Ã�½Ã���Ã��Ã�½Ã���Ã�¯Ã�¿Ã�½Ã��Ã�¯Ã��Ã�¿Ã��Ã�½Ã���Ã�¯Ã�¿Ã�½Ã���Ã��Ã�¯Ã���Ã�¯Ã�¿Ã�½Ã��Ã�¯Ã��Ã�¿Ã��Ã�½Ã���Ã�¯Ã�¿Ã�½Ã���Ã��Ã�¿Ã���Ã�¯Ã�¿Ã�½Ã��Ã�¯Ã��Ã�¿Ã��Ã�½Ã���Ã�¯Ã�¿Ã�½Ã���Ã��Ã�½Ã���Ã�¯Ã�¿Ã�½Ã��Ã�¯Ã��Ã�¿Ã��Ã�½Ã���Ã��Ã�¯Ã���Ã��Ã�¿Ã���Ã��Ã�½Ã���Ã�¯Ã�¿Ã�½Ã���Ã��Ã�¯Ã���Ã�¯Ã�¿Ã�½Ã���Ã��Ã�¿Ã���Ã�¯Ã�¿Ã�½Ã���Ã��Ã�½Ã���Ã�¯Ã�¿Ã�½Ã��Ã�¯Ã��Ã�¿Ã��Ã�½Ã���Ã��Ã�¯Ã���Ã��Ã�¿Ã���Ã��Ã�½Ã���Ã�¯Ã�¿Ã�½Ã��Ã�¯Ã��Ã�¿Ã��Ã�½Ã���Ã�¯Ã�¿Ã�½Ã���Ã��Ã�½Ã���Ã�¯Ã�¿Ã�½Ã��Ã�¯Ã��Ã�¿Ã��Ã�½Ã���Ã��Ã�¯Ã���Ã��Ã�¿Ã���Ã��Ã�½Ã���Ã�¯Ã�¿Ã�½Ã���Ã��Ã�¯Ã���Ã�¯Ã�¿Ã�½Ã���Ã��Ã�¿Ã���Ã�¯Ã�¿Ã�½Ã���Ã��Ã�½Ã���Ã�¯Ã�¿Ã�½Ã��Ã�¯Ã��Ã�¿Ã��Ã�½Ã���Ã�¯Ã�¿Ã�½Ã���Ã��Ã�¯Ã���Ã�¯Ã�¿Ã�½Ã��Ã�¯Ã��Ã�¿Ã��Ã�½Ã���Ã�¯Ã�¿Ã�½Ã���Ã��Ã�¿Ã���Ã�¯Ã�¿Ã�½Ã��Ã�¯Ã��Ã�¿Ã��Ã�½Ã���Ã�¯Ã�¿Ã�½Ã���Ã��Ã�½Ã���Ã�¯Ã�¿Ã�½Ã��Ã�¯Ã��Ã�¿Ã��Ã�½Ã���Ã��Ã�¯Ã���Ã��Ã�¿Ã���Ã��Ã�½Ã���Ã�¯Ã�¿Ã�½Ã��Ã�¯Ã��Ã�¿Ã��Ã�½Ã���Ã�¯Ã�¿Ã�½Ã���Ã��Ã�¯Ã���Ã�¯Ã�¿Ã�½Ã��Ã�¯Ã��Ã�¿Ã��Ã�½Ã���Ã��Ã�¯Ã���Ã��Ã�¿Ã���Ã��Ã�½Ã���Ã�¯Ã�¿Ã�½Ã��Ã�¯Ã��Ã�¿Ã��Ã�½Ã���Ã�¯Ã�¿Ã�½Ã���Ã��Ã�¿Ã���Ã�¯Ã�¿Ã�½Ã��Ã�¯Ã��Ã�¿Ã��Ã�½Ã���Ã��Ã�¯Ã���Ã��Ã�¿Ã���Ã��Ã�½Ã���Ã�¯Ã�¿Ã�½Ã��Ã�¯Ã��Ã�¿Ã��Ã�½Ã���Ã�¯Ã�¿Ã�½Ã���Ã��Ã�½Ã���Ã�¯Ã�¿Ã�½Ã��Ã�¯Ã��Ã�¿Ã��Ã�½Ã���Ã��Ã�¯Ã���Ã��Ã�¿Ã���Ã��Ã�½Ã���Ã�¯Ã�¿Ã�½Ã���Ã��Ã�¯Ã���Ã�¯Ã�¿Ã�½Ã���Ã��Ã�¿Ã���Ã�¯Ã�¿Ã�½Ã���Ã��Ã�½Ã���Ã�¯Ã�¿Ã�½Ã��Ã�¯Ã��Ã�¿Ã��Ã�½Ã���Ã��Ã�¯Ã���Ã��Ã�¿Ã���Ã��Ã�½Ã���Ã�¯Ã�¿Ã�½Ã��Ã�¯Ã��Ã�¿Ã��Ã�½Ã���Ã�¯Ã�¿Ã�½Ã���Ã��Ã�¯Ã���Ã�¯Ã�¿Ã�½Ã��Ã�¯Ã��Ã�¿Ã��Ã�½Ã���Ã��Ã�¯Ã���Ã��Ã�¿Ã���Ã��Ã�½Ã���Ã�¯Ã�¿Ã�½Ã���Ã��Ã�¯Ã���Ã�¯Ã�¿Ã�½Ã���Ã��Ã�¿Ã���Ã�¯Ã�¿Ã�½Ã���Ã��Ã�½Ã���Ã�¯Ã�¿Ã�½Ã��Ã�¯Ã��Ã�¿Ã��Ã�½Ã���Ã��Ã�¯Ã���Ã��Ã�¿Ã���Ã��Ã�½Ã���Ã�¯Ã�¿Ã�½Ã��Ã�¯Ã��Ã�¿Ã��Ã�½Ã���Ã�¯Ã�¿Ã�½Ã���Ã��Ã�¿Ã���Ã�¯Ã�¿Ã�½Ã��Ã�¯Ã��Ã�¿Ã��Ã�½Ã���Ã��Ã�¯Ã���Ã��Ã�¿Ã���Ã��Ã�½Ã���Ã�¯Ã�¿Ã�½Ã���Ã��Ã�¯Ã���Ã�¯Ã�¿Ã�½Ã���Ã��Ã�¿Ã���Ã�¯Ã�¿Ã�½Ã���Ã��Ã�½Ã���Ã�¯Ã�¿Ã�½Ã��Ã�¯Ã��Ã�¿Ã��Ã�½Ã���Ã��Ã�¯Ã���Ã��Ã�¿Ã���Ã��Ã�½Ã���Ã�¯Ã�¿Ã�½Ã��Ã�¯Ã��Ã�¿Ã��Ã�½Ã���Ã�¯Ã�¿Ã�½Ã���Ã��Ã�½Ã���Ã�¯Ã�¿Ã�½Ã��Ã�¯Ã��Ã�¿Ã��Ã�½Ã���Ã��Ã�¯Ã���Ã��Ã�¿Ã���Ã��Ã�½Ã���Ã�¯Ã�¿Ã�½Ã���Ã��Ã�¯Ã���Ã�¯Ã�¿Ã�½Ã���Ã��Ã�¿Ã���Ã�¯Ã�¿Ã�½Ã���Ã��Ã�½Ã���Ã�¯Ã�¿Ã�½Ã��Ã�¯Ã��Ã�¿Ã��Ã�½Ã���Ã�¯Ã�¿Ã�½Ã���Ã��Ã�¯Ã���Ã�¯Ã�¿Ã�½Ã��Ã�¯Ã��Ã�¿Ã��Ã�½Ã���Ã�¯Ã�¿Ã�½Ã���Ã��Ã�¿Ã���Ã�¯Ã�¿Ã�½Ã��Ã�¯Ã��Ã�¿Ã��Ã�½Ã���Ã�¯Ã�¿Ã�½Ã���Ã��Ã�½Ã���Ã�¯Ã�¿Ã�½Ã��Ã�¯Ã��Ã�¿Ã��Ã�½Ã���Ã��Ã�¯Ã���Ã��Ã�¿Ã���Ã��Ã�½Ã���Ã�¯Ã�¿Ã�½Ã���Ã��Ã�¯Ã���Ã�¯Ã�¿Ã�½Ã���Ã��Ã�¿Ã���Ã�¯Ã�¿Ã�½Ã���Ã��Ã�½Ã���Ã�¯Ã�¿Ã�½Ã��Ã�¯Ã��Ã�¿Ã��Ã�½Ã���Ã��Ã�¯Ã���Ã��Ã�¿Ã���Ã��Ã�½Ã���Ã�¯Ã�¿Ã�½Ã��Ã�¯Ã��Ã�¿Ã��Ã�½Ã���Ã�¯Ã�¿Ã�½Ã���Ã��Ã�¯Ã���Ã�¯Ã�¿Ã�½Ã��Ã�¯Ã��Ã�¿Ã��Ã�½Ã���Ã��Ã�¯Ã���Ã��Ã�¿Ã���Ã��Ã�½Ã���Ã�¯Ã�¿Ã�½Ã���Ã��Ã�¯Ã���Ã�¯Ã�¿Ã�½Ã���Ã��Ã�¿Ã���Ã�¯Ã�¿Ã�½Ã���Ã��Ã�½Ã���Ã�¯Ã�¿Ã�½Ã��Ã�¯Ã��Ã�¿Ã��Ã�½Ã���Ã�¯Ã�¿Ã�½Ã���Ã��Ã�¯Ã���Ã�¯Ã�¿Ã�½Ã��Ã�¯Ã��Ã�¿Ã��Ã�½Ã���Ã�¯Ã�¿Ã�½Ã���Ã��Ã�¿Ã���Ã�¯Ã�¿Ã�½Ã��Ã�¯Ã��Ã�¿Ã��Ã�½Ã���Ã�¯Ã�¿Ã�½Ã���Ã��Ã�½Ã���Ã�¯Ã�¿Ã�½Ã��Ã�¯Ã��Ã�¿Ã��Ã�½Ã���Ã��Ã�¯Ã���Ã��Ã�¿Ã���Ã��Ã�½Ã���Ã�¯Ã�¿Ã�½Ã���Ã��Ã�¯Ã���Ã�¯Ã�¿Ã�½Ã���Ã��Ã�¿Ã���Ã�¯Ã�¿Ã�½Ã���Ã��Ã�½Ã���Ã�¯Ã�¿Ã�½Ã��Ã�¯Ã��Ã�¿Ã��Ã�½Ã���Ã��Ã�¯Ã���Ã��Ã�¿Ã���Ã��Ã�½Ã���Ã�¯Ã�¿Ã�½Ã��Ã�¯Ã��Ã�¿Ã��Ã�½Ã���Ã�¯Ã�¿Ã�½Ã���Ã��Ã�¿Ã���Ã�¯Ã�¿Ã�½Ã��Ã�¯Ã��Ã�¿Ã��Ã�½Ã���Ã��Ã�¯Ã���Ã��Ã�¿Ã���Ã��Ã�½Ã���Ã�¯Ã�¿Ã�½Ã���Ã��Ã�¯Ã���Ã�¯Ã�¿Ã�½Ã���Ã��Ã�¿Ã���Ã�¯Ã�¿Ã�½Ã���Ã��Ã�½Ã���Ã�¯Ã�¿Ã�½Ã��Ã�¯Ã��Ã�¿Ã��Ã�½Ã���Ã�¯Ã�¿Ã�½Ã���Ã��Ã�¯Ã���Ã�¯Ã�¿Ã�½Ã��Ã�¯Ã��Ã�¿Ã��Ã�½Ã���Ã�¯Ã�¿Ã�½Ã���Ã��Ã�¿Ã���Ã�¯Ã�¿Ã�½Ã��Ã�¯Ã��Ã�¿Ã��Ã�½Ã���Ã�¯Ã�¿Ã�½Ã���Ã��Ã�½Ã���Ã�¯Ã�¿Ã�½Ã��Ã�¯Ã��Ã�¿Ã��Ã�½Ã���Ã��Ã�¯Ã���Ã��Ã�¿Ã���Ã��Ã�½Ã���Ã�¯Ã�¿Ã�½Ã���Ã��Ã�¯Ã���Ã�¯Ã�¿Ã�½Ã���Ã��Ã�¿Ã���Ã�¯Ã�¿Ã�½Ã���Ã��Ã�½Ã���Ã�¯Ã�¿Ã�½Ã��Ã�¯Ã��Ã�¿Ã��Ã�½Ã���Ã��Ã�¯Ã���Ã��Ã�¿Ã���Ã��Ã�½Ã���Ã�¯Ã�¿Ã�½Ã��Ã�¯Ã��Ã�¿Ã��Ã�½Ã���Ã�¯Ã�¿Ã�½Ã���Ã��Ã�½Ã���Ã�¯Ã�¿Ã�½Ã��Ã�¯Ã��Ã�¿Ã��Ã�½Ã���Ã��Ã�¯Ã���Ã��Ã�¿Ã���Ã��Ã�½Ã���Ã�¯Ã�¿Ã�½Ã���Ã��Ã�¯Ã���Ã�¯Ã�¿Ã�½Ã���Ã��Ã�¿Ã���Ã�¯Ã�¿Ã�½Ã���Ã��Ã�½Ã���Ã�¯Ã�¿Ã�½Ã��Ã�¯Ã��Ã�¿Ã��Ã�½Ã���Ã�¯Ã�¿Ã�½Ã���Ã��Ã�¯Ã���Ã�¯Ã�¿Ã�½Ã��Ã�¯Ã��Ã�¿Ã��Ã�½Ã���Ã�¯Ã�¿Ã�½Ã���Ã��Ã�¿Ã���Ã�¯Ã�¿Ã�½Ã��Ã�¯Ã��Ã�¿Ã��Ã�½Ã���Ã�¯Ã�¿Ã�½Ã���Ã��Ã�½Ã���Ã�¯Ã�¿Ã�½Ã��Ã�¯Ã��Ã�¿Ã��Ã�½Ã���Ã��Ã�¯Ã���Ã��Ã�¿Ã���Ã��Ã�½Ã���Ã�¯Ã�¿Ã�½Ã��Ã�¯Ã��Ã�¿Ã��Ã�½Ã���Ã�¯Ã�¿Ã�½Ã���Ã��Ã�¯Ã���Ã�¯Ã�¿Ã�½Ã��Ã�¯Ã��Ã�¿Ã��Ã�½Ã���Ã��Ã�¯Ã���Ã��Ã�¿Ã���Ã��Ã�½Ã���Ã�¯Ã�¿Ã�½Ã��Ã�¯Ã��Ã�¿Ã��Ã�½Ã���Ã�¯Ã�¿Ã�½Ã���Ã��Ã�¿Ã���Ã�¯Ã�¿Ã�½Ã��Ã�¯Ã��Ã�¿Ã��Ã�½Ã���Ã��Ã�¯Ã���Ã��Ã�¿Ã���Ã��Ã�½Ã���Ã�¯Ã�¿Ã�½Ã��Ã�¯Ã��Ã�¿Ã��Ã�½Ã���Ã�¯Ã�¿Ã�½Ã���Ã��Ã�½Ã���Ã�¯Ã�¿Ã�½Ã��Ã�¯Ã��Ã�¿Ã��Ã�½Ã���Ã��Ã�¯Ã���Ã��Ã�¿Ã���Ã��Ã�½Ã���Ã�¯Ã�¿Ã�½Ã���Ã��Ã�¯Ã���Ã�¯Ã�¿Ã�½Ã���Ã��Ã�¿Ã���Ã�¯Ã�¿Ã�½Ã���Ã��Ã�½Ã���Ã�¯Ã�¿Ã�½Ã��Ã�¯Ã��Ã�¿Ã��Ã�½Ã���Ã��Ã�¯Ã���Ã��Ã�¿Ã���Ã��Ã�½Ã���Ã�¯Ã�¿Ã�½Ã��Ã�¯Ã��Ã�¿Ã��Ã�½Ã���Ã�¯Ã�¿Ã�½Ã���Ã��Ã�¯Ã���Ã�¯Ã�¿Ã�½Ã��Ã�¯Ã��Ã�¿Ã��Ã�½Ã���Ã��Ã�¯Ã���Ã��Ã�¿Ã���Ã��Ã�½Ã���Ã�¯Ã�¿Ã�½Ã���Ã��Ã�¯Ã���Ã�¯Ã�¿Ã�½Ã���Ã��Ã�¿Ã���Ã�¯Ã�¿Ã�½Ã���Ã��Ã�½Ã���Ã�¯Ã�¿Ã�½Ã��Ã�¯Ã��Ã�¿Ã��Ã�½Ã���Ã��Ã�¯Ã���Ã��Ã�¿Ã���Ã��Ã�½Ã���Ã�¯Ã�¿Ã�½Ã��Ã�¯Ã��Ã�¿Ã��Ã�½Ã���Ã�¯Ã�¿Ã�½Ã���Ã��Ã�¿Ã���Ã�¯Ã�¿Ã�½Ã��Ã�¯Ã��Ã�¿Ã��Ã�½Ã���Ã��Ã�¯Ã���Ã��Ã�¿Ã���Ã��Ã�½Ã���Ã�¯Ã�¿Ã�½Ã���Ã��Ã�¯Ã���Ã�¯Ã�¿Ã�½Ã���Ã��Ã�¿Ã���Ã�¯Ã�¿Ã�½Ã���Ã��Ã�½Ã���Ã�¯Ã�¿Ã�½Ã��Ã�¯Ã��Ã�¿Ã��Ã�½Ã���Ã��Ã�¯Ã���Ã��Ã�¿Ã���Ã��Ã�½Ã���Ã�¯Ã�¿Ã�½Ã��Ã�¯Ã��Ã�¿Ã��Ã�½Ã���Ã�¯Ã�¿Ã�½Ã���Ã��Ã�½Ã���Ã�¯Ã�¿Ã�½Ã��Ã�¯Ã��Ã�¿Ã��Ã�½Ã���Ã��Ã�¯Ã���Ã��Ã�¿Ã���Ã��Ã�½Ã���Ã�¯Ã�¿Ã�½Ã���Ã��Ã�¯Ã���Ã�¯Ã�¿Ã�½Ã���Ã��Ã�¿Ã���Ã�¯Ã�¿Ã�½Ã���Ã��Ã�½Ã���Ã�¯Ã�¿Ã�½Ã��Ã�¯Ã��Ã�¿Ã��Ã�½Ã���Ã�¯Ã�¿Ã�½Ã���Ã��Ã�¯Ã���Ã�¯Ã�¿Ã�½Ã��Ã�¯Ã��Ã�¿Ã��Ã�½Ã���Ã�¯Ã�¿Ã�½Ã���Ã��Ã�¿Ã���Ã�¯Ã�¿Ã�½Ã��Ã�¯Ã��Ã�¿Ã��Ã�½Ã���Ã�¯Ã�¿Ã�½Ã���Ã��Ã�½Ã���Ã�¯Ã�¿Ã�½Ã��Ã�¯Ã��Ã�¿Ã��Ã�½Ã���Ã��Ã�¯Ã���Ã��Ã�¿Ã���Ã��Ã�½Ã���Ã�¯Ã�¿Ã�½Ã��Ã�¯Ã��Ã�¿Ã��Ã�½Ã���Ã�¯Ã�¿Ã�½Ã���Ã��Ã�¯Ã���Ã�¯Ã�¿Ã�½Ã��Ã�¯Ã��Ã�¿Ã��Ã�½Ã���Ã��Ã�¯Ã���Ã��Ã�¿Ã���Ã��Ã�½Ã���Ã�¯Ã�¿Ã�½Ã��Ã�¯Ã��Ã�¿Ã��Ã�½Ã���Ã�¯Ã�¿Ã�½Ã���Ã��Ã�¿Ã���Ã�¯Ã�¿Ã�½Ã��Ã�¯Ã��Ã�¿Ã��Ã�½Ã���Ã��Ã�¯Ã���Ã��Ã�¿Ã���Ã��Ã�½Ã���Ã�¯Ã�¿Ã�½Ã��Ã�¯Ã��Ã�¿Ã��Ã�½Ã���Ã�¯Ã�¿Ã�½Ã���Ã��Ã�½Ã���Ã�¯Ã�¿Ã�½Ã��Ã�¯Ã��Ã�¿Ã��Ã�½Ã���Ã��Ã�¯Ã���Ã��Ã�¿Ã���Ã��Ã�½Ã���Ã�¯Ã�¿Ã�½Ã���Ã��Ã�¯Ã���Ã�¯Ã�¿Ã�½Ã���Ã��Ã�¿Ã���Ã�¯Ã�¿Ã�½Ã���Ã��Ã�½Ã���Ã�¯Ã�¿Ã�½Ã��Ã�¯Ã��Ã�¿Ã��Ã�½Ã���Ã�¯Ã�¿Ã�½Ã���Ã��Ã�¯Ã���Ã�¯Ã�¿Ã�½Ã��Ã�¯Ã��Ã�¿Ã��Ã�½Ã���Ã�¯Ã�¿Ã�½Ã���Ã��Ã�¿Ã���Ã�¯Ã�¿Ã�½Ã��Ã�¯Ã��Ã�¿Ã��Ã�½Ã���Ã�¯Ã�¿Ã�½Ã���Ã��Ã�½Ã���Ã�¯Ã�¿Ã�½Ã��Ã�¯Ã��Ã�¿Ã��Ã�½Ã���Ã��Ã�¯Ã���Ã��Ã�¿Ã���Ã��Ã�½Ã���Ã�¯Ã�¿Ã�½Ã���Ã��Ã�¯Ã���Ã�¯Ã�¿Ã�½Ã���Ã��Ã�¿Ã���Ã�¯Ã�¿Ã�½Ã���Ã��Ã�½Ã���Ã�¯Ã�¿Ã�½Ã��Ã�¯Ã��Ã�¿Ã��Ã�½Ã���Ã��Ã�¯Ã���Ã��Ã�¿Ã���Ã��Ã�½Ã���Ã�¯Ã�¿Ã�½Ã��Ã�¯Ã��Ã�¿Ã��Ã�½Ã���Ã�¯Ã�¿Ã�½Ã���Ã��Ã�¯Ã���Ã�¯Ã�¿Ã�½Ã��Ã�¯Ã��Ã�¿Ã��Ã�½Ã���Ã��Ã�¯Ã���Ã��Ã�¿Ã���Ã��Ã�½Ã���Ã�¯Ã�¿Ã�½Ã���Ã��Ã�¯Ã���Ã�¯Ã�¿Ã�½Ã���Ã��Ã�¿Ã���Ã�¯Ã�¿Ã�½Ã���Ã��Ã�½Ã���Ã�¯Ã�¿Ã�½Ã��Ã�¯Ã��Ã�¿Ã��Ã�½Ã���Ã�¯Ã�¿Ã�½Ã���Ã��Ã�¯Ã���Ã�¯Ã�¿Ã�½Ã��Ã�¯Ã��Ã�¿Ã��Ã�½Ã���Ã�¯Ã�¿Ã�½Ã���Ã��Ã�¿Ã���Ã�¯Ã�¿Ã�½Ã��Ã�¯Ã��Ã�¿Ã��Ã�½Ã���Ã�¯Ã�¿Ã�½Ã���Ã��Ã�½Ã���Ã�¯Ã�¿Ã�½Ã��Ã�¯Ã��Ã�¿Ã��Ã�½Ã���Ã��Ã�¯Ã���Ã��Ã�¿Ã���Ã��Ã�½Ã���Ã�¯Ã�¿Ã�½Ã��Ã�¯Ã��Ã�¿Ã��Ã�½Ã���Ã�¯Ã�¿Ã�½Ã���Ã��Ã�¯Ã���Ã�¯Ã�¿Ã�½Ã��Ã�¯Ã��Ã�¿Ã��Ã�½Ã���Ã��Ã�¯Ã���Ã��Ã�¿Ã���Ã��Ã�½Ã���Ã�¯Ã�¿Ã�½Ã��Ã�¯Ã��Ã�¿Ã��Ã�½Ã���Ã�¯Ã�¿Ã�½Ã���Ã��Ã�¿Ã���Ã�¯Ã�¿Ã�½Ã��Ã�¯Ã��Ã�¿Ã��Ã�½Ã���Ã��Ã�¯Ã���Ã��Ã�¿Ã���Ã��Ã�½Ã���Ã�¯Ã�¿Ã�½Ã��Ã�¯Ã��Ã�¿Ã��Ã�½Ã���Ã�¯Ã�¿Ã�½Ã���Ã��Ã�½Ã���Ã�¯Ã�¿Ã�½Ã��Ã�¯Ã��Ã�¿Ã��Ã�½Ã���Ã��Ã�¯Ã���Ã��Ã�¿Ã���Ã��Ã�½Ã���Ã�¯Ã�¿Ã�½Ã���Ã��Ã�¯Ã���Ã�¯Ã�¿Ã�½Ã���Ã��Ã�¿Ã���Ã�¯Ã�¿Ã�½Ã���Ã��Ã�½Ã���Ã�¯Ã�¿Ã�½Ã��Ã�¯Ã��Ã�¿Ã��Ã�½Ã���Ã��Ã�¯Ã���Ã��Ã�¿Ã���Ã��Ã�½Ã���Ã�¯Ã�¿Ã�½Ã��Ã�¯Ã��Ã�¿Ã��Ã�½Ã���Ã�¯Ã�¿Ã�½Ã���Ã��Ã�¯Ã���Ã�¯Ã�¿Ã�½Ã��Ã�¯Ã��Ã�¿Ã��Ã�½Ã���Ã��Ã�¯Ã���Ã��Ã�¿Ã���Ã��Ã�½Ã���Ã�¯Ã�¿Ã�½Ã���Ã��Ã�¯Ã���Ã�¯Ã�¿Ã�½Ã���Ã��Ã�¿Ã���Ã�¯Ã�¿Ã�½Ã���Ã��Ã�½Ã���Ã�¯Ã�¿Ã�½Ã��Ã�¯Ã��Ã�¿Ã��Ã�½Ã���Ã��Ã�¯Ã���Ã��Ã�¿Ã���Ã��Ã�½Ã���Ã�¯Ã�¿Ã�½Ã��Ã�¯Ã��Ã�¿Ã��Ã�½Ã���Ã�¯Ã�¿Ã�½Ã���Ã��Ã�¿Ã���Ã�¯Ã�¿Ã�½Ã��Ã�¯Ã��Ã�¿Ã��Ã�½Ã���Ã��Ã�¯Ã���Ã��Ã�¿Ã���Ã��Ã�½Ã���Ã�¯Ã�¿Ã�½Ã���Ã��Ã�¯Ã���Ã�¯Ã�¿Ã�½Ã���Ã��Ã�¿Ã���Ã�¯Ã�¿Ã�½Ã���Ã��Ã�½Ã���Ã�¯Ã�¿Ã�½Ã��Ã�¯Ã��Ã�¿Ã��Ã�½Ã���Ã��Ã�¯Ã���Ã��Ã�¿Ã���Ã��Ã�½Ã���Ã�¯Ã�¿Ã�½Ã��Ã�¯Ã��Ã�¿Ã��Ã�½Ã���Ã�¯Ã�¿Ã�½Ã���Ã��Ã�½Ã���Ã�¯Ã�¿Ã�½Ã��Ã�¯Ã��Ã�¿Ã��Ã�½Ã���Ã��Ã�¯Ã���Ã��Ã�¿Ã���Ã��Ã�½Ã���Ã�¯Ã�¿Ã�½Ã���Ã��Ã�¯Ã���Ã�¯Ã�¿Ã�½Ã���Ã��Ã�¿Ã���Ã�¯Ã�¿Ã�½Ã���Ã��Ã�½Ã���Ã�¯Ã�¿Ã�½Ã��Ã�¯Ã��Ã�¿Ã��Ã�½Ã���Ã�¯Ã�¿Ã�½Ã���Ã��Ã�¯Ã���Ã�¯Ã�¿Ã�½Ã��Ã�¯Ã��Ã�¿Ã��Ã�½Ã���Ã�¯Ã�¿Ã�½Ã���Ã��Ã�¿Ã���Ã�¯Ã�¿Ã�½Ã��Ã�¯Ã��Ã�¿Ã��Ã�½Ã���Ã�¯Ã�¿Ã�½Ã���Ã��Ã�½Ã���Ã�¯Ã�¿Ã�½Ã��Ã�¯Ã��Ã�¿Ã��Ã�½Ã���Ã��Ã�¯Ã���Ã��Ã�¿Ã���Ã��Ã�½Ã���Ã�¯Ã�¿Ã�½Ã���Ã��Ã�¯Ã���Ã�¯Ã�¿Ã�½Ã���Ã��Ã�¿Ã���Ã�¯Ã�¿Ã�½Ã���Ã��Ã�½Ã���Ã�¯Ã�¿Ã�½Ã��Ã�¯Ã��Ã�¿Ã��Ã�½Ã���Ã��Ã�¯Ã���Ã��Ã�¿Ã���Ã��Ã�½Ã���Ã�¯Ã�¿Ã�½Ã��Ã�¯Ã��Ã�¿Ã��Ã�½Ã���Ã�¯Ã�¿Ã�½Ã���Ã��Ã�¯Ã���Ã�¯Ã�¿Ã�½Ã��Ã�¯Ã��Ã�¿Ã��Ã�½Ã���Ã��Ã�¯Ã���Ã��Ã�¿Ã���Ã��Ã�½Ã���Ã�¯Ã�¿Ã�½Ã���Ã��Ã�¯Ã���Ã�¯Ã�¿Ã�½Ã���Ã��Ã�¿Ã���Ã�¯Ã�¿Ã�½Ã���Ã��Ã�½Ã���Ã�¯Ã�¿Ã�½Ã��Ã�¯Ã��Ã�¿Ã��Ã�½Ã���Ã�¯Ã�¿Ã�½Ã���Ã��Ã�¯Ã���Ã�¯Ã�¿Ã�½Ã��Ã�¯Ã��Ã�¿Ã��Ã�½Ã���Ã�¯Ã�¿Ã�½Ã���Ã��Ã�¿Ã���Ã�¯Ã�¿Ã�½Ã��Ã�¯Ã��Ã�¿Ã��Ã�½Ã���Ã�¯Ã�¿Ã�½Ã���Ã��Ã�½Ã���Ã�¯Ã�¿Ã�½Ã��Ã�¯Ã��Ã�¿Ã��Ã�½Ã���Ã��Ã�¯Ã���Ã��Ã�¿Ã���Ã��Ã�½Ã���Ã�¯Ã�¿Ã�½Ã���Ã��Ã�¯Ã���Ã�¯Ã�¿Ã�½Ã���Ã��Ã�¿Ã���Ã�¯Ã�¿Ã�½Ã���Ã��Ã�½Ã���Ã�¯Ã�¿Ã�½Ã��Ã�¯Ã��Ã�¿Ã��Ã�½Ã���Ã��Ã�¯Ã���Ã��Ã�¿Ã���Ã��Ã�½Ã���Ã�¯Ã�¿Ã�½Ã��Ã�¯Ã��Ã�¿Ã��Ã�½Ã���Ã�¯Ã�¿Ã�½Ã���Ã��Ã�¿Ã���Ã�¯Ã�¿Ã�½Ã��Ã�¯Ã��Ã�¿Ã��Ã�½Ã���Ã��Ã�¯Ã���Ã��Ã�¿Ã���Ã��Ã�½Ã���Ã�¯Ã�¿Ã�½Ã���Ã��Ã�¯Ã���Ã�¯Ã�¿Ã�½Ã���Ã��Ã�¿Ã���Ã�¯Ã�¿Ã�½Ã���Ã��Ã�½Ã���Ã�¯Ã�¿Ã�½Ã��Ã�¯Ã��Ã�¿Ã��Ã�½Ã���Ã�¯Ã�¿Ã�½Ã���Ã��Ã�¯Ã���Ã�¯Ã�¿Ã�½Ã��Ã�¯Ã��Ã�¿Ã��Ã�½Ã���Ã�¯Ã�¿Ã�½Ã���Ã��Ã�¿Ã���Ã�¯Ã�¿Ã�½Ã��Ã�¯Ã��Ã�¿Ã��Ã�½Ã���Ã�¯Ã�¿Ã�½Ã���Ã��Ã�½Ã���Ã�¯Ã�¿Ã�½Ã��Ã�¯Ã��Ã�¿Ã��Ã�½Ã���Ã��Ã�¯Ã���Ã��Ã�¿Ã���Ã��Ã�½Ã���Ã�¯Ã�¿Ã�½Ã���Ã��Ã�¯Ã���Ã�¯Ã�¿Ã�½Ã���Ã��Ã�¿Ã���Ã�¯Ã�¿Ã�½Ã���Ã��Ã�½Ã���Ã�¯Ã�¿Ã�½Ã��Ã�¯Ã��Ã�¿Ã��Ã�½Ã���Ã��Ã�¯Ã���Ã��Ã�¿Ã���Ã��Ã�½Ã���Ã�¯Ã�¿Ã�½Ã��Ã�¯Ã��Ã�¿Ã��Ã�½Ã���Ã�¯Ã�¿Ã�½Ã���Ã��Ã�½Ã���Ã�¯Ã�¿Ã�½Ã��Ã�¯Ã��Ã�¿Ã��Ã�½Ã���Ã��Ã�¯Ã���Ã��Ã�¿Ã���Ã��Ã�½Ã���Ã�¯Ã�¿Ã�½Ã���Ã��Ã�¯Ã���Ã�¯Ã�¿Ã�½Ã���Ã��Ã�¿Ã���Ã�¯Ã�¿Ã�½Ã���Ã��Ã�½Ã���Ã�¯Ã�¿Ã�½Ã��Ã�¯Ã��Ã�¿Ã��Ã�½Ã���Ã�¯Ã�¿Ã�½Ã���Ã��Ã�¯Ã���Ã�¯Ã�¿Ã�½Ã��Ã�¯Ã��Ã�¿Ã��Ã�½Ã���Ã�¯Ã�¿Ã�½Ã���Ã��Ã�¿Ã���Ã�¯Ã�¿Ã�½Ã��Ã�¯Ã��Ã�¿Ã��Ã�½Ã���Ã�¯Ã�¿Ã�½Ã���Ã��Ã�½Ã���Ã�¯Ã�¿Ã�½Ã��Ã�¯Ã��Ã�¿Ã��Ã�½Ã���Ã��Ã�¯Ã���Ã��Ã�¿Ã���Ã��Ã�½Ã���Ã�¯Ã�¿Ã�½Ã��Ã�¯Ã��Ã�¿Ã��Ã�½Ã���Ã�¯Ã�¿Ã�½Ã���Ã��Ã�¯Ã���Ã�¯Ã�¿Ã�½Ã��Ã�¯Ã��Ã�¿Ã��Ã�½Ã���Ã��Ã�¯Ã���Ã��Ã�¿Ã���Ã��Ã�½Ã���Ã�¯Ã�¿Ã�½Ã��Ã�¯Ã��Ã�¿Ã��Ã�½Ã���Ã�¯Ã�¿Ã�½Ã���Ã��Ã�¿Ã���Ã�¯Ã�¿Ã�½Ã��Ã�¯Ã��Ã�¿Ã��Ã�½Ã���Ã��Ã�¯Ã���Ã��Ã�¿Ã���Ã��Ã�½Ã���Ã�¯Ã�¿Ã�½Ã��Ã�¯Ã��Ã�¿Ã��Ã�½Ã���Ã�¯Ã�¿Ã�½Ã���Ã��Ã�½Ã���Ã�¯Ã�¿Ã�½Ã��Ã�¯Ã��Ã�¿Ã��Ã�½Ã���Ã��Ã�¯Ã���Ã��Ã�¿Ã���Ã��Ã�½Ã���Ã�¯Ã�¿Ã�½Ã���Ã��Ã�¯Ã���Ã�¯Ã�¿Ã�½Ã���Ã��Ã�¿Ã���Ã�¯Ã�¿Ã�½Ã���Ã��Ã�½Ã���Ã�¯Ã�¿Ã�½Ã��Ã�¯Ã��Ã�¿Ã��Ã�½Ã���Ã��Ã�¯Ã���Ã��Ã�¿Ã���Ã��Ã�½Ã���Ã�¯Ã�¿Ã�½Ã��Ã�¯Ã��Ã�¿Ã��Ã�½Ã���Ã�¯Ã�¿Ã�½Ã���Ã��Ã�¯Ã���Ã�¯Ã�¿Ã�½Ã��Ã�¯Ã��Ã�¿Ã��Ã�½Ã���Ã��Ã�¯Ã���Ã��Ã�¿Ã���Ã��Ã�½Ã���Ã�¯Ã�¿Ã�½Ã���Ã��Ã�¯Ã���Ã�¯Ã�¿Ã�½Ã���Ã��Ã�¿Ã���Ã�¯Ã�¿Ã�½Ã���Ã��Ã�½Ã���Ã�¯Ã�¿Ã�½Ã��Ã�¯Ã��Ã�¿Ã��Ã�½Ã���Ã��Ã�¯Ã���Ã��Ã�¿Ã���Ã��Ã�½Ã���Ã�¯Ã�¿Ã�½Ã��Ã�¯Ã��Ã�¿Ã��Ã�½Ã���Ã�¯Ã�¿Ã�½Ã���Ã��Ã�¿Ã���Ã�¯Ã�¿Ã�½Ã��Ã�¯Ã��Ã�¿Ã��Ã�½Ã���Ã��Ã�¯Ã���Ã��Ã�¿Ã���Ã��Ã�½Ã���Ã�¯Ã�¿Ã�½Ã���Ã��Ã�¯Ã���Ã�¯Ã�¿Ã�½Ã���Ã��Ã�¿Ã���Ã�¯Ã�¿Ã�½Ã���Ã��Ã�½Ã���Ã�¯Ã�¿Ã�½Ã��Ã�¯Ã��Ã�¿Ã��Ã�½Ã���Ã��Ã�¯Ã���Ã��Ã�¿Ã���Ã��Ã�½Ã���Ã�¯Ã�¿Ã�½Ã��Ã�¯Ã��Ã�¿Ã��Ã�½Ã���Ã�¯Ã�¿Ã�½Ã���Ã��Ã�½Ã���Ã�¯Ã�¿Ã�½Ã��Ã�¯Ã��Ã�¿Ã��Ã�½Ã���Ã��Ã�¯Ã���Ã��Ã�¿Ã���Ã��Ã�½Ã���Ã�¯Ã�¿Ã�½Ã���Ã��Ã�¯Ã���Ã�¯Ã�¿Ã�½Ã���Ã��Ã�¿Ã���Ã�¯Ã�¿Ã�½Ã���Ã��Ã�½Ã���Ã�¯Ã�¿Ã�½Ã��Ã�¯Ã��Ã�¿Ã��Ã�½Ã���Ã�¯Ã�¿Ã�½Ã���Ã��Ã�¯Ã���Ã�¯Ã�¿Ã�½Ã��Ã�¯Ã��Ã�¿Ã��Ã�½Ã���Ã�¯Ã�¿Ã�½Ã���Ã��Ã�¿Ã���Ã�¯Ã�¿Ã�½Ã��Ã�¯Ã��Ã�¿Ã��Ã�½Ã���Ã�¯Ã�¿Ã�½Ã���Ã��Ã�½Ã���Ã�¯Ã�¿Ã�½Ã��Ã�¯Ã��Ã�¿Ã��Ã�½Ã���Ã��Ã�¯Ã���Ã��Ã�¿Ã���Ã��Ã�½Ã���Ã�¯Ã�¿Ã�½Ã��Ã�¯Ã��Ã�¿Ã��Ã�½Ã���Ã�¯Ã�¿Ã�½Ã���Ã��Ã�¯Ã���Ã�¯Ã�¿Ã�½Ã��Ã�¯Ã��Ã�¿Ã��Ã�½Ã���Ã��Ã�¯Ã���Ã��Ã�¿Ã���Ã��Ã�½Ã���Ã�¯Ã�¿Ã�½Ã��Ã�¯Ã��Ã�¿Ã��Ã�½Ã���Ã�¯Ã�¿Ã�½Ã���Ã��Ã�¿Ã���Ã�¯Ã�¿Ã�½Ã��Ã�¯Ã��Ã�¿Ã��Ã�½Ã���Ã��Ã�¯Ã���Ã��Ã�¿Ã���Ã��Ã�½Ã���Ã�¯Ã�¿Ã�½Ã��Ã�¯Ã��Ã�¿Ã��Ã�½Ã���Ã�¯Ã�¿Ã�½Ã���Ã��Ã�½Ã���Ã�¯Ã�¿Ã�½Ã��Ã�¯Ã��Ã�¿Ã��Ã�½Ã���Ã��Ã�¯Ã���Ã��Ã�¿Ã���Ã��Ã�½Ã���Ã�¯Ã�¿Ã�½Ã���Ã��Ã�¯Ã���Ã�¯Ã�¿Ã�½Ã���Ã��Ã�¿Ã���Ã�¯Ã�¿Ã�½Ã���Ã��Ã�½Ã���Ã�¯Ã�¿Ã�½Ã��Ã�¯Ã��Ã�¿Ã��Ã�½Ã���Ã�¯Ã�¿Ã�½Ã���Ã��Ã�¯Ã���Ã�¯Ã�¿Ã�½Ã��Ã�¯Ã��Ã�¿Ã��Ã�½Ã���Ã�¯Ã�¿Ã�½Ã���Ã��Ã�¿Ã���Ã�¯Ã�¿Ã�½Ã��Ã�¯Ã��Ã�¿Ã��Ã�½Ã���Ã�¯Ã�¿Ã�½Ã���Ã��Ã�½Ã���Ã�¯Ã�¿Ã�½Ã��Ã�¯Ã��Ã�¿Ã��Ã�½Ã���Ã��Ã�¯Ã���Ã��Ã�¿Ã���Ã��Ã�½Ã���Ã�¯Ã�¿Ã�½Ã���Ã��Ã�¯Ã���Ã�¯Ã�¿Ã�½Ã���Ã��Ã�¿Ã���Ã�¯Ã�¿Ã�½Ã���Ã��Ã�½Ã���Ã�¯Ã�¿Ã�½Ã��Ã�¯Ã��Ã�¿Ã��Ã�½Ã���Ã��Ã�¯Ã���Ã��Ã�¿Ã���Ã��Ã�½Ã���Ã�¯Ã�¿Ã�½Ã��Ã�¯Ã��Ã�¿Ã��Ã�½Ã���Ã�¯Ã�¿Ã�½Ã���Ã��Ã�¿Ã���Ã�¯Ã�¿Ã�½Ã��Ã�¯Ã��Ã�¿Ã��Ã�½Ã���Ã��Ã�¯Ã���Ã��Ã�¿Ã���Ã��Ã�½Ã���Ã�¯Ã�¿Ã�½Ã���Ã��Ã�¯Ã���Ã�¯Ã�¿Ã�½Ã���Ã��Ã�¿Ã���Ã�¯Ã�¿Ã�½Ã���Ã��Ã�½Ã���Ã�¯Ã�¿Ã�½Ã��Ã�¯Ã��Ã�¿Ã��Ã�½Ã���Ã�¯Ã�¿Ã�½Ã���Ã��Ã�¯Ã���Ã�¯Ã�¿Ã�½Ã��Ã�¯Ã��Ã�¿Ã��Ã�½Ã���Ã�¯Ã�¿Ã�½Ã���Ã��Ã�¿Ã���Ã�¯Ã�¿Ã�½Ã��Ã�¯Ã��Ã�¿Ã��Ã�½Ã���Ã�¯Ã�¿Ã�½Ã���Ã��Ã�½Ã���Ã�¯Ã�¿Ã�½Ã��Ã�¯Ã��Ã�¿Ã��Ã�½Ã���Ã��Ã�¯Ã���Ã��Ã�¿Ã���Ã��Ã�½Ã���Ã�¯Ã�¿Ã�½Ã��Ã�¯Ã��Ã�¿Ã��Ã�½Ã���Ã�¯Ã�¿Ã�½Ã���Ã��Ã�¯Ã���Ã�¯Ã�¿Ã�½Ã��Ã�¯Ã��Ã�¿Ã��Ã�½Ã���Ã��Ã�¯Ã���Ã��Ã�¿Ã���Ã��Ã�½Ã���Ã�¯Ã�¿Ã�½Ã��Ã�¯Ã��Ã�¿Ã��Ã�½Ã���Ã�¯Ã�¿Ã�½Ã���Ã��Ã�¿Ã���Ã�¯Ã�¿Ã�½Ã��Ã�¯Ã��Ã�¿Ã��Ã�½Ã���Ã��Ã�¯Ã���Ã��Ã�¿Ã���Ã��Ã�½Ã���Ã�¯Ã�¿Ã�½Ã��Ã�¯Ã��Ã�¿Ã��Ã�½Ã���Ã�¯Ã�¿Ã�½Ã���Ã��Ã�½Ã���Ã�¯Ã�¿Ã�½Ã��Ã�¯Ã��Ã�¿Ã��Ã�½Ã���Ã��Ã�¯Ã���Ã��Ã�¿Ã���Ã��Ã�½Ã���Ã�¯Ã�¿Ã�½Ã���Ã��Ã�¯Ã���Ã�¯Ã�¿Ã�½Ã���Ã��Ã�¿Ã���Ã�¯Ã�¿Ã�½Ã���Ã��Ã�½Ã���Ã�¯Ã�¿Ã�½Ã��Ã�¯Ã��Ã�¿Ã��Ã�½Ã���Ã��Ã�¯Ã���Ã��Ã�¿Ã���Ã��Ã�½Ã���Ã�¯Ã�¿Ã�½Ã��Ã�¯Ã��Ã�¿Ã��Ã�½Ã���Ã�¯Ã�¿Ã�½Ã���Ã��Ã�¯Ã���Ã�¯Ã�¿Ã�½Ã��Ã�¯Ã��Ã�¿Ã��Ã�½Ã���Ã��Ã�¯Ã���Ã��Ã�¿Ã���Ã��Ã�½Ã���Ã�¯Ã�¿Ã�½Ã���Ã��Ã�¯Ã���Ã�¯Ã�¿Ã�½Ã���Ã��Ã�¿Ã���Ã�¯Ã�¿Ã�½Ã���Ã��Ã�½Ã���Ã�¯Ã�¿Ã�½Ã��Ã�¯Ã��Ã�¿Ã��Ã�½Ã���Ã��Ã�¯Ã���Ã��Ã�¿Ã���Ã��Ã�½Ã���Ã�¯Ã�¿Ã�½Ã��Ã�¯Ã��Ã�¿Ã��Ã�½Ã���Ã�¯Ã�¿Ã�½Ã���Ã��Ã�¿Ã���Ã�¯Ã�¿Ã�½Ã��Ã�¯Ã��Ã�¿Ã��Ã�½Ã���Ã��Ã�¯Ã���Ã��Ã�¿Ã���Ã��Ã�½Ã���Ã�¯Ã�¿Ã�½Ã���Ã��Ã�¯Ã���Ã�¯Ã�¿Ã�½Ã���Ã��Ã�¿Ã���Ã�¯Ã�¿Ã�½Ã���Ã��Ã�½Ã���Ã�¯Ã�¿Ã�½Ã��Ã�¯Ã��Ã�¿Ã��Ã�½Ã���Ã��Ã�¯Ã���Ã��Ã�¿Ã���Ã��Ã�½Ã���Ã�¯Ã�¿Ã�½Ã��Ã�¯Ã��Ã�¿Ã��Ã�½Ã���Ã�¯Ã�¿Ã�½Ã���Ã��Ã�½Ã���Ã�¯Ã�¿Ã�½Ã��Ã�¯Ã��Ã�¿Ã��Ã�½Ã���Ã��Ã�¯Ã���Ã��Ã�¿Ã���Ã��Ã�½Ã���Ã�¯Ã�¿Ã�½Ã���Ã��Ã�¯Ã���Ã�¯Ã�¿Ã�½Ã���Ã��Ã�¿Ã���Ã�¯Ã�¿Ã�½Ã���Ã��Ã�½Ã���Ã�¯Ã�¿Ã�½Ã��Ã�¯Ã��Ã�¿Ã��Ã�½Ã���Ã�¯Ã�¿Ã�½Ã���Ã��Ã�¯Ã���Ã�¯Ã�¿Ã�½Ã��Ã�¯Ã��Ã�¿Ã��Ã�½Ã���Ã�¯Ã�¿Ã�½Ã���Ã��Ã�¿Ã���Ã�¯Ã�¿Ã�½Ã��Ã�¯Ã��Ã�¿Ã��Ã�½Ã���Ã�¯Ã�¿Ã�½Ã���Ã��Ã�½Ã���Ã�¯Ã�¿Ã�½Ã��Ã�¯Ã��Ã�¿Ã��Ã�½Ã���Ã��Ã�¯Ã���Ã��Ã�¿Ã���Ã��Ã�½Ã���Ã�¯Ã�¿Ã�½Ã���Ã��Ã�¯Ã���Ã�¯Ã�¿Ã�½Ã���Ã��Ã�¿Ã���Ã�¯Ã�¿Ã�½Ã���Ã��Ã�½Ã���Ã�¯Ã�¿Ã�½Ã��Ã�¯Ã��Ã�¿Ã��Ã�½Ã���Ã��Ã�¯Ã���Ã��Ã�¿Ã���Ã��Ã�½Ã���Ã�¯Ã�¿Ã�½Ã��Ã�¯Ã��Ã�¿Ã��Ã�½Ã���Ã�¯Ã�¿Ã�½Ã���Ã��Ã�¯Ã���Ã�¯Ã�¿Ã�½Ã��Ã�¯Ã��Ã�¿Ã��Ã�½Ã���Ã��Ã�¯Ã���Ã��Ã�¿Ã���Ã��Ã�½Ã���Ã�¯Ã�¿Ã�½Ã���Ã��Ã�¯Ã���Ã�¯Ã�¿Ã�½Ã���Ã��Ã�¿Ã���Ã�¯Ã�¿Ã�½Ã���Ã��Ã�½Ã���Ã�¯Ã�¿Ã�½Ã��Ã�¯Ã��Ã�¿Ã��Ã�½Ã���Ã�¯Ã�¿Ã�½Ã���Ã��Ã�¯Ã���Ã�¯Ã�¿Ã�½Ã��Ã�¯Ã��Ã�¿Ã��Ã�½Ã���Ã�¯Ã�¿Ã�½Ã���Ã��Ã�¿Ã���Ã�¯Ã�¿Ã�½Ã��Ã�¯Ã��Ã�¿Ã��Ã�½Ã���Ã�¯Ã�¿Ã�½Ã���Ã��Ã�½Ã���Ã�¯Ã�¿Ã�½Ã��Ã�¯Ã��Ã�¿Ã��Ã�½Ã���Ã��Ã�¯Ã���Ã��Ã�¿Ã���Ã��Ã�½Ã���Ã�¯Ã�¿Ã�½Ã���Ã��Ã�¯Ã���Ã�¯Ã�¿Ã�½Ã���Ã��Ã�¿Ã���Ã�¯Ã�¿Ã�½Ã���Ã��Ã�½Ã���Ã�¯Ã�¿Ã�½Ã��Ã�¯Ã��Ã�¿Ã��Ã�½Ã���Ã��Ã�¯Ã���Ã��Ã�¿Ã���Ã��Ã�½Ã���Ã�¯Ã�¿Ã�½Ã��Ã�¯Ã��Ã�¿Ã��Ã�½Ã���Ã�¯Ã�¿Ã�½Ã���Ã��Ã�¿Ã���Ã�¯Ã�¿Ã�½Ã��Ã�¯Ã��Ã�¿Ã��Ã�½Ã���Ã��Ã�¯Ã���Ã��Ã�¿Ã���Ã��Ã�½Ã���Ã�¯Ã�¿Ã�½Ã���Ã��Ã�¯Ã���Ã�¯Ã�¿Ã�½Ã���Ã��Ã�¿Ã���Ã�¯Ã�¿Ã�½Ã���Ã��Ã�½Ã���Ã�¯Ã�¿Ã�½Ã��Ã�¯Ã��Ã�¿Ã��Ã�½Ã���Ã�¯Ã�¿Ã�½Ã���Ã��Ã�¯Ã���Ã�¯Ã�¿Ã�½Ã��Ã�¯Ã��Ã�¿Ã��Ã�½Ã���Ã�¯Ã�¿Ã�½Ã���Ã��Ã�¿Ã���Ã�¯Ã�¿Ã�½Ã��Ã�¯Ã��Ã�¿Ã��Ã�½Ã���Ã�¯Ã�¿Ã�½Ã���Ã��Ã�½Ã���Ã�¯Ã�¿Ã�½Ã��Ã�¯Ã��Ã�¿Ã��Ã�½Ã���Ã��Ã�¯Ã���Ã��Ã�¿Ã���Ã��Ã�½Ã���Ã�¯Ã�¿Ã�½Ã���Ã��Ã�¯Ã���Ã�¯Ã�¿Ã�½Ã���Ã��Ã�¿Ã���Ã�¯Ã�¿Ã�½Ã���Ã��Ã�½Ã���Ã�¯Ã�¿Ã�½Ã��Ã�¯Ã��Ã�¿Ã��Ã�½Ã���Ã��Ã�¯Ã���Ã��Ã�¿Ã���Ã��Ã�½Ã���Ã�¯Ã�¿Ã�½Ã��Ã�¯Ã��Ã�¿Ã��Ã�½Ã���Ã�¯Ã�¿Ã�½Ã���Ã��Ã�½Ã���Ã�¯Ã�¿Ã�½Ã��Ã�¯Ã��Ã�¿Ã��Ã�½Ã���Ã��Ã�¯Ã���Ã��Ã�¿Ã���Ã��Ã�½Ã���Ã�¯Ã�¿Ã�½Ã���Ã��Ã�¯Ã���Ã�¯Ã�¿Ã�½Ã���Ã��Ã�¿Ã���Ã�¯Ã�¿Ã�½Ã���Ã��Ã�½Ã���Ã�¯Ã�¿Ã�½Ã��Ã�¯Ã��Ã�¿Ã��Ã�½Ã���Ã�¯Ã�¿Ã�½Ã���Ã��Ã�¯Ã���Ã�¯Ã�¿Ã�½Ã��Ã�¯Ã��Ã�¿Ã��Ã�½Ã���Ã�¯Ã�¿Ã�½Ã���Ã��Ã�¿Ã���Ã�¯Ã�¿Ã�½Ã��Ã�¯Ã��Ã�¿Ã��Ã�½Ã���Ã�¯Ã�¿Ã�½Ã���Ã��Ã�½Ã���Ã�¯Ã�¿Ã�½Ã��Ã�¯Ã��Ã�¿Ã��Ã�½Ã���Ã��Ã�¯Ã���Ã��Ã�¿Ã���Ã��Ã�½Ã���Ã�¯Ã�¿Ã�½Ã��Ã�¯Ã��Ã�¿Ã��Ã�½Ã���Ã�¯Ã�¿Ã�½Ã���Ã��Ã�¯Ã���Ã�¯Ã�¿Ã�½Ã��Ã�¯Ã��Ã�¿Ã��Ã�½Ã���Ã��Ã�¯Ã���Ã��Ã�¿Ã���Ã��Ã�½Ã���Ã�¯Ã�¿Ã�½Ã��Ã�¯Ã��Ã�¿Ã��Ã�½Ã���Ã�¯Ã�¿Ã�½Ã���Ã��Ã�¿Ã���Ã�¯Ã�¿Ã�½Ã��Ã�¯Ã��Ã�¿Ã��Ã�½Ã���Ã��Ã�¯Ã���Ã��Ã�¿Ã���Ã��Ã�½Ã���Ã�¯Ã�¿Ã�½Ã��Ã�¯Ã��Ã�¿Ã��Ã�½Ã���Ã�¯Ã�¿Ã�½Ã���Ã��Ã�½Ã���Ã�¯Ã�¿Ã�½Ã��Ã�¯Ã��Ã�¿Ã��Ã�½Ã���Ã��Ã�¯Ã���Ã��Ã�¿Ã���Ã��Ã�½Ã���Ã�¯Ã�¿Ã�½Ã���Ã��Ã�¯Ã���Ã�¯Ã�¿Ã�½Ã���Ã��Ã�¿Ã���Ã�¯Ã�¿Ã�½Ã���Ã��Ã�½Ã���Ã�¯Ã�¿Ã�½Ã��Ã�¯Ã��Ã�¿Ã��Ã�½Ã���Ã��Ã�¯Ã���Ã��Ã�¿Ã���Ã��Ã�½Ã���Ã�¯Ã�¿Ã�½Ã��Ã�¯Ã��Ã�¿Ã��Ã�½Ã���Ã�¯Ã�¿Ã�½Ã���Ã��Ã�¯Ã���Ã�¯Ã�¿Ã�½Ã��Ã�¯Ã��Ã�¿Ã��Ã�½Ã���Ã��Ã�¯Ã���Ã��Ã�¿Ã���Ã��Ã�½Ã���Ã�¯Ã�¿Ã�½Ã���Ã��Ã�¯Ã���Ã�¯Ã�¿Ã�½Ã���Ã��Ã�¿Ã���Ã�¯Ã�¿Ã�½Ã���Ã��Ã�½Ã���Ã�¯Ã�¿Ã�½Ã��Ã�¯Ã��Ã�¿Ã��Ã�½Ã���Ã��Ã�¯Ã���Ã��Ã�¿Ã���Ã��Ã�½Ã���Ã�¯Ã�¿Ã�½Ã��Ã�¯Ã��Ã�¿Ã��Ã�½Ã���Ã�¯Ã�¿Ã�½Ã���Ã��Ã�¿Ã���Ã�¯Ã�¿Ã�½Ã��Ã�¯Ã��Ã�¿Ã��Ã�½Ã���Ã��Ã�¯Ã���Ã��Ã�¿Ã���Ã��Ã�½Ã���Ã�¯Ã�¿Ã�½Ã���Ã��Ã�¯Ã���Ã�¯Ã�¿Ã�½Ã���Ã��Ã�¿Ã���Ã�¯Ã�¿Ã�½Ã���Ã��Ã�½Ã���Ã�¯Ã�¿Ã�½Ã��Ã�¯Ã��Ã�¿Ã��Ã�½Ã���Ã��Ã�¯Ã���Ã��Ã�¿Ã���Ã��Ã�½Ã���Ã�¯Ã�¿Ã�½Ã��Ã�¯Ã��Ã�¿Ã��Ã�½Ã���Ã�¯Ã�¿Ã�½Ã���Ã��Ã�½Ã���Ã�¯Ã�¿Ã�½Ã��Ã�¯Ã��Ã�¿Ã��Ã�½Ã���Ã��Ã�¯Ã���Ã��Ã�¿Ã���Ã��Ã�½Ã���Ã�¯Ã�¿Ã�½Ã���Ã��Ã�¯Ã���Ã�¯Ã�¿Ã�½Ã���Ã��Ã�¿Ã���Ã�¯Ã�¿Ã�½Ã���Ã��Ã�½Ã���Ã�¯Ã�¿Ã�½Ã��Ã�¯Ã��Ã�¿Ã��Ã�½Ã���Ã�¯Ã�¿Ã�½Ã���Ã��Ã�¯Ã���Ã�¯Ã�¿Ã�½Ã��Ã�¯Ã��Ã�¿Ã��Ã�½Ã���Ã�¯Ã�¿Ã�½Ã���Ã��Ã�¿Ã���Ã�¯Ã�¿Ã�½Ã��Ã�¯Ã��Ã�¿Ã��Ã�½Ã���Ã�¯Ã�¿Ã�½Ã���Ã��Ã�½Ã���Ã�¯Ã�¿Ã�½Ã��Ã�¯Ã��Ã�¿Ã��Ã�½Ã���Ã��Ã�¯Ã���Ã��Ã�¿Ã���Ã��Ã�½Ã���Ã�¯Ã�¿Ã�½Ã��Ã�¯Ã��Ã�¿Ã��Ã�½Ã���Ã�¯Ã�¿Ã�½Ã���Ã��Ã�¯Ã���Ã�¯Ã�¿Ã�½Ã��Ã�¯Ã��Ã�¿Ã��Ã�½Ã���Ã��Ã�¯Ã���Ã��Ã�¿Ã���Ã��Ã�½Ã���Ã�¯Ã�¿Ã�½Ã��Ã�¯Ã��Ã�¿Ã��Ã�½Ã���Ã�¯Ã�¿Ã�½Ã���Ã��Ã�¿Ã���Ã�¯Ã�¿Ã�½Ã��Ã�¯Ã��Ã�¿Ã��Ã�½Ã���Ã��Ã�¯Ã���Ã��Ã�¿Ã���Ã��Ã�½Ã���Ã�¯Ã�¿Ã�½Ã��Ã�¯Ã��Ã�¿Ã��Ã�½Ã���Ã�¯Ã�¿Ã�½Ã���Ã��Ã�½Ã���Ã�¯Ã�¿Ã�½Ã��Ã�¯Ã��Ã�¿Ã��Ã�½Ã���Ã��Ã�¯Ã���Ã��Ã�¿Ã���Ã��Ã�½Ã���Ã�¯Ã�¿Ã�½Ã���Ã��Ã�¯Ã���Ã�¯Ã�¿Ã�½Ã���Ã��Ã�¿Ã���Ã�¯Ã�¿Ã�½Ã���Ã��Ã�½Ã���Ã�¯Ã�¿Ã�½Ã��Ã�¯Ã��Ã�¿Ã��Ã�½Ã���Ã�¯Ã�¿Ã�½Ã���Ã��Ã�¯Ã���Ã�¯Ã�¿Ã�½Ã��Ã�¯Ã��Ã�¿Ã��Ã�½Ã���Ã�¯Ã�¿Ã�½Ã���Ã��Ã�¿Ã���Ã�¯Ã�¿Ã�½Ã��Ã�¯Ã��Ã�¿Ã��Ã�½Ã���Ã�¯Ã�¿Ã�½Ã���Ã��Ã�½Ã���Ã�¯Ã�¿Ã�½Ã��Ã�¯Ã��Ã�¿Ã��Ã�½Ã���Ã��Ã�¯Ã���Ã��Ã�¿Ã���Ã��Ã�½Ã���Ã�¯Ã�¿Ã�½Ã���Ã��Ã�¯Ã���Ã�¯Ã�¿Ã�½Ã���Ã��Ã�¿Ã���Ã�¯Ã�¿Ã�½Ã���Ã��Ã�½Ã���Ã�¯Ã�¿Ã�½Ã��Ã�¯Ã��Ã�¿Ã��Ã�½Ã���Ã��Ã�¯Ã���Ã��Ã�¿Ã���Ã��Ã�½Ã���Ã�¯Ã�¿Ã�½Ã��Ã�¯Ã��Ã�¿Ã��Ã�½Ã���Ã�¯Ã�¿Ã�½Ã���Ã��Ã�½Ã���Ã�¯Ã�¿Ã�½Ã��Ã�¯Ã��Ã�¿Ã��Ã�½Ã���Ã��Ã�¯Ã���Ã��Ã�¿Ã���Ã��Ã�½Ã���Ã�¯Ã�¿Ã�½Ã���Ã��Ã�¯Ã���Ã�¯Ã�¿Ã�½Ã���Ã��Ã�¿Ã���Ã�¯Ã�¿Ã�½Ã���Ã��Ã�½Ã���Ã�¯Ã�¿Ã�½Ã��Ã�¯Ã��Ã�¿Ã��Ã�½Ã���Ã�¯Ã�¿Ã�½Ã���Ã��Ã�¯Ã���Ã�¯Ã�¿Ã�½Ã��Ã�¯Ã��Ã�¿Ã��Ã�½Ã���Ã�¯Ã�¿Ã�½Ã���Ã��Ã�¿Ã���Ã�¯Ã�¿Ã�½Ã��Ã�¯Ã��Ã�¿Ã��Ã�½Ã���Ã�¯Ã�¿Ã�½Ã���Ã��Ã�½Ã���Ã�¯Ã�¿Ã�½Ã��Ã�¯Ã��Ã�¿Ã��Ã�½Ã���Ã��Ã�¯Ã���Ã��Ã�¿Ã���Ã��Ã�½Ã���Ã�¯Ã�¿Ã�½Ã��Ã�¯Ã��Ã�¿Ã��Ã�½Ã���Ã�¯Ã�¿Ã�½Ã���Ã��Ã�¯Ã���Ã�¯Ã�¿Ã�½Ã��Ã�¯Ã��Ã�¿Ã��Ã�½Ã���Ã��Ã�¯Ã���Ã��Ã�¿Ã���Ã��Ã�½Ã���Ã�¯Ã�¿Ã�½Ã��Ã�¯Ã��Ã�¿Ã��Ã�½Ã���Ã�¯Ã�¿Ã�½Ã���Ã��Ã�¿Ã���Ã�¯Ã�¿Ã�½Ã��Ã�¯Ã��Ã�¿Ã��Ã�½Ã���Ã��Ã�¯Ã���Ã��Ã�¿Ã���Ã��Ã�½Ã���Ã�¯Ã�¿Ã�½Ã��Ã�¯Ã��Ã�¿Ã��Ã�½Ã���Ã�¯Ã�¿Ã�½Ã���Ã��Ã�½Ã���Ã�¯Ã�¿Ã�½Ã��Ã�¯Ã��Ã�¿Ã��Ã�½Ã���Ã��Ã�¯Ã���Ã��Ã�¿Ã���Ã��Ã�½Ã���Ã�¯Ã�¿Ã�½Ã���Ã��Ã�¯Ã���Ã�¯Ã�¿Ã�½Ã���Ã��Ã�¿Ã���Ã�¯Ã�¿Ã�½Ã���Ã��Ã�½Ã���Ã�¯Ã�¿Ã�½Ã��Ã�¯Ã��Ã�¿Ã��Ã�½Ã���Ã��Ã�¯Ã���Ã��Ã�¿Ã���Ã��Ã�½Ã���Ã�¯Ã�¿Ã�½Ã��Ã�¯Ã��Ã�¿Ã��Ã�½Ã���Ã�¯Ã�¿Ã�½Ã���Ã��Ã�¯Ã���Ã�¯Ã�¿Ã�½Ã��Ã�¯Ã��Ã�¿Ã��Ã�½Ã���Ã��Ã�¯Ã���Ã��Ã�¿Ã���Ã��Ã�½Ã���Ã�¯Ã�¿Ã�½Ã���Ã��Ã�¯Ã���Ã�¯Ã�¿Ã�½Ã���Ã��Ã�¿Ã���Ã�¯Ã�¿Ã�½Ã���Ã��Ã�½Ã���Ã�¯Ã�¿Ã�½Ã��Ã�¯Ã��Ã�¿Ã��Ã�½Ã���Ã��Ã�¯Ã���Ã��Ã�¿Ã���Ã��Ã�½Ã���Ã�¯Ã�¿Ã�½Ã��Ã�¯Ã��Ã�¿Ã��Ã�½Ã���Ã�¯Ã�¿Ã�½Ã���Ã��Ã�¿Ã���Ã�¯Ã�¿Ã�½Ã��Ã�¯Ã��Ã�¿Ã��Ã�½Ã���Ã��Ã�¯Ã���Ã��Ã�¿Ã���Ã��Ã�½Ã���Ã�¯Ã�¿Ã�½Ã���Ã��Ã�¯Ã���Ã�¯Ã�¿Ã�½Ã���Ã��Ã�¿Ã���Ã�¯Ã�¿Ã�½Ã���Ã��Ã�½Ã���Ã�¯Ã�¿Ã�½Ã��Ã�¯Ã��Ã�¿Ã��Ã�½Ã���Ã��Ã�¯Ã���Ã��Ã�¿Ã���Ã��Ã�½Ã���Ã�¯Ã�¿Ã�½Ã��Ã�¯Ã��Ã�¿Ã��Ã�½Ã���Ã�¯Ã�¿Ã�½Ã���Ã��Ã�½Ã���Ã�¯Ã�¿Ã�½Ã��Ã�¯Ã��Ã�¿Ã��Ã�½Ã���Ã��Ã�¯Ã���Ã��Ã�¿Ã���Ã��Ã�½Ã���Ã�¯Ã�¿Ã�½Ã���Ã��Ã�¯Ã���Ã�¯Ã�¿Ã�½Ã���Ã��Ã�¿Ã���Ã�¯Ã�¿Ã�½Ã���Ã��Ã�½Ã���Ã�¯Ã�¿Ã�½Ã��Ã�¯Ã��Ã�¿Ã��Ã�½Ã���Ã�¯Ã�¿Ã�½Ã���Ã��Ã�¯Ã���Ã�¯Ã�¿Ã�½Ã��Ã�¯Ã��Ã�¿Ã��Ã�½Ã���Ã�¯Ã�¿Ã�½Ã���Ã��Ã�¿Ã���Ã�¯Ã�¿Ã�½Ã��Ã�¯Ã��Ã�¿Ã��Ã�½Ã���Ã�¯Ã�¿Ã�½Ã���Ã��Ã�½Ã���Ã�¯Ã�¿Ã�½Ã��Ã�¯Ã��Ã�¿Ã��Ã�½Ã���Ã��Ã�¯Ã���Ã��Ã�¿Ã���Ã��Ã�½Ã���Ã�¯Ã�¿Ã�½Ã���Ã��Ã�¯Ã���Ã�¯Ã�¿Ã�½Ã���Ã��Ã�¿Ã���Ã�¯Ã�¿Ã�½Ã���Ã��Ã�½Ã���Ã�¯Ã�¿Ã�½Ã��Ã�¯Ã��Ã�¿Ã��Ã�½Ã���Ã��Ã�¯Ã���Ã��Ã�¿Ã���Ã��Ã�½Ã���Ã�¯Ã�¿Ã�½Ã��Ã�¯Ã��Ã�¿Ã��Ã�½Ã���Ã�¯Ã�¿Ã�½Ã���Ã��Ã�¯Ã���Ã�¯Ã�¿Ã�½Ã��Ã�¯Ã��Ã�¿Ã��Ã�½Ã���Ã��Ã�¯Ã���Ã��Ã�¿Ã���Ã��Ã�½Ã���Ã�¯Ã�¿Ã�½Ã���Ã��Ã�¯Ã���Ã�¯Ã�¿Ã�½Ã���Ã��Ã�¿Ã���Ã�¯Ã�¿Ã�½Ã���Ã��Ã�½Ã���Ã�¯Ã�¿Ã�½Ã��Ã�¯Ã��Ã�¿Ã��Ã�½Ã���Ã�¯Ã�¿Ã�½Ã���Ã��Ã�¯Ã���Ã�¯Ã�¿Ã�½Ã��Ã�¯Ã��Ã�¿Ã��Ã�½Ã���Ã�¯Ã�¿Ã�½Ã���Ã��Ã�¿Ã���Ã�¯Ã�¿Ã�½Ã��Ã�¯Ã��Ã�¿Ã��Ã�½Ã���Ã�¯Ã�¿Ã�½Ã���Ã��Ã�½Ã���Ã�¯Ã�¿Ã�½Ã��Ã�¯Ã��Ã�¿Ã��Ã�½Ã���Ã��Ã�¯Ã���Ã��Ã�¿Ã���Ã��Ã�½Ã���Ã�¯Ã�¿Ã�½Ã���Ã��Ã�¯Ã���Ã�¯Ã�¿Ã�½Ã���Ã��Ã�¿Ã���Ã�¯Ã�¿Ã�½Ã���Ã��Ã�½Ã���Ã�¯Ã�¿Ã�½Ã��Ã�¯Ã��Ã�¿Ã��Ã�½Ã���Ã��Ã�¯Ã���Ã��Ã�¿Ã���Ã��Ã�½Ã���Ã�¯Ã�¿Ã�½Ã��Ã�¯Ã��Ã�¿Ã��Ã�½Ã���Ã�¯Ã�¿Ã�½Ã���Ã��Ã�¿Ã���Ã�¯Ã�¿Ã�½Ã��Ã�¯Ã��Ã�¿Ã��Ã�½Ã���Ã��Ã�¯Ã���Ã��Ã�¿Ã���Ã��Ã�½Ã���Ã�¯Ã�¿Ã�½Ã���Ã��Ã�¯Ã���Ã�¯Ã�¿Ã�½Ã���Ã��Ã�¿Ã���Ã�¯Ã�¿Ã�½Ã���Ã��Ã�½Ã���Ã�¯Ã�¿Ã�½Ã��Ã�¯Ã��Ã�¿Ã��Ã�½Ã���Ã�¯Ã�¿Ã�½Ã���Ã��Ã�¯Ã���Ã�¯Ã�¿Ã�½Ã��Ã�¯Ã��Ã�¿Ã��Ã�½Ã���Ã�¯Ã�¿Ã�½Ã���Ã��Ã�¿Ã���Ã�¯Ã�¿Ã�½Ã��Ã�¯Ã��Ã�¿Ã��Ã�½Ã���Ã�¯Ã�¿Ã�½Ã���Ã��Ã�½Ã���Ã�¯Ã�¿Ã�½Ã��Ã�¯Ã��Ã�¿Ã��Ã�½Ã���Ã��Ã�¯Ã���Ã��Ã�¿Ã���Ã��Ã�½Ã���Ã�¯Ã�¿Ã�½Ã���Ã��Ã�¯Ã���Ã�¯Ã�¿Ã�½Ã���Ã��Ã�¿Ã���Ã�¯Ã�¿Ã�½Ã���Ã��Ã�½Ã���Ã�¯Ã�¿Ã�½Ã��Ã�¯Ã��Ã�¿Ã��Ã�½Ã���Ã��Ã�¯Ã���Ã��Ã�¿Ã���Ã��Ã�½Ã���Ã�¯Ã�¿Ã�½Ã��Ã�¯Ã��Ã�¿Ã��Ã�½Ã���Ã�¯Ã�¿Ã�½Ã���Ã��Ã�½Ã���Ã�¯Ã�¿Ã�½Ã��Ã�¯Ã��Ã�¿Ã��Ã�½Ã���Ã��Ã�¯Ã���Ã��Ã�¿Ã���Ã��Ã�½Ã���Ã�¯Ã�¿Ã�½Ã���Ã��Ã�¯Ã���Ã�¯Ã�¿Ã�½Ã���Ã��Ã�¿Ã���Ã�¯Ã�¿Ã�½Ã���Ã��Ã�½Ã���Ã�¯Ã�¿Ã�½Ã��Ã�¯Ã��Ã�¿Ã��Ã�½Ã���Ã�¯Ã�¿Ã�½Ã���Ã��Ã�¯Ã���Ã�¯Ã�¿Ã�½Ã��Ã�¯Ã��Ã�¿Ã��Ã�½Ã���Ã�¯Ã�¿Ã�½Ã���Ã��Ã�¿Ã���Ã�¯Ã�¿Ã�½Ã��Ã�¯Ã��Ã�¿Ã��Ã�½Ã���Ã�¯Ã�¿Ã�½Ã���Ã��Ã�½Ã���Ã�¯Ã�¿Ã�½Ã��Ã�¯Ã��Ã�¿Ã��Ã�½Ã���Ã��Ã�¯Ã���Ã��Ã�¿Ã���Ã��Ã�½Ã���Ã�¯Ã�¿Ã�½Ã��Ã�¯Ã��Ã�¿Ã��Ã�½Ã���Ã�¯Ã�¿Ã�½Ã���Ã��Ã�¯Ã���Ã�¯Ã�¿Ã�½Ã��Ã�¯Ã��Ã�¿Ã��Ã�½Ã���Ã��Ã�¯Ã���Ã��Ã�¿Ã���Ã��Ã�½Ã���Ã�¯Ã�¿Ã�½Ã��Ã�¯Ã��Ã�¿Ã��Ã�½Ã���Ã�¯Ã�¿Ã�½Ã���Ã��Ã�¿Ã���Ã�¯Ã�¿Ã�½Ã��Ã�¯Ã��Ã�¿Ã��Ã�½Ã���Ã��Ã�¯Ã���Ã��Ã�¿Ã���Ã��Ã�½Ã���Ã�¯Ã�¿Ã�½Ã��Ã�¯Ã��Ã�¿Ã��Ã�½Ã���Ã�¯Ã�¿Ã�½Ã���Ã��Ã�½Ã���Ã�¯Ã�¿Ã�½Ã��Ã�¯Ã��Ã�¿Ã��Ã�½Ã���Ã��Ã�¯Ã���Ã��Ã�¿Ã���Ã��Ã�½Ã���Ã�¯Ã�¿Ã�½Ã���Ã��Ã�¯Ã���Ã�¯Ã�¿Ã�½Ã���Ã��Ã�¿Ã���Ã�¯Ã�¿Ã�½Ã���Ã��Ã�½Ã���Ã�¯Ã�¿Ã�½Ã��Ã�¯Ã��Ã�¿Ã��Ã�½Ã���Ã�¯Ã�¿Ã�½Ã���Ã��Ã�¯Ã���Ã�¯Ã�¿Ã�½Ã��Ã�¯Ã��Ã�¿Ã��Ã�½Ã���Ã�¯Ã�¿Ã�½Ã���Ã��Ã�¿Ã���Ã�¯Ã�¿Ã�½Ã��Ã�¯Ã��Ã�¿Ã��Ã�½Ã���Ã�¯Ã�¿Ã�½Ã���Ã��Ã�½Ã���Ã�¯Ã�¿Ã�½Ã��Ã�¯Ã��Ã�¿Ã��Ã�½Ã���Ã��Ã�¯Ã���Ã��Ã�¿Ã���Ã��Ã�½Ã���Ã�¯Ã�¿Ã�½Ã���Ã��Ã�¯Ã���Ã�¯Ã�¿Ã�½Ã���Ã��Ã�¿Ã���Ã�¯Ã�¿Ã�½Ã���Ã��Ã�½Ã���Ã�¯Ã�¿Ã�½Ã��Ã�¯Ã��Ã�¿Ã��Ã�½Ã���Ã��Ã�¯Ã���Ã��Ã�¿Ã���Ã��Ã�½Ã���Ã�¯Ã�¿Ã�½Ã��Ã�¯Ã��Ã�¿Ã��Ã�½Ã���Ã�¯Ã�¿Ã�½Ã���Ã��Ã�¯Ã���Ã�¯Ã�¿Ã�½Ã��Ã�¯Ã��Ã�¿Ã��Ã�½Ã���Ã��Ã�¯Ã���Ã��Ã�¿Ã���Ã��Ã�½Ã���Ã�¯Ã�¿Ã�½Ã���Ã��Ã�¯Ã���Ã�¯Ã�¿Ã�½Ã���Ã��Ã�¿Ã���Ã�¯Ã�¿Ã�½Ã���Ã��Ã�½Ã���Ã�¯Ã�¿Ã�½Ã��Ã�¯Ã��Ã�¿Ã��Ã�½Ã���Ã�¯Ã�¿Ã�½Ã���Ã��Ã�¯Ã���Ã�¯Ã�¿Ã�½Ã��Ã�¯Ã��Ã�¿Ã��Ã�½Ã���Ã�¯Ã�¿Ã�½Ã���Ã��Ã�¿Ã���Ã�¯Ã�¿Ã�½Ã��Ã�¯Ã��Ã�¿Ã��Ã�½Ã���Ã�¯Ã�¿Ã�½Ã���Ã��Ã�½Ã���Ã�¯Ã�¿Ã�½Ã��Ã�¯Ã��Ã�¿Ã��Ã�½Ã���Ã��Ã�¯Ã���Ã��Ã�¿Ã���Ã��Ã�½Ã���Ã�¯Ã�¿Ã�½Ã��Ã�¯Ã��Ã�¿Ã��Ã�½Ã���Ã�¯Ã�¿Ã�½Ã���Ã��Ã�¯Ã���Ã�¯Ã�¿Ã�½Ã��Ã�¯Ã��Ã�¿Ã��Ã�½Ã���Ã��Ã�¯Ã���Ã��Ã�¿Ã���Ã��Ã�½Ã���Ã�¯Ã�¿Ã�½Ã��Ã�¯Ã��Ã�¿Ã��Ã�½Ã���Ã�¯Ã�¿Ã�½Ã���Ã��Ã�¿Ã���Ã�¯Ã�¿Ã�½Ã��Ã�¯Ã��Ã�¿Ã��Ã�½Ã���Ã��Ã�¯Ã���Ã��Ã�¿Ã���Ã��Ã�½Ã���Ã�¯Ã�¿Ã�½Ã��Ã�¯Ã��Ã�¿Ã��Ã�½Ã���Ã�¯Ã�¿Ã�½Ã���Ã��Ã�½Ã���Ã�¯Ã�¿Ã�½Ã��Ã�¯Ã��Ã�¿Ã��Ã�½Ã���Ã��Ã�¯Ã���Ã��Ã�¿Ã���Ã��Ã�½Ã���Ã�¯Ã�¿Ã�½Ã���Ã��Ã�¯Ã���Ã�¯Ã�¿Ã�½Ã���Ã��Ã�¿Ã���Ã�¯Ã�¿Ã�½Ã���Ã��Ã�½Ã���Ã�¯Ã�¿Ã�½Ã��Ã�¯Ã��Ã�¿Ã��Ã�½Ã���Ã�¯Ã�¿Ã�½Ã���Ã��Ã�¯Ã���Ã�¯Ã�¿Ã�½Ã��Ã�¯Ã��Ã�¿Ã��Ã�½Ã���Ã�¯Ã�¿Ã�½Ã���Ã��Ã�¿Ã���Ã�¯Ã�¿Ã�½Ã��Ã�¯Ã��Ã�¿Ã��Ã�½Ã���Ã�¯Ã�¿Ã�½Ã���Ã��Ã�½Ã���Ã�¯Ã�¿Ã�½Ã��Ã�¯Ã��Ã�¿Ã��Ã�½Ã���Ã��Ã�¯Ã���Ã��Ã�¿Ã���Ã��Ã�½Ã���Ã�¯Ã�¿Ã�½Ã���Ã��Ã�¯Ã���Ã�¯Ã�¿Ã�½Ã���Ã��Ã�¿Ã���Ã�¯Ã�¿Ã�½Ã���Ã��Ã�½Ã���Ã�¯Ã�¿Ã�½Ã��Ã�¯Ã��Ã�¿Ã��Ã�½Ã���Ã��Ã�¯Ã���Ã��Ã�¿Ã���Ã��Ã�½Ã���Ã�¯Ã�¿Ã�½Ã��Ã�¯Ã��Ã�¿Ã��Ã�½Ã���Ã�¯Ã�¿Ã�½Ã���Ã��Ã�¿Ã���Ã�¯Ã�¿Ã�½Ã��Ã�¯Ã��Ã�¿Ã��Ã�½Ã���Ã��Ã�¯Ã���Ã��Ã�¿Ã���Ã��Ã�½Ã���Ã�¯Ã�¿Ã�½Ã���Ã��Ã�¯Ã���Ã�¯Ã�¿Ã�½Ã���Ã��Ã�¿Ã���Ã�¯Ã�¿Ã�½Ã���Ã��Ã�½Ã���Ã�¯Ã�¿Ã�½Ã��Ã�¯Ã��Ã�¿Ã��Ã�½Ã���Ã�¯Ã�¿Ã�½Ã���Ã��Ã�¯Ã���Ã�¯Ã�¿Ã�½Ã��Ã�¯Ã��Ã�¿Ã��Ã�½Ã���Ã�¯Ã�¿Ã�½Ã���Ã��Ã�¿Ã���Ã�¯Ã�¿Ã�½Ã��Ã�¯Ã��Ã�¿Ã��Ã�½Ã���Ã�¯Ã�¿Ã�½Ã���Ã��Ã�½Ã���Ã�¯Ã�¿Ã�½Ã��Ã�¯Ã��Ã�¿Ã��Ã�½Ã���Ã��Ã�¯Ã���Ã��Ã�¿Ã���Ã��Ã�½Ã���Ã�¯Ã�¿Ã�½Ã��Ã�¯Ã��Ã�¿Ã��Ã�½Ã���Ã�¯Ã�¿Ã�½Ã���Ã��Ã�¯Ã���Ã�¯Ã�¿Ã�½Ã��Ã�¯Ã��Ã�¿Ã��Ã�½Ã���Ã��Ã�¯Ã���Ã��Ã�¿Ã���Ã��Ã�½Ã���Ã�¯Ã�¿Ã�½Ã��Ã�¯Ã��Ã�¿Ã��Ã�½Ã���Ã�¯Ã�¿Ã�½Ã���Ã��Ã�¿Ã���Ã�¯Ã�¿Ã�½Ã��Ã�¯Ã��Ã�¿Ã��Ã�½Ã���Ã��Ã�¯Ã���Ã��Ã�¿Ã���Ã��Ã�½Ã���Ã�¯Ã�¿Ã�½Ã��Ã�¯Ã��Ã�¿Ã��Ã�½Ã���Ã�¯Ã�¿Ã�½Ã���Ã��Ã�½Ã���Ã�¯Ã�¿Ã�½Ã��Ã�¯Ã��Ã�¿Ã��Ã�½Ã���Ã��Ã�¯Ã���Ã��Ã�¿Ã���Ã��Ã�½Ã���Ã�¯Ã�¿Ã�½Ã���Ã��Ã�¯Ã���Ã�¯Ã�¿Ã�½Ã���Ã��Ã�¿Ã���Ã�¯Ã�¿Ã�½Ã���Ã��Ã�½Ã���Ã�¯Ã�¿Ã�½Ã��Ã�¯Ã��Ã�¿Ã��Ã�½Ã���Ã�¯Ã�¿Ã�½Ã���Ã��Ã�¯Ã���Ã�¯Ã�¿Ã�½Ã��Ã�¯Ã��Ã�¿Ã��Ã�½Ã���Ã�¯Ã�¿Ã�½Ã���Ã��Ã�¿Ã���Ã�¯Ã�¿Ã�½Ã��Ã�¯Ã��Ã�¿Ã��Ã�½Ã���Ã�¯Ã�¿Ã�½Ã���Ã��Ã�½Ã���Ã�¯Ã�¿Ã�½Ã��Ã�¯Ã��Ã�¿Ã��Ã�½Ã���Ã��Ã�¯Ã���Ã��Ã�¿Ã���Ã��Ã�½Ã���Ã�¯Ã�¿Ã�½Ã���Ã��Ã�¯Ã���Ã�¯Ã�¿Ã�½Ã���Ã��Ã�¿Ã���Ã�¯Ã�¿Ã�½Ã���Ã��Ã�½Ã���Ã�¯Ã�¿Ã�½Ã��Ã�¯Ã��Ã�¿Ã��Ã�½Ã���Ã��Ã�¯Ã���Ã��Ã�¿Ã���Ã��Ã�½Ã���Ã�¯Ã�¿Ã�½Ã��Ã�¯Ã��Ã�¿Ã��Ã�½Ã���Ã�¯Ã�¿Ã�½Ã���Ã��Ã�½Ã���Ã�¯Ã�¿Ã�½Ã��Ã�¯Ã��Ã�¿Ã��Ã�½Ã���Ã��Ã�¯Ã���Ã��Ã�¿Ã���Ã��Ã�½Ã���Ã�¯Ã�¿Ã�½Ã���Ã��Ã�¯Ã���Ã�¯Ã�¿Ã�½Ã���Ã��Ã�¿Ã���Ã�¯Ã�¿Ã�½Ã���Ã��Ã�½Ã���Ã�¯Ã�¿Ã�½Ã��Ã�¯Ã��Ã�¿Ã��Ã�½Ã���Ã�¯Ã�¿Ã�½Ã���Ã��Ã�¯Ã���Ã�¯Ã�¿Ã�½Ã��Ã�¯Ã��Ã�¿Ã��Ã�½Ã���Ã�¯Ã�¿Ã�½Ã���Ã��Ã�¿Ã���Ã�¯Ã�¿Ã�½Ã��Ã�¯Ã��Ã�¿Ã��Ã�½Ã���Ã�¯Ã�¿Ã�½Ã���Ã��Ã�½Ã���Ã�¯Ã�¿Ã�½Ã��Ã�¯Ã��Ã�¿Ã��Ã�½Ã���Ã��Ã�¯Ã���Ã��Ã�¿Ã���Ã��Ã�½Ã���Ã�¯Ã�¿Ã�½Ã��Ã�¯Ã��Ã�¿Ã��Ã�½Ã���Ã�¯Ã�¿Ã�½Ã���Ã��Ã�¯Ã���Ã�¯Ã�¿Ã�½Ã��Ã�¯Ã��Ã�¿Ã��Ã�½Ã���Ã��Ã�¯Ã���Ã��Ã�¿Ã���Ã��Ã�½Ã���Ã�¯Ã�¿Ã�½Ã��Ã�¯Ã��Ã�¿Ã��Ã�½Ã���Ã�¯Ã�¿Ã�½Ã���Ã��Ã�¿Ã���Ã�¯Ã�¿Ã�½Ã��Ã�¯Ã��Ã�¿Ã��Ã�½Ã���Ã��Ã�¯Ã���Ã��Ã�¿Ã���Ã��Ã�½Ã���Ã�¯Ã�¿Ã�½Ã��Ã�¯Ã��Ã�¿Ã��Ã�½Ã���Ã�¯Ã�¿Ã�½Ã���Ã��Ã�½Ã���Ã�¯Ã�¿Ã�½Ã��Ã�¯Ã��Ã�¿Ã��Ã�½Ã���Ã��Ã�¯Ã���Ã��Ã�¿Ã���Ã��Ã�½Ã���Ã�¯Ã�¿Ã�½Ã���Ã��Ã�¯Ã���Ã�¯Ã�¿Ã�½Ã���Ã��Ã�¿Ã���Ã�¯Ã�¿Ã�½Ã���Ã��Ã�½Ã���Ã�¯Ã�¿Ã�½Ã��Ã�¯Ã��Ã�¿Ã��Ã�½Ã���Ã��Ã�¯Ã���Ã��Ã�¿Ã���Ã��Ã�½Ã���Ã�¯Ã�¿Ã�½Ã��Ã�¯Ã��Ã�¿Ã��Ã�½Ã���Ã�¯Ã�¿Ã�½Ã���Ã��Ã�¯Ã���Ã�¯Ã�¿Ã�½Ã��Ã�¯Ã��Ã�¿Ã��Ã�½Ã���Ã��Ã�¯Ã���Ã��Ã�¿Ã���Ã��Ã�½Ã���Ã�¯Ã�¿Ã�½Ã���Ã��Ã�¯Ã���Ã�¯Ã�¿Ã�½Ã���Ã��Ã�¿Ã���Ã�¯Ã�¿Ã�½Ã���Ã��Ã�½Ã���Ã�¯Ã�¿Ã�½Ã��Ã�¯Ã��Ã�¿Ã��Ã�½Ã���Ã��Ã�¯Ã���Ã��Ã�¿Ã���Ã��Ã�½Ã���Ã�¯Ã�¿Ã�½Ã��Ã�¯Ã��Ã�¿Ã��Ã�½Ã���Ã�¯Ã�¿Ã�½Ã���Ã��Ã�¿Ã���Ã�¯Ã�¿Ã�½Ã��Ã�¯Ã��Ã�¿Ã��Ã�½Ã���Ã��Ã�¯Ã���Ã��Ã�¿Ã���Ã��Ã�½Ã���Ã�¯Ã�¿Ã�½Ã���Ã��Ã�¯Ã���Ã�¯Ã�¿Ã�½Ã���Ã��Ã�¿Ã���Ã�¯Ã�¿Ã�½Ã���Ã��Ã�½Ã���Ã�¯Ã�¿Ã�½Ã��Ã�¯Ã��Ã�¿Ã��Ã�½Ã���Ã��Ã�¯Ã���Ã��Ã�¿Ã���Ã��Ã�½Ã���Ã�¯Ã�¿Ã�½Ã��Ã�¯Ã��Ã�¿Ã��Ã�½Ã���Ã�¯Ã�¿Ã�½Ã���Ã��Ã�½Ã���Ã�¯Ã�¿Ã�½Ã��Ã�¯Ã��Ã�¿Ã��Ã�½Ã���Ã��Ã�¯Ã���Ã��Ã�¿Ã���Ã��Ã�½Ã���Ã�¯Ã�¿Ã�½Ã���Ã��Ã�¯Ã���Ã�¯Ã�¿Ã�½Ã���Ã��Ã�¿Ã���Ã�¯Ã�¿Ã�½Ã���Ã��Ã�½Ã���Ã�¯Ã�¿Ã�½Ã��Ã�¯Ã��Ã�¿Ã��Ã�½Ã���Ã�¯Ã�¿Ã�½Ã���Ã��Ã�¯Ã���Ã�¯Ã�¿Ã�½Ã��Ã�¯Ã��Ã�¿Ã��Ã�½Ã���Ã�¯Ã�¿Ã�½Ã���Ã��Ã�¿Ã���Ã�¯Ã�¿Ã�½Ã��Ã�¯Ã��Ã�¿Ã��Ã�½Ã���Ã�¯Ã�¿Ã�½Ã���Ã��Ã�½Ã���Ã�¯Ã�¿Ã�½Ã��Ã�¯Ã��Ã�¿Ã��Ã�½Ã���Ã��Ã�¯Ã���Ã��Ã�¿Ã���Ã��Ã�½Ã���Ã�¯Ã�¿Ã�½Ã��Ã�¯Ã��Ã�¿Ã��Ã�½Ã���Ã�¯Ã�¿Ã�½Ã���Ã��Ã�¯Ã���Ã�¯Ã�¿Ã�½Ã��Ã�¯Ã��Ã�¿Ã��Ã�½Ã���Ã��Ã�¯Ã���Ã��Ã�¿Ã���Ã��Ã�½Ã���Ã�¯Ã�¿Ã�½Ã��Ã�¯Ã��Ã�¿Ã��Ã�½Ã���Ã�¯Ã�¿Ã�½Ã���Ã��Ã�¿Ã���Ã�¯Ã�¿Ã�½Ã��Ã�¯Ã��Ã�¿Ã��Ã�½Ã���Ã��Ã�¯Ã���Ã��Ã�¿Ã���Ã��Ã�½Ã���Ã�¯Ã�¿Ã�½Ã��Ã�¯Ã��Ã�¿Ã��Ã�½Ã���Ã�¯Ã�¿Ã�½Ã���Ã��Ã�½Ã���Ã�¯Ã�¿Ã�½Ã��Ã�¯Ã��Ã�¿Ã��Ã�½Ã���Ã��Ã�¯Ã���Ã��Ã�¿Ã���Ã��Ã�½Ã���Ã�¯Ã�¿Ã�½Ã���Ã��Ã�¯Ã���Ã�¯Ã�¿Ã�½Ã���Ã��Ã�¿Ã���Ã�¯Ã�¿Ã�½Ã���Ã��Ã�½Ã���Ã�¯Ã�¿Ã�½Ã��Ã�¯Ã��Ã�¿Ã��Ã�½Ã���Ã�¯Ã�¿Ã�½Ã���Ã��Ã�¯Ã���Ã�¯Ã�¿Ã�½Ã��Ã�¯Ã��Ã�¿Ã��Ã�½Ã���Ã�¯Ã�¿Ã�½Ã���Ã��Ã�¿Ã���Ã�¯Ã�¿Ã�½Ã��Ã�¯Ã��Ã�¿Ã��Ã�½Ã���Ã�¯Ã�¿Ã�½Ã���Ã��Ã�½Ã���Ã�¯Ã�¿Ã�½Ã��Ã�¯Ã��Ã�¿Ã��Ã�½Ã���Ã��Ã�¯Ã���Ã��Ã�¿Ã���Ã��Ã�½Ã���Ã�¯Ã�¿Ã�½Ã���Ã��Ã�¯Ã���Ã�¯Ã�¿Ã�½Ã���Ã��Ã�¿Ã���Ã�¯Ã�¿Ã�½Ã���Ã��Ã�½Ã���Ã�¯Ã�¿Ã�½Ã��Ã�¯Ã��Ã�¿Ã��Ã�½Ã���Ã��Ã�¯Ã���Ã��Ã�¿Ã���Ã��Ã�½Ã���Ã�¯Ã�¿Ã�½Ã��Ã�¯Ã��Ã�¿Ã��Ã�½Ã���Ã�¯Ã�¿Ã�½Ã���Ã��Ã�¯Ã���Ã�¯Ã�¿Ã�½Ã��Ã�¯Ã��Ã�¿Ã��Ã�½Ã���Ã��Ã�¯Ã���Ã��Ã�¿Ã���Ã��Ã�½Ã���Ã�¯Ã�¿Ã�½Ã���Ã��Ã�¯Ã���Ã�¯Ã�¿Ã�½Ã���Ã��Ã�¿Ã���Ã�¯Ã�¿Ã�½Ã���Ã��Ã�½Ã���Ã�¯Ã�¿Ã�½Ã��Ã�¯Ã��Ã�¿Ã��Ã�½Ã���Ã�¯Ã�¿Ã�½Ã���Ã��Ã�¯Ã���Ã�¯Ã�¿Ã�½Ã��Ã�¯Ã��Ã�¿Ã��Ã�½Ã���Ã�¯Ã�¿Ã�½Ã���Ã��Ã�¿Ã���Ã�¯Ã�¿Ã�½Ã��Ã�¯Ã��Ã�¿Ã��Ã�½Ã���Ã�¯Ã�¿Ã�½Ã���Ã��Ã�½Ã���Ã�¯Ã�¿Ã�½Ã��Ã�¯Ã��Ã�¿Ã��Ã�½Ã���Ã��Ã�¯Ã���Ã��Ã�¿Ã���Ã��Ã�½Ã���Ã�¯Ã�¿Ã�½Ã��Ã�¯Ã��Ã�¿Ã��Ã�½Ã���Ã�¯Ã�¿Ã�½Ã���Ã��Ã�¯Ã���Ã�¯Ã�¿Ã�½Ã��Ã�¯Ã��Ã�¿Ã��Ã�½Ã���Ã��Ã�¯Ã���Ã��Ã�¿Ã���Ã��Ã�½Ã���Ã�¯Ã�¿Ã�½Ã��Ã�¯Ã��Ã�¿Ã��Ã�½Ã���Ã�¯Ã�¿Ã�½Ã���Ã��Ã�¿Ã���Ã�¯Ã�¿Ã�½Ã��Ã�¯Ã��Ã�¿Ã��Ã�½Ã���Ã��Ã�¯Ã���Ã��Ã�¿Ã���Ã��Ã�½Ã���Ã�¯Ã�¿Ã�½Ã��Ã�¯Ã��Ã�¿Ã��Ã�½Ã���Ã�¯Ã�¿Ã�½Ã���Ã��Ã�½Ã���Ã�¯Ã�¿Ã�½Ã��Ã�¯Ã��Ã�¿Ã��Ã�½Ã���Ã��Ã�¯Ã���Ã��Ã�¿Ã���Ã��Ã�½Ã���Ã�¯Ã�¿Ã�½Ã���Ã��Ã�¯Ã���Ã�¯Ã�¿Ã�½Ã���Ã��Ã�¿Ã���Ã�¯Ã�¿Ã�½Ã���Ã��Ã�½Ã���Ã�¯Ã�¿Ã�½Ã��Ã�¯Ã��Ã�¿Ã��Ã�½Ã���Ã��Ã�¯Ã���Ã��Ã�¿Ã���Ã��Ã�½Ã���Ã�¯Ã�¿Ã�½Ã��Ã�¯Ã��Ã�¿Ã��Ã�½Ã���Ã�¯Ã�¿Ã�½Ã���Ã��Ã�¯Ã���Ã�¯Ã�¿Ã�½Ã��Ã�¯Ã��Ã�¿Ã��Ã�½Ã���Ã��Ã�¯Ã���Ã��Ã�¿Ã���Ã��Ã�½Ã���Ã�¯Ã�¿Ã�½Ã���Ã��Ã�¯Ã���Ã�¯Ã�¿Ã�½Ã���Ã��Ã�¿Ã���Ã�¯Ã�¿Ã�½Ã���Ã��Ã�½Ã���Ã�¯Ã�¿Ã�½Ã��Ã�¯Ã��Ã�¿Ã��Ã�½Ã���Ã��Ã�¯Ã���Ã��Ã�¿Ã���Ã��Ã�½Ã���Ã�¯Ã�¿Ã�½Ã��Ã�¯Ã��Ã�¿Ã��Ã�½Ã���Ã�¯Ã�¿Ã�½Ã���Ã��Ã�¿Ã���Ã�¯Ã�¿Ã�½Ã��Ã�¯Ã��Ã�¿Ã��Ã�½Ã���Ã��Ã�¯Ã���Ã��Ã�¿Ã���Ã��Ã�½Ã���Ã�¯Ã�¿Ã�½Ã���Ã��Ã�¯Ã���Ã�¯Ã�¿Ã�½Ã���Ã��Ã�¿Ã���Ã�¯Ã�¿Ã�½Ã���Ã��Ã�½Ã���Ã�¯Ã�¿Ã�½Ã��Ã�¯Ã��Ã�¿Ã��Ã�½Ã���Ã��Ã�¯Ã���Ã��Ã�¿Ã���Ã��Ã�½Ã���Ã�¯Ã�¿Ã�½Ã��Ã�¯Ã��Ã�¿Ã��Ã�½Ã���Ã�¯Ã�¿Ã�½Ã���Ã��Ã�½Ã���Ã�¯Ã�¿Ã�½Ã��Ã�¯Ã��Ã�¿Ã��Ã�½Ã���Ã��Ã�¯Ã���Ã��Ã�¿Ã���Ã��Ã�½Ã���Ã�¯Ã�¿Ã�½Ã���Ã��Ã�¯Ã���Ã�¯Ã�¿Ã�½Ã���Ã��Ã�¿Ã���Ã�¯Ã�¿Ã�½Ã���Ã��Ã�½Ã���Ã�¯Ã�¿Ã�½Ã��Ã�¯Ã��Ã�¿Ã��Ã�½Ã���Ã�¯Ã�¿Ã�½Ã���Ã��Ã�¯Ã���Ã�¯Ã�¿Ã�½Ã��Ã�¯Ã��Ã�¿Ã��Ã�½Ã���Ã�¯Ã�¿Ã�½Ã���Ã��Ã�¿Ã���Ã�¯Ã�¿Ã�½Ã��Ã�¯Ã��Ã�¿Ã��Ã�½Ã���Ã�¯Ã�¿Ã�½Ã���Ã��Ã�½Ã���Ã�¯Ã�¿Ã�½Ã��Ã�¯Ã��Ã�¿Ã��Ã�½Ã���Ã��Ã�¯Ã���Ã��Ã�¿Ã���Ã��Ã�½Ã���Ã�¯Ã�¿Ã�½Ã��Ã�¯Ã��Ã�¿Ã��Ã�½Ã���Ã�¯Ã�¿Ã�½Ã���Ã��Ã�¯Ã���Ã�¯Ã�¿Ã�½Ã��Ã�¯Ã��Ã�¿Ã��Ã�½Ã���Ã��Ã�¯Ã���Ã��Ã�¿Ã���Ã��Ã�½Ã���Ã�¯Ã�¿Ã�½Ã��Ã�¯Ã��Ã�¿Ã��Ã�½Ã���Ã�¯Ã�¿Ã�½Ã���Ã��Ã�¿Ã���Ã�¯Ã�¿Ã�½Ã��Ã�¯Ã��Ã�¿Ã��Ã�½Ã���Ã��Ã�¯Ã���Ã��Ã�¿Ã���Ã��Ã�½Ã���Ã�¯Ã�¿Ã�½Ã��Ã�¯Ã��Ã�¿Ã��Ã�½Ã���Ã�¯Ã�¿Ã�½Ã���Ã��Ã�½Ã���Ã�¯Ã�¿Ã�½Ã��Ã�¯Ã��Ã�¿Ã��Ã�½Ã���Ã��Ã�¯Ã���Ã��Ã�¿Ã���Ã��Ã�½Ã���Ã�¯Ã�¿Ã�½Ã���Ã��Ã�¯Ã���Ã�¯Ã�¿Ã�½Ã���Ã��Ã�¿Ã���Ã�¯Ã�¿Ã�½Ã���Ã��Ã�½Ã���Ã�¯Ã�¿Ã�½Ã��Ã�¯Ã��Ã�¿Ã��Ã�½Ã���Ã�¯Ã�¿Ã�½Ã���Ã��Ã�¯Ã���Ã�¯Ã�¿Ã�½Ã��Ã�¯Ã��Ã�¿Ã��Ã�½Ã���Ã�¯Ã�¿Ã�½Ã���Ã��Ã�¿Ã���Ã�¯Ã�¿Ã�½Ã��Ã�¯Ã��Ã�¿Ã��Ã�½Ã���Ã�¯Ã�¿Ã�½Ã���Ã��Ã�½Ã���Ã�¯Ã�¿Ã�½Ã��Ã�¯Ã��Ã�¿Ã��Ã�½Ã���Ã��Ã�¯Ã���Ã��Ã�¿Ã���Ã��Ã�½Ã���Ã�¯Ã�¿Ã�½Ã���Ã��Ã�¯Ã���Ã�¯Ã�¿Ã�½Ã���Ã��Ã�¿Ã���Ã�¯Ã�¿Ã�½Ã���Ã��Ã�½Ã���Ã�¯Ã�¿Ã�½Ã��Ã�¯Ã��Ã�¿Ã��Ã�½Ã���Ã��Ã�¯Ã���Ã��Ã�¿Ã���Ã��Ã�½Ã���Ã�¯Ã�¿Ã�½Ã��Ã�¯Ã��Ã�¿Ã��Ã�½Ã���Ã�¯Ã�¿Ã�½Ã���Ã��Ã�¿Ã���Ã�¯Ã�¿Ã�½Ã��Ã�¯Ã��Ã�¿Ã��Ã�½Ã���Ã��Ã�¯Ã���Ã��Ã�¿Ã���Ã��Ã�½Ã���Ã�¯Ã�¿Ã�½Ã���Ã��Ã�¯Ã���Ã�¯Ã�¿Ã�½Ã���Ã��Ã�¿Ã���Ã�¯Ã�¿Ã�½Ã���Ã��Ã�½Ã���Ã�¯Ã�¿Ã�½Ã��Ã�¯Ã��Ã�¿Ã��Ã�½Ã���Ã�¯Ã�¿Ã�½Ã���Ã��Ã�¯Ã���Ã�¯Ã�¿Ã�½Ã��Ã�¯Ã��Ã�¿Ã��Ã�½Ã���Ã�¯Ã�¿Ã�½Ã���Ã��Ã�¿Ã���Ã�¯Ã�¿Ã�½Ã��Ã�¯Ã��Ã�¿Ã��Ã�½Ã���Ã�¯Ã�¿Ã�½Ã���Ã��Ã�½Ã���Ã�¯Ã�¿Ã�½Ã��Ã�¯Ã��Ã�¿Ã��Ã�½Ã���Ã��Ã�¯Ã���Ã��Ã�¿Ã���Ã��Ã�½Ã���Ã�¯Ã�¿Ã�½Ã��Ã�¯Ã��Ã�¿Ã��Ã�½Ã���Ã�¯Ã�¿Ã�½Ã���Ã��Ã�¯Ã���Ã�¯Ã�¿Ã�½Ã��Ã�¯Ã��Ã�¿Ã��Ã�½Ã���Ã��Ã�¯Ã���Ã��Ã�¿Ã���Ã��Ã�½Ã���Ã�¯Ã�¿Ã�½Ã��Ã�¯Ã��Ã�¿Ã��Ã�½Ã���Ã�¯Ã�¿Ã�½Ã���Ã��Ã�¿Ã���Ã�¯Ã�¿Ã�½Ã��Ã�¯Ã��Ã�¿Ã��Ã�½Ã���Ã��Ã�¯Ã���Ã��Ã�¿Ã���Ã��Ã�½Ã���Ã�¯Ã�¿Ã�½Ã��Ã�¯Ã��Ã�¿Ã��Ã�½Ã���Ã�¯Ã�¿Ã�½Ã���Ã��Ã�½Ã���Ã�¯Ã�¿Ã�½Ã��Ã�¯Ã��Ã�¿Ã��Ã�½Ã���Ã��Ã�¯Ã���Ã��Ã�¿Ã���Ã��Ã�½Ã���Ã�¯Ã�¿Ã�½Ã���Ã��Ã�¯Ã���Ã�¯Ã�¿Ã�½Ã���Ã��Ã�¿Ã���Ã�¯Ã�¿Ã�½Ã���Ã��Ã�½Ã���Ã�¯Ã�¿Ã�½Ã��Ã�¯Ã��Ã�¿Ã��Ã�½Ã���Ã��Ã�¯Ã���Ã��Ã�¿Ã���Ã��Ã�½Ã���Ã�¯Ã�¿Ã�½Ã��Ã�¯Ã��Ã�¿Ã��Ã�½Ã���Ã�¯Ã�¿Ã�½Ã���Ã��Ã�¯Ã���Ã�¯Ã�¿Ã�½Ã��Ã�¯Ã��Ã�¿Ã��Ã�½Ã���Ã��Ã�¯Ã���Ã��Ã�¿Ã���Ã��Ã�½Ã���Ã�¯Ã�¿Ã�½Ã���Ã��Ã�¯Ã���Ã�¯Ã�¿Ã�½Ã���Ã��Ã�¿Ã���Ã�¯Ã�¿Ã�½Ã���Ã��Ã�½Ã���Ã�¯Ã�¿Ã�½Ã��Ã�¯Ã��Ã�¿Ã��Ã�½Ã���Ã��Ã�¯Ã���Ã��Ã�¿Ã���Ã��Ã�½Ã���Ã�¯Ã�¿Ã�½Ã��Ã�¯Ã��Ã�¿Ã��Ã�½Ã���Ã�¯Ã�¿Ã�½Ã���Ã��Ã�¿Ã���Ã�¯Ã�¿Ã�½Ã��Ã�¯Ã��Ã�¿Ã��Ã�½Ã���Ã��Ã�¯Ã���Ã��Ã�¿Ã���Ã��Ã�½Ã���Ã�¯Ã�¿Ã�½Ã���Ã��Ã�¯Ã���Ã�¯Ã�¿Ã�½Ã���Ã��Ã�¿Ã���Ã�¯Ã�¿Ã�½Ã���Ã��Ã�½Ã���Ã�¯Ã�¿Ã�½Ã��Ã�¯Ã��Ã�¿Ã��Ã�½Ã���Ã��Ã�¯Ã���Ã��Ã�¿Ã���Ã��Ã�½Ã���Ã�¯Ã�¿Ã�½Ã��Ã�¯Ã��Ã�¿Ã��Ã�½Ã���Ã�¯Ã�¿Ã�½Ã���Ã��Ã�½Ã���Ã�¯Ã�¿Ã�½Ã��Ã�¯Ã��Ã�¿Ã��Ã�½Ã���Ã��Ã�¯Ã���Ã��Ã�¿Ã���Ã��Ã�½Ã���Ã�¯Ã�¿Ã�½Ã���Ã��Ã�¯Ã���Ã�¯Ã�¿Ã�½Ã���Ã��Ã�¿Ã���Ã�¯Ã�¿Ã�½Ã���Ã��Ã�½Ã���Ã�¯Ã�¿Ã�½Ã��Ã�¯Ã��Ã�¿Ã��Ã�½Ã���Ã�¯Ã�¿Ã�½Ã���Ã��Ã�¯Ã���Ã�¯Ã�¿Ã�½Ã��Ã�¯Ã��Ã�¿Ã��Ã�½Ã���Ã�¯Ã�¿Ã�½Ã���Ã��Ã�¿Ã���Ã�¯Ã�¿Ã�½Ã��Ã�¯Ã��Ã�¿Ã��Ã�½Ã���Ã�¯Ã�¿Ã�½Ã���Ã��Ã�½Ã���Ã�¯Ã�¿Ã�½Ã��Ã�¯Ã��Ã�¿Ã��Ã�½Ã���Ã��Ã�¯Ã���Ã��Ã�¿Ã���Ã��Ã�½Ã���Ã�¯Ã�¿Ã�½Ã��Ã�¯Ã��Ã�¿Ã��Ã�½Ã���Ã�¯Ã�¿Ã�½Ã���Ã��Ã�¯Ã���Ã�¯Ã�¿Ã�½Ã��Ã�¯Ã��Ã�¿Ã��Ã�½Ã���Ã��Ã�¯Ã���Ã��Ã�¿Ã���Ã��Ã�½Ã���Ã�¯Ã�¿Ã�½Ã��Ã�¯Ã��Ã�¿Ã��Ã�½Ã���Ã�¯Ã�¿Ã�½Ã���Ã��Ã�¿Ã���Ã�¯Ã�¿Ã�½Ã��Ã�¯Ã��Ã�¿Ã��Ã�½Ã���Ã��Ã�¯Ã���Ã��Ã�¿Ã���Ã��Ã�½Ã���Ã�¯Ã�¿Ã�½Ã��Ã�¯Ã��Ã�¿Ã��Ã�½Ã���Ã�¯Ã�¿Ã�½Ã���Ã��Ã�½Ã���Ã�¯Ã�¿Ã�½Ã��Ã�¯Ã��Ã�¿Ã��Ã�½Ã���Ã��Ã�¯Ã���Ã��Ã�¿Ã���Ã��Ã�½Ã���Ã�¯Ã�¿Ã�½Ã���Ã��Ã�¯Ã���Ã�¯Ã�¿Ã�½Ã���Ã��Ã�¿Ã���Ã�¯Ã�¿Ã�½Ã���Ã��Ã�½Ã���Ã�¯Ã�¿Ã�½Ã��Ã�¯Ã��Ã�¿Ã��Ã�½Ã���Ã�¯Ã�¿Ã�½Ã���Ã��Ã�¯Ã���Ã�¯Ã�¿Ã�½Ã��Ã�¯Ã��Ã�¿Ã��Ã�½Ã���Ã�¯Ã�¿Ã�½Ã���Ã��Ã�¿Ã���Ã�¯Ã�¿Ã�½Ã��Ã�¯Ã��Ã�¿Ã��Ã�½Ã���Ã�¯Ã�¿Ã�½Ã���Ã��Ã�½Ã���Ã�¯Ã�¿Ã�½Ã��Ã�¯Ã��Ã�¿Ã��Ã�½Ã���Ã��Ã�¯Ã���Ã��Ã�¿Ã���Ã��Ã�½Ã���Ã�¯Ã�¿Ã�½Ã���Ã��Ã�¯Ã���Ã�¯Ã�¿Ã�½Ã���Ã��Ã�¿Ã���Ã�¯Ã�¿Ã�½Ã���Ã��Ã�½Ã���Ã�¯Ã�¿Ã�½Ã��Ã�¯Ã��Ã�¿Ã��Ã�½Ã���Ã��Ã�¯Ã���Ã��Ã�¿Ã���Ã��Ã�½Ã���Ã�¯Ã�¿Ã�½Ã��Ã�¯Ã��Ã�¿Ã��Ã�½Ã���Ã�¯Ã�¿Ã�½Ã���Ã��Ã�½Ã���Ã�¯Ã�¿Ã�½Ã��Ã�¯Ã��Ã�¿Ã��Ã�½Ã���Ã��Ã�¯Ã���Ã��Ã�¿Ã���Ã��Ã�½Ã���Ã�¯Ã�¿Ã�½Ã���Ã��Ã�¯Ã���Ã�¯Ã�¿Ã�½Ã���Ã��Ã�¿Ã���Ã�¯Ã�¿Ã�½Ã���Ã��Ã�½Ã���Ã�¯Ã�¿Ã�½Ã��Ã�¯Ã��Ã�¿Ã��Ã�½Ã���Ã�¯Ã�¿Ã�½Ã���Ã��Ã�¯Ã���Ã�¯Ã�¿Ã�½Ã��Ã�¯Ã��Ã�¿Ã��Ã�½Ã���Ã�¯Ã�¿Ã�½Ã���Ã��Ã�¿Ã���Ã�¯Ã�¿Ã�½Ã��Ã�¯Ã��Ã�¿Ã��Ã�½Ã���Ã�¯Ã�¿Ã�½Ã���Ã��Ã�½Ã���Ã�¯Ã�¿Ã�½Ã��Ã�¯Ã��Ã�¿Ã��Ã�½Ã���Ã��Ã�¯Ã���Ã��Ã�¿Ã���Ã��Ã�½Ã���Ã�¯Ã�¿Ã�½Ã��Ã�¯Ã��Ã�¿Ã��Ã�½Ã���Ã�¯Ã�¿Ã�½Ã���Ã��Ã�¯Ã���Ã�¯Ã�¿Ã�½Ã��Ã�¯Ã��Ã�¿Ã��Ã�½Ã���Ã��Ã�¯Ã���Ã��Ã�¿Ã���Ã��Ã�½Ã���Ã�¯Ã�¿Ã�½Ã��Ã�¯Ã��Ã�¿Ã��Ã�½Ã���Ã�¯Ã�¿Ã�½Ã���Ã��Ã�¿Ã���Ã�¯Ã�¿Ã�½Ã��Ã�¯Ã��Ã�¿Ã��Ã�½Ã���Ã��Ã�¯Ã���Ã��Ã�¿Ã���Ã��Ã�½Ã���Ã�¯Ã�¿Ã�½Ã��Ã�¯Ã��Ã�¿Ã��Ã�½Ã���Ã�¯Ã�¿Ã�½Ã���Ã��Ã�½Ã���Ã�¯Ã�¿Ã�½Ã��Ã�¯Ã��Ã�¿Ã��Ã�½Ã���Ã��Ã�¯Ã���Ã��Ã�¿Ã���Ã��Ã�½Ã���Ã�¯Ã�¿Ã�½Ã���Ã��Ã�¯Ã���Ã�¯Ã�¿Ã�½Ã���Ã��Ã�¿Ã���Ã�¯Ã�¿Ã�½Ã���Ã��Ã�½Ã���Ã�¯Ã�¿Ã�½Ã��Ã�¯Ã��Ã�¿Ã��Ã�½Ã���Ã��Ã�¯Ã���Ã��Ã�¿Ã���Ã��Ã�½Ã���Ã�¯Ã�¿Ã�½Ã��Ã�¯Ã��Ã�¿Ã��Ã�½Ã���Ã�¯Ã�¿Ã�½Ã���Ã��Ã�¯Ã���Ã�¯Ã�¿Ã�½Ã��Ã�¯Ã��Ã�¿Ã��Ã�½Ã���Ã��Ã�¯Ã���Ã��Ã�¿Ã���Ã��Ã�½Ã���Ã�¯Ã�¿Ã�½Ã���Ã��Ã�¯Ã���Ã�¯Ã�¿Ã�½Ã���Ã��Ã�¿Ã���Ã�¯Ã�¿Ã�½Ã���Ã��Ã�½Ã���Ã�¯Ã�¿Ã�½Ã��Ã�¯Ã��Ã�¿Ã��Ã�½Ã���Ã��Ã�¯Ã���Ã��Ã�¿Ã���Ã��Ã�½Ã���Ã�¯Ã�¿Ã�½Ã��Ã�¯Ã��Ã�¿Ã��Ã�½Ã���Ã�¯Ã�¿Ã�½Ã���Ã��Ã�¿Ã���Ã�¯Ã�¿Ã�½Ã��Ã�¯Ã��Ã�¿Ã��Ã�½Ã���Ã��Ã�¯Ã���Ã��Ã�¿Ã���Ã��Ã�½Ã���Ã�¯Ã�¿Ã�½Ã���Ã��Ã�¯Ã���Ã�¯Ã�¿Ã�½Ã���Ã��Ã�¿Ã���Ã�¯Ã�¿Ã�½Ã���Ã��Ã�½Ã���Ã�¯Ã�¿Ã�½Ã��Ã�¯Ã��Ã�¿Ã��Ã�½Ã���Ã��Ã�¯Ã���Ã��Ã�¿Ã���Ã��Ã�½Ã���Ã�¯Ã�¿Ã�½Ã��Ã�¯Ã��Ã�¿Ã��Ã�½Ã���Ã�¯Ã�¿Ã�½Ã���Ã��Ã�½Ã���Ã�¯Ã�¿Ã�½Ã��Ã�¯Ã��Ã�¿Ã��Ã�½Ã���Ã��Ã�¯Ã���Ã��Ã�¿Ã���Ã��Ã�½Ã���Ã�¯Ã�¿Ã�½Ã���Ã��Ã�¯Ã���Ã�¯Ã�¿Ã�½Ã���Ã��Ã�¿Ã���Ã�¯Ã�¿Ã�½Ã���Ã��Ã�½Ã���Ã�¯Ã�¿Ã�½Ã��Ã�¯Ã��Ã�¿Ã��Ã�½Ã���Ã�¯Ã�¿Ã�½Ã���Ã��Ã�¯Ã���Ã�¯Ã�¿Ã�½Ã��Ã�¯Ã��Ã�¿Ã��Ã�½Ã���Ã�¯Ã�¿Ã�½Ã���Ã��Ã�¿Ã���Ã�¯Ã�¿Ã�½Ã��Ã�¯Ã��Ã�¿Ã��Ã�½Ã���Ã�¯Ã�¿Ã�½Ã���Ã��Ã�½Ã���Ã�¯Ã�¿Ã�½Ã��Ã�¯Ã��Ã�¿Ã��Ã�½Ã���Ã��Ã�¯Ã���Ã��Ã�¿Ã���Ã��Ã�½Ã���Ã�¯Ã�¿Ã�½Ã���Ã��Ã�¯Ã���Ã�¯Ã�¿Ã�½Ã���Ã��Ã�¿Ã���Ã�¯Ã�¿Ã�½Ã���Ã��Ã�½Ã���Ã�¯Ã�¿Ã�½Ã��Ã�¯Ã��Ã�¿Ã��Ã�½Ã���Ã��Ã�¯Ã���Ã��Ã�¿Ã���Ã��Ã�½Ã���Ã�¯Ã�¿Ã�½Ã��Ã�¯Ã��Ã�¿Ã��Ã�½Ã���Ã�¯Ã�¿Ã�½Ã���Ã��Ã�¯Ã���Ã�¯Ã�¿Ã�½Ã��Ã�¯Ã��Ã�¿Ã��Ã�½Ã���Ã��Ã�¯Ã���Ã��Ã�¿Ã���Ã��Ã�½Ã���Ã�¯Ã�¿Ã�½Ã���Ã��Ã�¯Ã���Ã�¯Ã�¿Ã�½Ã���Ã��Ã�¿Ã���Ã�¯Ã�¿Ã�½Ã���Ã��Ã�½Ã���Ã�¯Ã�¿Ã�½Ã��Ã�¯Ã��Ã�¿Ã��Ã�½Ã���Ã�¯Ã�¿Ã�½Ã���Ã��Ã�¯Ã���Ã�¯Ã�¿Ã�½Ã��Ã�¯Ã��Ã�¿Ã��Ã�½Ã���Ã�¯Ã�¿Ã�½Ã���Ã��Ã�¿Ã���Ã�¯Ã�¿Ã�½Ã��Ã�¯Ã��Ã�¿Ã��Ã�½Ã���Ã�¯Ã�¿Ã�½Ã���Ã��Ã�½Ã���Ã�¯Ã�¿Ã�½Ã��Ã�¯Ã��Ã�¿Ã��Ã�½Ã���Ã��Ã�¯Ã���Ã��Ã�¿Ã���Ã��Ã�½Ã���Ã�¯Ã�¿Ã�½Ã���Ã��Ã�¯Ã���Ã�¯Ã�¿Ã�½Ã���Ã��Ã�¿Ã���Ã�¯Ã�¿Ã�½Ã���Ã��Ã�½Ã���Ã�¯Ã�¿Ã�½Ã��Ã�¯Ã��Ã�¿Ã��Ã�½Ã���Ã��Ã�¯Ã���Ã��Ã�¿Ã���Ã��Ã�½Ã���Ã�¯Ã�¿Ã�½Ã��Ã�¯Ã��Ã�¿Ã��Ã�½Ã���Ã�¯Ã�¿Ã�½Ã���Ã��Ã�¿Ã���Ã�¯Ã�¿Ã�½Ã��Ã�¯Ã��Ã�¿Ã��Ã�½Ã���Ã��Ã�¯Ã���Ã��Ã�¿Ã���Ã��Ã�½Ã���Ã�¯Ã�¿Ã�½Ã���Ã��Ã�¯Ã���Ã�¯Ã�¿Ã�½Ã���Ã��Ã�¿Ã���Ã�¯Ã�¿Ã�½Ã���Ã��Ã�½Ã���Ã�¯Ã�¿Ã�½Ã��Ã�¯Ã��Ã�¿Ã��Ã�½Ã���Ã�¯Ã�¿Ã�½Ã���Ã��Ã�¯Ã���Ã�¯Ã�¿Ã�½Ã��Ã�¯Ã��Ã�¿Ã��Ã�½Ã���Ã�¯Ã�¿Ã�½Ã���Ã��Ã�¿Ã���Ã�¯Ã�¿Ã�½Ã��Ã�¯Ã��Ã�¿Ã��Ã�½Ã���Ã�¯Ã�¿Ã�½Ã���Ã��Ã�½Ã���Ã�¯Ã�¿Ã�½Ã��Ã�¯Ã��Ã�¿Ã��Ã�½Ã���Ã��Ã�¯Ã���Ã��Ã�¿Ã���Ã��Ã�½Ã���Ã�¯Ã�¿Ã�½Ã���Ã��Ã�¯Ã���Ã�¯Ã�¿Ã�½Ã���Ã��Ã�¿Ã���Ã�¯Ã�¿Ã�½Ã���Ã��Ã�½Ã���Ã�¯Ã�¿Ã�½Ã��Ã�¯Ã��Ã�¿Ã��Ã�½Ã���Ã��Ã�¯Ã���Ã��Ã�¿Ã���Ã��Ã�½Ã���Ã�¯Ã�¿Ã�½Ã��Ã�¯Ã��Ã�¿Ã��Ã�½Ã���Ã�¯Ã�¿Ã�½Ã���Ã��Ã�½Ã���Ã�¯Ã�¿Ã�½Ã��Ã�¯Ã��Ã�¿Ã��Ã�½Ã���Ã��Ã�¯Ã���Ã��Ã�¿Ã���Ã��Ã�½Ã���Ã�¯Ã�¿Ã�½Ã���Ã��Ã�¯Ã���Ã�¯Ã�¿Ã�½Ã���Ã��Ã�¿Ã���Ã�¯Ã�¿Ã�½Ã���Ã��Ã�½Ã���Ã�¯Ã�¿Ã�½Ã��Ã�¯Ã��Ã�¿Ã��Ã�½Ã���Ã�¯Ã�¿Ã�½Ã���Ã��Ã�¯Ã���Ã�¯Ã�¿Ã�½Ã��Ã�¯Ã��Ã�¿Ã��Ã�½Ã���Ã�¯Ã�¿Ã�½Ã���Ã��Ã�¿Ã���Ã�¯Ã�¿Ã�½Ã��Ã�¯Ã��Ã�¿Ã��Ã�½Ã���Ã�¯Ã�¿Ã�½Ã���Ã��Ã�½Ã���Ã�¯Ã�¿Ã�½Ã��Ã�¯Ã��Ã�¿Ã��Ã�½Ã���Ã��Ã�¯Ã���Ã��Ã�¿Ã���Ã��Ã�½Ã���Ã�¯Ã�¿Ã�½Ã��Ã�¯Ã��Ã�¿Ã��Ã�½Ã���Ã�¯Ã�¿Ã�½Ã���Ã��Ã�¯Ã���Ã�¯Ã�¿Ã�½Ã��Ã�¯Ã��Ã�¿Ã��Ã�½Ã���Ã��Ã�¯Ã���Ã��Ã�¿Ã���Ã��Ã�½Ã���Ã�¯Ã�¿Ã�½Ã��Ã�¯Ã��Ã�¿Ã��Ã�½Ã���Ã�¯Ã�¿Ã�½Ã���Ã��Ã�¿Ã���Ã�¯Ã�¿Ã�½Ã��Ã�¯Ã��Ã�¿Ã��Ã�½Ã���Ã��Ã�¯Ã���Ã��Ã�¿Ã���Ã��Ã�½Ã���Ã�¯Ã�¿Ã�½Ã��Ã�¯Ã��Ã�¿Ã��Ã�½Ã���Ã�¯Ã�¿Ã�½Ã���Ã��Ã�½Ã���Ã�¯Ã�¿Ã�½Ã��Ã�¯Ã��Ã�¿Ã��Ã�½Ã���Ã��Ã�¯Ã���Ã��Ã�¿Ã���Ã��Ã�½Ã���Ã�¯Ã�¿Ã�½Ã���Ã��Ã�¯Ã���Ã�¯Ã�¿Ã�½Ã���Ã��Ã�¿Ã���Ã�¯Ã�¿Ã�½Ã���Ã��Ã�½Ã���Ã�¯Ã�¿Ã�½Ã��Ã�¯Ã��Ã�¿Ã��Ã�½Ã���Ã�¯Ã�¿Ã�½Ã���Ã��Ã�¯Ã���Ã�¯Ã�¿Ã�½Ã��Ã�¯Ã��Ã�¿Ã��Ã�½Ã���Ã�¯Ã�¿Ã�½Ã���Ã��Ã�¿Ã���Ã�¯Ã�¿Ã�½Ã��Ã�¯Ã��Ã�¿Ã��Ã�½Ã���Ã�¯Ã�¿Ã�½Ã���Ã��Ã�½Ã���Ã�¯Ã�¿Ã�½Ã��Ã�¯Ã��Ã�¿Ã��Ã�½Ã���Ã��Ã�¯Ã���Ã��Ã�¿Ã���Ã��Ã�½Ã���Ã�¯Ã�¿Ã�½Ã���Ã��Ã�¯Ã���Ã�¯Ã�¿Ã�½Ã���Ã��Ã�¿Ã���Ã�¯Ã�¿Ã�½Ã���Ã��Ã�½Ã���Ã�¯Ã�¿Ã�½Ã��Ã�¯Ã��Ã�¿Ã��Ã�½Ã���Ã��Ã�¯Ã���Ã��Ã�¿Ã���Ã��Ã�½Ã���Ã�¯Ã�¿Ã�½Ã��Ã�¯Ã��Ã�¿Ã��Ã�½Ã���Ã�¯Ã�¿Ã�½Ã���Ã��Ã�¯Ã���Ã�¯Ã�¿Ã�½Ã��Ã�¯Ã��Ã�¿Ã��Ã�½Ã���Ã��Ã�¯Ã���Ã��Ã�¿Ã���Ã��Ã�½Ã���Ã�¯Ã�¿Ã�½Ã���Ã��Ã�¯Ã���Ã�¯Ã�¿Ã�½Ã���Ã��Ã�¿Ã���Ã�¯Ã�¿Ã�½Ã���Ã��Ã�½Ã���Ã�¯Ã�¿Ã�½Ã��Ã�¯Ã��Ã�¿Ã��Ã�½Ã���Ã�¯Ã�¿Ã�½Ã���Ã��Ã�¯Ã���Ã�¯Ã�¿Ã�½Ã��Ã�¯Ã��Ã�¿Ã��Ã�½Ã���Ã�¯Ã�¿Ã�½Ã���Ã��Ã�¿Ã���Ã�¯Ã�¿Ã�½Ã��Ã�¯Ã��Ã�¿Ã��Ã�½Ã���Ã�¯Ã�¿Ã�½Ã���Ã��Ã�½Ã���Ã�¯Ã�¿Ã�½Ã��Ã�¯Ã��Ã�¿Ã��Ã�½Ã���Ã��Ã�¯Ã���Ã��Ã�¿Ã���Ã��Ã�½Ã���Ã�¯Ã�¿Ã�½Ã��Ã�¯Ã��Ã�¿Ã��Ã�½Ã���Ã�¯Ã�¿Ã�½Ã���Ã��Ã�¯Ã���Ã�¯Ã�¿Ã�½Ã��Ã�¯Ã��Ã�¿Ã��Ã�½Ã���Ã��Ã�¯Ã���Ã��Ã�¿Ã���Ã��Ã�½Ã���Ã�¯Ã�¿Ã�½Ã��Ã�¯Ã��Ã�¿Ã��Ã�½Ã���Ã�¯Ã�¿Ã�½Ã���Ã��Ã�¿Ã���Ã�¯Ã�¿Ã�½Ã��Ã�¯Ã��Ã�¿Ã��Ã�½Ã���Ã��Ã�¯Ã���Ã��Ã�¿Ã���Ã��Ã�½Ã���Ã�¯Ã�¿Ã�½Ã��Ã�¯Ã��Ã�¿Ã��Ã�½Ã���Ã�¯Ã�¿Ã�½Ã���Ã��Ã�½Ã���Ã�¯Ã�¿Ã�½Ã��Ã�¯Ã��Ã�¿Ã��Ã�½Ã���Ã��Ã�¯Ã���Ã��Ã�¿Ã���Ã��Ã�½Ã���Ã�¯Ã�¿Ã�½Ã���Ã��Ã�¯Ã���Ã�¯Ã�¿Ã�½Ã���Ã��Ã�¿Ã���Ã�¯Ã�¿Ã�½Ã���Ã��Ã�½Ã���Ã�¯Ã�¿Ã�½Ã��Ã�¯Ã��Ã�¿Ã��Ã�½Ã���Ã�¯Ã�¿Ã�½Ã���Ã��Ã�¯Ã���Ã�¯Ã�¿Ã�½Ã��Ã�¯Ã��Ã�¿Ã��Ã�½Ã���Ã�¯Ã�¿Ã�½Ã���Ã��Ã�¿Ã���Ã�¯Ã�¿Ã�½Ã��Ã�¯Ã��Ã�¿Ã��Ã�½Ã���Ã�¯Ã�¿Ã�½Ã���Ã��Ã�½Ã���Ã�¯Ã�¿Ã�½Ã��Ã�¯Ã��Ã�¿Ã��Ã�½Ã���Ã��Ã�¯Ã���Ã��Ã�¿Ã���Ã��Ã�½Ã���Ã�¯Ã�¿Ã�½Ã���Ã��Ã�¯Ã���Ã�¯Ã�¿Ã�½Ã���Ã��Ã�¿Ã���Ã�¯Ã�¿Ã�½Ã���Ã��Ã�½Ã���Ã�¯Ã�¿Ã�½Ã��Ã�¯Ã��Ã�¿Ã��Ã�½Ã���Ã��Ã�¯Ã���Ã��Ã�¿Ã���Ã��Ã�½Ã���Ã�¯Ã�¿Ã�½Ã��Ã�¯Ã��Ã�¿Ã��Ã�½Ã���Ã�¯Ã�¿Ã�½Ã���Ã��Ã�¿Ã���Ã�¯Ã�¿Ã�½Ã��Ã�¯Ã��Ã�¿Ã��Ã�½Ã���Ã��Ã�¯Ã���Ã��Ã�¿Ã���Ã��Ã�½Ã���Ã�¯Ã�¿Ã�½Ã���Ã��Ã�¯Ã���Ã�¯Ã�¿Ã�½Ã���Ã��Ã�¿Ã���Ã�¯Ã�¿Ã�½Ã���Ã��Ã�½Ã���Ã�¯Ã�¿Ã�½Ã��Ã�¯Ã��Ã�¿Ã��Ã�½Ã���Ã�¯Ã�¿Ã�½Ã���Ã��Ã�¯Ã���Ã�¯Ã�¿Ã�½Ã��Ã�¯Ã��Ã�¿Ã��Ã�½Ã���Ã�¯Ã�¿Ã�½Ã���Ã��Ã�¿Ã���Ã�¯Ã�¿Ã�½Ã��Ã�¯Ã��Ã�¿Ã��Ã�½Ã���Ã�¯Ã�¿Ã�½Ã���Ã��Ã�½Ã���Ã�¯Ã�¿Ã�½Ã��Ã�¯Ã��Ã�¿Ã��Ã�½Ã���Ã��Ã�¯Ã���Ã��Ã�¿Ã���Ã��Ã�½Ã���Ã�¯Ã�¿Ã�½Ã��Ã�¯Ã��Ã�¿Ã��Ã�½Ã���Ã�¯Ã�¿Ã�½Ã���Ã��Ã�¯Ã���Ã�¯Ã�¿Ã�½Ã��Ã�¯Ã��Ã�¿Ã��Ã�½Ã���Ã��Ã�¯Ã���Ã��Ã�¿Ã���Ã��Ã�½Ã���Ã�¯Ã�¿Ã�½Ã��Ã�¯Ã��Ã�¿Ã��Ã�½Ã���Ã�¯Ã�¿Ã�½Ã���Ã��Ã�¿Ã���Ã�¯Ã�¿Ã�½Ã��Ã�¯Ã��Ã�¿Ã��Ã�½Ã���Ã��Ã�¯Ã���Ã��Ã�¿Ã���Ã��Ã�½Ã���Ã�¯Ã�¿Ã�½Ã��Ã�¯Ã��Ã�¿Ã��Ã�½Ã���Ã�¯Ã�¿Ã�½Ã���Ã��Ã�½Ã���Ã�¯Ã�¿Ã�½Ã��Ã�¯Ã��Ã�¿Ã��Ã�½Ã���Ã��Ã�¯Ã���Ã��Ã�¿Ã���Ã��Ã�½Ã���Ã�¯Ã�¿Ã�½Ã���Ã��Ã�¯Ã���Ã�¯Ã�¿Ã�½Ã���Ã��Ã�¿Ã���Ã�¯Ã�¿Ã�½Ã���Ã��Ã�½Ã���Ã�¯Ã�¿Ã�½Ã��Ã�¯Ã��Ã�¿Ã��Ã�½Ã���Ã�¯Ã�¿Ã�½Ã���Ã��Ã�¯Ã���Ã�¯Ã�¿Ã�½Ã��Ã�¯Ã��Ã�¿Ã��Ã�½Ã���Ã�¯Ã�¿Ã�½Ã���Ã��Ã�¿Ã���Ã�¯Ã�¿Ã�½Ã��Ã�¯Ã��Ã�¿Ã��Ã�½Ã���Ã�¯Ã�¿Ã�½Ã���Ã��Ã�½Ã���Ã�¯Ã�¿Ã�½Ã��Ã�¯Ã��Ã�¿Ã��Ã�½Ã���Ã��Ã�¯Ã���Ã��Ã�¿Ã���Ã��Ã�½Ã���Ã�¯Ã�¿Ã�½Ã���Ã��Ã�¯Ã���Ã�¯Ã�¿Ã�½Ã���Ã��Ã�¿Ã���Ã�¯Ã�¿Ã�½Ã���Ã��Ã�½Ã���Ã�¯Ã�¿Ã�½Ã��Ã�¯Ã��Ã�¿Ã��Ã�½Ã���Ã��Ã�¯Ã���Ã��Ã�¿Ã���Ã��Ã�½Ã���Ã�¯Ã�¿Ã�½Ã��Ã�¯Ã��Ã�¿Ã��Ã�½Ã���Ã�¯Ã�¿Ã�½Ã���Ã��Ã�½Ã���Ã�¯Ã�¿Ã�½Ã��Ã�¯Ã��Ã�¿Ã��Ã�½Ã���Ã��Ã�¯Ã���Ã��Ã�¿Ã���Ã��Ã�½Ã���Ã�¯Ã�¿Ã�½Ã���Ã��Ã�¯Ã���Ã�¯Ã�¿Ã�½Ã���Ã��Ã�¿Ã���Ã�¯Ã�¿Ã�½Ã���Ã��Ã�½Ã���Ã�¯Ã�¿Ã�½Ã��Ã�¯Ã��Ã�¿Ã��Ã�½Ã���Ã�¯Ã�¿Ã�½Ã���Ã��Ã�¯Ã���Ã�¯Ã�¿Ã�½Ã��Ã�¯Ã��Ã�¿Ã��Ã�½Ã���Ã�¯Ã�¿Ã�½Ã���Ã��Ã�¿Ã���Ã�¯Ã�¿Ã�½Ã��Ã�¯Ã��Ã�¿Ã��Ã�½Ã���Ã�¯Ã�¿Ã�½Ã���Ã��Ã�½Ã���Ã�¯Ã�¿Ã�½Ã��Ã�¯Ã��Ã�¿Ã��Ã�½Ã���Ã��Ã�¯Ã���Ã��Ã�¿Ã���Ã��Ã�½Ã���Ã�¯Ã�¿Ã�½Ã��Ã�¯Ã��Ã�¿Ã��Ã�½Ã���Ã�¯Ã�¿Ã�½Ã���Ã��Ã�¯Ã���Ã�¯Ã�¿Ã�½Ã��Ã�¯Ã��Ã�¿Ã��Ã�½Ã���Ã��Ã�¯Ã���Ã��Ã�¿Ã���Ã��Ã�½Ã���Ã�¯Ã�¿Ã�½Ã��Ã�¯Ã��Ã�¿Ã��Ã�½Ã���Ã�¯Ã�¿Ã�½Ã���Ã��Ã�¿Ã���Ã�¯Ã�¿Ã�½Ã��Ã�¯Ã��Ã�¿Ã��Ã�½Ã���Ã��Ã�¯Ã���Ã��Ã�¿Ã���Ã��Ã�½Ã���Ã�¯Ã�¿Ã�½Ã��Ã�¯Ã��Ã�¿Ã��Ã�½Ã���Ã�¯Ã�¿Ã�½Ã���Ã��Ã�½Ã���Ã�¯Ã�¿Ã�½Ã��Ã�¯Ã��Ã�¿Ã��Ã�½Ã���Ã��Ã�¯Ã���Ã��Ã�¿Ã���Ã��Ã�½Ã���Ã�¯Ã�¿Ã�½Ã���Ã��Ã�¯Ã���Ã�¯Ã�¿Ã�½Ã���Ã��Ã�¿Ã���Ã�¯Ã�¿Ã�½Ã���Ã��Ã�½Ã���Ã�¯Ã�¿Ã�½Ã��Ã�¯Ã��Ã�¿Ã��Ã�½Ã���Ã��Ã�¯Ã���Ã��Ã�¿Ã���Ã��Ã�½Ã���Ã�¯Ã�¿Ã�½Ã��Ã�¯Ã��Ã�¿Ã��Ã�½Ã���Ã�¯Ã�¿Ã�½Ã���Ã��Ã�¯Ã���Ã�¯Ã�¿Ã�½Ã��Ã�¯Ã��Ã�¿Ã��Ã�½Ã���Ã��Ã�¯Ã���Ã��Ã�¿Ã���Ã��Ã�½Ã���Ã�¯Ã�¿Ã�½Ã���Ã��Ã�¯Ã���Ã�¯Ã�¿Ã�½Ã���Ã��Ã�¿Ã���Ã�¯Ã�¿Ã�½Ã���Ã��Ã�½Ã���Ã�¯Ã�¿Ã�½Ã��Ã�¯Ã��Ã�¿Ã��Ã�½Ã���Ã��Ã�¯Ã���Ã��Ã�¿Ã���Ã��Ã�½Ã���Ã�¯Ã�¿Ã�½Ã��Ã�¯Ã��Ã�¿Ã��Ã�½Ã���Ã�¯Ã�¿Ã�½Ã���Ã��Ã�¿Ã���Ã�¯Ã�¿Ã�½Ã��Ã�¯Ã��Ã�¿Ã��Ã�½Ã���Ã��Ã�¯Ã���Ã��Ã�¿Ã���Ã��Ã�½Ã���Ã�¯Ã�¿Ã�½Ã���Ã��Ã�¯Ã���Ã�¯Ã�¿Ã�½Ã���Ã��Ã�¿Ã���Ã�¯Ã�¿Ã�½Ã���Ã��Ã�½Ã���Ã�¯Ã�¿Ã�½Ã��Ã�¯Ã��Ã�¿Ã��Ã�½Ã���Ã��Ã�¯Ã���Ã��Ã�¿Ã���Ã��Ã�½Ã���Ã�¯Ã�¿Ã�½Ã��Ã�¯Ã��Ã�¿Ã��Ã�½Ã���Ã�¯Ã�¿Ã�½Ã���Ã��Ã�½Ã���Ã�¯Ã�¿Ã�½Ã��Ã�¯Ã��Ã�¿Ã��Ã�½Ã���Ã��Ã�¯Ã���Ã��Ã�¿Ã���Ã��Ã�½Ã���Ã�¯Ã�¿Ã�½Ã���Ã��Ã�¯Ã���Ã�¯Ã�¿Ã�½Ã���Ã��Ã�¿Ã���Ã�¯Ã�¿Ã�½Ã���Ã��Ã�½Ã���Ã�¯Ã�¿Ã�½Ã��Ã�¯Ã��Ã�¿Ã��Ã�½Ã���Ã�¯Ã�¿Ã�½Ã���Ã��Ã�¯Ã���Ã�¯Ã�¿Ã�½Ã��Ã�¯Ã��Ã�¿Ã��Ã�½Ã���Ã�¯Ã�¿Ã�½Ã���Ã��Ã�¿Ã���Ã�¯Ã�¿Ã�½Ã��Ã�¯Ã��Ã�¿Ã��Ã�½Ã���Ã�¯Ã�¿Ã�½Ã���Ã��Ã�½Ã���Ã�¯Ã�¿Ã�½Ã��Ã�¯Ã��Ã�¿Ã��Ã�½Ã���Ã��Ã�¯Ã���Ã��Ã�¿Ã���Ã��Ã�½Ã���Ã�¯Ã�¿Ã�½Ã���Ã��Ã�¯Ã���Ã�¯Ã�¿Ã�½Ã���Ã��Ã�¿Ã���Ã�¯Ã�¿Ã�½Ã���Ã��Ã�½Ã���Ã�¯Ã�¿Ã�½Ã��Ã�¯Ã��Ã�¿Ã��Ã�½Ã���Ã��Ã�¯Ã���Ã��Ã�¿Ã���Ã��Ã�½Ã���Ã�¯Ã�¿Ã�½Ã��Ã�¯Ã��Ã�¿Ã��Ã�½Ã���Ã�¯Ã�¿Ã�½Ã���Ã��Ã�¯Ã���Ã�¯Ã�¿Ã�½Ã��Ã�¯Ã��Ã�¿Ã��Ã�½Ã���Ã��Ã�¯Ã���Ã��Ã�¿Ã���Ã��Ã�½Ã���Ã�¯Ã�¿Ã�½Ã���Ã��Ã�¯Ã���Ã�¯Ã�¿Ã�½Ã���Ã��Ã�¿Ã���Ã�¯Ã�¿Ã�½Ã���Ã��Ã�½Ã���Ã�¯Ã�¿Ã�½Ã��Ã�¯Ã��Ã�¿Ã��Ã�½Ã���Ã�¯Ã�¿Ã�½Ã���Ã��Ã�¯Ã���Ã�¯Ã�¿Ã�½Ã��Ã�¯Ã��Ã�¿Ã��Ã�½Ã���Ã�¯Ã�¿Ã�½Ã���Ã��Ã�¿Ã���Ã�¯Ã�¿Ã�½Ã��Ã�¯Ã��Ã�¿Ã��Ã�½Ã���Ã�¯Ã�¿Ã�½Ã���Ã��Ã�½Ã���Ã�¯Ã�¿Ã�½Ã��Ã�¯Ã��Ã�¿Ã��Ã�½Ã���Ã��Ã�¯Ã���Ã��Ã�¿Ã���Ã��Ã�½Ã���Ã�¯Ã�¿Ã�½Ã���Ã��Ã�¯Ã���Ã�¯Ã�¿Ã�½Ã���Ã��Ã�¿Ã���Ã�¯Ã�¿Ã�½Ã���Ã��Ã�½Ã���Ã�¯Ã�¿Ã�½Ã��Ã�¯Ã��Ã�¿Ã��Ã�½Ã���Ã��Ã�¯Ã���Ã��Ã�¿Ã���Ã��Ã�½Ã���Ã�¯Ã�¿Ã�½Ã��Ã�¯Ã��Ã�¿Ã��Ã�½Ã���Ã�¯Ã�¿Ã�½Ã���Ã��Ã�¿Ã���Ã�¯Ã�¿Ã�½Ã��Ã�¯Ã��Ã�¿Ã��Ã�½Ã���Ã��Ã�¯Ã���Ã��Ã�¿Ã���Ã��Ã�½Ã���Ã�¯Ã�¿Ã�½Ã���Ã��Ã�¯Ã���Ã�¯Ã�¿Ã�½Ã���Ã��Ã�¿Ã���Ã�¯Ã�¿Ã�½Ã���Ã��Ã�½Ã���Ã�¯Ã�¿Ã�½Ã��Ã�¯Ã��Ã�¿Ã��Ã�½Ã���Ã�¯Ã�¿Ã�½Ã���Ã��Ã�¯Ã���Ã�¯Ã�¿Ã�½Ã��Ã�¯Ã��Ã�¿Ã��Ã�½Ã���Ã�¯Ã�¿Ã�½Ã���Ã��Ã�¿Ã���Ã�¯Ã�¿Ã�½Ã��Ã�¯Ã��Ã�¿Ã��Ã�½Ã���Ã�¯Ã�¿Ã�½Ã���Ã��Ã�½Ã���Ã�¯Ã�¿Ã�½Ã��Ã�¯Ã��Ã�¿Ã��Ã�½Ã���Ã��Ã�¯Ã���Ã��Ã�¿Ã���Ã��Ã�½Ã���Ã�¯Ã�¿Ã�½Ã���Ã��Ã�¯Ã���Ã�¯Ã�¿Ã�½Ã���Ã��Ã�¿Ã���Ã�¯Ã�¿Ã�½Ã���Ã��Ã�½Ã���Ã�¯Ã�¿Ã�½Ã��Ã�¯Ã��Ã�¿Ã��Ã�½Ã���Ã��Ã�¯Ã���Ã��Ã�¿Ã���Ã��Ã�½Ã���Ã�¯Ã�¿Ã�½Ã��Ã�¯Ã��Ã�¿Ã��Ã�½Ã���Ã�¯Ã�¿Ã�½Ã���Ã��Ã�½Ã���Ã�¯Ã�¿Ã�½Ã��Ã�¯Ã��Ã�¿Ã��Ã�½Ã���Ã��Ã�¯Ã���Ã��Ã�¿Ã���Ã��Ã�½Ã���Ã�¯Ã�¿Ã�½Ã���Ã��Ã�¯Ã���Ã�¯Ã�¿Ã�½Ã���Ã��Ã�¿Ã���Ã�¯Ã�¿Ã�½Ã���Ã��Ã�½Ã���Ã�¯Ã�¿Ã�½Ã��Ã�¯Ã��Ã�¿Ã��Ã�½Ã���Ã�¯Ã�¿Ã�½Ã���Ã��Ã�¯Ã���Ã�¯Ã�¿Ã�½Ã��Ã�¯Ã��Ã�¿Ã��Ã�½Ã���Ã�¯Ã�¿Ã�½Ã���Ã��Ã�¿Ã���Ã�¯Ã�¿Ã�½Ã��Ã�¯Ã��Ã�¿Ã��Ã�½Ã���Ã�¯Ã�¿Ã�½Ã���Ã��Ã�½Ã���Ã�¯Ã�¿Ã�½Ã��Ã�¯Ã��Ã�¿Ã��Ã�½Ã���Ã��Ã�¯Ã���Ã��Ã�¿Ã���Ã��Ã�½Ã���Ã�¯Ã�¿Ã�½Ã��Ã�¯Ã��Ã�¿Ã��Ã�½Ã���Ã�¯Ã�¿Ã�½Ã���Ã��Ã�¯Ã���Ã�¯Ã�¿Ã�½Ã��Ã�¯Ã��Ã�¿Ã��Ã�½Ã���Ã��Ã�¯Ã���Ã��Ã�¿Ã���Ã��Ã�½Ã���Ã�¯Ã�¿Ã�½Ã��Ã�¯Ã��Ã�¿Ã��Ã�½Ã���Ã�¯Ã�¿Ã�½Ã���Ã��Ã�¿Ã���Ã�¯Ã�¿Ã�½Ã��Ã�¯Ã��Ã�¿Ã��Ã�½Ã���Ã��Ã�¯Ã���Ã��Ã�¿Ã���Ã��Ã�½Ã���Ã�¯Ã�¿Ã�½Ã��Ã�¯Ã��Ã�¿Ã��Ã�½Ã���Ã�¯Ã�¿Ã�½Ã���Ã��Ã�½Ã���Ã�¯Ã�¿Ã�½Ã��Ã�¯Ã��Ã�¿Ã��Ã�½Ã���Ã��Ã�¯Ã���Ã��Ã�¿Ã���Ã��Ã�½Ã���Ã�¯Ã�¿Ã�½Ã���Ã��Ã�¯Ã���Ã�¯Ã�¿Ã�½Ã���Ã��Ã�¿Ã���Ã�¯Ã�¿Ã�½Ã���Ã��Ã�½Ã���Ã�¯Ã�¿Ã�½Ã��Ã�¯Ã��Ã�¿Ã��Ã�½Ã���Ã��Ã�¯Ã���Ã��Ã�¿Ã���Ã��Ã�½Ã���Ã�¯Ã�¿Ã�½Ã��Ã�¯Ã��Ã�¿Ã��Ã�½Ã���Ã�¯Ã�¿Ã�½Ã���Ã��Ã�¯Ã���Ã�¯Ã�¿Ã�½Ã��Ã�¯Ã��Ã�¿Ã��Ã�½Ã���Ã��Ã�¯Ã���Ã��Ã�¿Ã���Ã��Ã�½Ã���Ã�¯Ã�¿Ã�½Ã���Ã��Ã�¯Ã���Ã�¯Ã�¿Ã�½Ã���Ã��Ã�¿Ã���Ã�¯Ã�¿Ã�½Ã���Ã��Ã�½Ã���Ã�¯Ã�¿Ã�½Ã��Ã�¯Ã��Ã�¿Ã��Ã�½Ã���Ã��Ã�¯Ã���Ã��Ã�¿Ã���Ã��Ã�½Ã���Ã�¯Ã�¿Ã�½Ã��Ã�¯Ã��Ã�¿Ã��Ã�½Ã���Ã�¯Ã�¿Ã�½Ã���Ã��Ã�¿Ã���Ã�¯Ã�¿Ã�½Ã��Ã�¯Ã��Ã�¿Ã��Ã�½Ã���Ã��Ã�Â¯Ã���Ã��Ã�¿Ã���Ã��Ã�½Ã���Ã�¯Ã�¿Ã�½Ã���Ã��Ã�¯Ã���Ã�¯Ã�¿Ã�½Ã���Ã��Ã�¿Ã���Ã�¯Ã�¿Ã�½Ã���Ã��Ã�½Ã���Ã�¯Ã�¿Ã�½Ã��Ã�¯Ã��Ã�¿Ã��Ã�½Ã���Ã��Ã�¯Ã���Ã��Ã�¿Ã���Ã��Ã�½Ã���Ã�¯Ã�¿Ã�½Ã��Ã�¯Ã��Ã�¿Ã��Ã�½Ã���Ã�¯Ã�¿Ã�½Ã���Ã��Ã�½Ã���Ã�¯Ã�¿Ã�½Ã��Ã�¯Ã��Ã�¿Ã��Ã�½Ã���Ã��Ã�¯Ã���Ã��Ã�¿Ã���Ã��Ã�½Ã���Ã�¯Ã�¿Ã�½Ã���Ã��Ã�¯Ã���Ã�¯Ã�¿Ã�½Ã���Ã��Ã�¿Ã���Ã�¯Ã�¿Ã�½Ã���Ã��Ã�½Ã���Ã�¯Ã�¿Ã�½Ã��Ã�¯Ã��Ã�¿Ã��Ã�½Ã���Ã�¯Ã�¿Ã�½Ã���Ã��Ã�¯Ã���Ã�¯Ã�¿Ã�½Ã��Ã�¯Ã��Ã�¿Ã��Ã�½Ã���Ã�¯Ã�¿Ã�½Ã���Ã��Ã�¿Ã���Ã�¯Ã�¿Ã�½Ã��Ã�¯Ã��Ã�¿Ã��Ã�½Ã���Ã�¯Ã�¿Ã�½Ã���Ã��Ã�½Ã���Ã�¯Ã�¿Ã�½Ã��Ã�¯Ã��Ã�¿Ã��Ã�½Ã���Ã��Ã�¯Ã���Ã��Ã�¿Ã���Ã��Ã�½Ã���Ã�¯Ã�¿Ã�½Ã��Ã�¯Ã��Ã�¿Ã��Ã�½Ã���Ã�¯Ã�¿Ã�½Ã���Ã��Ã�¯Ã���Ã�¯Ã�¿Ã�½Ã��Ã�¯Ã��Ã�¿Ã��Ã�½Ã���Ã��Ã�¯Ã���Ã��Ã�¿Ã���Ã��Ã�½Ã���Ã�¯Ã�¿Ã�½Ã��Ã�¯Ã��Ã�¿Ã��Ã�½Ã���Ã�¯Ã�¿Ã�½Ã���Ã��Ã�¿Ã���Ã�¯Ã�¿Ã�½Ã��Ã�¯Ã��Ã�¿Ã��Ã�½Ã���Ã��Ã�¯Ã���Ã��Ã�¿Ã���Ã��Ã�½Ã���Ã�¯Ã�¿Ã�½Ã��Ã�¯Ã��Ã�¿Ã��Ã�½Ã���Ã�¯Ã�¿Ã�½Ã���Ã��Ã�½Ã���Ã�¯Ã�¿Ã�½Ã��Ã�¯Ã��Ã�¿Ã��Ã�½Ã���Ã��Ã�¯Ã���Ã��Ã�¿Ã���Ã��Ã�½Ã���Ã�¯Ã�¿Ã�½Ã���Ã��Ã�¯Ã���Ã�¯Ã�¿Ã�½Ã���Ã��Ã�¿Ã���Ã�¯Ã�¿Ã�½Ã���Ã��Ã�½Ã���Ã�¯Ã�¿Ã�½Ã��Ã�¯Ã��Ã�¿Ã��Ã�½Ã���Ã�¯Ã�¿Ã�½Ã���Ã��Ã�¯Ã���Ã�¯Ã�¿Ã�½Ã��Ã�¯Ã��Ã�¿Ã��Ã�½Ã���Ã�¯Ã�¿Ã�½Ã���Ã��Ã�¿Ã���Ã�¯Ã�¿Ã�½Ã��Ã�¯Ã��Ã�¿Ã��Ã�½Ã���Ã�¯Ã�¿Ã�½Ã���Ã��Ã�½Ã���Ã�¯Ã�¿Ã�½Ã��Ã�¯Ã��Ã�¿Ã��Ã�½Ã���Ã��Ã�¯Ã���Ã��Ã�¿Ã���Ã��Ã�½Ã���Ã�¯Ã�¿Ã�½Ã���Ã��Ã�¯Ã���Ã�¯Ã�¿Ã�½Ã���Ã��Ã�¿Ã���Ã�¯Ã�¿Ã�½Ã���Ã��Ã�½Ã���Ã�¯Ã�¿Ã�½Ã��Ã�¯Ã��Ã�¿Ã��Ã�½Ã���Ã��Ã�¯Ã���Ã��Ã�¿Ã���Ã��Ã�½Ã���Ã�¯Ã�¿Ã�½Ã��Ã�¯Ã��Ã�¿Ã��Ã�½Ã���Ã�¯Ã�¿Ã�½Ã���Ã��Ã�¿Ã���Ã�¯Ã�¿Ã�½Ã��Ã�¯Ã��Ã�¿Ã��Ã�½Ã���Ã��Ã�¯Ã���Ã��Ã�¿Ã���Ã��Ã�½Ã���Ã�¯Ã�¿Ã�½Ã���Ã��Ã�¯Ã���Ã�¯Ã�¿Ã�½Ã���Ã��Ã�¿Ã���Ã�¯Ã�¿Ã�½Ã���Ã��Ã�½Ã���Ã�¯Ã�¿Ã�½Ã��Ã�¯Ã��Ã�¿Ã��Ã�½Ã���Ã�¯Ã�¿Ã�½Ã���Ã��Ã�¯Ã���Ã�¯Ã�¿Ã�½Ã��Ã�¯Ã��Ã�¿Ã��Ã�½Ã���Ã�¯Ã�¿Ã�½Ã���Ã��Ã�¿Ã���Ã�¯Ã�¿Ã�½Ã��Ã�¯Ã��Ã�¿Ã��Ã�½Ã���Ã�¯Ã�¿Ã�½Ã���Ã��Ã�½Ã���Ã�¯Ã�¿Ã�½Ã��Ã�¯Ã��Ã�¿Ã��Ã�½Ã���Ã��Ã�¯Ã���Ã��Ã�¿Ã���Ã��Ã�½Ã���Ã�¯Ã�¿Ã�½Ã��Ã�¯Ã��Ã�¿Ã��Ã�½Ã���Ã�¯Ã�¿Ã�½Ã���Ã��Ã�¯Ã���Ã�¯Ã�¿Ã�½Ã��Ã�¯Ã��Ã�¿Ã��Ã�½Ã���Ã��Ã�¯Ã���Ã��Ã�¿Ã���Ã��Ã�½Ã���Ã�¯Ã�¿Ã�½Ã��Ã�¯Ã��Ã�¿Ã��Ã�½Ã���Ã�¯Ã�¿Ã�½Ã���Ã��Ã�¿Ã���Ã�¯Ã�¿Ã�½Ã��Ã�¯Ã��Ã�¿Ã��Ã�½Ã���Ã��Ã�¯Ã���Ã��Ã�¿Ã���Ã��Ã�½Ã���Ã�¯Ã�¿Ã�½Ã��Ã�¯Ã��Ã�¿Ã��Ã�½Ã���Ã�¯Ã�¿Ã�½Ã���Ã��Ã�½Ã���Ã�¯Ã�¿Ã�½Ã��Ã�¯Ã��Ã�¿Ã��Ã�½Ã���Ã��Ã�¯Ã���Ã��Ã�¿Ã���Ã��Ã�½Ã���Ã�¯Ã�¿Ã�½Ã���Ã��Ã�¯Ã���Ã�¯Ã�¿Ã�½Ã���Ã��Ã�¿Ã���Ã�¯Ã�¿Ã�½Ã���Ã��Ã�½Ã���Ã�¯Ã�¿Ã�½Ã��Ã�¯Ã��Ã�¿Ã��Ã�½Ã���Ã��Ã�¯Ã���Ã��Ã�¿Ã���Ã��Ã�½Ã���Ã�¯Ã�¿Ã�½Ã��Ã�¯Ã��Ã�¿Ã��Ã�½Ã���Ã�¯Ã�¿Ã�½Ã���Ã��Ã�¯Ã���Ã�¯Ã�¿Ã�½Ã��Ã�¯Ã��Ã�¿Ã��Ã�½Ã���Ã��Ã�¯Ã���Ã��Ã�¿Ã���Ã��Ã�½Ã���Ã�¯Ã�¿Ã�½Ã���Ã��Ã�¯Ã���Ã�¯Ã�¿Ã�½Ã���Ã��Ã�¿Ã���Ã�¯Ã�¿Ã�½Ã���Ã��Ã�½Ã���Ã�¯Ã�¿Ã�½Ã��Ã�¯Ã��Ã�¿Ã��Ã�½Ã���Ã��Ã�¯Ã���Ã��Ã�¿Ã���Ã��Ã�½Ã���Ã�¯Ã�¿Ã�½Ã��Ã�¯Ã��Ã�¿Ã��Ã�½Ã���Ã�¯Ã�¿Ã�½Ã���Ã��Ã�¿Ã���Ã�¯Ã�¿Ã�½Ã��Ã�¯Ã��Ã�¿Ã��Ã�½Ã���Ã��Ã�¯Ã���Ã��Ã�¿Ã���Ã��Ã�½Ã���Ã�¯Ã�¿Ã�½Ã���Ã��Ã�¯Ã���Ã�¯Ã�¿Ã�½Ã���Ã��Ã�¿Ã���Ã�¯Ã�¿Ã�½Ã���Ã��Ã�½Ã���Ã�¯Ã�¿Ã�½Ã��Ã�¯Ã��Ã�¿Ã��Ã�½Ã���Ã��Ã�¯Ã���Ã��Ã�¿Ã���Ã��Ã�½Ã���Ã�¯Ã�¿Ã�½Ã��Ã�¯Ã��Ã�¿Ã��Ã�½Ã���Ã�¯Ã�¿Ã�½Ã���Ã��Ã�½Ã���Ã�¯Ã�¿Ã�½Ã��Ã�¯Ã��Ã�¿Ã��Ã�½Ã���Ã��Ã�¯Ã���Ã��Ã�¿Ã���Ã��Ã�½Ã���Ã�¯Ã�¿Ã�½Ã���Ã��Ã�¯Ã���Ã�¯Ã�¿Ã�½Ã���Ã��Ã�¿Ã���Ã�¯Ã�¿Ã�½Ã���Ã��Ã�½Ã���Ã�¯Ã�¿Ã�½Ã��Ã�¯Ã��Ã�¿Ã��Ã�½Ã���Ã�¯Ã�¿Ã�½Ã���Ã��Ã�¯Ã���Ã�¯Ã�¿Ã�½Ã��Ã�¯Ã��Ã�¿Ã��Ã�½Ã���Ã�¯Ã�¿Ã�½Ã���Ã��Ã�¿Ã���Ã�¯Ã�¿Ã�½Ã��Ã�¯Ã��Ã�¿Ã��Ã�½Ã���Ã�¯Ã�¿Ã�½Ã���Ã��Ã�½Ã���Ã�¯Ã�¿Ã�½Ã��Ã�¯Ã��Ã�¿Ã��Ã�½Ã���Ã��Ã�¯Ã���Ã��Ã�¿Ã���Ã��Ã�½Ã���Ã�¯Ã�¿Ã�½Ã���Ã��Ã�¯Ã���Ã�¯Ã�¿Ã�½Ã���Ã��Ã�¿Ã���Ã�¯Ã�¿Ã�½Ã���Ã��Ã�½Ã���Ã�¯Ã�¿Ã�½Ã��Ã�¯Ã��Ã�¿Ã��Ã�½Ã���Ã��Ã�¯Ã���Ã��Ã�¿Ã���Ã��Ã�½Ã���Ã�¯Ã�¿Ã�½Ã��Ã�¯Ã��Ã�¿Ã��Ã�½Ã���Ã�¯Ã�¿Ã�½Ã���Ã��Ã�¯Ã���Ã�¯Ã�¿Ã�½Ã��Ã�¯Ã��Ã�¿Ã��Ã�½Ã���Ã��Ã�¯Ã���Ã��Ã�¿Ã���Ã��Ã�½Ã���Ã�¯Ã�¿Ã�½Ã���Ã��Ã�¯Ã���Ã�¯Ã�¿Ã�½Ã���Ã��Ã�¿Ã���Ã�¯Ã�¿Ã�½Ã���Ã��Ã�½Ã���Ã�¯Ã�¿Ã�½Ã��Ã�¯Ã��Ã�¿Ã��Ã�½Ã���Ã�¯Ã�¿Ã�½Ã���Ã��Ã�¯Ã���Ã�¯Ã�¿Ã�½Ã��Ã�¯Ã��Ã�¿Ã��Ã�½Ã���Ã�¯Ã�¿Ã�½Ã���Ã��Ã�¿Ã���Ã�¯Ã�¿Ã�½Ã��Ã�¯Ã��Ã�¿Ã��Ã�½Ã���Ã�¯Ã�¿Ã�½Ã���Ã��Ã�½Ã���Ã�¯Ã�¿Ã�½Ã��Ã�¯Ã��Ã�¿Ã��Ã�½Ã���Ã��Ã�¯Ã���Ã��Ã�¿Ã���Ã��Ã�½Ã���Ã�¯Ã�¿Ã�½Ã���Ã��Ã�¯Ã���Ã�¯Ã�¿Ã�½Ã���Ã��Ã�¿Ã���Ã�¯Ã�¿Ã�½Ã���Ã��Ã�½Ã���Ã�¯Ã�¿Ã�½Ã��Ã�ÂÂ