Shop by Category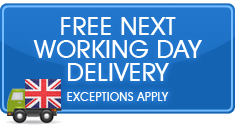 Atlantic Trampolines Latest Twitter Updates
For future use, we sell anchor kits on our website: https://t.co/4FI2NBVUxG Stay safe!

⚠️WEATHER UPDATE⚠️ With strong winds forecast for parts of the UK this weekend, make sure you secure your garden… https://t.co/a7mRaI0WwE

If you don't have an enclosure or you need a replacement, we sell replacement parts for all our trampolines! Click… https://t.co/ksfGuuohNX

⚠️SAFETY TIP #1: Trampoline Enclosures⚠️ When using a #trampoline, it's crucial that a safety enclosure is used t… https://t.co/tKASZaNefO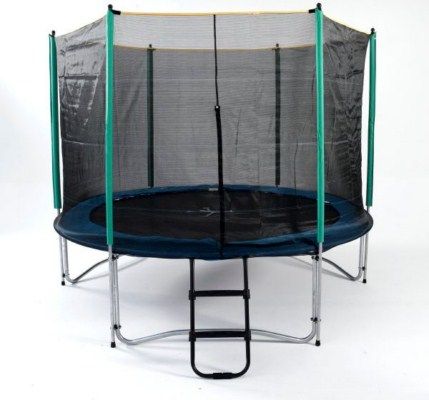 8ft Trampoline With Enclosure
Save £30
£181.98 FREE UK MAINLAND DELIVERY
Sorry Sold Out
This 8ft Trampoline with Enclosure Package includes our best selling 8ft trampoline and the most popular Trampoline Accessories.

The 8ft trampoline with enclosure if one of our most popular outdoor trampoline models. This is probably because it fits in most small gardens but has enough room for a teenager or adult to bounce on.
With this 8ft trampoline with enclosure Package not only do you get everything you need to get trampolining quickly and safely, but you will also save over £29 compared to buying all the parts separately!

The 8ft Trampoline with enclosure is the second smallest size Atlantic Trampolines stock and is ideal for younger children. The 8ft trampoline with enclosure package is a 5-piece set, and includes the following products:
8ft Trampoline
Trampoline Weather Cover
8ft Trampoline Safety Enclosure
Trampoline Access Ladder
Anchor Kit
Plus! When you buy any Trampoline with Enclosure Package from Atlantic Trampolines, you will also receive:
A 5 year warranty on frame from failure due to rust
A 12 month guarantee on springs, jumping mat and padding
We offer FREE next working day(Mon-Fri) delivery in the UK and an installation service is available for customers within 20 miles of our Pembroke Dock warehouse.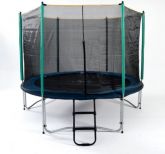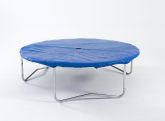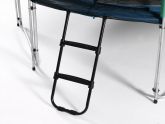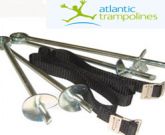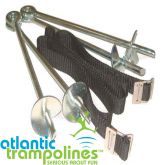 Anchor Kit

£21.98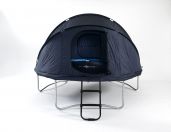 8ft Trampoline Dome Tent (NB does not include trampoline)

£84.98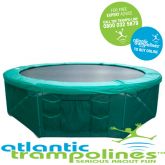 8ft Trampoline Skirt

£30.98
8ft Trampoline With Enclosure Product Specification:
Huge 8' diameter 'Fun' trampoline (26" in height)
High weight loading, can take adults of up to 100kg (approx 16 stone)
Jumping mat made of A grade Permatron Polypropylene from the United States. UV resistant, sewn with heavy duty UV resistant thread and using galvanized v-rings
48 super strength 165mm zinc plated galvanized springs
Frame tubes - 38.1mm x 1.5mm (galvanized both inside and out)
Connecting tubes - 38.1mm x 1.5mm (galvanized both inside and out)
Leg tubes - 38.1mm x 1.5mm (galvanized both inside and out), 3 leg sets
12mm thick 260mm wide double thick weather resistant pvc padding (Top layer Vinyl, bottom layer PE) blue in colour
Closed cell foam that does not absorb water or mildew or lose shape
Black jumping mesh
Assembly instruction manual complete with spring assembly tool
Also Includes..
8' mesh safety-net enclosure
Tubes 25mm x 1.5mm galvanized
Designed to retain the maximum jumping area
Pole sleeves are green in colour


Safety & Certificates:
EN-71 approved (British Safety)
RWTUV/GS approved (European Safety Certificate)
Cadmium testing passed
The team of Trampoline Experts at Atlantic Trampolines are ready to help if you need any trampoline advice. Call us FREE now: 0800 032 5879
When you buy a Trampoline from Atlantic Trampolines you can be sure that you are buying a trampoline of the highest Quality and Safety standards.
Assembly instructions for the 8ft trampoline with enclosure are coming soon.
In the meantime, take a look at our
trampoline assembly guides
.
How much space is needed for an 8ft trampoline?
We recommend leaving at least 2.5m around a trampoline which does not have a trampoline net fitted. This area should be free of all toys and other obstructions. If you fit a trampoline enclosure net the safe area around the trampoline might be reduced to around 1m. Please judge this distance though for yourselves giving consideration to how your children are.
You may decide to store an 8ft trampoline at the back or side of your garden and to pull it to the centre of the lawn when you want to use it. One adult should be able to move one of our 8ft trampolines with enclosure by pulling it across the grass if necessary.
Our 8ft trampolines are made to the same high specification as all our outdoor models with a strong frame, galvanised both on the inside and outside of the tubing to give maximum protection against rust, together with our patented T joint, which avoids the need for a welded frame.
The 8ft trampoline and enclosure is available with a variety of accessories such as an
8ft trampoline skirt
, which helps prevent animals and other children going under the trampoline when it is in use. Our
8ft trampoline tent roof
is also a popular accessory which allows the trampoline to be used even when its raining!
Please bear in mind that some customers pick the 8ft trampoline as they have young children. Parents soon realise how popular the trampoline is with their children and as the young children grow they need a larger trampoline with more space to accommodate them..and their friends too! So, it may be worth considering buying one of our larger trampolines to start with.
We offer FREE next working day delivery(Mon-Fri) on orders recieved by midday to the mainland UK for most of our products and a paid trampoline installation service is available for customers within 20 miles of our Pembroke Dock warehouse. We are unable to give a designated time of delivery and deliveries can be anytime between 8am and 6pm.
Reviews for 8ft Trampoline With Enclosure
 How would you like the chance to win a family voucher to spend a day at a Go Ape! high-wire forest adventure?
 Every month we are giving away a family voucher for two adults and two children to use at any Go Ape! Adventure throughout the UK. All you need to do is return the feedback form that comes with your trampoline, FREE of charge. We will be picking out a card at random at the end of every month. For more information on Go Ape! and your nearest centre, please visit www.goape.co.uk