Shop by Category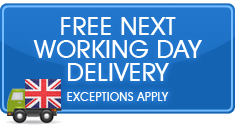 Atlantic Trampolines Latest Twitter Updates
28 July 2020 @ 13:55 The problem that impacted our phone lines and internet communication earlier today is now reso… https://t.co/V5qzy9AWIW

We regret we are currently unable to receive phone & internet messages as our phone lines and internet are not oper… https://t.co/JbqMcD77Ua

TRAMPOLINES - We have restricted stock & delivery availability. Please do not order without checking availability f… https://t.co/8XaFMmFaC9

RT @TheSun: EXCLUSIVE: Cop filmed clowning around on a trampoline while out on a drug bust https://t.co/rtkaX2YnsS
Dome Tents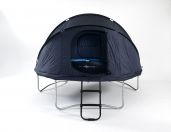 6ft Trampoline Tent (NB does not include trampoline)

£72.98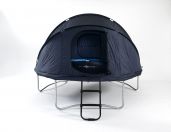 8ft Trampoline Tent (NB does not include trampoline)

£84.98
Showing items 1 to 2 of a total of 2
Trampolines Tents
Turn your trampoline into a play den with a trampoline tent!
A trampoline tent is essentially a tent that sits on top of your trampoline. Our trampoline tents come complete with windows and doors to make your trampoline into a childrens play den.

Trampoline tents are the ultimate trampoline accessory and one of our best-selling trampoline accessories. Trampoline tents bring a whole new dimension to your trampoline. Tents enable children to turn the trampoline into play houses, forts, hideouts or anywhere their imagination will take them!

Trampoline tents also make a great camping experience in the garden as they are completely showerproof and extremely easy to set up and take down.

The main features of Atlantic Trampolines tents are:
Trampoline tents can be rolled back for easy and quick removal of the tent
The tents are made of showerproof material
Trampoline tents come with 5 years warranty
As with all of our products, all orders of trampoline tents include free next day delivery.

Please note: The photos shown are for illustrative purposes only and purchase of the trampoline tent does not include a trampoline or trampoline ladder.

It is inadvisable to bounce vigorously on the trampoline with the tent attached.