Shop by Category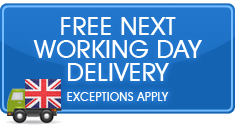 Atlantic Trampolines Latest Twitter Updates
RT @TheSun: EXCLUSIVE: Cop filmed clowning around on a trampoline while out on a drug bust https://t.co/rtkaX2YnsS

08.00hrs 21/11/18 All phone lines are up and running as engineers fixed the issue yesterday evening. Sorry for any… https://t.co/GSZHjK4AiT

Please note we are experiancing issues with our phone system this morning and unable to answer calls until network… https://t.co/7PijyIzuQr

https://t.co/UoIY76EXjP https://t.co/UoIY76EXjP
Dutch Style Playhouse 6x6
Dutch Style Playhouse
Dutch Style Playhouses have been designed based on a traditional Dutch barn to provide our customers with hours of fun and a stylish decorative garden piece. This range is built using 12mm shiplap cladding, which creates a stronger and more secure structure. 10mm solid sheet floor, 8mm solid sheet roof and 44x28mm framing for extra strength. This playhouse has been designed and built in compliance with the European Standard for the Safety of Toys (EN71).
Product Features:
Decorative shutters on windows
EN71 Certified
44x28mm Framing
12mm Shiplap Cladding
10mm Solid Sheet Floor
8mm Solid Sheet Roof
Green Mineral Felt
Dimensions and Specifications:
Size: 6ft x 6ft
Height: 1.9m (6' 2")
depth: 1.8m (5'11")
Door Style: Single Door
Door Height: 1.06m (3' 6")
Door Width: 0.6m (1'11)
Width: 1.9m (6' 3")
Windows: Fixed Windows
Glazing Material: Styrene
Roof Covering: Green Mineral Felt
Framing: 28x28mm
(Please note: Images are dressed and painted for display purposes only. All listed metric dimensions include the roof overhang.)
This package is normally delivered within 14 days and can be installed for you by choosing installation package A
10 Year Anti Rot Guarantee
Most of our Garden Buildings come with a 10 year anti rot guarantee. During manufacture we apply a water based treatment which protects against fungal and insect attack.

This treatment only lasts approximately 3 months and will require re-application as soon after construction as possible.

In order to keep your building in tip top shape and maintain the 10 year anti rot guarantee, it will need re-treating at least annually. High quality spirit based timber preservatives provide even more protection, particularly against the rigors of weather and if used should be applied in accordance with the manufactures instructions, but at least annually to preserve the 10 year anti rot guarantee.
Please Note: Our garden buildings are pre-treated with a water based timber treatment for protection during transit. In order to receive the full 10 year anti-rot guarantee, it is necessary that you treat the garden building with a high quality preservative shortly after construction.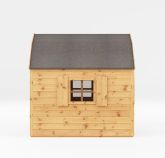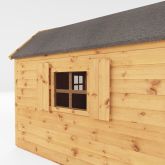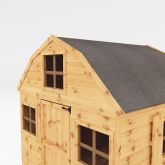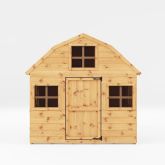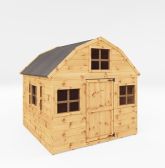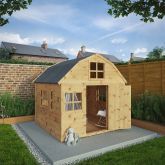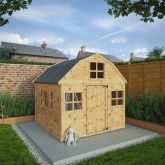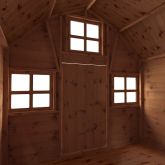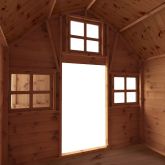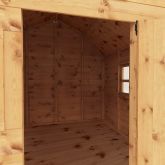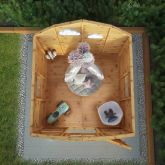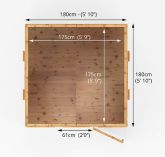 We offer FREE next working day delivery(Mon-Fri) on orders recieved by midday to the mainland UK for most of our products and a paid trampoline installation service is available for customers within 20 miles of our Pembroke Dock warehouse. We are unable to give a designated time of delivery and deliveries can be anytime between 8am and 6pm.
Reviews for Dutch Style Playhouse 6x6