Shop by Category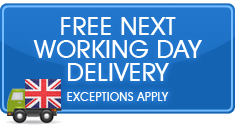 Atlantic Trampolines Latest Twitter Updates
RT @TheSun: EXCLUSIVE: Cop filmed clowning around on a trampoline while out on a drug bust https://t.co/rtkaX2YnsS

08.00hrs 21/11/18 All phone lines are up and running as engineers fixed the issue yesterday evening. Sorry for any… https://t.co/GSZHjK4AiT

Please note we are experiancing issues with our phone system this morning and unable to answer calls until network… https://t.co/7PijyIzuQr

https://t.co/UoIY76EXjP https://t.co/UoIY76EXjP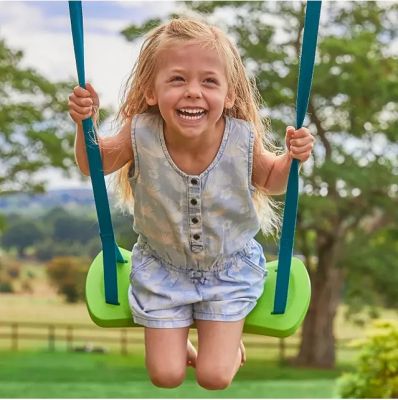 Forest Single Swing
A single wooden swing set that is ideal for smaller gardens.
Supplied with natural green, UV stabilised swing seat with fully adjustable ropes.
Supplied with ground stakes that must be concreted in.
Made in England from FSC certified timber.
For safer play, the timber used has smooth rounded edges and the nuts are recessed and capped.
The Forest Single Swing is made from FSC certified, kiln dried, pressure treated wood. This means the environmentally friendly preservative has penetrated deep into the centre of the wood rather than being simply applied to the surface of the wood. You can apply a water based stain to the wood each year if you wish to for aesthetic reasons, but it is not necessary to apply a surface stain to maintain the Forest Single Swing's excellent rot resistant properties and its performance guarantee.
Age 3-10 years, but is ideal for use by younger children when you purchase an additional baby swing seat. The TP QuadPod, Deck Chair Swing Seat, TP Early Fun Swing Seat and Junior Swing Seat all fit the Forest Single Swing Set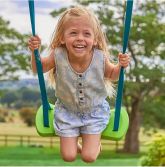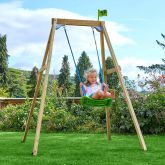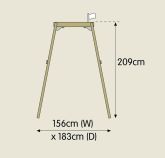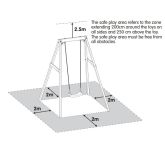 Please note that during warm dry spells cracks can appear in any timber product including play equipment. This is perfectly normal and is allowed for in the design of each item so that strength is not compromised. Wood is an organic natural material, each piece has unique features including colour, texture, knots and cracks. This is all part of the appeal! However it also means that it will change as it ages and also it will react to atmospheric conditions, for example if there is a prolonged hot and dry spell in the summer or a very wet and cold winter. In warm weather the wood will shrink, and in wet weather it will expand. These changes means that over time, stresses are set up throughout the wood which will result in cracks and splits appearing. These cracks can appear alarming as they can be both wide and deep. You should be prepared to check your play equipment regularly to note any changes in the timber. These cracks and splits will occur more often in round-wood, than square cut wood as round timber comes from smaller trees which contain more heartwood and square cut wood is taken from trees with less heartwood so is less prone - although it does still occur. tp themselves state that: "the tp round-wood playsets are dimensioned and designed to ensure that this (cracking and splitting) has no effect on their structural integrity. However as a result of this characteristic, you should be prepared to check your wooden climbing frame or wooden swing so as to identify any splintering or lifting of the surface layers of the wood" Checking (cracks and splits in timber) is normal for timber climbing frames, is not structural and is not considered a defect. Please bear all this information in mind before purchasing since we cannot replace poles within the manufacturers specification.
We offer FREE next working day delivery(Mon-Fri) on orders recieved by midday to the mainland UK for most of our products and a paid trampoline installation service is available for customers within 20 miles of our Pembroke Dock warehouse. We are unable to give a designated time of delivery and deliveries can be anytime between 8am and 6pm.
Reviews for Forest Single Swing