Shop by Category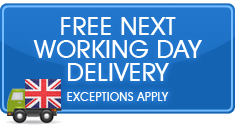 Atlantic Trampolines Latest Twitter Updates
28 July 2020 @ 13:55 The problem that impacted our phone lines and internet communication earlier today is now reso… https://t.co/V5qzy9AWIW

We regret we are currently unable to receive phone & internet messages as our phone lines and internet are not oper… https://t.co/JbqMcD77Ua

TRAMPOLINES - We have restricted stock & delivery availability. Please do not order without checking availability f… https://t.co/8XaFMmFaC9

RT @TheSun: EXCLUSIVE: Cop filmed clowning around on a trampoline while out on a drug bust https://t.co/rtkaX2YnsS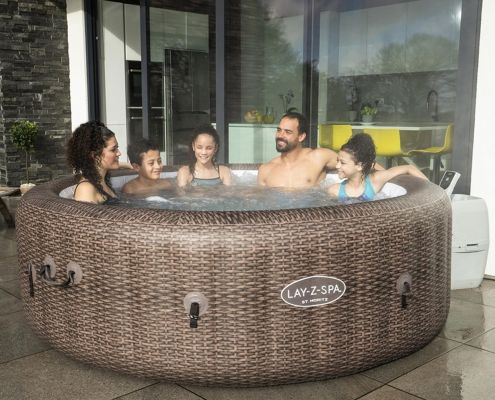 Lay-Z-Spa St Moritz Airjet

£749.00 FREE UK MAINLAND DELIVERY
Sorry Sold Out
With more AirJets than any other AirJet model, we love the Rattan style of the St Moritz. This stylish little number has space for up to seven lucky people to enjoy that 140 AirJet™ Massage System.
Comfortably Fits 7 People
The Lay-Z-Spa St Moritz AirJet is spacious enough to comfortably seat up to 7 people, making it perfect for enjoying a spa session with all of your family and friends.
140 AirJets™ Massage System
The Lay-Z-Spa St Moritz is built with a relaxing and invigorating AirJet™ Massage System, made up of 140 all-surrounding air jets allowing you to drift away on a cloud of bubbles.
40°C Rapid Heating System
The pump contains a rapid heating system that heats the water up to a blissful 40°C. With our latest integrated technology you can heat the hot tub, run the massage system and filter the water simultaneously using just the pump.
Energy Saving Timer
The energy saving timer not only saves energy by "switching off" the Lay-Z-Spa St Moritz AirJet when it's not in use, but it also allows you to schedule when you want the hot tub to start heating up so it's ready for when you get home.
Rattan Printed Premium Tritech™ Material
The stunning rattan design on this spa conceals a 3-ply reinforced Tritech™ material which provides superior strength and durability without sacrificing on comfort or style. The ultimate in inflatable spa material, Tritech™ is exclusive to Lay-Z-Spa ensuring our hot tubs are as sturdy as they are relaxing.
In The Box:
- Airjet pump
- St Moritz Airjet Liner
- St Moritz Inflatable Lid
- St Moritz Airjet Top Cover
- Chemical Dispenser
- Filter Cartridge
WARRANTY:
This product is covered by a manufacturer's warranty. Lay-Z-Spa liners, inflatable lids and covers are covered for 6 months and heater pump units are covered for 1 year. In the event of a product failure a claim can only be made through the relevant warranty line. Please note that the manufacturer will only replace the faulty component. Please refer to Bestway's website for full warranty information.
Contact number and website for any warranty requests: 03455 760116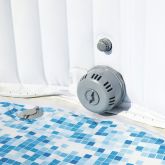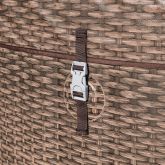 Capacity: 5 - 7 Adults Water Capacity (80%): 1190L (314 Gal) Inflated Size: 216cm x 71cm (85" x 28) Filled Weight: 1,210kg (2,668lb) Cable Length: 7m approx Voltage: 220-240V~50Hz, 2,050W at 20C, Class II Actual Water Flow: 1,325L/h (350 Gal/h) Max. Heat Capability: 40C (104F)
We offer FREE next working day delivery(Mon-Fri) on orders recieved by midday to the mainland UK for most of our products and a paid trampoline installation service is available for customers within 20 miles of our Pembroke Dock warehouse. We are unable to give a designated time of delivery and deliveries can be anytime between 8am and 6pm.
Reviews for Lay-Z-Spa St Moritz Airjet