Shop by Category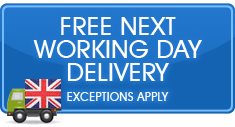 Atlantic Trampolines Latest Twitter Updates
RT @HonestMummy: Jumped spent twenty minutes jumping on a trampoline. That's the same as going for a run isn't it?!

RT @Jac_inabox: Is it justifiable to buy a trampoline for the garden when you're 24? I really want one and always have done & have peter pa…

'Äú@charmele0n: Do not leave ur phone in ur pocket unlocked or you'll accidently buy 2 birthing balls and a trampoline'ÄĚ Sounds good to us!

RT @Mia_IvoryCoast: If I won 1 million dollars the first thing I'd buy is a trampoline.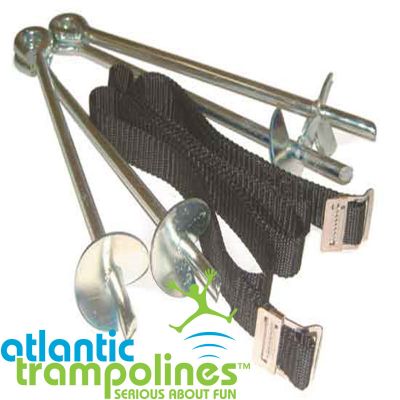 Trampoline Anchor Kit
Keep your trampoline from blowing away and landing on top of your fence or even worse, on your neighbours house or car!


You can protect your trampoline and your property with a trampoline anchor kit. It's really easy to install, Just screw the anchors down flush into ground, and then simply attach the tie down straps.

This item is a MUST for windy locations.

* Durable, all-weather trampoline fix kit
* Weather-proof UV resistant straps
* Keeps trampoline securely in place
* Secures trampolines during severe weather
* Fits all trampoline
* Kit includes 4 straps, D-rings, and stakes

If your trampoline has more than four legs then you will require more
than one anchor kit.

PLEASE NOTE THAT ADDITIONAL STEPS MUST BE TAKEN FOR EXTREMELY OPEN LOCATIONS, AND A ANCHOR ON ITS OWN MAY NOT BE ENOUGH.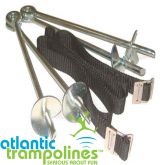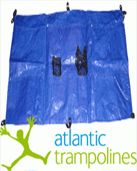 Trampoline Shoe Bag

£21.98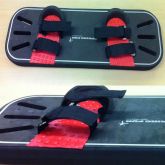 Trampoline Bounce Board

£59.99
We offer FREE next working day delivery on all orders recieved by midday to the mainland UK and an paid trampoline installation service is available for customers within 20 miles of our Pembroke Dock warehouse. We are unable to give a designated time of delivery and deliveries can be anytime between 8am and 6pm.

Reviews for Trampoline Anchor Kit
5 out of 5 , . I\'m really pleased we purchased the trampoline anchor kit from you which you recommended us to use. During the recent storms our neighbour\'s trampoline blew over their fence and wrecked the greenhouse in the next door garden. Fortunately we had the anchor kit on our trampoline and it didn\'t move an inch. Thank you for the wise suggestion.